These 12 Virginia beer trails help craft beer lovers explore the state's thriving brewery scene, whether your focus is on the journey or the tasty brew that awaits. Official beer trails are always changing and many early trails have expanded to include wineries and distilleries too. No matter the focus, they are a fun way to discover new breweries. That's a good thing because Virginia is busting with more than 200 craft breweries.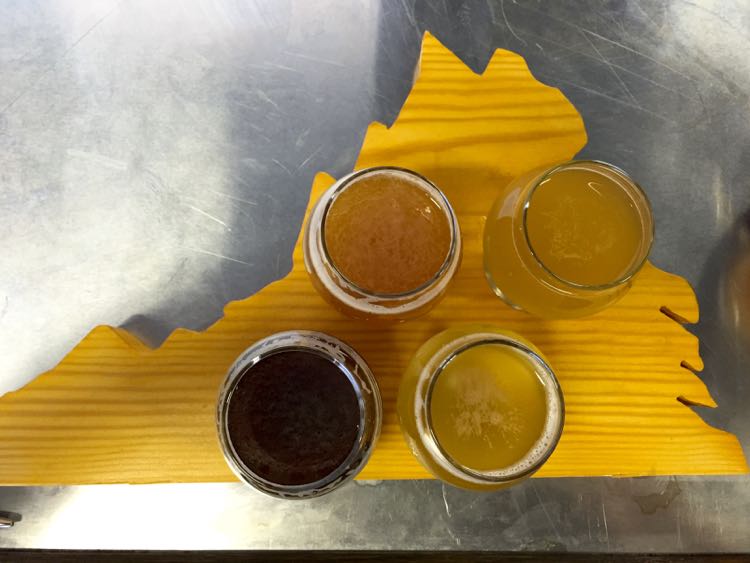 Grab a designated driver and visit several breweries in one day, or explore at a more leisurely pace. Breweries are casual, relaxed places, so there's no need to hurry. Several spots on these Virginia beer trails are easy to reach by bike or on a city stroll. Or take a scenic drive through the countryside to visit breweries and other fun stops.
The Virginia beer trails below are organized by region, and listed north to south through the eastern, central, and western part of the state. Follow the links for lists of breweries, suggested itineraries, and special events.
Disclosure: This article may contain affiliate links. We will make a small commission from these links if you order something, at no additional cost to you.
Beltway Beer Trail, Northern Virginia
The Beltway Beer Trail showcases 25 different breweries located in Fairfax, Prince William, Manassas, Alexandria, Falls Church, and Arlington. Loudoun County and Prince William have their own Virginia beer trails, so there is some overlap with the Beltway list.
This is one of the newer trails and the website was down the last time we checked. The Beltway Beer Trail list includes favorite bike trail destinations like Caboose Brewing Company, along with restaurant-focused chains like Sweetwater Tavern.
LoCo Ale Trail, Loudoun County
The fast-growing LoCo Ale Trail connects the many breweries throughout Loudoun County. You'll find our favorite brewery view (so far) at Dirt Farm Brewing, and there are also walkable destinations clustered in Purcellville and Leesburg. There are also plenty of sleek industrial spaces on the list, like Ocelot and Old Ox.
Plan your visit with our complete guide to the LoCo Ale Trail.
Steins, Vines, and Moonshine Trail; Prince William and Manassas
Launched in 2017, the Steins, Vines, and Moonshine Trail connects 20 breweries, wineries, and distilleries in Prince William County and Manassas. A combined trail is perfect for groups with a mix of drink preferences.
Ask your designated driver to escort the group through a day that starts at a winery, continues with a brewery stop, and finishes with a tasting of locally distilled spirits. Or focus on sites that serve a combination of drinks like 2 Silos Brewing.
Seminole Beer Trail, Charlottesville to Gainsville
Another new collection (did you see a pattern here?), the Seminole Beer Trail, connects 9 breweries along Route 29 from Gainesville to Charlottesville. Follow participating brewers and find the latest events on their Twitter account. You'll find some overlap with the Prince William and Charlottesville trails.
Brew Ridge Trail, Charlottesville Area
The Brew Ridge Trail only includes 7 breweries, but they are spread across some beautiful countryside through western Charlottesville, and Albermarle and Nelson Counties. This area is perfect for slow, scenic drives or a day of hiking followed by a brewery stop. Visit several stops and leave the driving to the experts with C'ville Hop on Tours.
Check out the trail website for suggested itineraries and event details. Wine lovers can explore the C'ville region on the Thomas Jefferson-inspired Monticello Wine Trail.
Grapes and Grains Trail, Stafford and Fredericksburg
There are four wineries and the A.S. Bowman Distillery on the Grapes and Grains Trail. The trail connects sites in Stafford and historic Fredericksburg.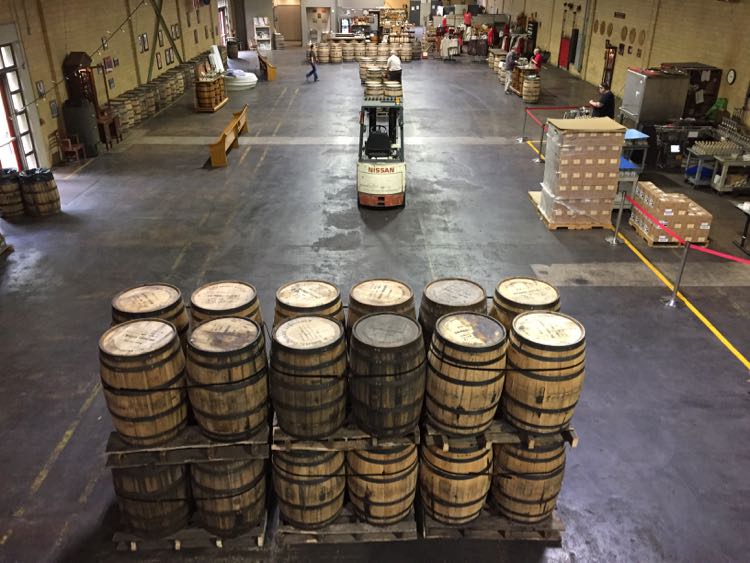 Richmond Beer Trail, Richmond
The Richmond beer scene is growing so quickly that the Wall Street Journal even took notice. The Richmond Beer Trail highlights over 30 Richmond-area breweries and the list keeps growing. We highly recommend a Richmond weekend getaway to visit several breweries and explore this hip and historic city.
Coastal VA Beer Trail, Virginia Beach Area
The Coastal VA Beer Trail connects breweries in Williamsburg, Norfolk, Chesapeake, Hampton, Smithfield, and Virginia Beach. As if we needed another reason to head to the beach! Of course, nothing goes with a steamy beach day like a frosty craft beer, so this Virginia beer trail is perfect for summer fun. Find the latest coastal brewery list here.
Read more about favorite craft breweries in the Virginia Beach area. Want to explore them all? We highly recommend a stay in Norfolk for great food and fun things to do.
Helltown Beer Trail, Front Royal
There are 10 breweries on the Helltown Beer Trail along with the country's first state museum devoted to beer. According to Virginia.org "By the 1790s, Front Royal earned the nickname "Helltown," due to the many livestock wranglers and boatmen… who came into town to visit local saloons." The Virginia Beer Museum is on Chester Street in Front Royal.
Take a trip to Winchester to visit more fantastic breweries on the Helltown Trail.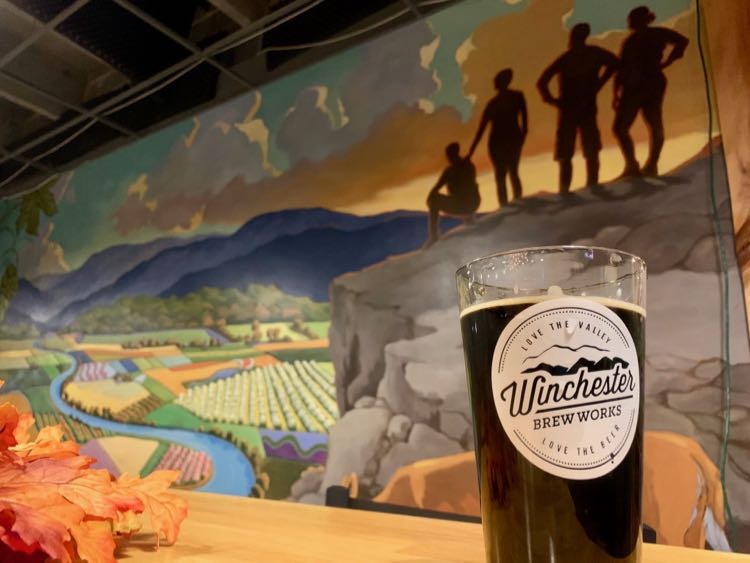 Shenandoah Spirits Trail, Shenandoah Valley
There are over 25 stops on the Shenandoah Spirits Trail, a mix of breweries, wineries, and distilleries stretching from Winchester to Harrisonburg. This list calls for a Northern Shenandoah Valley road trip! Sign up your designated driver with the promise of winding country roads and beautiful mountain views.
Shenandoah Beerwerks Trail, Shenandoah Valley
Once you reach Harrisonburg, keep the journey going with the Shenandoah Beerwerks Trail. You'll find more country roads, historic stops, cool scenery, and tasty craft beer on a Southern Shenandoah Valley road trip. The breweries around Waynesboro are also perfect for some cold relief after hiking in the Blue Ridge Mountains.
A little further south, Virginia's Blue Ridge Cheers Trail (formerly Blue Ridge Beerway) highlights breweries, wineries, and distilleries in the beautiful Roanoke Valley. Sample local brews in a downtown tasting room, or head out to neighboring towns for epic brews with views. There are many fun things to do in Roanoke, and visiting one of the local breweries should certainly be on your list.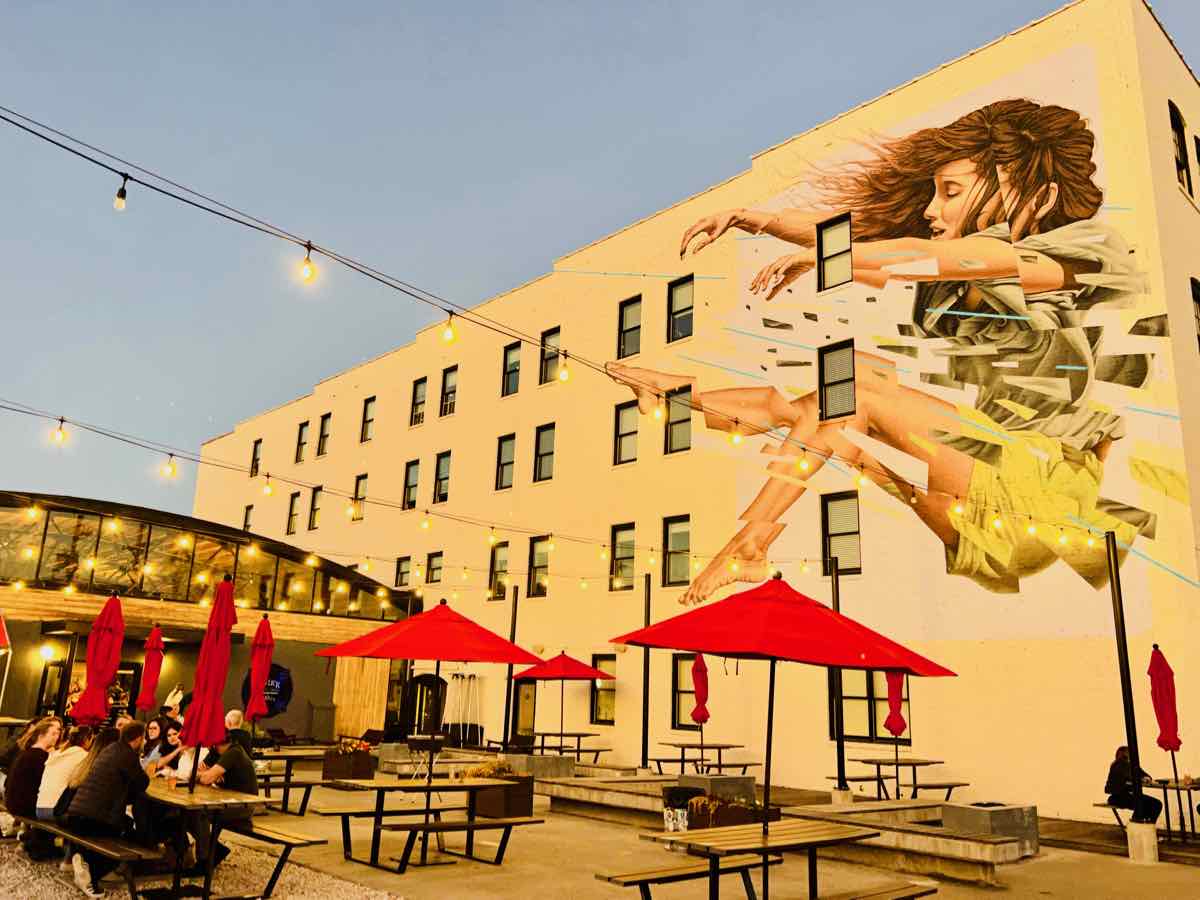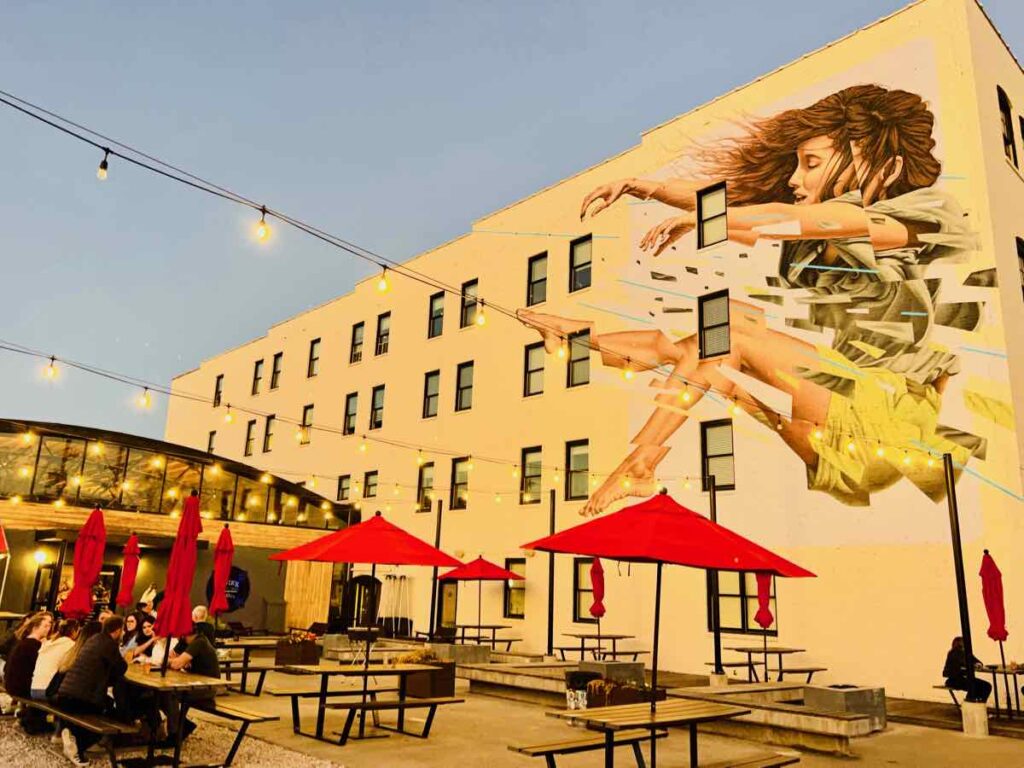 Virginia Beer Trails Tips
These 12 Virginia beer trails are certain to have company, as new beer, wine, and spirits trails are announced. Happily, the craft beer industry is more collaborative than competitive. Craft beer lovers enjoy exploring new flavors and spaces. And Virginia's growing beer scene makes it easy to do just that.
Craft brewery hours vary widely. Many breweries are only open over long weekends or have reduced weekday hours. Always check the brewery website before you head out.
Every August, the state celebrates Virginia Craft Beer Month with special events, social media competitions, and fun. Keep an eye on the Visit Virginia web site for new events and to learn more about local breweries and Virginia beer trail itineraries.
Whatever Virginia beer trail you choose to explore, please drink responsibly and always drive sober.
Follow us on Facebook, Twitter, Pinterest, and Instagram for more fun travel in and from Northern Virginia.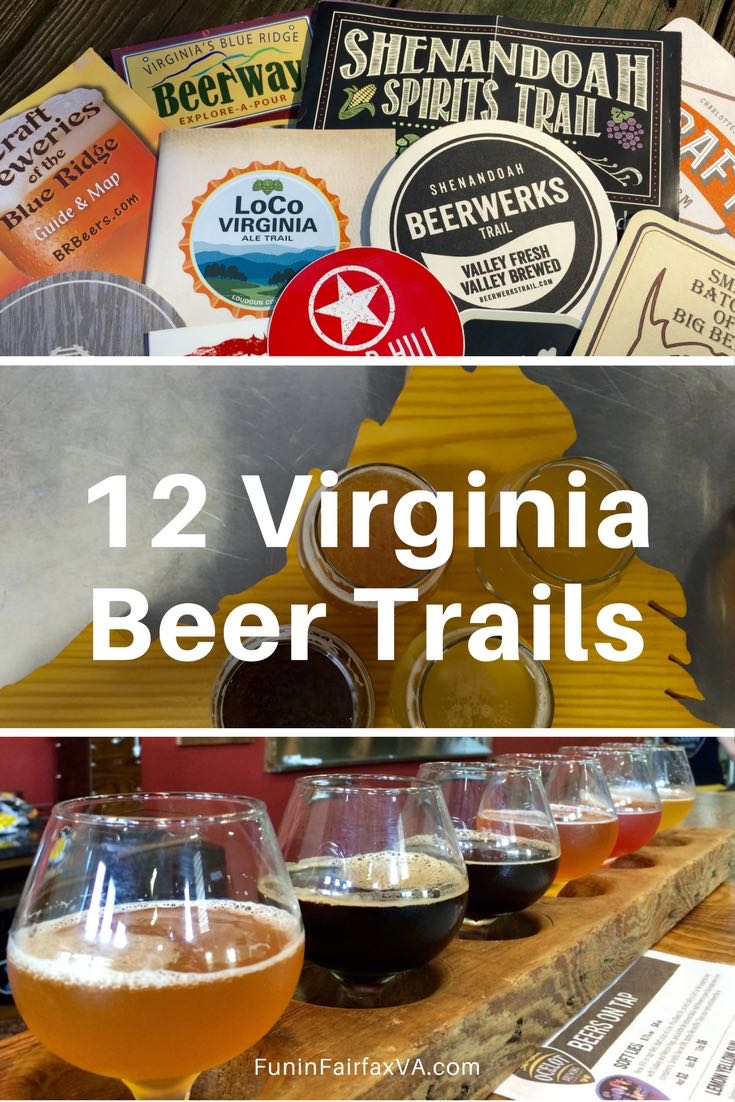 This article was published in 2017 and updated in 2020.