A visit to the Space Shuttle Discovery at the Smithsonian Air and Space Museum Steven F. Udvar-Hazy Center in Chantilly, Virginia, is sure to impress. It is truly awe-inspiring to stand next to the huge craft and reflect on all that Discovery accomplished in space.
[quote]The longest-serving orbiter, Discovery flew 39 times from 1984 through 2011 — more missions than any of its sister ships — spending altogether 365 days in space. Discovery also flew every type of mission during the space shuttle era and has a record of distinctions. Discovery well represents the full scope of human spaceflight in the period 1981-2011.—Smithsonian National Air and Space Museum[/quote]
Walk to the rear of the craft and the engines tower above you. Walk along the side and look at the marks on the thermal protection tiles, earned during all those orbits in space. Notice how the tiles are all unique, a precisely organized puzzle of shapes and thicknesses that protected the ship and crew on its missions. Stand near the front and notice the words "cut here for emergency rescue"— a stark reminder of the dangers of space flight.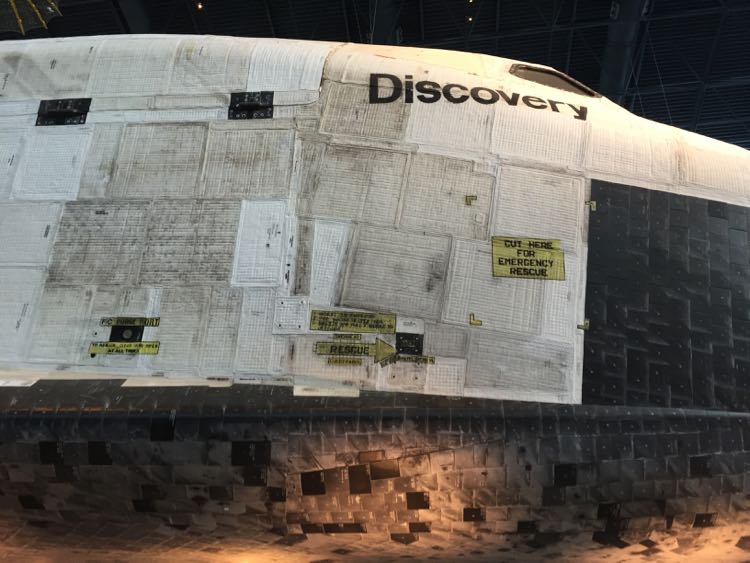 The Space Shuttle Discovery was a workhorse of the fleet and it flew many ground-breaking missions, often with ground-breaking pilots and crew. Highlights from Discovery's long years of service include the first docking mission to the Mir Space Station, first docking with the International Space Station, and missions to deploy and service the Hubble Space Telescope. Discovery was flown by the first African-American commander, both women commanders, and was piloted by the first female spacecraft pilot.
If you were lucky enough to be in the DC region on April 17, 2012, you may have seen Discovery's arrival in Northern Virginia. Strapped atop it's Boeing 747 transport, Discovery made several flyovers of the DC area before landing at Dulles Airport and moving to its permanent home at the Udvar-Hazy Center.
Like it's counterpart in DC, admission to the Smithsonian Air and Space Museum in Virginia is free. Parking is $15 (free after 4:00) and you'll need to buy tickets if you want to enjoy the IMAX theater or the simulator. The huge indoor facility is an excellent option for a family outing and an impressive stop for out-of-town visitors, especially when the weather outside is bad.
Smithsonian Air And Space Museum, Steven F. Udvar-Hazy Center
14390 Air and Space Museum Parkway
Chantilly, VA 20151
703-572-4118
Map
Follow us on Facebook, Twitter, Pinterest, and Instagram for things to do, places to explore, dine and drink discoveries, and year-round fun in Northern Virginia and beyond.