The National Air and Space Museum Steven F. Udvar-Hazy Center in Virginia wows visitors with some of the Smithsonian's largest and most impressive aircraft. Housed in two giant hangers, the collection includes a Space Shuttle, Concorde, and other huge aircraft. It's an impressive space that is a lot of fun to explore for all ages.
The most popular museum in Virginia, the Udvar-Hazy Center is an excellent year-round destination and is one of the top 10 attractions in Northern Virginia. When the weather turns too hot, rainy, or cold outside, this is one of our favorite indoor activities in Northern VA. Plus, this is a fantastic place to bring out-of-town visitors. Fortunately, the space is so huge that crowds won't be a problem no matter when you visit.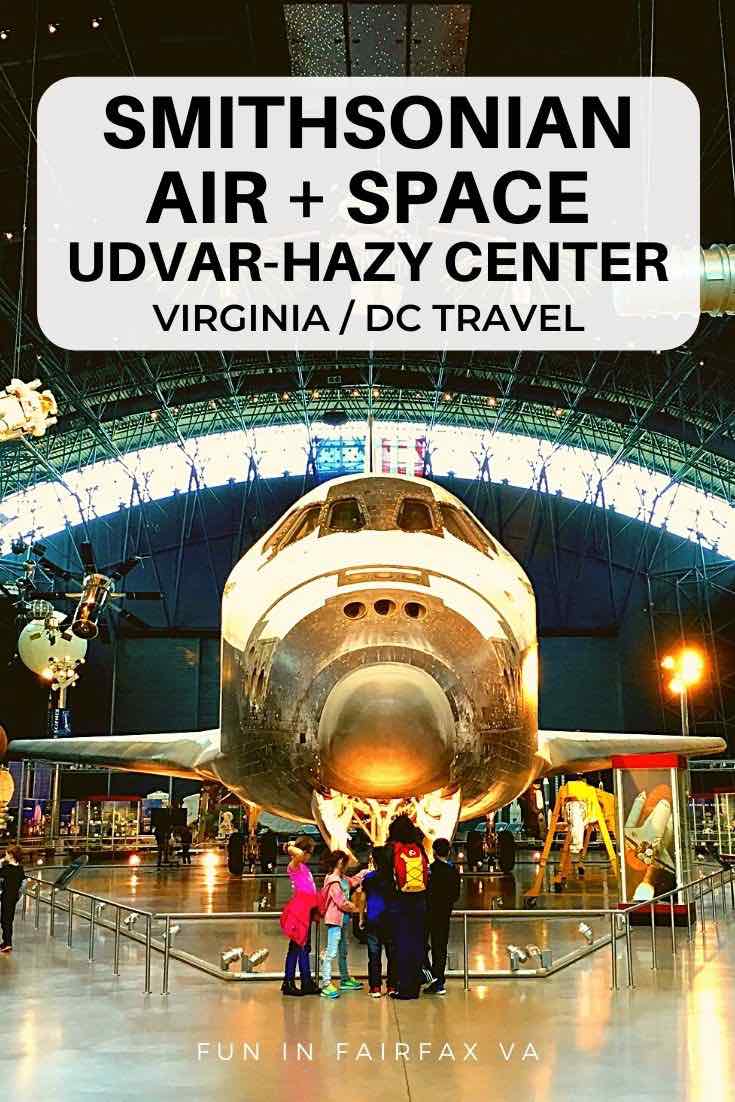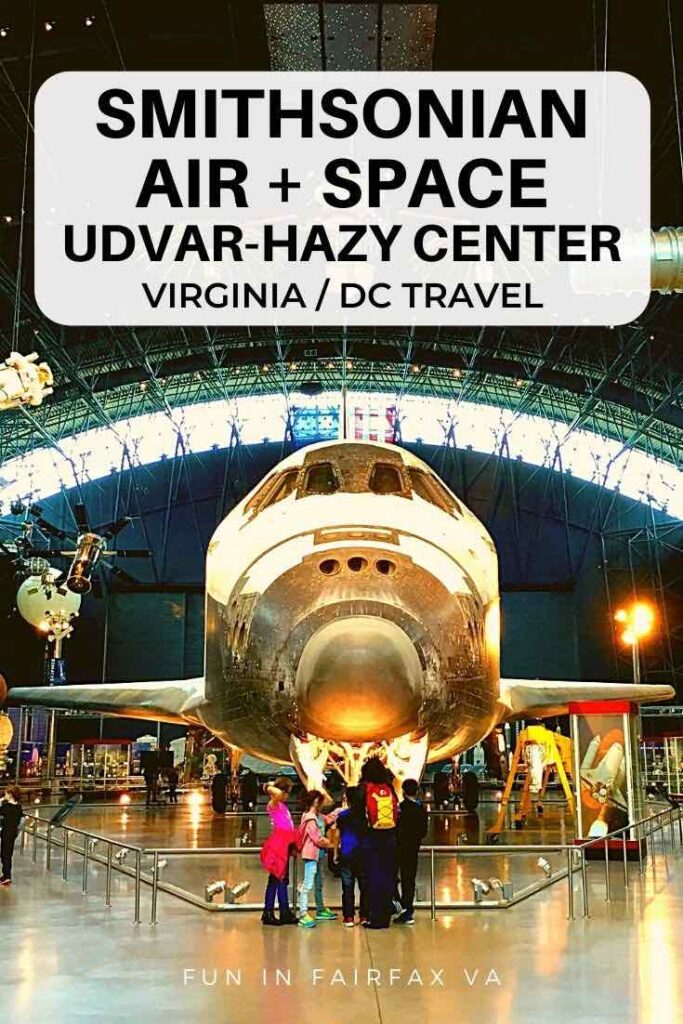 Things to Do at the Air and Space Museum Udvar-Hazy Center in Virginia
Explore the Collection
Like at most museums, the main activity for visitors is to walk around and explore the exhibits. At the Udvar-Hazy Center, exhibits are spread across three levels throughout two vast hangers. You can easily spend hours slowly working your way through the whole collection.
Several new aircraft are added to the displays and more undergo restoration every year. Visitors can now see the Mercury Freedom 7 capsule which carried Alan Shepard into space 50 years ago. For the first time, visitors can take a close-up look at a U.S. Navy Blue Angels Hornet. Plus, sci-fi fans will be excited to see the addition of a full-sized X-wing Starfighter that appeared in Stars Wars: The Rise of Skywalker.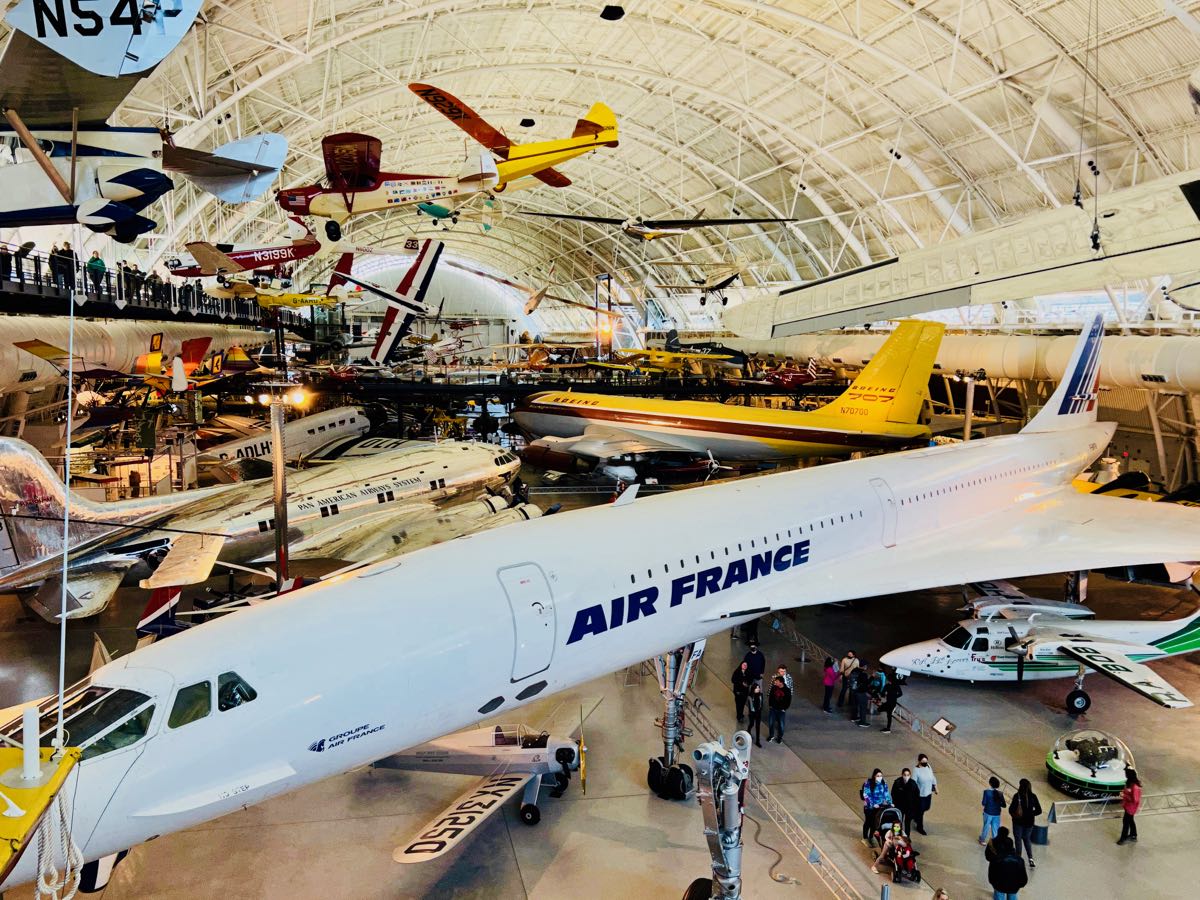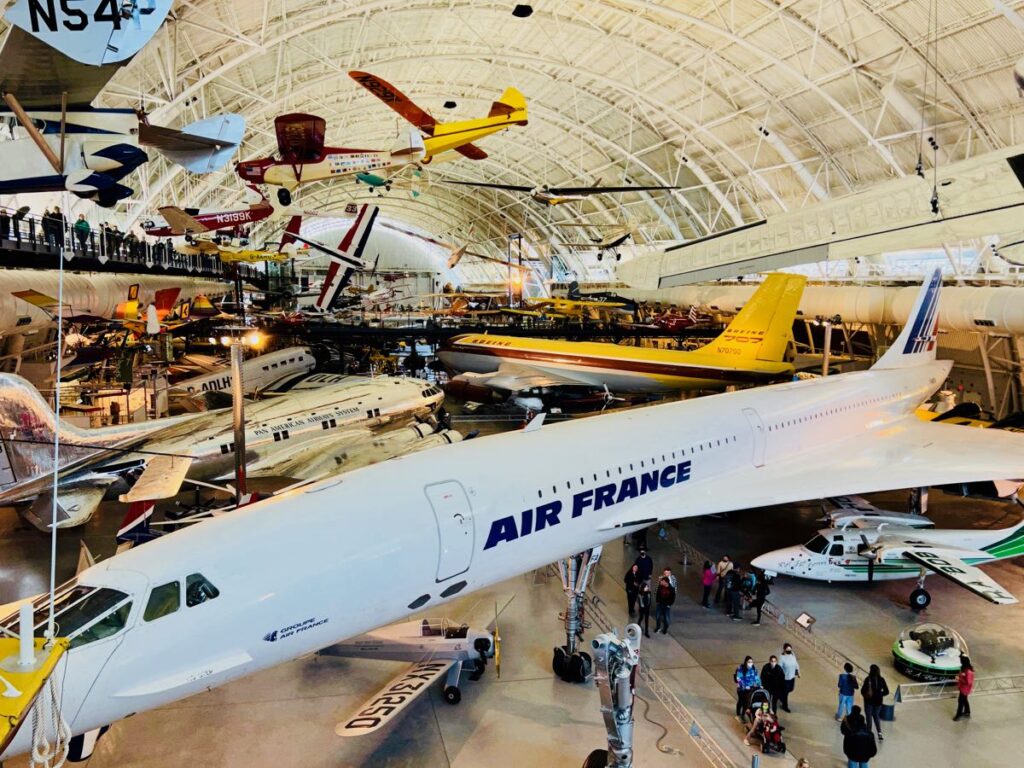 If time or attention spans are short, we suggest focusing on a few highlights. After you pass security, go straight to the rail for your first look at the huge Boeing Aviation Hanger.
Our preferred route from the overlook is to head downstairs and straight ahead to the McDonnell Space Hanger. Here you can get a close-up look at the Space Shuttle Discovery. On the way, you'll pass the spooky-looking Blackbird SR-71, the world's fastest jet-propelled aircraft.
Standing next to the Space Shuttle is truly inspiring. Take time to walk around and take in the scale of the engines. Also, notice the complex tiled exterior and the visible scars from its 39 missions in space. Around the shuttle, additional artifacts and displays share details about the human journey into space.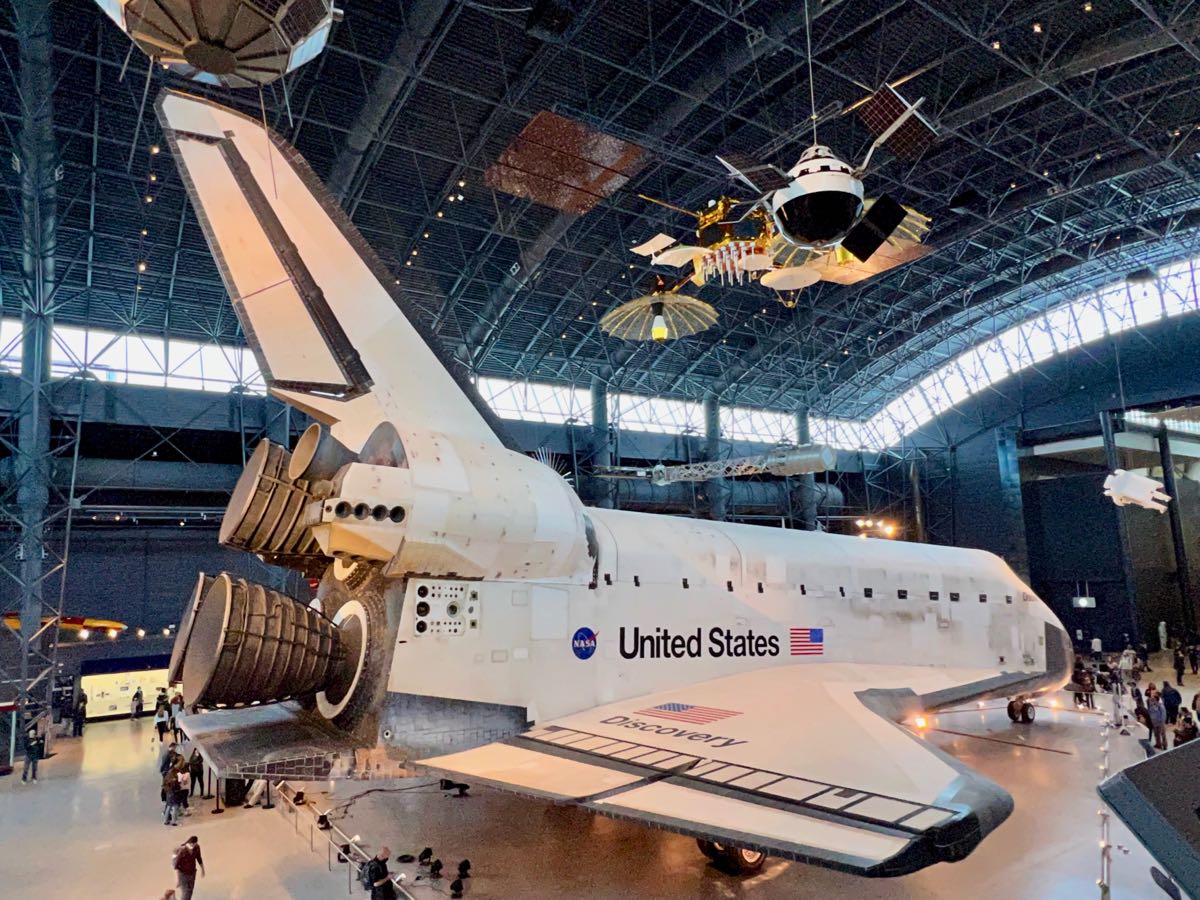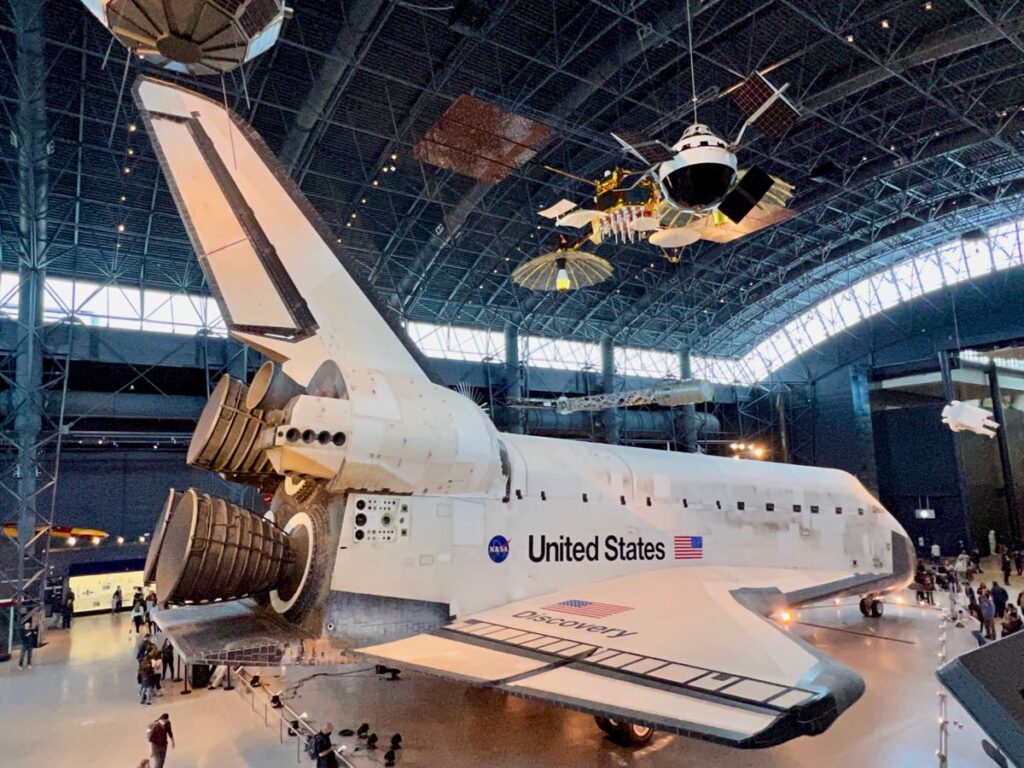 After the Space Hanger, we like to explore general aviation displays on the first floor. Finally, we head up to the catwalk for an amazing view and additional exhibits. The variety and scale of the aircraft—from the shiny Clipper Flying Cloud, to the streamlined Concorde, to the historic Enola Gay—always impresses.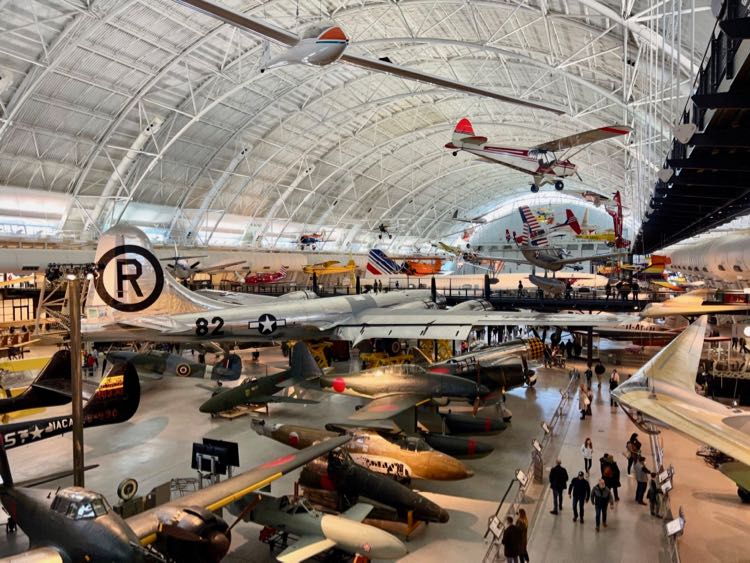 If you have more time or members of your group have specific interests, there is plenty more to see throughout all three levels of the hanger.
Catch a Movie or a Ride
The Udvar-Hazy Center includes an IMAX theater with a five-story high screen and several 3D movies to choose from. Buy advance tickets online to ensure access to your favorite movie, or just see what's available when you arrive. There are also simulator rides on the main floor of the Boeing Hanger.
See Restoration in Action
We didn't discover the Restoration Hanger until a recent visit. You can watch restorations in process from a mezzanine, and special tours of the restorations are offered every January. During our visit, we saw the Friendship 7 capsule and Flak-bait, which flew the most missions during World War II, being readied for restoration.
Observe Live Flights at Dulles International Airport
Near the IMAX theater entry, a short elevator ride takes visitors up to the Observation Tower. Level two explains the workings of the US Air Traffic Control system. On the top floor, enjoy excellent views of Dulles Airport and the surrounding countryside. If your timing is good, you may see flights as they take off and land. Sometimes the flights pass directly above the tower, a dramatic sight.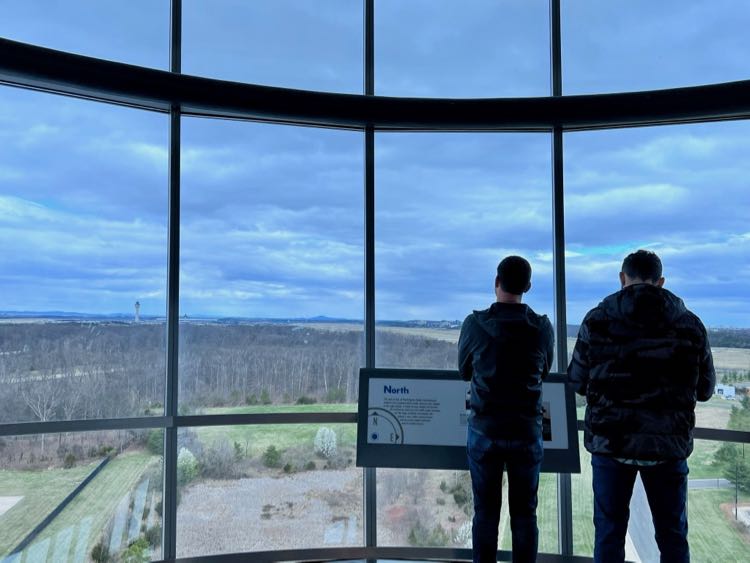 Enjoy a Tour or Special Event
Free docent-led tours are offered daily at 10:30 and 1:00. Often, aviation experts are on hand signing books and doing special presentations. The museum hosts some fantastic special events throughout the year including a special Father's Day display. In addition, monthly Family Days focus on topics such as Women in Aviation. There's also a very popular Halloween trick-or-treating event every year on the Saturday before Halloween.
Tips for Your Visit to the Udvar-Hazy Center in Virginia
Admission to the museum is free but parking is $15.00. If you arrive after 4:00 PM, parking is free, but the museum normally closes at 5:30 so your visit will be short.
There is a fun store where you can buy a real space blanket, space-inspired games, and gear. You can even buy an astronaut suit for the little ones. Next door is a McDonalds, unfortunately, the only food available at the museum. Outside food and drink is prohibited (and your bags will be searched upon entry) so you have to visit between meals or eat at McDs.
Plan for a lot of walking! Wear comfortable shoes and bring a stroller for little ones. The huge hangers require a lot of walking on concrete floors. Strollers are allowed everywhere except the Observation Tower and the museum is wheelchair accessible.
It's not easy to reach the Udvar-Hazy Center in Virginia via public transportation. One option is to ride the Silver Line Metro to Reston and take a bus from there. You can also take a bus from Dulles Airport. Transportation options may improve once Phase II of the Silver Line Metro is complete, so check the website before your visit.
A Little Udvar-Hazy Center History
This gem in the Smithsonian collection opened in 2003 at the south end of Dulles International Airport in Northern Virginia. The location met two key criteria for the project:
it is within one hour's drive of the National Mall in Washington DC
it offers sufficient open land and is adjacent to an airport. With access to nearby runways, new acquisitions can be brought to the display space.
In 2012, Space Shuttle Discovery was flown in, strapped atop a Boeing 747. Locals were treated to several flyovers in Washington DC and Northern Virginia before the plane at Dulles. Direct airport access makes it possible for the museum to bring in and house new large aircraft like the shuttle. This would be impossible in the National Mall location.
Steven F. Udvar-Hazy donated $65 million for the museum's construction, making this one of the few Smithsonian buildings created with private funds.
Learn more about the Udvar-Hazy Center from a docent who once flew the SR-71 in this video interview.
Since its opening, the National Air and Space Udvar-Hazy Center in Virginia has grown to an average of one million visitors a year. With its impressive scale and extensive collection, the museum makes a fun and interesting destination for locals and visitors in the Northern Virginia and Washington DC region. And it's the perfect place to beat the heat or escape the cold.
The Smithsonian Air And Space Museum, Steven F. Udvar-Hazy Center is located at 14390 Air and Space Museum Parkway in Chantilly, Virginia.
Follow us on Facebook, Twitter, Pinterest, and Instagram for more fun travel in and from Northern Virginia.
Published in 2016, last updated in 2021.