Updated on September 11, 2023 by Julie McCool
2023 June events in Northern Virginia welcome back popular, multi-day festivals and kick off summer fun with food, wine, music, fireworks, and more. Northern Virginia events in June also include opportunities to volunteer, compete, learn, and play throughout the Washington DC region.
Looking for fun things to do this weekend in Northern VA? Our list of Northern Virginia events includes things to do in Fairfax County, Loudoun County, Prince William County, Alexandria, Arlington, and other area towns. Festivals and events are listed in order of start date, with multi-day events generally listed first.
Disclosure: This article may contain affiliate links. We will make a small commission from these links if you order something, at no additional cost to you.
The June events list includes plenty of things to do in Northern Virginia with kids, as well as activities geared to adults. Follow the links for further details and updates on inclement weather policies, ticket pricing (where applicable), and pet policies.
2023 June Events in Northern Virginia
Enjoy carnival rides, art, hikes, wine, beer, food, and more as special events kick off a new summer of fun. This list of June events in Northern Virginia focuses on weekend activities but you'll find some mid-week activities as well.
The Herndon Festival is an annual favorite to kick off a summer of fun. Four festival days combine an outdoor concert series with a summertime carnival. This kid-friendly event includes a 4-day carnival, live entertainment on 3 stages, and more. Follow the link for schedule details.
Find more fun events and Things to Do in Herndon VA.
Step into the wacky world of Dr. Seuss at Tysons Corner Mall. The iconic books come to life with rides, interactive experiences, costumed characters, and so many great photo opps. Tickets start at $29/$34 for children/adults with higher weekend prices.
Strawberry season starts in May and continues into early June in Virginia. Head to the field for family-friendly fun with our complete guide to Strawberry Picking in Virginia and U-Pick Farms Near DC.
Meet the artists and shop for local artwork during the 16th annual Western Loudoun Art and Studio Tour. This weekend-long self-driving event features more than 40 local artists. This is also a great time to explore beautiful Loudoun County Unpaved Roads. Free, 10:00 – 5:00 daily.
The 14th Annual Taste of Del Ray Food Festival returns to its full in-person format in 2023. Top neighborhood restaurants will offer special tastings at the Mount Vernon Rec Center fields. Tickets are $25/$10 for adults, children under 12. 1:00 – 3:00
Head to scenic Occoquan for two days of music, games, activities, food, and loads of special activities on the river. Explore streets lined with craft booths, a wine and beer garden, family-friendly conservation activities, and more. Watch or join in kayak and SUP races and classes. Follow the link for schedule details. Free; 10:00 – 5:00 daily.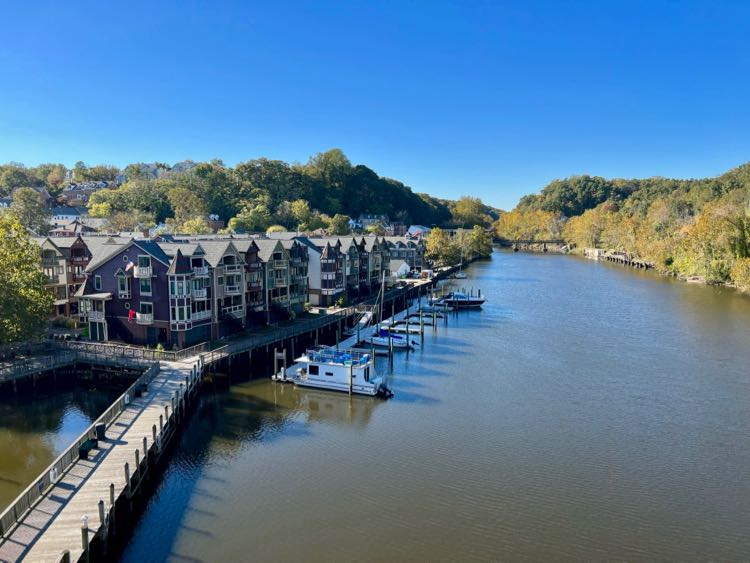 Celebrate the Art of the Automobile at the Workhouse Arts Center. The Autoworks Festival features a great line-up of cars in several categories from antiques and classics to hot rods and muscle cars. Live music and food add to the fun. Free admission, 9:00 – 3:00.
The annual Frank Lloyd Wright birthday celebration at the Pope-Leighey House features house tours, hands-on activities, and of course, birthday cake. Tickets are $15/$5 for adults/students. 11:00 – 4:00.
The American Hiking Society celebrates National Trails Day 2023 in every state across the country. Many Virginia State Parks have volunteer projects and events to help improve trails and waterways. Sky Meadows State Park and Mason Neck State Park will host volunteers to improve trails and waterways in the park.
Create your own National Trails Day outing with our guides to great hikes in and near Northern Virginia, and take a trash bag to pick up any litter you see during your hike.
Clean the Bay Day 2023 invites everyone to join in 3 hours of focused effort to clear trash from Chesapeake Bay waterways. Register to join in cleanups at Northern Virginia sites in Alexandria, Lake Accotink, Manassas, Mason Neck, and Leesylvania. Follow the link for details.
Enjoy an afternoon of music, fun, and tasty beer, bourbon, and bbq in a new location at the Bull Run Events Center. You'll get a tasting glass to sample beer and bourbon plus enjoy bbq, bacon, biscuits, and more. Live entertainment and outdoor games add to the party vibe. Tickets start at $45 with VIP tix available. VIP noon – 6:00; general 2:00 – 6:00.
Celebrate rich railroad history at the 29th annual Manassas Heritage Railroad Festival. The day-long festival features elaborate train displays, train memorabilia, specialty vendors, and live performances. Returning in 2023, special VRE train excursions to Clifton and back are available hourly from 10:00 to 1:00 ($7.50). The festival and parking are free. 10:00 – 3:00
Celebrate Pride Month at a free concert and festival at Reston's Lake Anne. Noon – 6:00.
Taste craft beers from around the region at an after-hours event at George Washington's Mount Vernon estate. The lineup will include new Mount Vernon beers plus live music and food. This special event would be a great pre-Father's Day weekend treat for beer-loving Dads. 6:00 – 9:00 nightly; $48.
Declaration Day, Gunston Hall, Mason Neck, Jun 10
Head to Gunston Hall for a historic event commemorating the anniversary of the ratification of the Virginia Declaration of Rights. Bring a chair or blanket and enjoy an afternoon of music and stories. Free; 10:00 – 4:00.
Kick off summer fun and learning at two free Children's Summer Reading Festivals in Northern VA. Enjoy crafts, games, a DJ, bounce house, mini zoo, food trucks, and more. The festival will be held twice—in Lorton from 10:00 – 1:00 on June 10 and in Chantilly from 4:00 – 7:00 on June 24.
The 29th annual Tinner Hill Music Festival is a day of music, food, and culture that honors the African American legacy. This charity event features a fantastic line-up of live music plus "Villages" for food, children's activities, artists, and relaxation. $30 admission; 11:00 – 9:00.
Enjoy food tastings, live entertainment, exhibitors, and more at the Taste of Woodbridge festival at Stonebridge Town Center. Admission is free and tasting tickets are $1. 11:00 – 6:00.
Celebrate the AT and the great outdoors with a day of family-friendly music, food, live entertainment, and more. There will also be kids' activities and nature-inspired crafts. The 2023 festival will be held at the Old Stone School in Hillsboro. Admission is free; 11:00 – 5:00.
The Appalachian Trail is one of our picks for Top 10 Must-Visit Northern Virginia Attractions Near DC.
Sample some of the best restaurants in Northern Virginia at this food festival from Northern Virginia Magazine. Taste bites and meet the chefs from more than 30 local restaurants plus some of the area's best wineries and breweries. $110 admission, online purchase only, 1:00 – 4:00.
Kick off summer with a weekend of live music as the Portside Festival returns to Old Town Alexandria. Friday features great music at the 45th annual Alexandria Jazz Festival. On Saturday, celebrate summer with music, local food and drink, and fun for the whole family. Free; Fri 6:00 – 9:00, Sat 1:00 – 9:00; rain or shine.
The annual Innovations in Flight Family Day and Outdoor Aviation Display, held during Father's Day weekend, returns to the Udvar-Hazy Center. See more than 50 vintage, recreational, military, and home-built aircraft and talk to their pilots. There will also be vintage cars paired with the planes of their decade, plus other interactive activities. Attendance is free; parking is $15. 10:00 – 3:00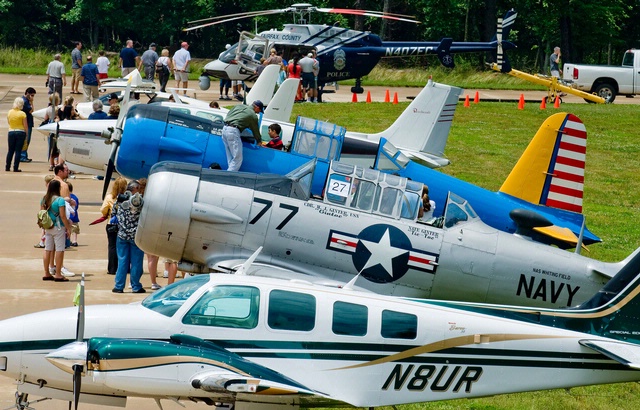 This is an excellent opportunity to visit one of the Top 10 Must-Visit Northern Virginia Attractions Near DC.
Juneteenth, Multiple Locations, June 17
Juneteenth events commemorate the end of slavery in the United States when the enslaved people in Galveston Texas finally learned that the Emancipation Proclamation had made them free 2 years earlier. Special events and tours will celebrate Juneteenth in Northern VA.
Juneteenth Celebration at Ida Lee Park in Leesburg: Enjoy performers, speakers, food, and other vendors. Noon – 6:00; $5 admission.
Juneteenth Celebration at Frying Pan Park: Families are invited to enjoy live music, crafts, and food vendors that highlight African American cuisine. The event is free but online registration is required. Three one-hour sessions at 11:00, noon, and 1:00 on June 17.
Under the Same Roof tour at the Lee-Fendall House in Alexandria: Learn about the house from the perspective of enslaved and free African Americans who lived there. June 17, 2:00; $10 ticket, purchase in advance.
"Arlington's best block party" celebrates a day of fantastic blues, R&B, funk, beer, food, and fun. A Kids Zone, Art Alley, and craft booths add to the festivities. Free; 1:00 – 8:30.
Father's Day, June 18
Father's Day 2023 is on June 18th. Find fun Father's Day weekend events here or plan your own special outing with our guide to Father's Day in Northern Virginia and Fun Things to Do with Dad All Year.
The first annual Manassas Arts + Music Festival features local and headline recording artists plus a fashion show, comedy, dance, and more. Noon – 10:00
The annual Sully Antique Car Show returns in 2023 with more than 200 antique and classic cars, trucks, and specialty vehicles on display. Live entertainment, children's activities, and tours of the historic house and outbuildings add to the fun. Admission is $12/$10/$8 for adults/seniors/children. 10:00 – 3:30
Celebration of Summer at the Gardens, Chantilly, June 21 – 25
June is a great month to check out the new National Botanic Garden in Chantilly VA. Explore this unique space on a self-guided walk through Hobbit Town, the Kyoto Bamboo Garden, the Xeric Cacti Garden, and more. Admission is $20/$25 for Early Bird/regular tickets.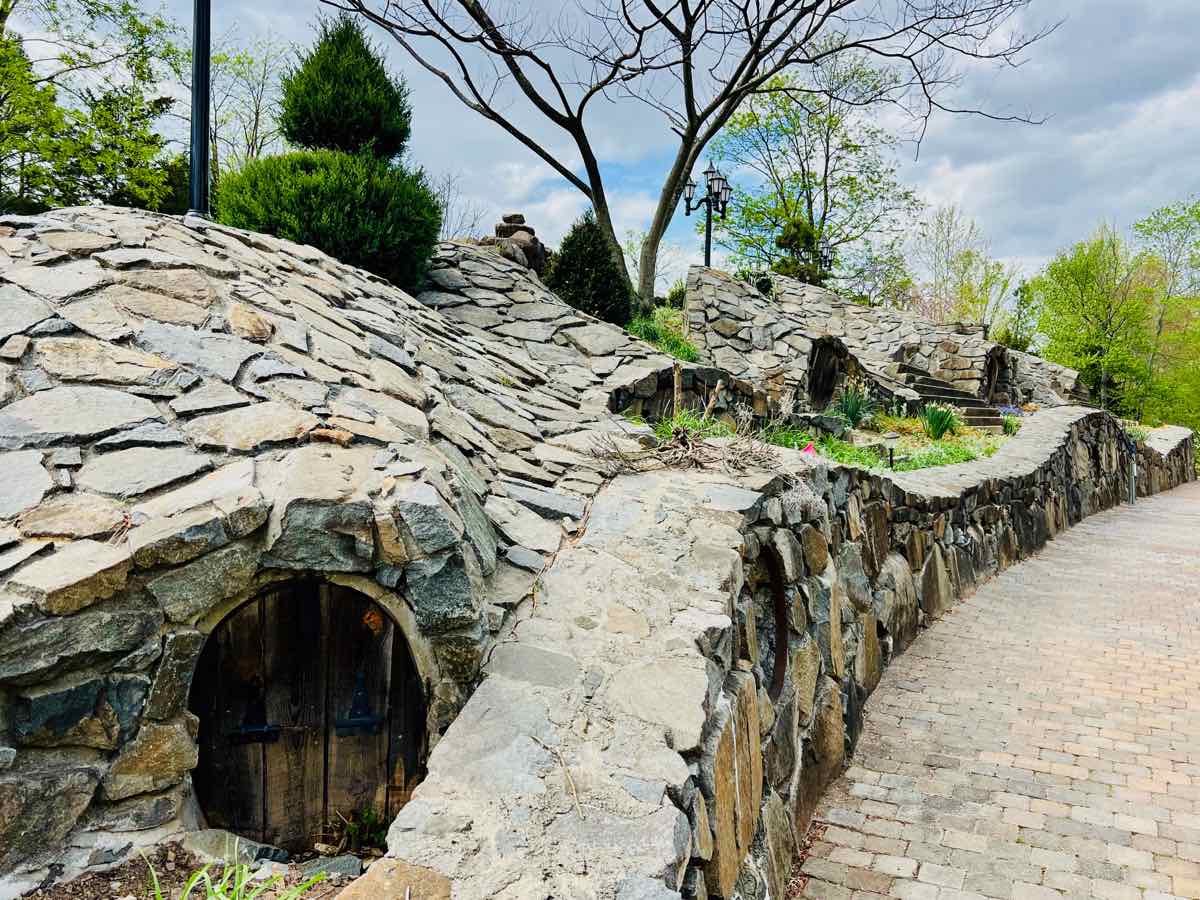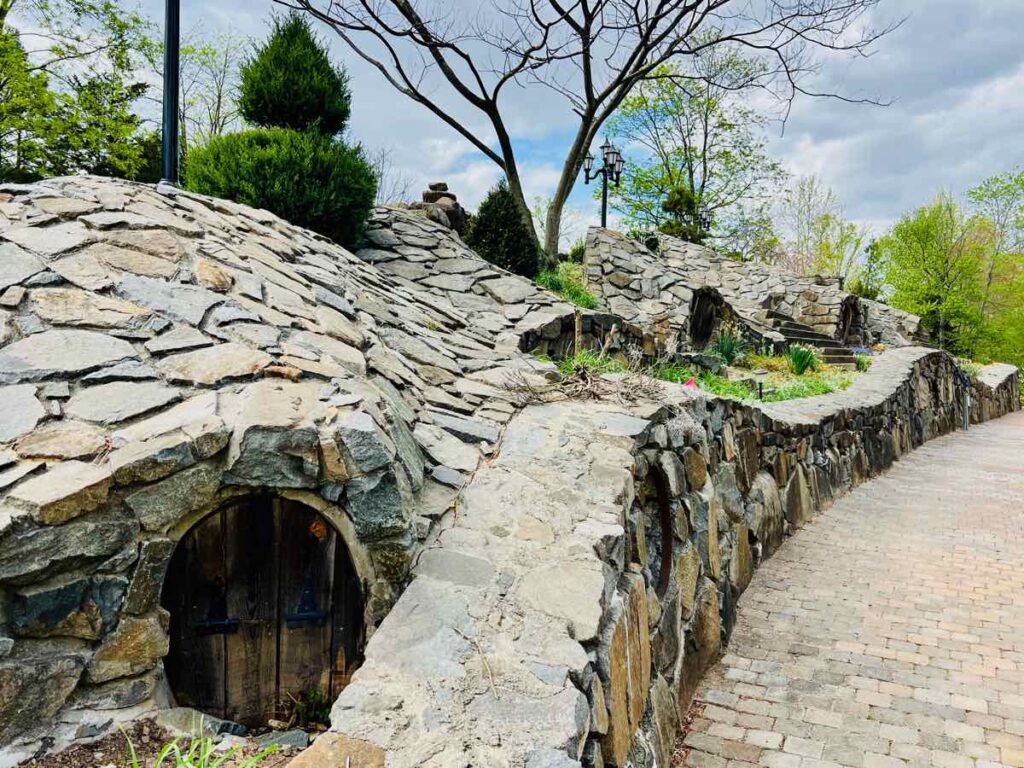 At Sky Meadows State Park, camp out in the beautiful Historic Mount Bleak backyard during the Great American Campout. Park rangers will help set up campsites and tents. Fun programs include a campfire, nature hikes, and more. Space is limited; $30 per campsite includes dinner and breakfast. Special activities begin Saturday at noon.
Find more great campsites with our guide: 15 Great Northern Virginia Campgrounds for Camping Near DC.
Enjoy an afternoon of Virginia wine, music, and fun at the Museum of the Shenandoah Valley in beautiful Winchester VA. The event features pours by local wineries and cideries plus food vendors, crafters, and music. Your ticket includes access to the museum and gardens. $30/$35 advance purchase/day of show, $15 non-tasting; 1:00 – 7:00.
Independence celebrations start early in 2023 with Northern Virginia fireworks shows on June 24 and 30. Follow the link for a complete guide to July 4th fireworks, parades, and celebrations throughout the region.
Celebrate Pollinator Week at the 3rd annual Manassas Bee Festival. Activities include a mead garden, music, food trucks, games, arts, crafts, activity workshops, beehive demonstrations, farm animals, and more. Dress as a pollinator or flower and join the costume parade. Free; 10:00 – 2:00.
Celebrate our nation's founding with family fun and fireworks over the Potomac at George Washington's Mount Vernon. Live music, ice cream-making demonstrations, and picnic food options add to the fun. 6:00 – 9:30 nightly; $47/$52 includes mansion tour (other ticket options available).
Ongoing June Events and Fun in Northern VA
Here are more outdoor activities for summer fun.
Waterparks and Pools in Northern VA
Beat the summer heat with our big round-up of waterparks and pools in Northern Virginia. Why not visit them all this year?
Outdoor Concerts in Northern Virginia
Check our round-up of Northern Virginia summer concert series for outdoor music throughout the summer. Many concerts begin in June, and most are family-friendly and free to attend.
Outdoor Movies in Northern Virginia
Outdoor movies in Northern Virginia begin in May and June, and most are family-friendly and free to attend. Our list includes both walk-in and drive-in movie series throughout the NoVA region.
Northern Virginia Farmers Markets
When warm weather returns we know that area farmers markets will be back with delicious fresh produce, meats, plants, and specialty items. Our expanded round-up of Northern Virginia farmer's markets covers over 50 local markets, many of which kick off in May.
Outdoor Dining in Northern VA
Enjoy a meal on the patio at local restaurants. Our guide to great outdoor dining in Northern VA features restaurant patios where you can enjoy tasty local food and drink.
Here are more fun ways to celebrate June in Northern VA:
Plan a Summer Getaway in and Near Northern Virginia
Late spring and early summer mean beautiful weather and smaller crowds. It's the perfect time for a weekend getaway, staycation, or early vacation. Find beautiful and unique places to stay in and near Northern Virginia with our guides:
Whichever June events in Northern Virginia you choose to attend, we wish you a fun-filled start to summer! Looking ahead? Check out our guide to July Events in Northern VA including a round-up of 4th of July Fireworks and Celebrations.
Follow us on Facebook, Twitter, Pinterest, and Instagram for more fun travel in and from Northern Virginia.
Pin it for later: