These fun spring break outings don't require reservations, tickets, or a lot of pre-planning, so they're perfect for spring break or a no school day in Northern Virginia. When the weather warms and the blossoms appear, it's time to get outside and explore the beautiful and interesting parks and historic sites in Northern Virginia.
Spring Break Outings to Hunt for Blossoms
Cherry blossoms usually peak at the Tidal Basin around Spring Break time in late March and early April. But the famous DC cherry trees are not the option for enjoying beautiful blossoms. Our big guide to places to see cherry blossoms in DC, Virginia, and Maryland lets you play among the petals even if you don't want to face crowds at the basin. Magnolias, redbuds, forsythia and other flowering trees are also in full bloom.
If it's too late for cherry blossoms, look for other spring wildflowers at area parks and trails. In mid-April, the sandy banks of the Potomac River are covered in Virginia bluebells. You'll find one of our favorite bluebell hikes at Riverbend Regional Park. Beautiful Virginia and DC gardens are also wonderful places to get kids up close to nature.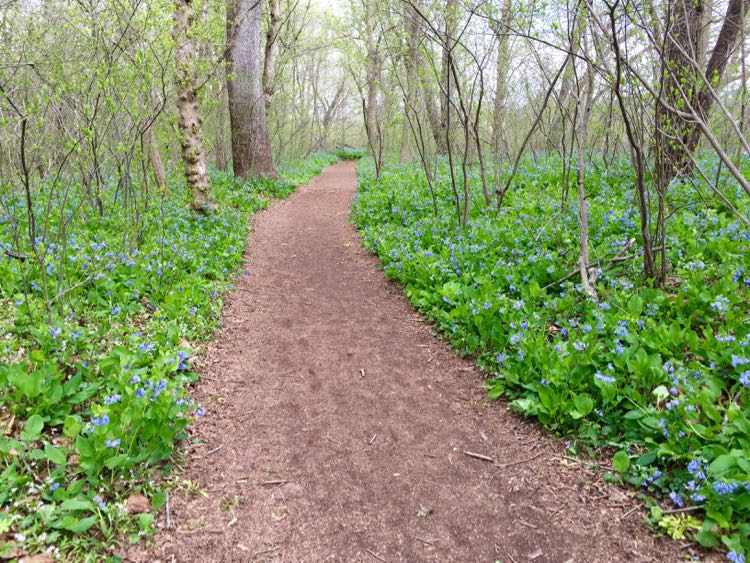 Walk in George Washington's Footsteps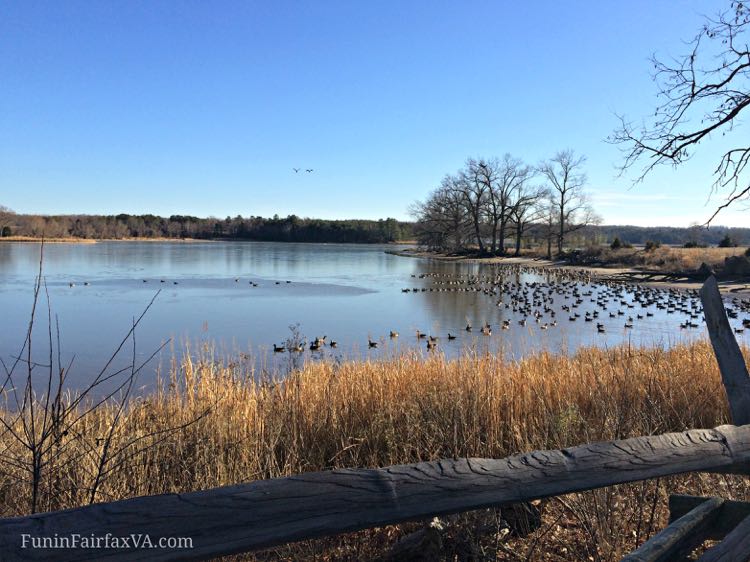 George Washington was born and lived much of his life in Northern Virginia, and there are many ways to walk in the great one's footsteps and add some history to your Spring Break outings. If you've never visited George Washington's Mount Vernon, spring is a beautiful time to stroll the grounds. Older kids will enjoy the engaging Be Washington interactive experience launched in 2018.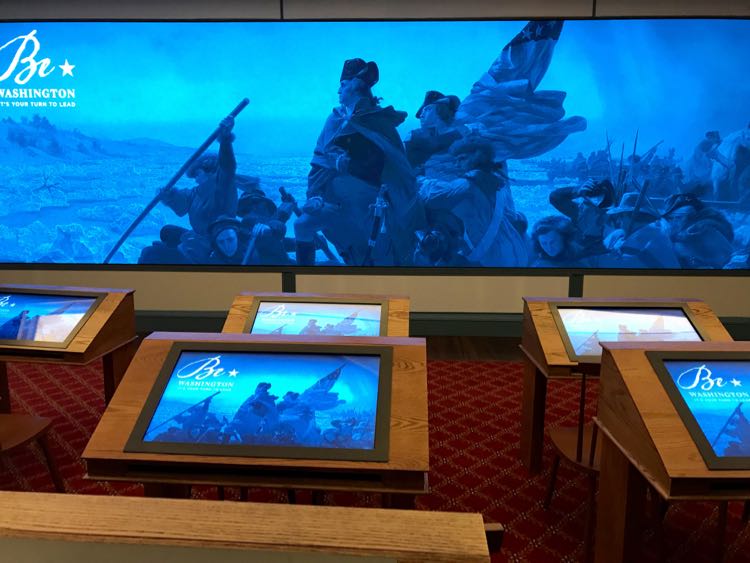 You can also take a road trip to Washington's birthplace on Virginia's Northern Neck. Take a day trip to Fredericksburg Virginia to visit Ferry Farm and tour Washington's recreated boyhood home. At Great Falls Park, families can hike along the canal that Washington envisioned as a way to encourage trade in the new nation. Read 5 historic sites for a Washington-inspired outing for details on these and more Washington sites in Virginia.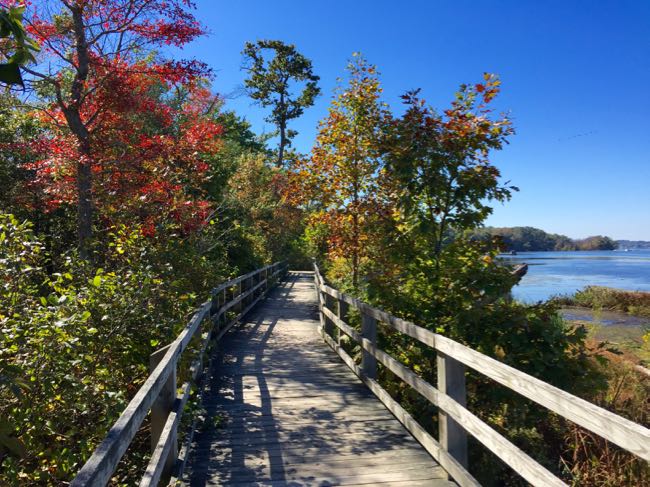 There are wonderful state parks throughout Virginia, and we have some beauties in Northern Virginia. Mason Neck State Park offers excellent hiking and other family fun. Extend your visit to hike and explore other interesting stops on the Mason Neck Peninsula, including one wheelchair and stroller friendly trail.
Trails at Sky Meadows State Park climb the Shenandoah foothills to gorgeous views across the Virginia Piedmont. You can also explore history at Sky Meadows.
At Leesylvania State Park, families can enjoy an interesting hike with history at the edge of the Potomac River. All Virginia State Parks host special spring break outings and kids programs, so check the park web sites for details.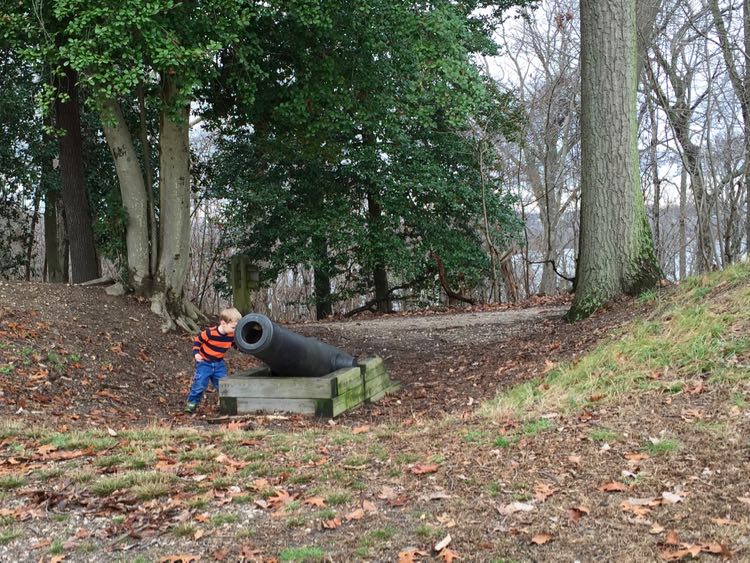 Hike a New Trail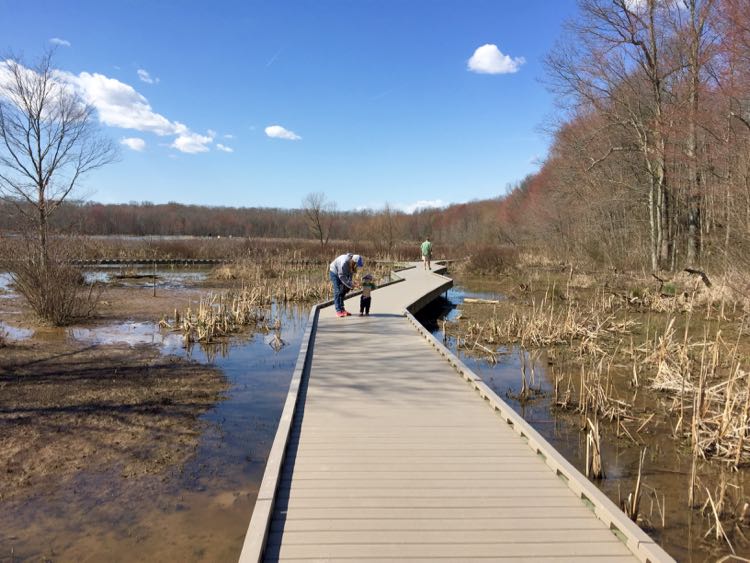 Northeastern Virginia is a busy, urban area but it offers a surprising number of wonderful hiking trails where you can escape the pavement without a long drive. There are easy, level walks along the water, and more challenging woodland trails where you can get a workout and enjoy a view.
Huntley Meadows Park, pictured above, has a long stroller and wheelchair accessible boardwalk that is perfect for wildlife watching. Neabsco Creek in Prince William County is another accessible and kid-friendly boardwalk trail that opened in 2019.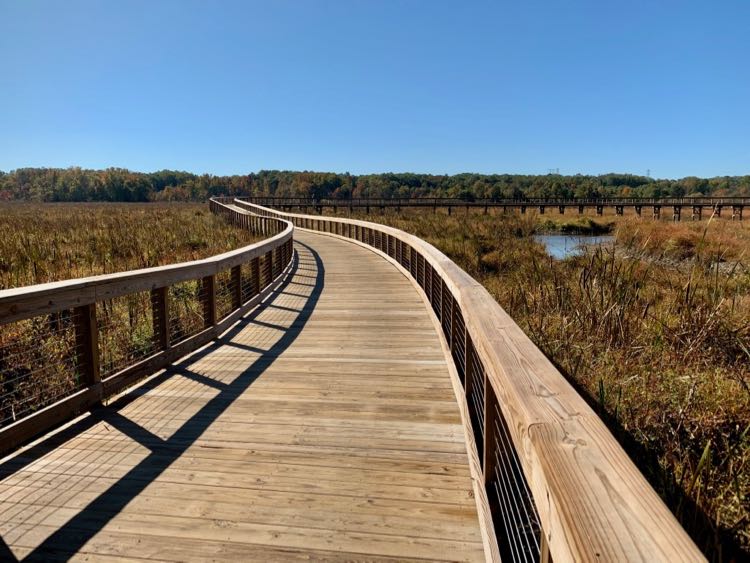 Check our guide for more Beautiful Boardwalk Hikes in Northern Virginia.
In western Loudoun County, a short but steep hike to Bear's Den Overlook pays off with a fantastic view. After your hike, reward the adults in your group with a visit to Dirt Farm Brewing, where kids can play on the lawn while you soak in the view.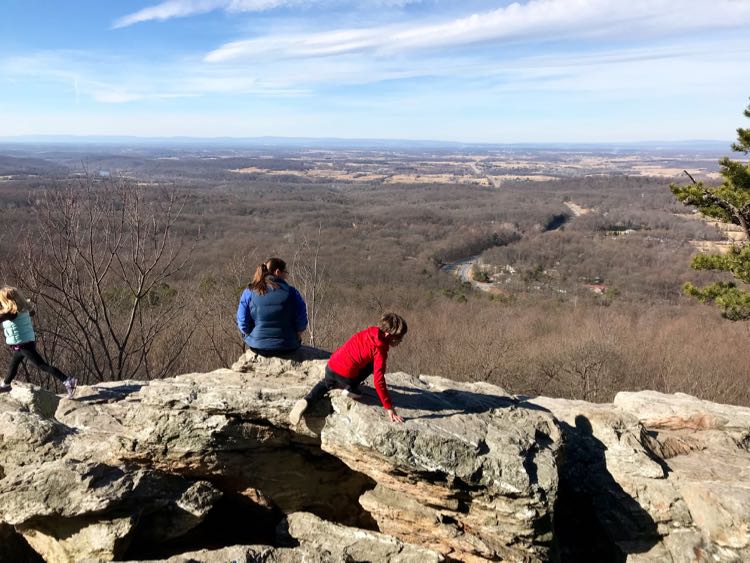 Head north to Maryland for a kid-friendly and rewarding hike to the summit of Sugarloaf Mountain. This has been a favorite family hike and picnic destination since our twins were young, and they still enjoy a visit.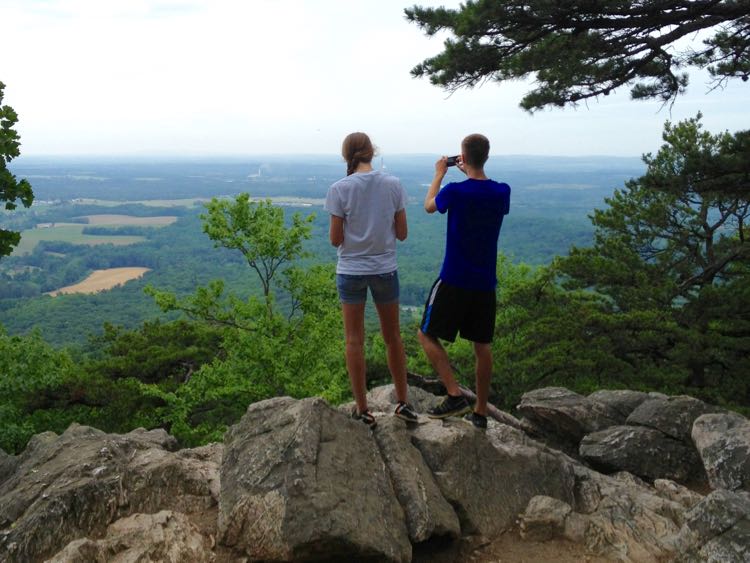 Read these articles for more Northern Virginia hikes and parks that are perfect for family outings:
Hiking is one of the best ways to enjoy family time while getting some exercise. If the weather doesn't cooperate, you can take an indoor hike of sorts at the sprawling Smithsonian Air and Space Udvar-Hazy Center.
Visit a New Capital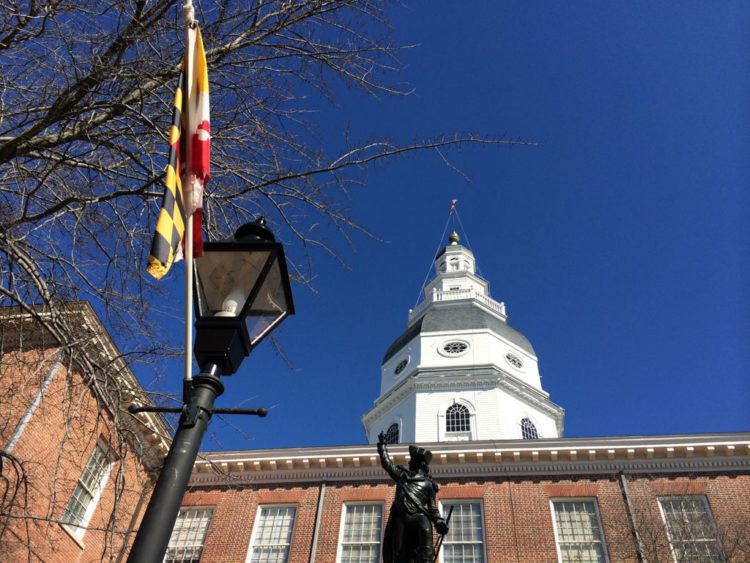 A warm spring day is ideal for a day trip to Annapolis, Maryland. Here, you can stroll the historic streets, explore interesting exhibits at the state capitol, and play by the water. Grab a water taxi for a short trip on the downtown rivers, or enjoy a longer tour on one of the tour boats or the trolley.
You'll also find plenty of indoor and outdoor fun on a day trip or getaway to Richmond Virginia. Start your visit by crossing the cool footbridge for a hike on Belle Isle. Then, follow the Canal Walk for more scenery, history, and nice places to enjoy lunch.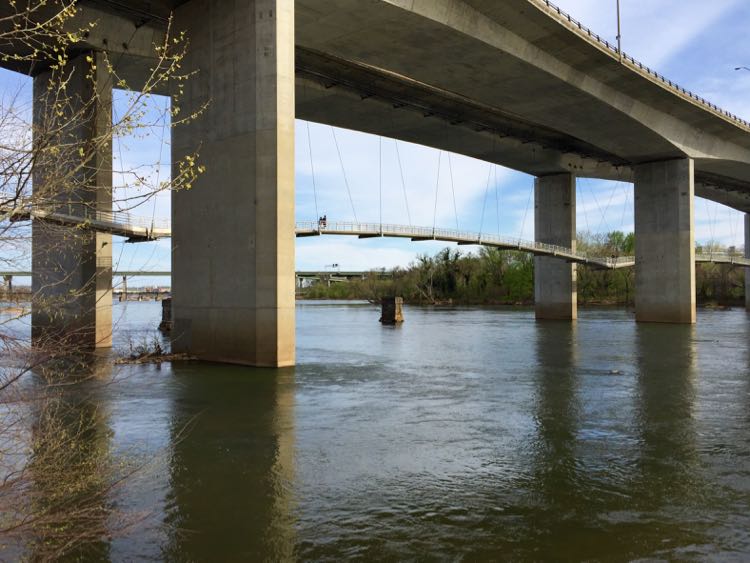 If your visits to Washington DC usually focus on the Smithsonian Museums, take a trip to the US Capitol area instead. Tour the Capitol building, take the underground tunnel to check out the beautiful Library of Congress, and visit kid-friendly stops like the Postal Museum.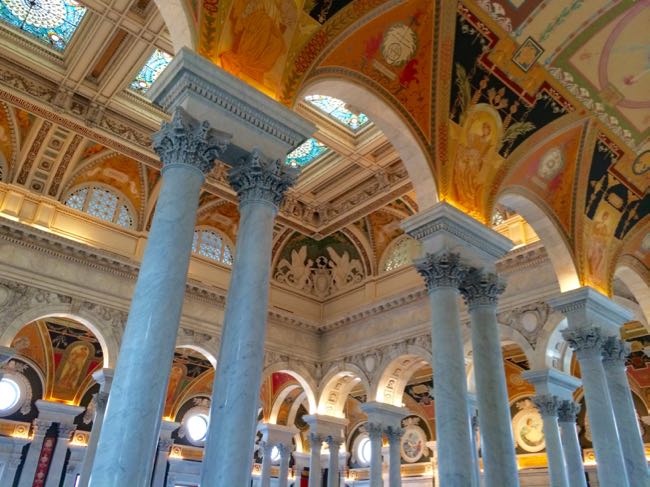 Bonus: Extend Spring Break Outings with an Overnight Getaway
The Northern Virginia area is rich with fun and interesting towns to explore. Here are 5 more Spring Break outings that you can visit as a day trip or extend with an overnight stay. Click the links for details on what to do, where to eat, and where to stay at each destination.
These destinations offer fun all year long, but they often include extra family activities and events during Spring Break. Whatever your plans, we wish you safe, happy, and fun-filled Spring Break outings.
You'll find more spring events and outings, suggested by local experts, in our roundup of Fabulous Ways to Celebrate Spring in Northern Virginia.


This article was published in 2018 and updated in 2019 and 2020.