Bookmark our great, big, complete guide to 2020 Easter Egg Hunts in Northern Virginia for family-friendly celebrations of spring at parks, farms, zoos, and towns. Many events require registration and fill up quickly, so reserve your spot soon.
2020 Update: All Easter Egg Hunts listed here are canceled. 
Easter falls on Sunday, April 12th in 2020, so most of the Easter Egg Hunts are scheduled for early April. The larger spring celebrations and Easter Bunny photo opportunities begin in March, so it pays to make reservations early in the month.
Events are listed below in three groupings—Parks and Historic Sites, Farms and Zoos, and Towns—in order of start date. Follow the links for additional details on hours, fees, and registration.
2020 Easter Egg Hunts in Northern VA: Parks and Historic Site
2020 Easter Egg Hunts at Northern Virginia county and regional parks begin in mid-March. Book your spot early as many of these events will sell out.
Fairfax County Parks
Visit the  Fairfax County Activities Search page and enter "egg hunt" or "easter" to find links to 2020 Easter Egg Hunt sessions or follow the included links below.
Mount Vernon Easter Egg Hunt, Mount Vernon RECenter, Apr 3
Flashlight Egg Hunt, Cub Run Rec Center, Apr 3
Aqua Egg Hunt, Herndon, Apr 4
Easter Egg Hunt at Sully, Chantilly, Apr 4, 5
Dinosaur Egg Hunt, Hidden Oaks Nature Center, Apr 4, 5, 10, 11, 13
Easter Eggstravaganza at Frying Pan Park, Herndon, Apr 5
Easter Egg Hunt at Lake Fairfax, Reston, Apr 5
Egg-streme Teen Night Egg Hunt, Fairfax, Apr 9
Easter Egg Hunt at Clemyjontri, McLean, Apr 11
Baskets and Bunnies Egg Hunt (including Sensory Friendly sessions), Burke Lake Park, Apr 11
Egg Challenge and Hunt, Riverbend Park, Great Falls, TBA
Easter Egg Hunt at Colvin Run Mill, Great Falls, TBA
Nottoway Egg Hunt, Vienna, TBA
Loudoun County Parks
NOVA Parks
Visit the NOVA Parks Activity Search page and enter "egg hunt" to find links to each event.
Bull Run Regional Park, morning and afternoon egg hunts, Centreville, Apr 7
Potomac Overlook. Arlington, Apr 7
Meadowlark Gardens

, Vienna, Apr 7

Brambleton Golf Course, Ashburn, Apr 6
Pohick Bay Regional Park, Lorton, Apr 8
Temple Hall Farm Regional Park, Leesburg, Apr 8
Cameron Run, Alexandria, Apr 9
Algonkian Easter Egg Hunt and Hop Along 5K, Apr 11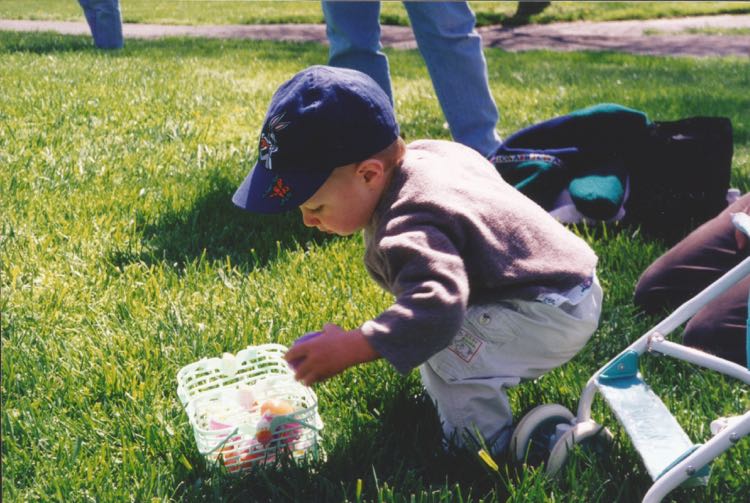 Prince William County Parks
Flashlight Egg Hunt, Manassas Park, Apr 3
Easter Egg Hunts, Manassas Park, Apr 4
Adaptive Egg Hunt, Brentsville Courthouse, Apr 4
Rippon Lodge Easter Egg Hunt, Woodbridge, Apr 4
Leesylvania State Park Easter Egg Hunt, Woodbridge Apr 11
Occoquan Peep Contest, Historic Occoquan, Apr 11
Hoppy Easter at the Farm Brewery at Broad Run, Broad Run, TBA
The Easter Bunny will fill the Lee-Fendall House garden with hundreds of colorful toy-filled Easter eggs! Other activities include games, crafts, a sticker station, refreshments, and photos with the Easter Bunny. Every participating child will receive an Easter Egg. Children aged 0-12 are eligible to participate in the Easter Egg Hunt, while older children and adults enjoy other activities. Follow the link for the daily schedule. $15/$5 children 1 – 18/19 and up.
2020 Easter Egg Hunts in Northern VA: Farms and Zoos
Ticonderoga Farm's annual Spring Festival kicks off March 21st, with egg hunts and visits from the Easter Bunny on weekends. Kids and adults can visit the giant slides, bounce pillows, pedal karts, playgrounds, take a hayride, visit farm animals, a bamboo maze, and much more. Arrive at least 30 minutes prior to Egg Hunts and remember to bring your own basket or bag for collecting eggs. Follow the link for event details and directions; admission is $10.95/$14.95 weekdays/weekends. 19:30 – 5:00.
Amaze your little ones with the chance to harvest a few marshmallow peeps to roast on the bonfire and join in an egg hunt. There are multiple age-specific egg hunts each day (over 18,000 eggs filled with treats). Admission includes egg hunts, a chance to see spring chicks and baby animals, and a wagon ride. Follow the link for the schedule for your child's age group. Buy tickets in advance to avoid the line. $10 child, $12 adult. Combine your outing with a hike to Bears Den or a stop at Dirt Farm Brewing for brews with views.
Easter Egg Hunt, Leesburg Animal Park, Apr 4, 5, 11, 12
Hunt for thousands of toy and candy-filled eggs at the 21st annual Easter Egg Hunt and visit with the Easter Bunny. Egg hunts are by age group, and advanced tickets are required.
Roer's Zoofari is going plastic-free in 2020! Younger kids can hunt for reusable Easter eggs and turn them in for prizes. Other activities include face painting, bounce houses, crafts, safari tours, and more family fun. Admission is $20.00 per person and advanced purchase is recommended for this event, which usually sells out. 9:00 – 5:00.
Play Easter games, bounce in inflatable houses (weather permitting), and of course, hunt for eggs. Meet Whitehall's farm animals and take a fun wagon ride around the farm. Three timed egg hunts are staggered by age group and admission is $15 for kids, $7.50 for adults, advance purchase only. 10:00 – 4:00.
Town 2020 Easter Egg Hunts
Many towns hold free Easter Egg hunts for residents of their community. Here is a list of town events that do not specify "residents only" in their listings. Some events require registration or tickets.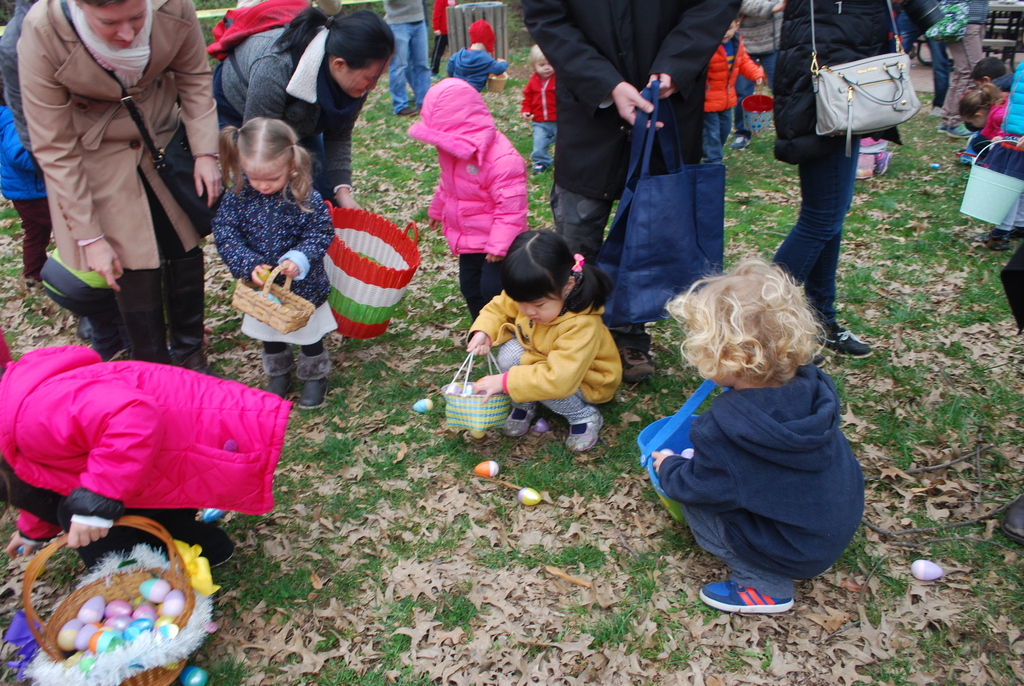 Children 10 and younger are invited to join in an Old-Fashioned Egg Roll on the lawn of the Freeman House, hosted by Historic Vienna, Inc. and the Town of Vienna. Children can decorate hard-boiled eggs, get their photo taken with the Easter bunny, "hunt" for eggs, and race one another in the egg roll. Free, no reservations required; 5:30 – 7:00. 
Gather the family and a flashlight and head to Glyndon Park for a Friday evening search for eggs and prizes in the dark. Kids can also enjoy the moon bounce and visit with the Easter Bunny. The Egg Hunt begins at 8:00 and tickets are $3 per family member (max six per household). Both Vienna events are held rain or shine.
Eggnormous Egg Hunt, Sunrise Valley Elementary School, Reston, Apr 4
Enjoy a great Reston tradition at Sunrise Valley Elementary School. Enjoy games, entertainment by a strolling magician, moon bounces, and the ever-popular egg hunt (bring a basket). The egg hunt starts at 10:30 a.m. sharp. No reservations, free for children infant to 8. 10:00 – 11:30.
Hop around from store to store in historic downtown Manassas for sweet surprises. For each purchase from a participating merchant, customers get to select an egg from the merchant's basket and win a prize. Three of the eggs will contain Grand Prizes. 10:00 – 5:00 daily.
Join the annual Egg Hunt at Van Dyck Park. This special event is open and free to the community. Half hour hunts by age group every half hour from 10:00 – 1:00. No registration is required but only 300 children are allowed per age group. Arrive early to receive a wristband. Follow the link for age schedules and rules about parent participation.
Bring a basket and join the annual family celebration. Children dressed can hunt for candy and special eggs in Cherry Hill Park and have their photo taken with special guest, the Easter Bunny. 10:00 am.
Bring your basket to collect eggs and other spring goodies at Herndon's old fashioned Easter celebration. Enjoy games, arts and crafts, music, a visit with the Easter Bunny, and timed egg hunts by age group. The fun begins at 9:30; follow the link for age-group egg hunt times. $9/$10 advance/day of event.
Easter Eggstravaganza at Lake Anne, Reston, TBA
Enjoy a variety of Spring festivities, Easter, and warm weather. The Easter Bunny will arrive in true Lake Anne Fashion—by pontoon boat—at noon. Bring the kids for bunny hugs, egg dying, egg relays and face painting. Stop at Lake Anne shops for eggs and treats.
2020 Easter Photos at Northern Virginia Malls
CANCELED: 2020 Easter Bunny photo events at area malls have been canceled.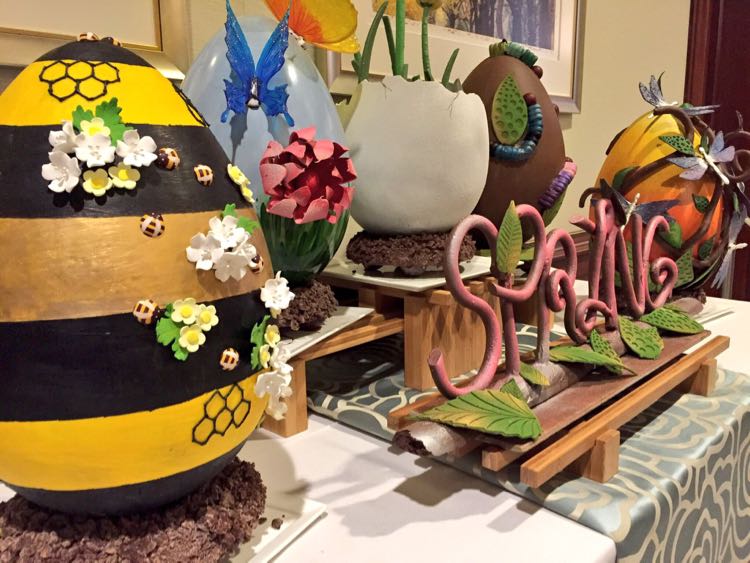 2020 Easter Egg Hunts in Northern Virginia are a great way to kick off a spring full of family fun. Find more fun things to do in our round-up of April Events in Northern Virginia. We wish you happy egg hunting and a very beautiful spring!
>> Make your 2020 Easter egg hunting extra special with a local staycation in Tysons Corner.