Our complete guide to 2021 Easter Egg Hunts in Northern Virginia includes family-friendly celebrations of spring at parks, farms, zoos, and towns. These events require registration and fill up quickly, so reserve your spot soon. In 2021, our Easter egg hunt list is much shorter than usual and event capacity is limited, but the kiddies can still enjoy this spring tradition.
Easter falls on Sunday, April 4th in 2021, and many of the Easter Egg Hunts and Easter Bunny photo opportunities begin in late March. It pays to make reservations early in the month.
Events are listed below in three groupings—Parks and Historic Sites, Farms and Zoos, and Towns—in order of start date. Follow the links for additional details on hours, fees, and registration.
2021 Easter Egg Hunts in Northern VA: Parks and Historic Site
2021 Easter Egg Hunts at Northern Virginia county and regional parks begin in mid-March. Book your spot early as many of these events will sell out.
Fairfax County Parks
Visit the Fairfax County Activities Search page and enter "egg hunt" or "easter" to find links to 2021 Easter Egg Hunt sessions or follow the links below.
Loudoun County Parks
NOVA Parks
NOVA Parks is not hosting any Easter egg hunts in 2021.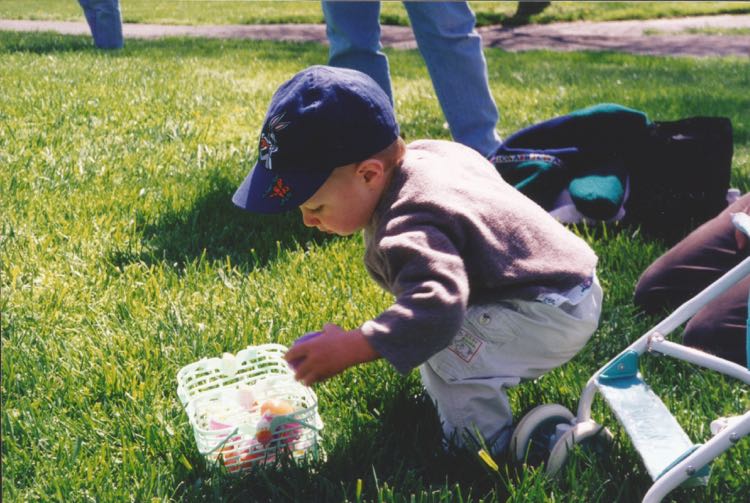 Prince William County Easter Egg Hunts
The Easter Bunny will fill the Lee-Fendall House garden with hundreds of colorful toy-filled Easter eggs! You must register in advance and capacity is limited to ensure safe socially distancing. Follow the link for the schedule and to register. $15/$5 children 2 – 12.
2021 Easter Egg Hunts in Northern VA: Farms and Zoos
Amaze your little ones with the chance to harvest a few marshmallow peeps to roast on the bonfire and join in an egg hunt. There are multiple age-specific egg hunts each day (over 18,000 eggs filled with treats). Admission includes egg hunts, a chance to see spring chicks and baby animals, and a wagon ride. Follow the link for the schedule for your child's age group. Advanced tickets are required and capacity is limited. Farm admission is $10 child, $12 adult; egg hunts are $5 per child.
Adult Easter Egg Hunt, Great Country Farms, Bluemont, Mar 27 – 28
Why should the kids have all the fun? Adults can take a wagon ride to the field to search for thousands of treat and prize-filled eggs. The bar will be open and your $29 ticket includes your first pour of beer, wine, or cider.
Plan your visit with our guide to 15 Fantastic Fun Things to Do in Bluemont Virginia, including a family-friendly hike to Bears Den or a stop at Dirt Farm Brewing for brews with views.
Easter Eggstravaganza, Roer's Zoofari, Reston, Mar 27 – 28, Apr 27 – 28
Roer's Zoofari went plastic-free in 2020. This year, staff will hand out goody bags and participate in fun and COVID-friendly arts and crafts. Admission includes both the self-drive safari and walking experience tour. Admission is $20/$25 per child/adult and advanced registration is required for this event, which usually sells out. 9:00 – 6:00.
Ticonderoga Farm's annual public Spring Festival is canceled in 2021. The farm is only taking reservations for group field trips at this time.
Easter Egg Hunt, Leesburg Animal Park, Canceled
The annual egg hunts at Leesburg Animal Park are canceled in 2021.
Town 2021 Easter Egg Hunts
Only a few towns will hold community Easter Egg hunts in 2021. Here is a list of town events that do not specify "residents only" in their listings. Some events require registration or tickets.
The Easter Bunny dropped his eggs in the Reston Community Center pool and needs help to collect them. Some treats will float for little ones, others will sink for those seeking a little more adventure. A parent/adult is required to accompany each non-swimmer in the water and to participate in the activity. 3 sessions in different age groups, $4/$8 Reston resident/non-resident.
Hop around from store to store in historic downtown Manassas for sweet surprises. For each purchase from a participating merchant, customers get to select an egg from the merchant's basket and win a prize. Three of the eggs will contain Grand Prizes. 10:00 – 5:00 daily.
Enjoy a great Reston tradition outside the Reston Community Center at Hunter Woods. Bring a basket to join the egg hunt at 10:00. After the egg hunt, kids and parents are invited to the Community Room to enjoy a live performance from the Peter McCory's one-man band. Reservations required, free for children infant to 8. 10:00 – 11:30.
2020 Easter Photos at Northern Virginia Malls
None of the area malls are offering Easter Bunny photo events in 2021.
With only a few 2021 Easter Egg Hunts in Northern Virginia families will have to create their own spring fun. Bookmark our Spring Bucket List full of fun spring activities and destinations in the DC region. We wish you happy egg hunting and a very beautiful spring!