Visit the new Washington DC LEGO Discovery Center in Springfield Virginia for family fun and lots of interactive play. The new LEGO experience in Northern Virginia is a bright, immersive space designed for kids ages 2 to 13 (and their grownups).
The new LEGO Discovery Center Washington DC is now one of the best places to take kids in the DC region. LEGO fans will find a lot to love in the many hands-on activities and there is fun for adults too. The Springfield Town Center location offers plenty of free parking and easy access from I-95, 395, and the 495 beltway.
The LEGO Discovery Center in Virginia opens at full capacity on August 14 2023 and then is open daily (closed Thanksgiving and Christmas).
Disclosure: This article may contain affiliate links. We will make a small commission from these links if you order something, at no additional cost to you.
Below you'll find tips, attraction highlights, and an FAQ of essential information for your visit.
Top Tips for Visiting the DC LEGO Discovery Center
We were guests at the grand opening of the DC LEGO Discovery Center, so we were able to preview the experience below capacity. Our top tips for your DC LEGO visit assume you will encounter bigger crowds.
Book tickets online (currently required) to ensure your spot. Currently, there are timed entry tickets every 30 minutes from 10:00 to 4:30 (more ticket details below).
Children must visit with an adult and the LEGO Discovery Center is designed for children ages 2 to 12.
Adults can not enter the DC LEGO Discovery Center without an accompanying child. However, future Adult Night events are planned.
Kids can use the play zones in any order and you can stay as long as you like. The LEGO website says an average visit is 2 to 3 hours.
When you need a break, the on-site LEGO Cafe offers burgers, drinks, and snacks. You can not bring outside food or drink into the center.
Our favorite experience, the Imagination Express ride, is really fun for kids and adults. Loading and unloading the cars takes time, so if the line is short, take advantage and take the ride.
Bring socks for kids to play in the Hero Academy playground, which is open to children 3 to 5 feet tall.
There is a separate entrance to the LEGO Store and it's open during longer mall hours.
Planning to stay nearby? Hotels close to the Springfield Town Center Mall include the Hilton Springfield, Holiday Inn Express, and Residence Inn by Marriott Springfield.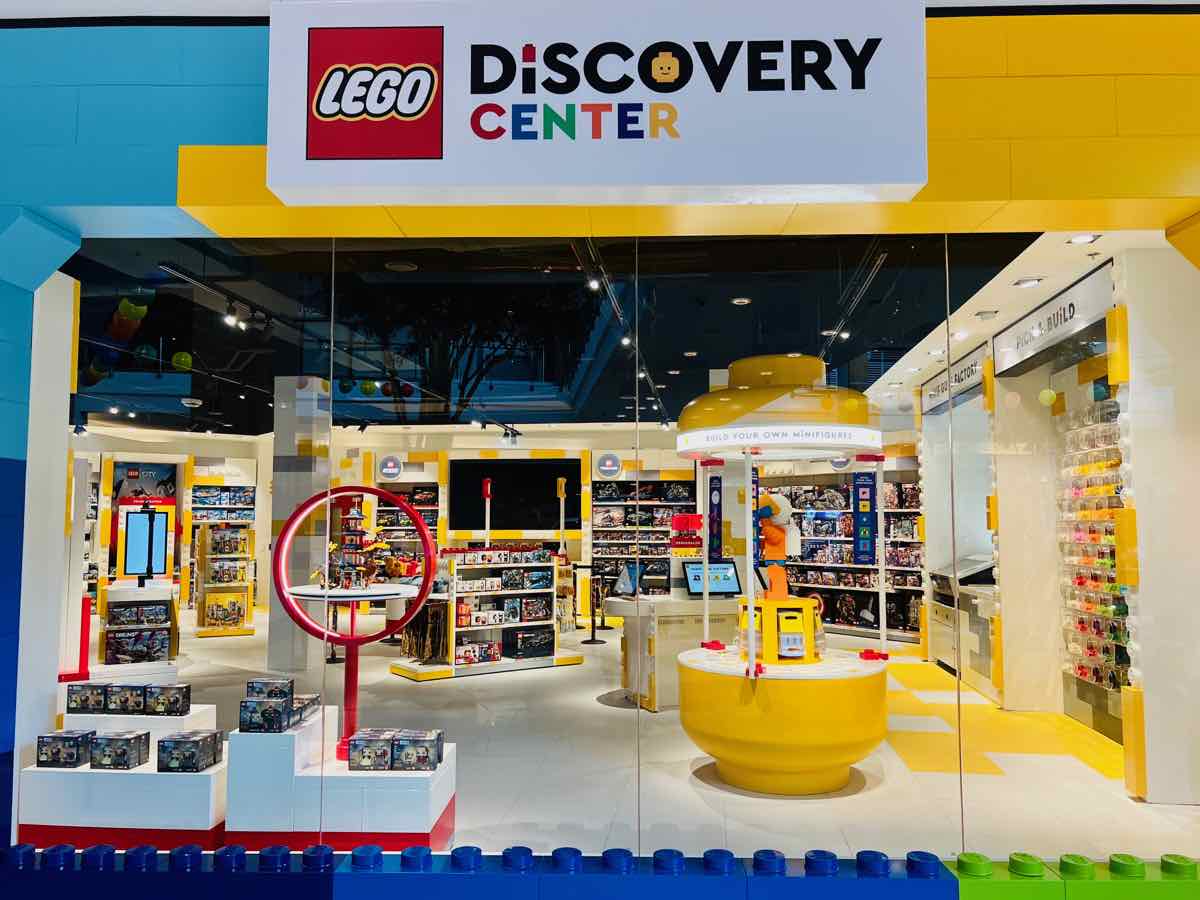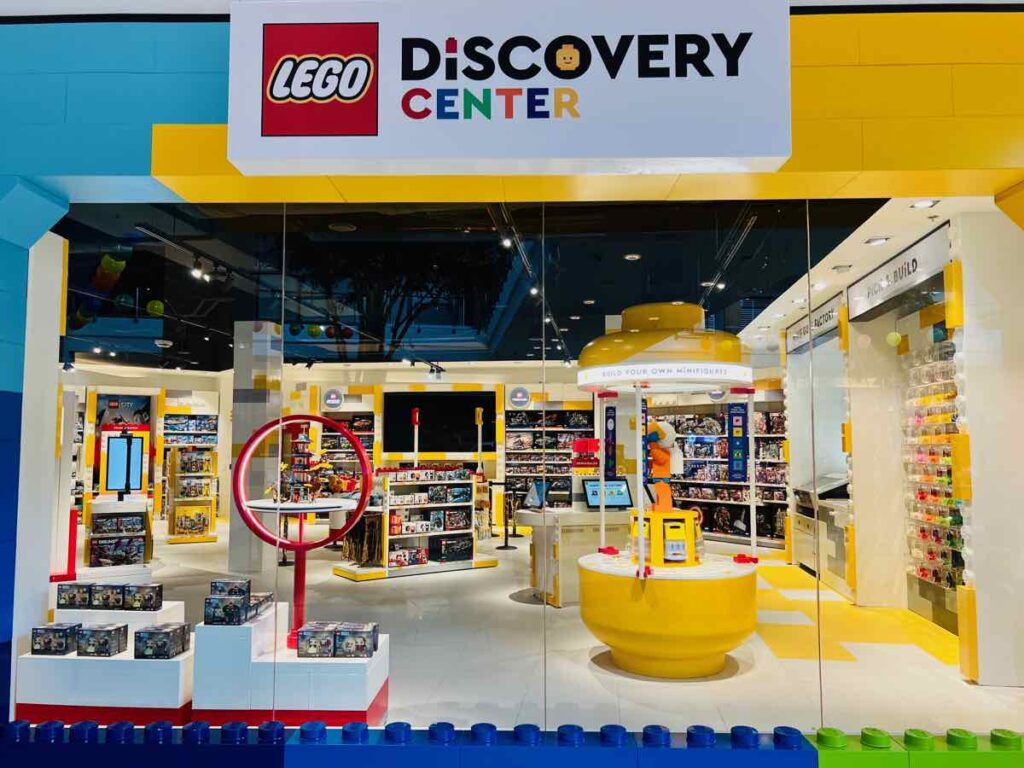 LEGO Discovery Center Washington DC Fun Zones
There are 11 unique play zones inside the DC LEGO Discovery Center plus a cafe where you can get something to eat and take a break. Most LEGO Center zones are very interactive and the overall experience is fun and flexible. Kids can explore and experience the zones in any order, and revisit favorites as often as they like.
Read on for highlights, photos, and our take on each LEGO play space.
Make Your Minifigure
Once you pass the ticket counter you enter the Make Your Minifigure zone. Here you choose heads, hair (or hat), legs, and bodies to create your own little figure to accompany you throughout the visit.
As you explore the different play zones, look for cute photo opportunities for your mini-figure. For example, in Mini World, take a picture of your figure seated in a tiny Oval Office.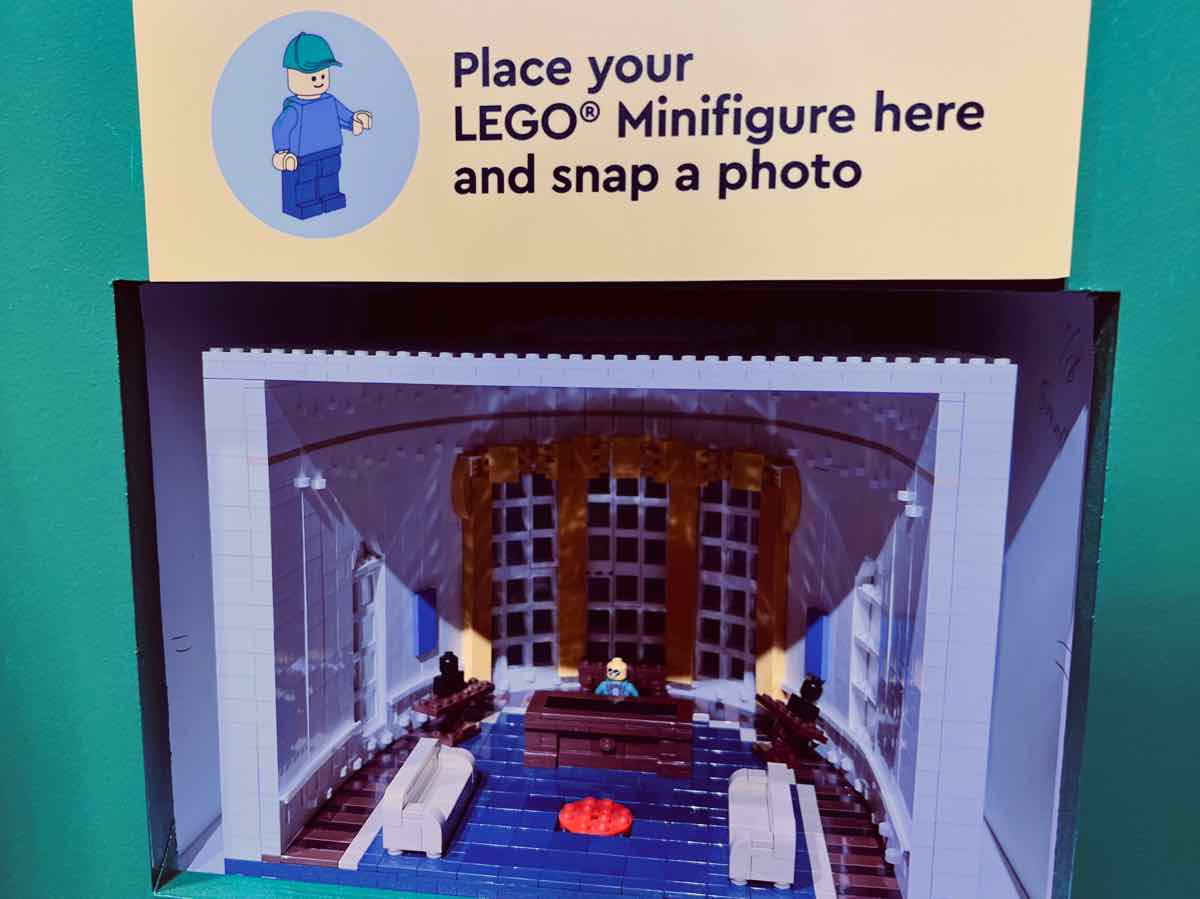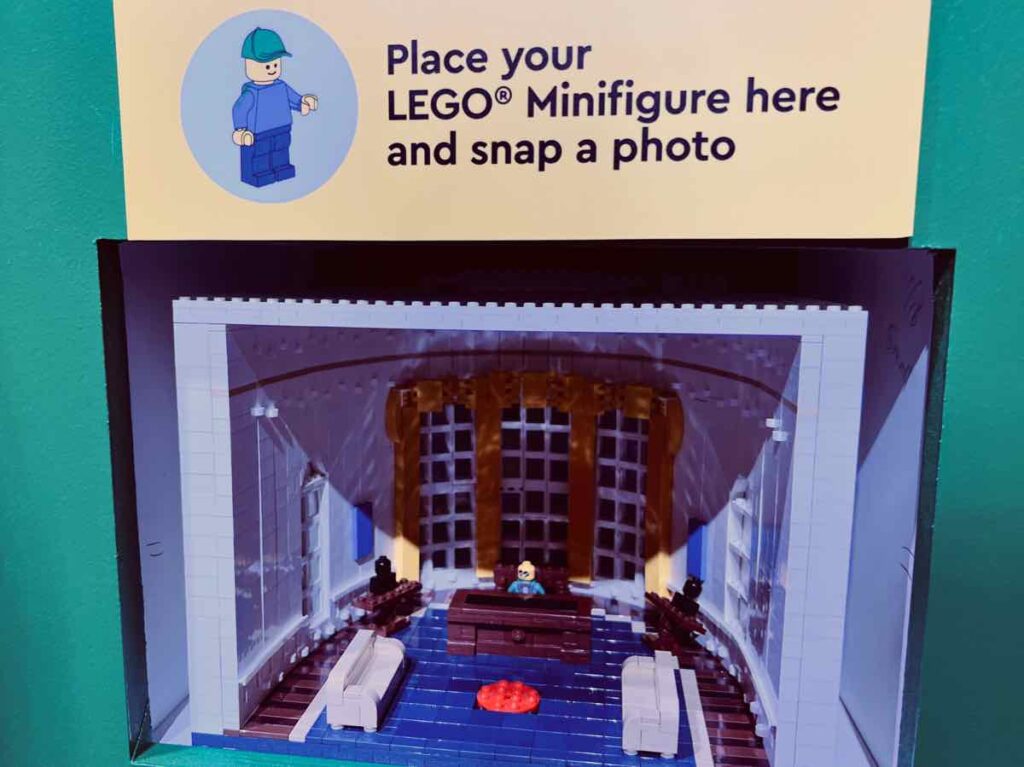 LEGO Tree of Imagination
The first thing you see as you enter the main play space is a bright, colorful Tree of Imagination. We suggest visiting the tree on your way out. Kids can search for items and add their own creations to the tree.
Imagination Express
To your right is the Imagination Express, one of the best group experiences at the Washington DC LEGO Discovery Center. Kids and adults ride together in 4-person cars through a series of scenes and interactive displays.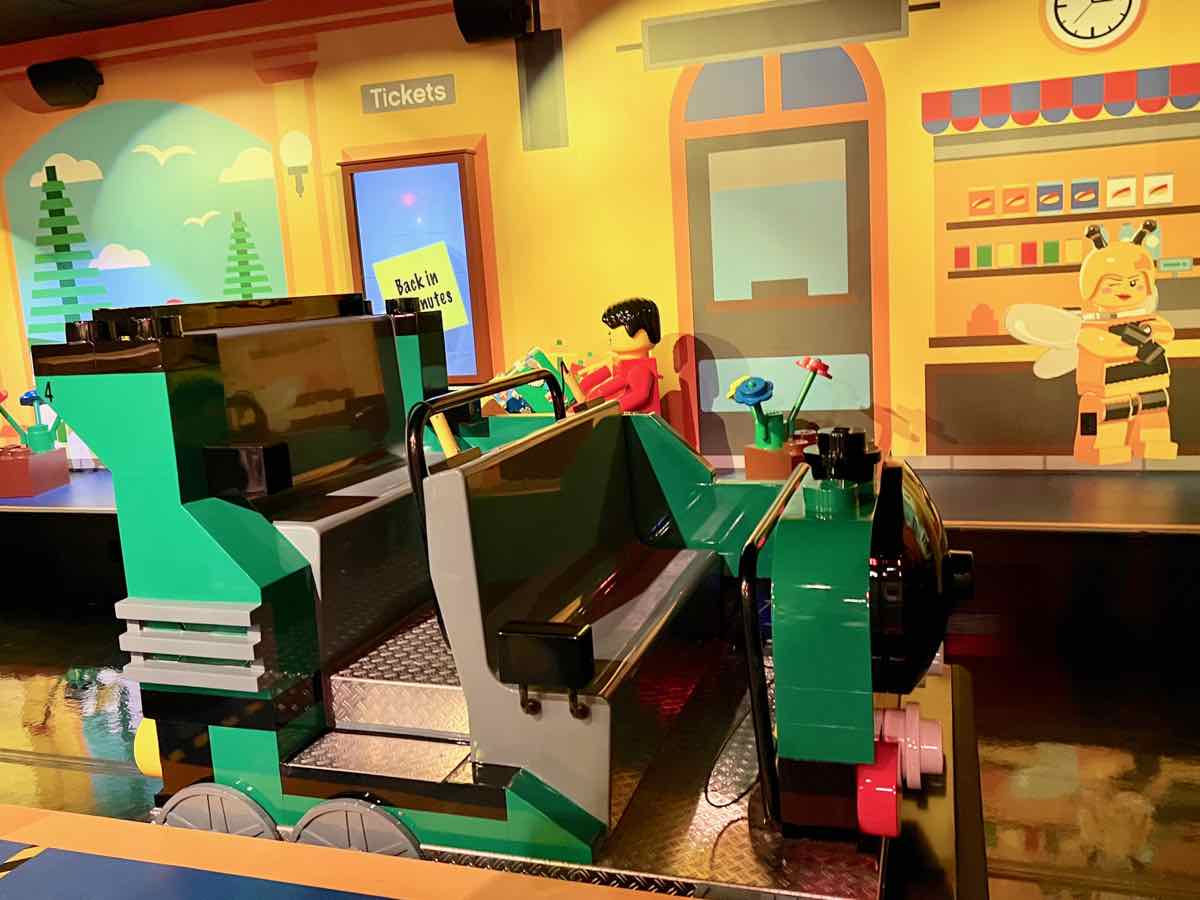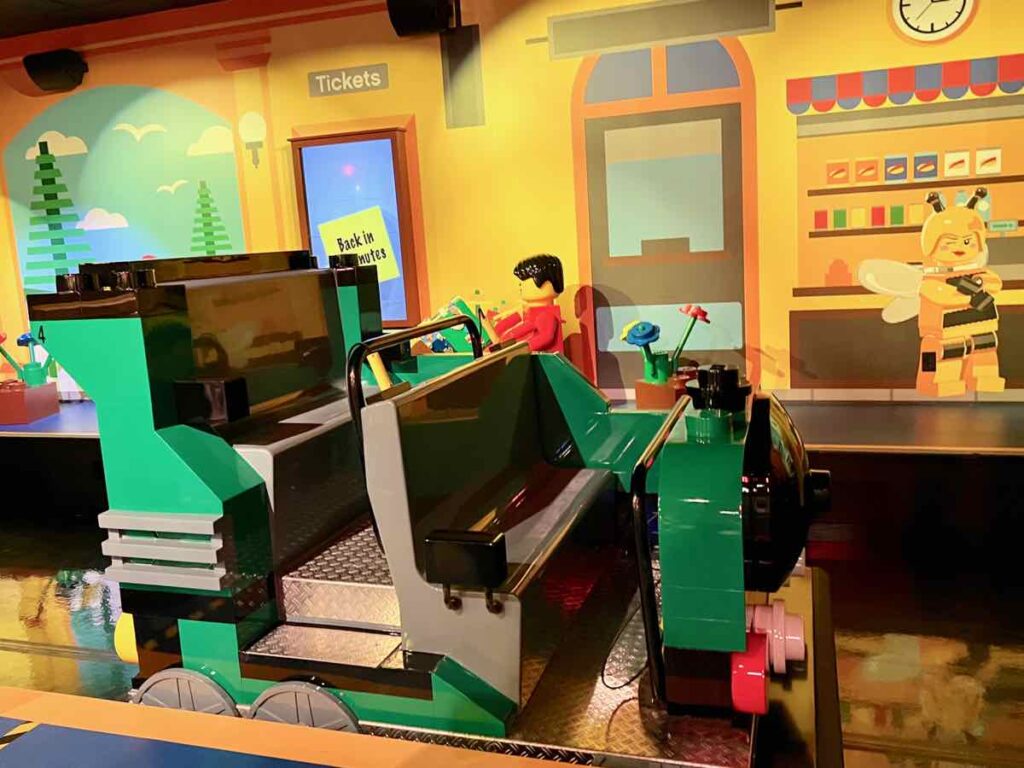 Each rider has a wand to light up on-screen items, scoring points as you go. The wand gives a subtle shake to let you know when you've scored. At the end of the ride, you can compare scores but do so quickly as they disappear before you leave the car.
The Imagination Express is fun for both adults and kids, so we rode it a couple of times. Note that you have to exit the car and go back through the line between rides. If the line is short that's a great time to take (and retake) the ride.
Mini World
My favorite DC LEGO Discovery Center zone is definitely Mini World, which features a huge display of real and imagined buildings and street scenes. Fortunately, a large part of the Virginia LEGO Mini World recreates Washington DC landmarks in exquisite detail.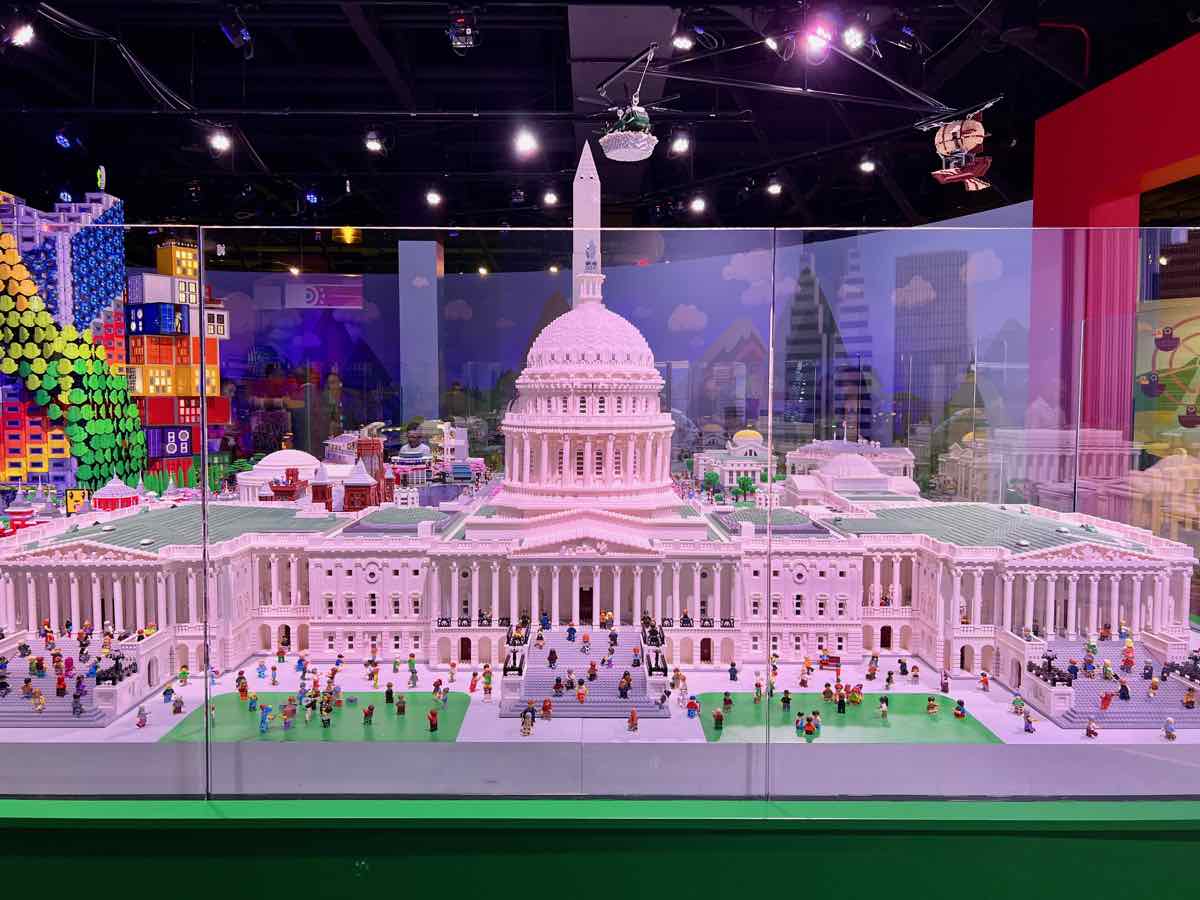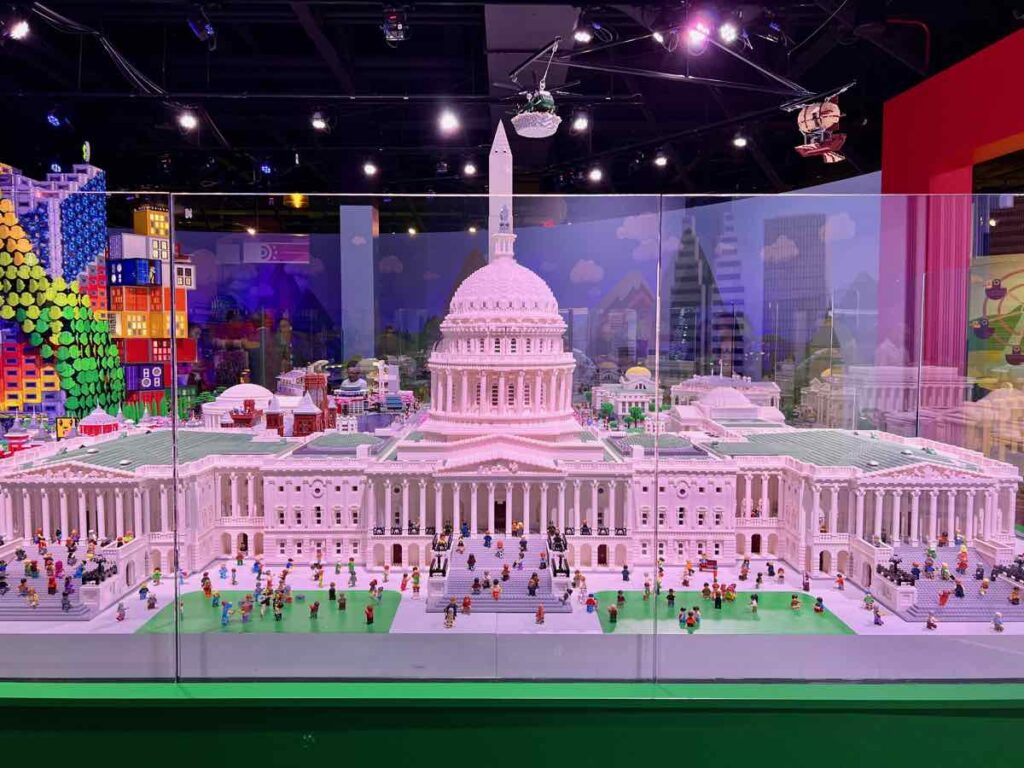 The complexity of the Washington DC scenes in Mini World is impressive. A massive US Capitol Building dominates the display on one side. Behind it, the National Mall, Smithsonian Castle, Washington Monument, Lincoln Memorial, White House, and more are expertly rendered in LEGO bricks.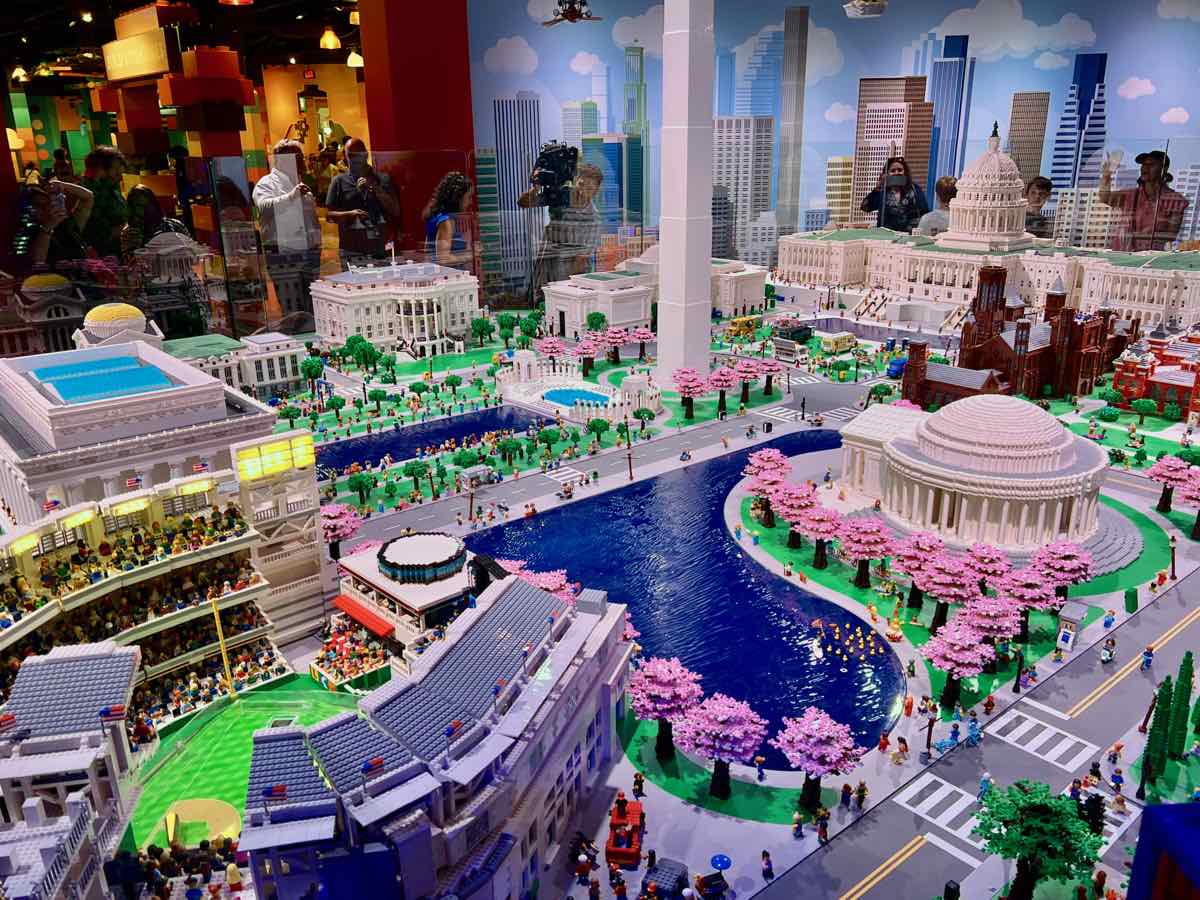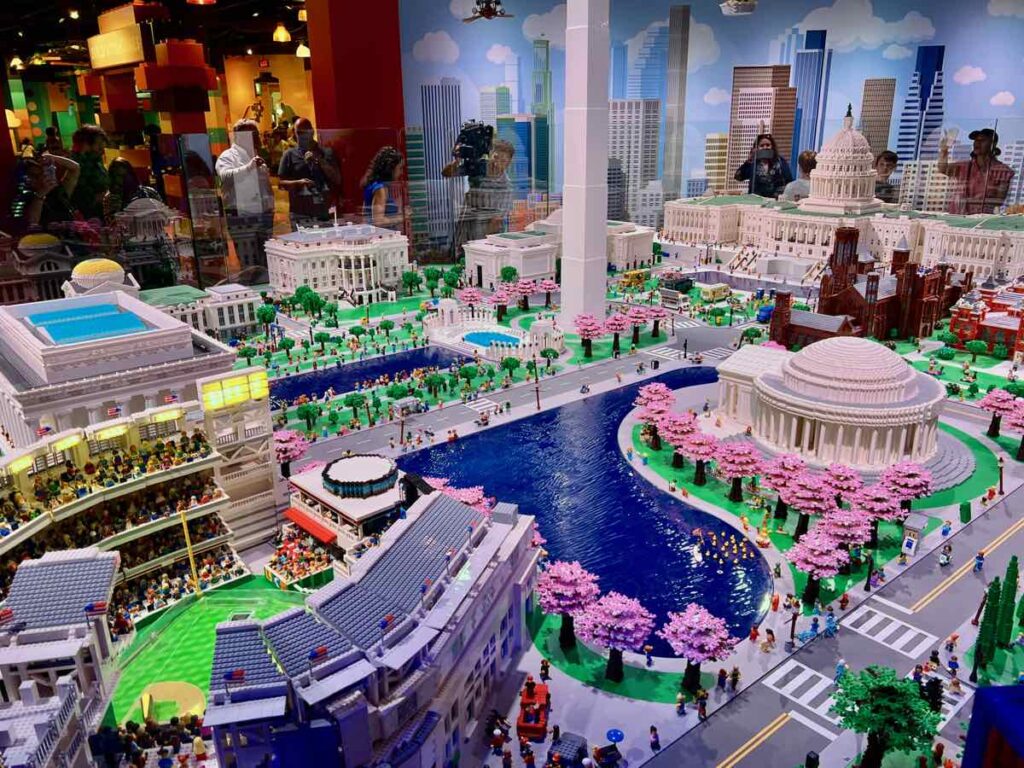 Other iconic DC sites are included too. The Jefferson Memorial and Tidal Basin are surrounded by blooming cherry trees. Nationals Park (or Rationals Park as it's called here) is incredibly detailed, with a fantastic collection of mini-figures filling the stands.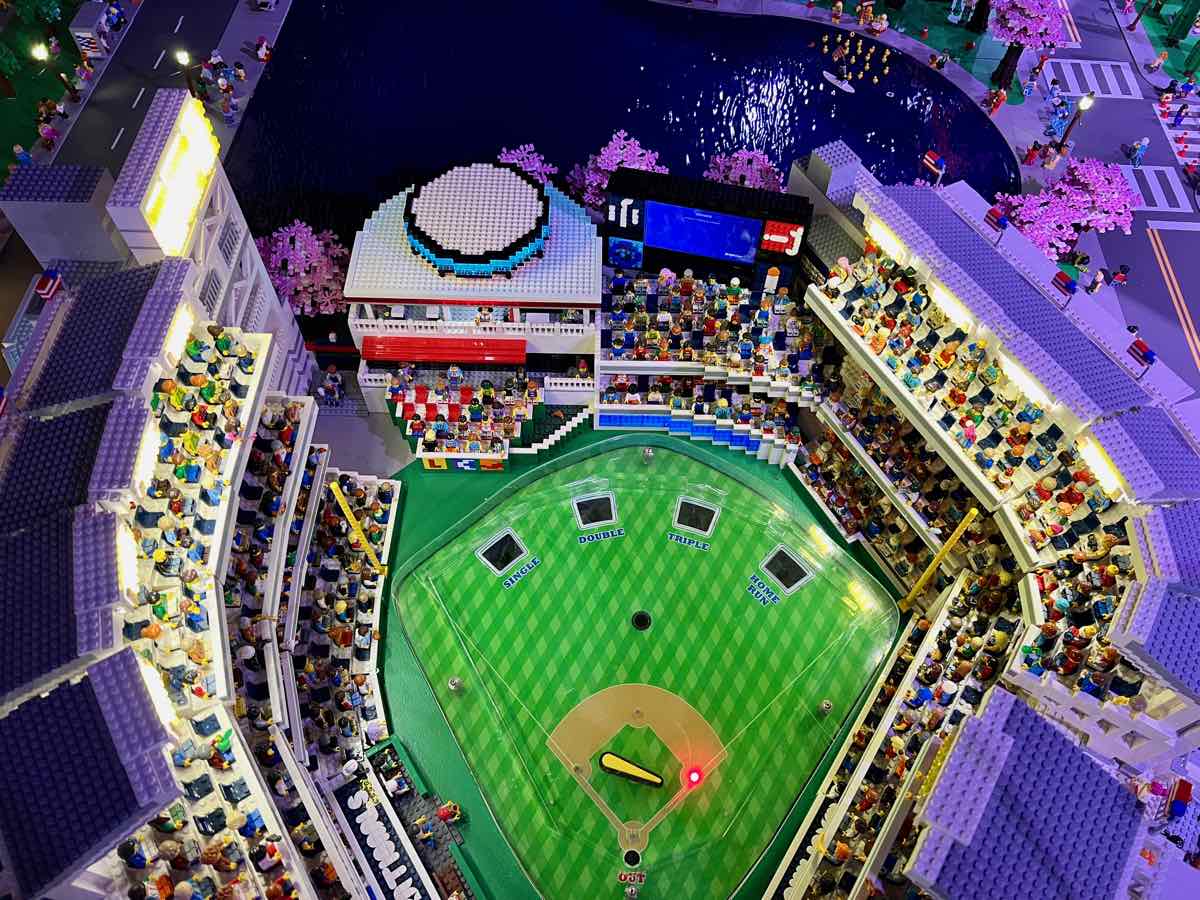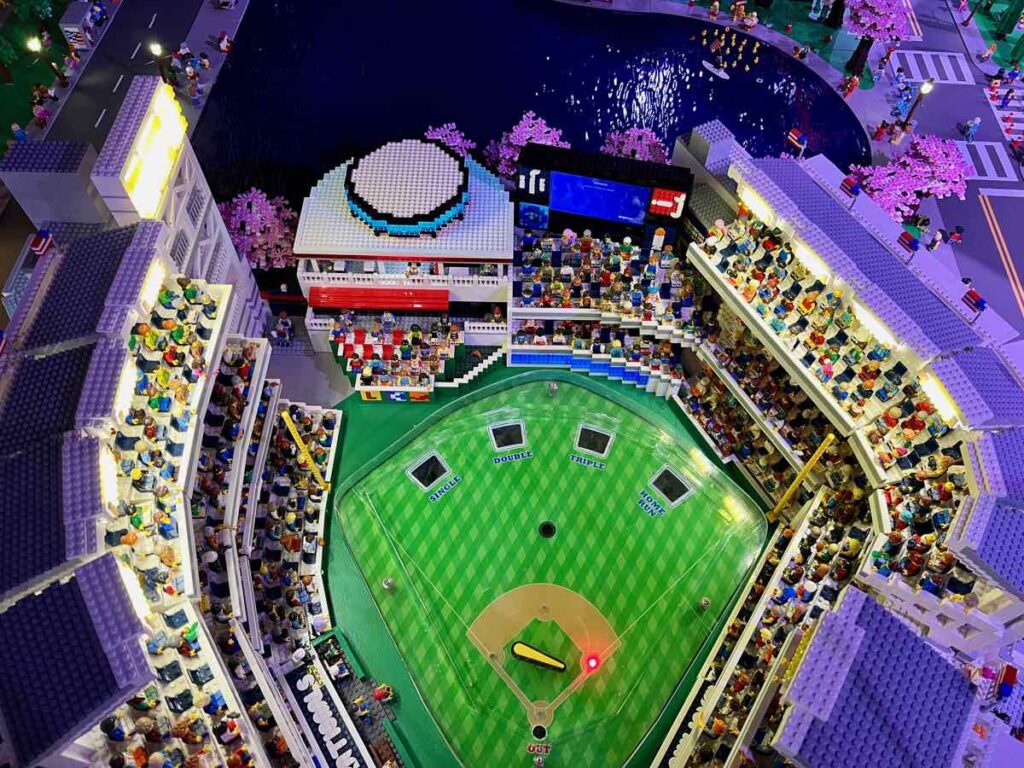 There are also clever interactive elements in Mini World. At Rationals Park, try scoring a hit with the pinball-like flipper. In another area, push a button to activate road construction.
Lighting changes from day to night as building lights come on and fireworks are heard in the distance. Beyond the DC-inspired display are colorful castles, skyscrapers, and more.
4D Cinema
The 4D Cinema shows a high-action movie short every 30 minutes. The movie features the popular LEGO NINJAGO characters as they explore a mystical scroll and get in a bit of trouble.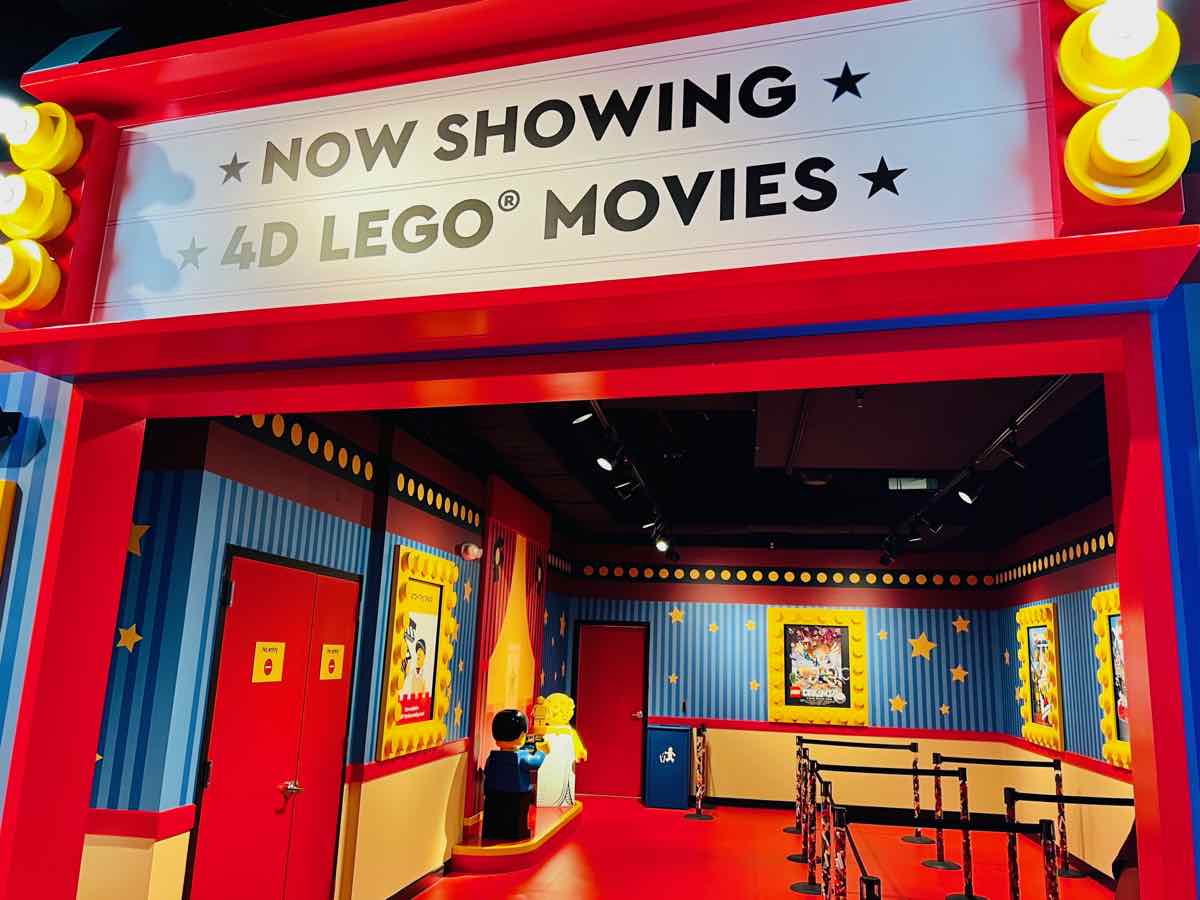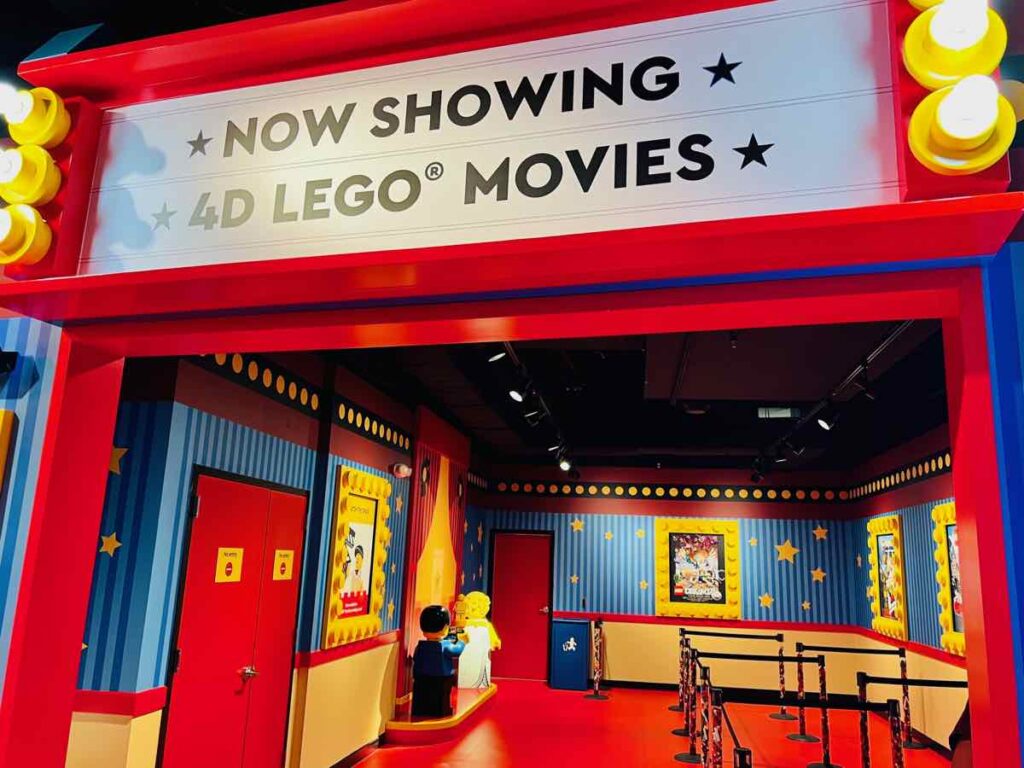 3D glasses make you feel part of the action and the 4D effects add "snow," wind, and other effects. (Don't worry, you won't get wet.) The theater has comfortable seats and it's a fun experience, but kids should be prepared for bright lights and lots of 3D movement.
Hero Academy
Kids can take on challenges and let off a little steam in the Hero Academy LEGO playground. The space, inspired by LEGO NINJAGO, includes a climbable soft playground, a laser maze, and other challenges.
In the Bank Laser Challenge, kids test their flexibility as they avoid laser beams while adults watch their progress on a TV outside the maze. The soft playground, designed for guests 3 feet to 5 feet tall, features slides, tunnels, and climbing platforms. Be sure to bring socks so your kids can enter the playground.
Space Mission
The Space Mission zone features a row of brightly colored stand-up control centers facing a giant screen. Players assemble a spaceship, scan it, then set off on a virtual journey through the cosmos. Kids (and adults) control their ships with large joystick controls.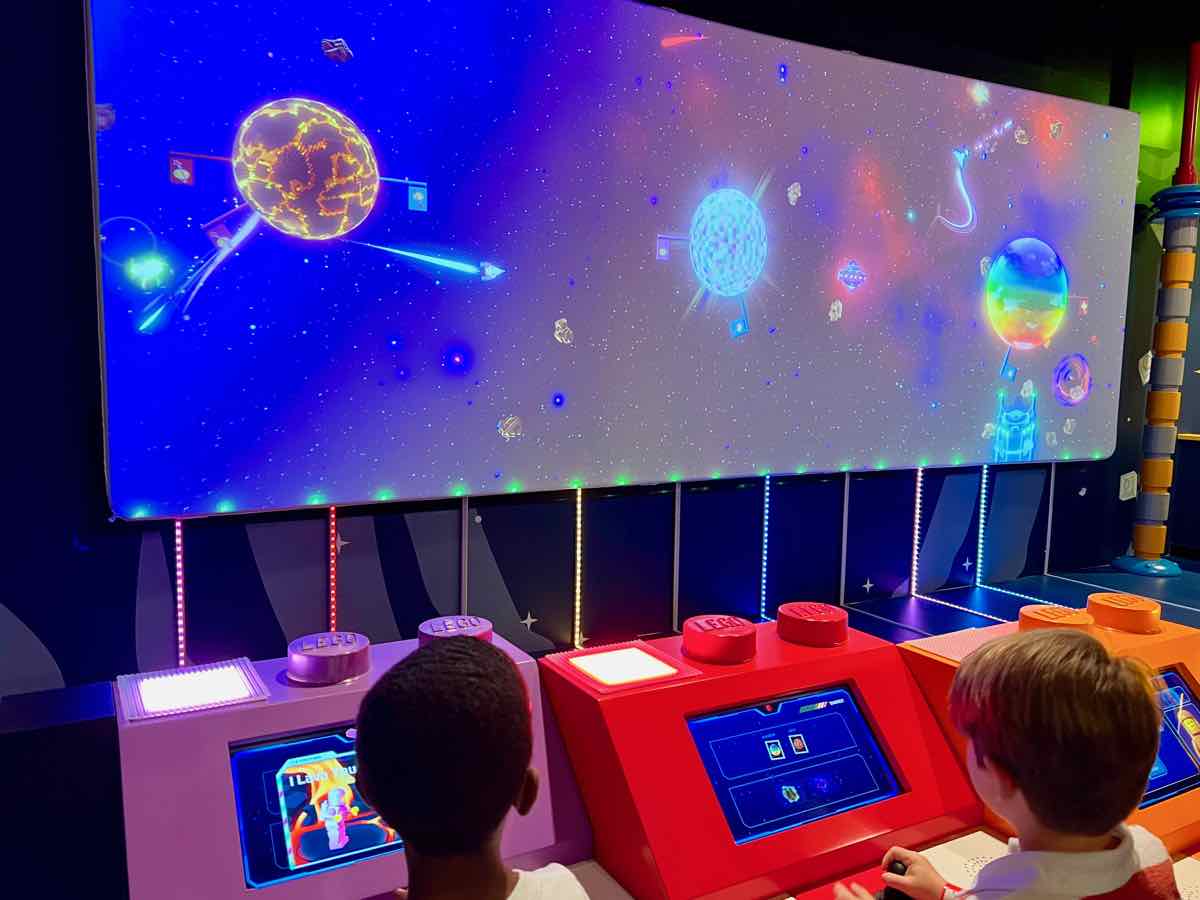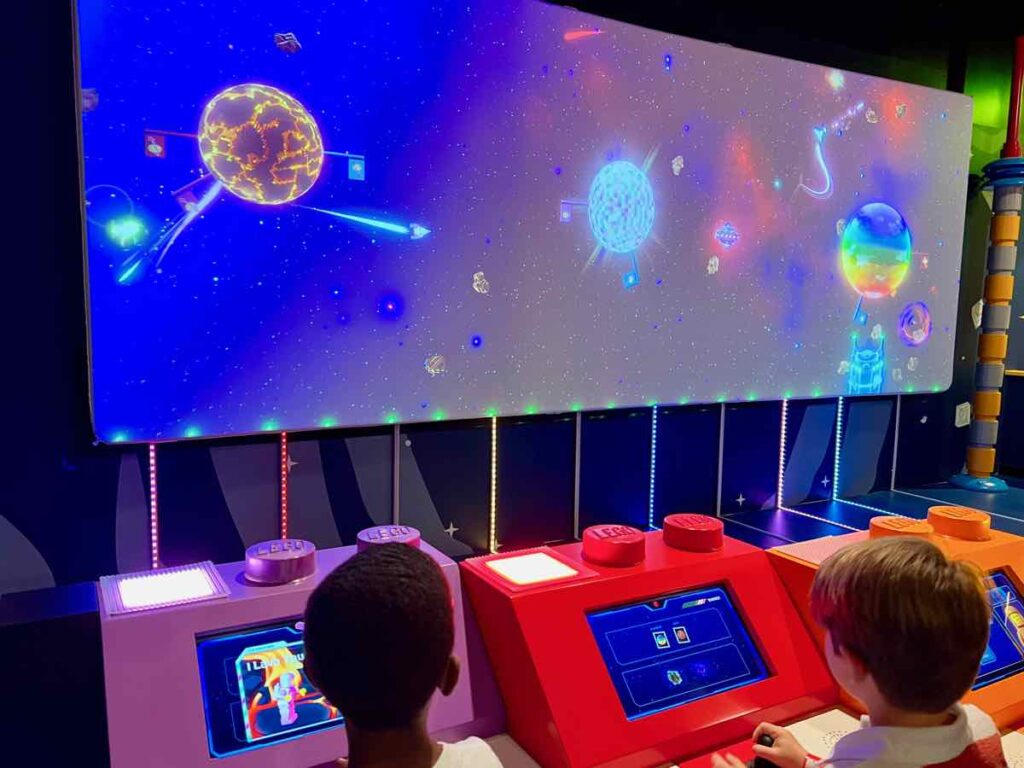 Building Adventure
The Building Adventure zone is another fun zone where kids can challenge their building skills. Here, you create a LEGO car and test it on several courses. Side-by-side tracks make it fun to race another car.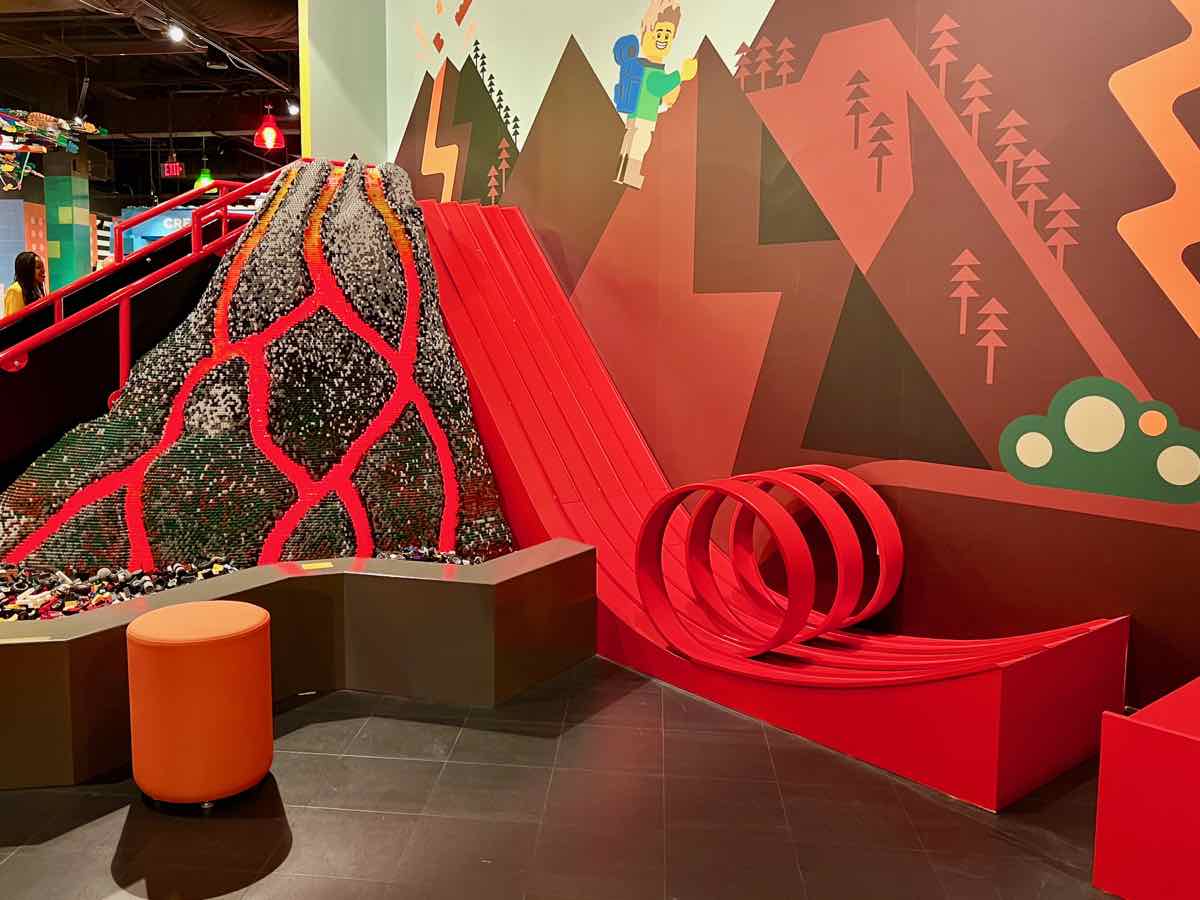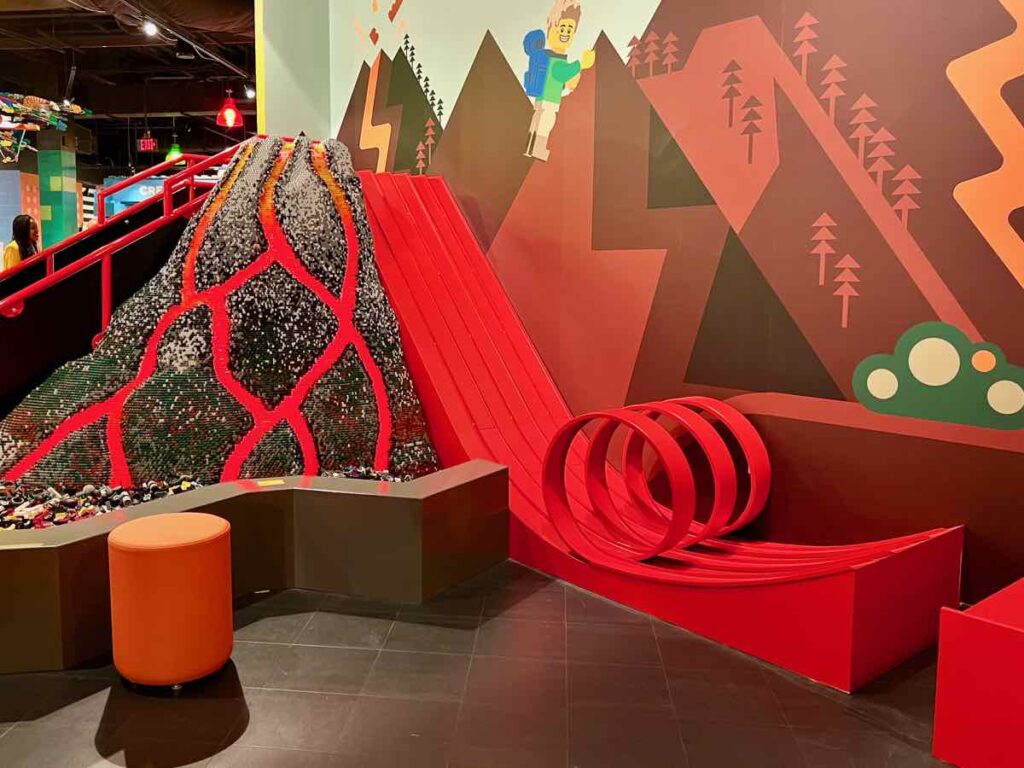 Start easy on a straight, sloping course through a giant LEGO pyramid or take on the biggest challenge, three side-by-side tracks with loops. Expert Master Model Builders are on hand to help kids modify their vehicles for maximum speed and success.
Creative Club
For a quieter build experience, head to the Creative Club. In this zone, kids can build a LEGO creation following provided examples or make something entirely on their own. There are several worktables available and lots of bricks to choose from.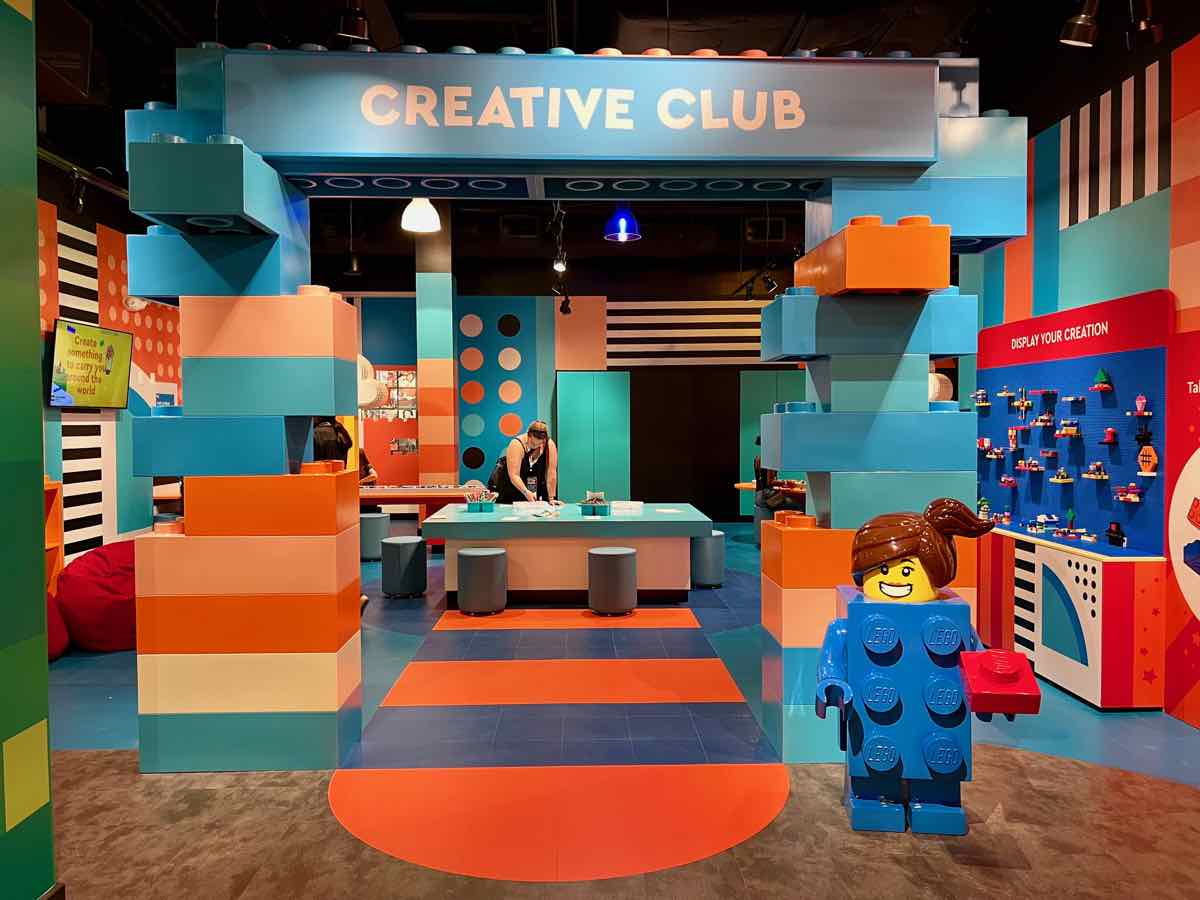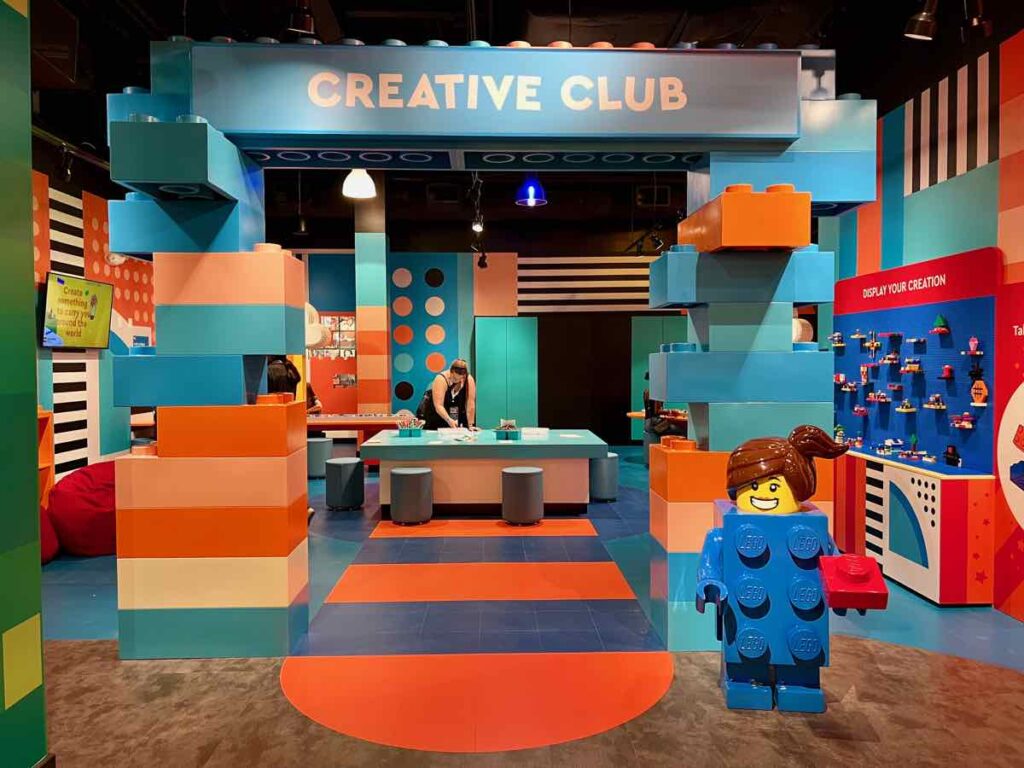 DUPLO Park
Do you have young LEGO lovers in your group? DUPLO Park is made just for the littlest builders. Kids can create with big, easy-to-hold DUPLO bricks at several stations.
There are fun play experiences in DUPLO Park too. Little builders can hook a duck with a magnetic fishing line, climb and slide, and ride a cute dinosaur merry-go-round.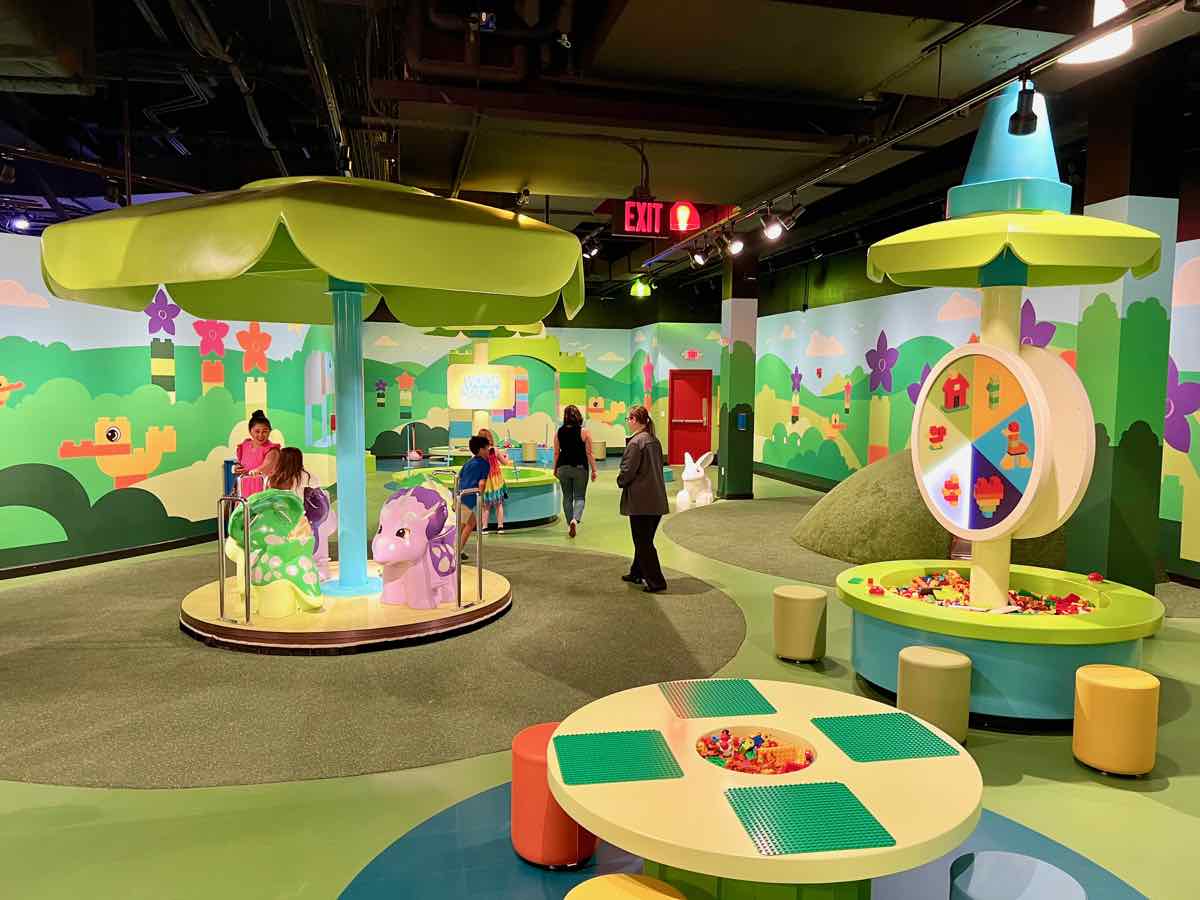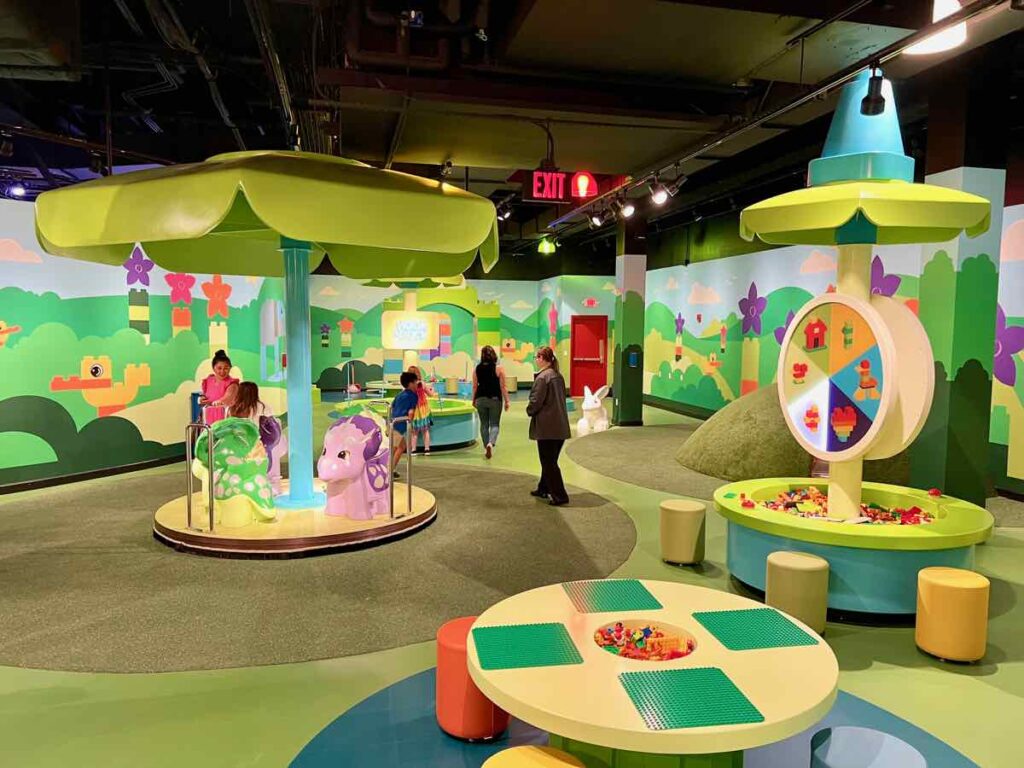 The Workshop
Older LEGO fans can go deeper with a guided experience in The Workshop. This quieter space opens several times a day for sessions led by Master Model Builders.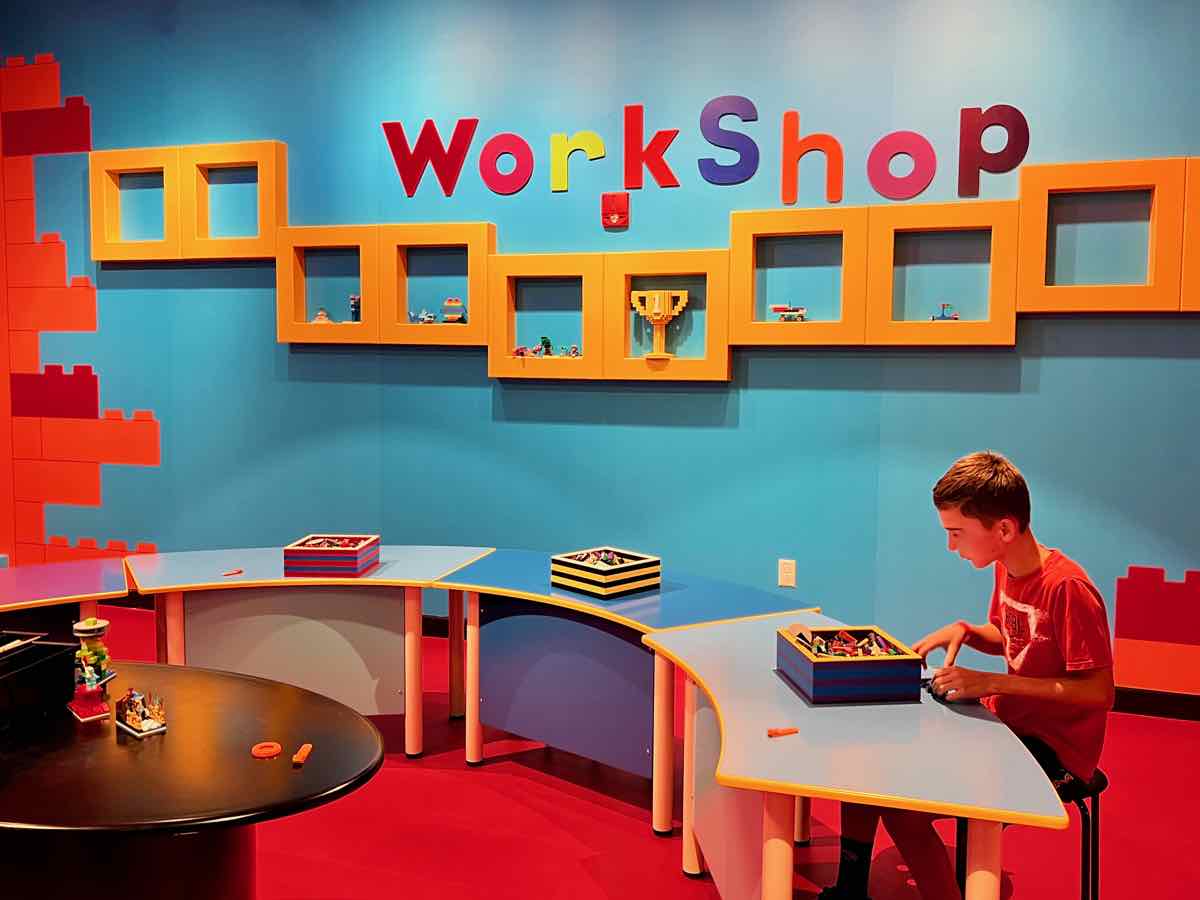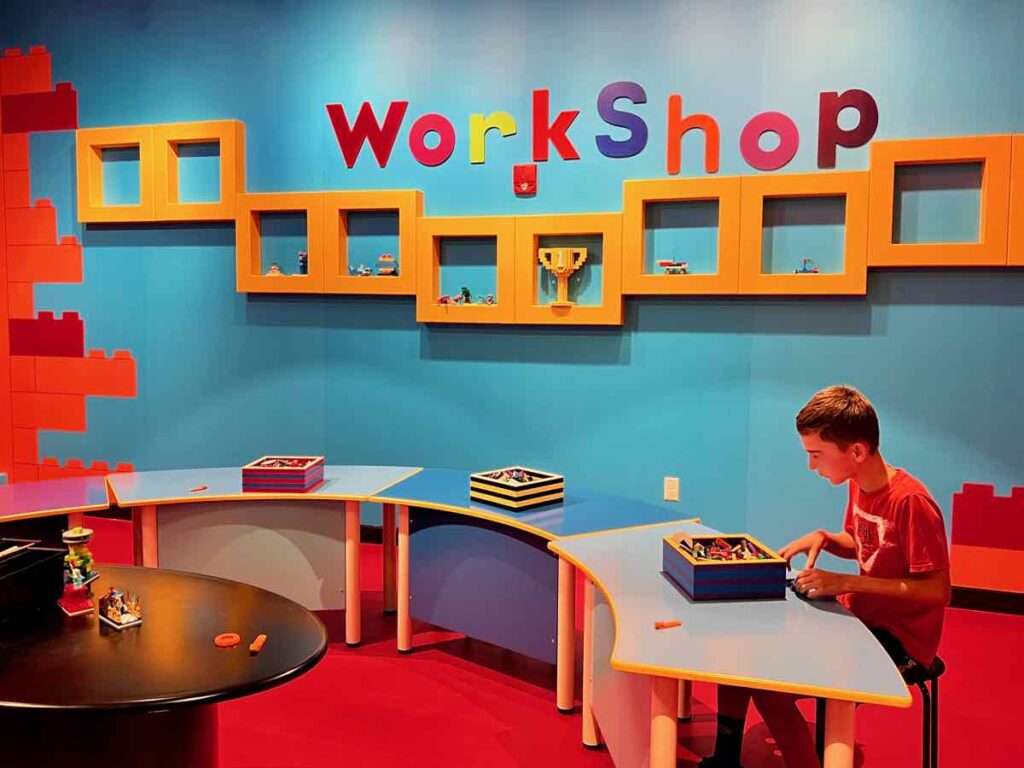 Visiting the Washington DC LEGO Discovery Center
The amount of time you spend at each LEGO Discover Center zone depends on the age and interest of the kids in your group. Fortunately, you can visit zones in any order, as many times as you want. Kids who love to build with LEGO bricks could easily spend hours here creating, playing, and building their STEM skills.
The DC LEGO Center is easiest to reach by car. Springfield Town Center is near the intersection of I-95, 395, and 495 (aka the Mixing Bowl).
The closest parking to the Springfield LEGO Discovery Center is in front of the Yard House and Magianno's restaurants. Look for the lifesize LEGO giraffe out front!
To reach the Springfield Mall by Metro, take the Blue Line to the Franconia-Springfield stop. The mall is a 1-mile walk from the station or you can take Fairfax Connector Bus 401 then walk 1/3 mile.
The DC LEGO Discovery Center in Virginia FAQ
The new Washington DC LEGO Discovery Center in Springfield is a fun new indoor attraction in Northern Virginia. We expect it will quickly become one of the most popular things to do with kids in the DC region. Here is essential information for your visit.
Where is the LEGO Discovery Center Washington DC?
The DC LEGO Discovery Center is located on the first floor of the Springfield Town Center Mall near the Grand Court (6563 Springfield Mall, Suite 12004, Springfield VA). The LEGO Center is about 15 miles southwest of Washington DC and 96 miles north of Richmond Virginia.
What are Opening Hours for DC LEGO Discovery Center?
The DC LEGO Discovery Center is open daily from 10:00 to 6:00 (11:00 Sundays) through Labor Day weekend. After Labor Day, the center closes at 5:00 on weekdays. Last admission is 90 minutes before closing and they are closed on Thanksgiving and Christmas.
How Much is Admission to the DC LEGO Discovery Center in Virginia?
Tickets to the LEGO Discovery Center Washington DC generally start at $28.99 per person, but prices vary depending on demand. For example, some Monday tickets start at $25.99 while other dates start at $30.99. If your schedule is flexible, click around to check pricing on multiple dates.
Optionally, you can purchase a LEGO collectible and digital photo with your ticket and Military Discounts are available. Group discounts, classroom and Scout rates, and birthday party options are coming.
Visit the LEGO Discovery Center website to purchase tickets.
Is food available at the DC LEGO Discovery Center?
Yes, the on-site LEGO Cafe offers a selection of burgers, snacks, and drinks. Outside food and drink is not allowed.
Are there restroom facilities at the LEGO Discovery Center in Springfield?
Yes, there are restrooms inside the LEGO Discovery Center with colorful LEGO characters adorning the doors.
Can you leave and reenter the DC LEGO Discovery Center?
No, once you leave the DC LEGO Discovery Center you can not reenter. However, the LEGO Store in the Springfield Mall has a separate entrance and is open during mall hours.
Is the LEGO Discovery Center Wheelchair Accessible?
Most of the LEGO Discovery Center Washington DC is accessible including the 4D Theater and most creative zones. However, the playground and laser maze are not accessible. Strollers and wheelchairs are allowed inside but they are not provided.
Is the DC LEGO Discovery Center the same as a LEGOLAND?
No, LEGOLAND theme parks and resorts are larger and more focused on rides. LEGO Discovery Centers are smaller indoor venues that focus on LEGO building experiences. The LEGO Discovery Center Washington DC includes one ride, the Imagination Express.
Follow us on Facebook, Twitter, Pinterest, and Instagram for more fun travel in and from Northern Virginia.
Pin it for Later: