2021 July events in Northern Virginia include fun festivals and celebrations with fireworks, parades, music, wine, food, history, and more. Happily, most of our favorite July events are back in 2021. In addition, we've suggested ongoing summer activities where you can create your own ways to celebrate the season in the Washington DC region.
2021 July Events in Northern Virginia
Kick off July 2021 with 4th of July weekend fireworks, parades, and patriotic fun. Then keep summer fun going with July events that feature fantastic local entertainment, wine, food trucks, historic sites, and more. The month ends with the first County Fair of the summer.
These July events in Northern Virginia are listed in order of date and include Arlington, Alexandria, Fairfax, Loudoun, and Prince William Counties, and other cities in the Washington DC region. Follow the included links for additional details. Always check inclement weather policies and updates before heading out.
4th of July Fireworks and Parades, Multiple Dates + Locations
Independence Day fireworks and parades are back in 2021! Our complete guide to July 4th weekend fireworks and celebrations includes a host of family-friendly events throughout Northern Virginia. Plan ahead so you don't miss the fun!
Learn about the daily life of World War II soldiers from living historians portraying Axis and Allied soldiers. Also learn about Admiral Black, the last owner of Rippon Lodge, a WWII veteran, and survivor of Pearl Harbor. Enjoy historic house tours, crafts, weapon and tactical demonstrations, and more. Free (donations welcome); 11:00 – 4:00 daily.
Celebrate America's 245th birthday and Alexandria's 272nd in beautiful and historic Alexandria. Details have not been announced yet but past events included live music, birthday cake, food trucks, and a dazzling fireworks display. Free; 8:45.
The Lake Anne Roots Music Festival returns with a variety of modern roots music performers. The free festival offers a full day of folk, bluegrass, Americana, and indie rock music. Free; 8:00 – 5:00
Key West Fest, Breaux Vineyards, Hillsboro, July 10
Enjoy a "Vineyard in Paradise" at the 16th Annual Key West Fest at Breaux Vineyards. Enjoy wine tastings, craft vendors, and island-inspired food, plus live music. Reservations required for patio and indoor seating and groups over 10. 11:00 – 6:00.
Join park staff to commemorate the 160th anniversary of the First Battle of Manassas (Bull Run) at this two-day event. On day one, rangers and volunteers will lead tours of the battlefield. To end the day, the US Marine Corps Historical Company Band will perform at 7:00 on Henry Hill. On July 18, learn more about the battle and the park at author-led talks. Both days will include junior ranger activities, uniform displays, historic weapons demonstrations, and more. Free; 10:00 – 5:00.
You can also take a self-guided hike on the First Manassas Loop Trail.
Learn more about the First Battle of Manassas at Ben Lomond, which operated as a hospital for wounded soldiers.The event includes demonstrations, tours, children's activities, and more. Free (donations welcome); 10:00 – 4:00 daily.
VA StrEats Fest, Potomac Mills, Woodbridge, July 24
Northern Virginia's largest food truck festival is back! Head to Potomac Mills and spend the day sampling the best food trucks in the area. Check the link for ticket options and details. 11:00 – 7:00.
Experience a true country fair featuring 4-H animals, crafts, carnival rides, entertainment, food, livestock auctions, professional bull riding, and a mini demolition derby. Take a ride at the carnival, enjoy children's activities and a pet show, enter the kiss-a-pig contest, and indulge in county fair favorites. Ticket prices and festival hours vary by day; follow the link for all the details.
Join a free block party to Celebrate Fairfax in 2021. While the traditional festival is canceled this year, you can still enjoy live entertainment plus tasty specials from food trucks and Caboose Brewing Company. Free; 4:00 – 8:00.
Peach Daze Fuzztival, Great Country Farms, Bluemont, Jul 31, Aug 1, 7 – 8
Celebrate peach-picking season, and enjoy tasty food and drink, at the annual Peach Fuzztival, a collaboration between Bluemont Vineyard, Dirt Farm Brewing, Henway Hard Cider, and Great Country Farms. Enjoy a peach pancake breakfast, take a wagon ride to the pick-your-own orchard, and join in contests and fun for the whole family. $14/$16 child/adult (does not include breakfast). Follow the link for hours and schedule.
Ongoing Summer Fun in Northern Virginia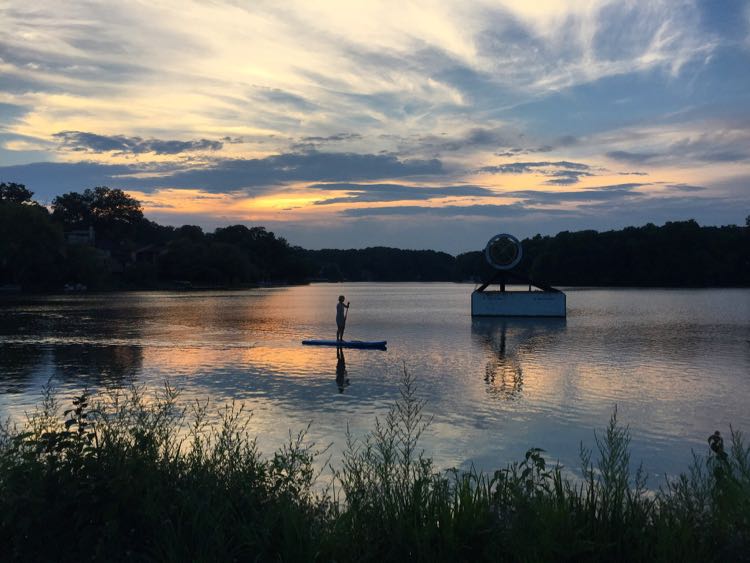 Check out our round-up of outdoor summer fun with links to drive-in movies, hiking trails, outdoor dining, and area getaways perfect for a summer escape. Summer is the perfect time to take a Virginia day trip and discover a new NoVA hidden gem.
Enjoy Sunrise and Sunset in Northern VA
Take advantage of long summer days and check out our guide to the Best Places to Watch Sunrise and Sunset in Northern Virginia. Pack a picnic, start with a hike, or just enjoy the peace of colorful summer skies.
Shop at Summer Farmers Markets
Everyone loves a summer picnic and the chance to grill at home. Stock up your kitchen with fresh, delicious produce, meats, and other goodies from local farms. There are markets throughout Northern VA and you'll find them all on our guide to Northern Virginia Farmer's Markets.
Beat the summer heat with our big round-up of waterparks and pools in Northern Virginia. Why not visit them all this year?
Check our round-up of Northern Virginia summer concert series for outdoor music throughout the summer. Many concerts begin in June, and most are family-friendly and free to attend.
When warm weather returns we know that area farmers markets will be back with delicious fresh produce, meats, plants, and specialty items. Our expanded round-up of Northern Virginia farmers markets 2019 covers over 50 local markets, many of which kick off in May.
Plan a Summer Getaway in and Near Northern Virginia
Find beautiful and unique places to stay in and near Northern Virginia with our guides:
Here are more fun ways to celebrate June in Northern VA:
Canceled July 2021 Events
These annual events are canceled in 2021. We look forward to their return in 2022.
Purcellville's Annual Wine & Food Festival combines live music from a variety of local musicians, wineries, craft breweries, gourmet foods, and wine-related art and accessories. Early bird tickets begin at $20.00 with VIP and discounted resident tickets available. 2:00 – 8:00.
Harry Potter Tours, Stabler-Leadbeater Apothecary Museum, Alexandria, Canceled
In honor of Harry Potter's birthday, the Stabler-Leadbeater Apothecary Museum hosts annual tours exploring the real world science and medicine behind Harry Potter. Choose between a daytime family-friendly tour and evening adult-only tours featuring a Harry Potter-themed adult beverage and a magical lesson with Professor Snape. Tickets for both tours sell out quickly! Family-friendly tours are $7, from 1:00 – 4:00. Adult tours are $20, from 5:30 – 8:30 pm.
Follow us on Facebook, Twitter, Pinterest, and Instagram for more fun travel in and from Northern Virginia.