Updated on July 1, 2023 by Julie McCool
2023 May events in Northern Virginia celebrate spring, strawberries, art, and more plus special holidays including Mother's Day, Kids to Parks Day, and Memorial Day. There are some great new May events to check out in 2023 as well as several annual favorites returning.
Looking for fun things to do this weekend in Northern VA? Our list of Northern Virginia events includes things to do in Fairfax County, Loudoun County, Prince William County, Alexandria, Arlington, and other area towns. Festivals and events are listed in order of start date, with multi-day events generally listed first.
Disclosure: This article may contain affiliate links. We will make a small commission from these links if you order something, at no additional cost to you.
Some May events require reservations so plan ahead. Follow the links for further details, and always check for weather cancellations and other updates.
2023 Northern VA May Events and Spring Festivals
Plan a month of spring fun at these great 2023 May events and festivals in Northern Virginia and the DC region. May 2023 starts on a Monday, so you'll find prior weekend fun in our guide to April events.
Farmers Markets, Multiple Locations
Some of the best seasonal Farmers Markets in Northern Virginia open in May, while several Saturday markets open on April 29. Our complete guide lists more than 50 farmer's markets in the DC area with a market for nearly every day of the year.
Happy May Day!, May 1
Start a May Day tradition with a visit to one of the many beautiful gardens in Virginia and Washington DC. May is one of the best times to see Virginia gardens in bloom. Plus, you can shop for your own native plants at many of the gardens in our area.
Step into the wacky world of Dr. Seuss at Tysons Corner Mall. The iconic books come to life with rides, interactive experiences, costumed characters, and so many great photo opps. Tickets start at $29/$34 for children/adults with higher weekend prices.
Enjoy thrills and chills as you walk through a Jurrasic landscape occupied by over 75 lifesize animatronic and still dinosaurs. Get close to the towering dinos and feel the roar at the Bull Run Event Center. Tickets are $15/$20 per person weekday/weekend with add-ons available. 10:00 – 7:00.
Cinco de Mayo, Multiple Locations, May 5
Celebrate Cinco de Mayo with a dine-in or takeout order of tasty tacos in Northern Virginia, from your favorite local spot.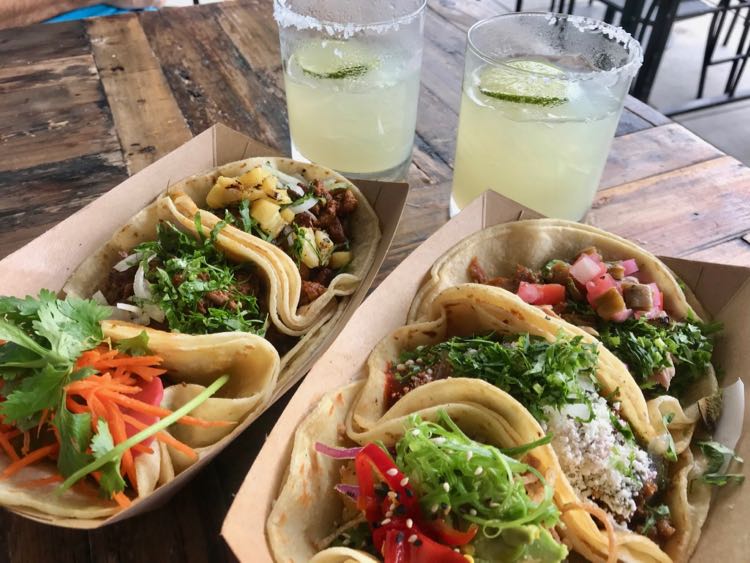 Big Truck Days, Public Works Complex, Herndon, May 5
Herndon's annual Big Truck Day lets children and their parents see the town's big trucks and heavy equipment on display. The event is free but attendees are encouraged to bring non-perishable food donations for the needy. Friday 9:00 – 7:00.
Several outdoor summer concert series start in May including the popular Friday Night Live! concerts in downtown Herndon. See our complete guide to Outdoor Concerts in Northern Virginia featuring more than 40 concert series offering a whole season of free family-friendly music.
George Washington's Mount Vernon estate hosts one of the largest Revolutionary War encampments of the year when the 12-acre field is transformed into a battleground. See Continentals, Redcoats, and cannons in action at this family-friendly event, and meet the soldiers and "General Washington."
Be sure to check out the indoor exhibits, including the interactive Be Washington exhibit and the 4D theater. Activities are included with regular admission; 9:00 – 5:00 daily.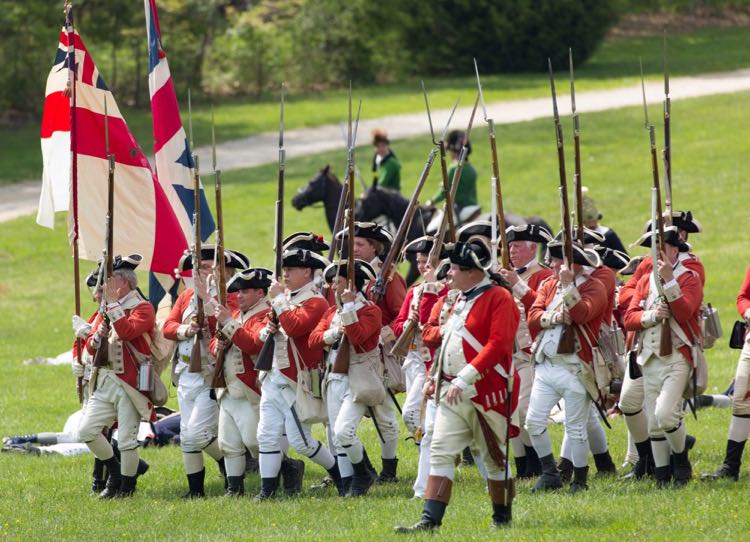 Enjoy a day of family fun at Frying Pan Farm with hands-on farm activities like cow and goat milking, crafts, games, puppet shows, and a chance to meet the baby farm animals. Walk-ins are welcome; admission is $12 at the door, $10 in advance, kids under 2 free. 10:00 – 3:00.
Visit Frying Pan Farm Park for Free Family-Friendly Fun
The 98th running of the world-famous Virginia Gold Cup returns to the first weekend in May 2023. Head to Great Meadow in The Plains to watch some of the best steeplechase racing you'll find anywhere. Race day activities include terrier races, shopping, hat contests, tailgate contests, and more. Ticket pricing varies; follow the link for details.
Head to the Walker Nature Center to celebrate spring with live animals, fishing and craft activities, canoe/kayak rentals, and more family fun. 1:00 – 6:00
Join the annual Run the Greenway 5K, 10K, and Kids Fun Run. This is a rare chance to run on the Dulles Greenway, beginning at the Toll Plaza. Follow the link for race schedules and to register.
Head to Lake Fairfax Park to ride or watch the Rails to River XC Mountain Bike Race. Riders complete 1 to 3 laps on the 7-mile course on some of the best bike trails in Northern VA. The Bike Lane will be pouring tasty craft beer in the post-race beer garden. Race waves start at 9:00, 10:00, and 11:00.
Shop local from Del Ray artisans at the Spring Art Market in Colasanto Park. Media includes ceramics, fiber, jewelry, mixed media, paper, photography, and more. Free admission; 10:00 – 4:00.
The 25th annual Mason Neck Eagle Festival returns to Lorton. Celebrate and learn about eagles by the Potomac River with a full day of live animal shows and family-friendly activities plus bird walks, pony rides, food, and more. The event (including park admission) is free. 10:00 – 6:00.
Plan your visit: Mason Neck State Park: Nature and Fun in Northern Virginia
Celebrate the arts when Middleburg displays artwork by local and regional artists throughout town. Festivities will also include live music, art activities for kids, cooking demonstrations, a Mother's Day-themed wine garden, and more. Free, 10:00 – 6:00.
Head to our favorite Smithsonian museum, the Air and Space Udvar-Hazy Center in Chantilly, to learn about and view the night sky. Attendees will be able to stargaze through the telescopes of the Northern Virginia Astronomy Club. Museum parking is free after 4:00 and the event is free and open to all ages. 8:30 pm – 1:00 am.
May 14, 2023, is Mother's Day, and we rounded up lots of places to celebrate Mom this year. Our list of local parks, gardens, and other destinations includes an active option and another choice for folks with limited mobility or families with strollers. Plan a unique and special day with Mom!
Beyond Brunch: Mother's Day Outings in Northern Virginia
Get your tickets early for this sell-out event at George Washington's Mount Vernon estate. Celebrate the history of wine in Virginia with exclusive evening tours of the Mansion and cellar, appearances by "George and Martha Washington", and live jazz on the east lawn overlooking the Potomac. Ticket prices start at $49; 6:00 – 9:00.
McLean Day, Lewinsville Park, McLean, May 19 – 20
Celebrate McLean at this annual festival featuring live entertainment, carnival rides, a petting zoo, food trucks, and more family fun. The carnival rides are open Friday night and all day Saturday while other activities are Saturday only. Admission is free; tickets are sold for rides and some activities. Friday 2:00 – 10:00; Saturday 11:00 – 5:00.
Head to The Perch, 11 stories high at Capital One Center, for 3 days of spring celebrations. The fun includes live music, lawn games, food trucks, dog-friendly fun, and putt putt golf. Admission is free but advanced registration is required. Fri 4:00 – 10:00, Sat noon – 11:00, Sun 10:30 – 5:00.
Celebrate bicycling as a clean, fun, and healthy way to get to work. The DC region's 21st Bike to Work Day celebration features pit stops throughout D.C., Maryland, and Virginia. The first 15,000 people to register and bike to a pit stop will receive a free T-shirt. Follow the link to register.
Explore area bike trails with our guides:
One of the most popular festivals in Northern Virginia, the Tephra ICA Festival (formerly the Northern Virginia Fine Arts Festival) lines the streets of Reston Town Center with art-filled booths. Artists are on hand to answer questions and discuss their work. This weekend of quirky, unique, and beautiful art also features kid's activities, food trucks, and live entertainment.
Locals Guide: 10 Best Things to Do in Reston Virginia
Head out on a self-guided tour of farms in the beautiful countryside of Loudoun County for an up-close experience with the county's agricultural community. Meet local farmers, learn about their products and what they do, and enjoy a local meal. Check out our scenic drive on the Unpaved Roads of Loudoun County to add more fun to your day. 10:00 to 4:00 daily.
Strawberry Jubilee, Great Country Farms, May 20 – 21, 27 – 29
Head to Great Country Farms in beautiful Bluemont and join the longest-running strawberry festival in Loudoun County. The Jubilee is packed with live music, farm contests (including the daily Diaper Derby), and infamously yummy Donut Strawberry Shortcake. Timed entry tickets are $12/14 child/adult. 9:00 – 5:00.
Find more tasty: Strawberry Picking in Virginia, Fun U-Pick Farms Near DC.
National Kids to Parks Day is a celebration of outdoor play in our beautiful public lands. There are special in-person events in 2023 and everyone can celebrate with a family-friendly visit to local, state, and national parks in the Northern Virginia area.
Download the free ParksPassport mobile app to plan your trip, earn badges, and even open Junior Ranger Booklets from your phone.
Plan your own Kids to Parks Day outing with our park guides:
BrewWorks, Workhouse Arts, Lorton, May 20
Join in a fun day sampling local beer, wine, and spirits at the Workhouse Arts Center. Enjoy live music, food, and lawn games plus browse the galleries and visit the Lucy Burns Museum. General admission tickets are $40 with other options available. Noon – 7:00 pm.
The 35th annual Virginia Wine & Craft Festival fills the streets of downtown Front Royal with crafters, wine-makers, and fun for all ages. Enjoy local wine, cider, and mead plus tasty food and live entertainment. Wine-tasting tickets $30, 11:00 – 6:00
The annual Brew Fest returns with local beer from Northern Virginia, Maryland, and West Virginia, from breweries within an hour's drive of Brambleton. Food trucks, live music, and beer-related activities add to the fun. Enjoy unlimited pours with your general admission ticket. $45/50 online/at the gate; 1:00 – 6:00.
Bring your furry friend to Lake Accotink Park for a day of fun. Enjoy pet activities and food vendors plus learn about pet adoption and interact with local vendors and non-profits. Free; 1:00 – 4:00.
Check our cool cars and sip tasty coffee at The Boro Tysons, one of the great urban parks in Northern VA. The event is free, no registration needed. 10:00 – 1:00.
2023 Memorial Day events kick off the unofficial start of summer. Plan your long weekend with our complete guide to Memorial Day Weekend events in Northern Virginia. A few popular events are highlighted below.
ViVa! Vienna! is a family-friendly celebration of Memorial Day and the greater Vienna Community spirit with carnival rides, food, crafts, vendors, and entertainment. 100% of proceeds go to charitable, community, and humanitarian organizations. The popular festival is open Sat and Sun 10:00 – 10:00, Mon 10:00 – 6:00.
Art in the Garden Festival, Chantilly, May 27 – 28
Enjoy a day at the new National Botanic Garden in Chantilly featuring art, wine, and chocolate. The 2nd annual Art in the Garden Festival features fine art plus locally produced chocolates and wine. This is a great time to see the unique plant collections and whimsical sculptures at the botanic garden. Tickets are $25 ($35 with 3 tastings). Noon – 5:00 daily.
"The President's Own" United States Marine Band launches Wolf Trap National Park's summer season with a program of concert band favorites, followed by a fireworks display. The event is free but arrive early to guarantee a spot; the park will close at capacity.
Gates open at 6:30 pm for Lawn seating. Concert begins at 8:00. Fireworks viewing area opens following the performance, at approximately 9:30 pm and fireworks begin at approximately 9:45 pm. Free.
The Annual Memorial Day Parade and Festival offers a day of family fun. A 3K Fun Run and the Memorial Day Ceremony and Parade highlight the event, plus enjoy amusement rides, arts and crafts, food, pony rides, and live entertainment. A Veterans Ceremony will be held at 11:00. Free admission; 9:00 – 5:00.
More May in Northern Virginia Activities
Here are more ways to have fun during May in Northern VA.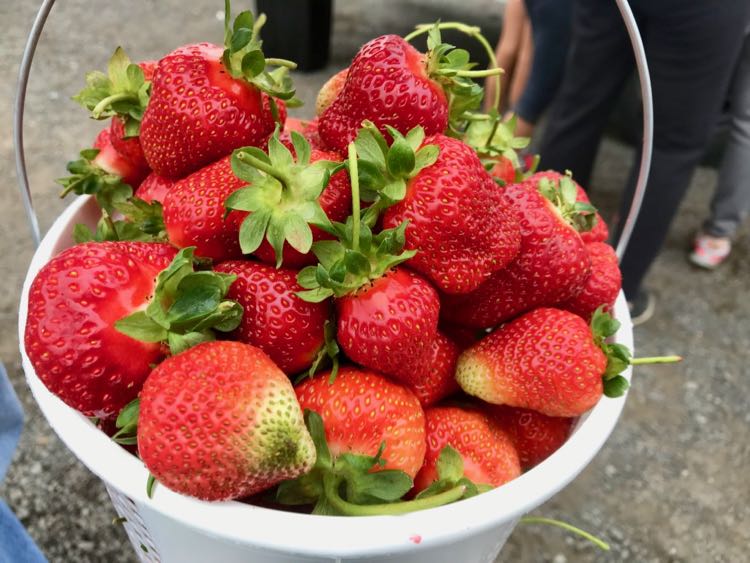 Plan a whole month of fun spring outings with these related articles:
Strawberry Picking in Northern VA
May is strawberry season in Virginia. Head to the field for family-friendly fun with our complete guide to Strawberry Picking in Virginia and U-Pick Farms Near DC.
Enjoy Local Campgrounds and Cabins
Warm weather returns and that means camping time is here. Find the perfect place overnight in nature with our guide to 15 Great Northern Virginia Campgrounds for Camping Near DC.
Head to Burke Lake Park for a ride on the train and carousel. Memorial Day weekend marks the shift to daily rides on the one-third-scale replica C. P. Huntington steam train. The train and carousel are open weekends through May, then daily from Memorial Day through Labor Day.
Visitors can also take a spin on the carousel, play mini-golf, and walk or bike the 5-mile trail around Burke Lake, rated one of the 10 best urban fitness trails in the nation by the American Hiking Society.
Take a Scenic Drive
In May, trees are green and gardens are blooming. It's the perfect time for a scenic drive to small towns, pretty parks, and historic sites. Plan your outing with our guide to 8 Great Northern Virginia Scenic Drives Near Washington DC.
Plan a Spring Getaway in and Near Northern Virginia
Ready for a weekend getaway or weekday escape? Find beautiful and unique places to stay in and near Northern Virginia with our guides:
The Annual Clifton Homes Tour offers guided tours of four elegant homes and two historic churches. This is a wonderful opportunity to explore the charming town of Clifton and visit Fairfax County's first winery.
There are 2023 May events for every age and interest to celebrate this beautiful month in Virginia. Check back for our updated guide to June Events in Northern VA.
Follow us on Facebook, Twitter, Pinterest, and Instagram for more fun travel in and from Northern Virginia.