2021 May events in Northern Virginia celebrate history, art, strawberries, Mother's Day, Kids to Parks Day, and nature, plus Memorial Day gatherings that honor America's fallen. Unlike last year, there are many great events to choose from in 2021.
Our list of May events includes things to do in Fairfax County, Loudoun County, Prince William County, Alexandria, Arlington, and other Northern Virginia towns. Festivals and events are listed in order of start date, with multi-day May events generally listed first.
Many 2021 events require reservations so plan ahead. Follow the links for further details, and always check ahead for cancellations and other updates.
2021 Northern VA May Events and Spring Festivals
Plan a month of spring fun at these great May events and festivals in Northern Virginia and the DC region.
Cicadas are Coming!
After 17 years underground, trillions of cicadas will emerge and take over Northern VA and the surrounding area. In fact, Maryland is the DMV epicenter for the invasion. When Brood X last appeared in 2004 our young twins loved these creepy-looking but easy-going creatures. They don't sting, carry disease, or destroy crops, so cicadas are a startling but harmless "plague." Be prepared for extremely loud buzzing as they resonate together, and for the crunch of cicada shells underfoot. The cicada invasion will last 4 to 6 weeks and you can help map the Brood X cicadas with the Cicada Safari app.
George Washington's Mount Vernon estate hosts one of the largest Revolutionary War encampments of the year as a 12-acre field is transformed into a battleground. See Continentals, Redcoats, and cannons in action at this family-friendly event, and meet the soldiers and "General Washington." Some indoor exhibits, including the interactive Be Washington exhibit and the 4D theater, are currently closed. Activities included with regular admission; 9:00 – 5:00 daily.
Farmers Markets, Multiple Locations, May 1 – 31
Some of the best Farmers Markets in Northern Virginia open in May. Our complete guide lists over 50 farmers markets in the DC area with a market for nearly every day of the year.
Happy May Day!, May 1
Start a May Day tradition with a visit to one of the beautiful gardens in Virginia. May is one of the best times to see Virginia gardens in bloom. And you can often shop for your own native plants at the gardens you visit.
The Needlework Exhibition at historic Woodlawn is an annual celebration of the needle arts, featuring hundreds of examples of contemporary needlework from around the country. This year, the 58th Annual Needlework Exhibition will reflect on the historic year of 2020. We highly recommend you combine your visit with a tour of Frank Lloyd Wright's Pope-Leighy house right next door. The exhibition is $15/$6 for adults/children K – 12. Open daily, except Tuesday, 10:00 – 4:00.
Boat Rental Day, Walker Nature Center, Reston, May 2
Spend a relaxing time boating on beautiful Lake Audubon. Reserve a canoe or kayak and it will be at the lake ready to launch. $12/$15 member/non-member; 10:00 – 3:00.
At long last, our favorite Smithsonian museum, the Udvar-Hazy Center in Chantilly, reopens to the public on May 5th. Impress your family, friends, and guests with a visit to this giant collection of aircraft and aviation history. Reserve your timed entry pass in advance at the museum website.
Cinco de Mayo, Multiple Locations, May 5
Head to Mosaic District for a fun Cinco de Mayo Block Party sponsored by Urbano. Attendees will enjoy food, drink, music, and dancing, but you must be 21 or older to enter.
Of course, you can also celebrate Cinco de Mayo at home with a dine-in or takeout order of tasty tacos in Northern Virginia, from your favorite local spot.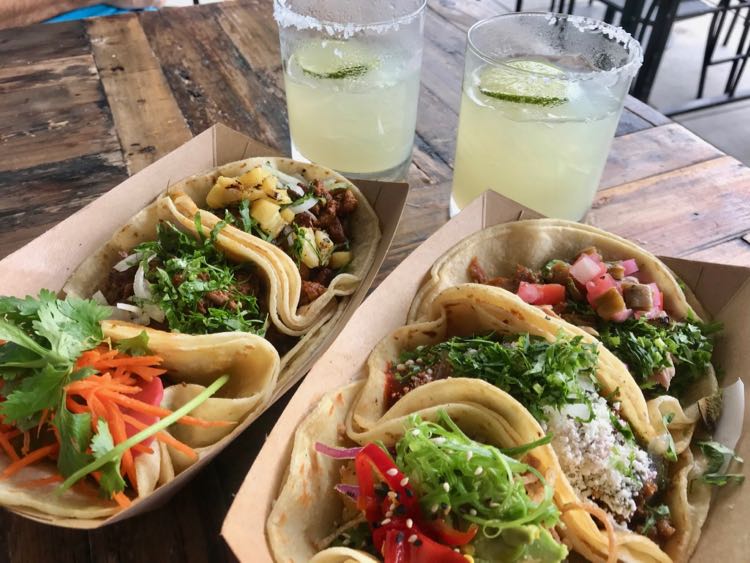 Head to River Mill Park to shop a juried selection of artisans by the beautiful Occoquan River. Enjoy music and sips while you shop and support local artists and have a chance to win free giveaways from the vendors. Follow the link for schedule details.10:00 – 5:00 pm. Admission is free.
Shop local from Del Ray artisans at the Spring Art Market in Colasanto Park. Media includes ceramics, fiber, jewelry, mixed media, paper, photography, and more. Free admission; 10:00 – 4:00.
We still can't gather in person to celebrate eagles along the Potomac River. So in 2021, Mason Neck State Park is hosting an online event featuring information about the eagles and Buddy, a resident of the Wildlife Center of Virginia. Free but online registration is required; 2:00 – 3:30.
A limited number of spots are available for a 5:00 pm gathering at the park to learn about the American Bald Eagles and other raptors who live here. Plan your visit: Mason Neck State Park: Nature and Fun in Northern Virginia
Mother's Day, May 9
May 9th is Mother's Day, and we rounded up lots of places to celebrate Mom this year. Our list of local parks, gardens, and other destinations includes an active option and one that is ideal for folks with limited mobility or families with strollers. Plan a unique and special day with Mom:
Beyond Brunch: Mother's Day Outings in Northern Virginia
Experience the fun and terror as you drive through a Jurrasic landscape featuring over 75 lifesize animatronic and still dinosaurs. You'll feel the roar from the safety of your vehicle on this mile-long, 30 to 50 minute journey at the Bull Run Event Center. Tickets start at $49 per vehicle for up to 8 passengers with add-ons available. Wed + Thurs 1:00 – 8:00, Fri – Sun 9:00 – 9:00.
National and local artists exhibit outdoors on the streets of Arlington at the 8th annual Festival of the Arts.
Enjoy a weekend of true visual inspiration, as over 100 artists showcase glass, mixed media, paintings, jewelry, and pottery creations; providing all sorts of opportunities to appreciate and purchase art. Free; 10:00 – 5:00 daily.
National Kids to Parks Day is a celebration of outdoor play in our beautiful public lands. While there may not be as many in-person events in 2021, everyone can still celebrate with a family-friendly visit to local, state, and national parks in the Northern Virginia area. Download the free ParksPassport mobile app to plan your trip, earn badges, and even open Junior Ranger Booklets from your phone.
Plan your Kids to Parks Day outing with out park guides:
McLean Day, Lewinsville Park, McLean, May 15
Enjoy free live entertainment at this year's special drive-through event. Jugglers, stilt walkers, animals, and more will entertain the family as you drive through the McLean Community Center lot. A DJ will be on hand and special giveaways add to the fun. Free; 11:00 – 5:00.
Visit and support Ballston businesses with a restaurant crawl featuring local artists, games, outdoor seating, and a neighborhood-wide scavenger hunt. Plan your own route and head out from noon – 7:00.
On the second Saturday of each month, the Workhouse Arts Center hosts a fun evening featuring art and music. View artists creating art in the studios or exhibiting in 12 campus galleries. Enjoy live performances of dance, cabaret, comedy, big band, jazz, and theater. Indulge in classes in the art of mixology or cuisines from around the globe. Free; 6:00 – 9:00 pm.
Celebrate bicycling as a clean, fun, and healthy way to get to work. The DC region's 20th Bike to Work Day celebration features pit stops throughout D.C., Maryland, and Virginia. The first 15,000 people to register and bike to a pit stop will receive a free T-shirt. Follow the link to register.
Explore area bike trails with our guides:
Strawberry Jubilee, Great Country Farms, May 22 – 23, 29 – Jun 1
Head to Great Country Farms and join the longest-running strawberry festival in Loudoun County. The Jubilee is packed with live music, farm contests (including the daily Diaper Derby), and infamously yummy Donut Strawberry Shortcake. $14//16 child/adult (weekdays $10/$12). 10:00 – 5:00.
Celebrate a day of southern favorites on The Plaza at Tysons Corner. You'll get a tasting glass to sample beer and bourbon plus enjoy bbq, bacon, biscuits, and more. Live entertainment and outdoor games add to the party vibe. Purchase tickets online, $39 – $79; 11:00 – 7:00.
The 96th running of the world-famous Virginia Gold Cup, normally the first weekend in May, will be held on May 29. Limited spectator spaces are available at Great Meadow in The Plains to watch some of the best steeplechase racing you'll find anywhere. Race day activities normally include terrier races, shopping, hat contests, tailgate contests, but some events will be eliminated in 2021. 2021 tickets are $500 or $675 for up to 10 people; follow the link for details.
After all of the cancelations last year, many annual Memorial Day events have returned in 2021. Plan your long weekend with our complete guide: 2021 Memorial Day Weekend events in Northern Virginia. A few popular events are highlighted below.
ViVa! Vienna! is a family and community-oriented celebration of Memorial Day and the greater Vienna Community spirit with rides, food, crafts, vendors, and entertainment. 100% of proceeds go to charitable, community, and humanitarian organizations. Space is limited in 2021 so get your tickets early. Sat and Sun 10:00 – 10:00, Mon 10:00 – 6:00.
"Flags In", Arlington National Cemetery
For more than 60 years, the 3rd U.S. Infantry Regiment (The Old Guard) has honored America's fallen heroes by placing American flags at grave sites for service members buried at Arlington National Cemetery and the U.S. Soldiers' and Airmen's Home National Cemetery the Thursday before Memorial Day weekend. Within four hours, the soldiers place flags in front of more than 228,000 headstones and at the bottom of about 7,000 niche rows in the cemetery's Columbarium Courts and the Niche Wall. It's an incredibly moving sight, and a popular time to visit. Visitors may watch, but do not participate in placing flags.
The Annual Memorial Day Jazz Festival features a variety of musicians and diverse styles of jazz throughout the day. Food will be available for pre-order purchase. Admission is free but attendance is limited and you must register in advance. 4:00 – 9:00
The Annual Memorial Day Parade and Festival offers a day of family fun. A 3K Fun Run and the Memorial Day Ceremony and Parade highlight the event, plus enjoy amusement rides, arts and crafts, food, pony rides, and live entertainment. A Veterans Ceremony will be held at 11:00. Free admission; 9:00 – 5:00.
More Fun Things to Do During May in Northern Virginia
Here are more ways to have fun during May in Northern VA.
Plan a whole month of fun spring outings with these related articles:
The annual Spring Farm Day festival is canceled but you can still visit the animals and donate to support their care. Plan your visit with our guide: Visit Frying Pan Farm Park for Free Family-Friendly Fun.
May is strawberry season in Virginia. Head to the field for family-friendly fun with our complete guide to Strawberry Picking in Virginia and U-Pick Farms Near DC.
The Burke Lake Park train and carousel open on weekends beginning in early April. Memorial Day weekend marks the shift to daily rides on the one-third-scale replica C. P. Huntington steam train. Visitors can also take a spin on the carousel and walk or bike the 5-mile trail around Burke lake, rated one of the 10 best urban fitness trails in the nation by the American Hiking Society. The train and carousel are open weekends through May, then daily from May 29 through Labor Day.
Plan a Spring Getaway in and Near Northern Virginia
Find beautiful and unique places to stay in and near Northern Virginia with our guides:
Annual May Events Postponed or Canceled in 2021
These annual May events have been postponed or canceled for 2021. We hope to see them all return in 2022.
The annual Northern Virginia Fine Arts Festival will return to Reston Town Center in September for a long weekend of quirky, unique, and beautiful art.
Get your tickets early for this sell-out event. Celebrate the history of wine in Virginia with exclusive evening tours of the Mansion and cellar, appearances by "George and Martha Washington", and live jazz on the east lawn overlooking the Potomac. Ticket prices start at $42; 6:00 – 9:00.
A day of family fun for aviation lovers. Skydivers, helicopters, jets, and aerobatic aircraft perform in the air while aircraft displays provide fun on the ground. Free (donations accepted to support charities); 10:00 – 4:00
The annual family-friendly Delaplane Strawberry Festival at Sky Meadows State Park is canceled. Instead, plan your own strawberry-season fun with our guide to Strawberry Picking in Virginia, U-Pick Farms Near DC.
The Annual Clifton Homes Tour and Silent Auction offers guided tours of four elegant homes and two historic churches. This is a wonderful opportunity to explore the charming town of Clifton and visit Fairfax County's first winery. Tickets are $30/35 advance/day of tour; $10 for 1 home. 10:00 – 4:00.
"The President's Own" United States Marine Band launches Wolf Trap's summer season with a program of concert band favorites, followed by a fireworks display. The event is free but arrive early to guarantee a spot; the park will close at capacity. Gates open at 6:30 pm for Lawn seating. Concert begins at 8:00. Fireworks viewing area opens following the performance, at approximately 9:30 pm and fireworks begin at approximately 9:45 pm. Free.
The Herndon Festival is an annual favorite to kick off a summer of fun. Four festival days combine an outdoor concert series with a summertime carnival. This kid-friendly event includes a 4-day carnival, Saturday night fireworks, an arts and craft show, live entertainment on 3 stages, and more.
Even if your favorite festival is canceled this year, there are still plenty of 2021 May events to help you celebrate this beautiful month.
Follow us on Facebook, Twitter, Pinterest, and Instagram for more fun travel in and from Northern Virginia.