As expected, July 4th, 2020 fireworks and parades are almost all canceled due to health concerns. The only NoVA fireworks we found were at George Washington's Mount Vernon and that event quickly sold out. Wherever you spend your July 4th weekend, we wish you a fun and happy time.
George Washington's Mount Vernon will be open, but the mansion is closed. General Washington will review the troops on the Bowling Green at 9:30. Activities included with regular admission. 8:00 – 5:00.
There are no fireworks to watch in 2020, but you can still celebrate the 4th of July at Dirt Farm Brewing while sipping craft beer. There will be a pig roast and live music all day, 12:30 – 8:30. Space is first-come-first-served so arrive early to secure your spot. Food ends at 7:30, last call at 8:30. Free.
Before your visit, take a hike to Bears Den Overlook.
Nearby Virginia Fireworks, July 4
The Town of Culpeper will hold a fireworks display from Rock Water Park at 9:15. The public will not be allowed in the park during the show.
Berryville is going ahead with its Community Fireworks Show at the Clark County Ruritan Fairgrounds. The Fairgrounds are open to vehicle traffic only and people are asked to wear masks and stay in or next to their car during the show. The show starts at 9:20.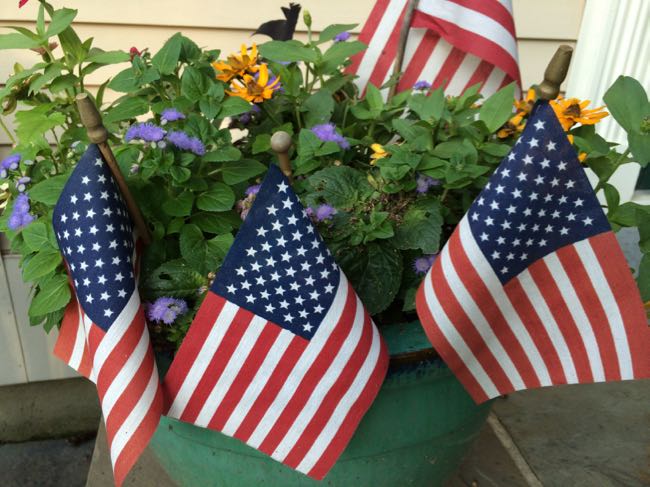 Start your Independence Day celebration early with two nights of fireworks choreographed to patriotic music. Mount Vernon's celebration is filled with fireworks, mansion tours, musical performances, and games on George Washington's beloved estate. Tickets are $30/20 adult/youth; add $6 to include a mansion tour. Rain or shine; 6:00 – 9:45 pm.
Every year on the weekend prior to July 4th, Tim's Rivershore hosts a professionally managed fireworks show, launched from their barge in the Potomac River. Arrive early to secure a spot. Live music, food specials, and activities for the kids are always a part of this fun day at Tim's.
Brambleton residents and their gets get a jump on the 4th with live music, games, food trucks, beer/wine, and one of the best fireworks displays in the area. Admission is $5 with a Bram Life Pass' $10 without, 2 and under free. 6:00 – 10:00 pm
The Workhouse Arts Center in Lorton hosts a family-friendly celebration featuring art exhibits, food trucks, local craft beer and wine, and live music. The spectacular pre July 4th fireworks show is one of the largest in the region. Live music begins at 7:00 pm and fireworks start at dusk, typically 9:00. Admission is free and you're welcome to bring blankets and lawn chairs. Parking is available for $25 per car in advance; $30 day of show if space available. Rain or shine; 5:00 – 10:00 pm.
Head to Lake Fairfax Park for a day of picnicking, swimming, hiking and other fun around the lake. Gates open at dawn, and there will be live music from 3:30 – 9:00 plus food vendors on site. The Water Mine Family Swimmin' Hole water park opens at 10:00 and will fill up quickly. Admission is free; parking is $10 per vehicle. The park is open dawn to 9:45; fireworks begin at 9:15.
Get a jump on the 4th at Haymarket's combination concert, car show, and parade. Live Music, food and ice cream, and summer games add to the fun. All children are encouraged to decorate bikes, wagons, scooters, unicycles, tricycles or any other non-motorized play vehicle in festive Fourth of July decor for the Children's parade. Free; 2:00 to 6:00.
Start your patriotic celebrations a day early with a night of family-friendly fun. A parade kicks off at 5:30 followed by a pool party and awesome fireworks to top off the evening. Free; 5:30 – 9:30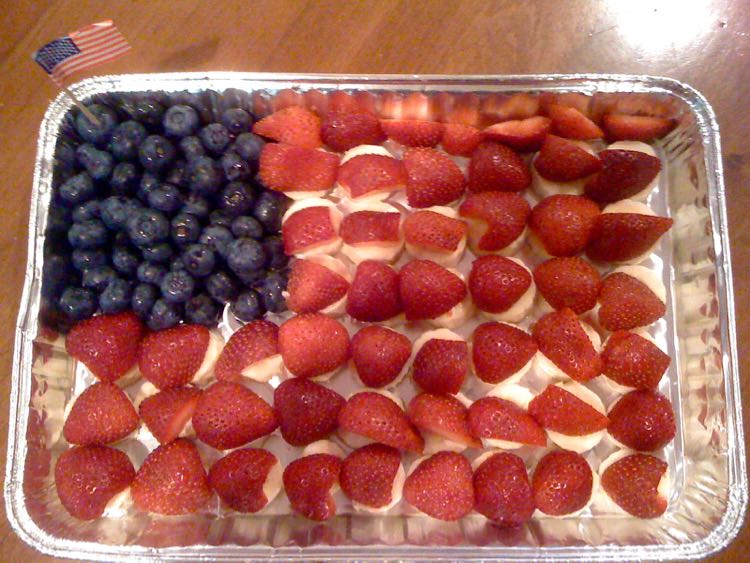 The annual Dale City 4th of July Parade begins at 10:00 and will travel down Dale Boulevard. After the parade, stick around for a "Family Fun Day" in the commuter lot featuring live entertainment, games, and food and craft vendors. Free, 10:00 -2:00.
The fun begins at 10:00 am with a parade through downtown Fairfax featuring bands, entertainers, civic groups, and the ever-popular Fairfax Library Precision Book Cart Drill Team. From 5:30 – 10:30 the action moves to Fairfax High School for live entertainment and fireworks. Free. Rain date July 5 for fireworks only.
The fun begins at 6:00 pm with food trucks and a kids recreation area. Live entertainment starts at 7:00, followed by fireworks at 9:20. Seating is available at Jack Gambill Athletic Fields or the Northern Virginia Graduate Center Parking Lot and food and drinks will be sold on site. Free.
Start the day at the 5K walk/run at 8:00 am. At 9:00 am, babies and toddlers up to age 5 will parade their finest patriotic display around the Green with awards for "Young George Washington," Little Miss Betsy Ross," and "The Star Spangled Family." At 10:00, the main parade kicks off featuring floats, horses, antique cars and pets; followed by games, music, and fun. At 6:00, the action moves to Turner Farm Park for music, games, contests and food trucks until the fireworks begin just after dusk. Free.
Beginning at 6:30 pm, join the Town of Herndon for a family-friendly event featuring games, patriotic arts & craft activities, live music, bingo, food, balloon artists and more. Events take place in Bready Park at the Herndon Community Center. The fireworks show is choreographed to music and begins at approximately 9:30. Free
Start the day with the hometown parade through downtown Leesburg at 10:00, then join an evening celebration at Ida Lee Park. Beginning at 6:00 pm, enjoy live entertainment, a full food court with funnel cakes, ice cream, burgers, hot dogs, and more. At 9:30, the largest fireworks show in the region, choreographed to patriotic music, lights up the sky. Rain date July 5, fireworks only. Free.
One of the largest fireworks displays in Northern Virginia takes place in Old Town Manassas. The party starts at 3:00 with community contests. At 4:00, enjoy food concessions and novelty vendors, followed by fireworks at 9:15. Free; 3:00 – 10:00.
Bring your blanket and chairs and relax while enjoying food trucks and gorgeous July 4th fireworks at Signal Hill Park. The event is from 6:00 to 10:00; fireworks display 9:30. Free.
This year's McLean fireworks fun will be held at Langley High School. Music, games, and festival food with fireworks at dusk. Gates open at 6:30; Free.
The July 4th celebration at the Middleburg Community Center includes activities, a parade, food, and fireworks. The pool is open 11:00 – 8:00; Children's Parade at 5:30, live music 7:00 – 9:00, and fireworks at dusk. Free.
Celebrate Independence Day at Franklin Park with live music under an outdoor tent, food from several food truck vendors, and fireworks. Parking opens at 2:00 pm with music beginning at 5:00 and the fireworks show beginning about 9:15 pm. Admission is $10 per carload. 5:00 – 10:00.
Sterling's July 4th festivities include live music, free food, crafts and games, moon bounces, eating competitions, obstacle courses, and ample spots to sit and watch the fireworks. Free; 6:00 – 9:30
Vienna Fireworks Celebration, Vienna, Canceled
The Town of Vienna festivities kick off at Yeonas Park with fireworks at approximately 9:30 p.m. Bring chairs and blankets to enjoy the show, but no alcohol or pets. Free.
In 2019, Landsdowne Resort and Spa is hosting a weekend-long July 4th celebration for guests and members only. Fireworks shows on July 4th and 6th, plus special family-friendly activities add to the fun. Follow the link to make reservations and read our complete guide to a Leesburg Getaway in Northern Virginia Wine Country.
Celebrate America's 243rd birthday and Alexandria's 270th along the Potomac waterfront at Oronoco Bay Park. Bring lawn chairs, blankets and a picnic and enjoy live music by the Alexandria Symphony Orchestra plus cannon firing, birthday cake, food trucks and a dazzling fireworks display. Free; 7:00 – 10:00.
Instead of Fireworks—More Summer Fun for July 4th 2020
Check out our round-up of outdoor summer fun including drive-in movies, boating, hiking trails, outdoor dining, and area getaways perfect for a summer escape.
Follow us on Facebook, Twitter, Pinterest, and Instagram for more fun travel in and from Northern Virginia.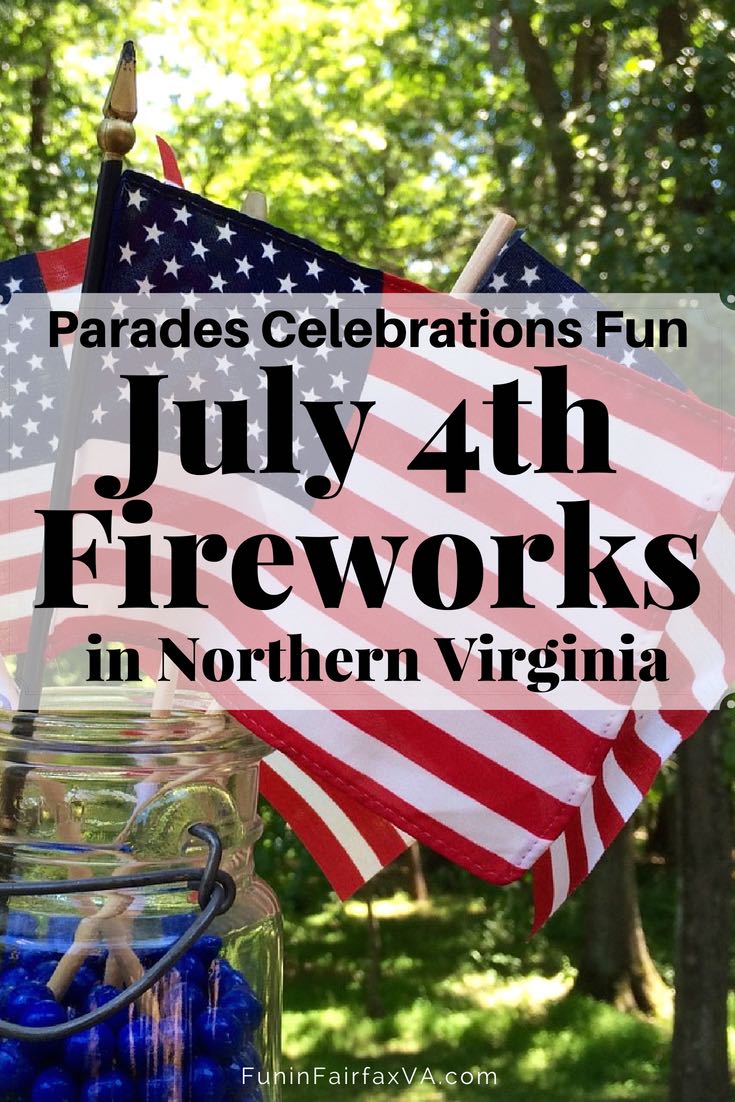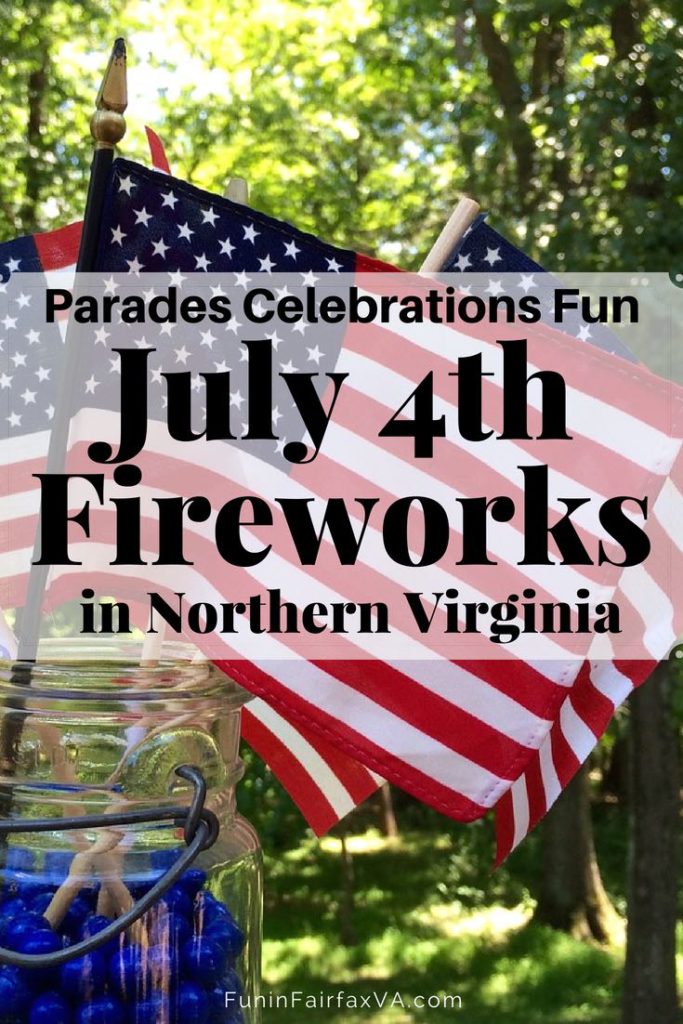 This article was published in 2018 and updated in 2019 and 2020.