Here are some fun places to go after a Northern Virginia snowstorm, whether you want to play outside or in. Before you head out, check the VDOT road plow map to make sure the roads have been cleared in the area you plan to visit.
Find more critical storm resources in Northern Virginia Snowstorms: 5 Helpful Sites for Tracking Winter Weather.
Fun Places to Go After a Northern Virginia Snowstorm
The first big snowstorm of the year, and giant storms like Snowpocalypse 2009 and Snowmageddon 2010, keep us hunkered down at home. The snow is falling, the winds are blowing, and the roads aren't plowed. Businesses, parks, and museums close during the storm. And depending on how much snow falls, it may take a few days to clear roads and parking lots.
Disclosure: This article may contain affiliate links. We will make a small commission from these links if you order something, at no additional cost to you.
Eventually, the storm ends and the roads are cleared. That's when cabin fever pushes us to get out of the house. Here are some of our favorite places to go after a Northern Virginia snowstorm, including outdoor fun and indoor activities. Always check ahead to make sure your destination is open.
Outdoor Fun After a Northern Virginia Snowstorm
Once it is safe to drive, don't let a little snow and ice hold you back. Northern Virginia is packed with great parks, trails, and winter activities perfect for a snowy day.
Winter Hikes and Parks
Great Falls Park is a fun destination for a post-snowstorm visit. The National Park system manages the park and usually plows the road and parking lot quickly. You can easily access the Visitor Center from the parking lot, and it's only a short walk to the waterfall overlooks. Fortunately, the park rarely closes due to flooding, as it did after the blizzard of 1996.
Wear your waterproof boots, and enjoy the beautiful sights on an easy River Trail hike. Just use extra caution as you hike along the cliffs of Mather Gorge. When a large snowstorm is followed by warm days, the Potomac River becomes a raging torrent that's exciting to see.
You'll find more of our favorite trails to visit after a Northern Virginia snowstorm in winter hikes in Northern Virginia.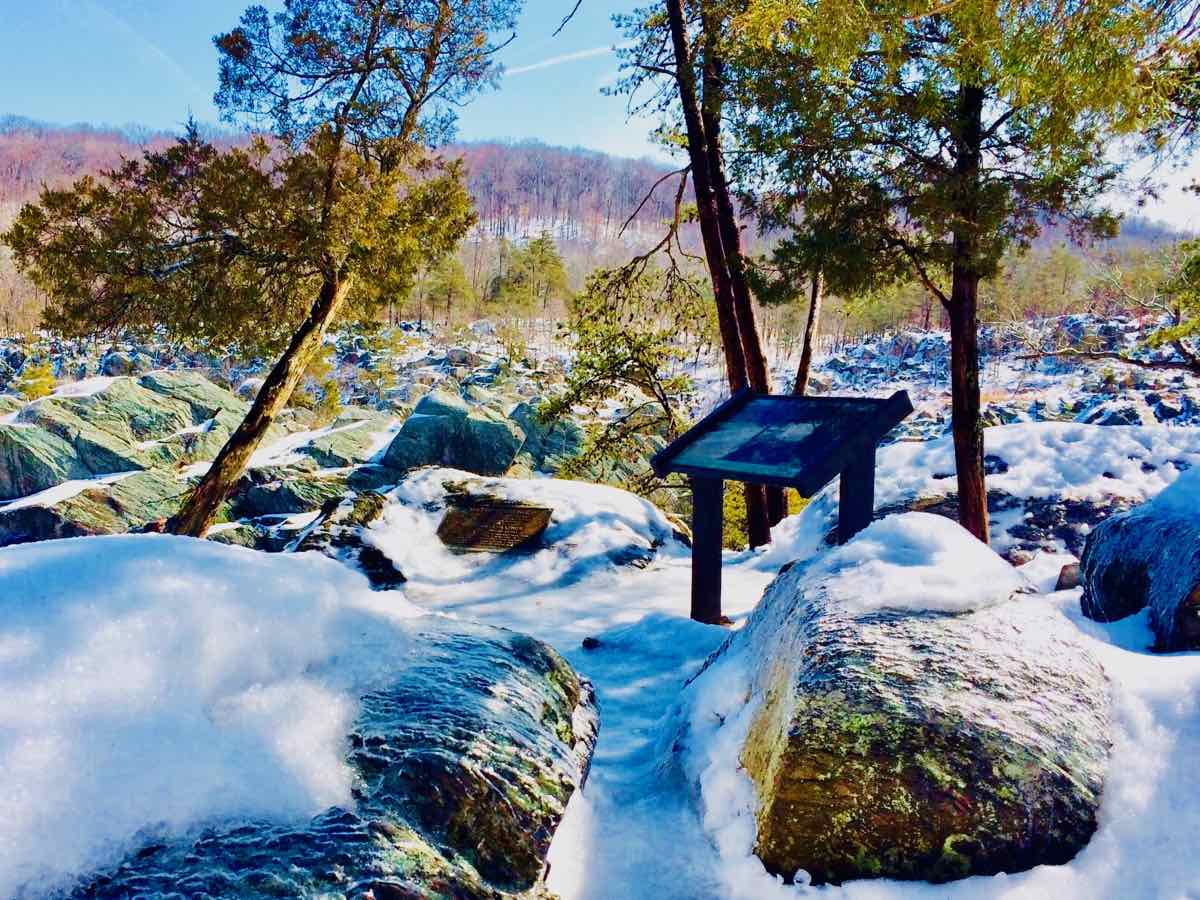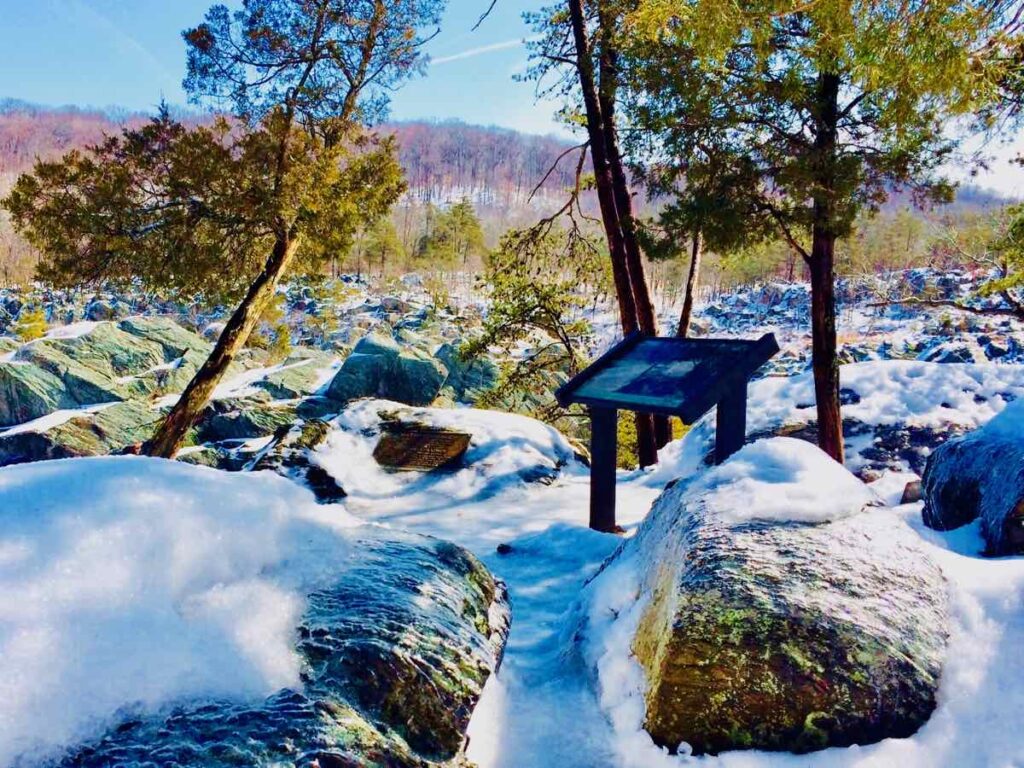 Cross Country Skiing
Until it is plowed, the Washington & Old Dominion Bike Trail (the W&OD) is a popular option for cross-country skiing. The stretch between Hunter Mill Road and downtown Vienna is relatively flat and doesn't have any road crossings until you reach town.
In Washington DC and on the Maryland side of the Potomac River, the C & O Canal towpath provides a level, car-free stretch of trail.
Favorite Spots for Sledding and Snowballs
If your neighborhood doesn't include a good hill, here are some popular Northern Virginia sledding spots to try:
"Mt. Reston", at the Unitarian Church on Weihle Ave is long, open, and doesn't end in a stream or street. Great ride down; long walk back.
There's a nice wide hill at Wolf Trap, and it's easy to get to once the parking lots are plowed. If the snow isn't too deep, take a hike on one of 2 scenic trails at Wolf Trap.
The hill behind the Stone House in Manassas National Battlefield is popular for sledding.
The hill from the far side of the dam at Lake Fairfax Park is short but steep, and it's easy to reach with free parking close by.
The quintessential DC sledding experience is at the U.S. Capitol. Happily, Congress passed a provision in 2016 instructing the Capitol Police not to enforce the 140-year-old ban on sledding down Capitol Hill. Sadly, Capitol Hill was off-limits in 2021 but it reopened again in 2022.
Groups in DC also organize huge, fun-filled snowball fights after major storms. In past years, the snowball fight was at Dupont Circle, but the group kicked off 2021 at the Smithsonian Castle. Follow the DC Snowball Fight Association (DCSFA) Facebook page for details.
Ice Skating
Outdoor and indoor rinks are a great option when snow has you in a wintery mood. Here is an ever-growing list of fun places to go ice skating in Northern Virginia and the Washington DC area.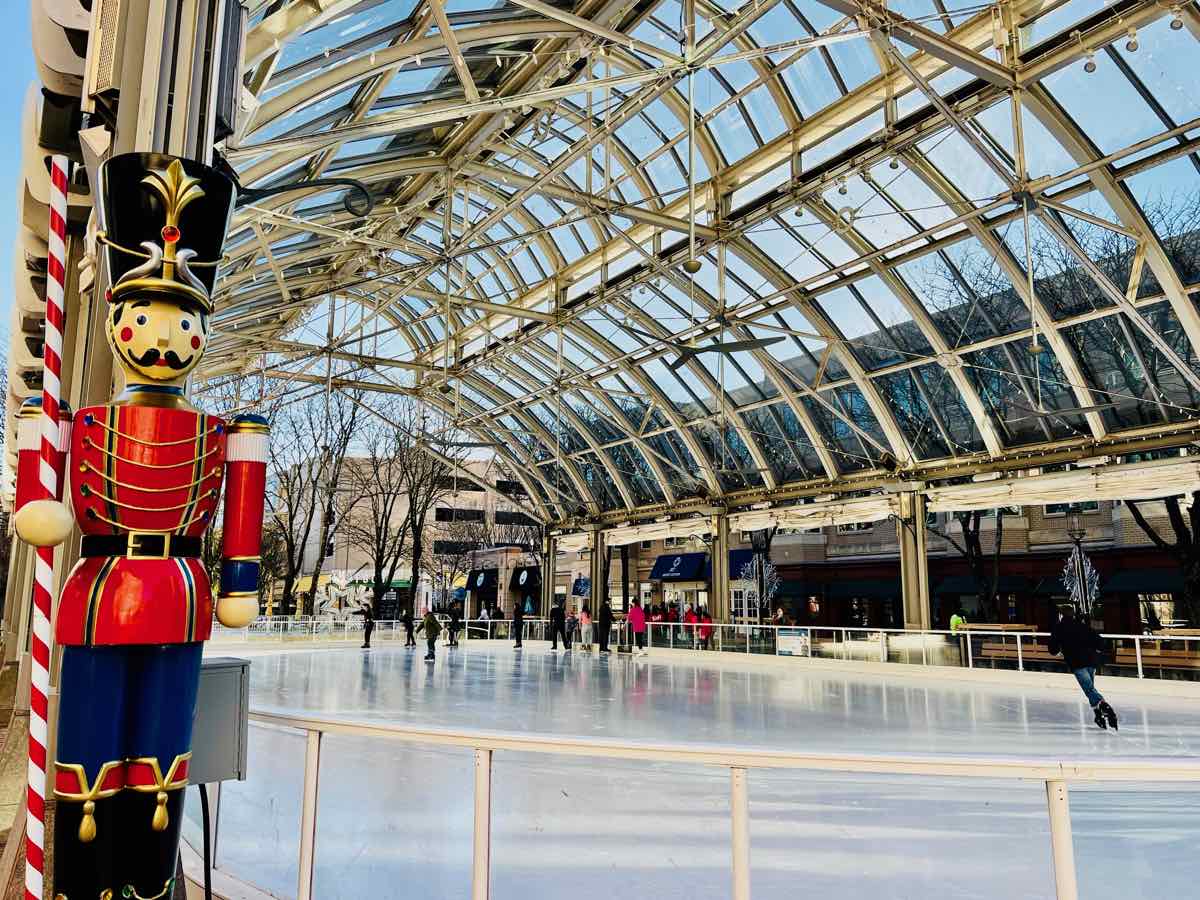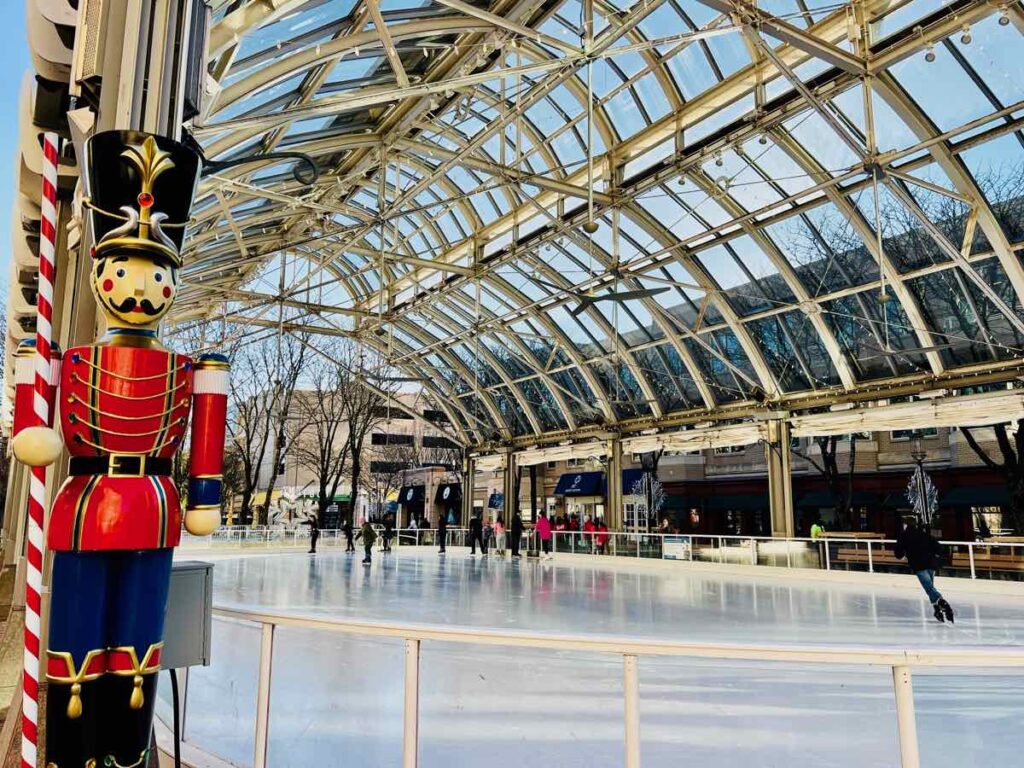 Scenic Drives
Once the plows are finished and the roads are safe, take a scenic drive to enjoy snowy scenes from the warmth of your car. We've highlighted pretty drives below but you'll find detailed maps and places to stop in our guide to the best Northern Virginia Scenic Drives.
Georgetown Pike and the George Washington Parkway are two of our favorite scenic drives, with fun places to stop along the way. The George Washington Parkway offers nice overlooks, views across the Potomac, and several stops along the way.
The section between Belle Haven and George Washington's Mount Vernon has several small lots and parks where you can enjoy a look at the river from your car. Park at Belle Haven and you can walk in Dyke Marsh and on the Mount Vernon Trail boardwalk.
Or take a shorter scenic drive in Great Falls and visit Riverbend Park and Great Falls Park for a look at the post-snow Potomac River.
Riverbend is best if you don't want to get out of your car because the lower parking lot is close to the river. However, the dramatic waterfalls at Great Falls are just a short walk from the parking lot.
If the snow isn't too deep or icy, check out any of these Beautiful Boardwalk Hikes in Northern Virginia.
You'll enjoy beautiful countryside views from a Loudoun County scenic drive on the Snickersville Turnpike. Plus, the drive is close to great stops in Virginia wine country.
Indoor Comforts After a Northern Virginia Snowstorm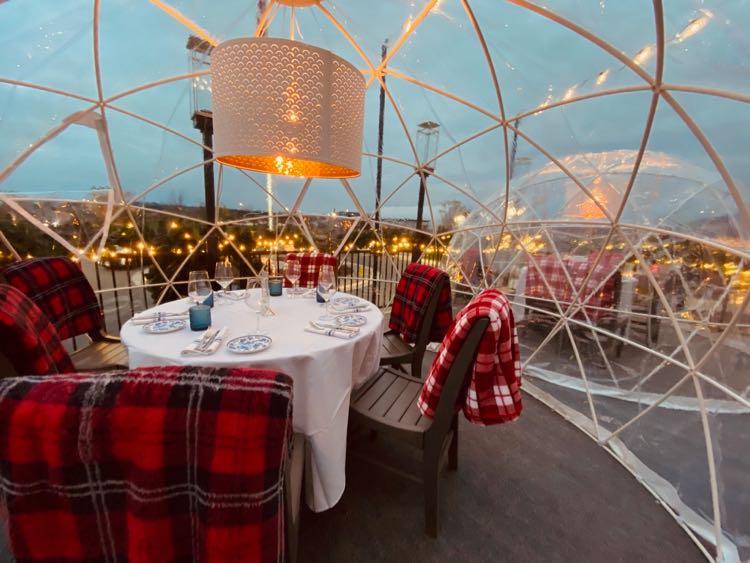 Wineries, Breweries, and Pubs
There are many wonderful places to enjoy locally produced Virginia wines, craft beer, and food. Happily, some of our favorite spots offer heated outdoor drinking with fire pits, igloos, and heated tables and tents.
Here are some of the cozy stops we've enjoyed after a Northern Virginia snowstorm.
There are warm fireplaces at The Winery at Bull Run in Centreville where you can warm up after sledding at the Stone House. The Aspen Dale Winery in Delaplane is a nice stop with a fireplace in Northern Virginia hunt country.
2 Silos Brewing, which has fire pits, a heated outdoor area, and rental igloos, is a good choice in Prince William County.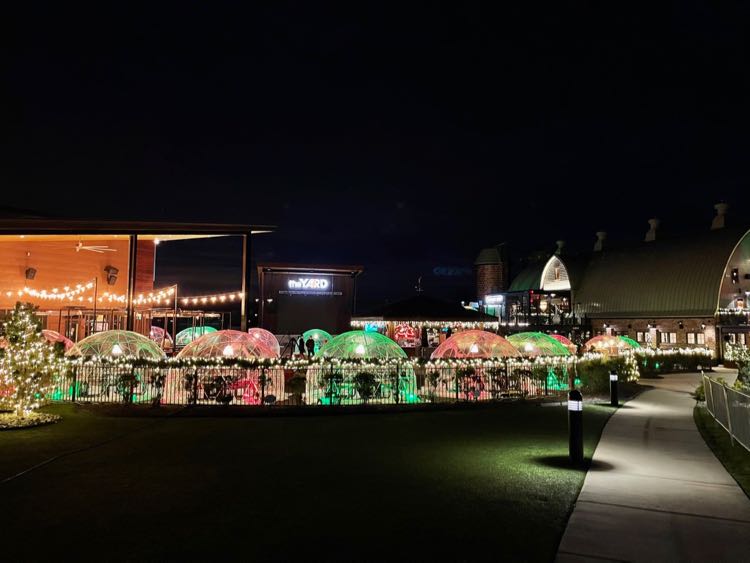 Northern Virginia wineries with sensational views are ideal places to relax after a Northern Virginia snowstorm. Some wineries require reservations or have limited winter hours so plan ahead.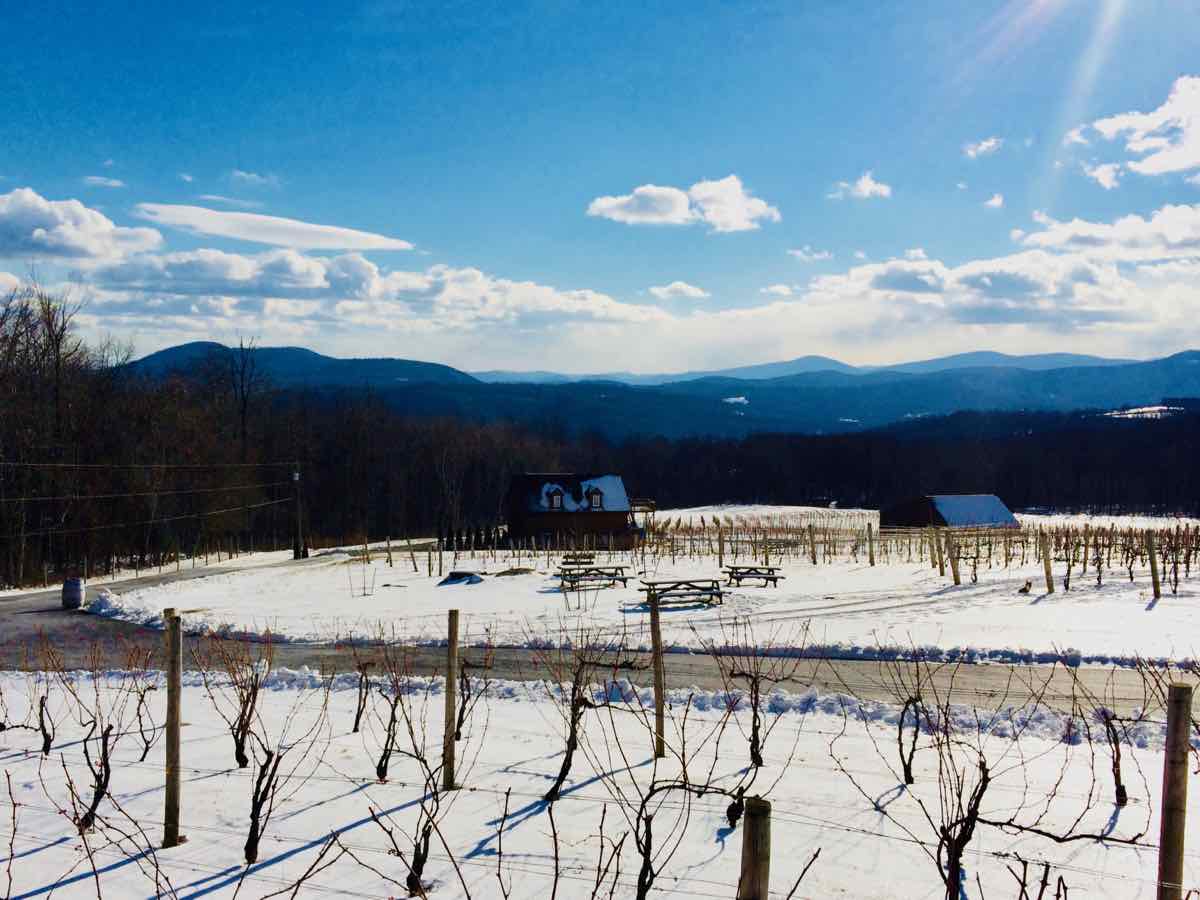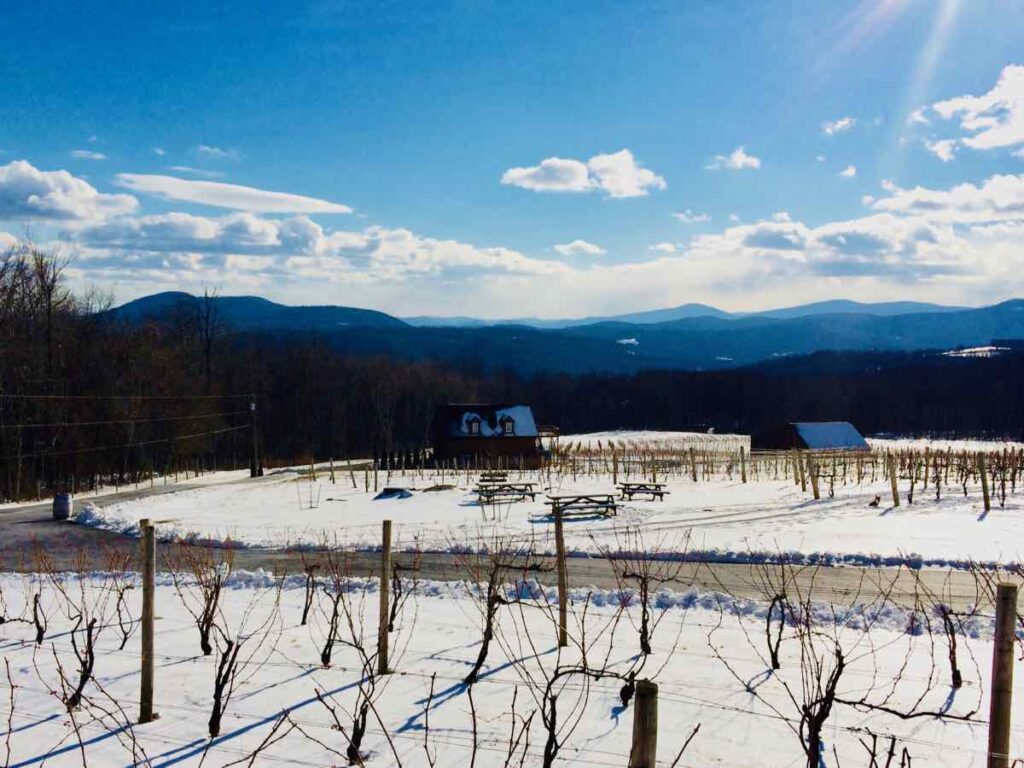 We love the relaxed, friendly vibe and delicious beer at local breweries like Caboose Tavern in Vienna, and Ocelot in Ashburn. If the road is plowed and your car can handle the hill, you can not beat the brews with views at Dirt Farm Brewing in Bluemont. Find more great Loudoun County brews on Virginia's LoCo Ale Trail.
Our favorite Irish and English Pubs are perfect on a wintery day. Warm up with delicious Irish Pie, Guinness Beef Stew, or crispy Fish and Chips at The Old Brogue and other wonderful Northern Virginia pubs.
Thai food is another cuisine that calls to us when the weather is cold. We love the soups and curries at La Ong Thai in Herndon, Sisters Thai in Fairfax, and Kob Kun in Oakton.
Udvar-Hazy Air and Space Museum
When the kids have been cooped up for a few days, the Udvar-Hazy Air and Space Museum in Centreville is a perfect place to wear them out. The museum houses some of the biggest members of the Smithsonian collection—including a space shuttle, a Concorde, and a stealth bomber—in an enormous space.
The museum offers a free alternate reality game for 10 – 14-year-olds, and there are interactive exhibits and an IMAX too. Admission to the museum is free, but parking is $15.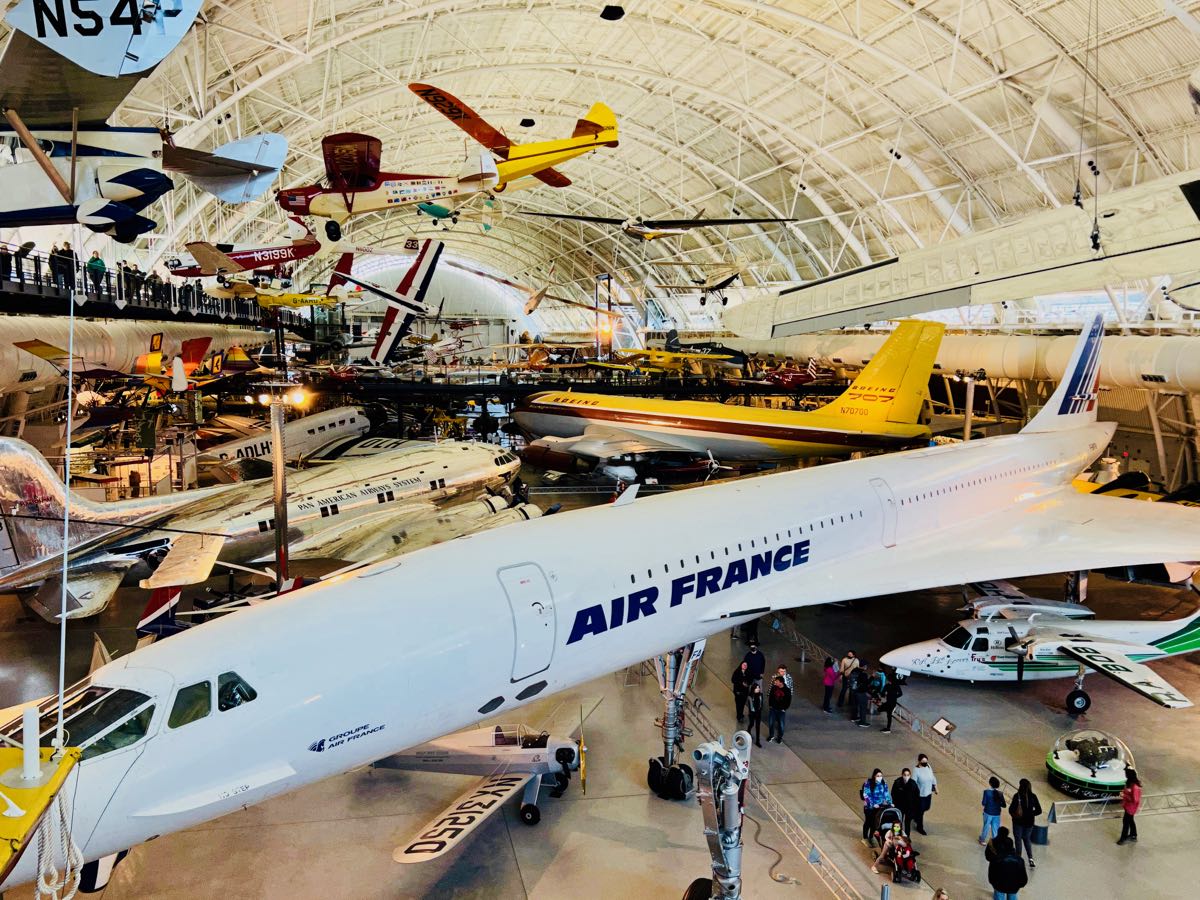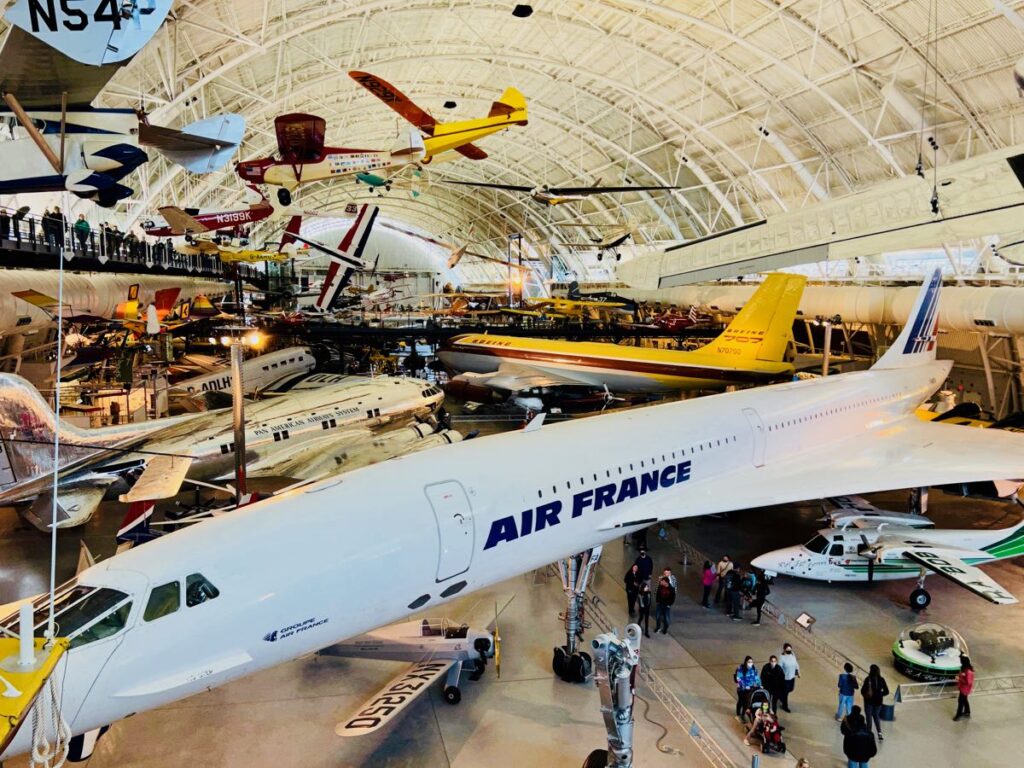 Indoor Activities, Malls, and Movies
It's easy to take a break from the cold at the many fun indoor activities in Northern VA. With everything from bowling to jump parks, to kid-friendly museums, there is something for every age.
Combine indoor and outdoor fun with a trip to Tysons Corner Center, Mosaic District, or Reston Town Center for ice skating, shopping, and dining.
Take a Break From Home with a Winter Getaway
Maybe the power is out, or after a few days of being snowed in you just need a break from home. We've enjoyed some beautiful area hotels, inns, and B&Bs, perfect for an overnight getaway in the Northern Virginia area.
If romance is your goal, these 15 Fabulous Romantic Getaways from Washington DC are extra cozy after a Northern Virginia snowstorm.
Ready to go farther afield, and maybe even escape the cold? Check our guide to Winter Getaways by Plane, Train, and Auto that include cold-weather places you can drive to and sunny destinations a non-stop flight away.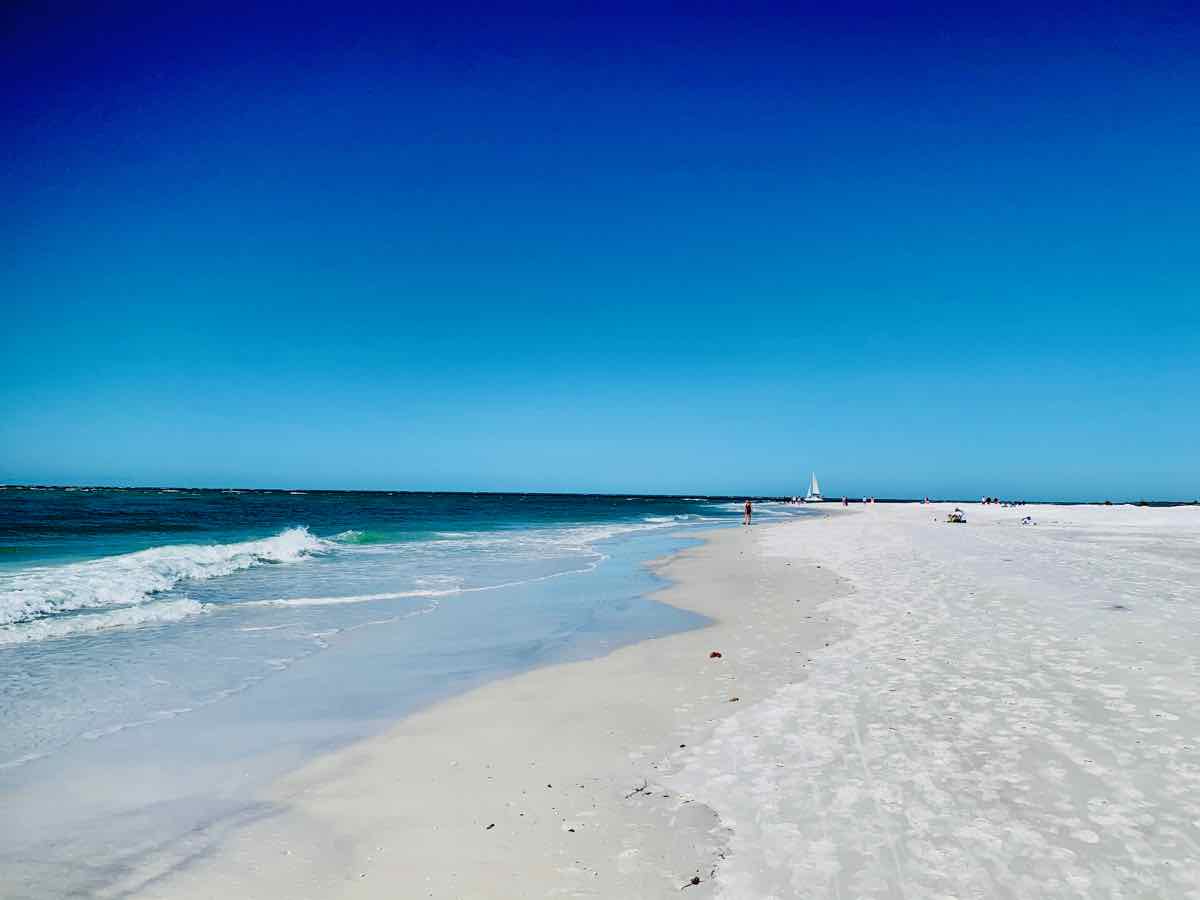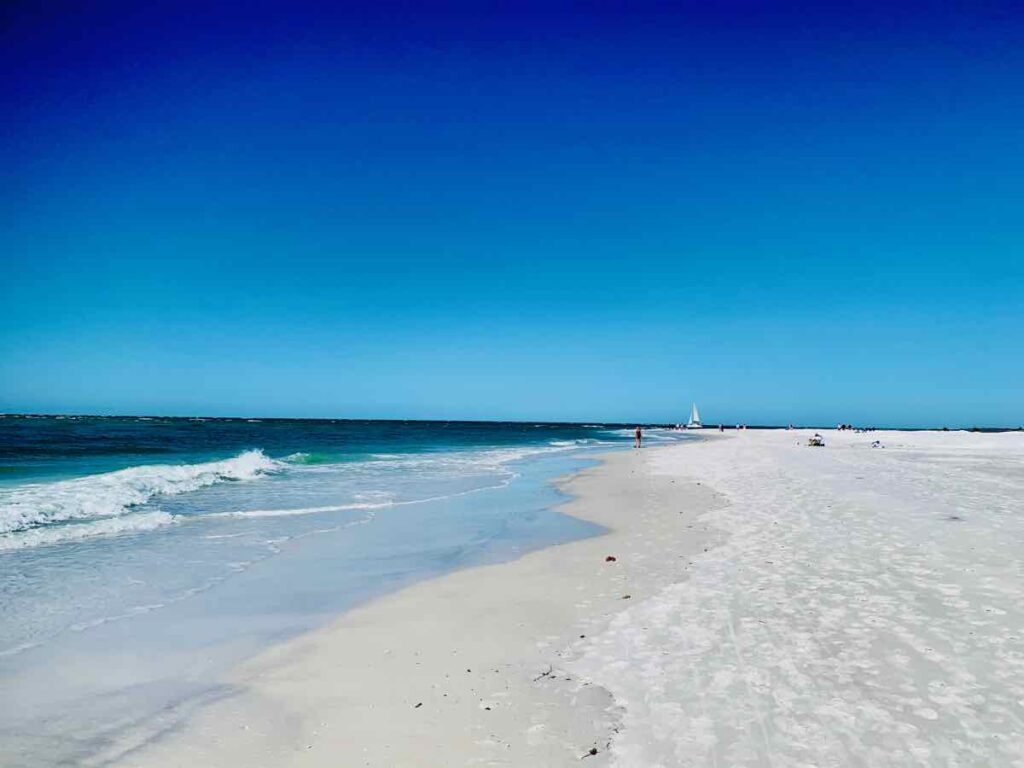 We wish you a safe and happy time during and after every Northern Virginia snowstorm. You'll find plenty of local fun once the plows are finished and the roads are safe, whether you stay in Northern Virginia or make a getaway.
Follow us on Facebook, Twitter, Pinterest, and Instagram for more fun travel in and from Northern Virginia.