Stop me if you've heard this one: an engineer and a banker open a bar… That's not a joke. More and more we're finding that breweries are being opened by people who haven't professionally studied the commercial brewing process. And often, as is the case with Ocelot Brewing Company, the result is really, really good.
Guest post by Anne Moriarty, beer maven and owner of Regali Jewelry, shortly after the brewery opened. Check the Ocelot website for the latest beer and event list.
Ocelot is one of the newest breweries in the area, open only three weeks, and we were hoping to visit on my husband's birthday. The closing time was listed online as 9:00, but when we walked into the brewery at 8:49 upwards of 20 people were still enjoying beers. We were warmly welcomed and got busy tasting the beers.
Disclosure: This article may contain affiliate links. We will make a small commission from these links if you order something, at no additional cost to you.
Beers on Tap at Ocelot Brewing
There were three beers on offer: Tangerine Trees IPA (6.0% ABV), Lemon Yellow Sun Imperial Hoppy Wheat Ale (8.1% ABV), and My Only Friend Russian Imperial Stout (9.0% ABV). You may recognize those as song lyrics, a theme you see in many tasting rooms. In fact, the brewery takes its name, Ocelot, from a Phish song and the logo is in the shape of a guitar pick.
Based on the descriptions, we both thought we would really like the IPA because of the Citra hops, and we were right. But we both also thought the Wheat Ale was phenomenal, and the Russian Stout was a nice surprise.
We were able to chat with the founders, three self-professed beer geeks from varied backgrounds. Adrien, a homebrew aficionado, is an engineer. Erik is a banker. And Sebastian, Adrian's bar-manager brother, has been splitting time between Dulles and San Diego, one of the craft beer capitals of the U.S.
Their stated philosophy of not having flagship brands is unorthodox, but the three brews we tried were excellent. The founders are counting on the new beers drawing folks back to the brewery. If all of their beers are anything like these first offerings, Ocelot will be up there with the best brewers in the area.
The Vibe at Ocelot Brewing Company
The owners repurposed a warehouse into an appealing mix of industrial and rustic elements. The wood in the tables and bar surround (really all the wood except the bar top) came from a 150-year-old house in DC that was being torn down. The lovely bar top, a long cut of a pine tree, came from Community Forklift in Maryland. The weathered materials are juxtaposed with the stainless steel tanks and a huge ceiling fan.
You're welcome to bring your own food, and there will be food trucks on site most weekends, plus the occasional live band. (I only wish the W&OD went right by this wonderful new place.)
Ocelot Brewing Company is open daily. The brewery is at 23600 Overland Drive, #180, Dulles, VA.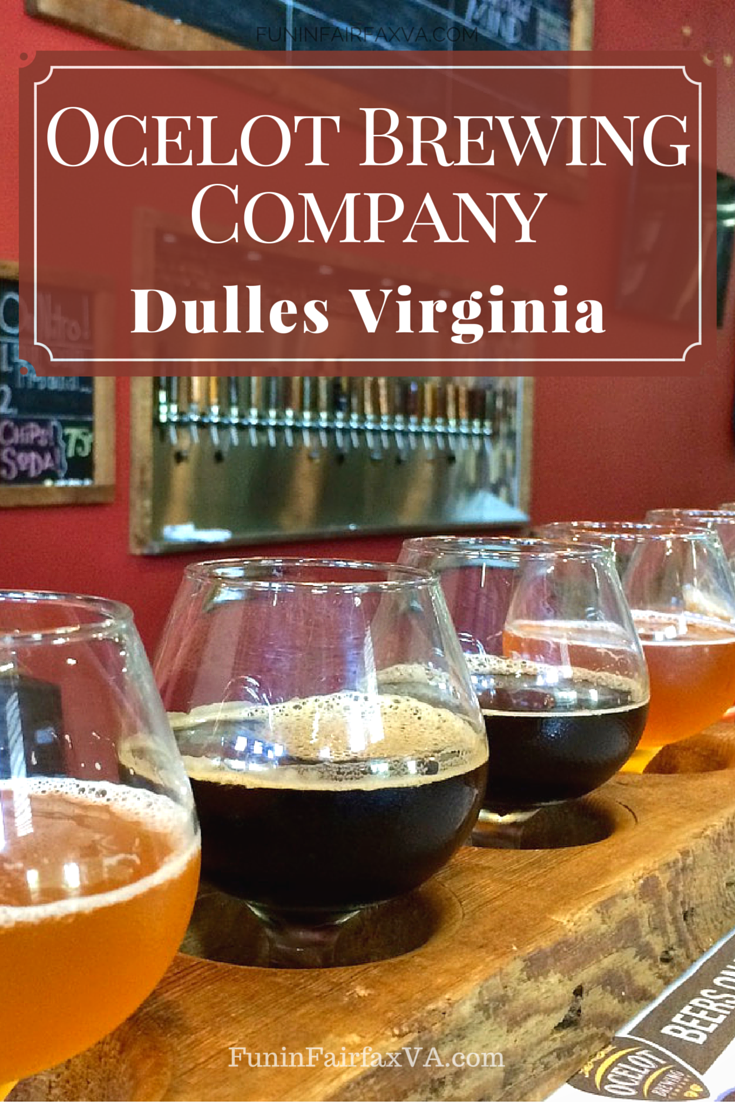 Follow us on Facebook, Twitter, Pinterest, and Instagram for more fun travel in and from Northern Virginia.