Our Virginia Gift Guide is full of unique, fun, and useful gifts for residents, visitors, and anyone who loves the Old Dominion. This Virginia Gift Guide is ideal for the holidays, but these gifts are worth giving all year long so bookmark the list for the next time you need to find the perfect present.
If you place an order using the links below, we may receive a small commission at no additional cost to you. This helps us pay for the cost of maintaining Fun in Fairfax VA. We only link to products and services we recommend.
You can purchase all of the gifts below online. We also love to shop local at these Fun Holiday Markets in Northern Virginia and the DC Region.
Disclosure: This article may contain affiliate links. We will make a small commission from these links if you order something, at no additional cost to you.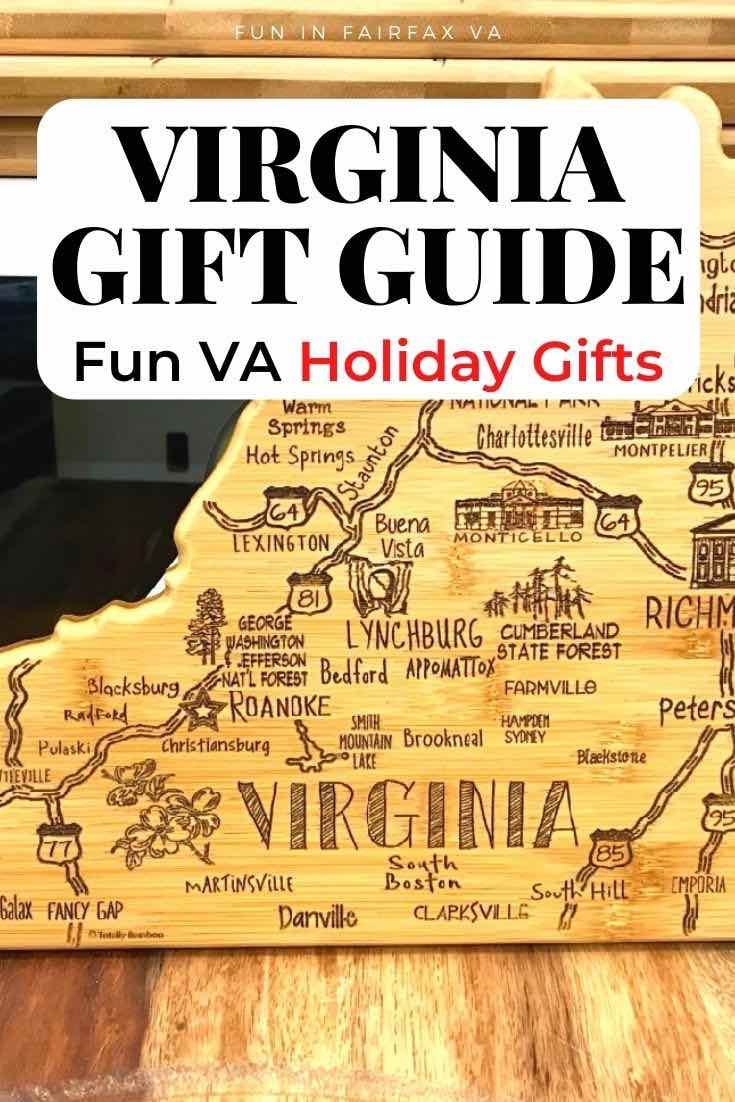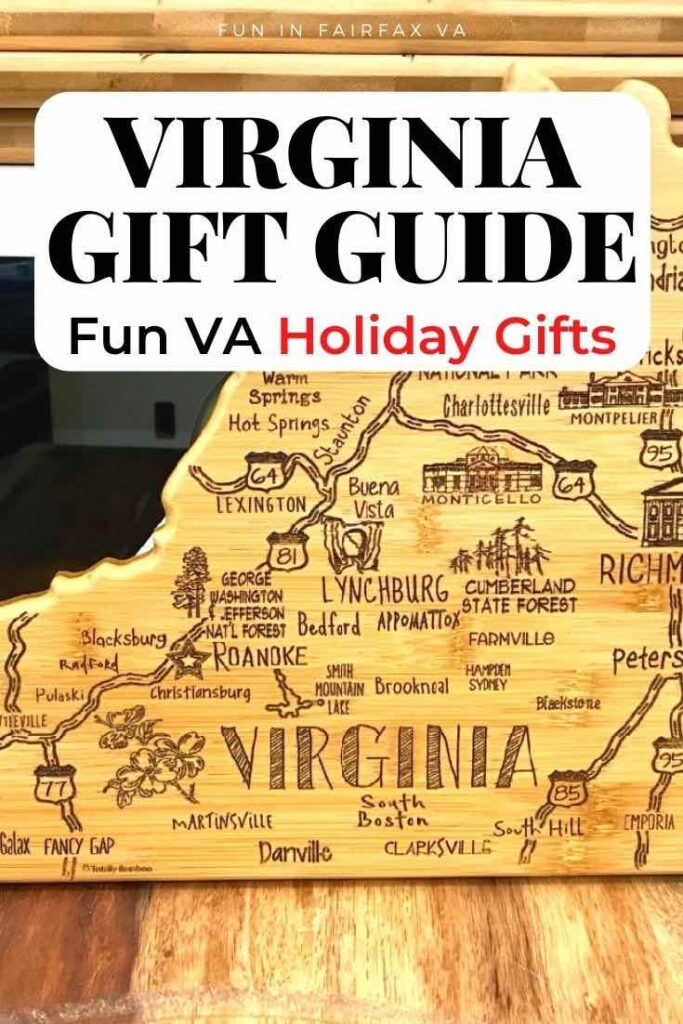 Virginia Gift Guide: Fun and Practical Gifts for the Home
Give a gift that combines Virginia love with practical use.
Virginia-Shaped Cutting Boards
Express your love of Virginia at every meal or party with a cool state-shaped cutting board. We love the look of the state-shaped cutting board carved with Virginia place names in the pic below. Amazon has several Virginia cutting boards to choose from. There are smooth bamboo cutting boards, this brown cutting board, and a full-size board with Virginia places on it.
Make your gift personal with a customized Virginia board or a custom handmade slate board. The Virginia-shaped cutting boards are ideal for serving cheese and crackers or other goodies at a party.
If you'd prefer a more traditionally shaped board, check out the beautiful collection from Virginia Boys Kitchens. The Northern Virginia company uses sustainable woods to craft its cutting boards, bowls, trays, and other kitchen products.
Richmond-inspired Glassware
Richmond fans will love a set of practical and oh so cool Vintage Richmond pint glasses from Outside Vintage. They also sell cool prints featuring Richmond sites like Maymont and the Potterfield Bridge.
Plan a visit with our guide: Fun Things to Do in Richmond VA
Virginia Dish Towels
Dish towels nicely combine practicality and state love. We like the retro map look of a Catstudio Virginia Dish Towel or the colorful map on this Virginia State Towel.
Virginia Trays and More
We also found a nice collection from the Galleyware Company featuring pretty Virginia maps. They make platters, trays, glasses, coffee mugs, and more.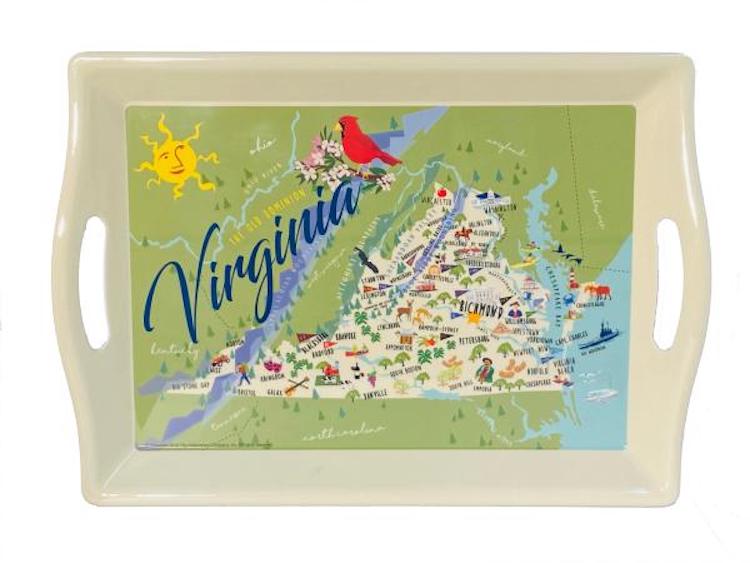 Virginia Gift Guide: Tasty Food and Drink
Who doesn't love a tasty local treat? Lucky for us, it's easy to gift the flavors of Virginia.
State Inspired Snacks from Virginia
Gift a two-pack of salted peanuts from Hubs, Virginia's oldest continuously family-owned peanut processor. Or break up the pack and check two giftees off your list. Virginia Diner peanuts come in a range of flavors, from salted to Old Bay, with several combo packs available.
Popular Blue Crab Bay Company nuts, seasonings, and spreads are another locally produced and delicious gift option. Order from Amazon, or plan a getaway to Virginia's Eastern Shore and visit their headquarters and store near Chincoteague Island.
Whether you live in Virginia or across the country, you have probably enjoyed a bag of Route 11 Chips. Mama Zuma's, Sweet Potato, Chesapeake Crab—no matter which flavor you choose, you are sure to please with a gift of tasty goodness. Oder your Route 11 Chips on Amazon and plan a Shenandoah Valley road trip to visit the factory.
Virginia ham is a holiday favorite, and you can send a tasty ham from Smithfield Farms, Virginia. Smithfield also offers turkey, sides, and excellent gift baskets.
Virginia's small towns and cities are wonderful places to shop for local food, drink, decor, and artisanal goods. In downtown Leesburg, stop in the Very Virginia store and you're surrounded by locally made goodies and gifts.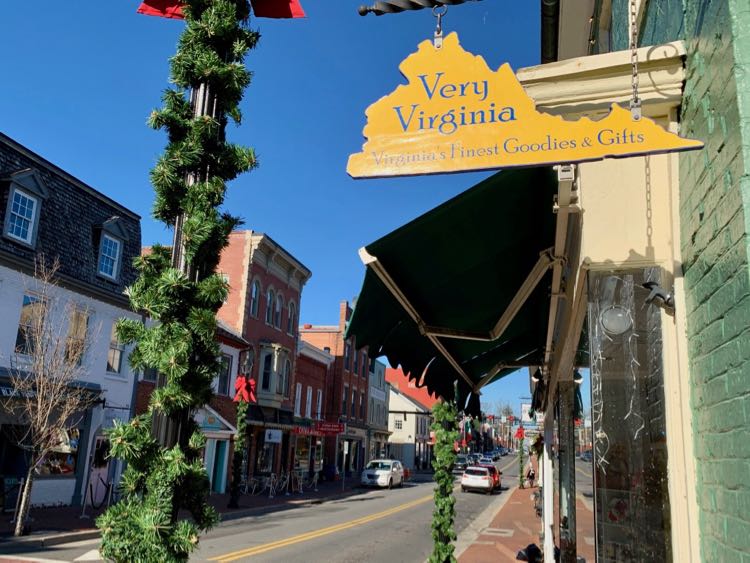 Virginia Drinks and Accessories
Our state is a mecca for local wine, craft beer, and spirits, and our Virginia Gift Guide has a few suggestions for your favorite craft drinker.
Visit any of the breweries on these 12 Virginia craft beer trails, and you are sure to find gift-worthy shirts, hats, and growlers. Fill a growler or two and your gift will bring a smile to the beer lover on your list. Or take your giftee on a day trip to explore the LoCo Ale Trail or plan a hike and beer outing in Northern Virginia.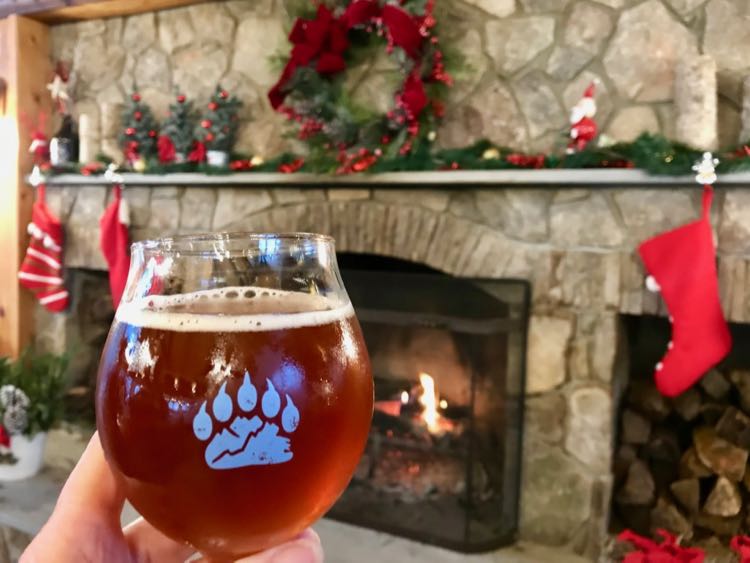 Some breweries and taprooms sell Crowlers, which makes it easy to create a nice collection of craft beer. For example, at Barrel and Bushel restaurant, on the plaza at Tysons Corner, you can choose from crowler fills of 25 local craft beers.
Every Virginia winery we visit sells wine and fun accessories for your wine-loving friends. Your gift list offers the perfect reason to visit local vineyards, sample the goods, and soak up a gorgeous winery view.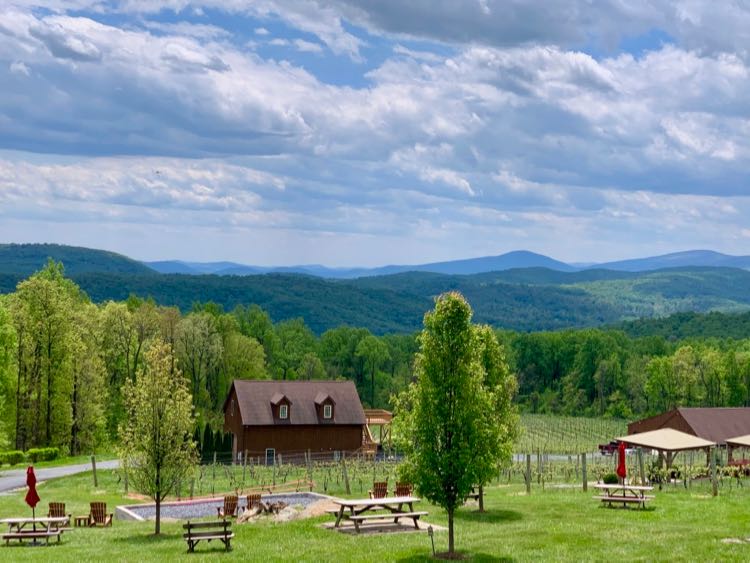 Head to your local ABC Store to purchase Bowman Distillery's small-batch whiskey and more locally-made spirits. Better yet, take a day trip to Fredericksburg for a Bowman Distilleries tour, tasting, and to shop in the store. The Caramel Bourbon Cream makes a delicious alternative to spiked egg nog, The Sunset Hills Gin is named after the distillery's original location in Reston VA.
Combine history with your gift shopping when you pick up a bottle of distilled spirits from George Washington's Mount Vernon. In his day, George Washington was one of the largest whiskey producers in America. Today, the historic Distillery and Gristmill produces small-batch spirits that are sold in the Mount Vernon gift shop.
Virginia Gift Guide: Outdoor and Travel Gifts
Virginia is for outdoor lovers, and you can plan your next outing with these books and travel gifts.
Hiking Books and Virginia State Guides
Virginia is a prime U.S. hiking destination. The state includes 500 miles of the Appalachian Trail (the most of any state) and hundreds of excellent trails for family outings, day hikes, and biking.
You'll find lots of information on Northern Virginia hikes and bike trails on Fun in Fairfax VA. A book makes a nice gift to encourage your next adventure.
60 Hikes Within 60 Miles: Washington DC includes many of our favorite area hikes. We also recommend 50 Hikes in Northern Virginia. The book was our first introduction to local hikes when we moved to Virginia more than 25 years ago. Here is a link to more regional and themed Virginia hiking books on Amazon.
Frequent hikers love the excellent maps and guides in the Potomac Appalachian Trail Club (PATC) store. Purchase from PATC and you support the group that maintains miles of trails and hiking facilities in Shenandoah National Park.
Of course, the state is not only for hiking. Inspire a road trip or weekend getaway with a gift of Backroads & Byways of Virginia. Or peruse these other Virginia books that cover history, dining, and things to do regionally and throughout the state.
Annual Park Passes
A Virginia State Parks Annual Pass makes a nice gift for outdoor lovers who live in the state or travel here frequently. The $85 Naturally Yours Passport covers admission to all state parks for 12 months (only $40 for Seniors). The pass is sold at any state park or you can order it by mail.
Give the gift of our U.S. National Parks in Virginia and across the country with an America the Beautiful Pass. You can purchase annual passes online, but order by early December if you want to receive the pass by Christmas. You'll recoup the cost in just a few visits to Shenandoah National Park or Great Falls Park. Best of all, you'll be making a worthy investment in preserving the great outdoors.
READ MORE: Guide to Buying a U.S. National Park Pass
Wearable Virginia is for Lovers and College Gear
Wear your love with gear featuring the award-winning Virginia is for Lovers motto or your favorite VA college.
Virginia is for Lovers Gear
No Virginia Gift Guide would be complete without some Virginia is for Lovers gear. We are, after all, the state of LOVEworks, celebrating the famous "Virginia is for Lovers" tourism slogan. Browse an extensive collection of Virginia is for Lovers gear at the official VA Store. They have some fun, themed items for craft beer, beaches, mountains, wine, and more.
Several ABC stores, Virginia Welcome Centers, and local stores also offer select gear. Amazon also has a good Virginia is for Lovers collection. For example, declare your state love all day long with a Virginia is for Lovers t-shirt, available in styles for men, women, and children. Express your hometown love with a shirt from Virginia Hometown Tees.
Virginia College Gear
Gear from any of Virginia's well-known universities makes a great gift for the alumni or future collegiate in your life. Here are links to shop for Virginia gear from university stores and on Amazon.
Virginia Inspired Jewelry
A Virginia state-shaped necklace makes a nice Valentine's Day gift. Splurge a little and you can gift a 14K gold Virginia necklace, or choose a Virginia necklace in rose gold.
We hope this Virginia Gift Guide has inspired your gift-giving for the holidays, birthdays, Valentine's Day, Mother's Day, Father's Day, or anytime you want to please Virginia-loving friends and family. Happy shopping!
Follow us on Facebook, Twitter, Pinterest, and Instagram for more fun travel in and from Northern Virginia.