We've added the Kob Kun menu below since this tasty Thai restaurant in Oakton, Virginia does not have a web site. Details and prices may have changed.
Kob Kun in Oakton
Last night we tried Kob Kun, a Thai restaurant at the corner of Hunter Mill and Chain Bridge Roads in Oakton. The atmosphere was lovely and the food was very good, so we highly recommend a visit. They offer a full bar with limited bar seating and it would also be a nice place to stop for a drink and a snack.
After taking our drink order (Singha and a Thai Iced Tea), the waiter brought a complimentary serving of fried green beans, which was a nice way to start the meal. We were in a curry mood and ordered Panang Gai with Seafood and Southern Curry, a chicken dish similar to Massaman Curry. Both dishes were very tasty, though next time we'll ask them to make it spicier.
Disclosure: This article may contain affiliate links. We will make a small commission from these links if you order something, at no additional cost to you.
Kob Kun Menu Update
Update: You can now find the latest menu on the Kob Kun website.
We recently decided to order take-out from Kob Kun and found it very difficult to chase down an online menu since the restaurant didn't have its own website. We finally found a menu picture on Yelp, but it was difficult to read.
So, to help those in a similar situation, we scanned the Kob Kun menu (from March 2015) and added it below. The pictures aren't perfect but feel free to download them for your convenience.
We ended up ordering the Pad Prik Khing with chicken and the Panang Curry with shrimp and they were both excellent.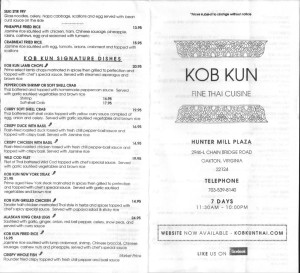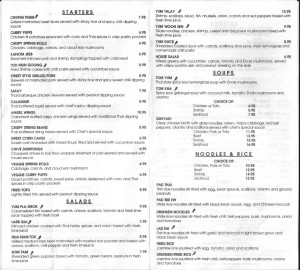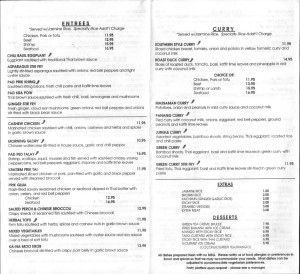 Here are some of the other Thai food restaurants in Fairfax County we've enjoyed. Where should we try next?
Kob Kun Fine Thai Cuisine
2946 Chain Bridge Rd
Oakton, VA 22124
Follow us on Facebook, Twitter, Pinterest, and Instagram for more fun travel in and from Northern Virginia.