Updated on November 7, 2023 by Julie McCool
2 Silos Brewing offers craft brews, a tasty menu, an indoor-outdoor gathering place, and a cool vibe to the Farm Brew Live complex in Manassas Virginia. Whether you come to sample new craft beer flavors, or just to hang out with friends, 2 Silos will make you smile.
Comfortable Gathering Spaces at 2 Silos Brewing
One of the best reasons to visit 2 Silos Brewing is the range of spaces to hang out. The main room of the Pour House is sleek and slightly industrial, made to accommodate groups large and small. An upstairs space includes comfy couches and a quieter vibe.
Disclosure: This article may contain affiliate links. We will make a small commission from these links if you order something, at no additional cost to you.
Outdoor seating at the brewery is even better, as long as the weather isn't extremely cold. On the patio, guests can relax on couches by a huge fireplace, or at long tables warmed by heat lamps. Lots of outdoor tables topped with umbrellas extend from the patio.
Relaxed groupings of Adirondack chairs sit closer to the stage area known as The Yard. Those same chairs surround several fire pits that are especially fun at night. The fire pit areas boast built in speakers, so you'll have excellent sound quality when live music is playing.
In the winter, keep the outdoor fun going in one of Farm Brew Live's cool private igloos.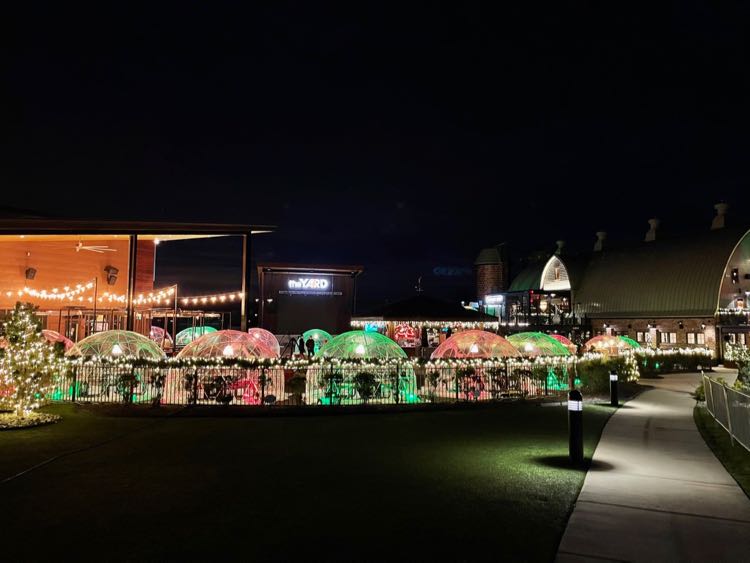 Explore more Heated Outdoor Dining and Drinking in Northern Virginia.
Craft Brews and More Things to Drink
Brewermaster Forest Morgan told us he wants to provide "something for everyone" and our tasting show he's met his goal. From the Cream Ale to the Imperial Stout the beer delivers tasty and accessible flavors with nothing too extreme on the list.
Initially, the 30-barrel brew system is devoted to the 2 Silos site and occasional appearances at special events. Today you can find their beer at locations throughout Northern Virginia. Beer is also distributed on-site from a 1969 milk delivery truck transformed into the Tap Truck.
There are 4 flagships on tap along with a few seasonals and limited-release brews. The also offers brewery tours and growler fills.
And don't worry if not everyone in your crew is a beer lover. Wine, hard cider, and non-alcoholic drinks are available in the Pour House tasting room. When live music is playing, an outdoor bar serves mixed drinks.
Nearby, The Black Sheep serves whiskey, wine, and noshery in the historic Thomasson's Barn, further expanding the craft drink options on the Farm Brew Live campus.
The Food at 2 Silos Brewing
We love a great brewery, and we love it even more when there is delicious food on offer. The Pour House goes beyond the standard bar fare with a strong menu. We can vouch for the handmade pizza, cooked in a large pizza oven designed to echo the barn's silo.
The Brussels sprouts are a great option for veggie lovers. The cobb salad, on the other hand, pleases meat lovers with a heap of yummy crisp bacon. The creamy crab dip hits the spot for cheese lovers, but we would add a little more heat.
There are more food options when live music is happening. The Pit sells barbecue sandwiches, and La Gringa Food Truck dishes up a range of comfort foods.
Tips for Visiting 2 Silos Brewing and Farm Brew Live
2 Silos Brewing is currently open daily except for Monday, when they are closed.
Hours are Tues – Thurs 11:00 to 10:00, Fri – Sat 11:00 to 11:00, and Sun 11:00 to 9:00
Leashed dogs are welcome in most of the outdoor spaces, but they are not allowed on the patio, in the tasting room, or on the brewery tours.
Children are welcome throughout the entire Farm Brew Live campus. After 9:00, if music is playing, anyone under 18 must be accompanied by a guardian.
This is an excellent venue to see live bands, though winter weather may limit performances for now. Check the web site for the latest event listings.
Notice the details when you visit. 2 Silos Brewing is growing hops on site, and the restaurant grows its own "flavor garden." Design details include a two-story mural of Miles Davis, a bar made with reclaimed wood from the property, and that silo shaped pizza oven.
Farm Brew Live is a large campus with multiple venues. The two main restaurants are the Pour House and The Black Sheep whiskey barn.
There is also an event space perfect for a beer lover's wedding.
This fun and tasty brewery opened in late October 2017, and quickly gained a following. We visited 2 Silos on a cold and rainy day, and the place was quite busy. It's a good sign that this new campus of brews, food, and fun has become a favorite spot for locals and visitors.
2 Silos Brewing is at 9925 Discovery Boulevard, Manassas, Virginia. Find more info on their website and Facebook page.
Things to Do Near Farm Brew Live in Manassas VA
Combine your outing to Farm Brew Live with hiking, history, and small town fun with our guides to these nearby destinations:
If you plan to stay overnight, there are several nearby places to stay in Manassas. We especially like the convenient location and comfortable rooms at the Courtyard Marriott Battlefield Park.
Follow us on Facebook, Twitter, Pinterest, and Instagram for more fun travel in and from Northern Virginia.
Visit Prince William County hosted our tasting and lunch at 2 Silos. All opinions, text, and photographs are our own.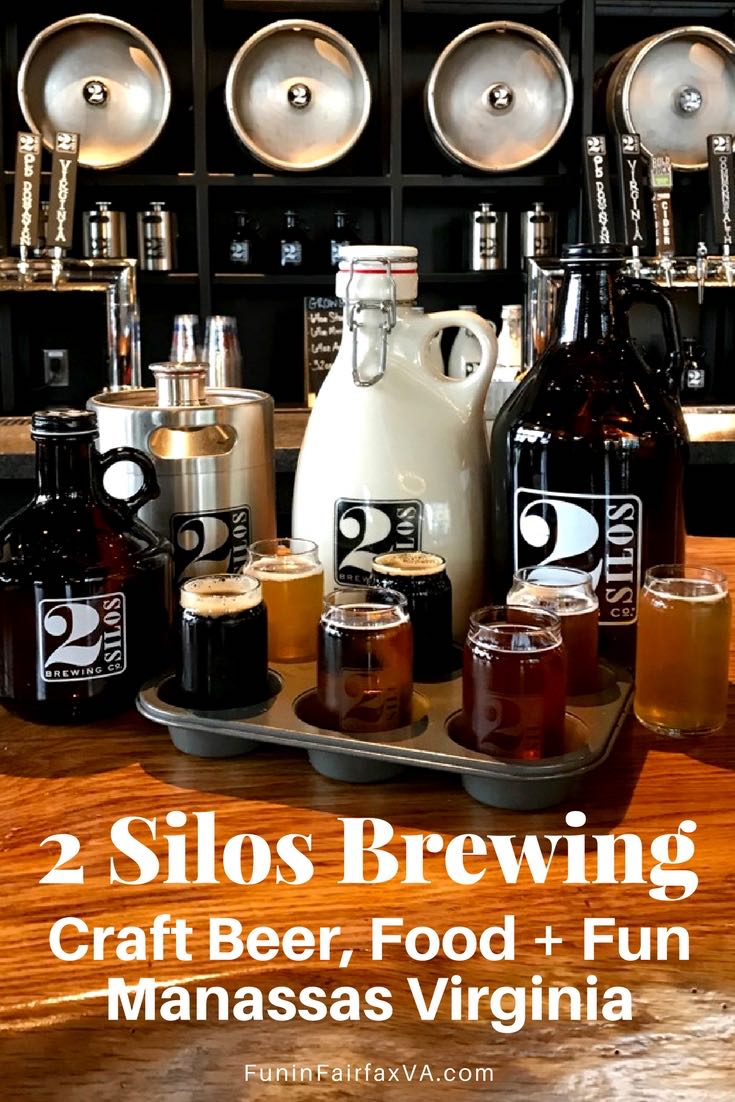 This article was published in 2017 and updated in 2020.