Updated on October 4, 2023 by Julie McCool
2023 September events in Northern Virginia bring fantastic festivals and special weekend fun to the Washington DC region. Many of the most popular festivals are back in 2023 so plan ahead.
Labor Day Weekend kicks off September events and brings a close to summer break. Then, some of the best fall festivals in Northern Virginia shift the mood to Autumn celebrations.
Disclosure: This article may contain affiliate links. We will make a small commission from these links if you order something, at no additional cost to you.
Looking for fun things to do this weekend in Northern VA? Our list of Northern Virginia events includes things to do in Fairfax County, Loudoun County, Prince William County, Alexandria, Arlington, and other area towns. Festivals and events are listed in order of start date, with multi-day events generally listed first.
Celebrate Virginia's apple picking season at the Great Country Farms apple harvest throughout the month of September. Kids can have a blast in the 12-acre play area and corn maze. On weekends, enjoy live music, marshmallow roasting, cider pressing demonstrations, and fresh cider samples. Follow the link for a full list of activities and schedules.
Weekday and Labor Day weekend admission to the farm is $12 per child, $14 per adult; hours are 9:00 – 5:00 daily. Weekend admission is $14 / $16 per child/adult and hours are 9:00 – 6:00 daily. Purchase timed advance tickets online to guarantee entry.
Great Country Farms is just one of the fun activities in Bluemont VA. Take a hike to Bears Den, sip wine at Bluemont Vineyards or craft beer at Dirt Farm Brewing, or take a scenic drive on the Snickersville Turnpike.
Read our complete guide: Where to Go Apple Picking in Virginia and Apple Season Fun
Celebrate the last long weekend of summer with annual festivals and ongoing summer fun. Fantastic events this Labor Day weekend include the Virginia Scottish Games, a Labor Day Car Show, and more. Check out our Complete Guide to Labor Day Weekend Events in Northern Virginia for fun festivals and activities.
The fantastical Cirque du Soleil returns to the big top in Tysons as Northern Virginia hosts the US premiere of Cirque du Soleil ECHO. As with previous Cirque Tysons shows (like Kurios, Luzia, and VOLTA) you'll be dazzled by elaborate sets, stunning acrobatics, and a mesmerizing experience for all ages.
Cirque ECHO Tysons will host evening performances Wednesday through Sunday plus matinees Friday through Sunday. Tickets start at $54 for weekday shows, $64 Friday night and weekends with VIP and family options available.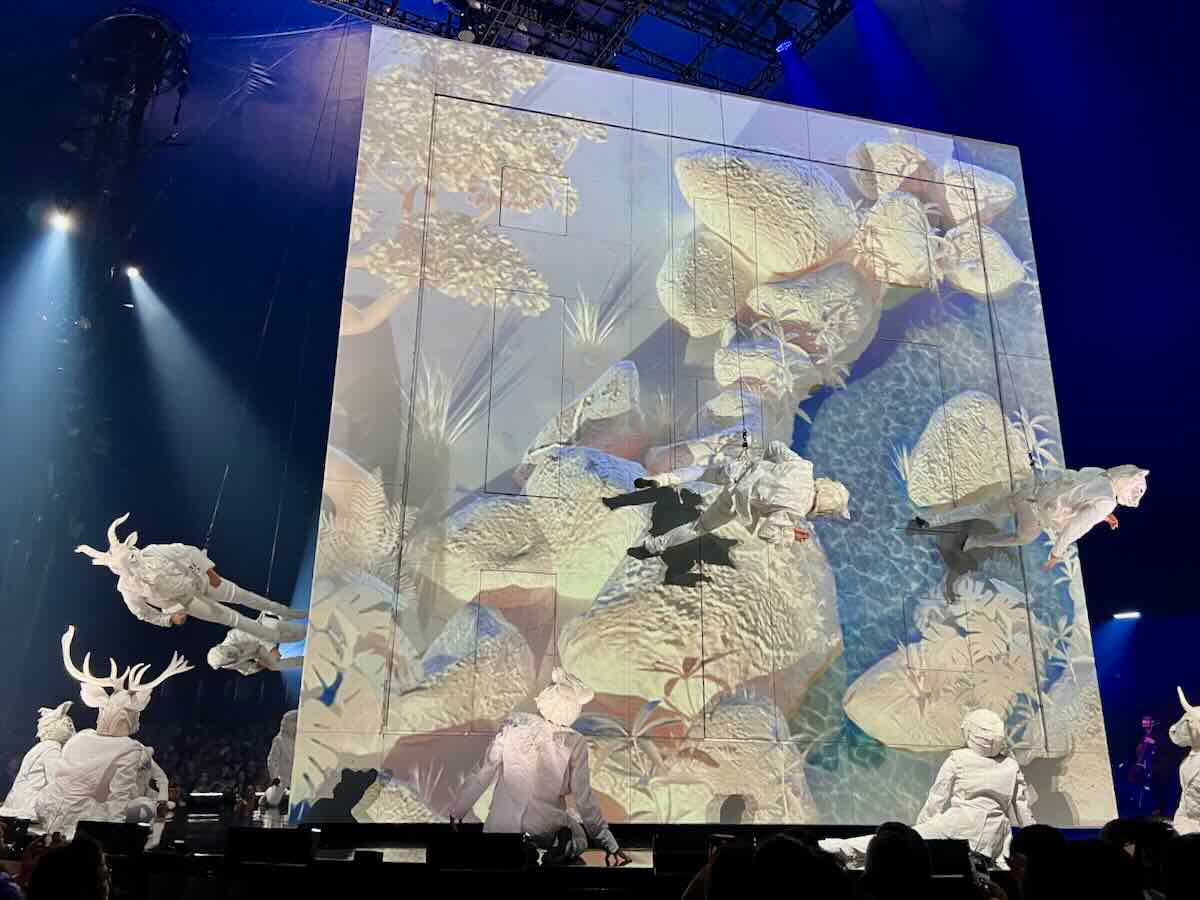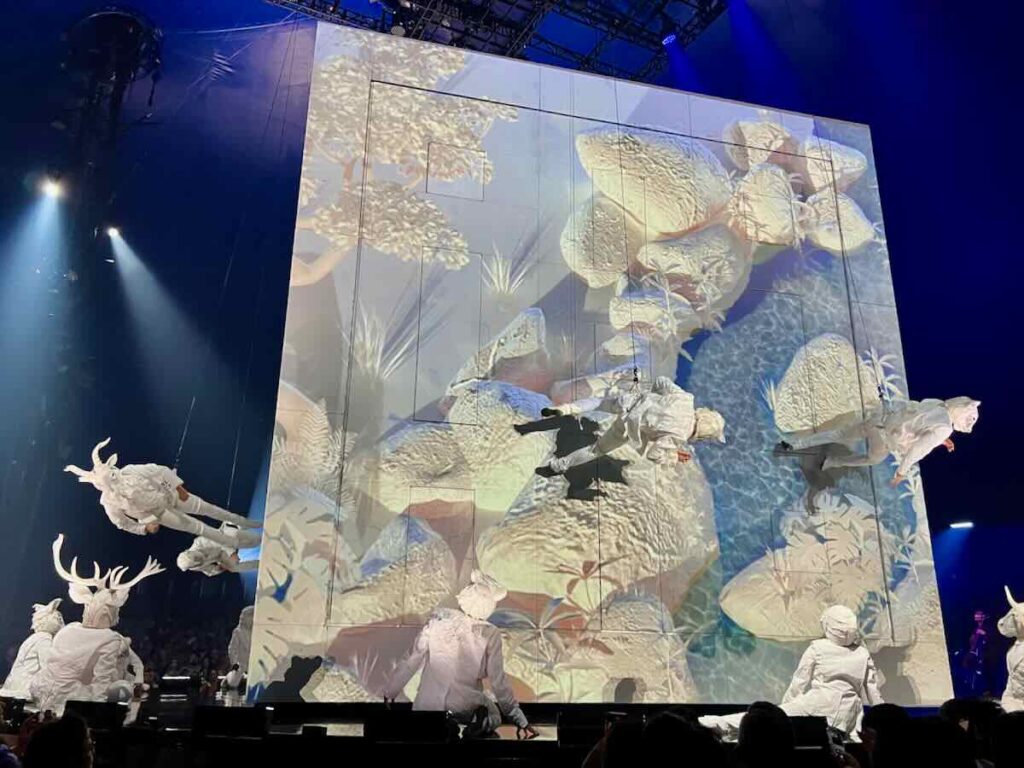 Outdoors at the Garden, Chantilly, Sep 6 – 10
Don't miss this chance to explore the Unique New National Botanic Garden in Centreville (it's only open for a few days each month). Visit Hobbit Town, the Kyoto Bamboo Garden, enjoy a picnic by the lake, and check out the Fig Trees. Tickets are $25/$30 weekdays/weekends; open noon – 5:00.
The Dulles Day Festival & Plane Pull is back on the tarmac in 2023! Whether you're pulling the plane or cheering from the sidelines, this is a fun and family-friendly event. Enjoy the annual car show, live music, concessions, exhibits, and aircraft displays. Cheer on teams who compete to see who can pull a 164,000+ pound Airbus 12 feet the fastest. Kids can join in The Kids Truck Pull and all proceeds help Special Olympics Virginia. Free parking and admission. 10:30 – 3:30.
Dog Daze, Watermine, Reston, Sep 9
When Northern VA waterparks and pools close for the season our furry friends get their turn. The annual Dog Daze event at the Watermine Family Swimmin' Hole in Reston raises funds for the Fairfax County Animal Shelter and Fairfax Parks. $10 per dog; 9:00 – 1:00.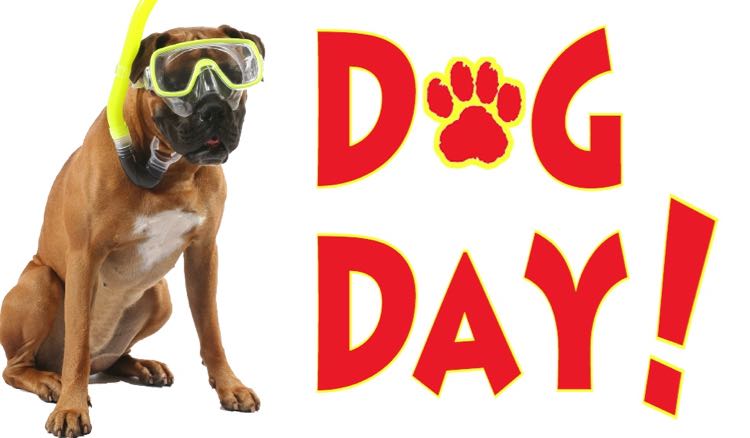 Enjoy a day of music at the Reggae on the Lake Festival at beautiful Lake Anne Plaza. The festival features great performances, food, crafts, and a beer garden. Free; noon – 9:00
The 31st Annual Rosslyn Jazz Fest returns with a great line-up of four top acts plus food and fun. Admission is free and registration is optional but recommended as there are capacity limits at Gateway Park. 1:00 – 7:00
PerchFest, Tysons, Sep 15 – 17
Celebrate the anniversary of The Perch at the Capital One Center in Tysons with a Music and Mini-golf Festival. The Perch has added food trucks and a new mini-golf course since last year's celebration. The event is free but reservations are recommended as the venue may reach capacity at times. Friday 4:00-6:00, Saturday noon-11:00, Sunday noon-5:00.
See (or join) artists painting in the outdoors as they capture the light and beauty of the day at sites around Falls Church. On Sep 30, artists join in a Quick Draw competition and judges award prizes including a People's Choice Award. Free; Sep 30 event 8:00 – 11:00.
This family-friendly fair at George Washington's Mount Vernon features colonial artisans in a traditional market setting. See 18th-century crafts and shop for colonial wares such as baskets, woodcarvings, tin and ironwork, leather-workings, weavings, furniture, and more. Visit "General Washington" and enjoy 18th-century entertainment and music. Fair is included with regular admission; 9:00 – 5:00 daily.
Join the family fun at the 53rd annual Bluemont Country Fair! The two-day fair features blues & country music, traditional crafts, a free Children's Fair, farm animals, homemade food, antiques & collectibles, local wine-tasting, breweries & gourmet treats, model railroad display & antique caboose, and more.
Bluemont Virginia a beautiful and historic village in the foothills of the Blue Ridge Mountains. While you're in Bluemont, take a short hike to a spectacular view and visit the most scenic brewery in Northern Virginia. No pets. $10 admission, 9 and under free; 10:00 – 5:00 daily.
Take a scenic route to the Bluemont Fair on the historic Snickersville Turnpike.
Oktoberfest, Wheatland Spring Brewery, Waterford, Sep 16 – 17
Head to the beautiful town of Waterford for the third annual Oktoberfest at Wheatland Spring Farm + Brewery. Enjoy German beer, food, and music and play traditional games. Wear your dirndl and lederhosen to compete for the best-dressed award. Purchase timed-entry tickets online.
Cox Farms Fall Festival, Cox Farms, Centreville, Sep 16-17, 23 – Nov 6
The annual Cox Farms Fall Festival returns in 2023! The biggest fall festival in Northern VA is packed with slides, rope swings, hayrides, a corn maze, petting zoo, and more family fun. Tickets go on sale September 1. Hours and ticket prices vary by day.
Find more fall fun in our guide, Fantastic Ways to Celebrate Fall in Northern Virginia.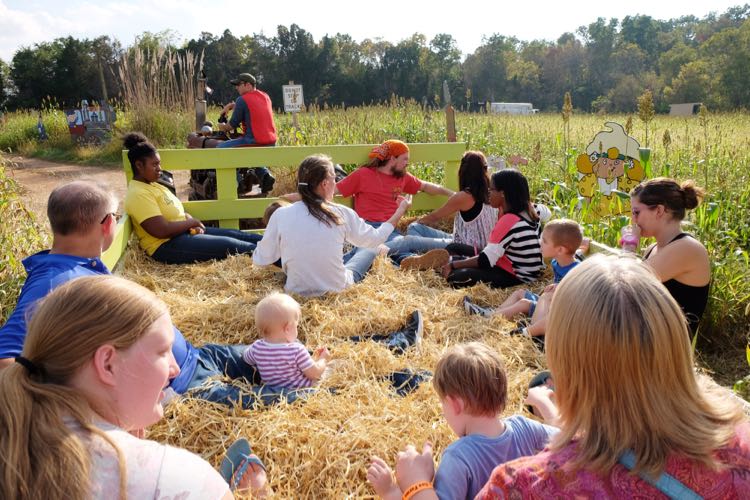 The annual Virginia Native American Festival celebrates the culture and history of the First Families of Virginia with performances, hands-on activities, and live demonstrations. Experience Native American storytelling, music, and dance, and visit the marketplace for traditional crafts, pottery, and jewelry. $12; 10:00 – 3:00.
Enjoy the peace and beauty of sunrise when beautiful Meadowlark Botanical Gardens opens at 5:30 am for special early morning hours. Regular admission fees and annual pass use apply. Find more great places to see sunrise and sunset in Northern VA.
Enjoy the fun when downtown Middleburg closes streets to host the 3rd annual Oktoberfest celebration. The festival features 2 biergartens, traditional German food, live music, a stein carrying contest, kids' activities, and more family-friendly fun. Free admission; 11:00 – 7:00.
Had to the Tysons Corner Plaza to celebrate all things Virginia at the Celebrate VA Festival. Enjoy local musicians, art, a Maker's Market, giveaways, and tastings of Virginia wine and beer. Admission is free; purchase a VIP ticket for wine tastings. 11:00 – 4:00.
Pet Festival, Village at Leesburg, Sep 16
The annual Pet Festival returns to the Village at Leesburg. Enjoy a fun day with music, special activities, vendors, and animal rescue organizations with pets ready for adoption. Leashed dogs are welcome. Free; noon – 4:00.
Teens get their turn for spooky fun when Cox Farms opens their nighttime Fields of Fear. The haunted cornfield and Dark Side Hayride deliver the fear, while the "Firegrounds" offer music, dancing, food, and a place to hang out. Tickets start at $30, follow the link for details.
Lovettsville hosts one of the best Oktoberfests in the East! Enjoy street vendors, Kinderfest, Wiener Dog Races, strolling musicians, three stages of live music, dancing, a Stein Hoisting competition, and plenty of food and beer. Admission, parking, Kinderfest, dancing, music, and beer-related contests are all free.
A kickoff dinner and concert is held Friday, 5:00 – 11:00. The full Oktoberfest kicks off Saturday at 8:00 with a 5K and continues all day. Follow the link for schedule info.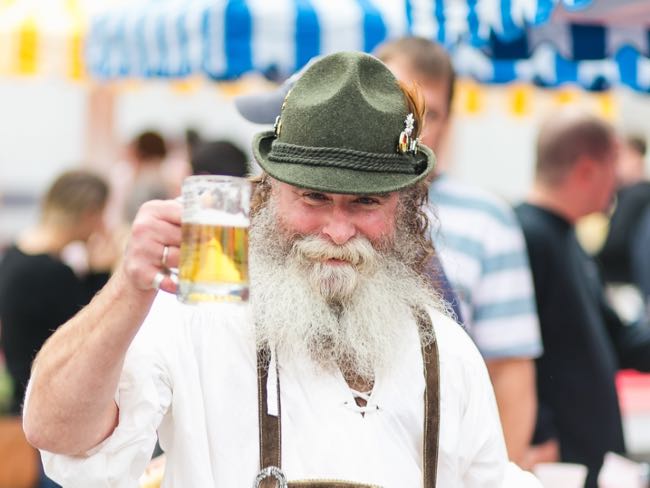 The Occoquan Arts and Crafts Show, hosted semi-annually by The Town of Occoquan, is the premier festival on the east coast for craft enthusiasts. Stroll the riverfront walkway, take in the fall foliage, and shop the craft vendors and artisans that line the main streets. Free admission; 10:00 – 5:00 daily.
Happy First Day of Fall!, Sep 23
Welcome back to one of the most beautiful seasons in Northern Virginia. There are so many special events to celebrate the day (just keep reading!). Find even more great activities and events in our guide to fun things to do during fall in Northern VA.
The 81st annual Home Tour features several of Old Town Alexandria's finest homes. Enjoy a walking tour to several lovely homes and enjoy the beautiful autumn scenery. Follow the link for ticket details. 10:00 – 3:00.
The annual National Public Lands Day (NPLD) is the nation's largest, single-day volunteer effort for public lands. Families, friends, students, and coworkers will spend the day outdoors giving back to their community by pulling invasive species, maintaining trails, picking up trash, and more. Follow the link to find virtual and in-person events near you.
Virginia State Parks honor National Public Lands Day with free parking, special programs, and volunteer opportunities. Follow the link for a complete list of programs.
In honor of National Public Lands Day, all US National Parks offer fee-free entry on September 23rd. Head to Great Falls Park, Prince William National Forest, Shenandoah National Park, and parks throughout the country for a free day exploring "America's best idea."
Family Fall Festival, Green Spring Gardens, Alexandria, Sep 23
Head to beautiful Green Spring Gardens for a day of family fun. The festival includes activities for kids and families, music, food, plant sale, bake sale, silent auction, and more. Free admission, 9:00 – 3:00.
Reston Town Center fills with color, music, and culture when the annual Reston Multicultural Festival returns in 2023. The expanded festival celebrates the diverse Reston community with performances, arts and crafts, food, and activities. Festival-goers are encouraged to dress in attire that represents their culture. Free; 11:00 – 6:00.
Celebrate Hispanic Heritage Month with an afternoon of music, dance, crafts, kid's activities, and more at the first Fairfax Fiesta at The Parc Tysons. Free, noon – 5:00.
More than 60 vendors will offer a great collection of artisanal crafts and artworks at this annual fall festival. Free; 10:00 – 6:00
The 47th annual Falls Church Festival returns in 2023 with live music, food, a beer garden, children's entertainment, rides, and local craft vendors and organizations. This is a family-friendly event and admission is free. 10:00 – 4:00.
Join in an afternoon of fitness and fun at the 2nd annual Healthy Together Fairfax event at Franconia Park in Alexandria. Enjoy fitness classes, activities, health screenings, healthy snacks, and more. Free, noon – 3:00.
NatureFest, Runnymeade Park, Herndon, Sep 24
Explore various nature stations throughout Runnymeade Park in Herndon VA including butterflies, bees, life in the meadow, web of life, and more. Live animal shows and arts and crafts will be included throughout the day. Free; 1:00 – 5:00.
After a 2 year absence, Fort Belvoir once again opens its gates to the public for the 25th annual Oktoberfest. This long weekend of German music, food, and fun is held at the base's Fremont Field. Many festival activities, including the Kinder Korner, 5K/10K Volksmarch, and live music, are free.
Purchase an armband for all-day, unlimited rides at the carnival (discounted tickets for military personnel on Sunday). Entrance is open to all, but adults must have a valid State Driver's License or Military ID to enter. Thurs 6:00 – 10:00, Fri 4:00 – 11:00, Sat noon – 11:00, Sun noon – 8:00.
Enjoy live music, food from local vendors, and more at the annual Mosaic Fall Festival. The two-day festival also includes a craft fair, farmers market, and special activities for kids. Free; 11:00 – 6:00 daily.
The annual Clarendon Day Street Festival returns in 2023. Enjoy music, food, art, and a variety of family-friendly activities. Follow the link for schedule details. Free; 11:00 – 6:00
Celebrate the cultural heritage and contributions of the Latin American community at the annual Manassas Latino Festival on the museum lawn in historic Manassas. The free event includes live music, arts and crafts, food, and fun for the whole family. noon – 7:00.
Sample spirits from the largest gathering of Virginia distillers in Northern Virginia at the square in Old Town Fairfax. Meet with the distillers plus enjoy live music, food, and fun. All-Access Sampling tickets are $65/$75 in advance/day of show ($20 Designated Driver and VIP tickets also available). Noon – 5:00.
Workhouse Haunt, Workhouse Arts Center, Lorton, Sep 30
Northern Virginia's scariest haunted trail returns to the Workhouse Arts Center for its 10th year with a special preview night. First responders, veterans, active military, teachers, and healthcare workers can score discount and free tickets.
Zombies, swamp creatures, and more creepy characters terrify those brave enough to walk through the abandoned buildings at the Workhouse campus. Preview night, 7:00 – 9:30. The Haunt trail continues throughout October.
More 2023 September Events in Northern Virginia
Here are more great ways to have fun during September in Northern VA.
Get up close with nature and celebrate apple season at pick-your-own apple orchards in Virginia. Our complete guide includes u-pick apple orchards in Northern Virginia and surrounding areas. Plus, we found some nearby Apple Festivals perfect for a fun day trip or weekend getaway.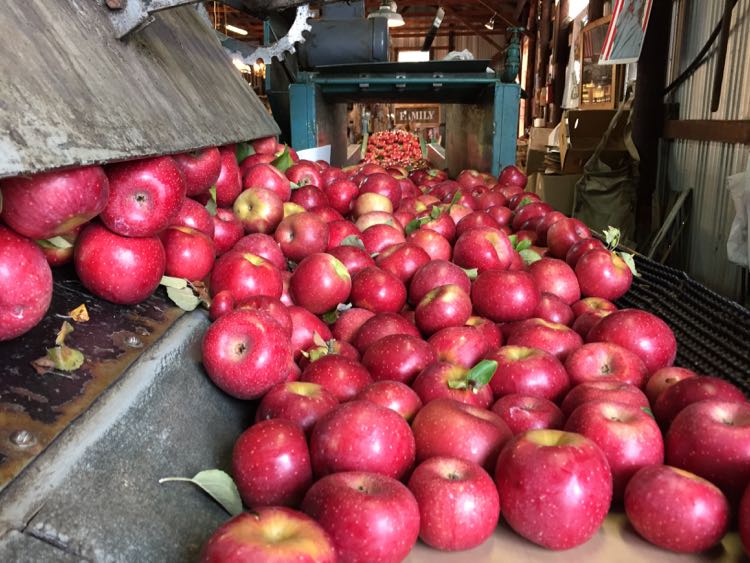 Free Outdoor Performances
Enjoy a nostalgic night out at one of the pop-up or classic drive-in movie theaters in Northern Virginia. Our guide has all the dates and details: Outdoor Movies in Northern Virginia. Or head to free Northern VA outdoor concerts for great music and family-friendly fun.
September is Virginia Spirits Month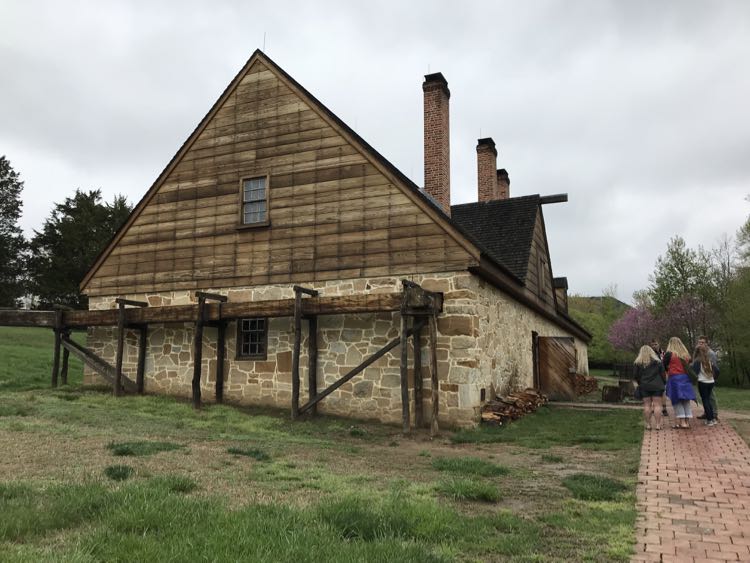 Visit one of Virginia's many excellent distilleries during Virginia Spirits Month. See the 18th-century process and learn about Washington's business acumen at George Washington's Gristmill and Distillery. Or take a day trip to Fredericksburg to tour and taste at A. Smith Bowman Distillery. And a tasting at Catoctin Distillery is one of our favorite things to do in Purcellville.
Plan fun activities for next month with our round-up of October festivals and events. Many popular events require reservations and tickets sell quickly. Plus, there are lots of great Halloween shows and events to put on your calendar.
More Fall Fun in Northern VA
Most of our 2023 September events occur on the weekend, but you can find plenty of summer fun on weekdays too. Check out these round-ups to fill every day with fall activities in Northern Virginia:
No matter which 2023 September Events in Northern Virginia you attend, we wish you great weather and a fun-filled kick-off to fall!
Follow us on Facebook, Twitter, Pinterest, and Instagram for more fun travel in and from Northern Virginia.
Pin it for later: