2020 September events in Northern Virginia bring weekend with fun and festivals to the Washington DC region. The event schedule is lighter than usual this year, but there are still plenty of September events to add to your calendar. Labor Day weekend kicks off the month and brings a close to summer break then fall festivals shift the mood to Autumn fun.
These September events are listed in order of start date. We have also included cancelation info for annual festivals that will not return in 2020. Follow the links for tickets and schedules, and always check ahead for inclement weather closures.
Celebrate apple season with wagon rides to the u-pick apple orchard and plenty of family fun. The Great Country Farms apple festival is canceled for 2020, but kids can still have a blast in the huge play area and Henway corn maze. On weekends, everyone can enjoy live music, marshmallow roasting, and cider pressing demonstrations, and fresh cider samples. Follow the link for a full list of activities and schedules.
Weekday and Labor Day weekend admission to the farm is $10 per child, $12 per adult; hours are 9:00 – 5:00 daily. Weekend admission is $14 / $16 per child/adult and hours are 9:00 – 6:00 daily. Purchase timed advance tickets online to guarantee entry. After the kids have had their fun, head across the street to Bluemont Vineyards or Dirt Farm Brewing and enjoy Virginia wine and craft beer.
Read our complete guide: Where to Go Apple Picking in Virginia and Apple Season Fun.
Enjoy tasty deals during Alexandria's Summer Restaurant Week, with more than 60 restaurants offering a $49 takeout, delivery, or curbside pick-up dinner for two. For 2020, you can support local favorites and enjoy a delicious discount meal at home. Browse the online menu book to plan your to-go order.
Plan a staycation—check Alexandria hotel rates and availability now.
Celebrate the last long weekend of summer with annual festivals and ongoing summer fun. Check out our complete guide to Labor Day weekend events in Northern Virginia for details on these and other activities.
Corn Maze and Apples Harvest, Aug 29 – Sep 30
Arlington Labor Day Weekend Festival of the Arts, Sep 5 – 6
Waterstock at Tim's Rivershore, Sep 5 – 7 (scaled back)
Labor Day Car Wave Parade, Sep 7
Virginia Scottish Games and Festival, Canceled
Lake Anne Jazz & Blues Fest, Canceled
Herndon Labor Day Festival, Canceled
This reinvention fo the annual Rosslyn Jazz Festival features four nights under the stars at Rosslyn restaurants. Make reservations in advance to join in person, or watch the evening performances via free live streaming. Wednesdays in September, 7:00 – 9:00.
The new Loudoun Arts Film Festival will launch online in late August and continue with drive-in movie screenings at 50 West Vineyards in Middleburg, Virginia during two September weekends. The drive-in event features 5 hours of entertainment on Thursdays and 4 hours other weekend nights. Food trucks and wine for purchase will be on hand. Follow the link for schedule details and to purchase tickets, $50.
Sunrise in the Gardens, Meadowlark Botanical Garden, Vienna, Sep 12, 20
Enjoy special early morning hours at beautiful Meadowlark Botanical Gardens on two days in August. Regular admission fees and annual pass use applies. The gardens open at 6:30.
The 18th annual King Street Art Festival transforms the city's historic main street into an outdoor art gallery. Festival booths line over six blocks of King Street, presenting artwork by more than 200 artists from across the country. All artwork is juried, ensuring a high level of quality, diversity and creativity on display. Admission is free; booths open 10:00 – 5:00 daily.
The 10th Annual Bands, Brews, and Barbecue Festival returns to Historic Downtown Manassas in September. This ticketed event features award-winning craft beers for sampling from local breweries, along with some of Northern Virginia's best barbecue and live music. Bring your own partner for the free cornhole tournament. $40 for taster ticket, $20 no-taster, 13 and older; 12 and under free; BBQ sold separately. 11:30 – 6:00.
Participating restaurants offer $35 three-course dinner and $20 three-course lunch/brunch menus during Fairfax City Restaurant Week. Follow the link for participating restaurants and plan a night out.
Join colonial-attired artisans as they demonstrate 18th-century crafts and sell wares such as baskets, woodcarvings, tin and ironwork, leather-workings, weavings, furniture, and more in a traditional market setting.  "General Washington" will oversee the Revolutionary War military drills and 18th-century entertainment including music, fire-eating, sword-swallowing, puppet, and magic shows. Specialty food will be available for purchase; including chocolate made using an authentic 18th-century colonial recipe. Free Potomac River sightseeing cruises while supplies last. Fair is included with regular admission; 9:00 – 5:00 daily.
Celebrate the U.S. Constitution on the historic grounds of James Madison's Montpelier. Outdoor walking tours, live music from Jason Burke Band, food from the Exchange Cafe, museum shop discounts, horticulturist tips, visits with Mr. Madison, hiking, and more. $10, 9:00 – 4:00.
Explore Presidential history in Virginia: Historic Homes of Virginia Share Lives That Shaped America
The annual Cox Farms Fall Festival is canceled, but this year you can enjoy a hayride through the cornfield from the comfort of your own car on fall weekends. The self-driven hayride involves operating your personal vehicle on unpaved farm roads; follow the link for safety info and vehicle restrictions. Tickets go on sale in September. Friday + Monday 2:00 – 6:00; Saturday + Sunday 10:00 – 6:00.
Cox Farms will also operate a drive through market. Order in advance online then pick up your goods from the comfort and safety of your car.
Find more fall fun in our guide, Fantastic Ways to Celebrate Fall in Northern Virginia.
The 27th annual National Public Lands Day (NPLD) is the nation's largest, single-day volunteer effort for public lands. Families, friends, students, and coworkers will spend the day outdoors giving back to their community by pulling invasive species, maintaining trails, picking up trash, and more. Follow the link to find virtual and in-person events near you.
Many Virginia State Parks will honor National Public Lands Day with free parking, special programs, and volunteer opportunities. Follow the link for a complete list of programs.
In honor of National Public Lands Day, all US National Parks offer fee-free entry on September 28th. Head to Great Falls Park, Prince William National Forest, Shenandoah National Park, and parks throughout the country for a free day exploring "America's best idea."
The 22nd annual Clarendon Day Street Festival is transformed to Clarendon Comes Together in 2020. This year the day features a variety of outdoor activities and virtual events to support local businesses and non-profits. Follow the link for schedule details.
Ongoing 2020 September Events in Northern Virginia
Get up close with nature and celebrate apple season at pick-your-own apple orchards in Virginia. Our complete guide includes u-pick apple orchards in Northern Virginia and surrounding areas. Plus, we found some nearby Apple Festivals perfect for a fun day trip or weekend getaway.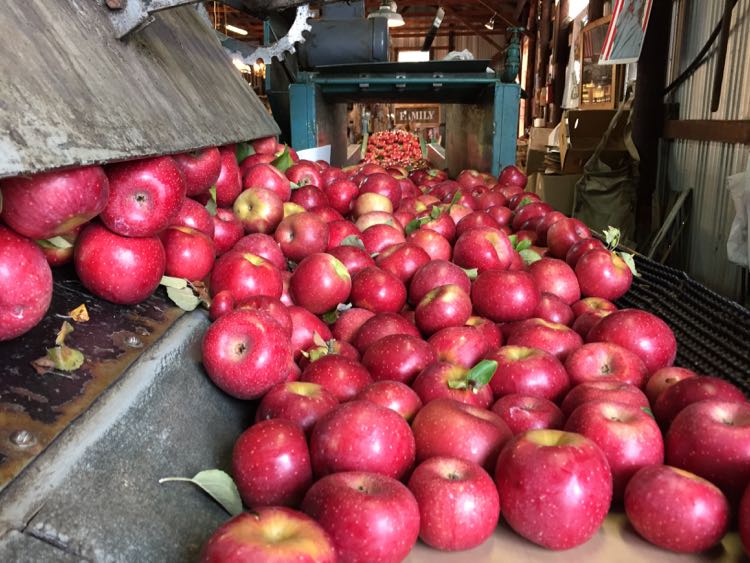 Enjoy a nostalgic night out at one of the pop-up or classic drive-in movie theaters in Northern Virginia. Our guide has all the dates and details: Drive-in Outdoor Movies in Northern Virginia 2020
September is Virginia Spirits Month
Honor the spirited traditions and history of Virginia with a visit to one of our many excellent distilleries during Virginia Spirits Month. See the 18th century process and learn about Washington's business acumen at George Washington's Gristmill and Distillery. Or take a day trip to Fredericksburg to tour and taste at A. Smith Bowman Distillery. And a Catoctin Distillery tasting is one of our favorite things to do in Purcellville.
Beyond September 2020 Events – More fall Fun in Northern VA
Most of our 2020 September events occur on the weekend, but you can find plenty of summer fun on weekdays too. Check out these round-ups to fill every day with fall activities in Northern Virginia:
No matter which 2020 September events in Northern Virginia your attend, we wish you great weather and a fun-filled kick-off to fall!
Canceled 2020 September Events in Northern Virginia
The annual Virginia Indian Festival celebrates the culture and history of the First Families of Virginia. The festival features tribes from Virginia including the Upper Mattaponi, Chickahominy, and Pamunkey, as well as the Rappahannock dancers and drummers. Enjoy performances, hands-on activities and live demonstrations. Hear American Indian storytelling, try a bow and arrow, throw a spear, make stone tools, and more. You can even help build a dugout canoe. Visit the marketplace for American Indian crafts, pottery and jewelry. $8.00 in advance/$10 at gate; 10:00 – 4:00.
The Prince William Forest Park Heritage Festival celebrates the park's fascinating history. Enjoy a day of family fun at an historic cabin camp including live music, activities for kids and adults, and a nature hike. Food trucks will be on hand or bring your own picnic. No reservation required; 11:00 – 5:00.
Enjoy a fantastic selection of local Virginia craft breweries, artisan distilleries, and wineries at the 3rd annual Workhouse Brewfest at the Workhouse Arts Center. A dozen bands will perform on three stages and there will be numerous food trucks, lawn games, and of course, the Workhouse artists will be in their galleries. Tickets are $25 for designated drivers, $50 general admission, and $90 VIP. 1:00 – 8:00.
Enjoy an afternoon of wine tastings, culinary treats, and pop up art exhibits while supporting a worthy cause at the 4th annual Food Wine & Arts Festival. Highlights include food from local restaurants, wine sampling from regional wineries, a pop-up artisan gallery, and free activities for the kids. Wine sampling proceeds benefit Shelter House. Free admission; Noon – 4:00.
SlugFest, Hidden Pond Nature Center, Springfield, Canceled
Join the annual fun with slime-tastic activities like slug races, slug-on-a-spoon, slime toss, slime art, and even slug fortune telling. The event features face painting, refreshments, slug-loving critters, and the Slug King and his Queen in the Slug Royalty court! Must register in advance as spots fill quickly (703-451-9588). $8; 2:00 – 3:30.
Experience the sights, sounds and aromas of the midway at Potomac Mills. Enjoy rides every age from kiddie rides to state-of-the-art thrill rides, entertaining carnival games, and plenty of fair food. Admission and parking are free. Unlimited ride wristband is $30, $20 in advance. Follow the link for more ticket options and special discounts. 5:00 – 10:00 weekdays, noon – 11:00 Saturday, noon – 10:00 Sunday.
The older set get their turn for spooky fun when Cox Farms opens their nighttime Fields of Fear. The haunted cornfield and Dark Side Hayride deliver the fear, while the "Firegrounds" offer music, dancing, food and a place to hang out. Tickets start at $15, follow the link for details.
Join the family fun at the 50th annual Bluemont Country Fair! The two-day fair featues blues & country music, traditional crafts, a free Children's Fair, farm animals, homemade food, antiques & collectables, local wine-tasting, breweries & gourmet treats, model railroad display & antique caboose, Country Store, and more. Set in a beautiful and historic village in the foothills of the Blue Ridge Mountains, special events include craft & farming demonstrations, 10k race, Farmer's Market, and a pie-baking/pickle-making contest. While you're in Bluemont, take a short hike to a spectacular view and visit the most scenic brewery in Northern Virginia. No pets. $7 admission, 9 and under free; 10:00 – 5:00 daily.
Take a scenic route to the Bluemont Fair on the Historic Snickersville Turnpike.
Lovettsville hosts one of the best Oktoberfests in the east, with street vendors, Kinderfest, Wiener Dog Races, strolling musicians, three stages of live music, dancing, a Stein Hoisting competition, and plenty of food and beer. Admission, parking, Kinderfest, dancing, music, and beer-related contests are all free. Preview/kickoff dinner is held Friday, 5:00 – 7:30. The full Oktoberfest is Saturday 10:00 – 11:30; check website for schedule info. Everything is free except the beer.
The Occoquan Riverfest and Crafts Show, hosted semi-annually by The Town of Occoquan, is the premiere festival on the east coast for craft enthusiasts of all ages. Stroll along the riverfront walkway, take in the fall foliage, and peruse the numerous craft vendors and artisans that line the main streets of Historic Occoquan. Free admission; Saturday 10:00 – 6:00, Sunday 10:00 – 5:00.
Lake Anne Plaza fills with color, music, and culture when the annual Reston Multicultural Festival returns. The festival celebrates the diversity and vibrancy of Reston's community with performances, arts and crafts, food, and activities. Festival goers are encouraged to dress in attire that represents their culture. Free; 11:00 – 6:00.
Historic Alexandria Homes Tour, Alexandria, Canceled
The 78th annual Home Tour feature several of Alexandria's finest homes. Enjoy a walking tour to several lovely homes and enjoy the beautiful autumn. Tickets are $40.00 in advance and $45.00 the day of the tour. 10:00 – 3:00.
NatureFest, Runnymeade Park, Herndon, Canceled
Explore various nature stations throughout the park including butterflies, bees, life in the meadow, web of life, and more. Live animal shows and arts and crafts will be included throughout the day. Free; 1:00 – 5:00.
Follow us on Facebook, Twitter, Pinterest, and Instagram for more fun travel in and from Northern Virginia.
This article was published in 2019 and updated in 2020.