These 23 fantastic weekend getaways from Washington DC offer romance, luxury, family fun, and more in unique lodging at scenic destinations in Virginia, Maryland, Pennsylvania, and Delaware. In our list of the best weekend getaways from DC, you'll find a fun mix of popular cities and hidden gems in both urban and nature-focused destinations.
Escape cabin fever in the winter. Entertain the kids over the long summer break. Soak in fall foliage and spring blooms. Explore quaint towns and American history. Whatever your mood, you'll find fun and fascinating weekend getaways on our list.
We have personally explored all of the areas on our list and have stayed in every property except one. Happily, we keep trying new places to stay and our list of the best getaways near DC continues to grow.
This article includes affiliate links where FuninFairfaxVA will earn a small commission at no additional cost to you.
Plan Your Escape: 23 Great Weekend Getaways From Washington DC
These top-rated weekend getaways from Washington DC offer a change of pace and plenty of fun things to do. And we've included links to getaway planners so you can find places to eat and activities near your lodging.
We include driving distances from Washington DC for each destination. Use the map at the bottom to adjust for your starting point. Of course, travel times will vary widely if you head out during rush hour (don't). Weekend getaways in Virginia are listed below first, followed by nearby getaways in Delaware, Maryland, Pennsylvania, and a bonus staycation in DC.
Find even more awesome getaways near DC in 17 Amazing Northern Virginia Airbnb and Vacation Rentals and head to the country with 17 Fantastic Northern VA Wine Country Vacation Rentals and Airbnbs.
Favorite Weekend Getaways in Virginia
Explore quaint towns, beautiful scenery, historic destinations, and hip cities at these weekend getaways in Virginia. Destinations are listed in order of distance from DC, per Google maps.
1. Hyatt Regency Tysons Corner Center, Tysons VA
Comfy rooms and easy access to Tysons Corner and DC
Distance + Time: 14 miles, 25 minutes
Staycation fun is steps from your door at the Hyatt Regency at Tysons Corner. The Tysons Hyatt is located right on the Plaza at Tysons Corner Center, an outdoor space perfect for relaxing adults and playful kids. The location is ideal for exploring too. Catch the Silver Line metro to Washington DC, take a drive to local Northern Virginia hidden gems, or enjoy dinner and a movie at the mall.
The Hyatt Regency Tysons Corner vibe is upscale but relaxed, so a weekend visit is appropriate for a romantic escape or a casual family getaway. Rooms are spacious, and there is an indoor pool plus free wifi and parking. Be sure to enjoy a meal and a drink at Barrel and Bushel, the Hyatt's restaurant on the plaza.
Check rates and book your stay at the Hyatt Regency Tysons Corner
Read our full review of the Hyatt Regency Tysons Corner.
2. Hyatt Regency Reston Town Center, Reston VA
Staycation fun in Reston Town Center
Distance + Time: 22 miles, 30 minutes
Sometimes you need a change of pace but you'd rather skip the drive. The Hyatt Regency at Reston Town Center is a nice option for a family staycation in Northern VA. We took our kids for an overnight at the Hyatt even though we live in Reston. We all had a great time pretending to be out-of-towners for a night.
In winter, kids will love taking a dip in the Hyatt's indoor heated pool before heading out for dinner and evening ice skating in the pavilion. In the morning, relax in your room and indulge in room service, or head to one of the many restaurants and a matinee at the movies.
Check rates and book your stay at the Hyatt Regency Reston
3. Lansdowne Resort and Spa, Leesburg VA
Spa treatments, golf, and outdoor fun in historic Leesburg
Distance + Time: 35 miles, 40 minutes
Another great choice for a weekend getaway in Virginia, Lansdowne Resort and Spa makes an excellent base for exploring Northern Virginia wine country. The resort offers lovely rooms, dining, a spa, three golf courses, tennis, hiking, and plenty of comfortable spaces to relax between outings.
The resort's decor nods to the history of the 476-acre property. Lansdowne was once an annual gathering place for the Algonquian Indians, and later, farmland owned by Lord Fairfax.
The rooms at Lansdowne Resort are spacious and comfortable. Request a higher floor for lovely views of the Lansdowne property and surrounding countryside. Golf lovers can play 45 holes on three different courses. Street and mountain bikes are available for exploring the roads and a segment of the Potomac Heritage Trail which crosses the property. Spa lovers can choose treatments that feature leaves and wine from Stone Tower Winery.
Leesburg is a great base for exploring Virginia wine and hunt country. Take a scenic drive on the Snickersville Turnpike to the little town of Bluemont where you'll find excellent hiking, breweries, and wineries with beautiful views. Or drive a scenic loop through Virginia Hunt Country to visit wineries and quaint Virginia towns along the way.
Check rates and book your stay at Lansdowne Resort and Spa
Plan your visit with our guide: Leesburg Getaway in Northern Virginia Wine Country.
4. Salamander Resort and Spa, Middleburg VA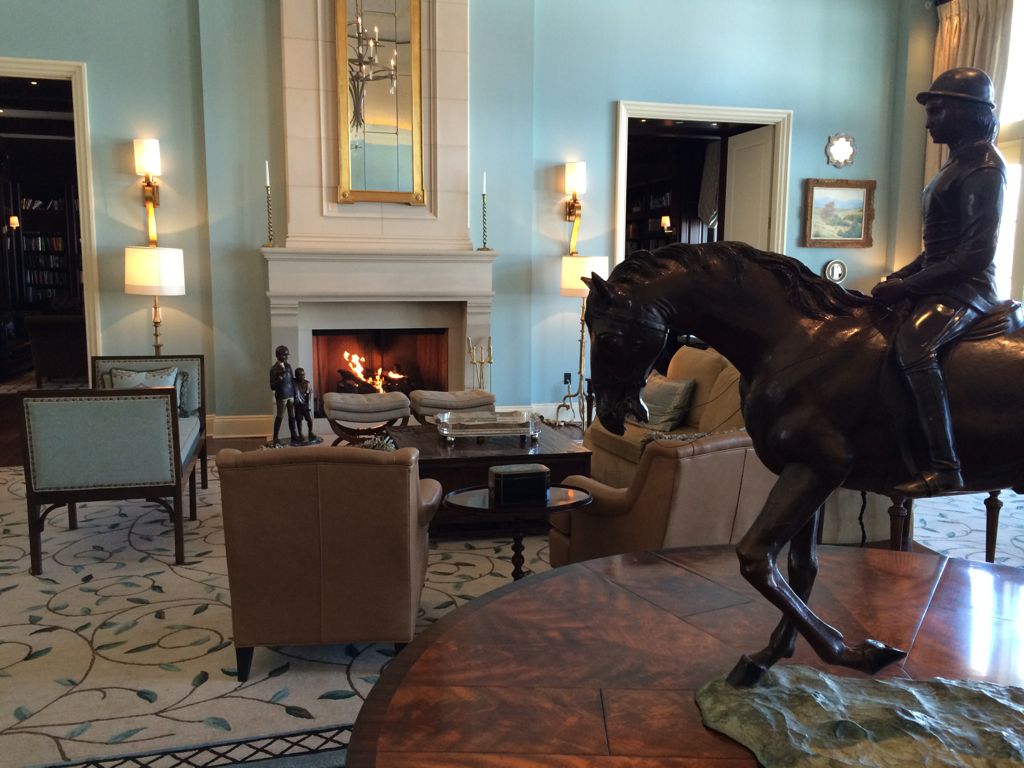 Elegance and luxury in Virginia horse country.
Distance + Time: 45 miles, 1 hour
The opulent Salamander Resort and Spa in Middleburg has been appearing on "best of" lists since opening. We have not stayed at Salamander, but we stopped by on a trip through Middleburg. The lobby, library, and bar offer some beautiful spots to relax, and the barn looks lovely in the snow. Friends who have stayed at Salamander recommend it for a luxury country stay.
You'll find lots of shops, restaurants, and bars to explore in the picturesque town of Middleburg. Explore the surrounding countryside on a scenic drive on the historic Snickersville Turnpike. Or make Middleburg your base for a scenic drive to the small towns of Virginia Hunt Country.
Check rates and book your stay at Salamander Resort and Spa
Find quaint cottages and more in 17 Fantastic Northern Virginia Wine Country Vacation Rentals. 
5. The George Washington, Winchester VA
Upscale hotel by the pedestrian mall in walkable Winchester.
Distance + Time: 75 miles, 1.5 hours
Winchester Virginia offers an ideal combination of fun-filled, walkable downtown and beautiful countryside. The George Washington is perfectly located for exploring the museums, shops, and restaurants in the downtown pedestrian mall. It's also an easy drive to farms, orchards, and hikes in the surrounding countryside.
The George Washington is upscale but not too fancy for families, and everyone will love the indoor saltwater pool. This Wyndham Grand Hotel property occupies a historic building with an attractive bar and restaurant.
Check rates and book your stay at The George Washington or read more traveler reviews.
Discover more fun things to do and places to eat on a Winchester weekend getaway.
6. Inn at Vaucluse Spring, Winchester VA
Romance and quiet luxury near Winchester VA
Distance + Time: 82 miles, 1.5 hours
Possibly the most romantic place we have stayed in the United States, the Inn at Vaucluse Spring is one of the best weekend getaways for couples near Washington DC. It's located in the quaint town of Stephen's City, just south of Winchester, Virginia. There are six different guest houses to choose from, but we highly recommend the historic Mill House.
The two-story Mill House includes a lovely fireplace, small kitchen, bedroom with expansive windows, and a jacuzzi tub. Best of all is a private patio overlooking the small pond fed by Vaucluse Spring. Sit in the Adirondack chairs and watch the reflections in the pond. Sleep to the sounds of the small waterfall next to "your" mill. Take a quiet walk through the cow pasture and enjoy the view from the hill.
Check rates and book your stay at the Inn at Vaucluse Spring.
Breakfast in the manor house is three courses of farm-to-table deliciousness. We were not able to enjoy dinner at the inn, but other guests raved about the meal prepared by Chef Allan (4 or 5-course prix fixe; reserve 72 hours in advance).
Find fun things to do nearby in Winchester Virginia.
7. Inn at Narrow Passage, Edinburg VA
Peace and nature in a historic property.
Distance + Time: 97 miles, 1.5 hours
A historic building with lovely grounds and nearby small-town fun, the Inn at Narrow Passage is nestled by the river in the small town of Edinburg, Virginia. Innkeepers Ed and Ellen Markel have been welcoming guests for over 30 years to 12 rooms, many with fireplaces and canopy beds. Larger bedrooms with 2 queens are great for families, and there is plenty of room to play on the lawn.
The breakfast room and check-in area are located in rooms built in the 1740s. The inn was a stop on the great wagon road through the Shenandoah Valley that is now Route 11, and the "narrow passage" was a popular spot for Indian attacks.
Take a short walk down the hill and across the river to try the suspension bridge, used by locals when the low road over the river is flooded. The bridge is a little shaky, but fun to cross, especially if you have bigger kids along. Tell them to imagine using this bridge to reach the school bus when the road is flooded.
Plan your visit with our guide: 10 Fun Things to Do in Shenandoah County Virginia.
8. The Jefferson, Richmond VA
Classic elegance in a hip capital city.
Distance + Time: 110 miles, 2 hours
Named a 2014 top destination by Frommer's, Virginia's capital city is hip and historic, and is one of our favorite weekend getaways in Virginia. For pampering and a dose of history, stay at The Jefferson Hotel on West Franklin Street.
Read our full review of The Jefferson Hotel now.
Check rates and book your stay at The Jefferson Hotel.
Originally opened in 1895, the hotel's fortunes swung from famous to destitute. Happily, a major restoration in 1992 returned the hotel to its former grandeur. Enjoy the opulent polished marble staircase, the stained glass dome, and the life-size marble statue of Jefferson gracing the Palm Court. You'll feel just like the rich and famous—including 13 presidents—who stayed before you.
Plan a day trip or a weekend getaway with our complete guide to Richmond Virginia.
9. Oakhurst Inn, Charlottesville VA
Peaceful stay near the University of Virginia
Distance + Time: 116 miles, 2.5 hours
If you've ever visited the University of Virginia, you likely passed near the Oakhurst Inn. Tucked away on a quiet residential street, but only steps from the UVA Lawn and the Academical Village, Oakhurst offers 27 comfy rooms perfect for a fun getaway to Charlottesville.
While it's not a B&B, Oakhurst has its own gourmet cafe offering delicious breakfasts and lunch, with indoor and patio seating. The downtown pedestrian mall is a fun destination for shopping and dining nearby. Hop on the complimentary trolley if you don't want to drive.
Check rates and book your stay at the Oakhurst Inn.
Plan your visit with our guides:
10. The Draftsman, Charlottesville VA
Boutique elegance in a convenient Charlottesville location
Distance + Time: 116 miles, 2.5 hours
Our latest find in Charlottesville, The Draftsman, is a boutique beauty ideally situated between UVA and the downtown pedestrian mall. The vibe at this Marriott Autograph Collection property is hip and friendly, with design references to Thomas Jefferson and Cville's history. A new restaurant, The Ridley, opened downstairs replacing the former Renewal.
The free trolley to downtown stops right in front of the hotel, or you can enjoy the easy half-mile walk to the pedestrian mall. In the other direction, visit the historic rotunda, and take a leisurely stroll through the academical grounds of the University of Virginia. UVA and nearby Monticello make up the only UNESCO World Heritage Site in Virginia.
Check rates and book your stat at The Draftsman in Charlottesville.
11. Inn at Sugar Hollow Farm, Crozet VA
Update: The Inn at Sugar Hollow Farm has closed permanently.
Cozy bed and breakfast in the countryside
Distance + Time: 127 miles, 2.5 hours
Comfy and cozy rooms await your weekend getaway at the Inn at Sugar Hollow Farm in Crozet. Hidden at the end of a quiet country road, the Inn offers several rooms in the main house and the nearby farmhouse. We chose the Wildflower Room, which features a four-poster bed, window seat with mountain views, double whirlpool tub, and a wood-burning fireplace.
Fill your day with winery visits or focus on history at one of three presidential homes in Charlottesville. Enjoy dinner in Crozet or at one of the many downtown Charlottesville restaurants. Then head back to your room for star-gazing on the deck and a fire in the fireplace.
Discover more fun things to do and places to eat in Charlottesville.
12. Massanutten Resort, Massanutten VA
Four-season, family fun in the Virginia mountains.
Distance + Time: 120 miles, 2.5 hours
Massanutten Resort welcomes visitors to the Virginia mountains with fun activities for every season. The popular winter skiing destination also boasts an indoor/outdoor waterpark, zip lines, tubing runs, two golf courses, hiking, and more happy pursuits for families, couples, and singles.
Check traveler reviews, rates, and availability of the Massanutten Resort.
Most of the resort rooms are in spacious condos that include full kitchens and comfortable living rooms. You can easily fill your weekend getaway with resort activities, or head to nearby Shenandoah National Park for more hiking and scenery.
Plan your weekend getaway: Massanutten Resort Virginia Getaway: Fantastic Fun Things to Do.
13. Hotel Madison, Harrisonburg VA
Sleek rooms near James Madison University in quaint Harrisonburg
Distance + Time: 130 miles, 2 hours
Harrisonburg is another wonderful Virginia college town, and Hotel Madison is an ideal base for exploring the area. The hotel serves as the official conference center for James Madison University, and it is right at the edge of the JMU campus. Rooms are comfortable, bright, and spacious, many with mountain and downtown views. Check out this short video of our room at Hotel Madison for a close look.
Award-winning downtown Harrisonburg is an Arts & Cultural Center and home to excellent food and drink. For example, we love the pizza at Bella Luna and the fried oysters at Rocktown Kitchen. Craft beer lovers can sample four breweries in downtown Harrisonburg. The area is a favorite for mountain biking and hiking in the mountains and forests nearby.
Check rates and book your stay at the Hotel Madison.
Plan your visit: Favorite Things to Do in Harrisonburg Virginia and Rockingham County.
14. The Tides Inn, Irvington VA
Waterfront resort on Virginia's Northern Neck.
Distance + Time: 126 miles, 3 hours
Relax with a view, sample delicious local seafood, and enjoy relaxed waterfront luxury at The Tides Inn on Virginia's Northern Neck. Book a Chesapeake Bay Vista Suite and you'll have spectacular views of the water and lots of room to spread out. Enjoy fresh seafood-inspired dishes on-site at the Chesapeake Restaurant, or stroll into quaint downtown Irvington for drinks and dinner. Local oysters are a favorite.
Read our full review of the Tides Inn now.
Check rates and book your stay at The Tides Inn.
The Tides Inn is about 3 hours from Washington DC, but it is a scenic drive once you get away from the city. George Washington was born on the Northern Neck, and you can tour his birthplace on your way south to the inn. The slow pace and small towns of the Neck are perfect for romantic getaways.
Plan a day trip or a weekend getaway with our guide: 5 Fun Things to Do on Virginia's Northern Neck.
Explore more romantic getaways: 22 Fabulous Romantic Getaways from Washington DC.
15. Fairfield Inn, Chesapeake Island VA
Nature and family fun on Virginia's Eastern Shore.
Distance + Time: 170 miles, 3 hours
Get up close with nature and the famous wild ponies of Chincoteague with a mini-vacation on Virginia's Eastern Shore. Fairfield Inn & Suites Chincoteague Island Waterfront makes a great base for your getaway, right on Main Street in the historic downtown. Book a waterfront room and relax on your balcony with views of Black Narrows and the bay. The Fairfield Inn is family-friendly, with an outdoor pool and playground, plus a tasty Ropewalk restaurant next door.
Search for ponies and explore the marsh on a relaxing boat ride around the island. Spend a day at the beach at Assateague National Seashore, or bike ride around the Chincoteague National Wildlife Refuge. Later, reward yourself with a giant dish of homemade ice cream from Island Creamery. The Eastern Shore is truly one of the most unique and beautiful scenic getaways near Northern Virginia.
Plan your Chincoteague weekend getaway: Eastern Shore of Virginia Road Trip on a Chesapeake Bay Getaway.
16. Hampton Inn Historic District, Lexington, Virginia
History and small-town beauty in Shenandoah Valley
Distance + Time: 192 miles, 3 hours
The Hampton Inn Lexington Historic District is not your typical chain hotel property. Housed in a manor house known as the Col Alto Mansion, you'll find historic touches, comfortable rooms, and a convenient location on the 7-acre property. Most rooms have a contemporary design, but there are 10 restored manor rooms available, some with period decor.
Check rates and book your stay at Hampton Inn Lexington Historic District.
Visit Lexington on a Southern Shenandoah Valley Virginia Road Trip from Staunton to Lexington.
A short walk away, the Stonewall Jackson House, Stonewall Jackson Cemetery, Lee Chapel and Museum, and historic downtown offer interesting history in beautifully preserved spaces. The Southern Inn is one of several excellent dining options—try their delicious fried chicken. Nearby, Blue Lab Brewing is a fun stop on Trivia Nights, and ice cream lovers will adore the rich, homemade flavors at Sweet Things.
17. Glass Light Hotel & Gallery, Norfolk, VA
Relaxed luxury in a cool city on the Chesapeake Bay.
Distance + Time: 196 miles, 4 hours
Norfolk Virginia is an underrated weekend getaway that delivers a great mix of urban fun and natural beauty. A fantastic riverfront, excellent restaurants, and interesting neighborhoods give visitors plenty to do in the downtown area. Water lovers can take a sunset cruise, paddle the Lafayette River, or relax on family-friendly Ocean View Beach.
Stay in the newly renovated Glass Light Hotel & Gallery and you're in the heart of the action. Rooms are spacious and luxe and feature beautiful glass elements and art in keeping with the hotel theme. Downstairs, guests are surrounded by more glass creations at the lobby bar and restaurant, and the second-floor gallery. Norfolk is a 4-hour drive from DC, but it's well worth the journey.
Check rates and availability and book your stay at the Glass Light Hotel.
Plan your visit: Norfolk Getaway: Fantastic Things to Do in Norfolk VA
Weekend Getaways in DE, MD, PA, and DC
It's easy to explore several states on weekend getaways from Washington DC. These local getaways and vacation places are just a short drive away.
18. Kimpton Boutique Hotels Staycation, Washington DC
Pet-friendly boutique hotels near major Washington DC attractions.
Distance + Time: 2 miles, 10 minutes
Sometimes a break from home is all you need to refresh and celebrate the weekend, and there are eight fun Kimpton properties perfect for a weekend staycation in DC. The Kimpton George Hotel has an excellent location within walking distance of the Capitol Building and other fantastic DC destinations. DC is an excellent option for solo weekend getaways because there is so much to do and see.
The Kimpton Topaz Hotel, in Dupont Circle, is another good option for a downtown stay. The Topaz is located on a quiet street close to a Metro station, and it's a great base for exploring the city. We chose the Topaz for a family staycation when our twins were young and they loved it. Either hotel is close to the action so you can enjoy an afternoon break in your room, then head out for the evening.
Check rates and book your stay at Kimpton Hotel George or Kimpton Topaz Hotel.
All Kimpton properties are kid-friendly and many offer perks like hula hoops, bunk beds, and other fun surprises. Kimpton is also pet-friendly, so they're a good option if you don't want to spring for a dog sitter during your weekend getaway.
Visit Washington DC during the holidays and you'll find a wealth of fun and free ways to celebrate the season at the U.S. Botanic Garden and other downtown destinations.
Discover more fun things to do in the US Capitol area of Washington DC.
19. AC Hotel National Harbor, MD
Potomac River views and a spin on the Capitol Wheel.
Distance + Time: 11 miles, 20 minutes
Spend a relaxing, food, and fun-filled weekend at National Harbor, on the Potomac River just south of Washington DC. The European-style AC Hotel by Marriott is sleek, comfortable, and centrally located. Even if your plan is a romantic getaway, you can feel like a kid again when you ride the Capital Wheel. Book the VIP Gondola, with leather seats and a glass floor, to increase the wow factor.
Check rates and book your stay at AC Hotel National Harbor
Plan your visit with our guide: National Harbor Getaway By the Potomac River in Maryland.
If you visit National Harbor in December, make time to enjoy the spectacular Christmas tree light show, and walk-through ICE! exhibit at the nearby Gaylord National Resort. In summer, hop on a water taxi for a visit to the Washington DC monuments or the historic Alexandria waterfront.
20. Graduate Annapolis, Annapolis MD
Excellent location in Maryland's waterfront capital.
Distance + Time: 32 miles, 45 minutes
We love making day trips to Annapolis, especially when there is an opportunity to get out on the water. When time allows, Annapolis is ideal for weekend getaways without a long drive. We recommend the Graduate Annapolis for its great location and comfortable rooms. There are also some wonderful B&Bs to choose from in town. Annapolis is a fun year-round destination, and you'll find plenty to do in the city even on a chilly winter day.
The Maryland State House, which briefly served as the nation's capital, is definitely worth a visit. The Old Senate Chamber, where George Washington resigned as commander in chief of the Continental Army, reopened after a two-year renovation, with excellent, interesting displays. Across the street, you can visit historic St. Anne's Church and admire the two Tiffany stained glass windows.
Explore the old streets of downtown, then head to the waterfront and the U.S. Naval Academy The USNA Visitors Center offers a rousing short film about the education and training of Naval officers.
Check rates and book your stay at Graduate Annapolis
Plan your visit with our guide: Annapolis Maryland Day Trip or Weekend Getaway by the Bay.
21. Gettysburg Hotel, Gettysburg PA
Civil War history and downtown convenience in historic Gettysburg
Distance + Time: 85 miles, 1.5 hours
Historic Gettysburg Pennsylvania is a fascinating getaway destination year-round, and Gettysburg Hotel commands a perfect location for exploring the area. The hotel is right on Union Square in the center of the historic downtown. The walkable downtown is full of shops, restaurants, entertainment, and historic sites that are steps from your room. Civil War sites, including Gettysburg National Military Park, are close by and easy to reach.
The Gettysburg Hotel began as a tavern in 1797 and today offers 119 comfortable rooms and suites. There is a friendly bar and an on-site restaurant downstairs, and many other dining options in town. Visit in the fall to enjoy apple-picking, cider, and wines, and foodie finds. Or plan a special Gettysburg Christmas season getaway to enjoy beautiful seasonal displays and fun events like the Tuba Carol Fest held right on the hotel's porch.
Check rates and book your stay at the Gettysburg Hotel.
Plan your visit with our guide: A Gettysburg Getaway Immersed in Civil War History
22. Tidewater Inn, Easton MD
Chesapeake beauty in a sophisticated small town
Distance + Time: 70 miles, 1.5 hours
Every list of Virginia getaways should include a trip to the Chesapeake Bay. We love the sophisticated rooms and central location of the Tidewater Inn, in the beautiful town of Easton, Maryland. The Tidewater opened in 1954 and has hosted celebrities like Elvis Presley, Bing Crosby, and Elizabeth Taylor. We enjoyed a beautiful and spacious two-room suite, and there are several other room configurations available.
The Tidewater Inn's central location makes it easy to wander the streets of downtown Easton, visiting local shops along the way. Art lovers will enjoy the collection at the Academy Art Museum. Foodies will find a wonderful selection of top quality restaurants to choose from. We loved the fresh, farm-to-table menu at Out of the Fire, and the excellent steaks at Pascal's Chophouse.
Check rates and book your stay at the Tidewater Inn.
23. Boardwalk Plaza Hotel, Rehoboth Beach, DE
Beach and boardwalk fun on the Delaware shore.
Distance + Time: 120 miles, 2.5 hours
A beachy getaway is always fun, and it's easy to enjoy the Delaware shore from the Boardwalk Plaza Hotel in Rehoboth Beach. This Victorian, oceanfront hotel offers 84 home-like rooms and suites, many with sitting areas, balconies, and ocean views. Stroll the boardwalk, relax in the sand, or head into town for a break from the sun.
Rehoboth Beach is a busy town with loads of shops, restaurants, and activities clustered along the mile-long classic boardwalk. A few blocks away, Chesapeake and Maine offers delicious fresh local and New England seafood and a full line-up from local Dogfish Head Brewery (who share the same owner). Back on Route 1, Jimmy's Grille is an excellent stop for yummy breakfasts, fried chicken, and tasty pies.
Plan your visit: A Delaware Getaway to Discover the First State.
Weekend Getaways from Washington DC Map and Tips
These weekend getaways are generally easy to reach by highway, but we suggest a slower route if time allows. Depending on your destination, you may be able to include Skyline Drive, historic Route 11, and other scenic roads in your journey.
Traffic is a factor anytime you travel in the Washington DC region. Plan to make your journey before or after rush hour. Use this custom map to find weekend getaways to fit your needs.

Many of the properties on our list are less busy on weekdays, but a few host business events so prices drop on weekends. If your timing is flexible, check a few dates to find the best rates.
Whether your goal is romance, family fun, a friend's escape, or just some solo time, weekend getaways deliver a nice break from the routine.
Follow us on Facebook, Twitter, Pinterest, and Instagram for more fun travel in and from Northern Virginia.