Updated on April 16, 2023 by Julie McCool
Take a Gettysburg foodie getaway to explore the burgeoning restaurant scene, excellent cideries and wineries, and fun culinary experiences in Adams County, Pennsylvania apple country. Famous for its central role in Civil War history, Gettysburg's foodie cred reaches beyond the battlefield. Tasty restaurants and unique cideries, wineries, and distilleries build on the area's rich farms.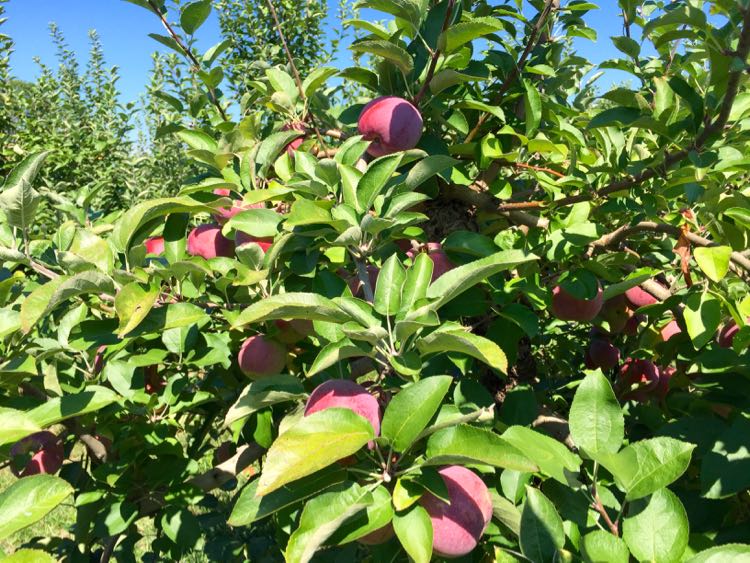 Our Gettysburg foodie getaway stops focus on two destinations—historic Gettysburg and the small town of Biglerville. If your trip allows time to explore more of the area, Destination Gettysburg has additional suggestions and sample itineraries.
Disclosure: This article may contain affiliate links. We will make a small commission from these links if you order something, at no additional cost to you.
Gettysburg restaurants range from classic dishes in historic taverns to modern, farm-to-table cuisine in casual spaces. There are many good dine and drink options in the historic downtown, so plan to enjoy at least two or three meals there.
Part of the fun of a Gettysburg foodie getaway is the chance to explore the beautiful farms and countryside of Adams County. The little town of Biglerville is just 15 minutes away and is home to one a winery with gorgeous views, a unique round barn, and a popular farm featuring apple-focused fun.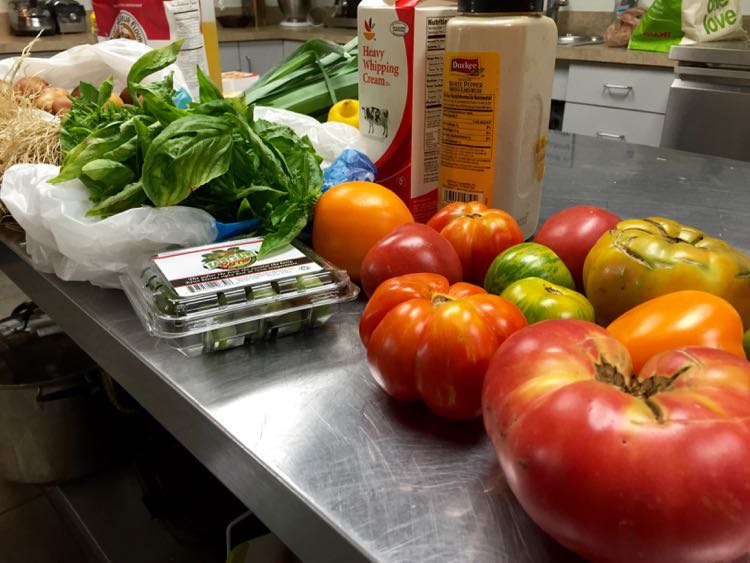 Where to Eat and Drink on a Gettysburg Foodie Getaway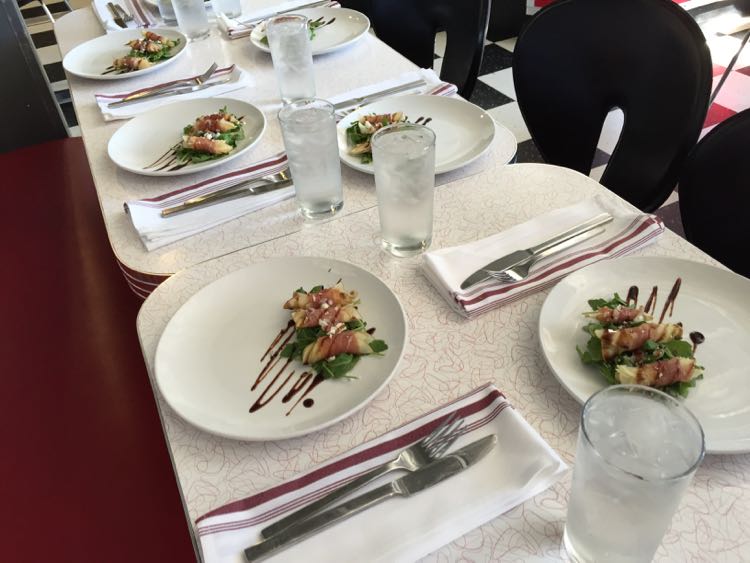 Food 101 is a great example of the changing dining scene in Gettysburg, offering a contemporary menu in an intimate modern space. Chef Corey Williams offers a range of artisanal pizzas, sandwiches, and salads, plus seasonal specials.
Local favorites include the Tuna "Burger," made with seared rare Ahi Tuna, and the Vegetable Powerhouse. Food 101 is BYOB, but with a wine store across the street and no corkage fee, that just means you can focus your dollars on the delicious food.
Shift back to Colonial history with a delicious meal at the historic Dobbin House Tavern.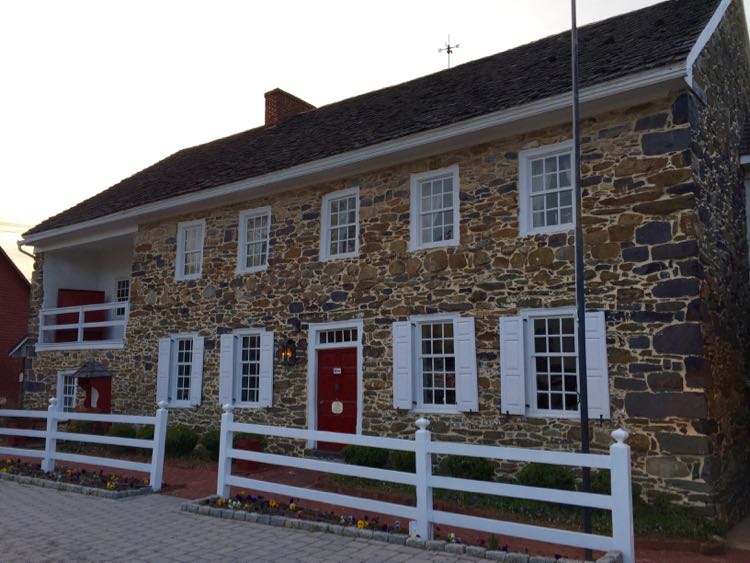 Gettysburg's oldest building, the Dobbin House was built "four score and seven years" before the battle, in 1776. Servers in authentic period clothing deliver dishes from an extensive menu, in cozy rooms, on reproduction period china.
Enjoy a tasty lunch or candlelit dinner in the upstairs Alexander Dobbins Dining Room, or a casual meal in the Springhouse Tavern.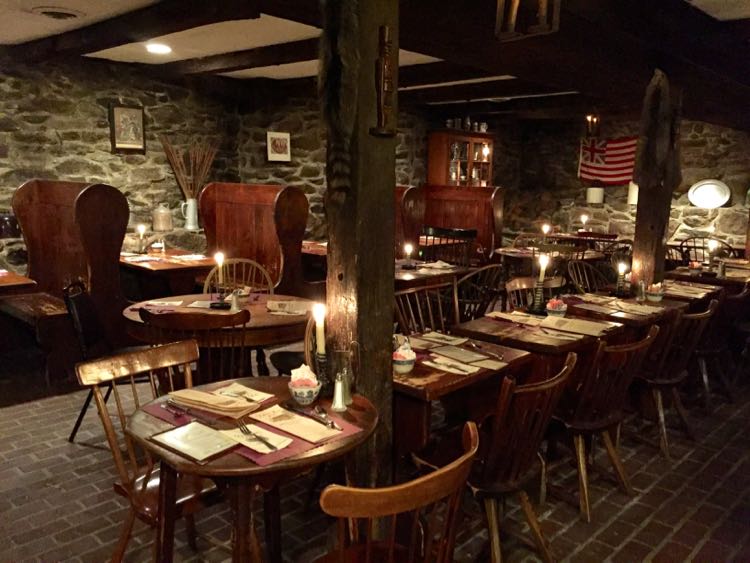 The popular French Onion Soup is full of sliced onions and chunks of tender beef. We also had a perfectly cooked Broiled Filet Mignon, a hearty Pork Tenderloin, and rich pecan pie and chocolate cake for dessert. The seafood also comes highly recommended.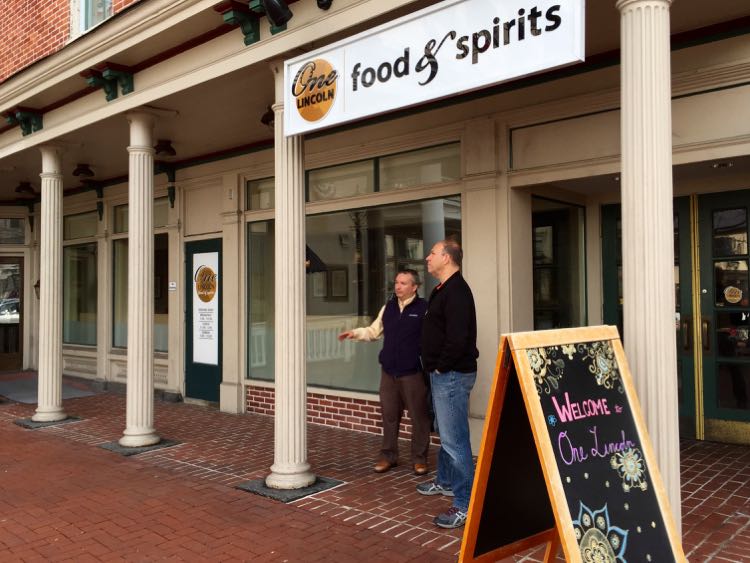 One Lincoln is a nice, central stop for breakfast, lunch, or dinner in a casual setting. Inside the iconic Gettysburg Hotel, which was extensively remodeled and updated, the restaurant offers a broad menu featuring comfort food, fresh salads, and sandwiches, and a varied selection of entrees.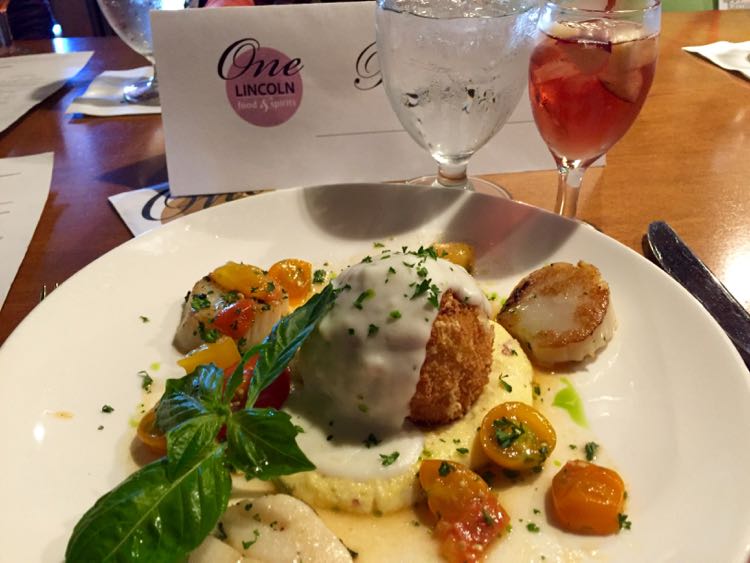 Created by father-son team George and Yianni Barako, Mason Dixon offers quality spirits and tasty food in a historic downtown building. Yianni created his first still at the age of 11, based on a diagram his grandfather sketched on a napkin. That early experiment became Yianni's passion. Several years and distilling school training later, Mason Dixon was launched.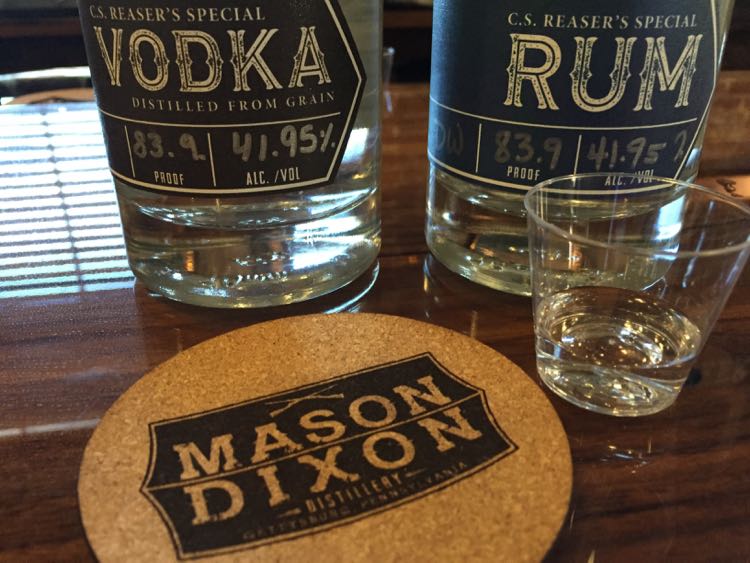 Current offerings include vodka and rum, but rye and gin are in the works. Some of the spirits are distilled using local grain grown on acreage leased in the military park. If you're not in the mood for spirits try the amazing hot chocolate. The space is sleek and friendly, and a large open patio is planned for 2017.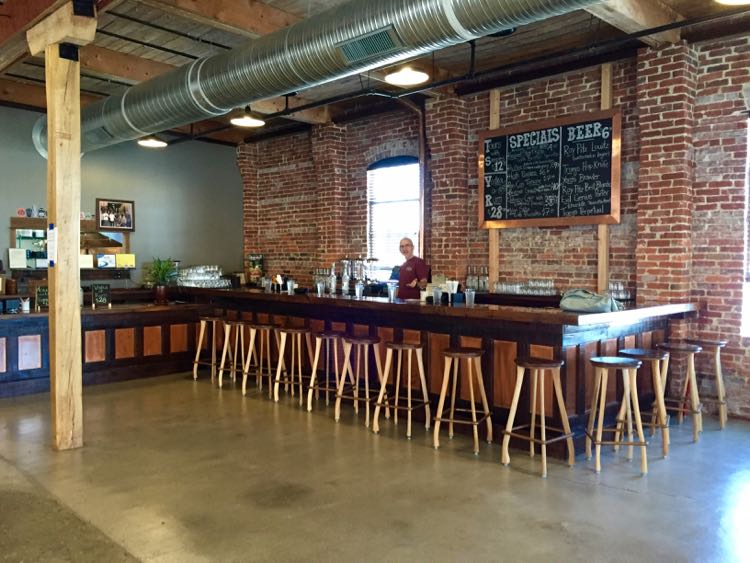 1863 Restaurant is a cut above the ordinary hotel restaurant featuring a broad, classic menu in an elegant dining room with a fine steakhouse vibe. Many of the meats and produce are sourced locally, and simpler sandwiches and salads round out the menu.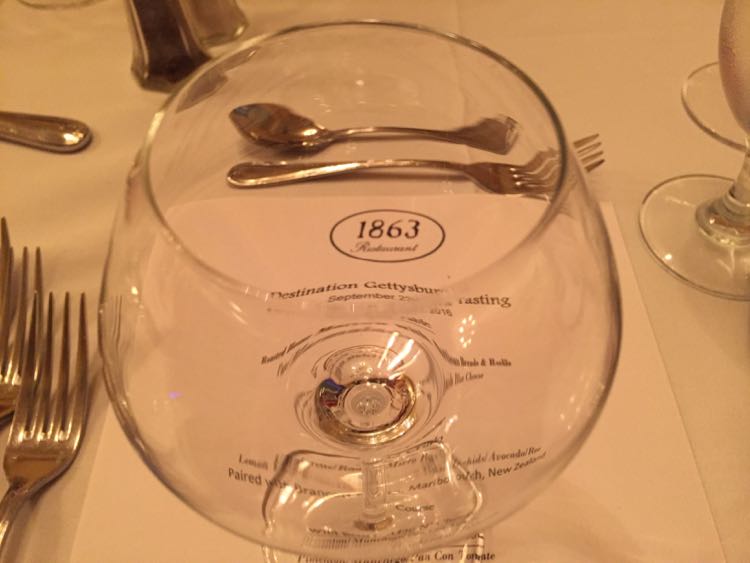 Our tuna crudo was delicious and beautiful, decorated with edible orchid petals. Meats like beef filet and herb-crusted lamb are flavorful and rich, and we would happily revisit the Wild Boar Mac & Cheese. Try to save room for dessert!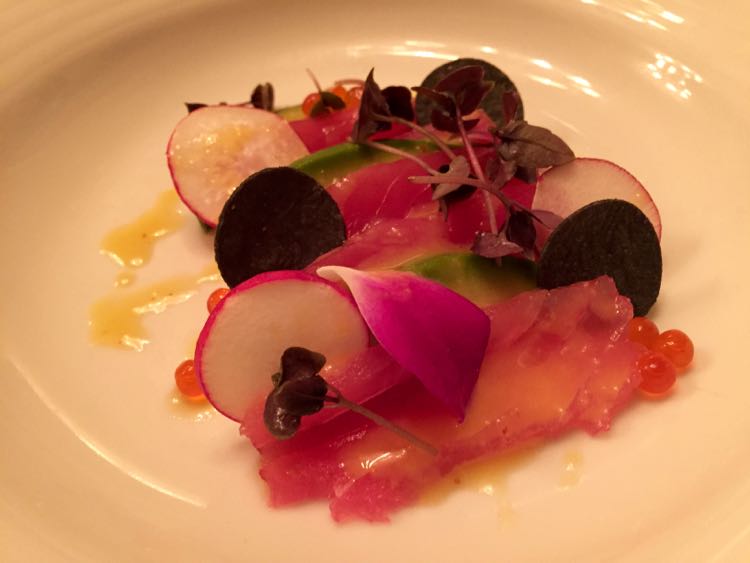 More Gettysburg Food and Drink
Close to the battlefield, Gettysburg Eddies, named after baseball Hall-of-Famer Eddie Plank, serves burgers and sandwiches in a casual setting. The Pub & Restaurant and Garryowen Irish Pub are both good choices if you want to relax with a pint in town.
Hauser Estate Winery, Biglerville
Hauser Estate's tasting room in Lincoln Square offers a range of hard ciders and wines. Combine those same tasty drinks with an incresible country view at one of Gettysburg's growing wineries in nearby Biglerville.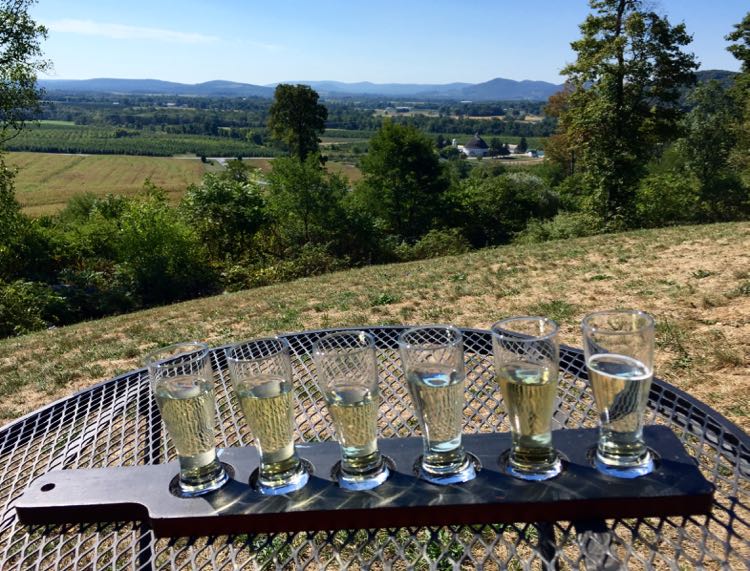 Built into the crest of a hill in 2008, the tasting room has a large deck and outdoor tables with sweeping views of surrounding farms and distant mountains. If it's your first visit we recommend a flight of Jack's Hard Cider to try a mix of their flagship and seasonal offers. Peach and Pear are our favorites, but we're also fans of the Dry Hopped, and Fireside is wonderful on a chilly day. Allow time to sample Hauser's wineries as well.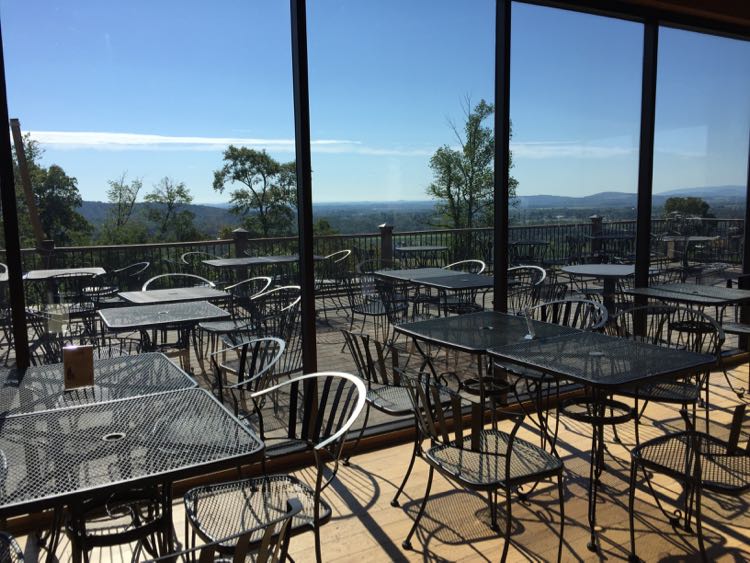 Fidler & Co., Biglerville
Update: Fidler & Co has closed permanently.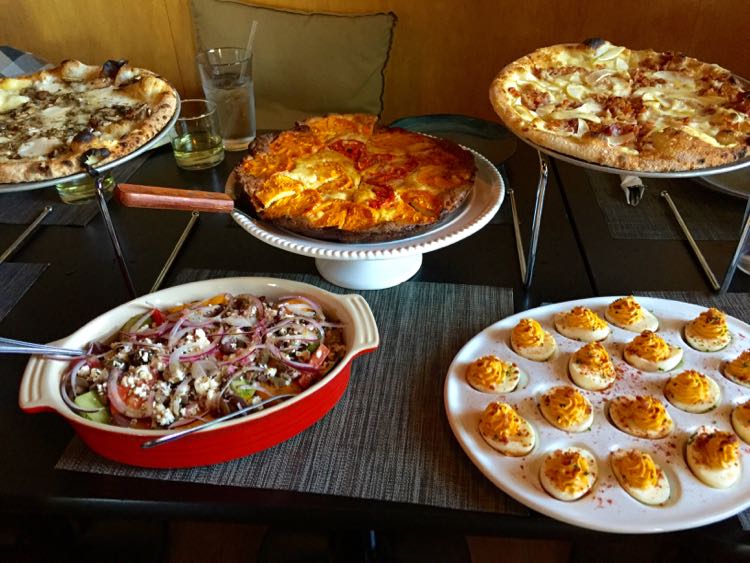 At one of our favorite area restaurants, Chef Josh Fidler creates scratchmade flavors based on local, fresh ingredients at Fidler & Co. Craft Kitchen in Biglerville. The small, casual space specializes in brick oven pizzas, paninis, and salads. Start with the deviled eggs spiced with sriracha, then consider the apple and bacon pizza flavored with a maple syrup glaze or the daily frittata. The dinner menu includes beautiful seafood and beef dishes, housemade pasta, and nightly specials. BYO local beer or a growler of cider to enjoy with your meal ($4 corkage fee).
Fun Culinary Experiences on a Gettysburg Foodie Getaway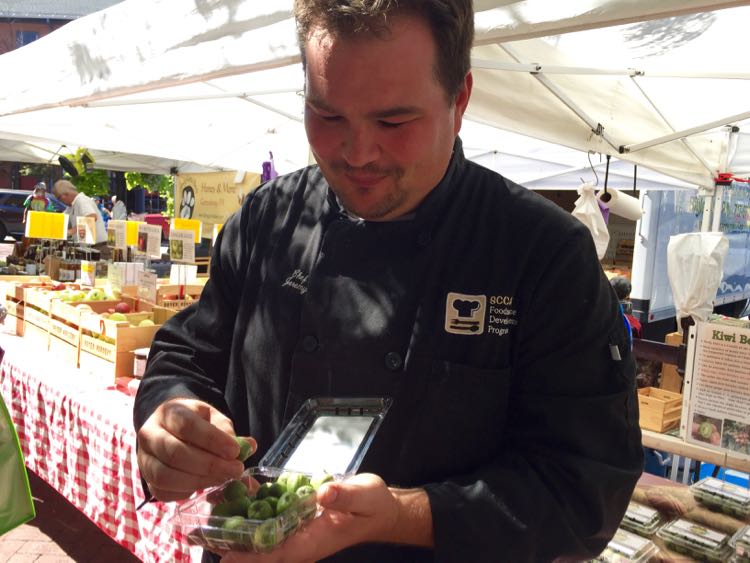 Savor Gettysburg offers several food tours in town, a perfect way to sample a variety of local food and drink. We highly recommend the Famer's Market Tour and Cooking Class; a wonderful opportunity to purchase local produce and meats then create a meal from scratch under the guidance of a local chef.
Chef Jeremy Schaffner introduced us to seasonal and unique flavors at the Farmer's Market in Lincoln Square, then we headed to the SCAAP kitchen for a small group cooking class. (Jeremy and SCAAP run a program to help underprivileged individuals earn food service skills, certification, and jobs.)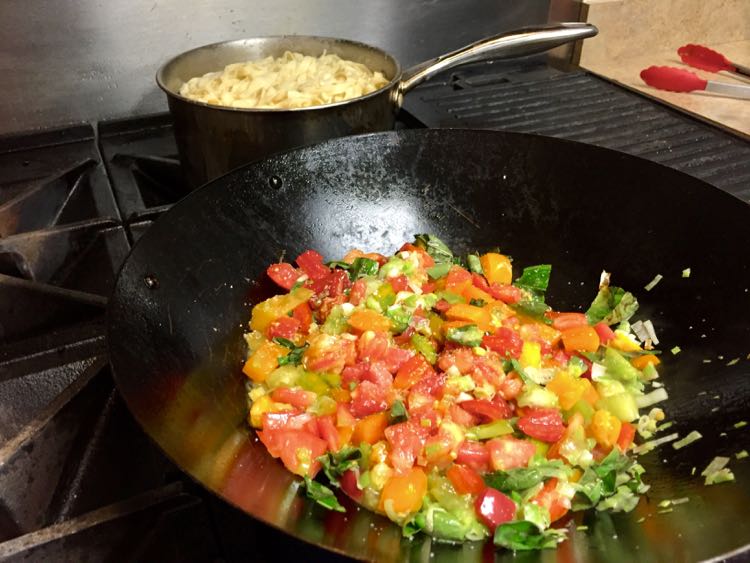 Chef Jeremy was an excellent mentor, providing simple direction and quickly getting us involved in creating fresh pasta, sauces, and a few tapas from the produce we bought at the market. He encouraged us to build meals based on what's available and fresh, and the results were absolutely delicious. Time to buy a pasta machine!
No Gettysburg foodie getaway would be complete without a visit to one of the farms that make Adams County, Apple Country. Hollabaugh Farms in Biglerville is one of Adams County's beautiful fruit orchards. We toured the orchards with Ellie Hollabaugh Vranich, a third-generation apple farmer on her family's 500-acre farm.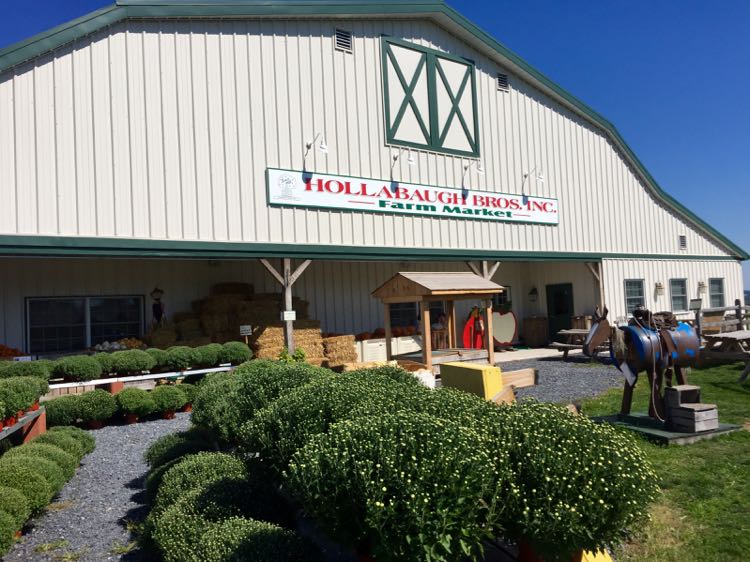 Before the tour, we stopped in at the market which sells farm produce, fresh baked goods, ice cream, and country crafts. Inside the Bee Room, a learning environment perfect for school groups and other visitors, Hollabaugh offers cooking classes, teas, and other seasonal events. We learned how to turn an apple and a little dough into a yummy apple dumpling.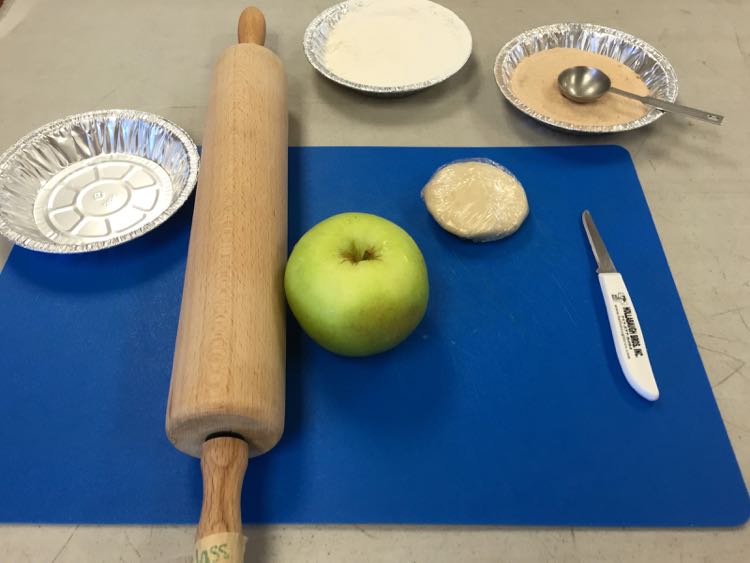 If tours are available when you visit, head out on the large wagon for a drive through the farm and a stop to pick apples. Visitors learn about the constant innovations local farms undertake to succeed as fruit farmers in the 21st century. There's also a pick-your-own area just a short walk from the market that's perfect for families.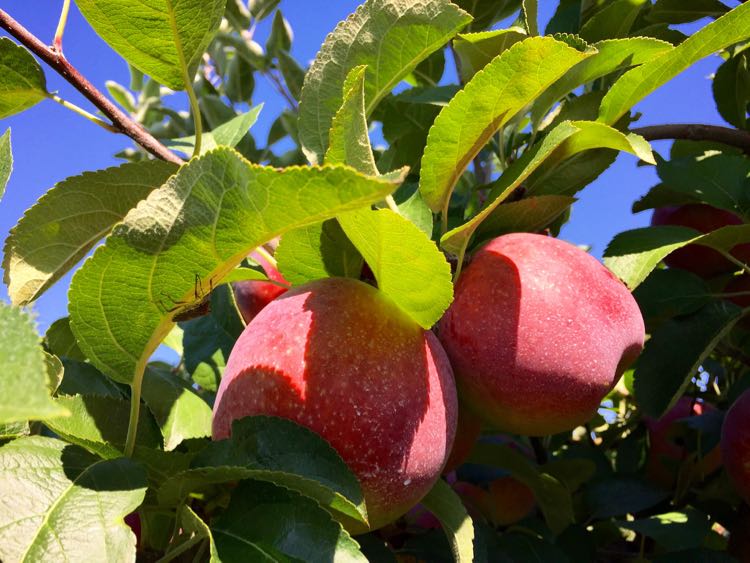 Built in 1914, The Round Barn is one of the few surviving truly round barns (not many-sided) left in America.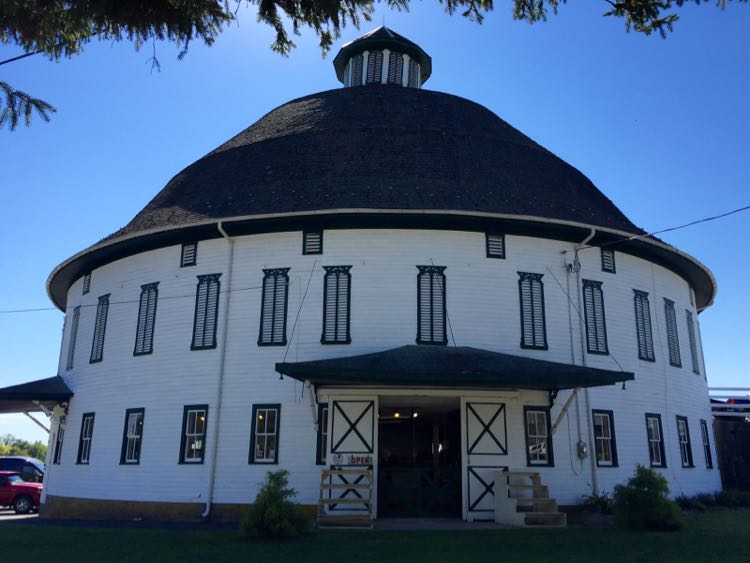 Today the barn houses a farm market and rents space for special events. When you visit, walk up the narrow stairs to admire the impressive vaulted roof and supporting structure; a very unique spot for a wedding
Where to Stay on a Gettysburg Foodie Getaway
Battlefield Bed & Breakfast is one of the region's most beautiful and historic inns, specializing in both quiet getaways and destination weddings. Innkeeper Florence March welcomes guests to 10 rooms in her historic home, a cottage room, a room in the lovely barn, and 2 event venues. The grounds offer plenty of space to relax and visit with the farm's cats.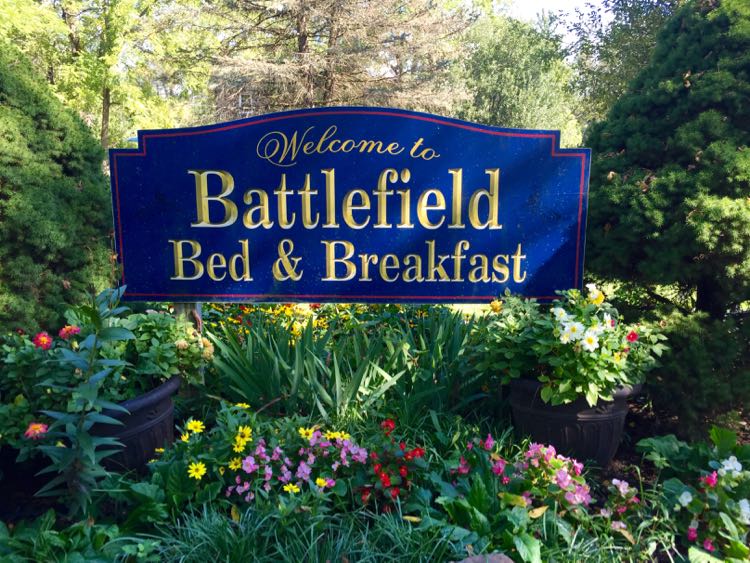 We stayed in the luxurious Houghtelin's Hideaway, named after an abolitionist who lived in the farmhouse during the Civil War. The spacious room includes a king-sized bed, a comfy leather couch, and direct access to the back lawn and gardens where we had an amazing view of the stars.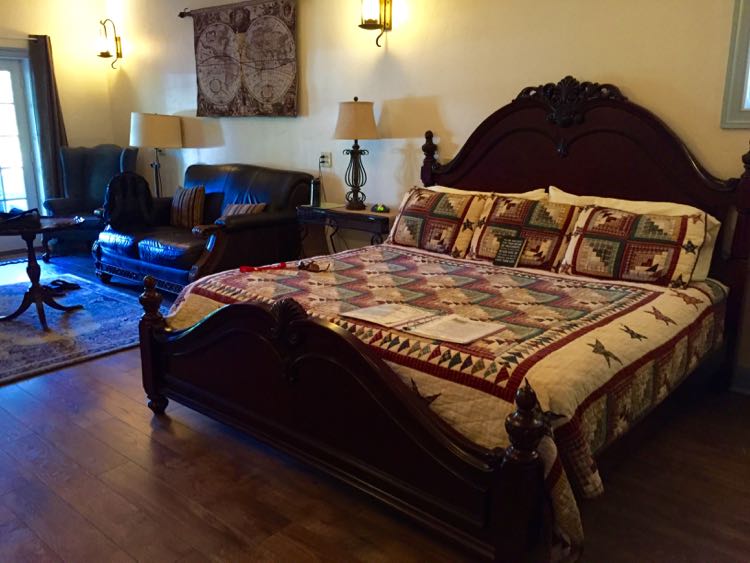 Mornings bring two treats to guests at the Battlefield B&B—a delicious homemade breakfast, and a fascinating Civil War history program. Our Civil War expert presented a collection of authentic guns and materials that soldiers brought to battle, giving us a feel for the burden they carried. Our extensive breakfast at the Battlefield included some of the best coffee cake we've ever eaten.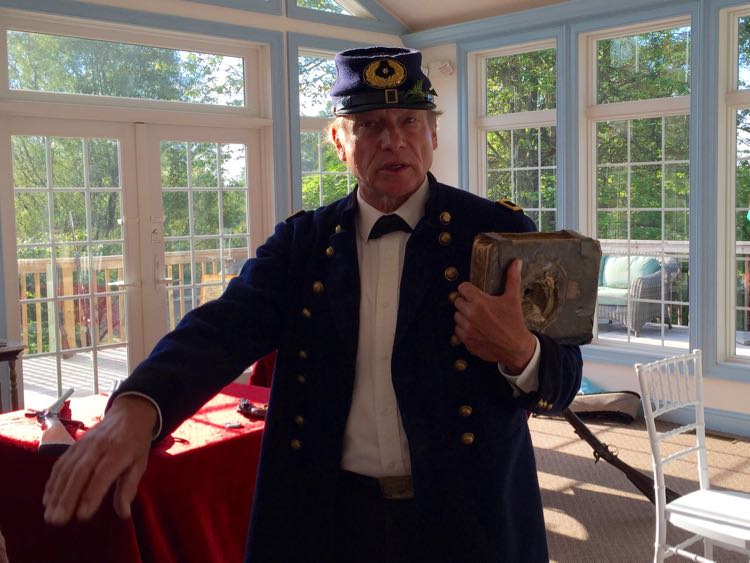 Extend your Gettysburg foodie getaway beyond the menu with visits to historic sites throughout town or Gettysburg battlefield tour. While apple-picking is a fall activity, Adams County is a beautiful destination year round, and it's only a 90-minute drive from Northern Virginia and Washington DC.
Follow Fun in Fairfax VA on Facebook, Twitter, Pinterest, and Instagram for more places to visit and things to do in Northern Virginia and surrounding areas.
Destination Gettysburg hosted our tour of the Gettysburg food scene.