Cirque du Soleil Tysons Virginia presents Echo, a spectacular new show making its US Premier in the Washington DC area. Echo explores the connection between man and nature with a unique blend of sets, stagecraft, music, acrobatics, and technology.
We have enjoyed several years of excellent performances under the Big Top at Cirque du Soleil Tysons. But 2023 is the first time that a new Cirque show will host its US premiere here in Northern Virginia.
Every show at Cirque du Soleil Tysons features creative themes and a bevy of amazing acts. Tyson's Big Top magic has included the steampunk fantasy of Kurios Cabinet of Curiosities, the high-energy acrobatics of Volta, and the rain-soaked acts of Luzia.
Disclosure: This article may contain affiliate links. We will make a small commission from these links if you order something, at no additional cost to you.
Now Echo takes the stage. Cirque du Soliel Echo Tysons Virginia is open from September 6 to October 22, 2023. Ticket prices start at $43 but vary widely by date, time, and seat selection.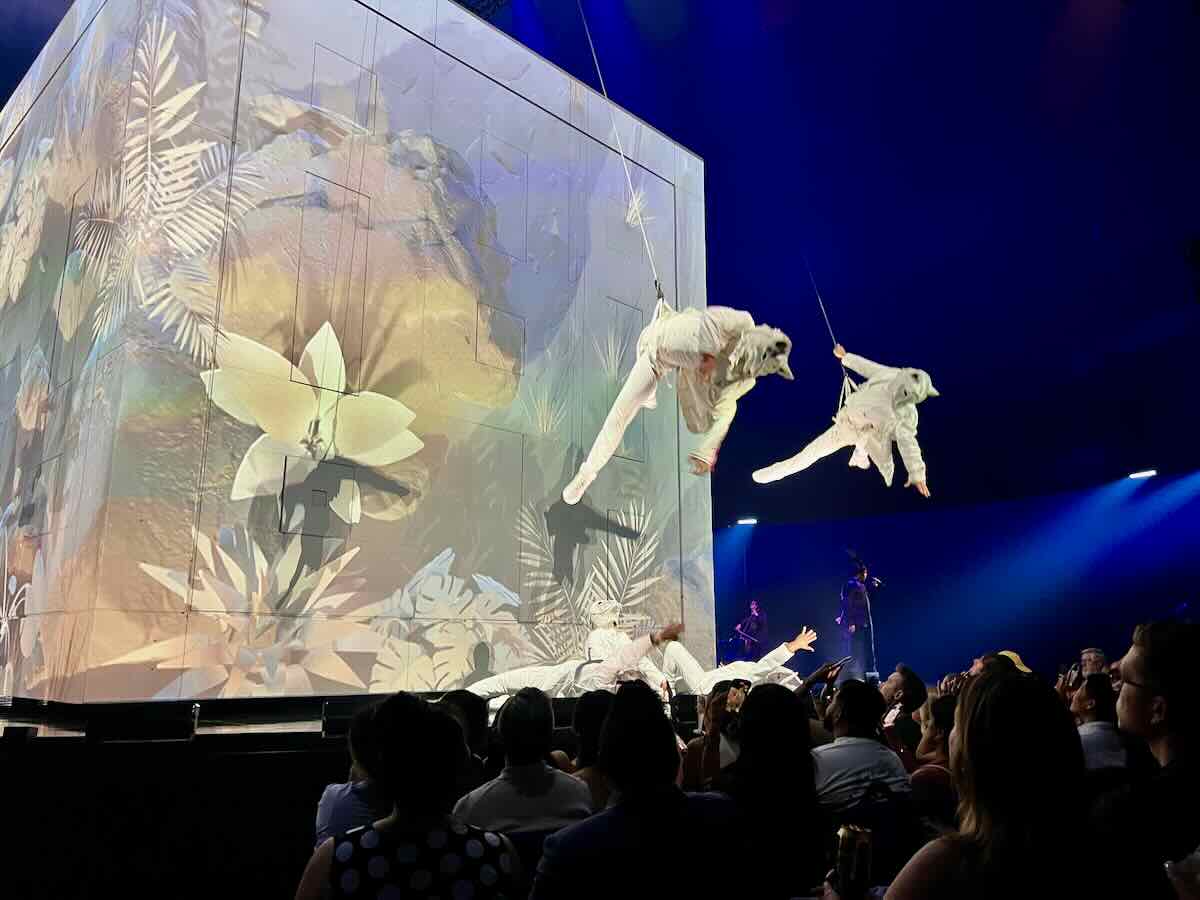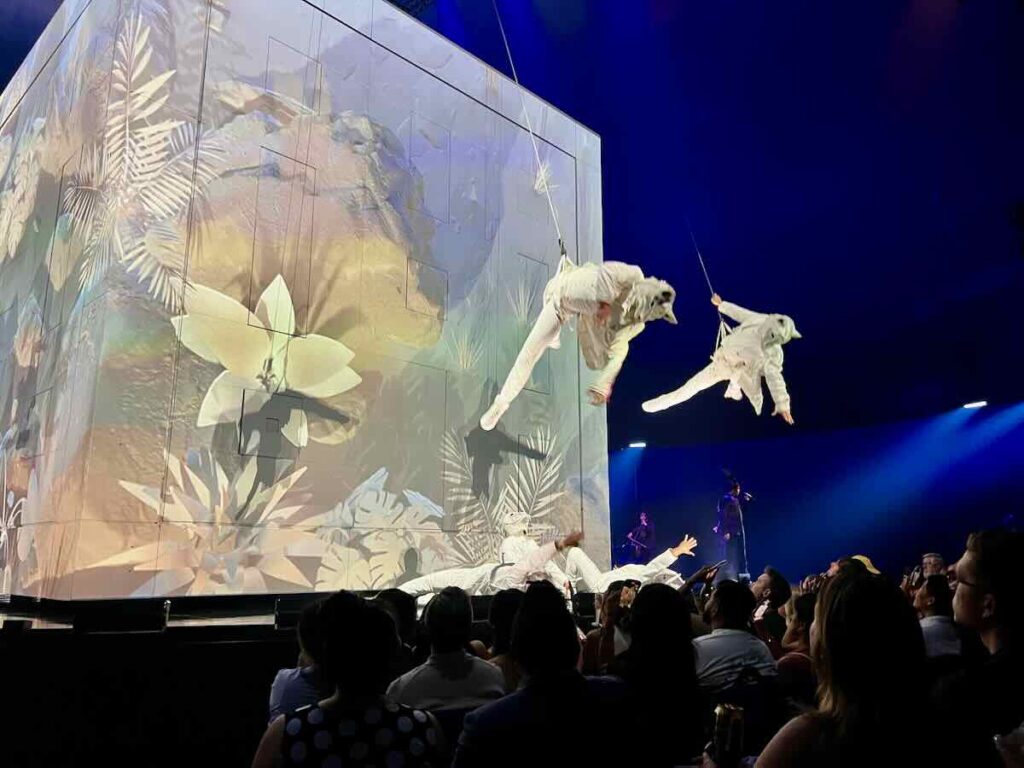 Read on for everything you need to know to see Cirque du Soleil in Tysons Virginia plus our review and photos of Echo. We've also included an FAQ with essential information for your visit.
Show Experience at Cirque du Soleil 2023 in Tysons
The Cirque du Soleil experience in Tysons unfolds in stages and it's smart to arrive early for the full experience. Here is the schedule for most evening shows:
At 6:30, gates open and you pass through security screening to an area outside the Big Top tents.
At 7:00, doors to the Big Top open and you can enter the tent or stay outside.
At 7:30, you can head to your seats and get a first look at the stage.
Fortunately, the fun begins as soon as the gate open. There are usually several performers outside the tents setting a happy mood. At the 2023 Tysons Echo show, comical hairdos topped performers balancing boxes and blowing bubbles.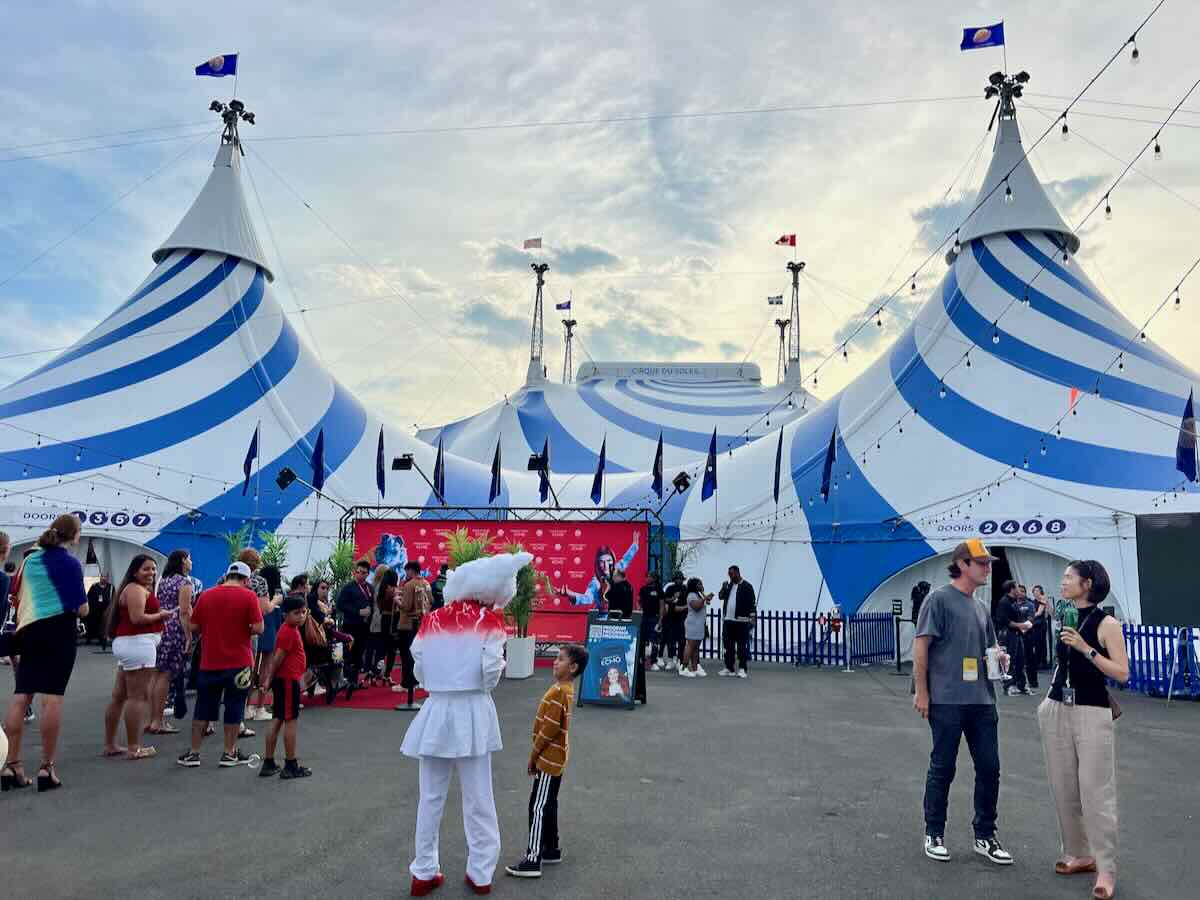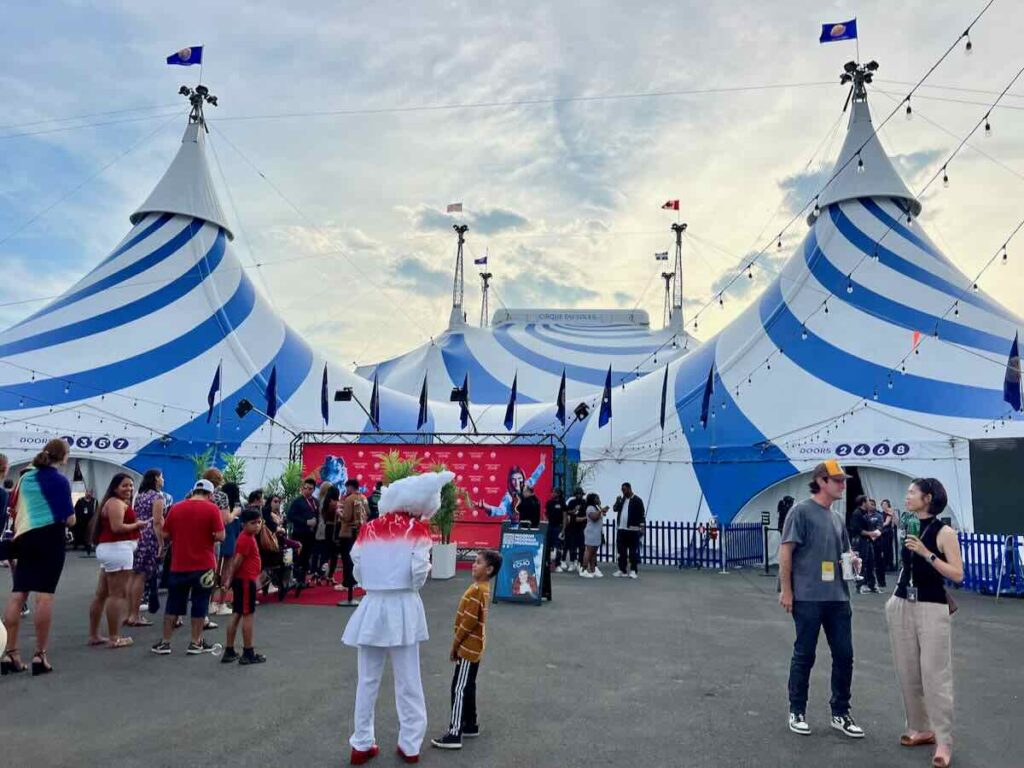 The costumed performers are happy to pause for photos. In addition, guests can head to the red carpet for photos with some of the performers who will later appear on stage. The red carpet usually has a line but it moves quickly.
New in 2023, a Cirque Beer Garden offers snacks and drinks in an air-conditioned trailer. There is a small seating area inside and more seating on the outside deck.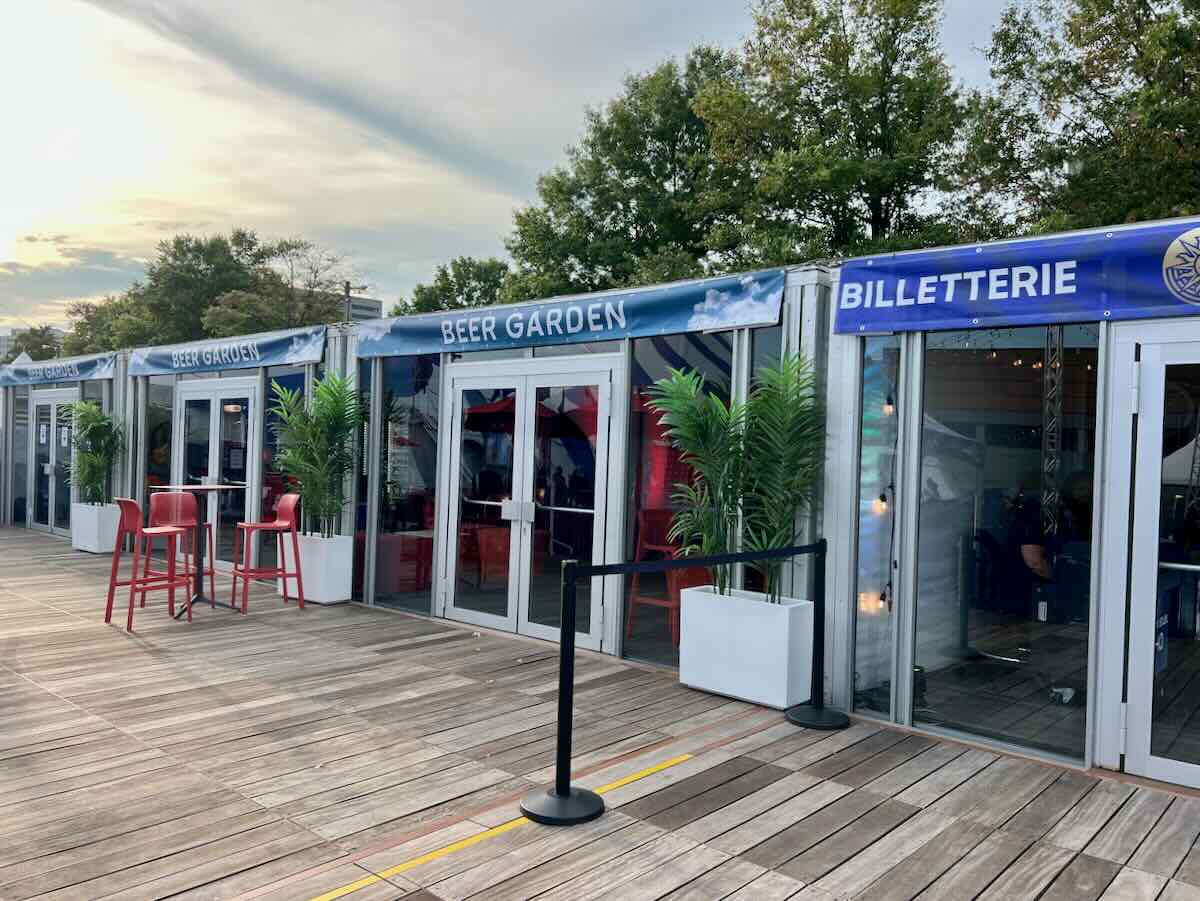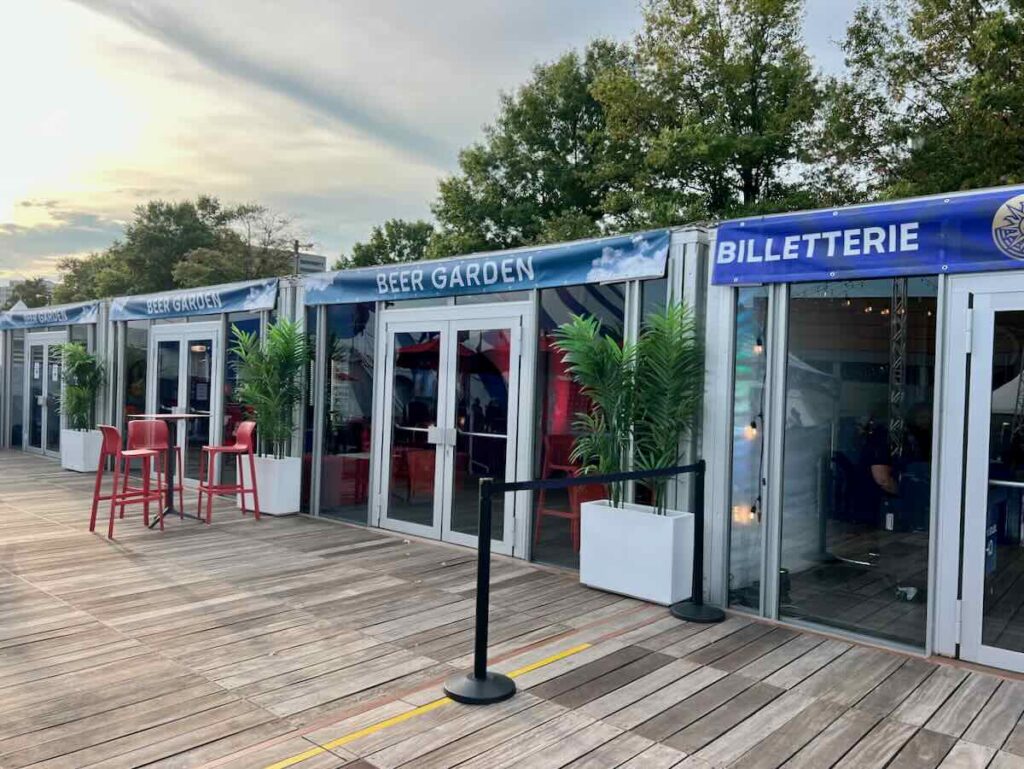 There are also plenty of clean restrooms in the outdoor area for use pre-show and during intermission.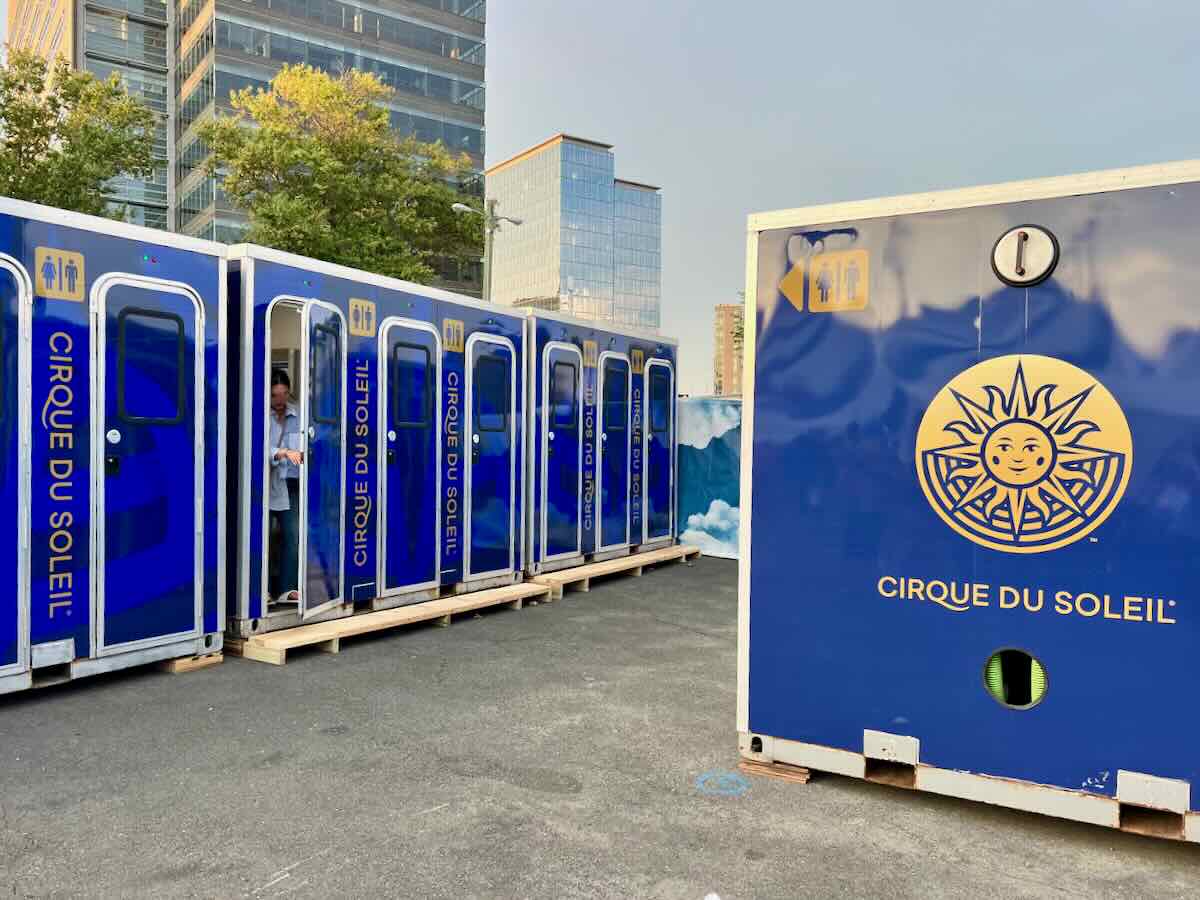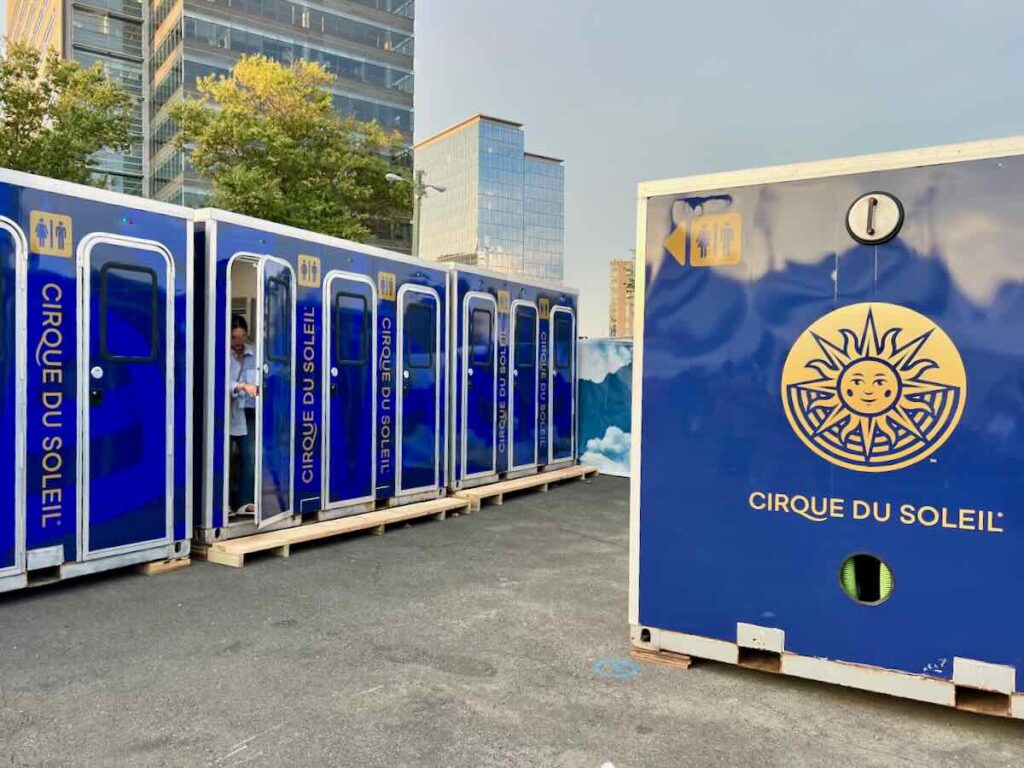 If you purchased VIP tickets, the VIP Tent is ready to welcome you. Your luxury experience includes food and an open bar plus a separate entrance and an outdoor terrace with separate restrooms.
Inside the Main Tent
At 7:00, the main tent opens but you can't access your seats until 7:30. That gives you time to shop for Cirque souvenirs and get food from the snack bar or a drink from the bar. You can also visit this area during intermission.
There are some nice shirts for adults and kids available at the Cirque Shop plus hats, toys, books, and other gear.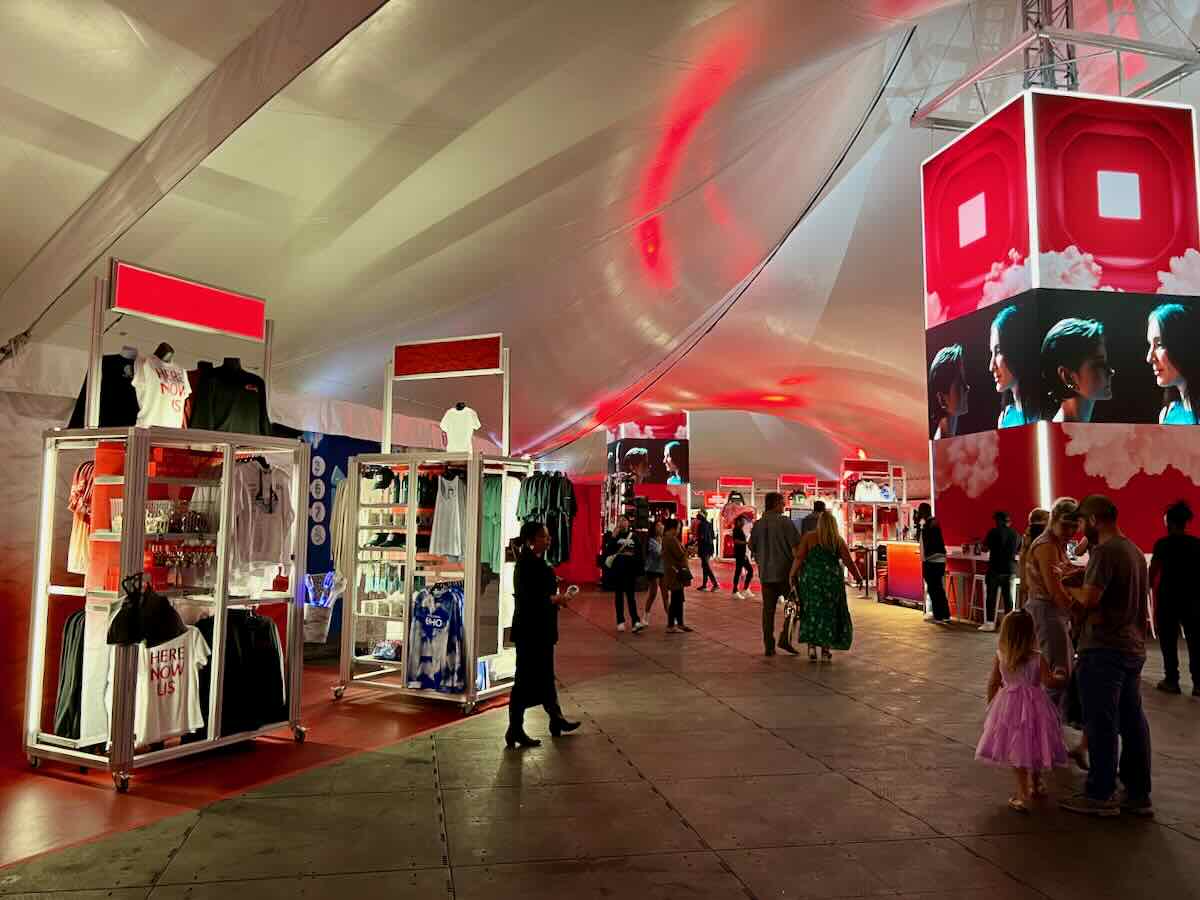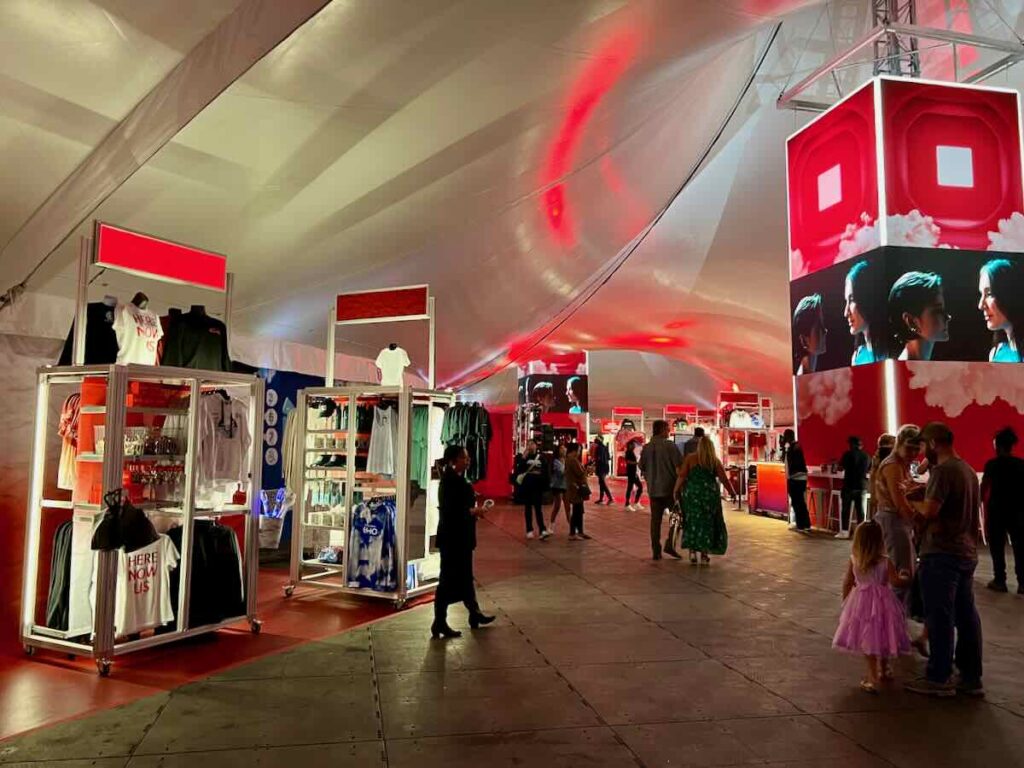 The Cique Snack Bar includes basic fare like pretzels, popcorn, hotdogs, and sodas. Beer, wine, and mixed drinks are available at the Central Mast Bar. The prices are steep, but they're your only option as no outside food or drink is allowed. Here's the 2023 Cirque Tysons menu: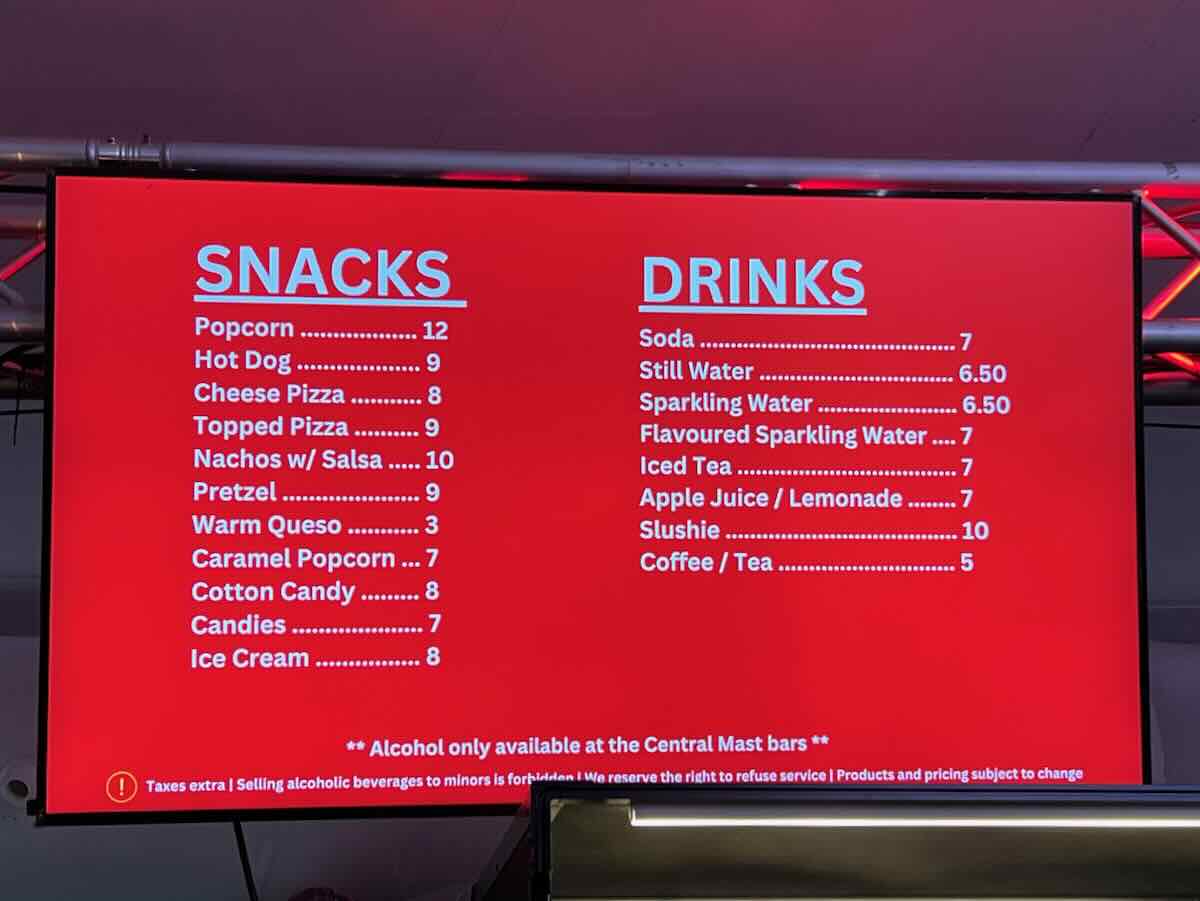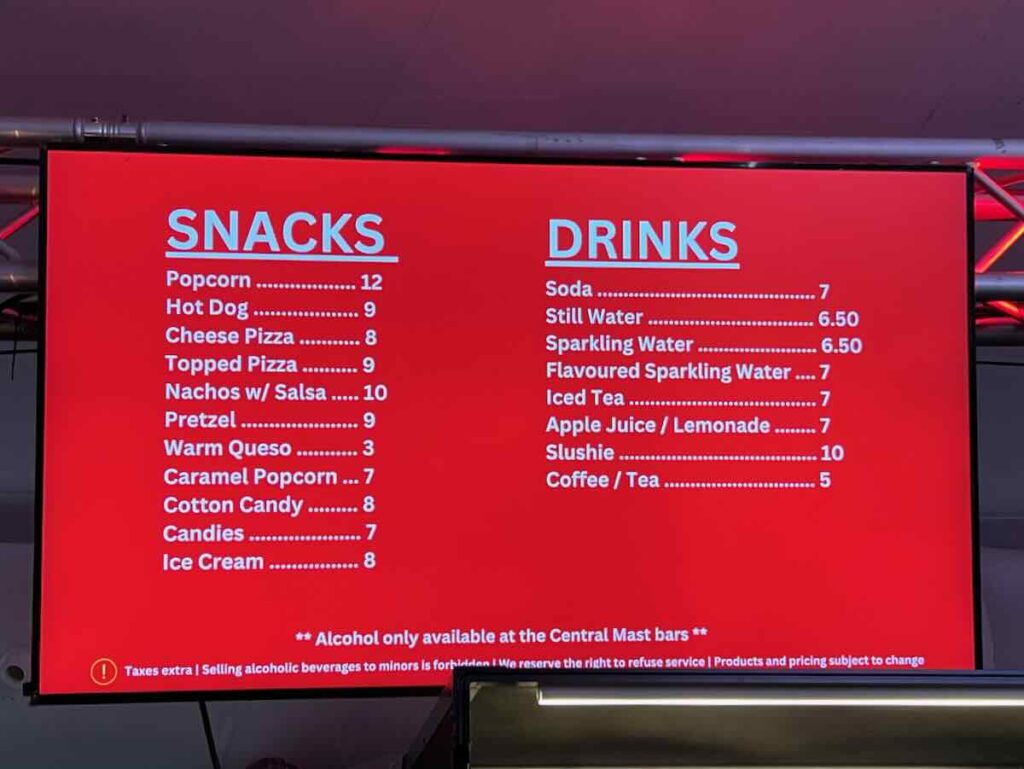 At 7:30 the Big Top opens and you can head to your seats. You'll find more info about seating options and site lines below.
Cirque du Soleil Echo Dazzles in Tysons Virginia
If you've never been to a Cirque du Soleil show, Echo is a wonderful introduction to the magic. As the Cirque website explains, Echo "explores the delicate balance between people, animals, and the world we all share." The story features a female character named Future who learns to work with nature as evolution progresses.
Frankly, the storyline is subtle, and you don't need to know the backstory to enjoy the show. Like other Cirque du Soleil shows we've attended, there are no speeches or dialogue. Instead, Cirque tells its story through movement, sets, costumes, and music.
A giant, mysterious cube is a central element in Echo. The 35-foot-tall cube serves as backdrop and stage and even deconstructs into smaller boxes as Echo unfolds. Advanced projection technology brings the cube to life with gorgeous colors and scenes.
The ever-changing backdrop also becomes a vertical stage as acrobats run, jump, and spin across its towering sides.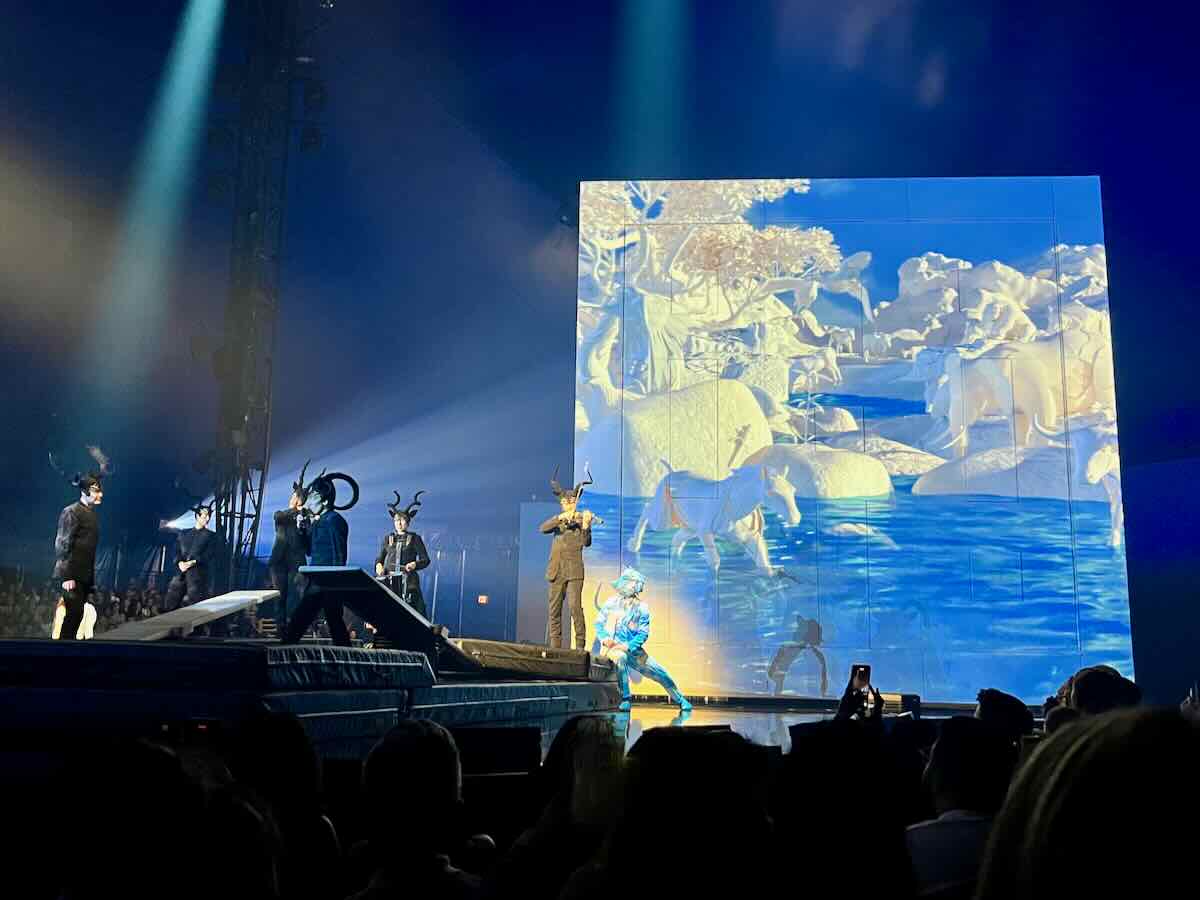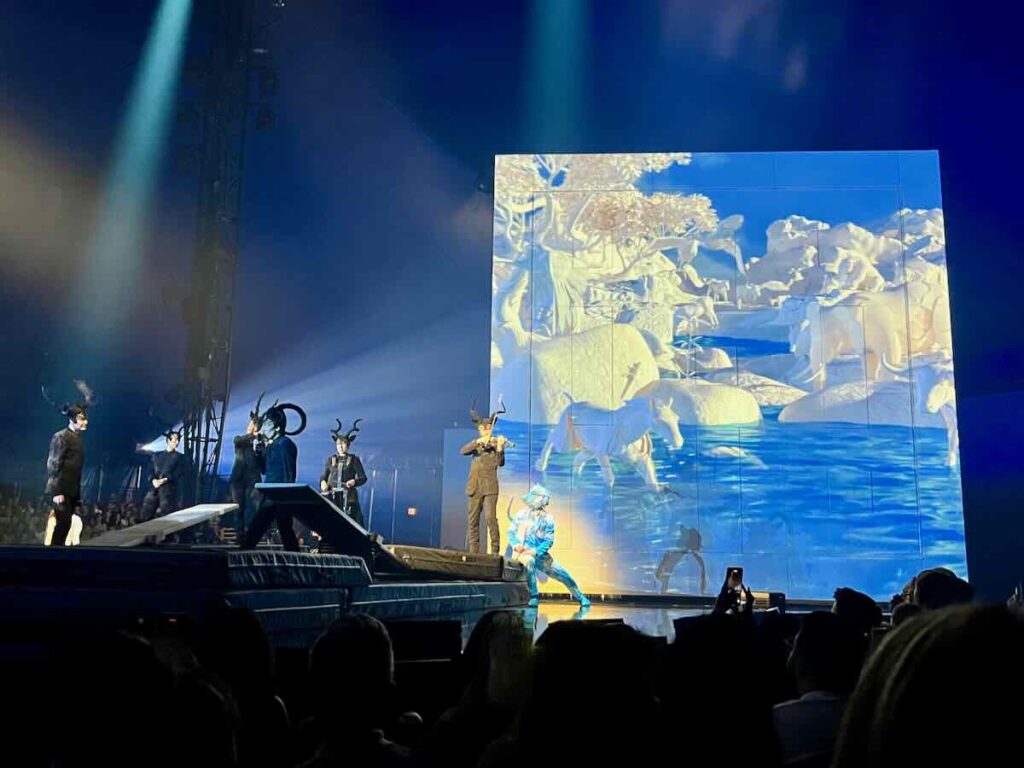 Around and inside the cube, costumed characters perform. During the show animals clad in white, singers in black, and teams of acrobats, aerialists, comedians, and contortionists perform around and even inside the cube.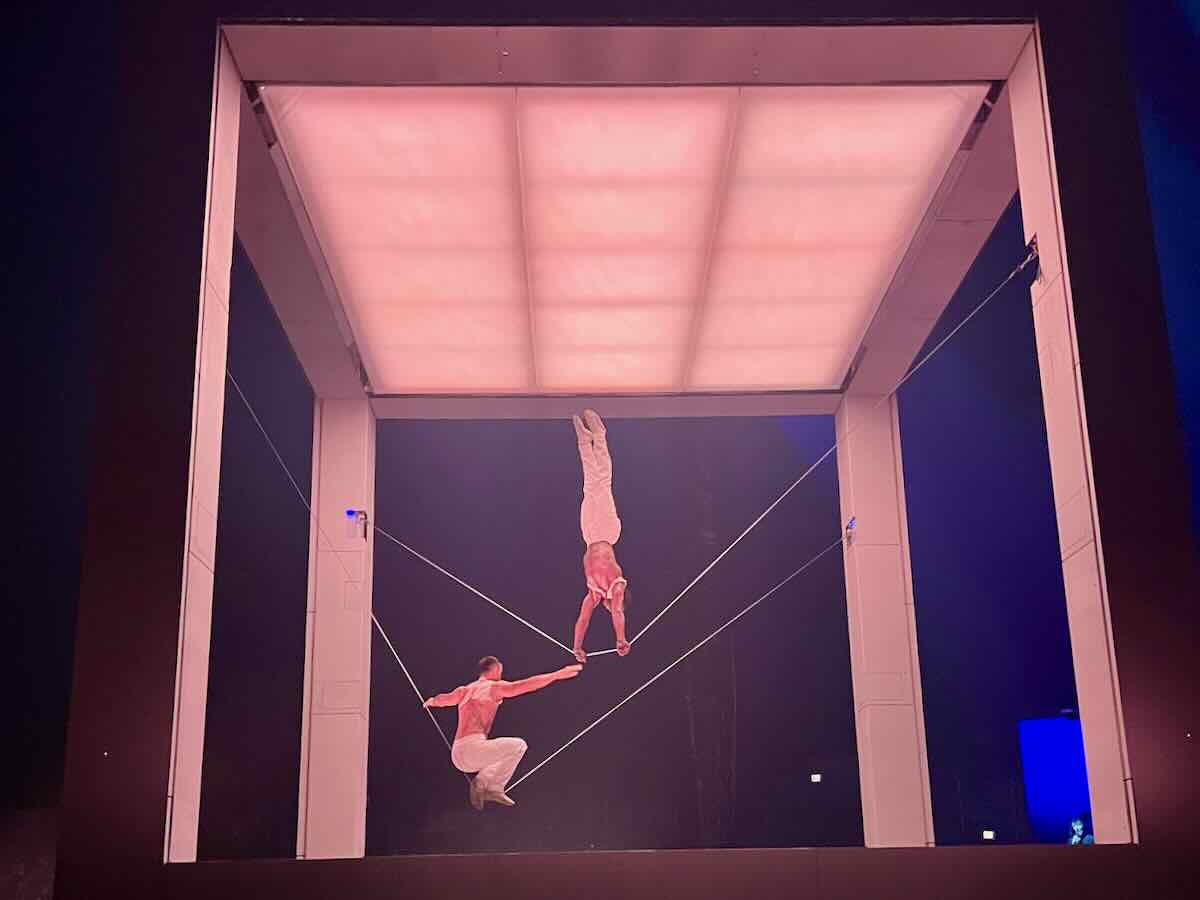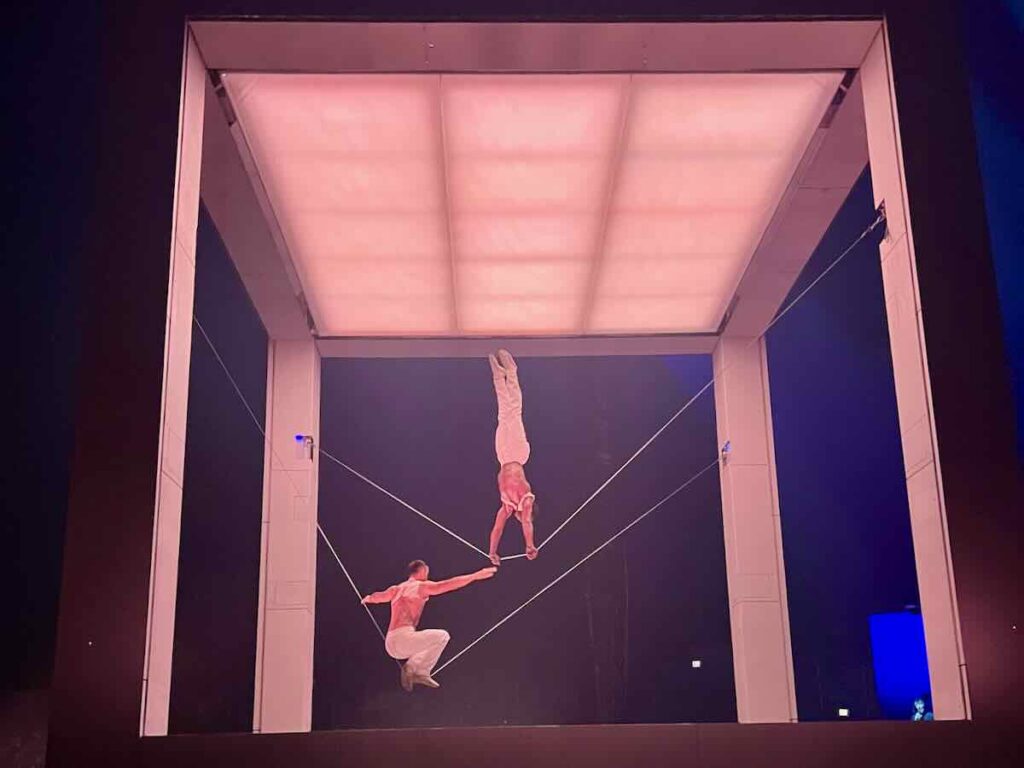 The activity and the cube move around continually which guarantees good views from every seating area.
As with all Cirque du Soleil shows, Echos combines the atmosphere of theater and circus. Dazzling acrobatics are mixed with humorous skits that make it easy to focus on the fun, one-of-a-kind acts.
Favorite Highlights of Cirque du Soleil Echo
There are many wonderful acts and moments in Cirque du Soleil Echo. Here are a few of our favorites.
In Suspension par les Cheveux two female aerialists soar and spin above the stage in perfect harmony. What makes this act so unique? Both women are suspended by their hair! That is until they switch to using their teeth.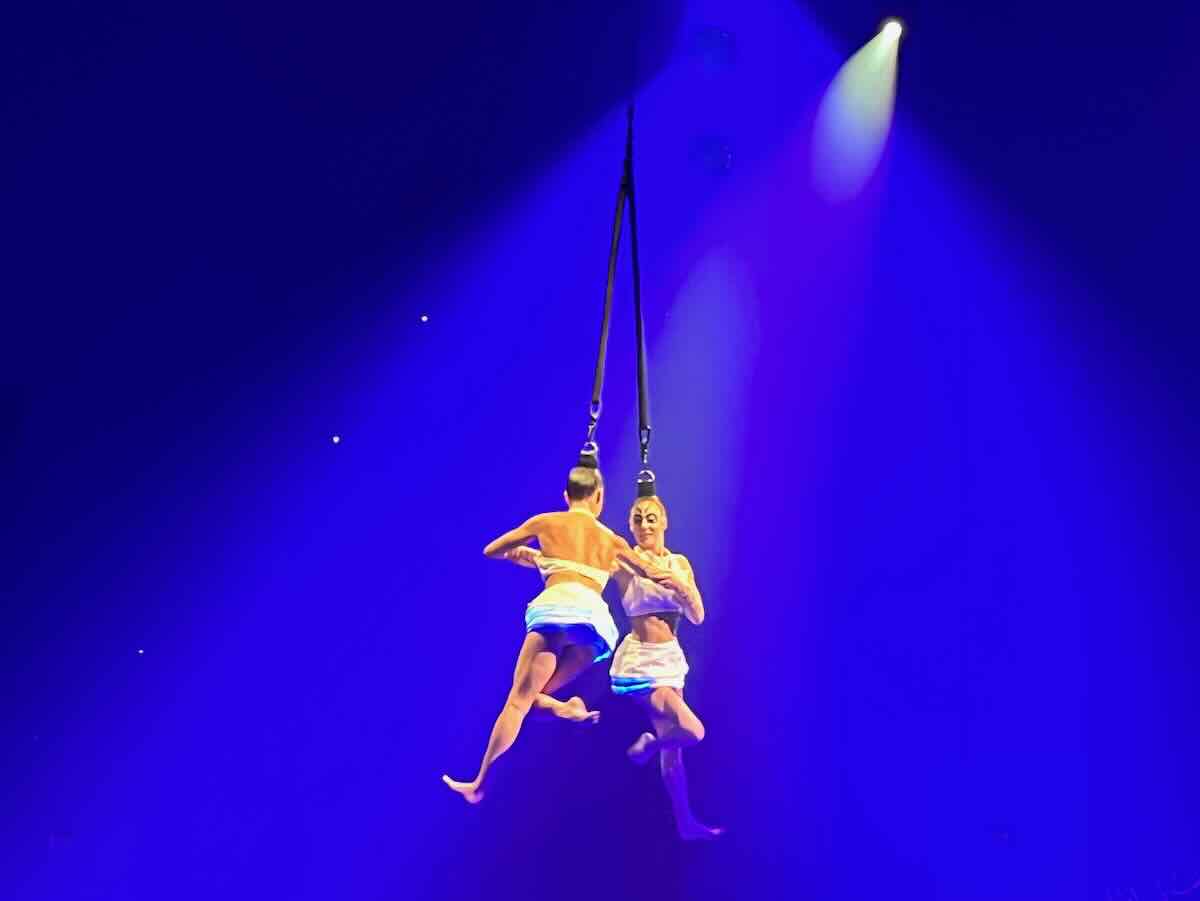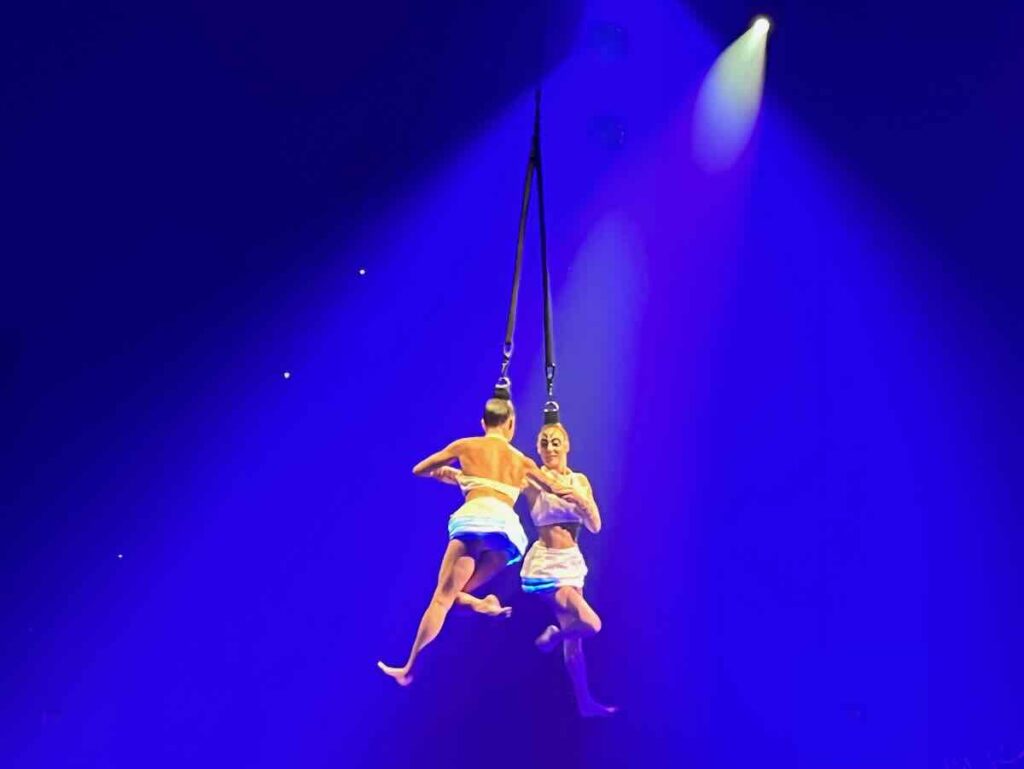 Later, the cube splits open and a giant man emerges for a close encounter with Future.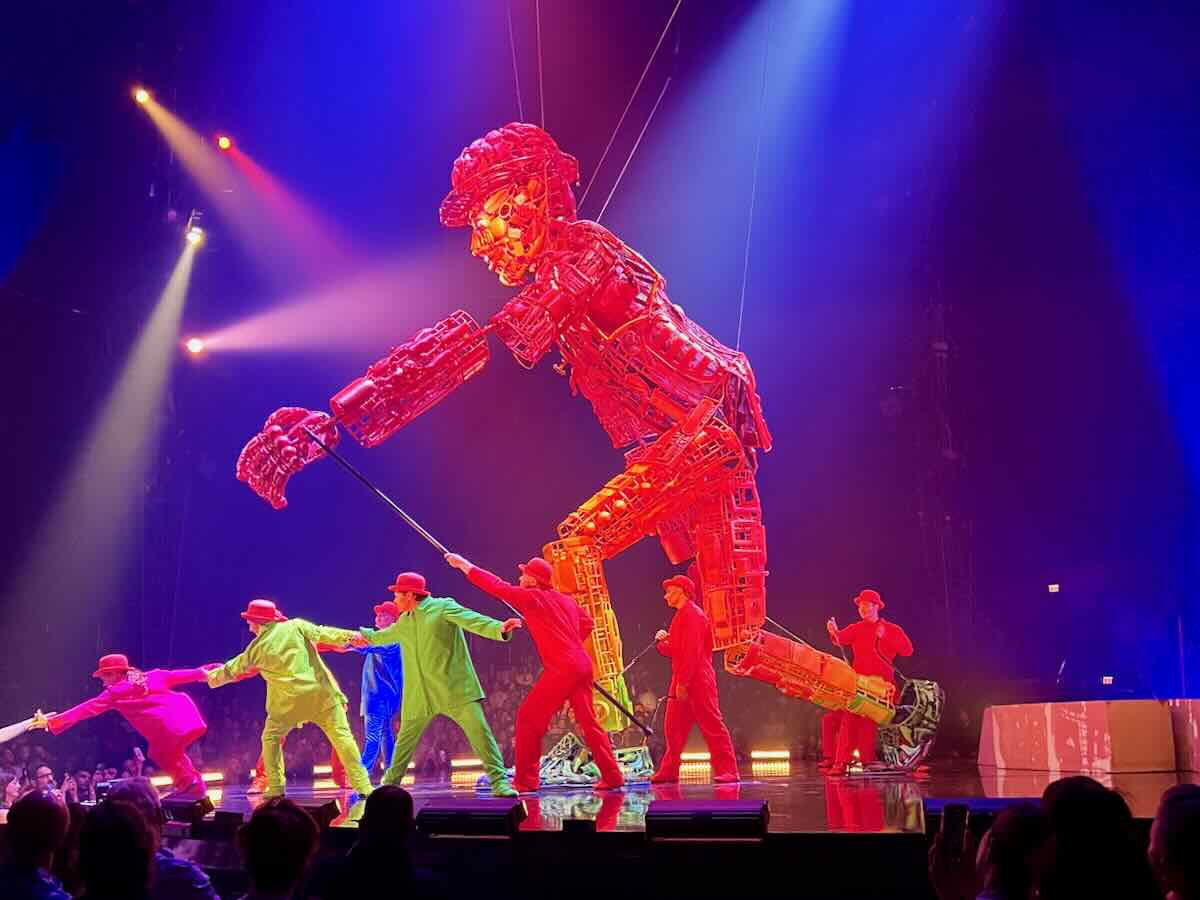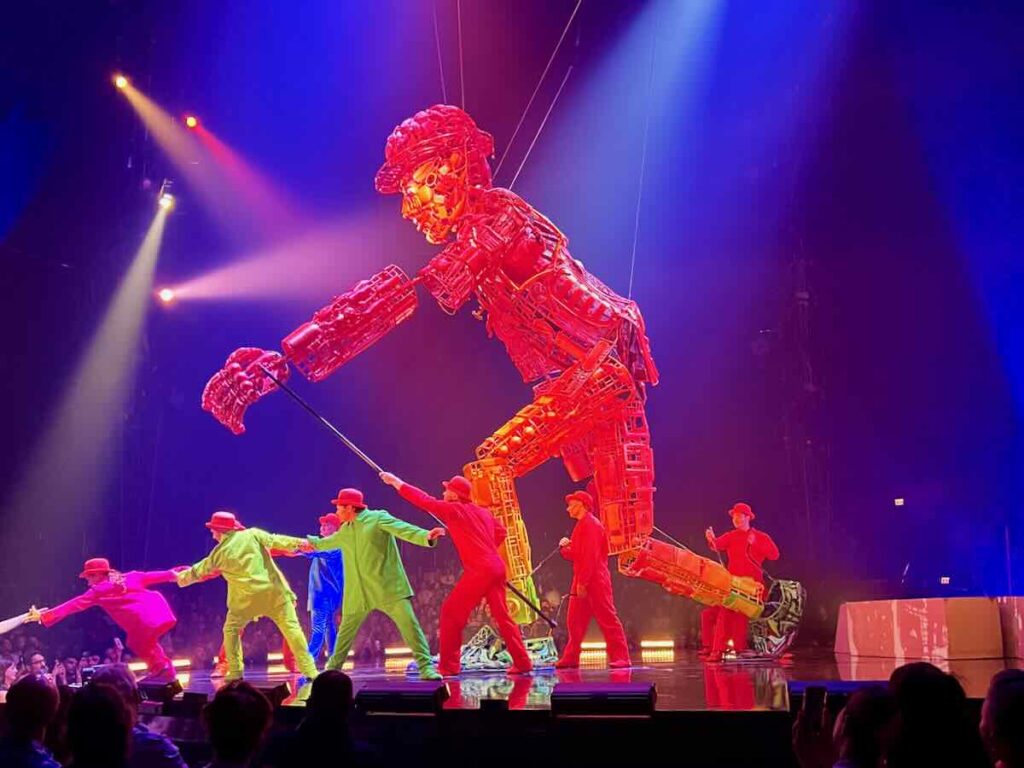 A group of acrobats take to the sky, spinning and flying on a collection of bright red poles. This is a great example of how movement and drama fill the stage area during a Cirque performance.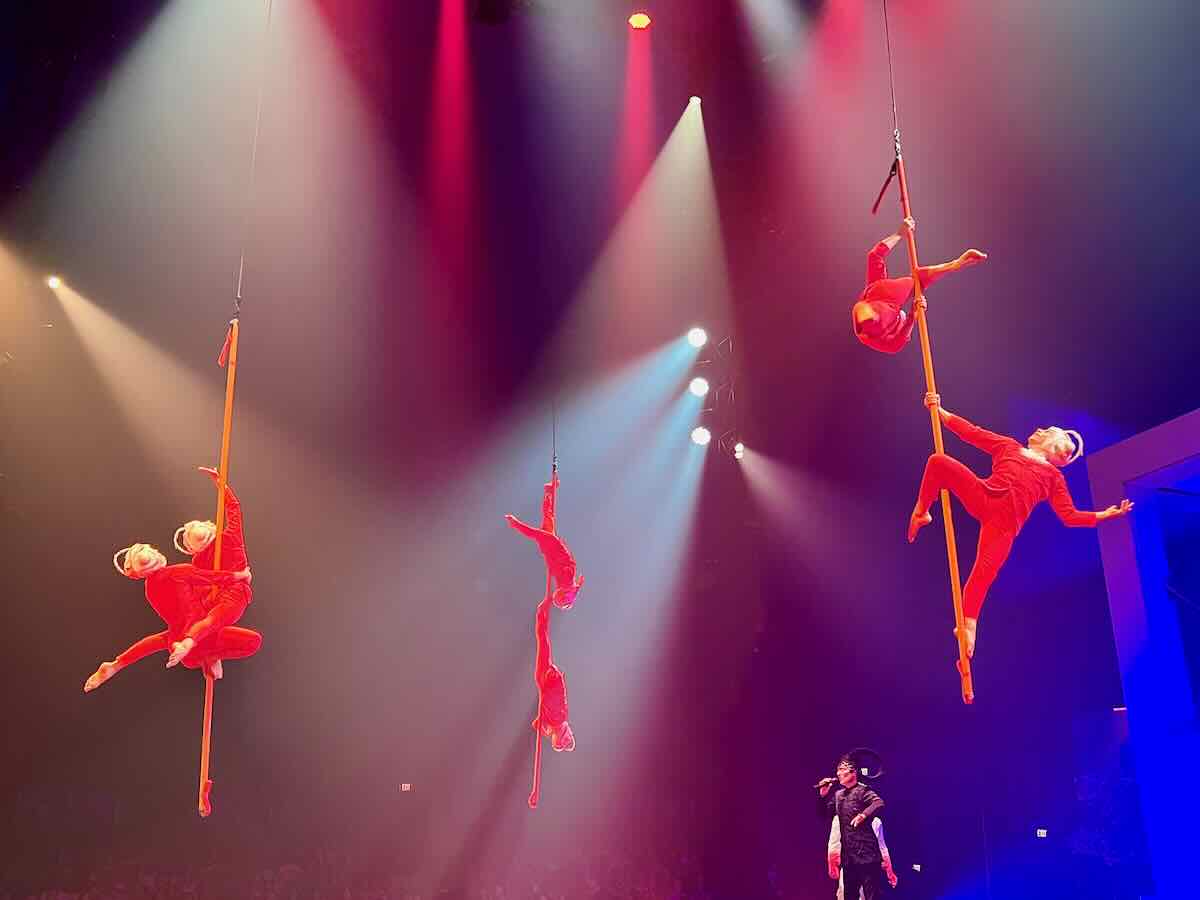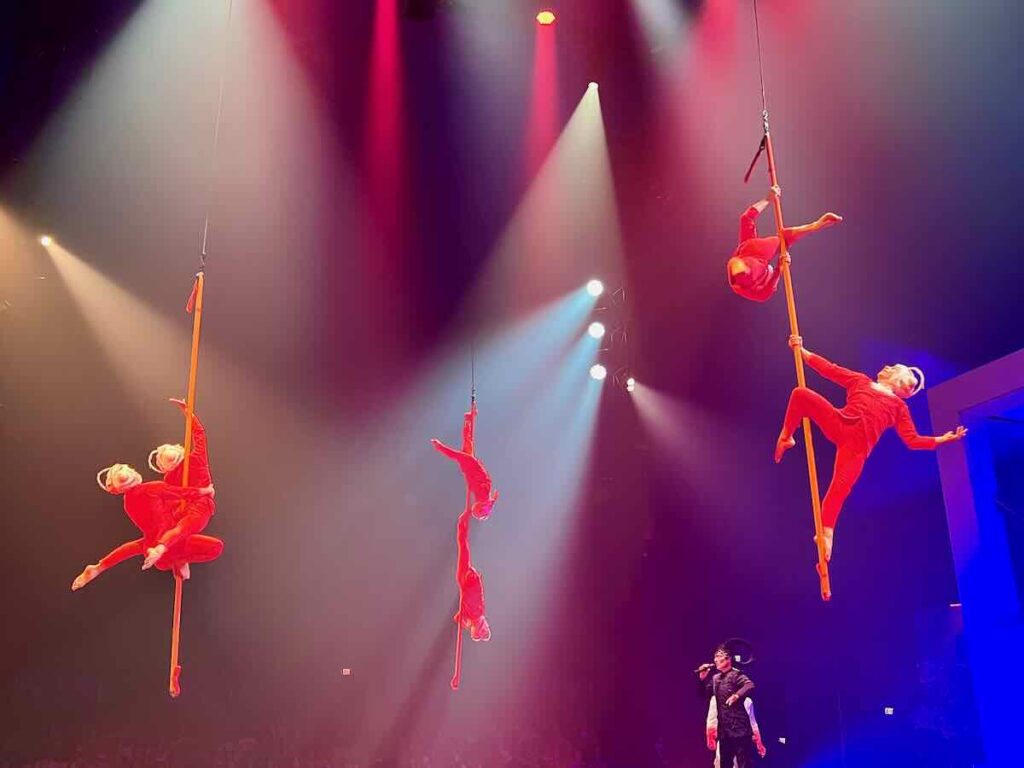 Echo is a family-friendly show that should keep both young children and teenagers spellbound. There are some loud sounds, bright lights, and moments of darkness that could be an issue for some.
Echo is a wonderful addition to Cirque du Soleil Tysons shows, particularly as it is a US Premier. We love the way Echo combines acrobatics, costuming, music, and impressive technology together to create a beautiful and mesmerizing show.
Seating Options at Cirque du Soleil Tysons
Cirque's Big Top at Lerner Town Square offers seating in the round in a relatively small space. That means every seating area has good site lines to the stage. Here is a look at the Cirque du Soleil Tysons seating chart: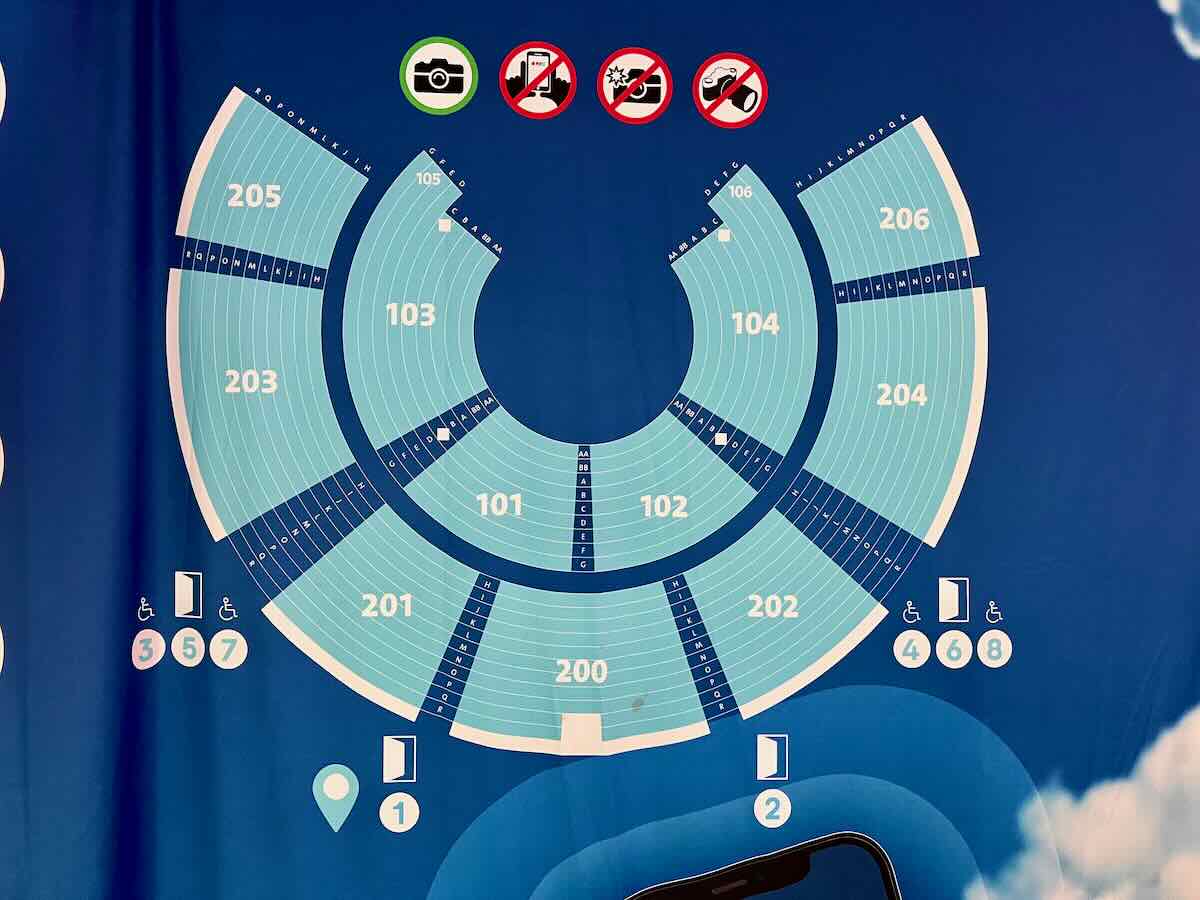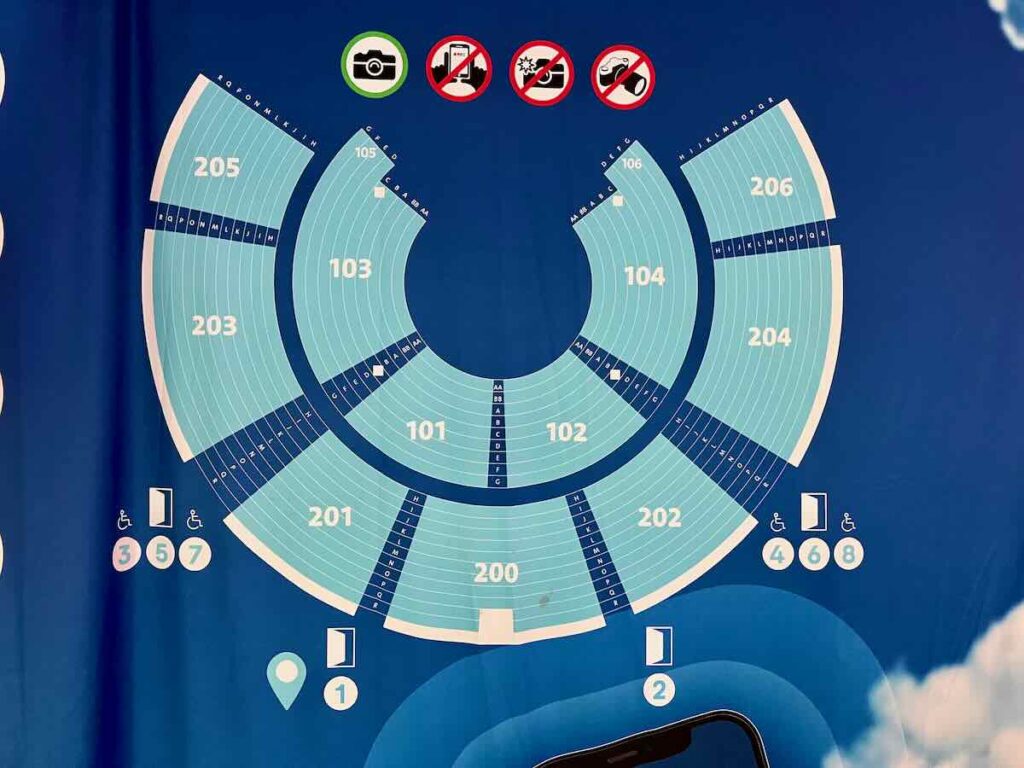 We recommend choosing the 100 sections closest to the stage if available (though they cost more). This gives you the clearest views of the extravagantly detailed costumes and makeup. We were treated to front-row seats at Cirque Kurios in 2022 and being so close to the action was truly amazing.
Seating areas 101 and 102 (the red seats below) have a front view of the stage and are considered VIP seating. But the views are also good further to the side.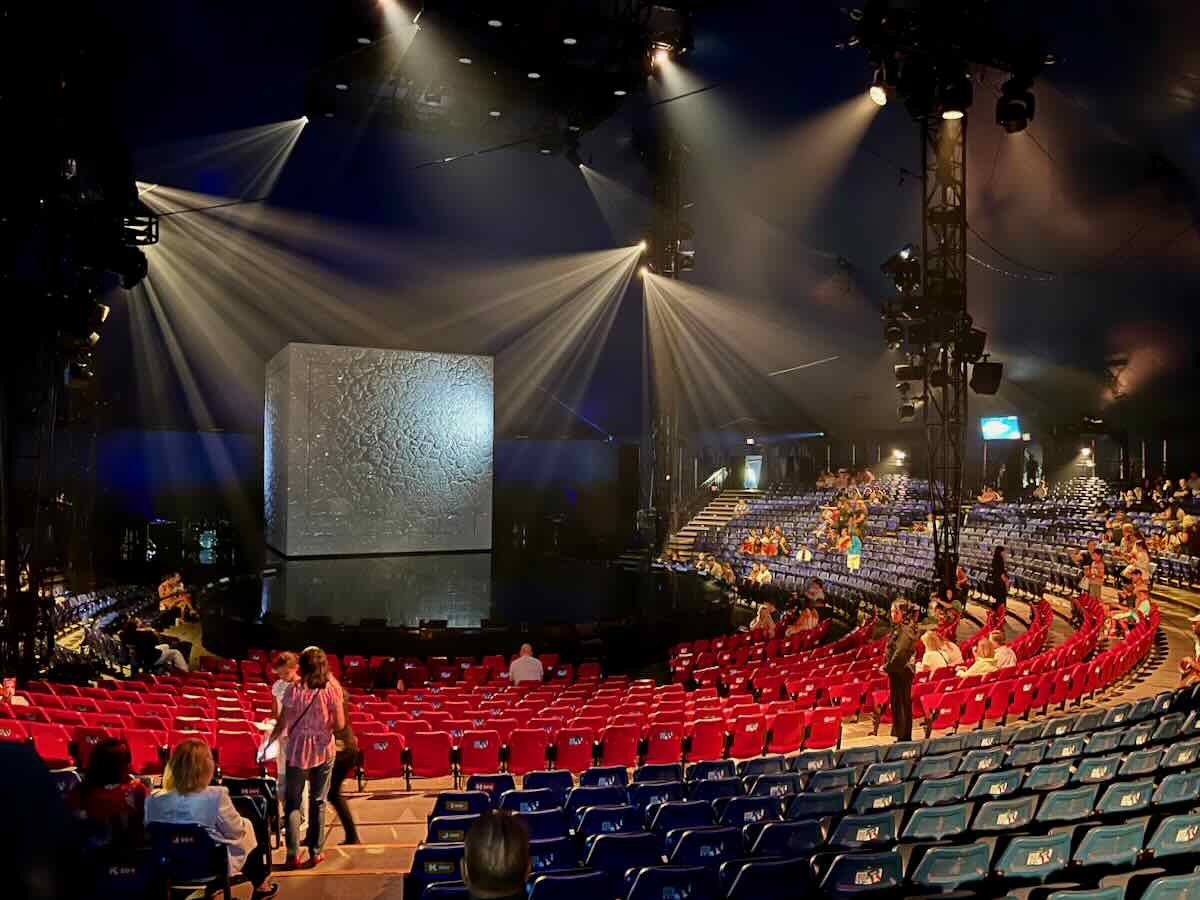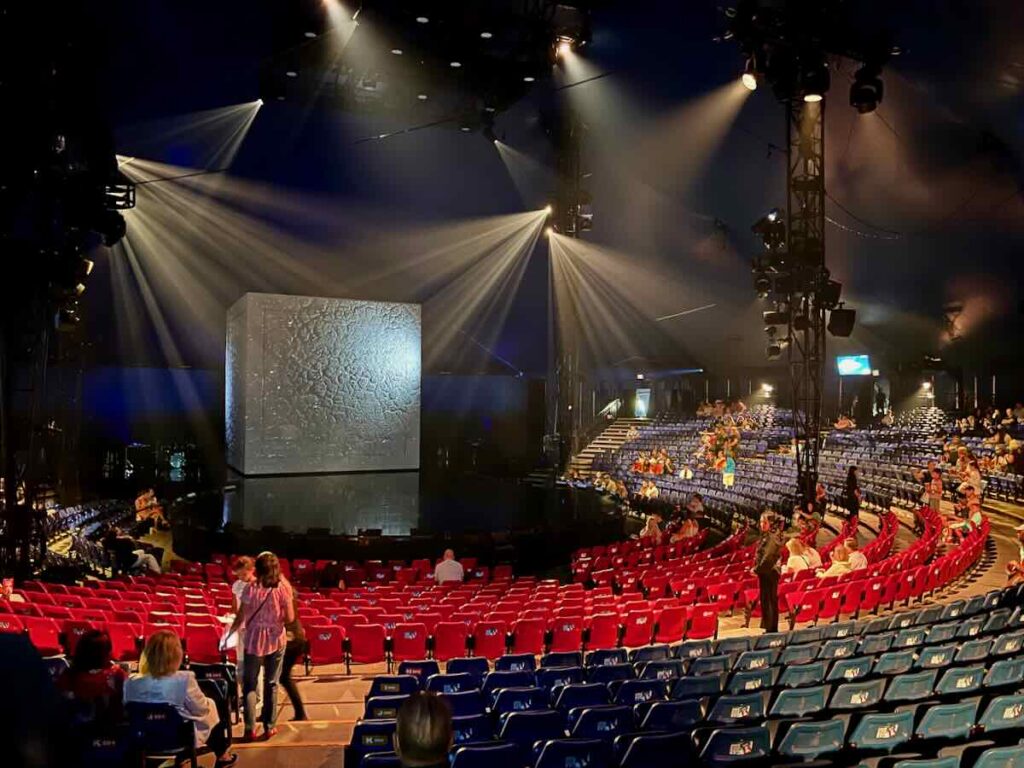 We've also watched shows from the upper side sections and the views were still great. The giant cube in Echo, which moves into and around the stage, is certainly easy to see from all angles.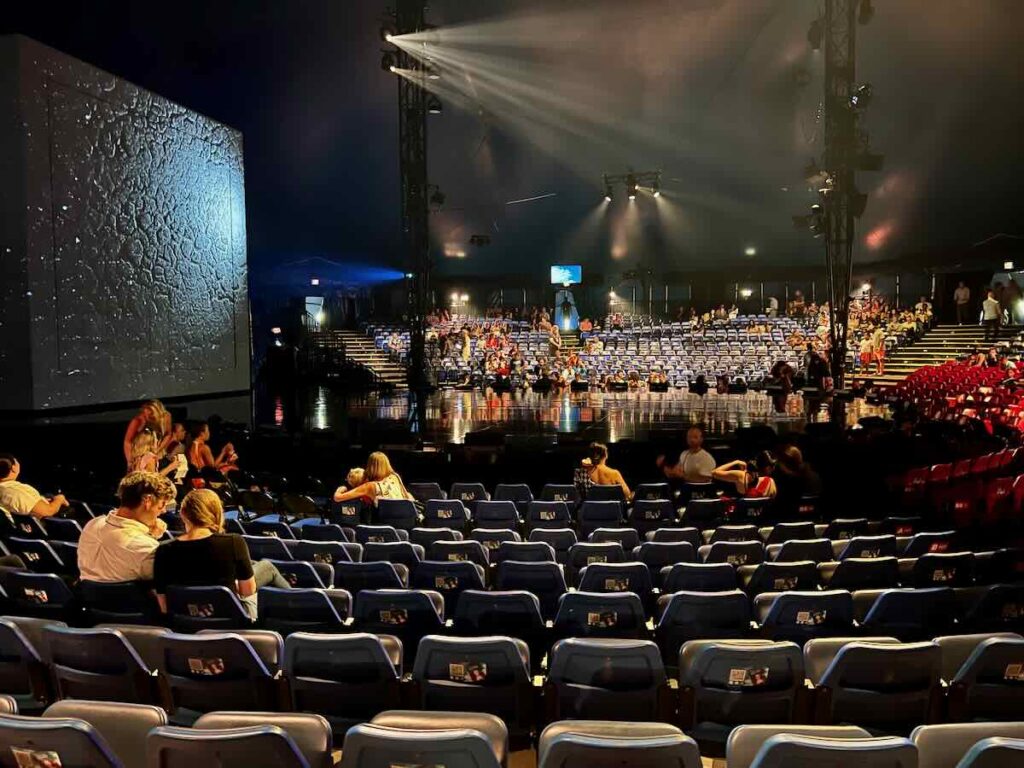 There are also wheelchair accessible seats which are easy to identify during ticket purchase. A few obstructed view seats are partially blocked by poles, and these seats are identified during ticket selection so they're easy to avoid (or choose for the discount price).
Cirque du Soleil Tysons Tickets
Cirque du Soleil Echo opens at Tysons Lerner Square on September 6, 2023 for its US Premier and runs through October 21. Evening shows are held Wednesday through Sunday and matinees are available Friday through Sunday.
There are several ticket options to choose from, and tickets are on sale now. General admission tickets start at $43 for some weekday performances but prices vary widely by time, date, and seat selection. If your schedule is flexible, it's worth checking multiple dates for the best seats and prices.
The VIP experience is available on weekends and tickets start at $295. The Cirque VIP experience includes premium seats, a private VIP tent with food and open bar, and other amenities.
Cirque du Soleil Tysons Parking and Transportation
Lerner Square is a conveniently located event space between the Tysons Galleria and Tysons Corner Plaza. The square has hosted the annual Cirque de Soleil shows, a Winter Lantern Festival, some fall festivals, and other events.
Official event parking is at 1750 and 1775 Tysons Boulevard. The parking price is a punishing $25 at the door but you can get a guaranteed spot and a $20 discounted rate online. Note that the entrance tends to have a backup as everyone arrives so allow extra time to park.
Alternatively, we suggest people arrive by metro. The Dulles Metro Tysons Corner stop, on the Silver Line, is right next to Lerner Square. It's a short walk from the metro station to the festival entrance.
You can also begin your night with a meal at Tysons Corner where parking is free and restaurants are plentiful. Walk through Tyson's Plaza to the metro stop then down to street level for access to Lerner Square.
Where to Stay Near Cirque du Soleil Tysons VA
Make it an extra-special night out when you book a night or two in Tysons VA. There are several convenient Tysons hotels nearby, and we highly recommend:
In addition to the malls, there are several nice urban plazas nearby where you can dine, shop, and play before the show. The Boro Tysons, Tysons Plaza, and The Perch at Capital One Center are all near the Cirque tent.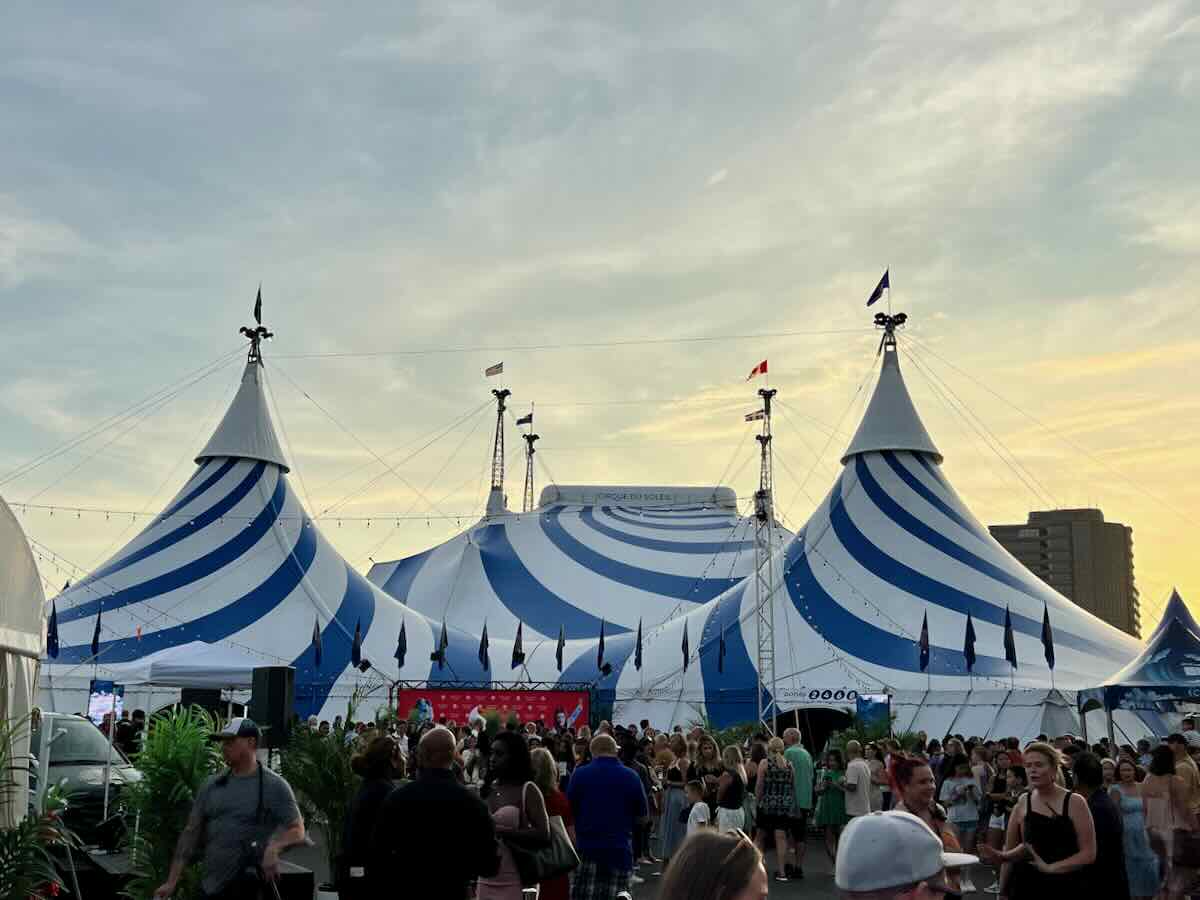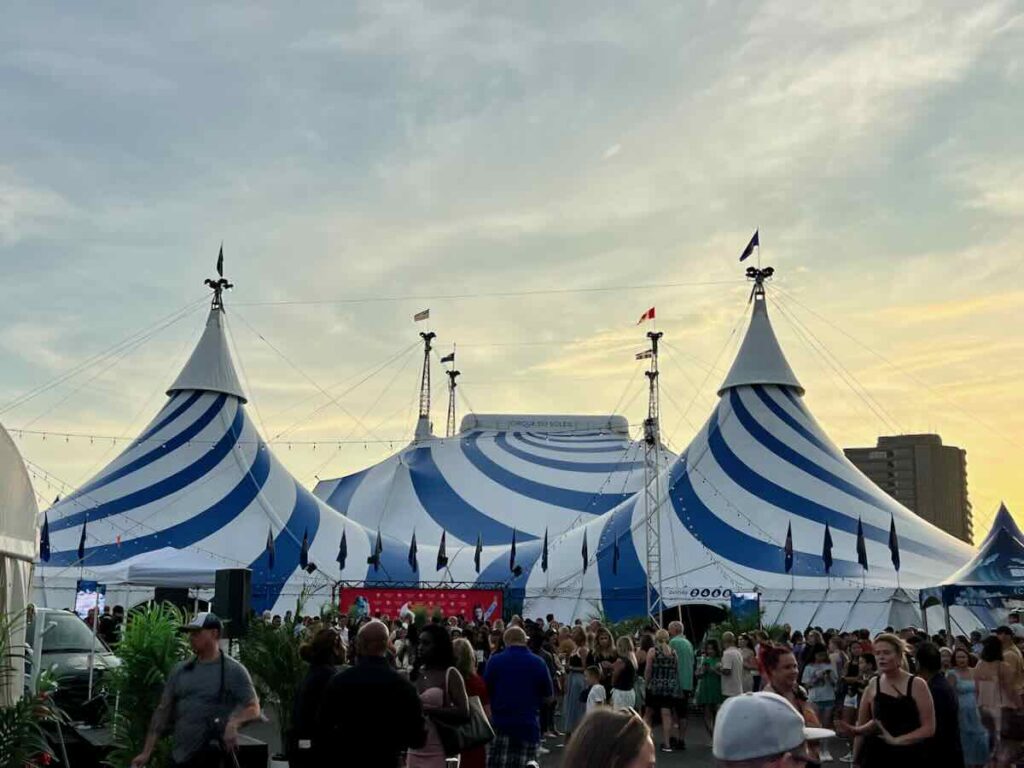 FAQ: Visiting Cirque du Soleil Tysons Virginia
Here is essential information and answers to frequently asked questions about the Cirque du Soleil Big Top in Tysons Virginia.
When is Cirque du Soleil Echo open?
Cirque du Soleil Echo is at Tysons Lerner Square from September 6 to October 21, 2023. Evening shows are from Wednesday to Sunday and matinees are from Friday to Sunday.
How much are tickets to Cirque du Soleil Echo?
General admission tickets to Echo start at $43 for some weekday performances but prices vary widely by time, date, and seat selection.
Where is Tysons Cirque du Soleil located?
The Cirque du Soleil shows are located at Lerner Town Square in Tysons Corner, 8025 Galleria Drive. The festival area is located between the Galleria and Tysons Corner malls.
Is parking available at Cirque du Soleil in Tysons?
Yes, there is dedicated parking for Lerner Square close to the festival entrance for $25 ($20 advance purchase). However, we recommend dining and shopping at either Tysons Galleria or Tysons Corner Center so you can use their free parking before or after you visit the festival.
Can I reach Cirque du Soleil Tysons by Metro?
Yes, the Dulles Metro Tysons Corner stop, on the Silver Line, is right next to Lerner Square. It is a short walk from the metro station to the festival entrance.
Is Cirque du Soleil good for kids? For adults?
Yes, Cirque shows are fun for all ages. The show's acrobatics and fantastical sets are sure to dazzle.
How long does Cirque du Soleil Echo last?
The Cirque du Soleil Echo show lasts a little over 2 hours. The show is 100 minutes and there is a 25 minute intermission.
Where can I find more information about Cirque du Soleil Echo?
Visit the Cirque Echo event website for more information and to purchase tickets.
Where can I stay near Cirque du Soleil in Tysons VA?
Is Cirque du Soleil in Tysons wheelchair accessible?
Yes, the Cirque du Soleil Big Top has wheelchair accessible seats and the Lerner Square lot is paved and level. Accessible event parking is across the street from the festival entrance.
Follow us on Facebook, Twitter, Pinterest, and Instagram for more fun travel in and from Northern Virginia.
Pin if for later: