Visit George C. Marshall's Dodona Manor in Leesburg Virginia for a fascinating look at the life and residence of "the greatest American of the 20th century." Dodona Manor was the home of General George C. Marshall, author of the Marshall Plan, from 1941 until his death in 1959.
Dodona Manor is located in the historic downtown so it is easy to combine your visit with other great things to do in Leesburg. In addition, several excellent Leesburg restaurants are within walking distance.
Unlike many historic homes, Dodona Manor fully captures the lifestyle of its famous occupants, George and Katherine Marshall. That's because over 90% of the furnishings and personal items in the renovated home belonged to the couple.
Disclosure: This article may contain affiliate links. We will make a small commission from these links if you order something, at no additional cost to you.
Docent-led tours give visitors an intimate look at how the Marshalls lived, relaxed, and entertained during their time in Leesburg. The Marshalls used their Leesburg house as an escape from the demands of government and Washington DC. The couple spent many happy times here, balancing George's critical role in world-changing events with a more normal daily life.
Beautiful gardens, lawns, and 29 varieties of trees surround the house. Even when home tours are closed, the grounds are open to visitors for picnics, relaxation, and play.
General George C. Marshall—the Greatest American of the 20th Century
Both Franklin Roosevelt and Winston Churchill called General George C. Marshall "the greatest American of the 20th century." During his 44-year military career, he served in both World Wars, rising from officer to Army Chief of Staff and director of the Allied victory in World War II.
But his greatest fame came after war's end when he created a blueprint for the reconstruction of post-war Europe known as the Marshall Plan. in 2022, Dodona Manor celebrates the 75th anniversary of the Marshall Plan, which the General introduced in a speech at Harvard University on June 5, 1947.
Marshall's post-war leadership continued when he served as Special Envoy to China, Secretary of State, President of the American Red Cross, and Secretary of Defense. In 1953, he was awarded the Nobel Peace Prize, one of the few military people to ever earn the award.
Dodona Manor History
The Marshall's purchased their 3.88-acre Leesburg home on May 5, 1941. General Marshall was away at war, so Katherine selected the property on her own. She found the pretty home, surrounded by beautiful trees and lawns, and made a quick decision to purchase.
In fact, Katherine offered the $10 she had in her pocket as a deposit on the spot. She even threw the For Sale sign out front into the bushes to prevent any competing bids. During tours, visitors see that original sign on the stairs at Dodona.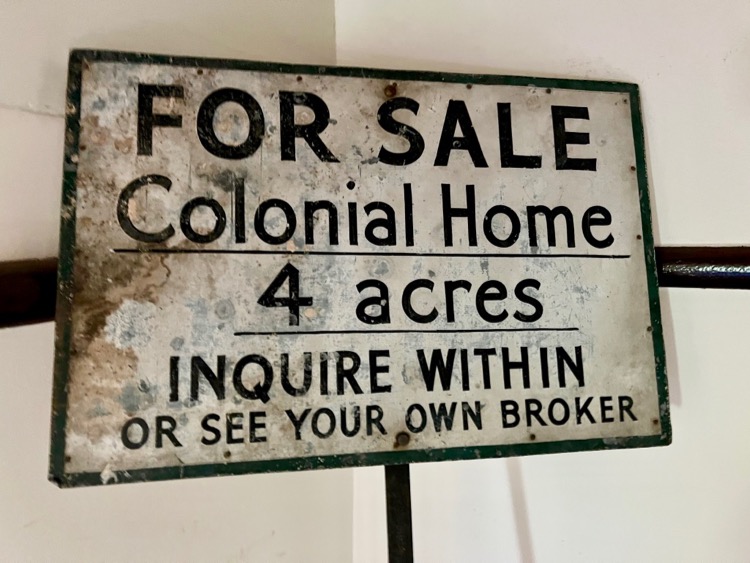 When General Marshall died in October 1959, Katherine deeded the property to her daughter, Molly Marshall, who lived there until the 1990s. The house was in disrepair and developers were interested in buying the property.
Fortunately, concerned citizens jumped in, determined to save the historic home. Their fundraising efforts were successful, and the George C. Marshall Preservation Fund purchased the house and property in February 1995.
The home was carefully restored, retaining the building's original 19th-century details and the comfortable furnishings of the Marshall's life in the 1940s and 50s. In 1996, Dodona Manor was added to the Register of National Historic Places. Today, docents share stories from the Marshall's time at Dodona surrounded by the couple's furnishings and personal items.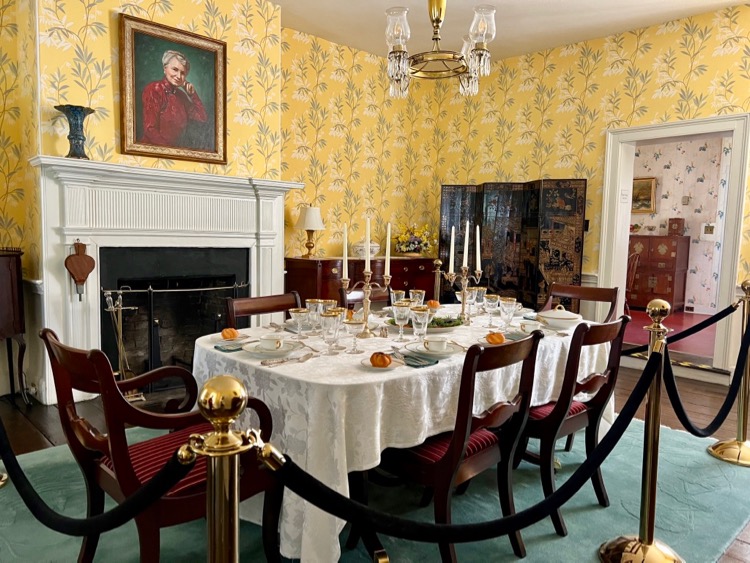 Visiting Dodona Manor Leesburg Virginia
Docent-led Interior Tours take visitors through all of the first and second-floor rooms in the Marshall's home. Docents are very knowledgable and the tours receive high ratings from visitors.
One of the highlights of Dodona Manor tours is that the home is still furnished as it was when the Marshalls lived there. Beautiful Chinese screens and art are present throughout the home, many of them acquired when George Marshall visited China with his first wife. Other items reflect the home's role as a relaxing refuge for the Marshalls.
Dodona Manor tours begin upstairs with a short video and an informative display that changes annually. During our visit, the display shared details of Katherine Marshall's life, but it will soon be updated to focus on the Marshall Plan.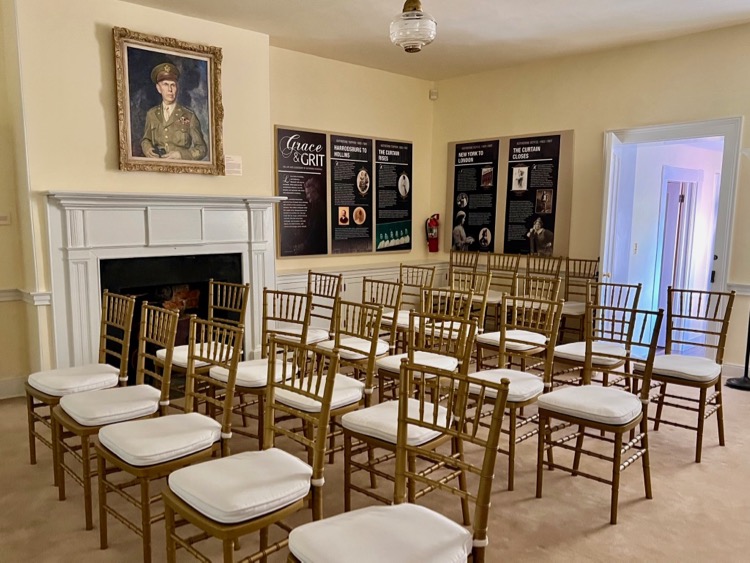 Upstairs highlights include:
The guest bedroom where Madame Chiang Kai Shek once stayed.
Katherine Marshall's comfortable bedroom, including personal items like the the tray she used to enjoy breakfast in bed.
General Marshall's more austere bedroom including his uniform and a closet filled with his clothing and shoes.
The modest connecting bathroom that the couple shared (notice the uniquely shaped tub!).
In the hall, 3 issues of Life Magazine feature George C. Marshall on the cover.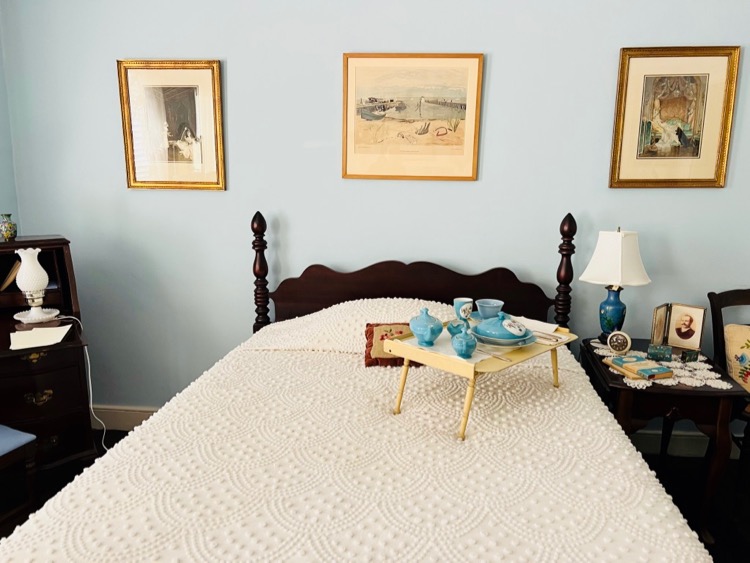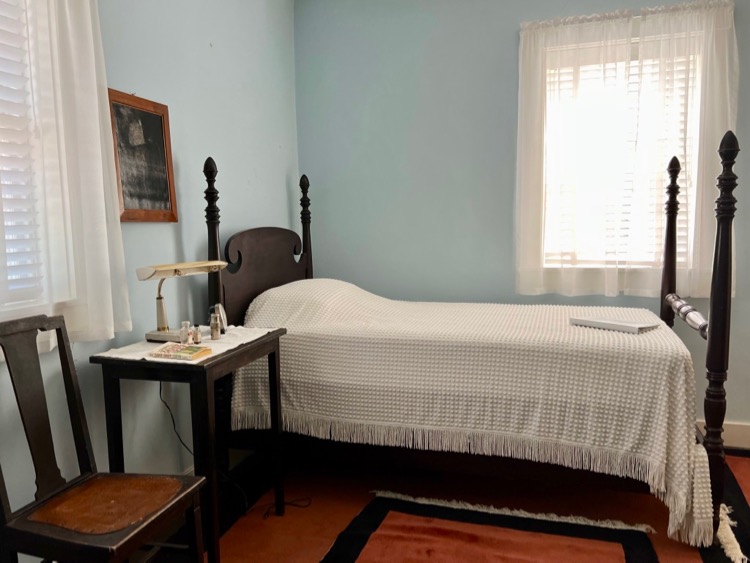 Tours of Dodona Manor continue downstairs, where you get a close-up look at the common rooms. Compared to many historic homes, the scale is modest and the decor is relaxed.
The Marshalls sometimes entertained important guests, including President Truman, but their home was primarily a private retreat. They did not have the constant stream of famous visitors endured by George Washington at Mount Vernon.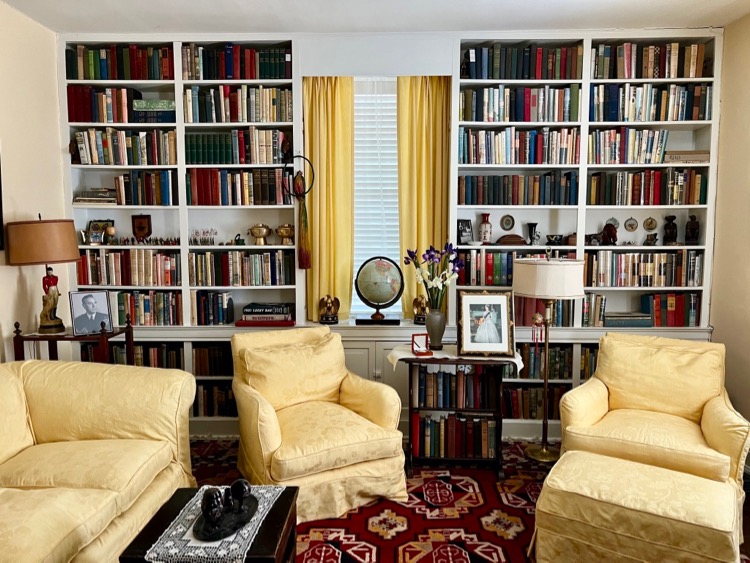 Downstairs highlights include:
A comfortable living room and the leather chair where General Marshall relaxed by the radio.
The small room that served as George's office and Katherine's makeup area.
A formal living room and dining room featuring portraits of George and Katherine.
The wonderfully preserved kitchen filled with period 50s details.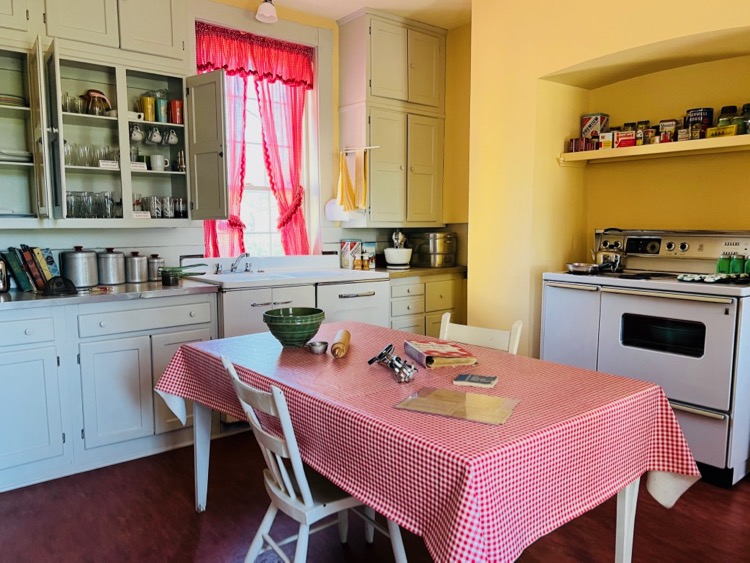 Gardens and Grounds at Dodona Manor
The grounds surrounding Dodona Manor were one of the things that attracted Katherine to the property. The Garden Club of Virginia undertook the restoration of the grounds and gardens, and they are an important part of the Marshall House tours.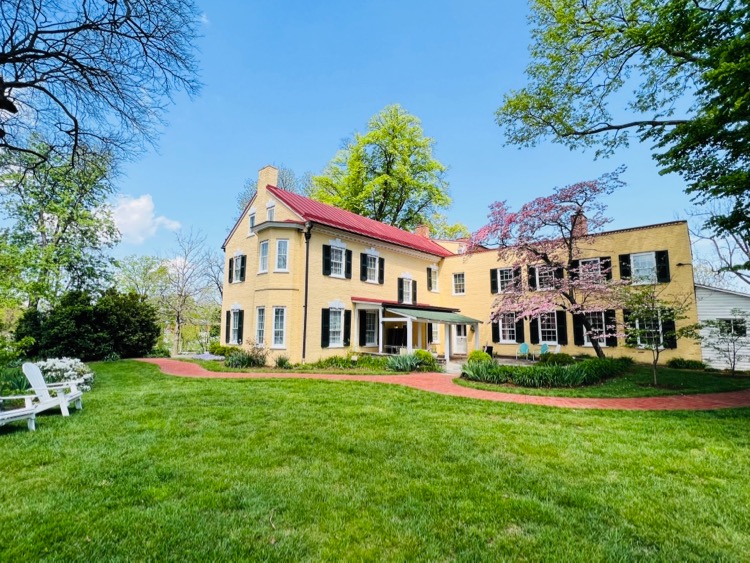 Today, the property features beautiful lawns dotted with an impressive variety of trees. Two gardens reflect the home's illustrious owners:
the vegetable garden was George Marshall's passion
the rose garden features varieties chosen by Katherine Marshall
Both Katherine and George Marshall were avid gardeners. In fact, George astonished adults at the Peter Henderson seed company as a young man when he grew a massive tomato for a contest. He didn't win, but the judges were so impressed they called to confirm the entry was truly grown by a 12-year-old.
Today, the Marshall Garden grows 90% of the same plants that George once grew here. While smaller than the original, tomatoes, corn, greens, and more still fill the garden. Happily, that bounty is donated to Loudoun Hunger Relief to feed local families in need.
Special Events at Dodona Manor
Dodona Manor hosts special events every year on the 4th of July and Veterans Day. The July 4th celebration follows the Leesburg parade and highlights Truman's visit to the home. Refreshments, including free ice cream, are served.
The annual Veteran's Day ceremony begins at 10:30 and features presentations, local veterans-focused local nonprofits, and a vintage military vehicle display.
On June 5, 2022, there will be a special celebration to mark the 75th anniversary of the Marshall Plan. Find more events on the George C. Marshall website.
During the holiday season in Leesburg, Dodona Manor hosts the Marshall Plan Tree Walk featuring 17 decorated Christmas trees, one for each country that benefited from the Marshall Plan. The Christmas trees at Dodona are open from the first Saturday in December until January. The holiday lights Tree Walk is free and open to the public.
George C. Marshall's Dodona Manor Essentials
Here is essential information to help you plan your visit to George C. Marshall's Dodona Manor:
Dodona Manor is located 312 East Market Street, Leesburg Virginia, at the eastern end of the historic district.
Docent-led tours are $15 for adults, $12 for seniors, $5 for students, and free for children under 10. Active duty military and their families are free.
Regular tour hours are Friday and Sunday 11:00 – 2:00; Saturday 10:00 – 3:30. Private tours are available during the week (call 703-777-1301).
Book tour tickets and learn more about the property on the George C. Marshall International Center website.
There is free parking for Dodona Manor in the Marshall House shopping center. Look for the marked spaces next to Loudoun Brewing Company.
See two interesting videos on the Dodona Manor website, including a tour of the property's beautiful trees.
Leashed dogs are allowed on the grounds but only service dogs are allowed inside.
The grounds at Dodona Manor are open for picnics, relaxation, and play.
Whether you join a docent-led tour or not (and you should!), be sure to allow time to stroll the Dodona Manor grounds.
Plan a Leesburg Getaway
Leesburg is a fun and interesting place with a walkable historic downtown. The surrounding countryside is full of scenic roads, beautiful wineries, quaint towns, and pretty parks. Plan a longer visit with our guide: Leesburg Getaway in Northern Virginia Wine Country.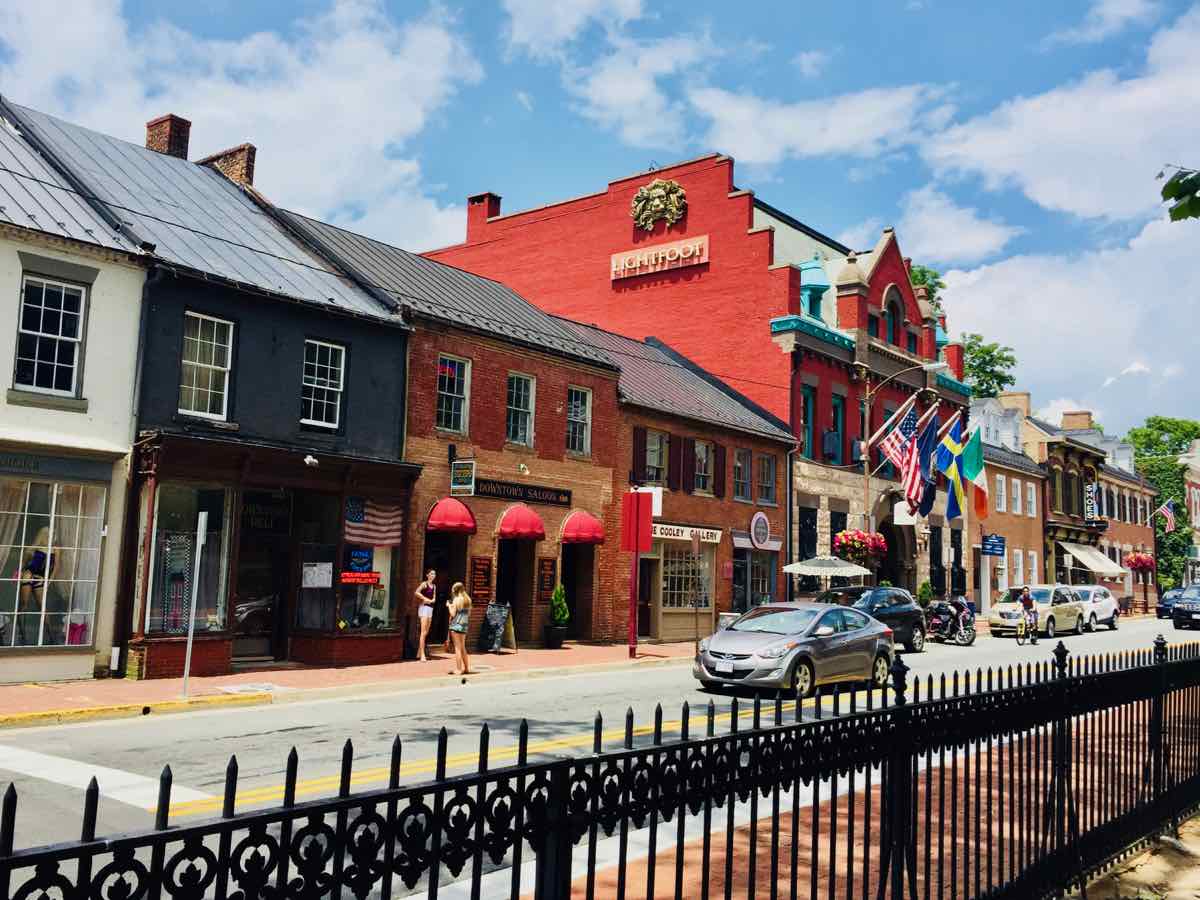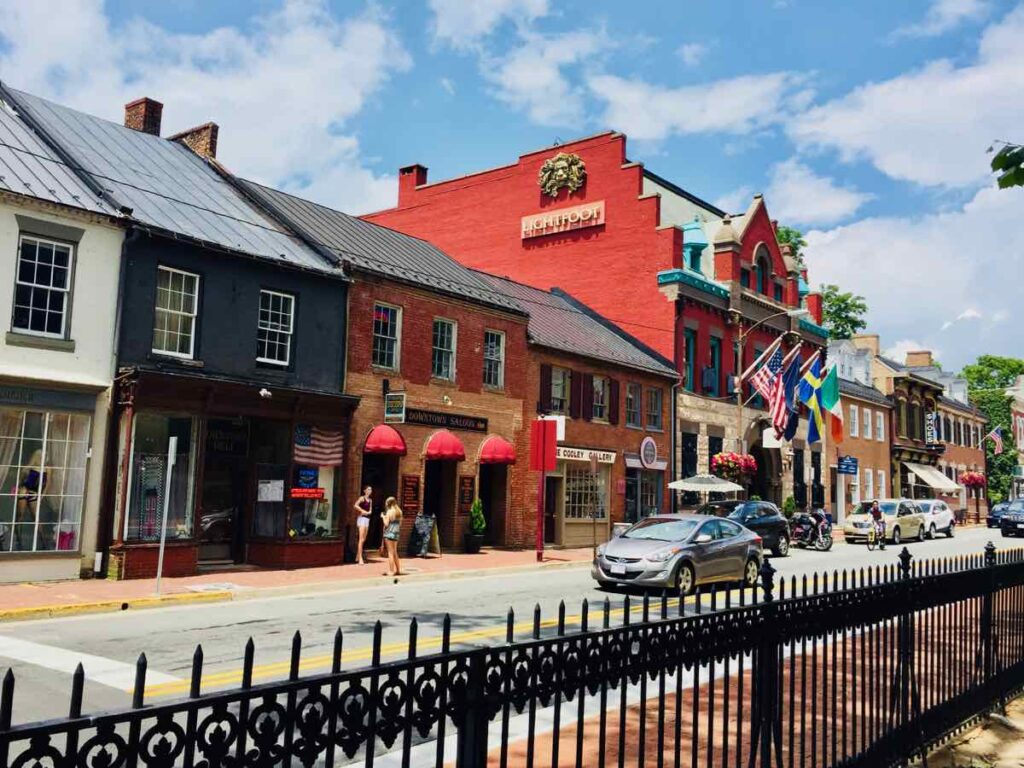 Where to Stay Near Dodona Manor
Lansdowne Resort is our pick for the best place to stay near Dodona Manor. Guests enjoy comfortable rooms and nice amenities including a spa and golf course.
Prefer home-style lodging? Find more places to stay near Leesburg in 17 Fantastic Northern VA Wine Country Vacation Rentals and Airbnbs. And check out 17 Amazing Northern Virginia Airbnb and Vacation Rentals for more great lodging near DC.
Restaurants Near Dodona Manor
There are many excellent restaurants in historic Leesburg and several of them are within walking distance of Dodona Manor. Here are four of our top picks for places to eat near Dodona:
Find more local restaurant information and options in our guide to 10 Tasty Leesburg Restaurants to Eat and Drink Local in Virginia.
Things to Do Near Dodona Manor
Here are a few interesting places to visit and fun things to do near Dodona Manor. Find more information and activities in our complete guide to Things to Do in Leesburg VA:
Whether you visit Leesburg for a few hours or a longer stay, include a tour of Dodona Manor to learn about one of America's greatest leaders.
Follow us on Facebook, Twitter, Pinterest, and Instagram for more fun travel in and from Northern Virginia.