April events in Northern Virginia normally include a bevy of spring festivals, Easter egg hunts, volunteer opportunities, art fests, car shows, and fun for every age and interest. Whether you're volunteering at your favorite park, communing with nature, or enjoying cakes, flowers, art, antique cars, horses, music, art, and more you'll find an April event below.
Almost all of the annual April events in Northern Virginia on our list were canceled in 2020. While some events are also canceled in 2021, others are on with restrictions or virtual happenings.
Events are listed in order of start date with multi-day events listed first. Always follow the link for registration details, cancelations, and other updates.
Annual April Events in Northern Virginia
Cherry Blossom Season, DC Maryland & Virginia, Mar 20 – Apr 21
The 2021 Washington DC Cherry Blossom Festival includes a mix of virtual and in-person events. New in 2021, residents can register to join the Petal Porch Parade and decorate their porch so everyone for everyone to see. Check the Petal Porch map to find decorations near you.
Our complete guide, Where to See Cherry Blossoms in DC, Maryland, and Virginia includes the best cherry tree blossom locations, plus tracking sites, and more.
Easter Egg Hunts, Multiple Locations, Mar 27 – Apr 4
There are fewer Easter egg hunts than normal but the little ones can still have fun searching for eggs. Follow the link for egg hunting details and be sure to make reservations early. Many of these popular events have limited capacity and they sell out every year.
Head to Mosaic District for one of the first 2021 drive-in movies in Northern VA. Advanced tickets are required for these showings of family-friendly movies. And the Easter bunny will make a special appearance at two Sunday afternoon shows. $28 per vehicle.
Enjoy a morning of fishing at Ashby Pond Conservatory, which will be stocked with hundreds of trout. Bring a fishing rod, bucket, plastic bag, and ice; bait will be supplied. Volunteers will offer instruction, pond education, and fish cleaning demonstrations. Three sessions at 9:30, 10:15, and 11:00, $5 registration required.
Sunrise in the Garden, Meadowlark Botanical Garden, Apr 3, 10, 17, 24
Enjoy special early morning hours at Meadowlark Botanical Gardens as they burst with spring blooms. Regular admission and membership pass fees apply. Every Saturday in April from 7:00 – 10:00.
Virginia Bluebell Season
Just as the Yoshino cherry blossoms fade, Northern Virginia locals are treated to an explosion of Virginia bluebells at area parks and trails. These spring ephemerals usually emerge in early to mid-April near streams and they don't last long. See bluebells in bloom with our guides: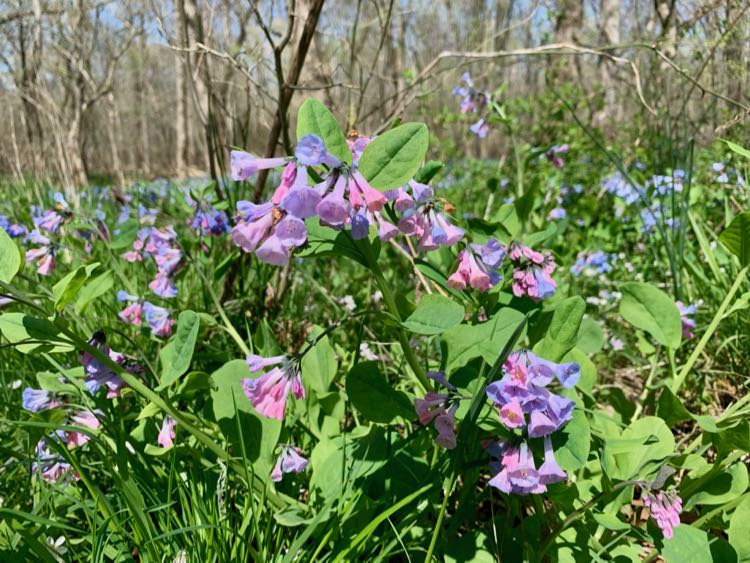 While the annual Bluebells at the Bend festival is canceled, you can still welcome spring's arrival and witness one of the most beautiful naturally occurring events in the area. In early April, Riverbend Park abundant native Virginia bluebells blanket the forest floor with a gorgeous layer of light blue.
Normally, the event features wagon rides, wildflower walks, musical entertainment, and more. This year, head out on your own or join one of the park's guided wildflower walks. it's a perfect outdoor activity for families.
Explore the trails at Riverbend on a hike by the river or through the woods. On April 10 and 11 you can purchase native bluebell plants on the steps of the Visitor Center.
Join local parks and towns and The Nature Conservancy to clean up our Potomac watershed. Meet fellow volunteers to help remove tires, plastic bottles, cans, and other debris from local waterways. Your efforts will stop trash from reaching the nation's largest estuary, the Chesapeake Bay. Many clean-up events are held throughout the watershed region in April. Check this map to find clean-up events near you.
Kick-off the season at a Cherry Blossom-themed Community Market and workshops at the Workhouse Arts Center. Browse art inspired by the cherry blossoms at all of the Workhouse galleries and workshops, including origami making, haiku contests, and Japanese drumming. Free, 10:00 – 2:00.
Celebrate the anniversary of Reston's founding with a fun day of virtual activities to honor Reston and the town's founder, Robert E. Simon. Watch the Founder's Day playlist on YouTube, visit Reston's many public art installations, and share a video of your outing.
Park Day is an annual hands-on preservation event to help Civil and Revolutionary War battlefields and historic sites with maintenance projects large and small. At Bristoe Station Battlefield in Bristow volunteers will assist with trail maintenance, fence construction, and more. Northern VA sites like Manassas National Battlefield and Balls Bluff often host volunteer events but have not added any to the map at time of publication. Follow the link and click Volunteer to find Virginia and DC region events.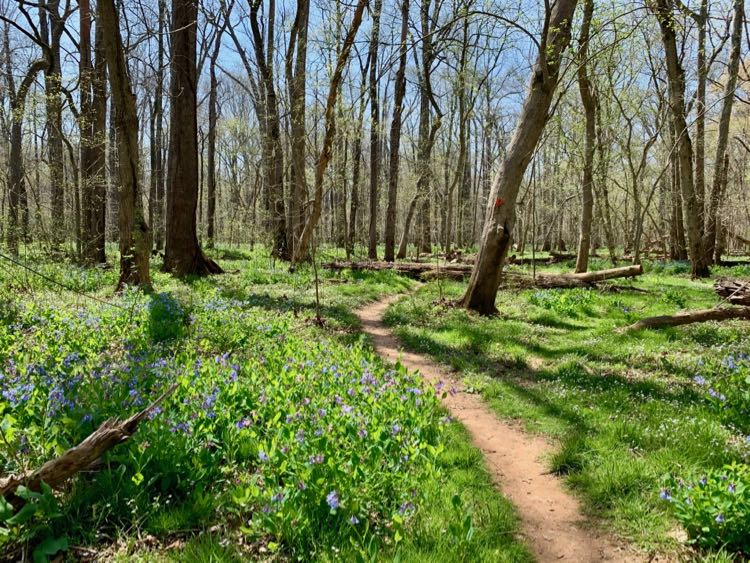 There is no Bluebell Festival in 2021 but you can visit the bluebells on your own.
Welcome spring and see the spectacular display of Virginia Bluebells at Merrimac Farm in Nokesville, Virginia. Naturalists will be on hand at the Stone House Visitor Center with self-guided tour maps and a kids nature bingo card so your family can enjoy an easy walk through the floodplain. Free.
Festival of Spring, Burnside Farms, Nokesville, Apr 14 – ?
Holland comes to Virginia when Northern Virginia's Burnside Farms hosts one of the largest pick-your-own flower events in North America. Guests can stroll through nearly eight acres of spring flowers, including masses of tulips, and pick their own blossoms. The festival begins around mid-April when nearly one million spring flowers begin to bloom and usually lasts 25-30 days depending on spring weather. Tickets are limited and must be purchased online.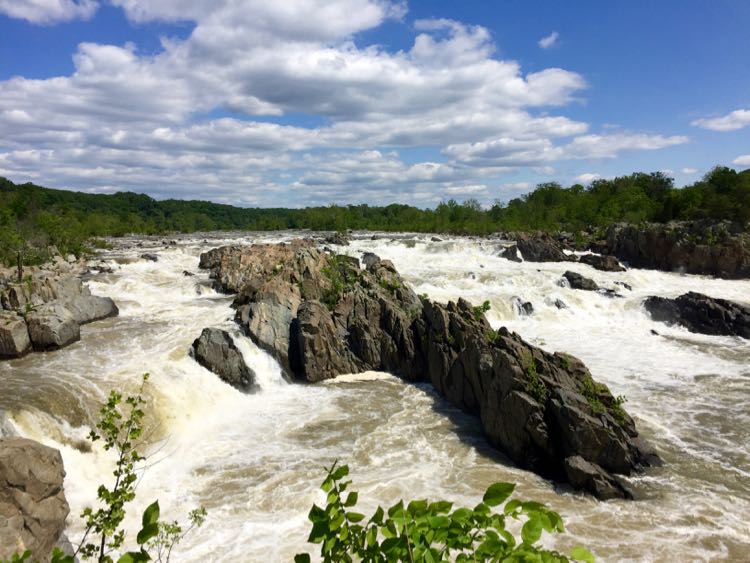 The National Park Services partners with the National Park Foundation, the official charity of America's national parks, to present National Park Week. This week-long event celebrates our national heritage and parklands.
National Park Week kicks off with a fee-free entrance day at all parks plus special programs. On April 18, pitch in with a project on Volunteers in Parks Day and help out at a park. There are more event themes every day of the week, including Earth Day celebrations on April 22.
Check out Places to Celebrate National Park Week in Northern Virginia for tips on where to find a national park in the Northern Virginia area.
The 88th Annual Alexandria Historic Homes & Garden Tour features garden installations and a plant sale at three designated tour hubs which anchor a trail of gorgeously decorated flower boxes, doors and gates. Tickets for the self-guided tour include admission to George Washington's Mount Vernon. Tours run from 10:00 to 4:00, and $25 tickets must be purchased in advance. Purchase tickets online.
The 54th annual Loudoun Hunt Point to Point Races will have limited attendance and there is no general admission this year. The event features some of the most challenging timber and hurdle courses in Virginia and is a thrill to watch. Doors open at 10:30 am and races begin at noon. Follow the link for tickets and event schedule.
Winchester is full of spring fun at the 94th annual Apple Blossom Festival. 2021 festival events include golf and tennis tournaments, a family festival, and more. Tickets are required and space is limited so follow the link for details. Extend your fun with an overnight getaway to Winchester VA.
Purchase the same historic plants grown at George Washington's Mount Vernon for your own garden. The sale is in the overflow parking lot, so you don't have to pay admission or enter the property. But we highly recommend it! Spring is a wonderful time to see Mount Vernon's garden in bloom. Free; 9:00 – 3:00.
Animal lovers of all ages can visit and learn about the lambs, oxen, horses, and hogs at George Washington's Mount Vernon. Special animal meet-and-greet sessions are included with regular admission.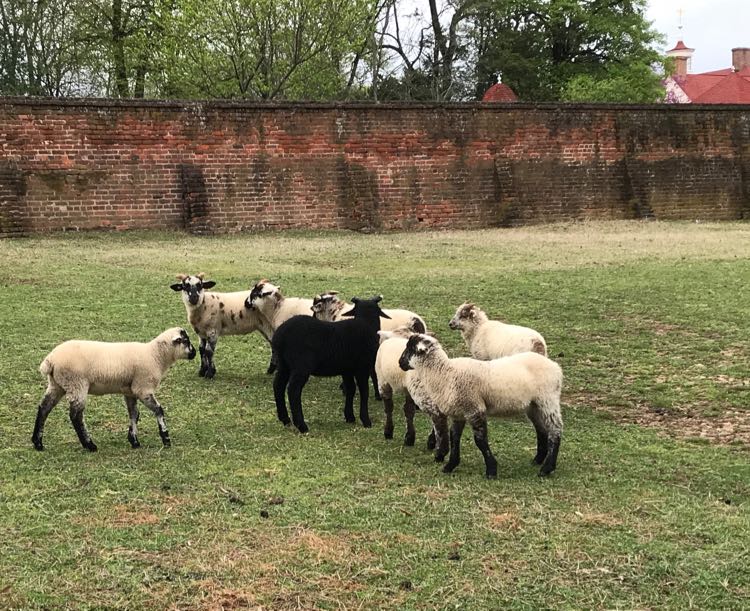 Earth Day Celebration, Reston, Apr 24
Celebrate Earth Day with fun outdoor activities on the plaza at the Hunter Woods Reston Community Center. Make your own playdough, start an herb garden, and join in other kid-friendly activities. Register here for one of two hour-long sessions. Residents can also join in an Earth Day scavenger hunt from Apr 2 – 24 using this list of nature-themed items to find.
A neighborhood event for more than 20 years, the ValeArts Spring Show will go online in 2021. More info TBA.
More Northern Virginia Spring Activities
We love to celebrate the return of spring to Northern Virginia. April is a beautiful month for wildflower hikes, garden visits, and other outdoor activities. Plan a whole month of fun spring outings with these related articles:
April is also a great time for a weekend getaway close to home. Our getaway guides are full of fantastic places to stay and play in Northern VA.
Plan a local getaway! Find beautiful and unique places to stay in and near Northern Virginia with our guides:
Northern Virginia April Events Canceled in 2021
Historic Blenheim Estate hosts an action-packed day of living history spanning the 19th century. Period music, living history encampments and demonstrations, hayrides, tours of the Historic Blenheim House, and more.Admission of $5/$3 adult/youth benefit the restoration of Historic Blenheim; 10:00 – 5:00.
The annual Taste of Vienna includes samples of delicious dishes from Vienna area restaurants plus free entertainment. The free event (tastings and drinks available for purchase) benefits the Vienna Volunteer Fire Department and includes kid-friendly activities. 11:00 – 8:00.
Britain on the Green, Gunston Hall, Canceled
The Annual Car Show, sponsored by the Capital Triumph Register, returns to Gunston Hall every April. Enjoy the driving season with a picnic, a day of British automobiles, and a complimentary tour of the historic house and grounds. British cars in 25 categories include Triumphs and MGs joined by Austin Healeys, Jaguars, Rolls and Bentleys, Minis, Lotuses, Land Rovers, and cars you've probably never seen before, such as Jensen, Riley, and Wolseley. Admission is $10/5 Adults/6-18, 9:30 – 3:00.
The annual Purcellville festival features multiple outdoor stages with local entertainment, food, wines, beers, and local farm products. Several artisan and food vendors will be onsite. In addition, local organizations will provide fun activities and demonstrations for all ages. Free; 10:00 – 7:00.
Plan your visit: 8 Great Things to Do in Purcellville Virginia
Visit Gunston Hall for a Kite Festival and old-time fun. Fly a kite in the pastures, write with a quill pen, play 18th-century games, climb on a modern fire truck, and purchase colorful kites. $10/8 adults/under 18, 10:00 – 4:00.
Shuckapalooza, Christchurch and Other Locations, Canceled
Virginia's River Realm is an oyster lovers paradise. At Shuckapalooza, get your oyster on at the epicenter of the bivalve's resurgence. Whether it is ecology, history, or pairings with wine and craft beer; Shuckapalooza is your back stage pass. Join in on seven exclusive bucket-list-worthy experiences, rarely offered to the public.
Check back later in April for our updated guide to May Events in Northern VA. Until then we wish you a very happy spring.
Follow us on Facebook, Twitter, Pinterest, and Instagram for more fun travel in and from Northern Virginia.