March events in Northern Virginia include St. Patrick's Day festivities, Pi Day fun, cherry blossom season, early Easter egg hunts, and more spring fun. Our 2023 March events list also includes ongoing ways to enjoy the return of spring to our beautiful region.
2023 March Events in Northern Virginia
Fortunately, most of the popular annual March events are back again in 2023. Listings are updated below as we learn of new additions and plans for this year.
Events are listed below in order of start date, with multi-day events listed first. Our list includes annual festivals and 2023 March events in Fairfax County, Loudoun County, Prince William County, Arlington, Alexandria, and nearby areas. Check for updates before you head out; some of these events will cancel if weather conditions are poor.
Disclosure: This article may contain affiliate links. We will make a small commission from these links if you order something, at no additional cost to you.
The new NOVA Wild Reston Zoo (formerly Roer's Zoofari) celebrates its grand opening with a temporary light show called The Great Migration. Light sculptures highlight animal migrations throughout the world.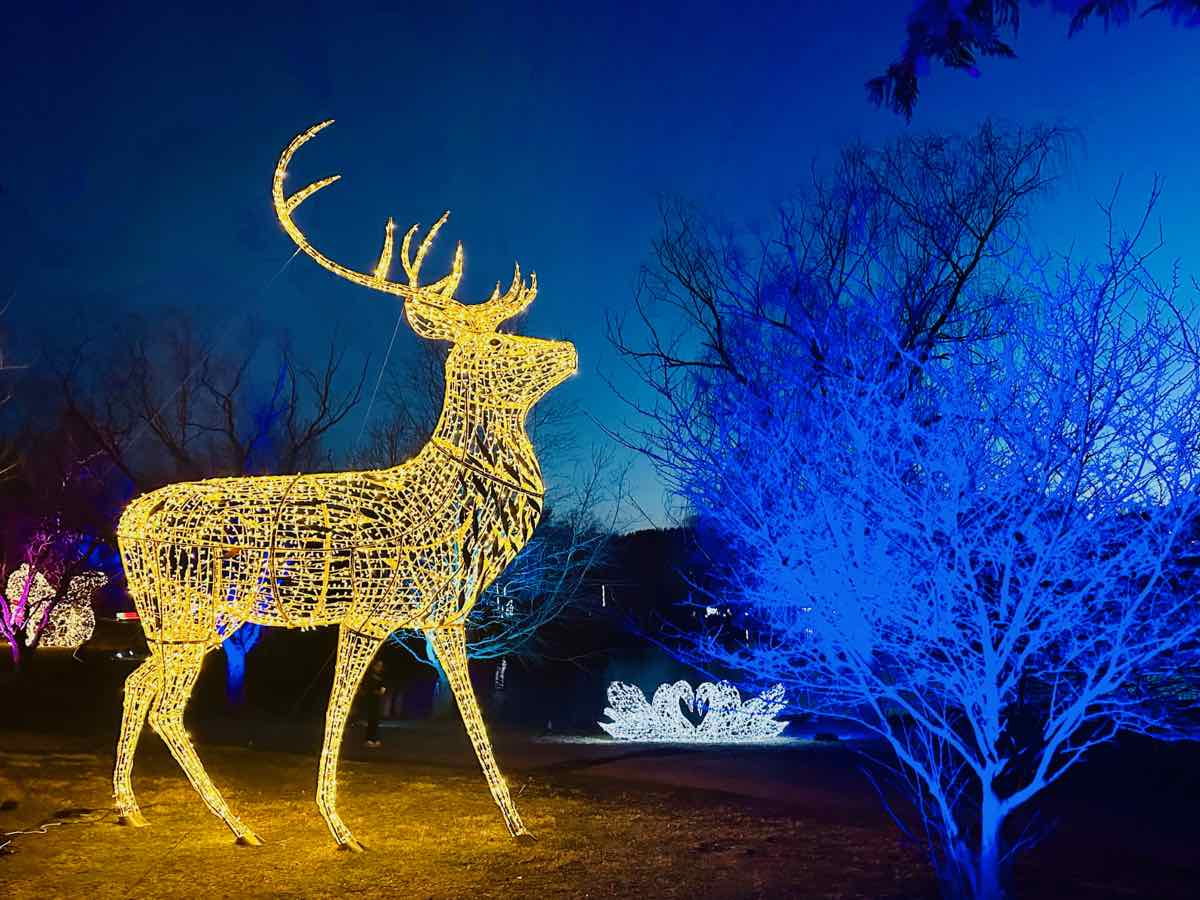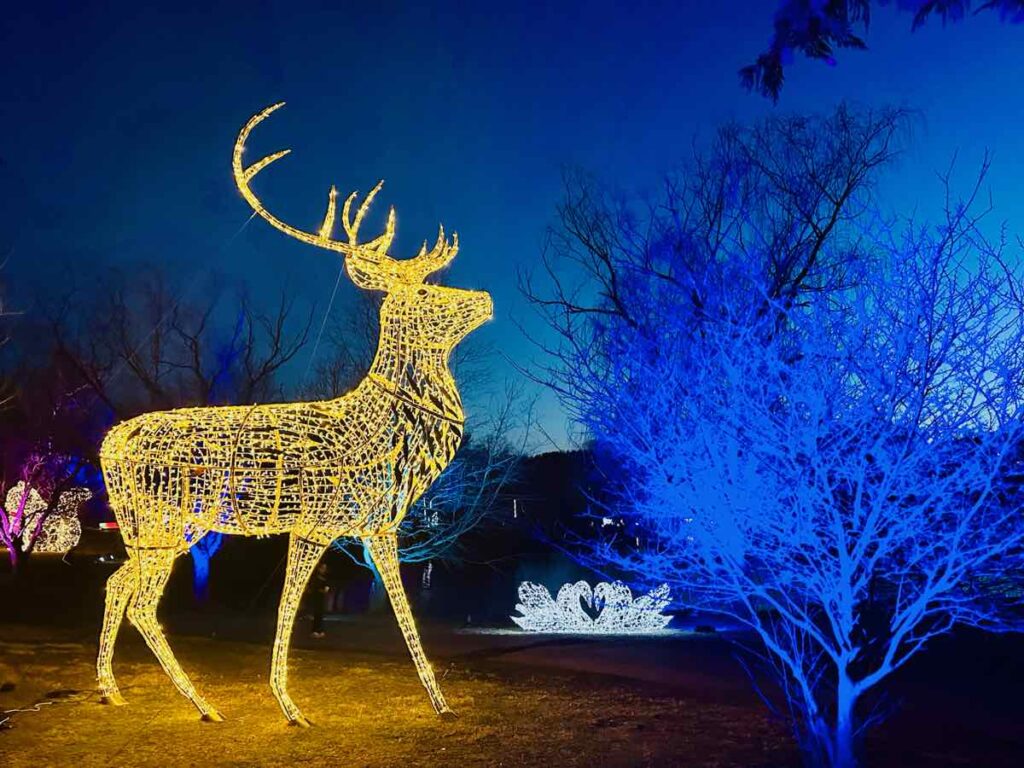 During the Reston event, visitors can see light sculptures representing different habitats and walk a mile of trails. The new zoo, NOVA Wild, is a non-profit that will prioritize animal welfare, education, and conservation.
General admission tickets are $35 adult, $24 ages 3 – 12 plus $10 parking with group and VIP offers available. Thurs – Sun, 4:30 – 9:00 and daily during Spring Break.
The Needlework Exhibition at historic Woodlawn is an annual celebration of the needle arts, featuring hundreds of examples of contemporary needlework from around the country. This year, the 60th Annual Needlework Exhibition theme is Craft as Comfort: Joy in Needlework.
We highly recommend you combine your visit with a tour of Frank Lloyd Wright's Pope-Leighy house right next door. The exhibition is $15/$6 for adults/children K – 12, 5 and under free. Open daily, except Tuesday, 10:00 – 4:00.
Enjoy special deals on dine-in or takeout meals from the many wonderful restaurants in the town of Vienna Virginia.
Snow Moon Fest, Massanutten Resort, Mar 3 – 5
Celebrate the season with a weekend of fun as the Snow Moon Fest returns to Massanutten Resort. Special events include live music, kid's activities, a torchlight parade, Polar Plunge, and more.
The 40th annual Ballyshaner's Parade returns in 2023! This family-friendly Alexandria celebration includes a great parade and a fun dog show. This is the biggest St. Patrick's Day Parade in Northern Virginia.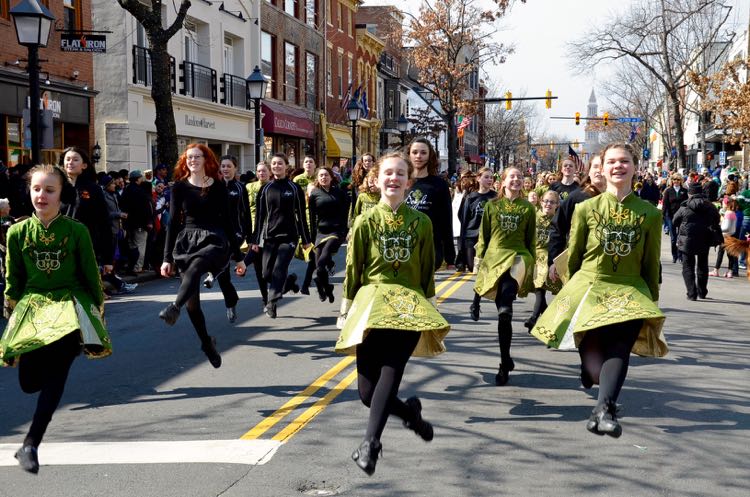 Enjoy over a dozen marching bands plus other groups celebrating their rich Irish heritage. The parade starts at 12:15 and all events are free.
Here's another great reason to visit quaint downtown Culpeper in March. During Culpeper Restaurant Week local favorites will offer special deals on lunch, brunch, and 3-course dinners including an appetizer, entree, and dessert.
International Women's Day, Mar 8
Celebrate International Women's day with a visit to the Women's Suffragist Memorial and learn about the long struggle for women's right to vote. Learn how local events and the "Night of Terror" became a turning point in the fight.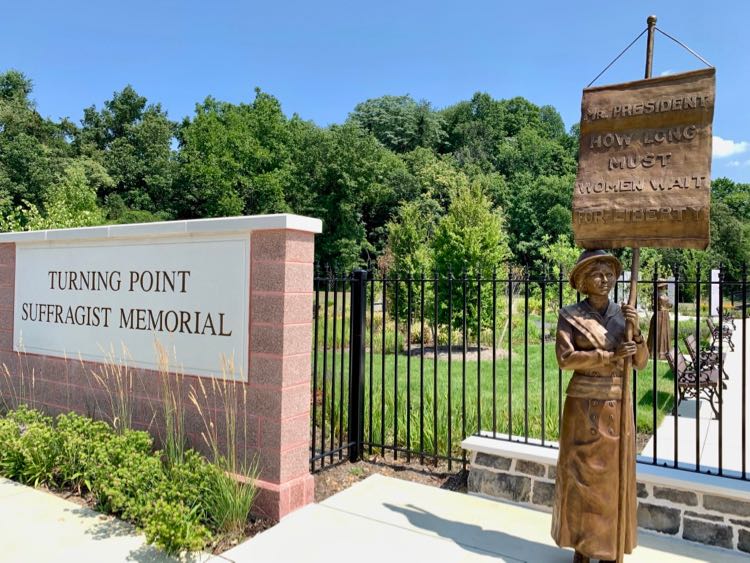 Head to Manassas for a community parade featuring Irish dance groups, the Northern Virginia Firefighters Emerald Society Pipe and Drum, Washington Scottish Pipe and Drum, Fairfax County Sheriff's Coalition Pipe and Drum, the Marine Corps Color Guard, and other area groups and organizations. Free; parade begins at 11:00.
Family Day, US Marine Corps Museum, Mar 11
In honor of Women's History Month, the US Marine Corps Museum will host a special Women in the Marine Corps Family Day event. Learn about female Marine trailblazers in this free event. 11:00 – 2:00.
2nd Saturday Art Walk, Workhouse Arts, Lorton, Mar 11
On the second Saturday of each month, the Workhouse Arts Center hosts a fun evening featuring art and music. View artists creating art in the studios or exhibiting in 12 campus galleries. Free; 6:00 – 7:00 pm.
Head to Observatory Park at Turner Farm in Great Falls to study the night sky. Activities include star-gazing through telescopes, games, activities, and stories about the constellations around the campfire. $10 register in advance; 6:30 – 10:00.
March150, Torpedo Art Factory, Alexandria, Mar 11 – Apr 8
The annual March150 art show and sale returns to the Torpedo Art Factory in Old Town Alexandria. The popular exhibition features artists from the greater DC area and offers a low-key environment to view and purchase works in a variety of mediums. Free; Wed – Sun, 10:00 – 6:00
Maple Syrup Boil-Down, Colvin Run Mill, Mar 12
When the sap is rising and the maple trees are tapped, it's sugaring time. Watch and learn as the sap is boiled down into sweet maple syrup over an open fire. Sample the delicious combination of maple syrup over fresh-baked cornbread, while supplies last. $10 per person, register online; noon – 2:00.
Celebrate the luck of the Irish with a fun 5K race at Reston Town Center or compete virtually on the route of your choice. All pre-registered runners receive a Lucky Leprechaun 5K shirt, bib, medal, and digital finisher certificate. Plus, there is a photo contest with special awards. Follow the link to register and for more details.
This annual outdoor festival celebrates the Persian New Year with more than six hours of live performances. Enjoy music, dance, live characters, and local artists. Shop at the Nowruz Bazaar with dozens of booths selling a variety of Haft-Sin items and sprouts, Persian traditional sweets and pastries, crafts, and fresh and hot food. Free; 10:00 – 6:00.
Pi Day and Daylight Saving Time, March 14
In 2015, we had a spectacular Pi Day when the date and time were aligned to match the first 10 digits of Pi (Greek letter "π"). But every year offers an opportunity for celebrations and fun with Pi Day math.
Follow the link for a round-up of our favorite pie stores in Northern Virginia. We've also got unique ways to celebrate Pi Day in Northern VA plus great websites with pi facts and fun for all.
St. Patrick's Day 5K and 10K races are have returned to in-person events in 2023 (details above). The popular Ballyshaner's Parade in Alexandria returns along with the Manassas parade is on. You can also celebrate with a take-out or dine-in meal from local Irish-loving restaurants and pubs.
Check our St. Patrick's Day round-up for a list of special events and Irish pubs in Northern VA. St Patrick's Day falls on a Friday in 2023, but some events and specials are scheduled on the weekend.
The 8th annual Bluemont Shamrock is a 5 or 10K run through the scenic country roads of beautiful Bluemont. All pre-registered runners receive a commemorative shirt, bib, medal, and digital finisher certificate. Plus, there are cash awards in four age groups.
Wherever you complete your run, you can celebrate your effort and enjoy the views at Dirt Farm Brewing. Follow the link for registration details.
Children ages 2-15 and their families will learn about fishing and have a fun day catching fish at Sugarland Run. Volunteers will help clean and store your catch and teach you how to bait, cast, hook, and cook your freshly caught dinner.
All kids MUST be accompanied by an adult; limited fishing poles and bait are available for use. Teens 16 & up must have a valid Virginia State Fishing License to fish. No adult fishing during kids' fishing time. $10/$15 advance/day of event registration; 8:00 – noon.
Explore local history, including the historic Carlyle House, on a 90 minute architecture walking tour. Old Town Alexandria is packed with great restaurants, shops, parks, and unique sites perfect for a fun day trip. $20, 10:00 – 11:30.
Find more Fantastic Virginia Day Trips Near Washington DC.
Cherry Blossom Festival, Washington DC, Mar 20 – Apr 16
See our Complete Guide to Cherry Blossoms in DC, Virginia, and Maryland for popular and hidden spots where you can enjoy beautiful cherry blossoms all season long.
The beloved National Cherry Blossom Festival doesn't always coincide with the actual cheery bloom, but the multi-week festivities still pack a lot of fun. Performances, parties, parades, and more celebrate the return of spring and the blooming cherry trees in the nation's capital.
Cherry Blossom Festival signature events include:
Opening ceremony – March 25
Blossom Kite Festival – March 26
Petalpalooza fireworks show – April 8
Cherry Blossom Festival Parade – April 15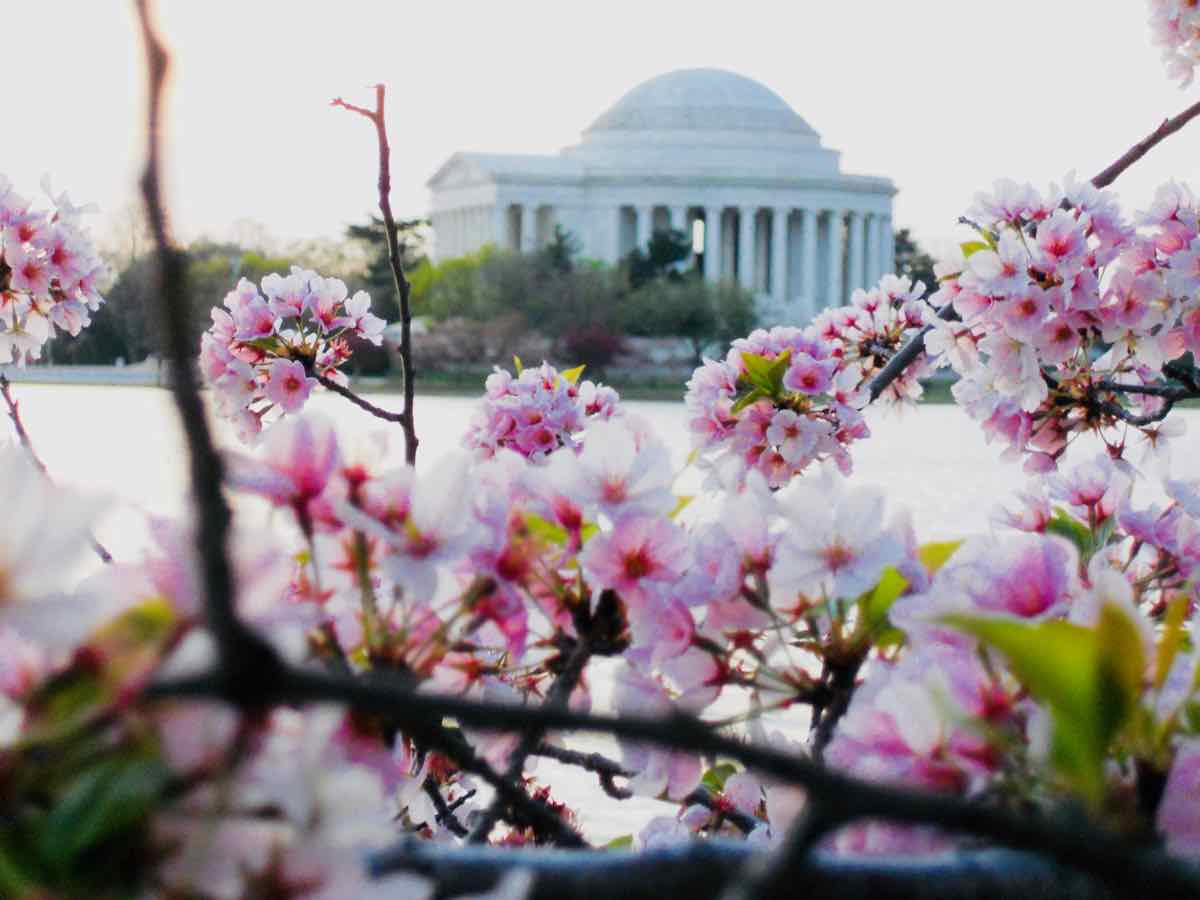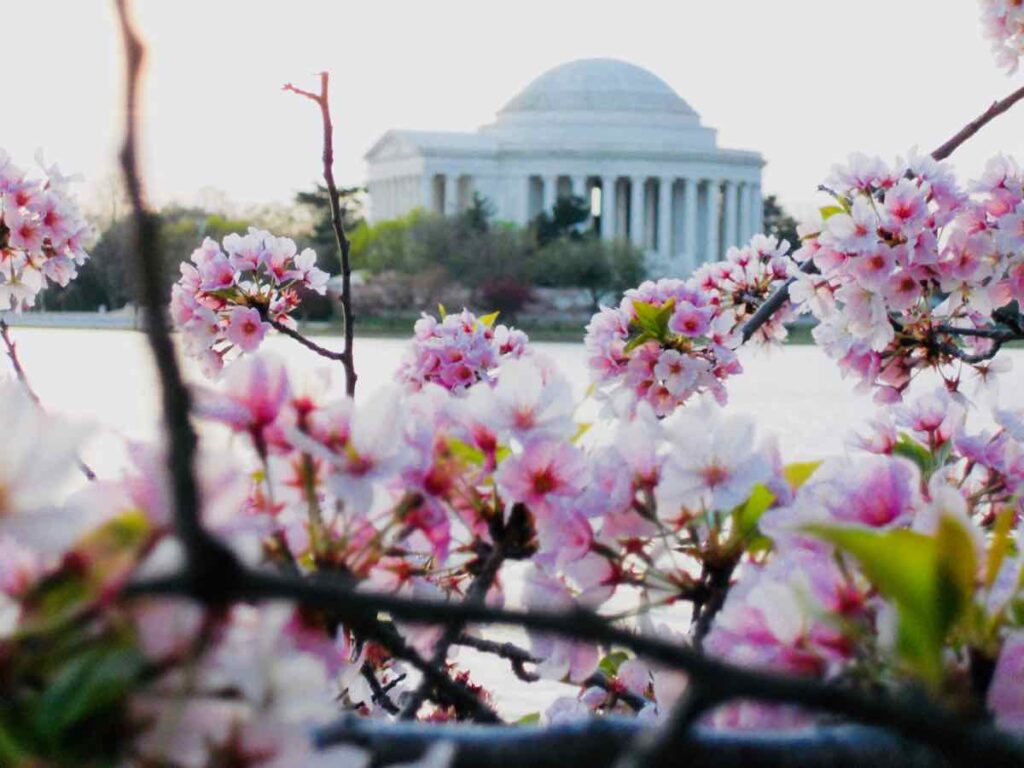 It's always difficult to time the return of cherry blossoms to the Virginia and Washington DC region. Bookmark our complete list of the best cherry blossom viewing spots in Virginia, Washington DC, and Maryland.
See more beautiful blooms in our guides:
Easter Egg Hunts, Multiple Locations, Mar 24 – Apr 9
Find the best Easter egg hunts in Northern Virginia including hunts for the littlest tots, flashlight hunts for teens, and family-friendly scavenger hunts at historic sites. Easter is on April 11 in 2023, but egg hunts and photos with the Easter Bunny start in March. Plan ahead because many popular events sell out.
Join in daily egg hunts (over 18,000 eggs filled with treats) and roast marshmallows on the bonfire. Admission includes egg hunts, a chance to see spring chicks and baby animals, and a wagon ride. Farm admission is $10/$12 child/adult; egg hunts are $7.50 per child.
Area teens are invited to the Reston Community Center at Lake Anne to shop for free formal dresses and accessories perfect for proms and celebrations. The event is free but RCC registration is required. 11:00 – 3:00
Celebrate peace, love, and running at this fun spring 10K race. All pre-registered runners receive a race shirt, bib, medal, and digital finisher certificate. Plus, there is a photo contest with special awards. Follow the link to register.
Maryland Day, Multiple Locations, Mar 31 – Apr 2
Celebrate history, heritage, and culture at a weekend of in-person and virtual Maryland Day events. Special events at Annapolis and Anne Arundel County include free entry to regional parks and some museums.
Plan an Annapolis Maryland Day Trip or Weekend Getaway by the Bay.
More Fun March Activities in Northern Virginia
In addition to the date-specific March events listed above, we have lots of ideas for planning your own spring fun. Use our guides to plan a season of fun outings in Northern VA.
Visit Spring Babies
March is the perfect time to visit Frying Pan Park to meet the new spring babies. There is nothing quite so cute as baby sheep, goats, and pigs scampering around the stall.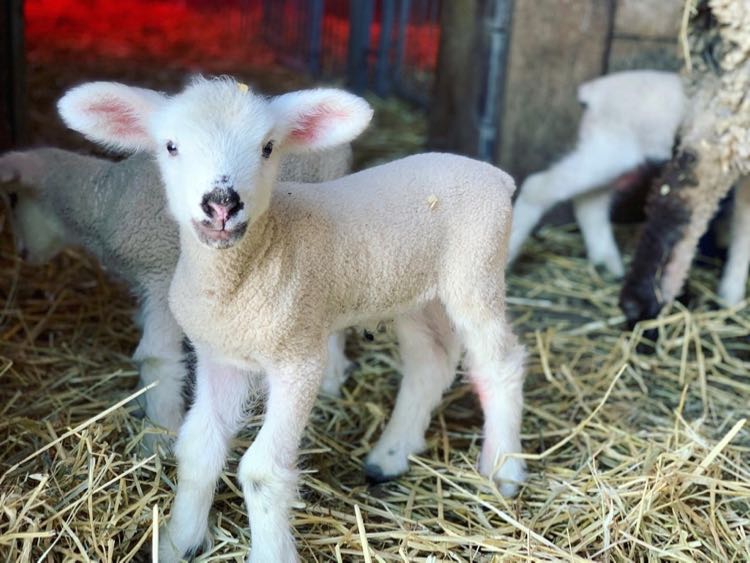 Take a Spring Hike
Daylight Saving Time returns on March 12th, and we celebrate the first day of Spring on March 20th. If our weather cooperates, that will mean more opportunities to enjoy hiking on area trails.
We've rounded up 8 Great Spring Hikes in Northern Virginia that hold up well to spring rains. Plus, explore our archive of Northern Virginia hikes for more great options for an early spring outing.
Hunt for Spring Wildflowers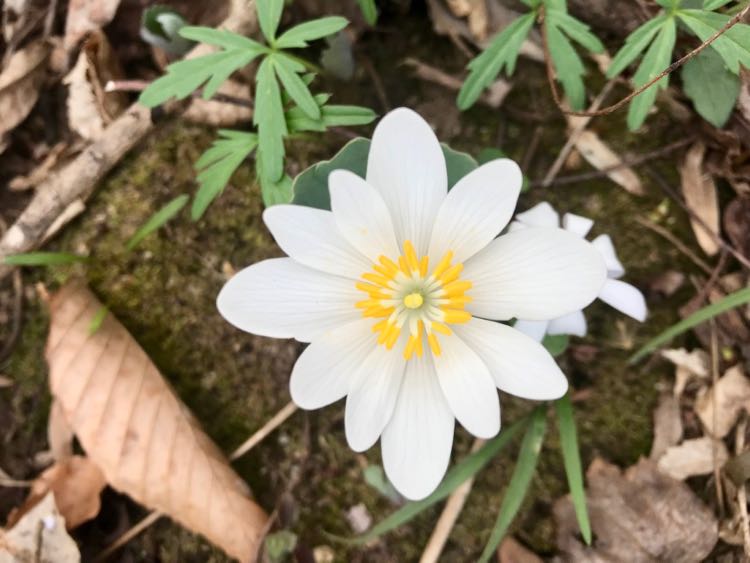 Hunt for beautiful spring blooms on local nature trails. Take the family for a hike and challenge them to find beautiful blossoms with our guide to Spring Wildflowers in Northern Virginia.
Tackle Our Spring Bucket List of Fun Outings and Destinations
We rounded up a list of 30 outings and destinations where you can celebrate spring in the DC area. Try them all or choose a few for a season of fun in and near Northern Virginia.
Spring Bucket List: 30 Fun Outings in Virginia, DC, and Maryland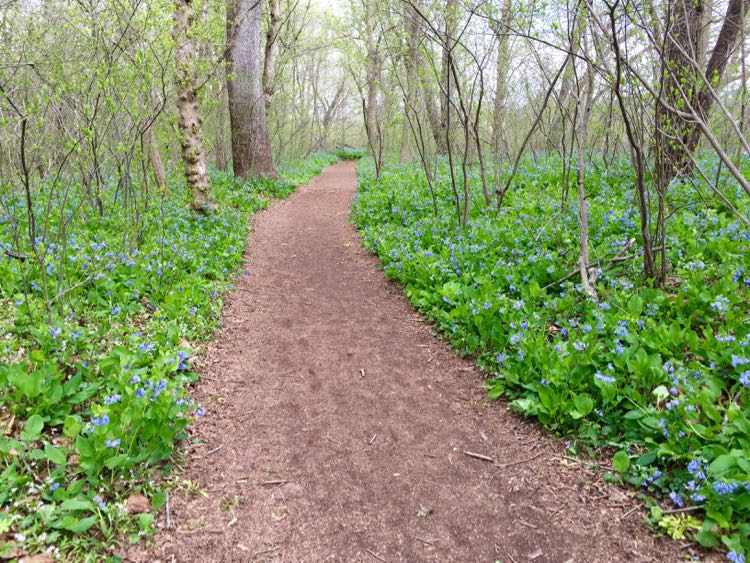 When rainy spring days arrive, check out our great big list of indoor activities that offer a change of scene close to home.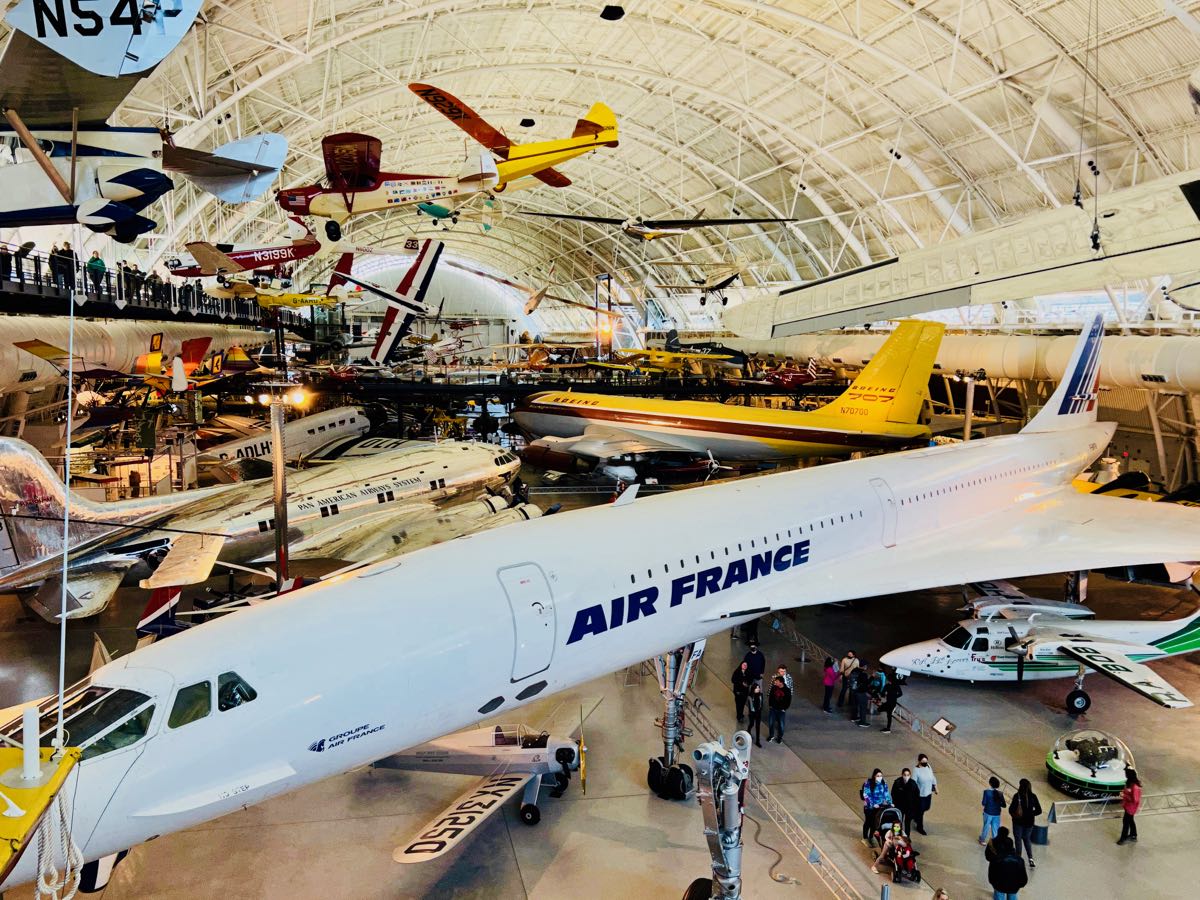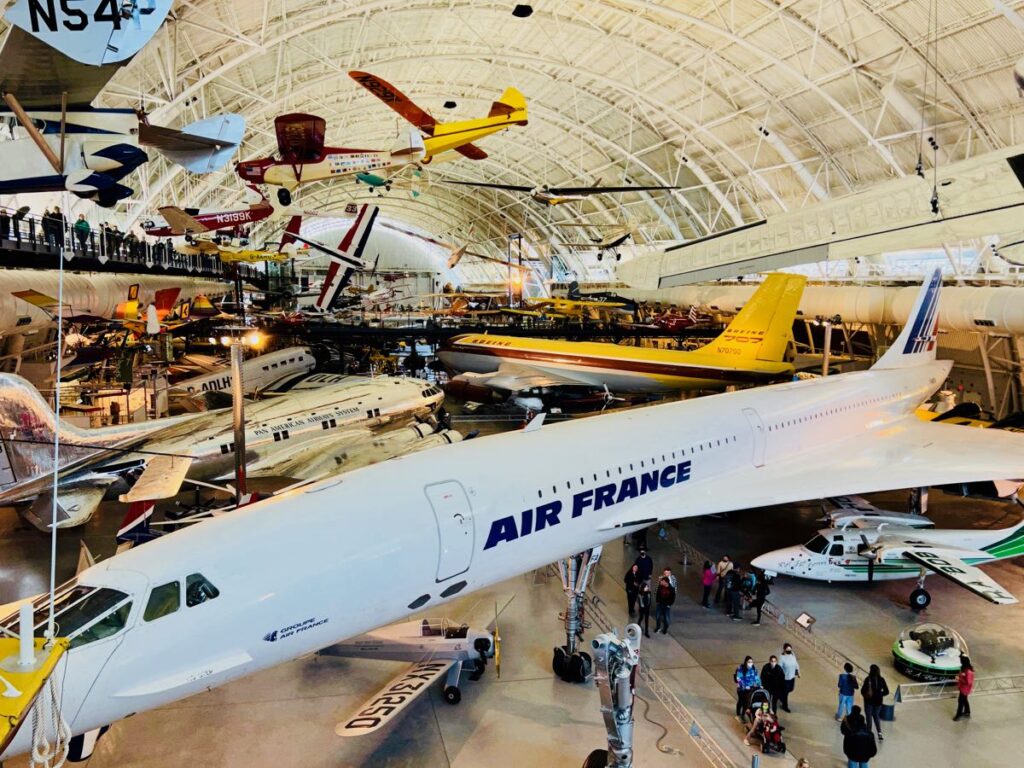 Dine, Shop, and Play at Small Towns Near DC
Plan a day trip or a weekend getaway with our list of 15 Fun Northern Virginia Small Towns to Visit Now. From tiny hamlets to historic Old Towns we've found quaint and interesting places to explore. Visit these destinations and you can support local restaurants, shops, wineries, and breweries plus enjoy outdoor activities.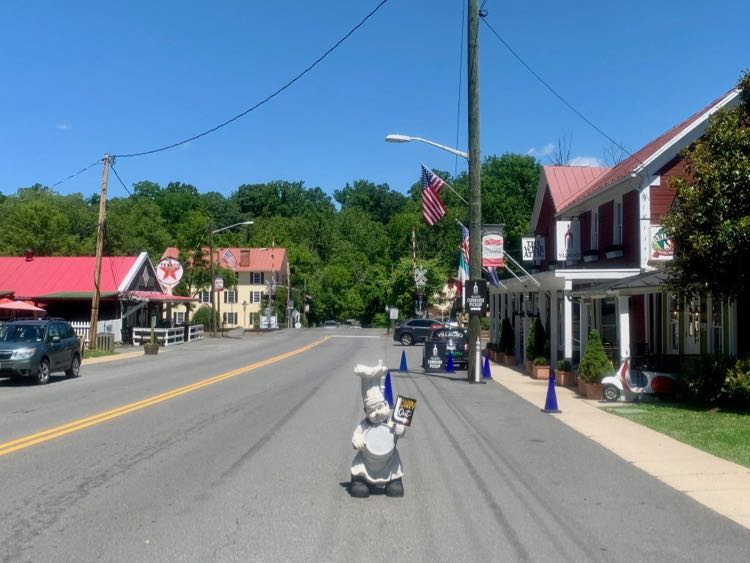 Take a Scenic Drive in Northern VA
Chilly winter days are a perfect time to explore new roads and sites close to home. We've rounded up the best scenic drives in Northern Virginia where you can explore small towns and history while enjoying country roads.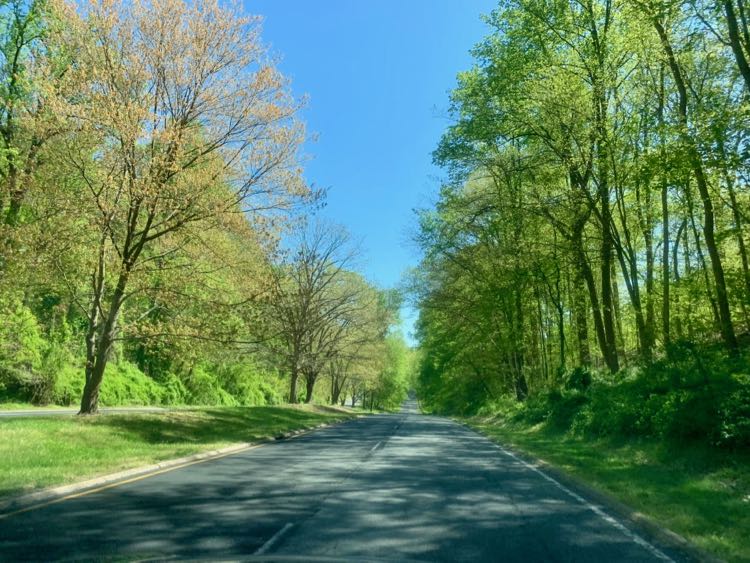 Enjoy a Weekend Getaway Near Northern VA
We've rounded up a big list of 21 Fantastic Weekend Getaways In and Near Northern Virginia that offer a fun break from the winter doldrums. From historic inns to comfy hotels, to a private mill house, we have options for every taste. Browse our list and plan your perfect winter escape.
No matter which spring outings and March events in Northern Virginia you choose, we wish you a happy end to winter and a beautiful start to spring.
Follow us on Facebook, Twitter, Pinterest, and Instagram for more fun travel in and from Northern Virginia.