Halloween in Northern Virginia is a fun mix of spooky and not-so-spooky events plus trick-or-treating hosted by local businesses and towns. 2019 Halloween events are listed below in three groups: scary fun throughout October, not-so-scary family fun throughout the month, and trick-or-treating options for the weekend leading up to Halloween night.
Scary 2019 Halloween in Northern Virginia Events
Haunted Trails in Northern Virginia are a fun place for teens and adults to enjoy an extra scary night out. The haunted trails listed below are gear to older visitors and may be too intense for young children. Follow the website links to purchase tickets and check for weather-related closures.
Add the brand new American Scream Halloween Selfie Museum to your spooky weekend fun this season. At the interactive museum, you will come face-to-face with characters, creatures, and selfie-worthy sets from TV and movies. Face your fears on the Iron Throne, at the tomb of the Mummy, in a gruesome morgue, and much more. Tickets are $18/$20 online/at the door. 3:00 – 10:00 Thursday/Friday and 10:00 – 10:00 Saturday/Sunday.
Older kids and teens head to Cox Farms at night for the Fields of Fear. Experience the scares in the corn maze, forest trail, and wagon rides, then hang out by the bonfire with music, games, and food. In 2019, the scares are open Friday and Saturday nights, September 20 to November 2. Tickets begin at $15, 7:30 – 11:00 pm.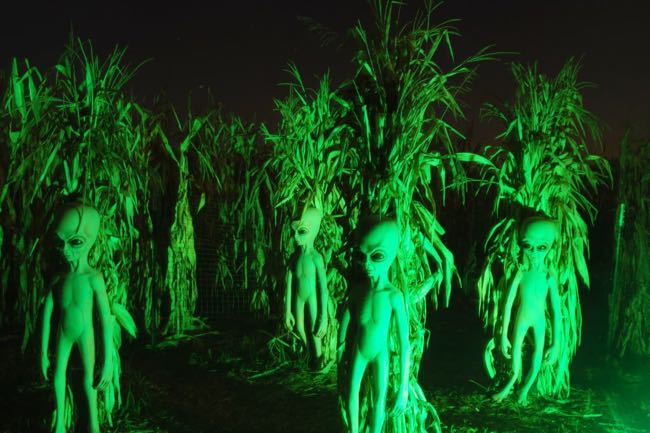 Breakout!, Workhouse Arts Center, Lorton, Weekends Oct 1 – 31 (select nights)
Northern Virginia's scariest haunted trail returns to the Workhouse with a new prison theme. Screams will echo across the 55-acre historic Workhouse campus, built on the grounds of the abandoned and notorious DC Department of Corrections Lorton Reformatory. A fully redesigned trail, spookier scenes and stories, real prison cells, and creepy characters will bring your darkest fears and nightmares to life. The Breakout! haunted trail is open Fridays through Sundays in October and on Halloween. $20, 7:00 – 11:00.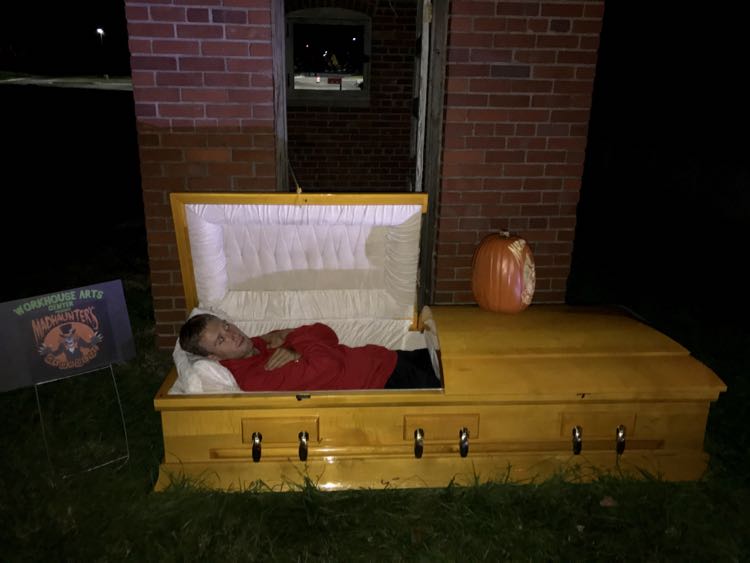 Check out our complete guide to 2019 Pumpkin Patches in Northern Virginia.
Shocktober, Leesburg, Weekends Oct 4 – Nov 2
The most frightening mansion in Northern VA returns to Leesburg. New in 2019, the first 3 levels of the haunted manor have turned into Camp Carlheim, a horrifying and haunted camp. The haunt also includes Carnival of Souls, the basement of Carlheim Manor, an attraction full of creepy clowns and carnival carnage. This haunted attraction is PG-13 and not for the faint of heart. $40 admission; Friday 7:00 – 10:00, Saturday 6:00 – 10:00, 6:00 – 9:00.
This popular haunted house for the 13-and-older crowd is an indoor and outdoor maze of terror. Custom-made special effects and live actors guarantee scares for those who dare to enter. In 2019, Madhaunter moves to a new Leesburg location at 1602 Village Market Boulevard. General admission tickets begin at $20.
A trail of terror awaits in Clifton's Buckley Park, so watch out for monsters and stick to the trail. The PG-13 rated trail includes two dozen scary skits with live actors, including local legend The Bunnyman. Tickets are $18/$13 online for adults/12 and under (though the trail is likely too intense for younger kids). Tickets are $20/$15 day of event. 7:00 – 10:00 pm.
Not So Scary Halloween in Northern VA Fun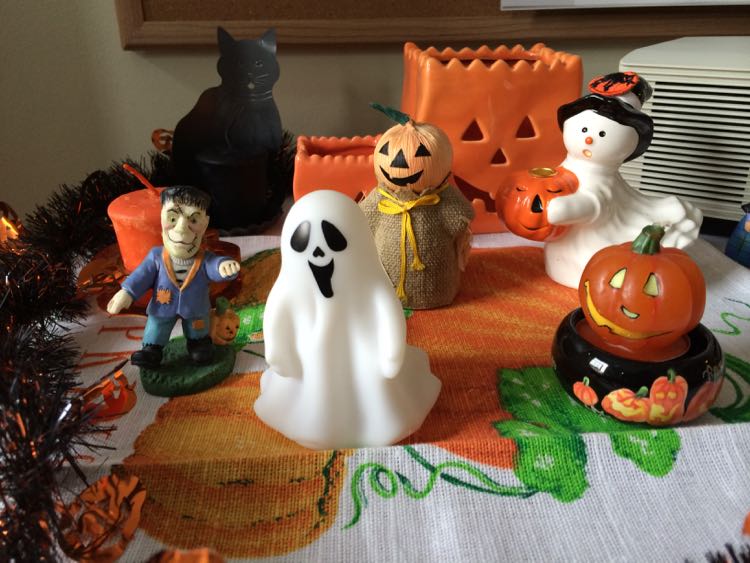 Halloween Safari, Bull Run Mountains, Broad Run, Oct 13, 25, 26
Join a fun, night-time hike through the Bull Run Mountains, as a guide leads you along the trail where you will meet native "wildlife" that perform natural history skits. There is a new cast of animals each year and a longer trail in 2019. You can also enjoy face painting, Halloween snacks, hot cider, a bonfire, and live music. Bring a flashlight and wear good hiking shoes for this great family outing. Tickets are $8; 7:00 – 8:30.
The annual Burke Lake Ghost Train returns with a ride on the miniature train through Halloween decorated woods, with costumed characters performing scenes from popular children's stories. The Ghost Train is geared to young children so the event is more fun than fear. The carousel will also be open, and you can follow your ride with a picnic and a stroll around the lake. $6 per passenger. 10:00 – 6:00.
Riverbend Park hosts a "Halloween Adventure" the weekend of October 27-28 that includes a wagon ride, scarecrows, sweets, stories and s'mores around the campfire. Bring a flashlight. $15; 4:30 – 6:30.
New in 2019, Haunt the Town of Occoquan with all-day fun Halloween activities. The day kicks off with Kids Haunt the Town activities. Kids can make their own masks and slime, and enjoy face painting, tattoo art and more. In the afternoon, all ages can join the costume parade with prizes in several categories. At night, a Haunted Maze and Spirit Garden add scares and fun for the adults. Free admission; 11:00 – 10:00.
Treat yourself to Halloween fun and facts at Sully Historic Site's annual celebration. This event sheds light on centuries-old customs of storytelling, fortune telling, fall foods, and family gatherings that evolved into the Halloween traditions of today. Experience these traditions as you tour the house and grounds by lantern light. $10; 4:00 – 7:00 pm.
Test your courage and challenge your fears and phobias at the All Hallows Eve House of Reptiles (and other crawling creatures) at Ellanor C. Lawrence Park. Roast s'mores at the campfire and then sit back for a wagon ride through a moon-lit meadow. $10; 5:00 to 8:00.
Halloween Carnival, Fairfax Station Railroad Museum, Oct 27
Head to the 2nd annual Halloween Carnival for family-friendly fun. Lots of train related games and activities will be featured for all ages. Tickets earned can be exchanged for prizes. Additional tickets can be purchased at 4 for $1, and popcorn and cotton candy will be available for purchase. Children in costume receive a coupon for a free admission to a future Museum event. $2/$4 5-15/16 and up. 1:00 – 4:00.
Halloween in Northern Virginia: 2019 Trick-or-Treating and Parades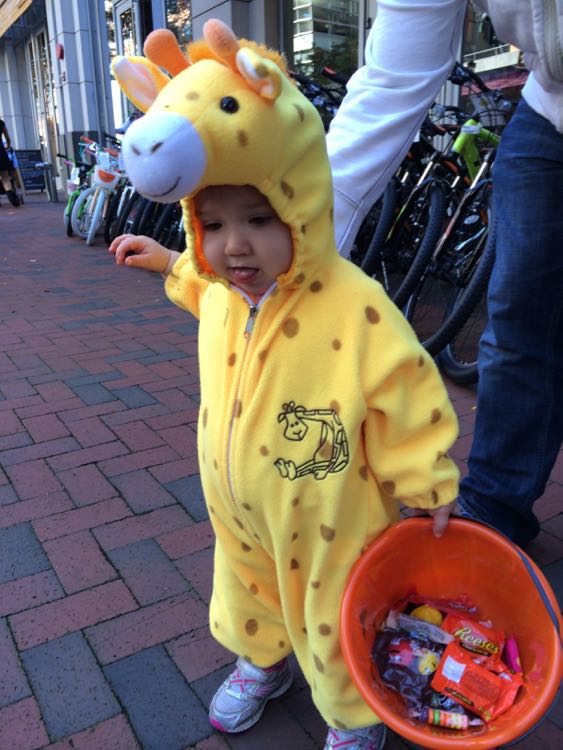 On October 22, kids 2 to 10 enjoy an early Halloween party. Kids can enjoy arts and crafts, games, tricky treats, a moon bounce, tales dramatically told by Historic Vienna, Inc. volunteers, and a limited quantity of pumpkins to paint. Free; 10:30 – 12:30.
On October 23, bring your little goblins to the annual Vienna Halloween Parade. Enjoy costumes and floats, marching bands, performances, and fun as the parade moonwalks down the road for the 73rd time. Costumed children and families who wish to march in the parade should meet at 6:30 p.m. at the intersection of Maple and Branch Road. Parade begins at 7:00. Free.
Reserve a spot for the little ones (9 and younger) at the BOO-stravaganza. Come to the Indoor Arena Barn dressed in your favorite costume for fun, games, and a wagon ride plus treats and a small pumpkin. $10, reservation required. 6:30 – 7:30 and 7:30 – 8:30.
Boo at the Zoo, Roer's Zoofari, Reston, Oct 26 – 27
Join Roer's Zoofari in costume for a fun-filled Halloween. Local businesses will sponsor trick-or-treat booths, and pass out candy to little ghouls as an opportunity to showcase their business and services. The event runs all day. $20 per guest.
See the spooky side of air and space at the Air and Space Museum Udvar-Hazy Center's popular annual Halloween event. Arrive in costume for safe indoor trick-or-treating, creepy crafts, spooky science experiments, and other Halloween-themed activities. (Full face masks prohibited on 16 and older.) This is a popular event so allow extra time for parking and security screening. $15 parking; noon – 5:30.
Trick-or-treaters return to historic Mount Vernon for an afternoon of fun and history. Activities include a special scavenger hunt, a wagon ride on the 12-acre field, a boo-tiful Halloween craft, and a children's costume parade. This event sells out and is held rain or shine. The event is $16/$8 for adult/youth; 3:30 – 6:30.
Grab the family and your dog for a wickedly good time in Historic Downtown Manassas. Trick-or-treat at merchants throughout Historic Downtown Manassas, and enjoy ghoulish games, and a kids costume contest. Free; 10:00 – noon.
6th Annual Pumpkin Hunt, Lee-Fendall House, Alexandria, Oct 26
Search for hundreds of colorful toy-filled Halloween objects at the Lee-Fendall House. Other activities include take-home crafts, a sticker station, temporary tattoos, spooky stories, a costume parade with prizes, plus drinks and refreshments. Every participating child receives a pumpkin, and one pumpkin in each hunt will have a certificate for a special prize hidden inside. $5/$15 adult/kids 1-18; 10:30, 12:30 and 2:30.
Old Town rolls out the orange carpet for all the ghouls and goblins this year. Visit Old Town Alexandria in your spookiest costumes to collect treats from participating restaurants, shops, and attractions. Free; 11:00 – 5:00.
Costumed children can visit participating retailers and the Information Center for treats and goodies on Halloween afternoon (look for a pumpkin flyer in the window). Noon – 4:00.
Don your spook-tacular costume and join an Instameet to celebrate Halloween in Old Town Alexandria. Take a walk around historic houses known for their seasonal décor, then go on a spine-chilling Ghost and Graveyard Tour. An 18th-century costumed guide will share ghost stories, legends, folklore, unsolved mysteries, tales of romance and angry ghosts looking for revenge. Free but registration is required; 5:30 – 8:30.
Bring your dog to Mount Vernon for howl-o-ween fun. Enjoy a great photo opportunity in front of the Mansion, meet people from Washington's world, and enjoy treats for your pup (while supplies last). This event is for pups and their humans only. Price included in admission. 11:00 – 2:00
Don your best Halloween costume and join thousands of participants in one of Del Ray's favorite traditions. The annual Del Ray Halloween Parade welcomes children, pets, and strollers in costumes to march and show off their finest and scariest Halloween garb. Prizes are awarded in multiple categories including Best Decorated Stroller and Best Pet Costume. Free; 2:00 – 4:00.
Head to the Plaza Concourse where Fairfax County Police Department will be handing out candy. American Scream will provide some spooky entertainment and have face painters for any last minute touch-ups. Then trick-or-treat at the 50+ participating stores. Free; 3:00 – 5:00.
Children up to age 12 are encouraged to wear their favorite Halloween costume, experience the Haunted House, and enjoy trick or treating with local merchants in a safe environment right in the heart of town. Costumed pets on leashes are welcome to join the pet parade at 4:00 – 4:45. Free; 5:00 – 7:00.
Mall-o-ween, Fair Oaks Mall, Oct 31
Bring your costumed little ones to Fair Oaks Mall on Halloween for the 31st annual trick-or-treat at the mall event. Costumed kids go store to store collecting candy in a safe, indoor environment. This is one of the largest indoor Halloween events of its kind in the Washington D.C. area, and it gets extremely busy. Free; 5:30 – 7:30.
Bootique, Mosaic District, Oct 31
The annual trick-or-treat night returns to Mosaic District Swing by Strawberry Park to pick up your bags from Mosaic reps, and then hit the streets for some candy. Free; 5:00 – 9:00
Bonus Party Fun for Halloween in Northern Virginia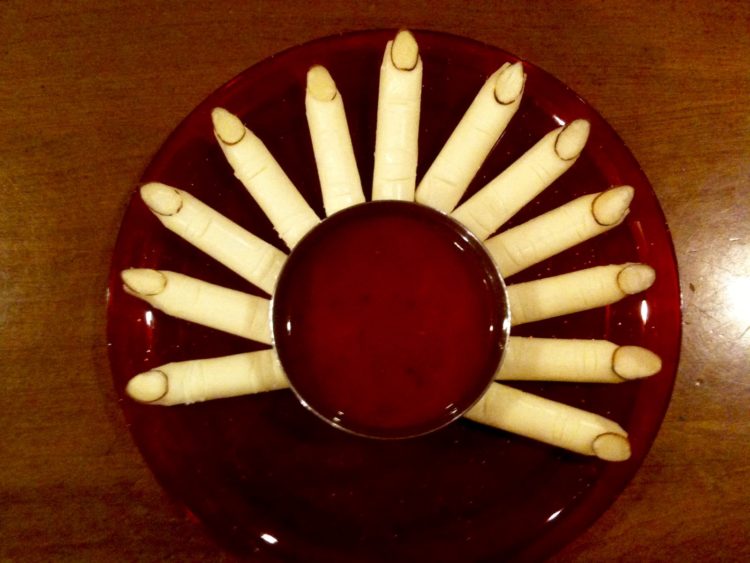 Here's an easy, fun appetizer to serve on Halloween in Northern VA.
Ingredients: cheese sticks, slivered almonds, marinara sauce
To make: Trim tops of cheese sticks and add "knuckle" lines with a butter knife. Stick on almond sliver "fingernails" with a little honey. Sprinkle the underside with a little salt and pepper and serve with marinara sauce. Ooooh, spooky!
Whichever event you choose, we wish you a safe and Happy Halloween in Northern Virginia!
Find more autumn fun in these articles:
Follow Fun in Fairfax VA on Facebook, Twitter, Pinterest, and Instagram for more fun things to do, places to visit, dining and drink, and special events in the Northern Virginia, Washington DC region.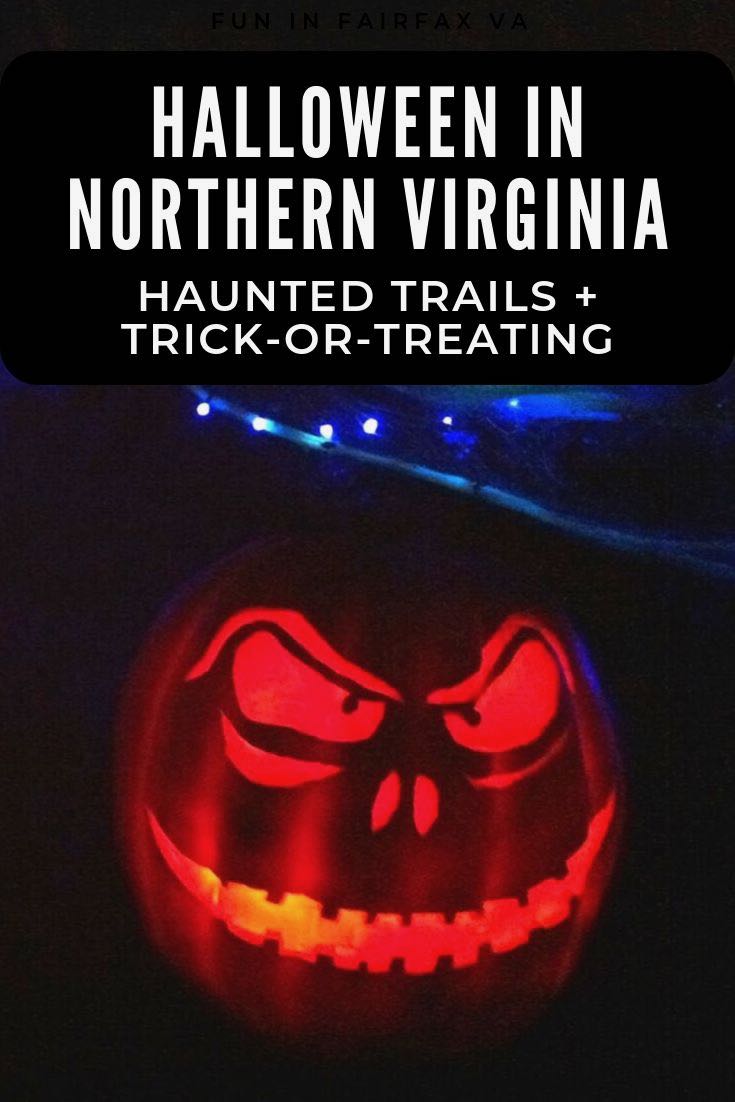 This article was published in 2016 and updated in 2017, 2018, and 2019.