Visit the Kenwood cherry blossoms to see a stunning display of blooming cherry trees in a quaint Bethesda Maryland neighborhood. The Kenwood neighborhood is one of the best places to see cherry blossoms in the Washington DC region. This hidden gem is a lovely alternative (or addition) to the popular DC Tidal Basin cherry blossoms.
When the Washington DC cherry blossoms arrive, DMV residents and visitors (DMV=DC, Maryland, and Virginia) look forward to the mid-Atlantic explosion of cherry petals. Charles Kuralt said that springtime in the Washington DC area is one of the best time/place combinations in America and perhaps the world.
While Washington DC and the National Cherry Blossom Festival are the center of the action for cherry blossom viewing, it is not the only option. In fact, the Kenwood Bethesda neighborhood offers amazing cherry trees with smaller crowds and less traffic.
Disclosure: This article may contain affiliate links. We will make a small commission from these links if you order something, at no additional cost to you.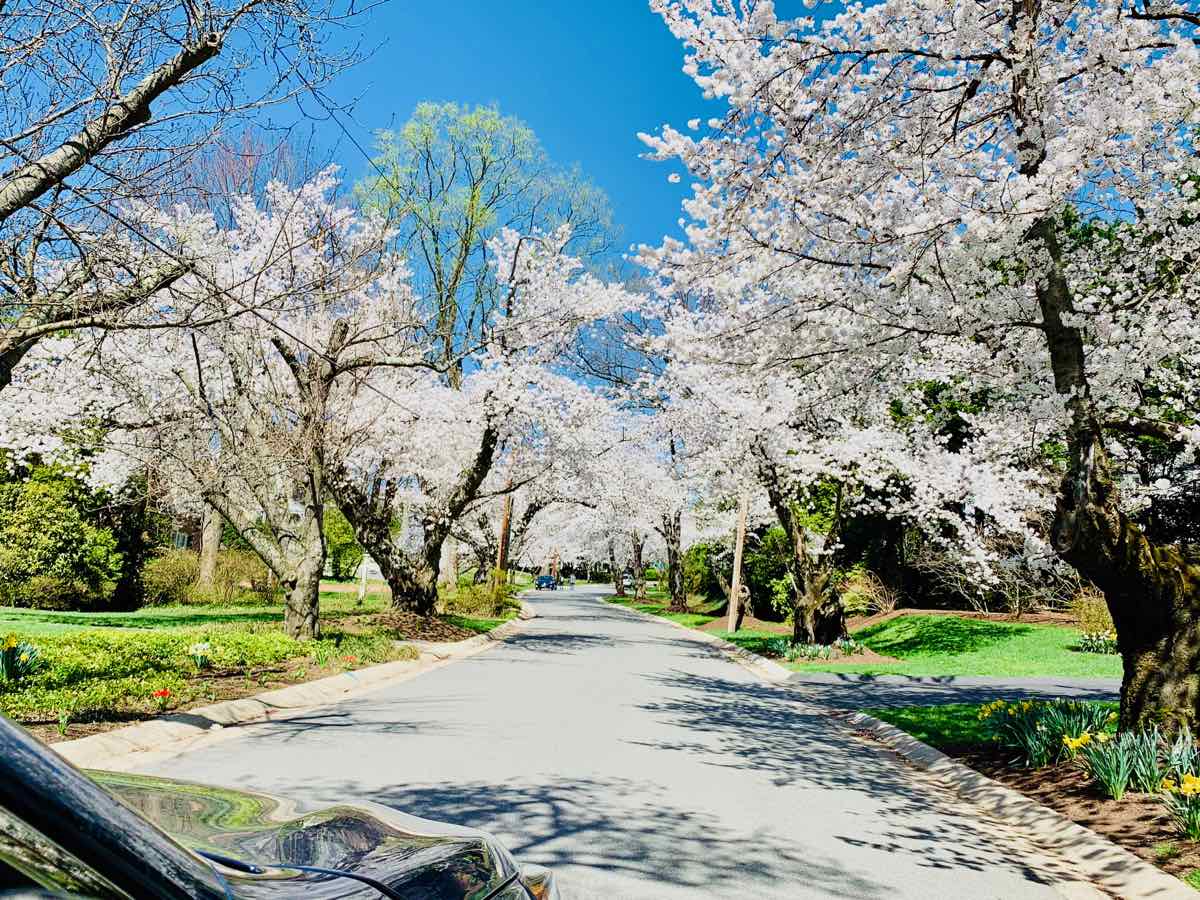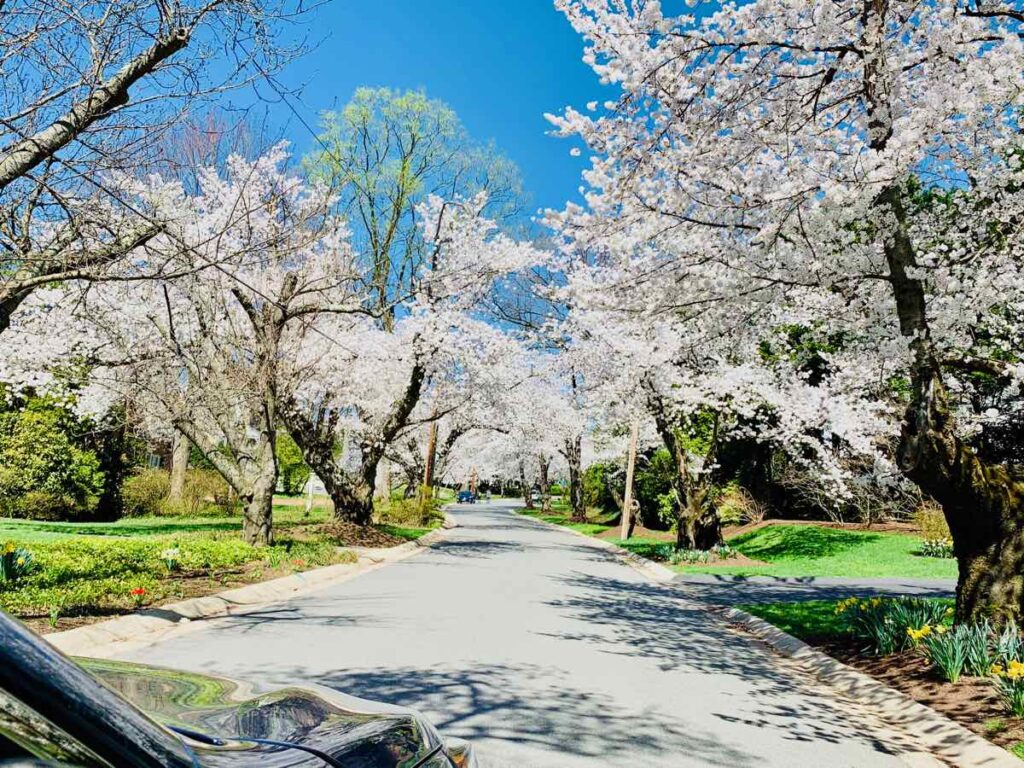 Find more wonderful cherry blossom locations, tips, and info in our Complete Guide to Cherry Blossoms in DC, Maryland, and Virginia.
Kenwood Cherry Blossoms—A DC Alternative!
For a break from the masses walking around the Tidal Basin, head to the Kenwood Maryland cherry blossoms. This small, walkable neighborhood is packed with 1200 beautiful cherry trees lining bucolic streets.
The Kenwood neighborhood is located in Bethesda, Maryland, near Chevy Chase Village. Kenwood is just 7 miles from DC's National Mall, though it's less than a mile from the northwest DC boundary.
Behind the trees are a lovely collection of quaint and stately homes in this upscale neighborhood. There are many old brick houses, some with converted carriage houses. Others houses are large with interesting details.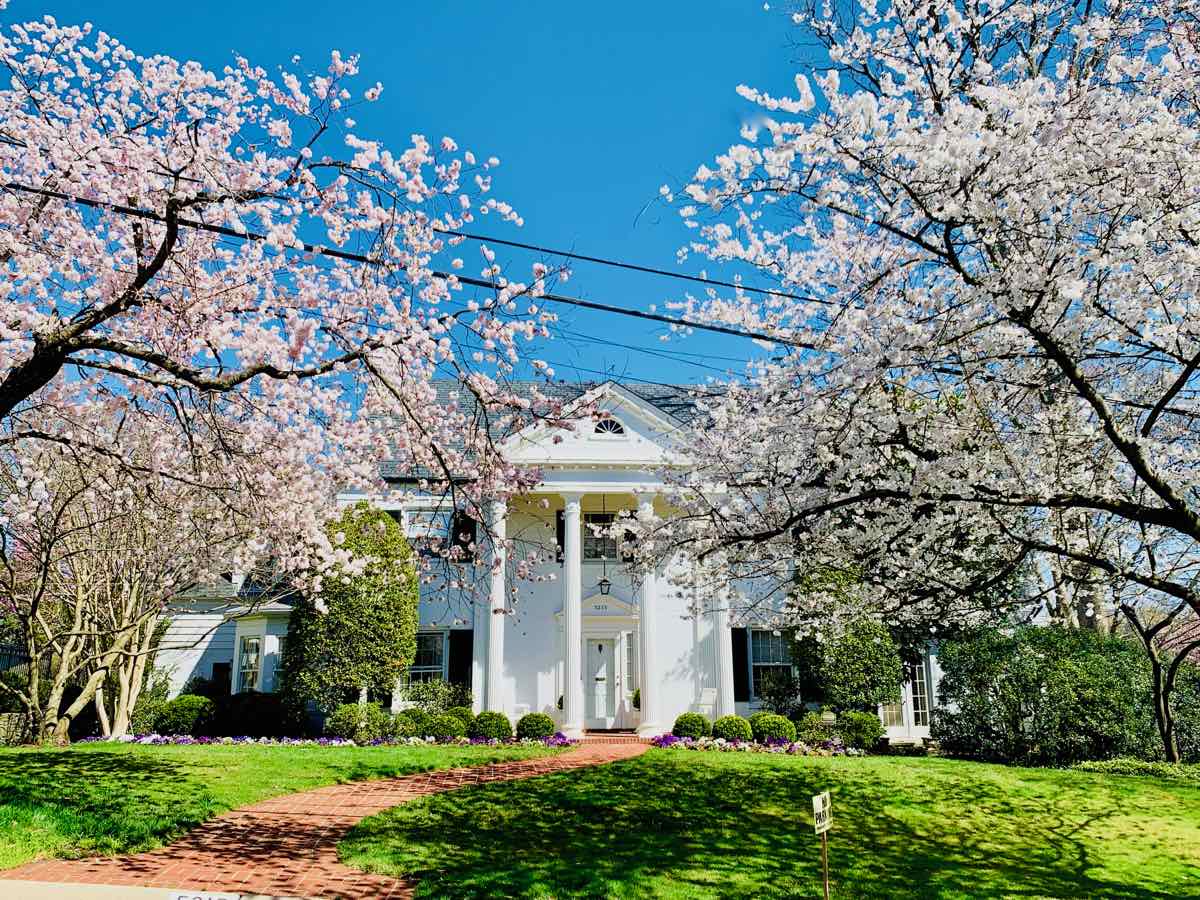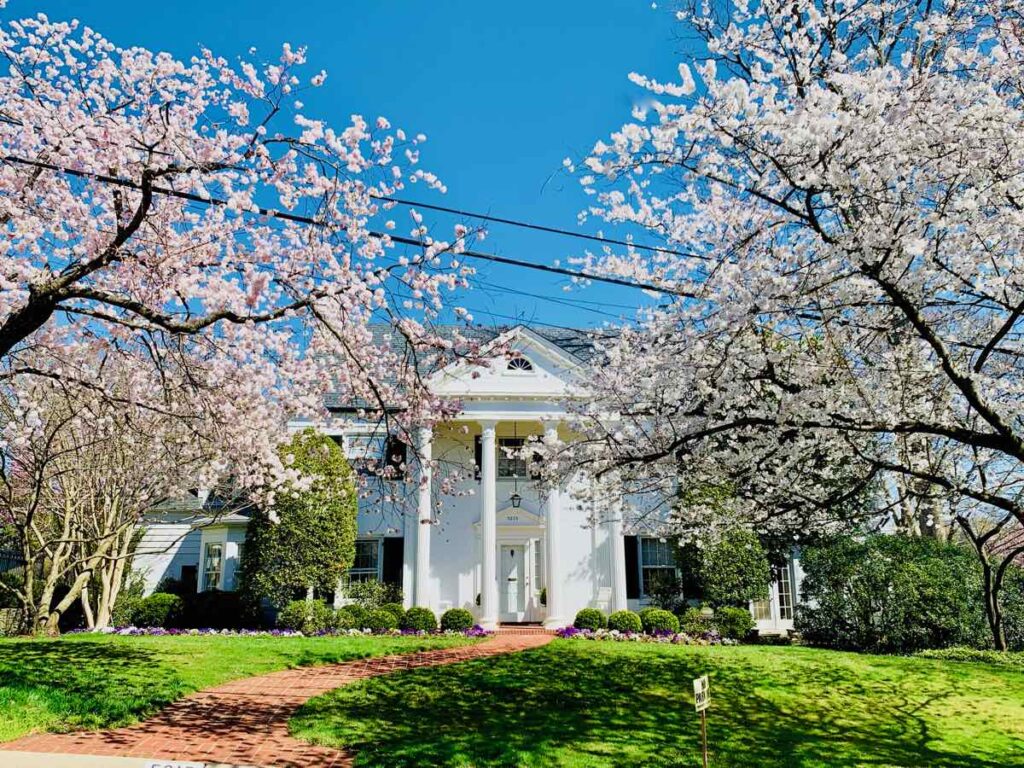 Cherry trees are the main draw, of course. Many of the Kenwood streets have a canopy of cherry blossoms while others have more widely spaced trees.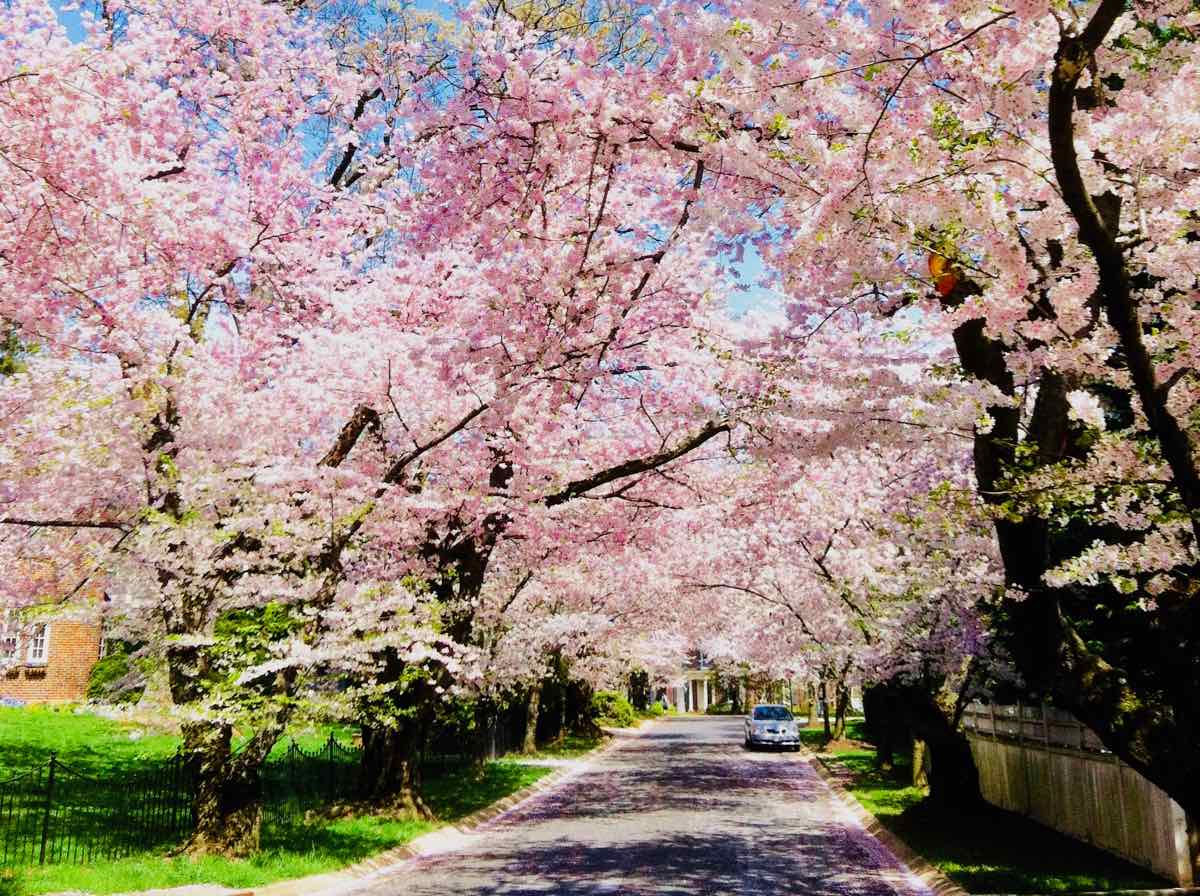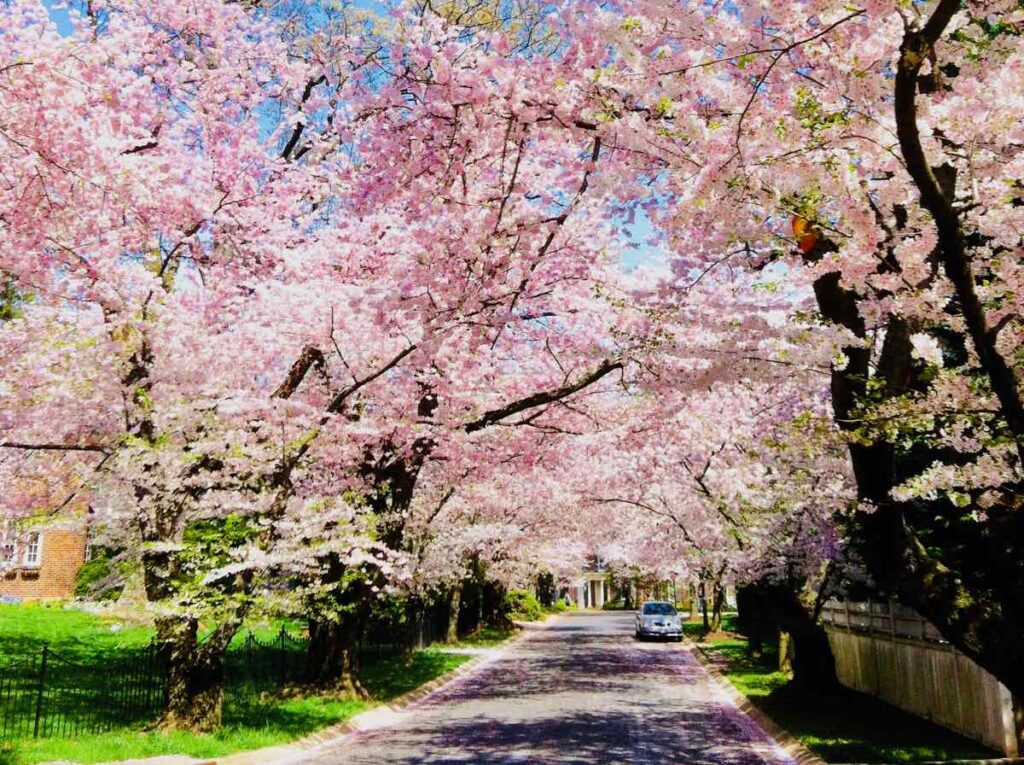 In the photo above, the street discoloration is actually cherry petals. How cool is that?
The oldest Kenwood cherry tree is estimated to be 90 years old. The Yoshino cherry trees in Kenwood were planted between 1929 and 1934 as a way to promote the neighborhood. Thick, lumpy trunks add character and beauty to these older cherry tree specimens.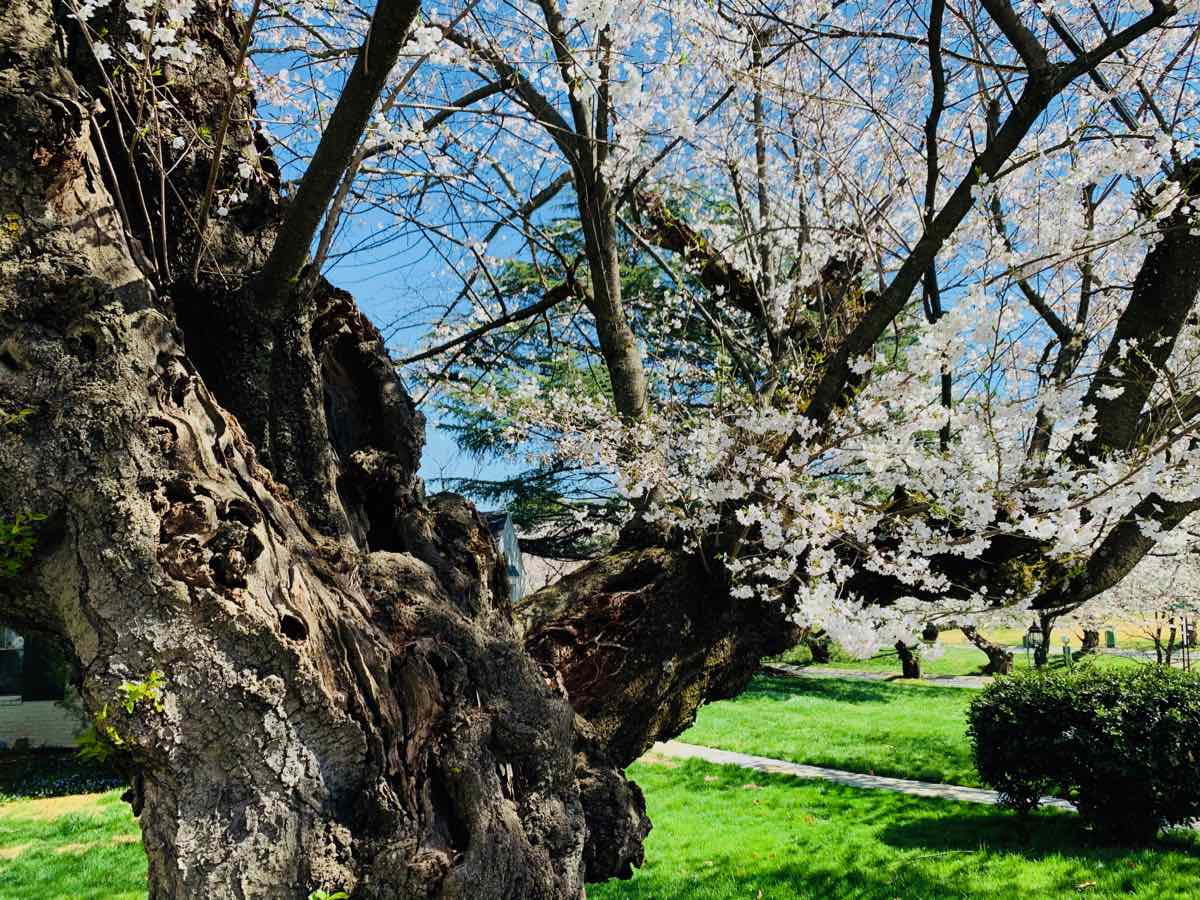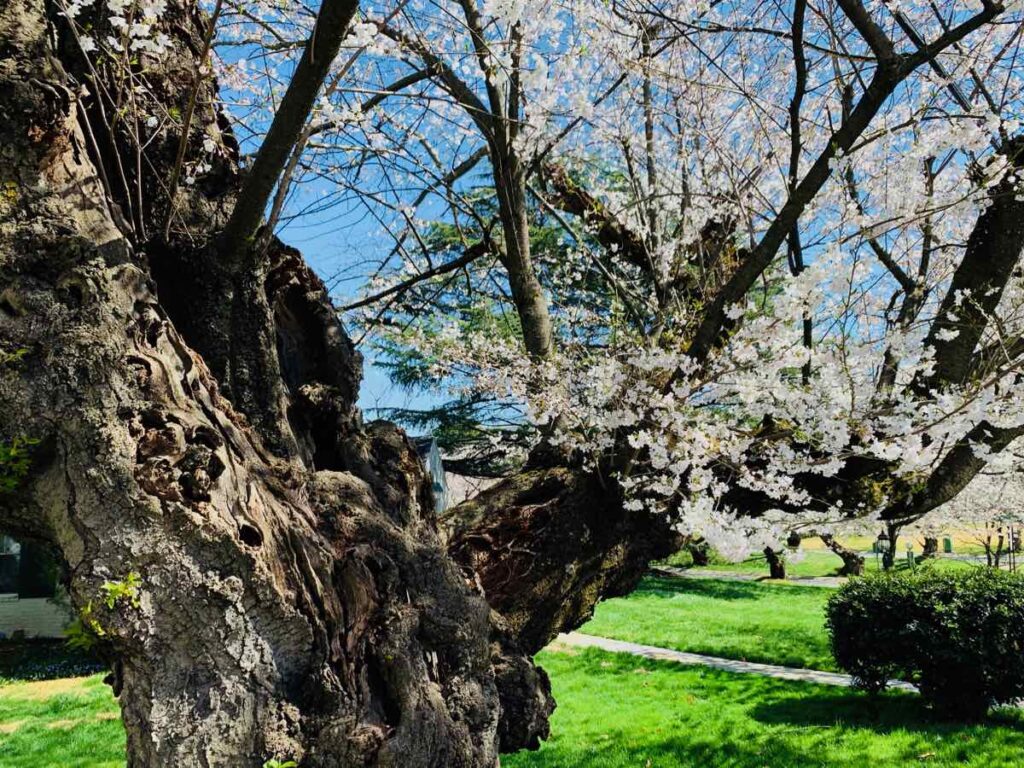 Many cherry trees are tempting to climb or hang on. Don't do this! Cherry tree branches are more fragile than they look and climbing on the limbs is very dangerous for the tree.
Best Kenwood Cherry Blossom Viewing Spots
A small network of roads crisscrosses through the Kenwood neighborhood. All of the roads are pretty, but some of them offer better cherry tree views and other special perks.
Whether you see the Kenwood cherry blossoms by car or on foot, plan for a meandering trip through several (or all) of the small neighborhood streets. While it's easy to reach Kenwood by bike, the narrow streets are best explored on foot or from a car.
Here are some of the best places to see Kenwood cherry blossoms, based on our visits over the years:
Brookside Drive
The heart of the Kenwood cherry blossom neighborhood is a strip of green space between two sections of Brookside Drive. This central road through the neighborhood is like a small boulevard, one-way in each direction.
A small stream bordered by lawn bisects the southern end of the drive. Kids may be tempted to check out the stream, but keep a close eye on them. Remember that there is busy traffic in both directions during the Kenwood cherry blossoms' peak bloom.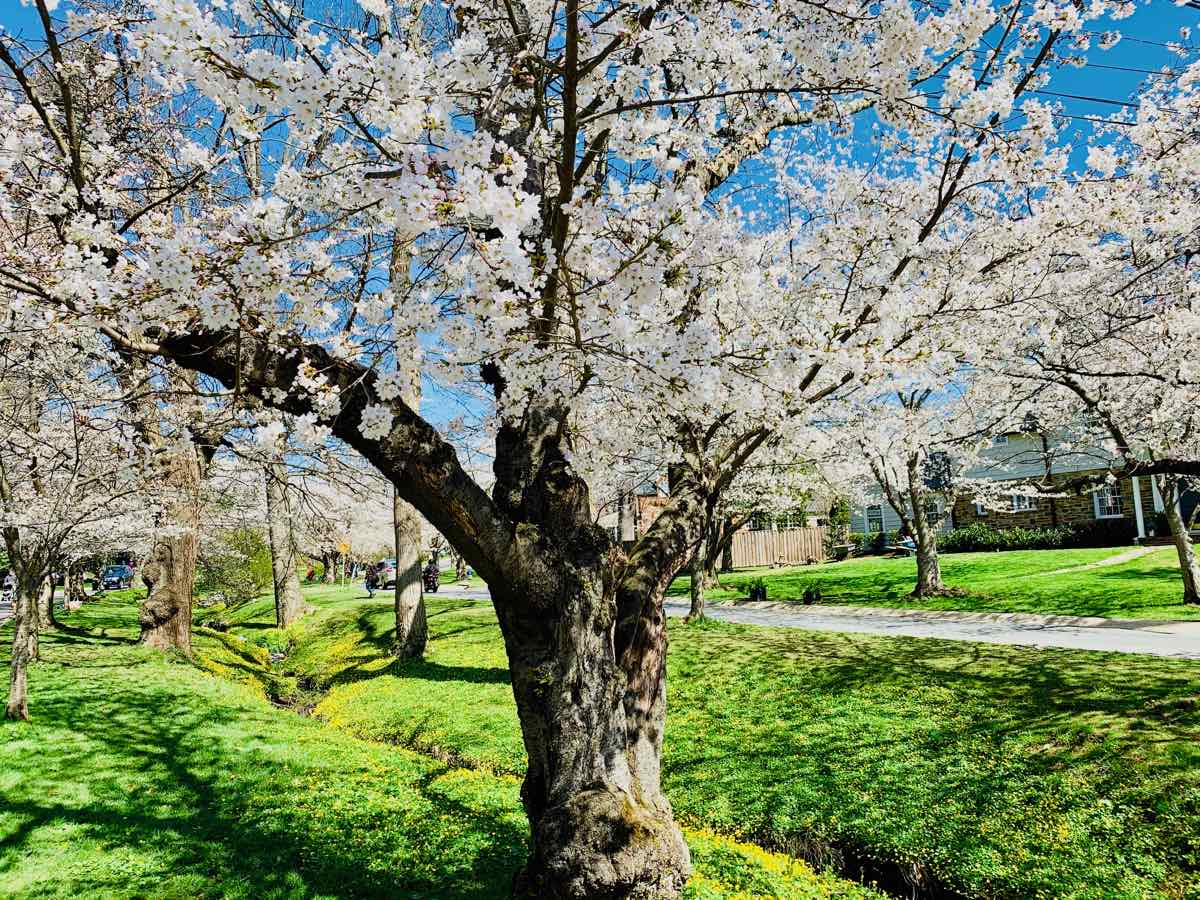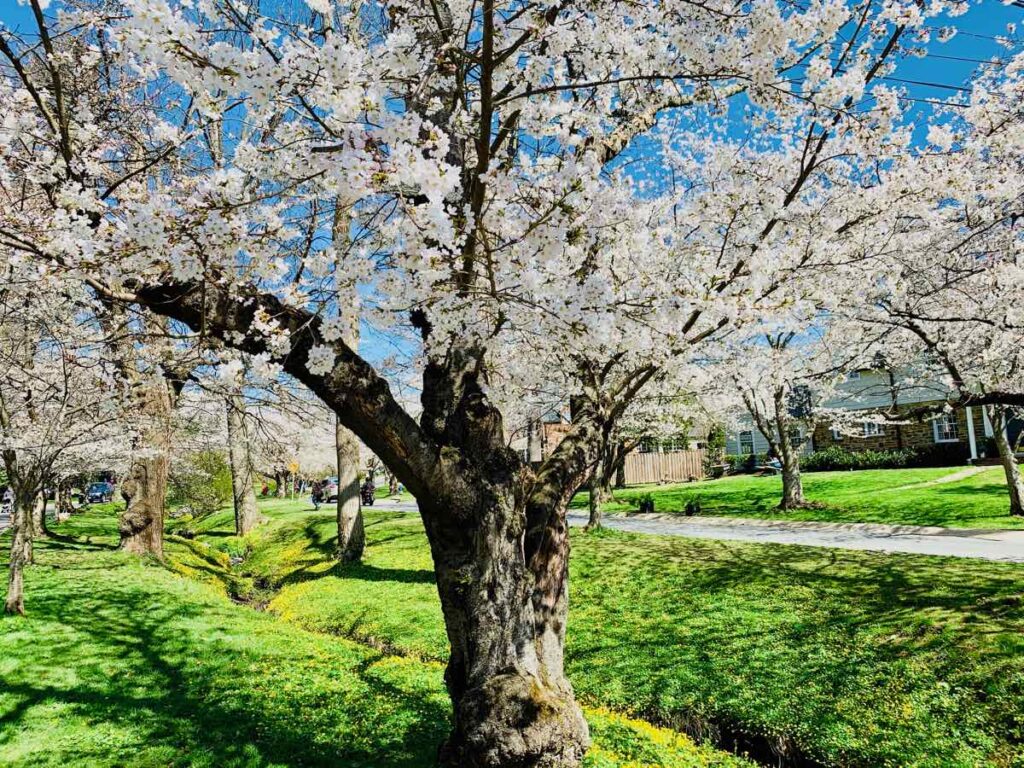 Further north on Brookside Drive, open green space is a popular spot for people to gather. We've seen picnickers, artists, and tour groups relaxing here under a canopy of cherry blossoms.
Most of the tour groups we see in Kenwood are Japanese visitors, lending to the credibility of this alternative underground destination.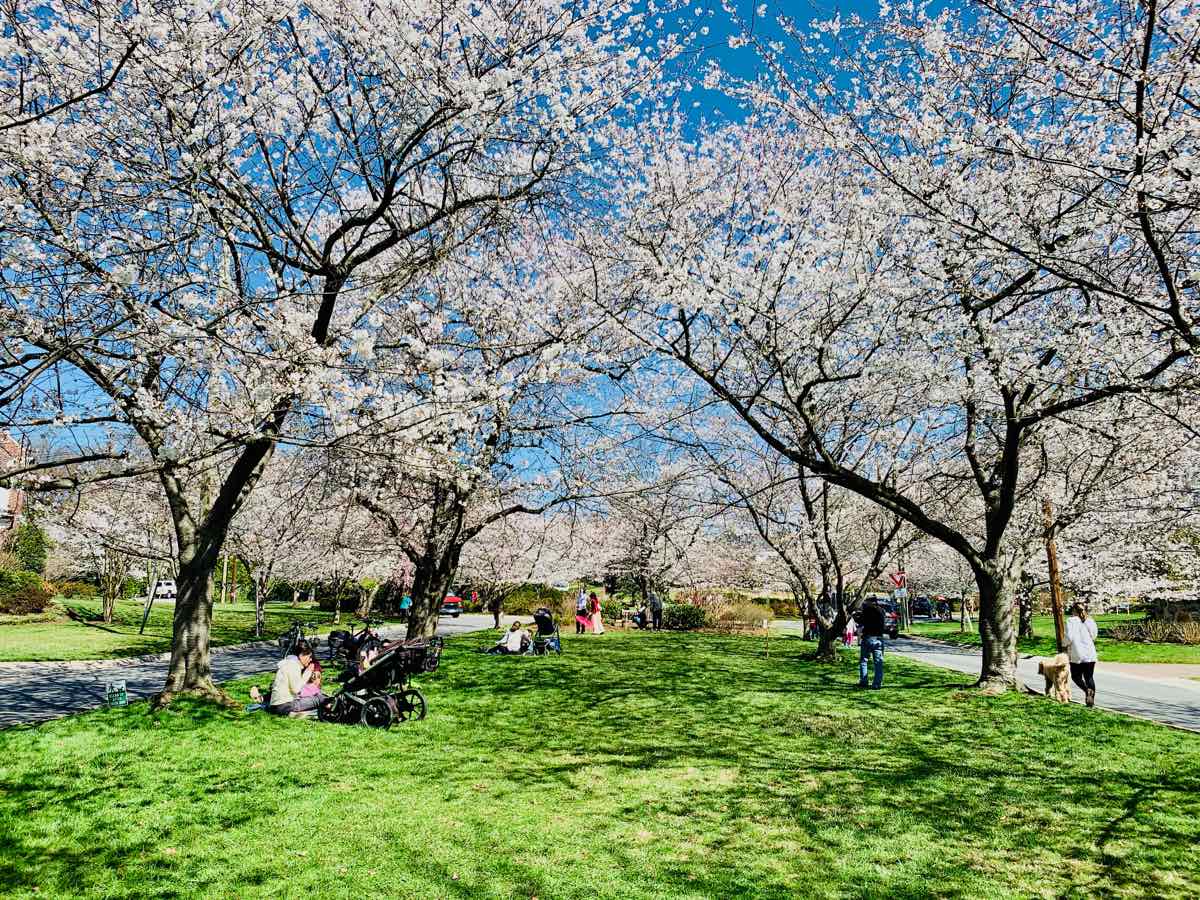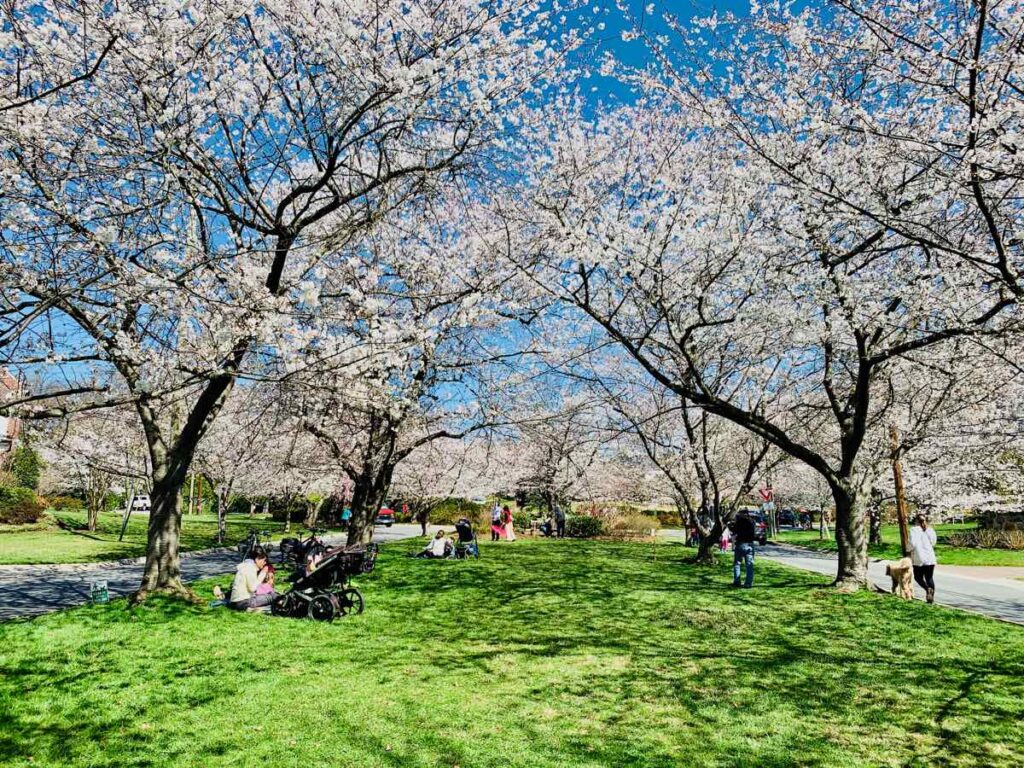 A traffic circle in the center of Brookside Drive connects to other streets. While most of the Bethesda cherry blossoms are white, there is a beautiful pink cherry tree near the circle.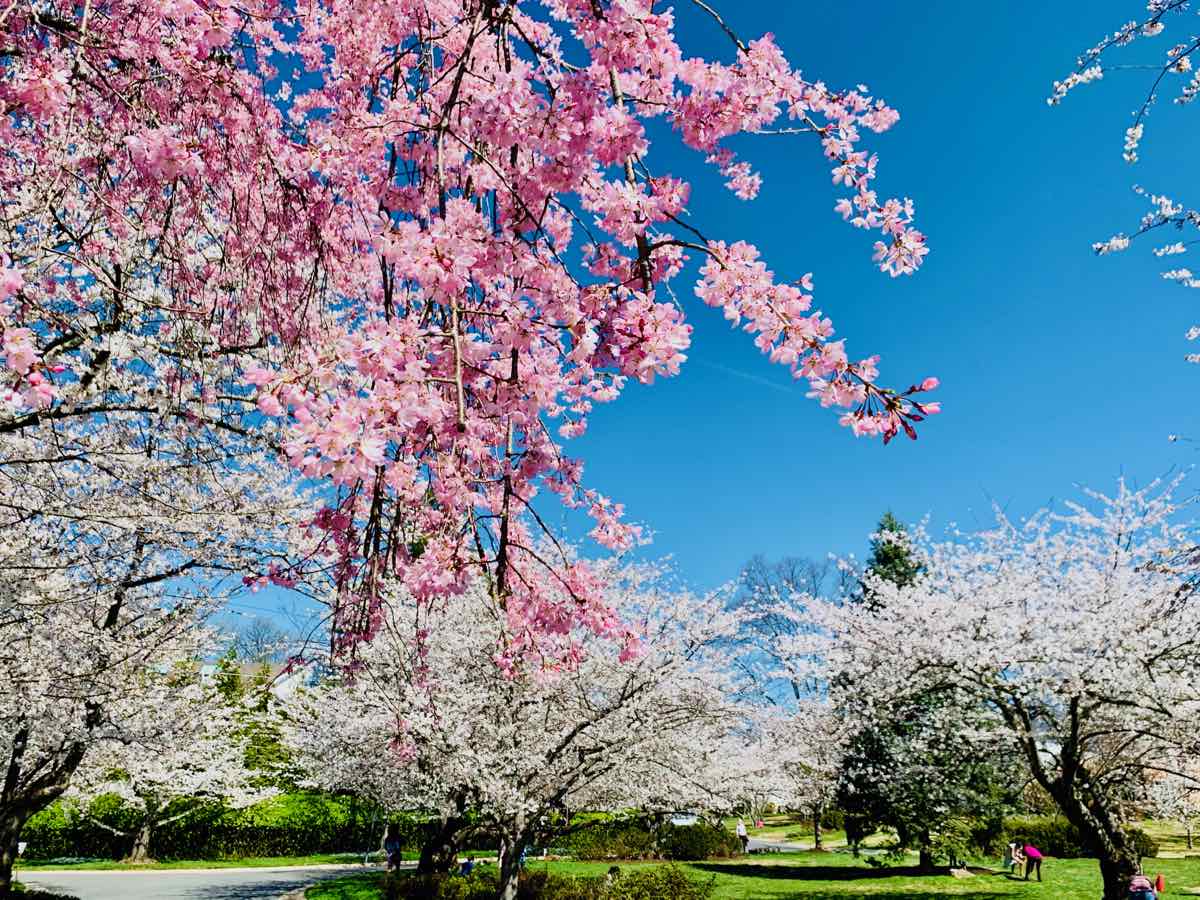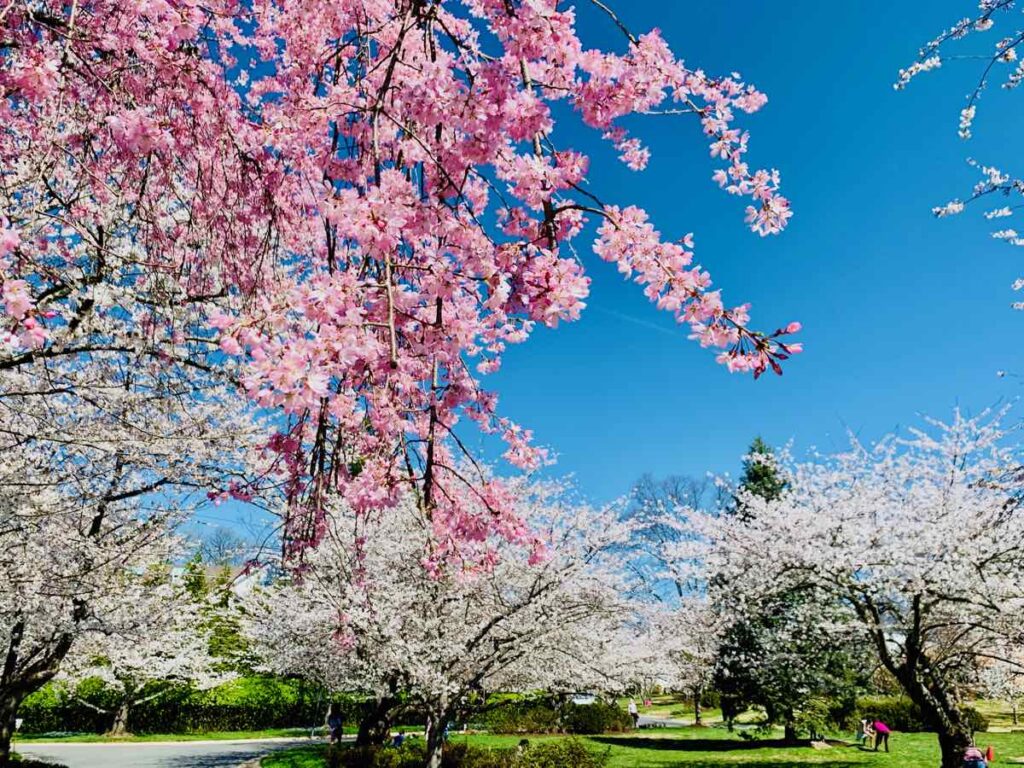 Dorset Avenue
A hill on Dorset Avenue stretches beneath a tunnel of cherry blossoms. You can sometimes find a parking spot on Dorset near where you enter the neighborhood. Of course, don't park anywhere you see No Parking signs. The temporary No Parking signs line both sides of the road throughout the neighborhood and they are strictly enforced.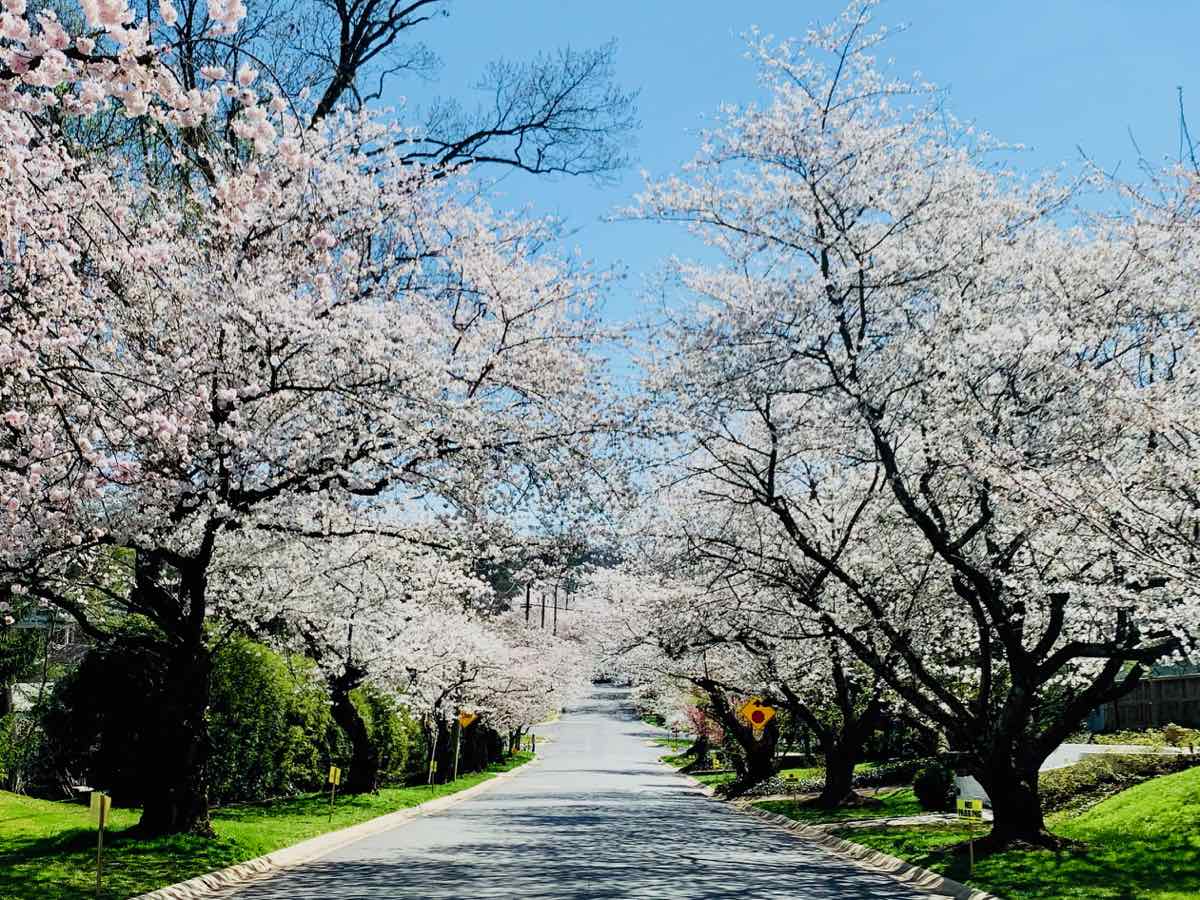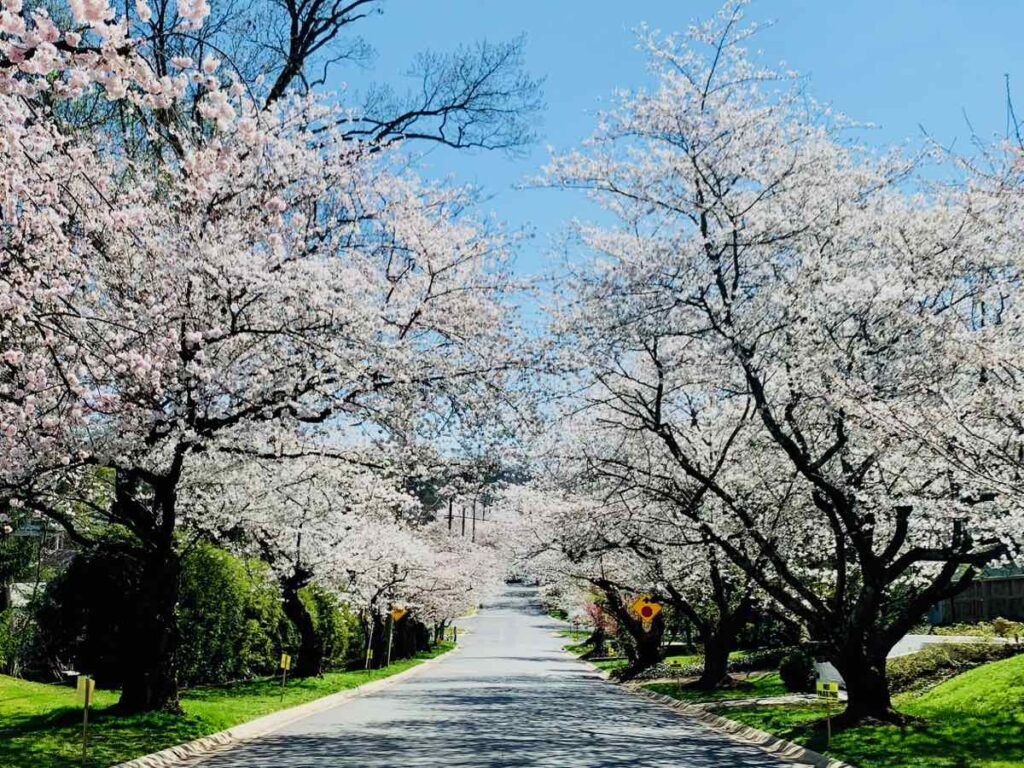 Kennedy Drive
Kennedy Drive is a one-way street that stretches along the east side of the Kenwood neighborhood. The street is bordered by green space and the Capital Crescent Bike Trail. You'll find pretty cherry trees on Kennedy Drive, along with some nice spots to play and picnic.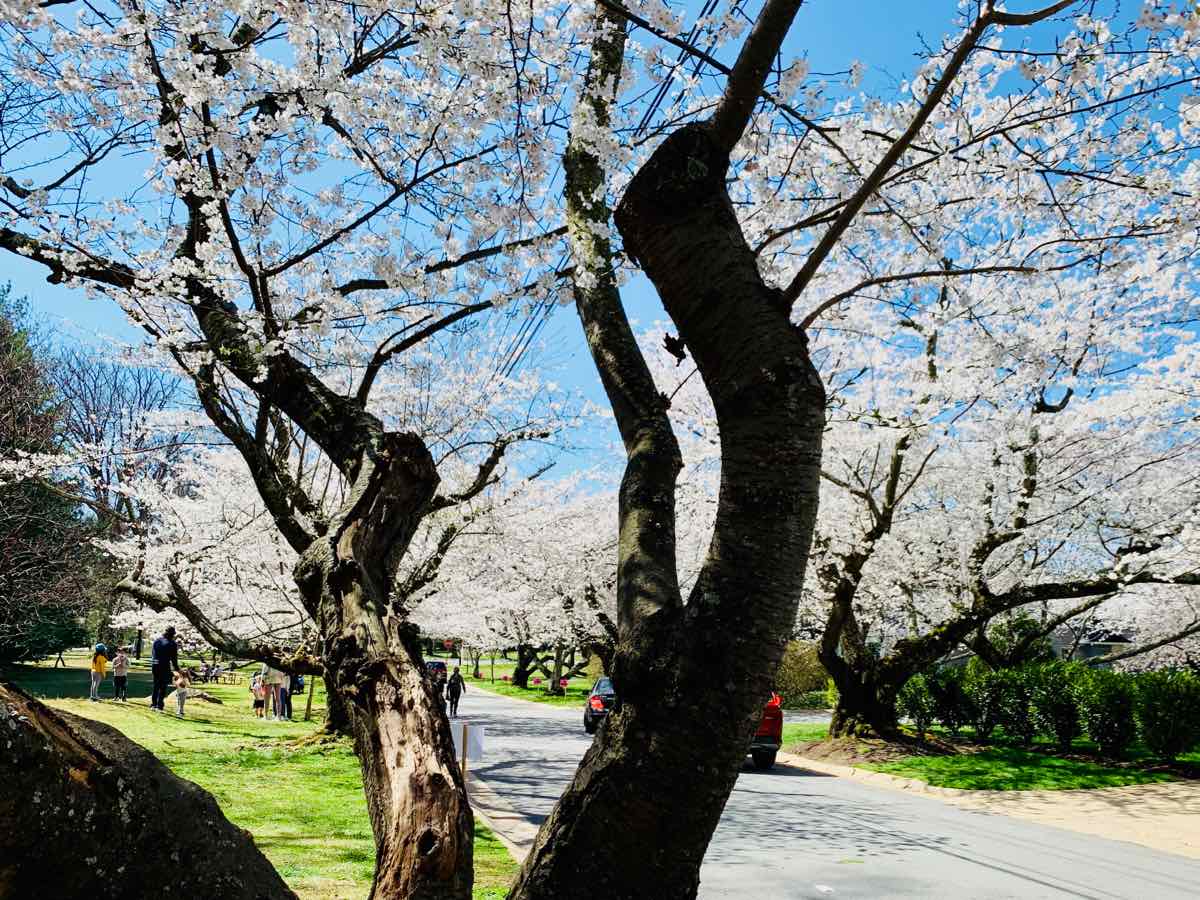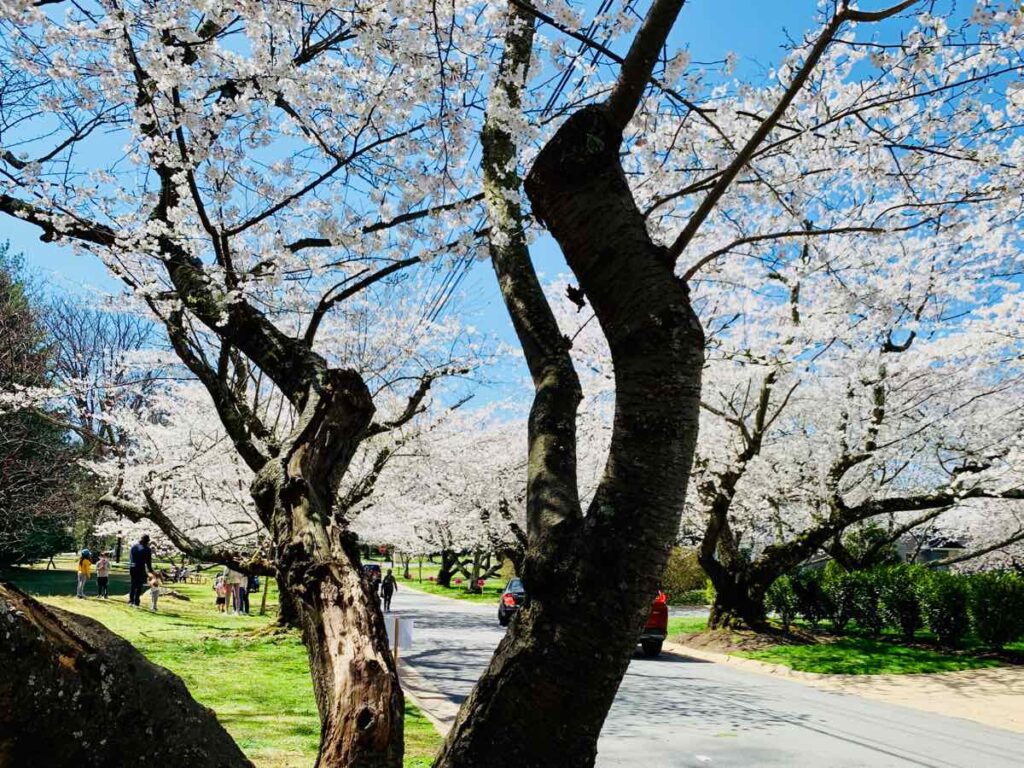 There is a shady playground with swings and play equipment just south of Kenwood Avenue. A bit further south are picnic tables and grassy areas where you can relax under the cherry trees. Bring a blanket along in case the picnic tables are taken.
Parkway Ave and Other Kenwood Streets
If your focus is on photographing the Kenwood cherry blossoms, it's worth checking out all of the streets. To our mind, the "best" streets are often the ones with the fewest people. For example, we love the gentle curve (and empty street) in our photo of the cherry trees on Parkway Drive.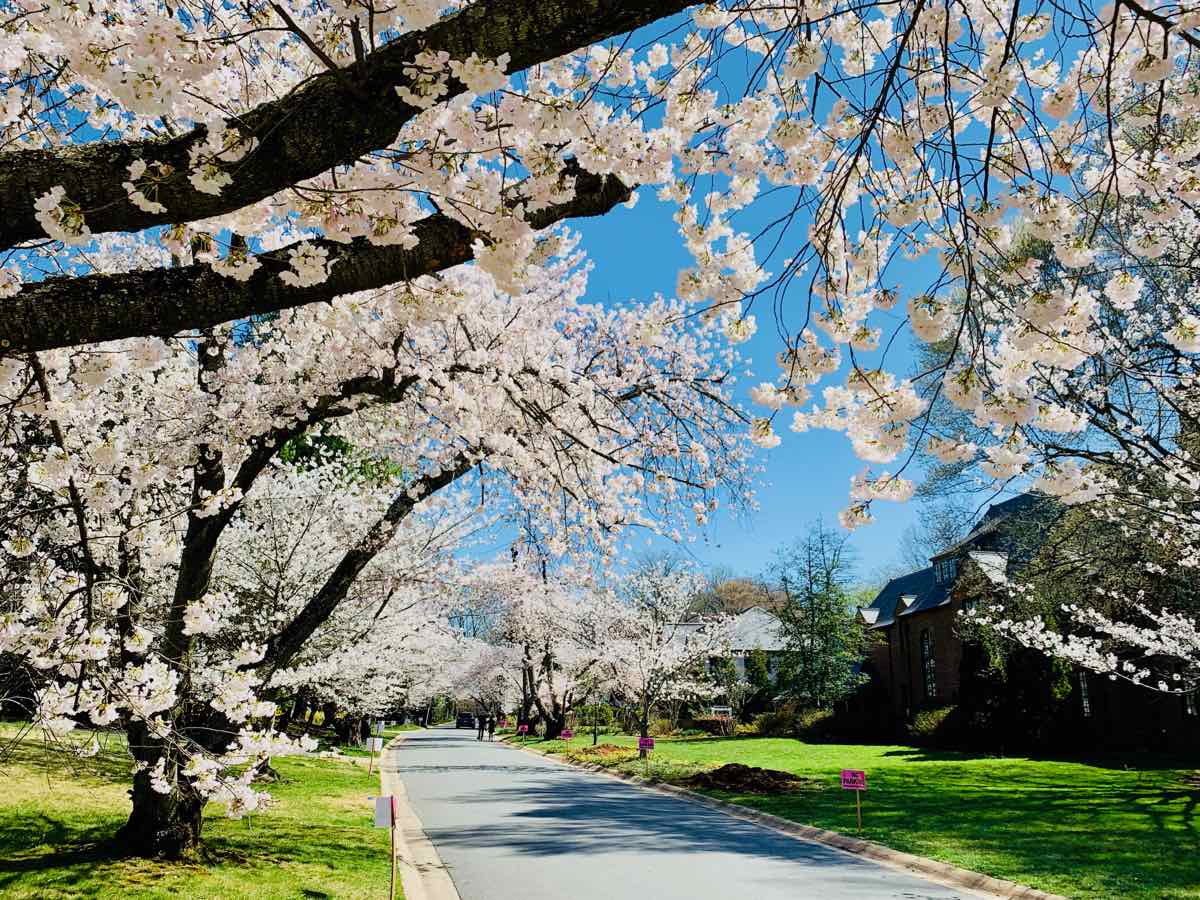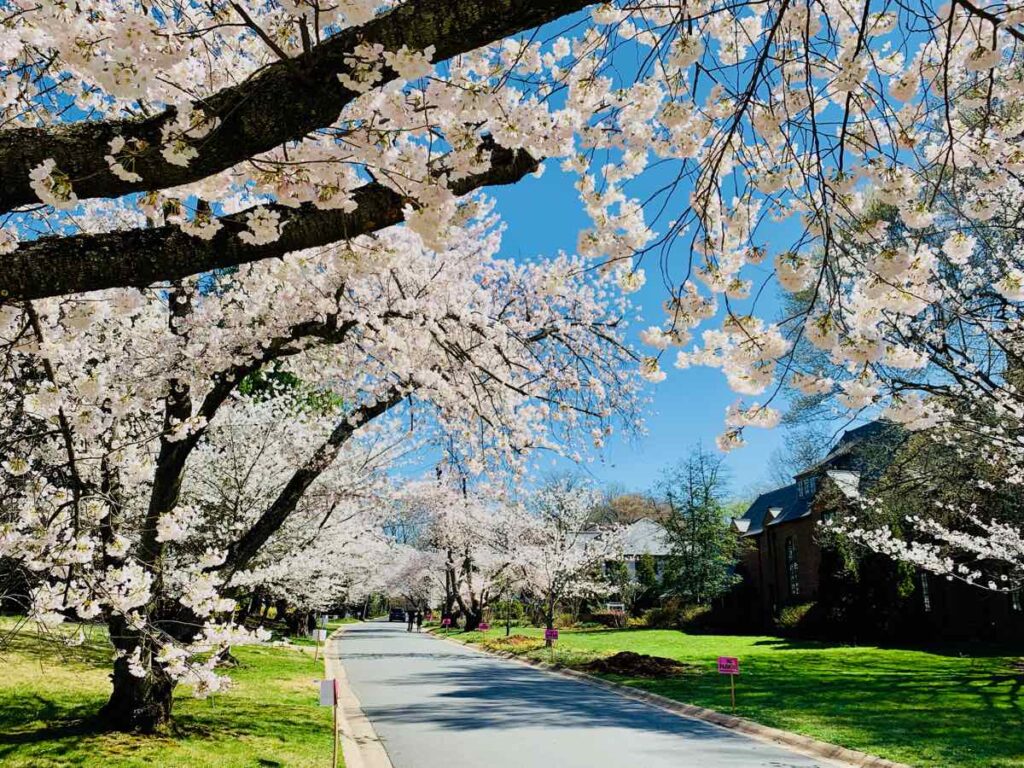 Kenwood is a fantastic walking neighborhood any time of the year. Check out the bamboo patches (cool to see, especially if you never have) and majestic magnolias.
How to Reach the Kenwood Cherry Blossoms
It is easy to reach the Kenwood cherry blossoms by car, by bike, or on foot. Parking is not allowed in the neighborhood, and you'll see temporary No Parking signs lining every street. That means you'll need to stay in your car or be prepared for some walking.
By Car: There are four entrances to the Kenwood neighborhood. From the south, enter from River Road, turning onto Dorset Ave or Brookside Drive. From the north, enter from Bradley Boulevard onto Kennedy Drive. From the east, turn onto Dorset Ave from the Little River Turnpike. All four entrances are about 4 miles east of Route 495, the Capital Beltway.
On Foot or Bike: Fortunately, the Capital Crescent Trail, a paved bike trail, passes right next to Kenwood. There is a Park and Ride lot for the trail less than half a mile from the Kenwood neighborhood. You could also bike the trail all the way from Georgetown, about 6 miles one way.
While it's convenient to reach the Kenwood cherry trees by bike, you won't see many bikes on the neighborhood streets. Streets are narrow and busy, so you're better off locking your bike near the trail and walking from there.
By Public Transport: The nearest Metro stop to Kenwood is Bethesda Station on the Red Line. It's just over a mile walk or bike ride from the Bethesda Station to Kenwood and most of the route is on the Capital Crescent Bike Trail.
On a Guided Tour: One convenient way to see lots of cherry trees in bloom is on a guided tour of cherry blossoms in DC and Kenwood. The all-day tour has pick-up locations in both Washington DC and Falls Church Virginia.
When to See the Kenwood Cherry Blossoms
The Kenwood cherry blossoms usually reach peak bloom a few days after the Tidal Basin peak in mid to late March. For example, in 2021 the DC peak bloom was March 28 and the Kenwood cherry trees were at peak when we visited on March 30th.
Tip: We've seen articles suggesting the Kenwood trees peak a week later than DC, but that has not been our experience. Due to warmer weather, the cherry blossom peak bloom in the DC area keeps getting earlier. Blooms that use to peak in early April now appear by mid-March.
It's no surprise that the Kenwood neighborhood is busiest on weekends during cherry blossom season. Even then, it is much less crowded than the Tidal Basin.
If possible, visit Kenwood on a weekday (but not during rush hour!). If you visit on a Saturday try to arrive in the morning by 11:00. Sunday visits tend to be quieter, especially in the morning.
Even if you miss the peak bloom, the cherry trees add charm and beauty to the Kenwood Bethesda neighborhood. As the petals fall, the streets turn a pinkish hue.
Whenever you visit Kenwood, remember that you are in a residential neighborhood. Keep noise down, stay off of lawns and driveways, and don't climb or sit on the cherry trees. We all want this beautiful cherry blossom-filled neighborhood to be open to visitors for many years to come.
If you miss the cherry blossoms in Kenwood, there are some excellent places to see late-blooming cherry trees in the DC area. See our complete guide to Late-Blooming Cherry Trees Near DC, including a lovely, walkable neighborhood in Northern Virginia.
This article is written in collaboration with Charles McCool. Check out his travel tips and destination advice on McCool Travel.
Follow us on Facebook, Twitter, Pinterest, and Instagram for more fun travel in and from Northern Virginia.
Pin it for later!