See the largest stand of large-flowered trillium in Virginia on an easy Trillium Trail hike perfect for wildflower fans, nature lovers, and birders of every age. At the Thompson Wildlife Management Area, large trillium in a range of hues from white to rose, carpet 2 miles of the forest floor creating a unique and beautiful sight.
The 1.2-mile loop follows the Trillium Trail and a short section of the Appalachian Trail on a lovely short hike through the forest. The trail is easy to access from Route 66 or 50 in Northern Virginia, and there are lots of fun things to do nearby so you can plan a longer day trip.
Find more great hikes near DC: 15 Best Nature Trails in Northern Virginia for Wildflowers and Wildlife.
Disclosure: This article may contain affiliate links. We will make a small commission from these links if you order something, at no additional cost to you.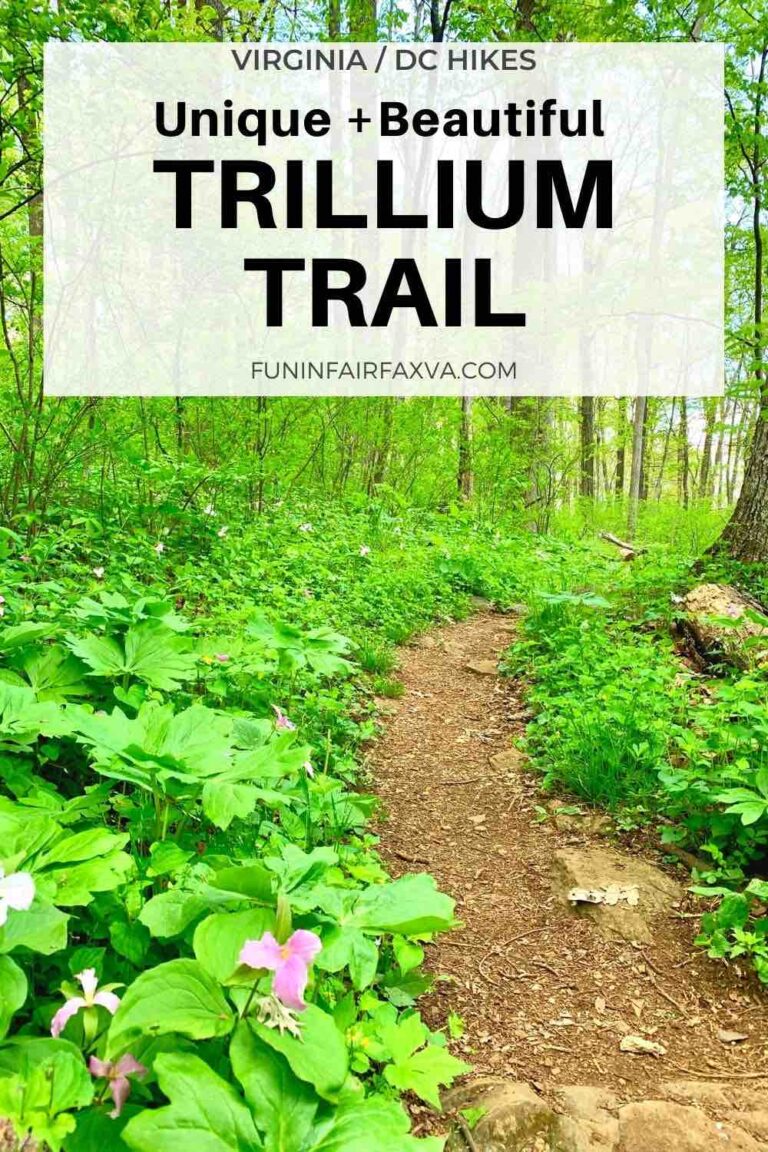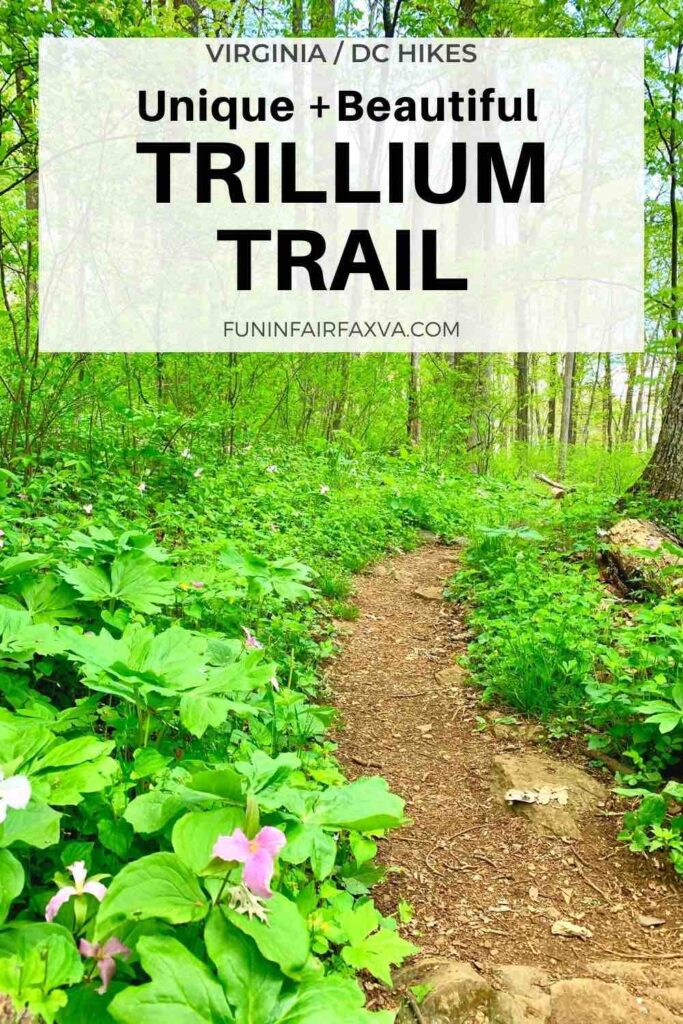 About the Virginia Trillium Trail Hike
The Trillium Trail hike navigates a small loop in the G. Richard Thompson Wildlife Management Area. Thompson donated this 4,000-acre tract that hugs the eastern slope of the Blue Ridge Mountains. Today, it is a popular destination for hiking, birding, hunting, fishing, and trapping.
The trillium slope here may be the largest in the world, and it was the first recognized by the Virginia Native Plant Society.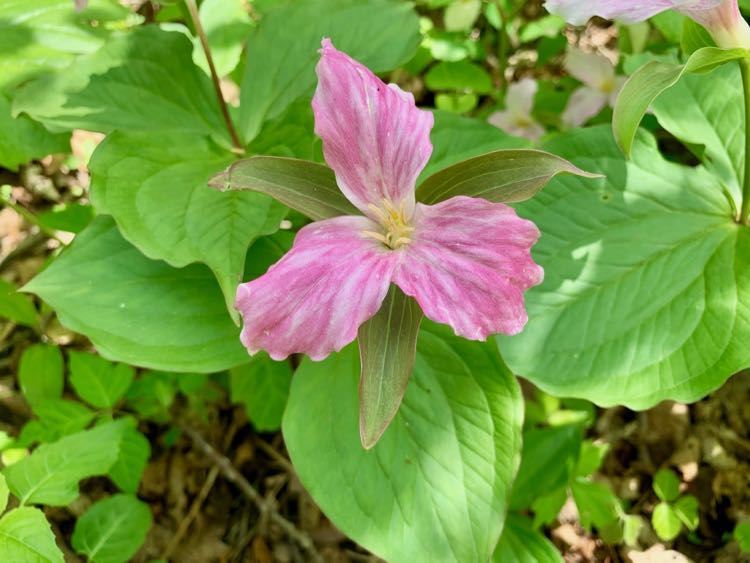 While large-flowered trilliums (Trillium grandiflorum) are the star of the Trillium Trail hike, there are many other rare and common spring wildflowers to see. Wild geranium, mayapple, and star chickweed are common throughout the woods. You may also see showy orchis, yellow trout lily, bloodroot, and more.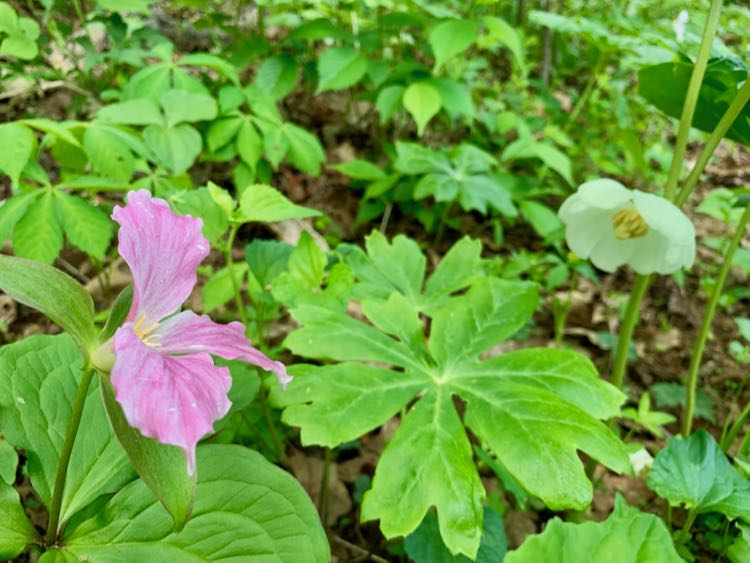 Watch for elusive yellow Lady Slippers on the slopes bordering the service road on your way back to the parking area.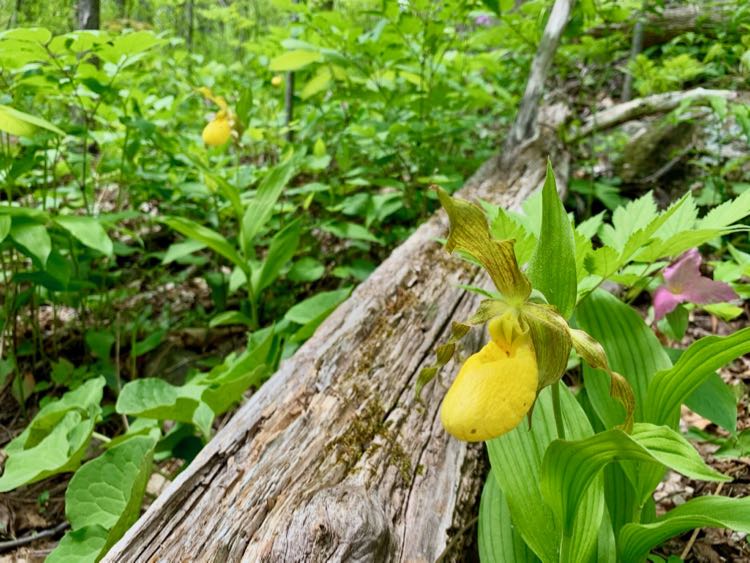 Birding is another favorite activity at the GR Thompson WMA. When the trillium is in bloom you may see resident and migrating warblers, scarlet tanagers, grosbeaks, and of course, cardinals. Even if you are not a bird-watcher, you can enjoy the bird song that fills the woods as you hike.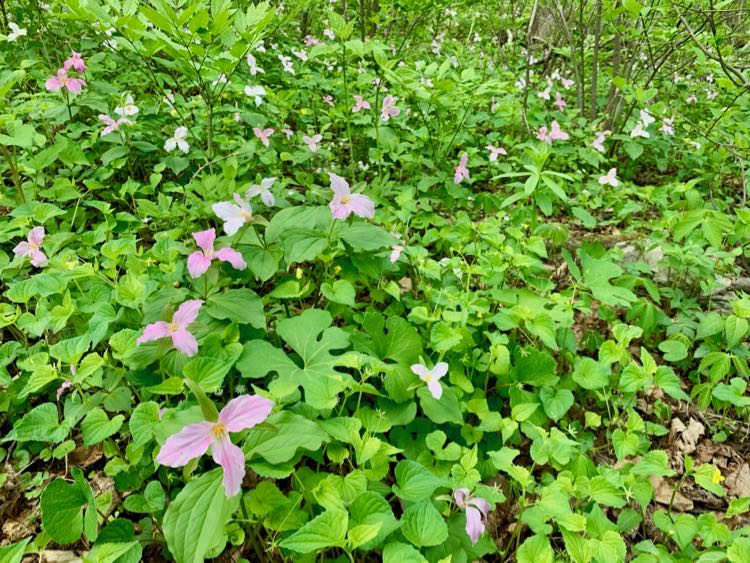 Trillium Trail Hike Details
Our hike follows the 1.2-mile long Marjorie Arundel Wildflower and Birding Trail loop, which you can extend with a side trip on the Appalachian Trail. The loop includes portions of the Tico Tower Trail, the AT, and a service road.
To add more mileage to your hike, continue further on the AT or create a larger loop with the many connecting trails. For example, you could hike north on the AT all the way to Sky Meadows State Park (about 7 miles).
Begin at the Trillium Trail parking area on the west side of GR Thompson WMA. Walk past the gate and take a moment to read the introductory signs which highlight the plants and birds you will encounter. Then, continue ahead and turn right on the Tico Tower Trail.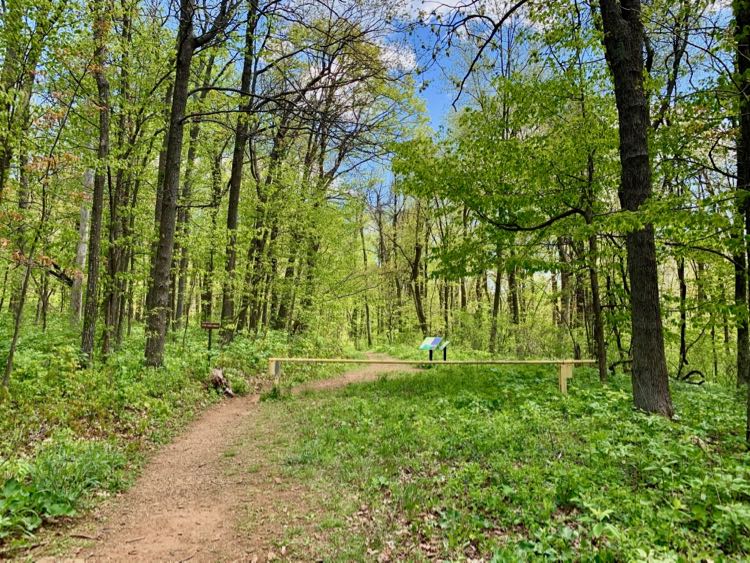 The dirt trail slopes gently downhill, surrounded by trillium and other wildflowers. It's an easy path to follow, but there are some rocky sections. Slow down to a stroll and enjoy the peace and beauty that surrounds you.
Soon, you reach the Appalachian Trail and more beautiful wildflowers. Turn left to continue the loop, or right to walk more of the AT. The wildflowers continue in both directions, and we turned right to add a bit of distance to our outing. Just turn back when ready and rejoin the loop.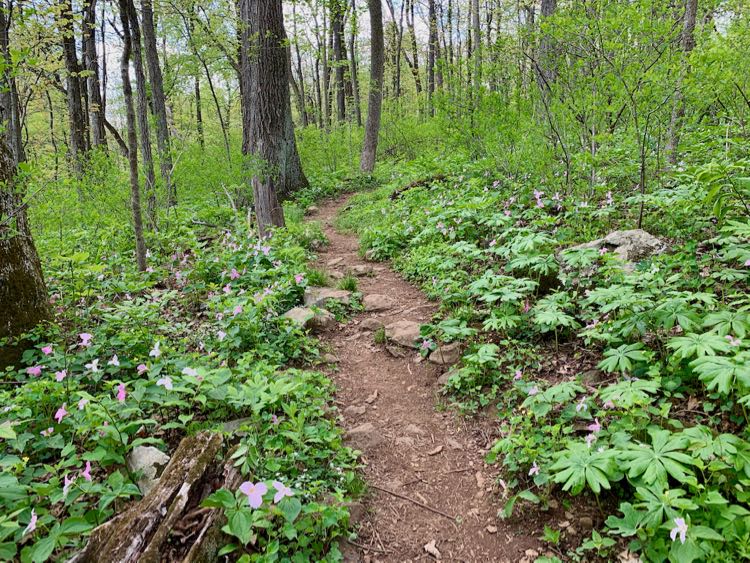 The trail continues gently downhill on this section of the AT with a few short, steep spots. The woods seem magical here. Flowers continue to crowd the forest floor, birdsong fills the air, and giant tulip poplars provide a shady canopy.
In .4 miles, when you reach a wider service road, turn left for the return to the parking area. (Or cross the service road and continue on the AT further to add more distance to your hike.) There are few trilliums on this stretch but the path is lined with wild geranium and ragweed.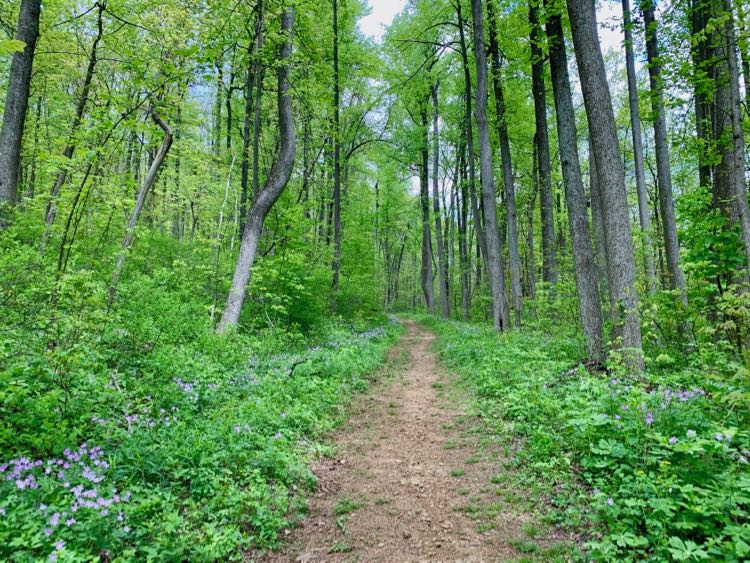 Watch for narrow footpaths on your left. These lead to a small number of delicate yellow lady slippers close to the trail. Take photos, but leave these beauties alone. Sadly, poachers sometimes steal lady slippers, which is both illegal and ill-informed as they rarely succeed in a new location.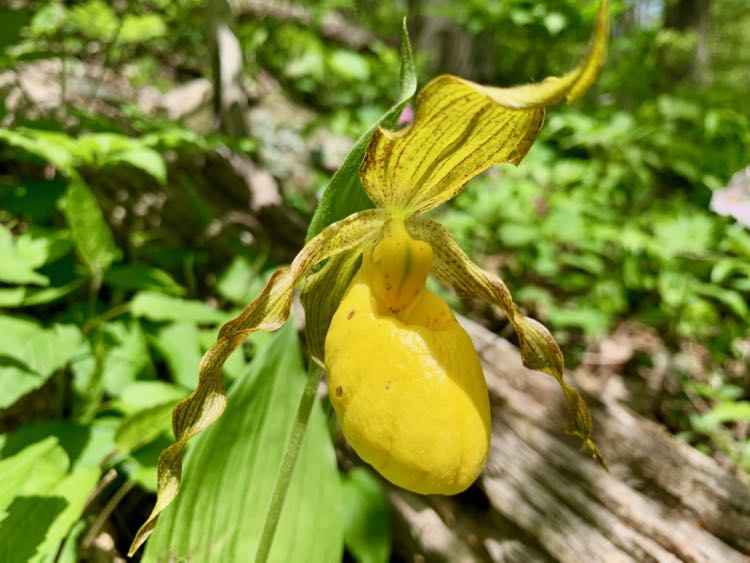 As you approach the parking area and the end of your Trillium Trail hike you'll see more large-flowered trillium beside the trail.
Find more great hikes in our complete list: Northern Virginia Hikes and Favorite Bike Trails Near DC.
Trillium Trail Essentials and Maps
The Trillium Trail hike parking lot is at 5050 Freezeland Road, just north of Linden and Route 66. There are several other parking areas for the Thompson WMA, but this lot is closest to the Trillium Trail.
The Thompson WMA requires an access permit so you need a day pass or a hunting and fishing license to use the trail. Purchase a day pass online or at designated sporting goods stores.
The large-flowered trillium in Northern VA generally blooms in or near the first week of May. The pictures in this article were taken on May 11 and the blooms were perfect. Cold spring weather can delay the bloom, while warm weather may push it earlier.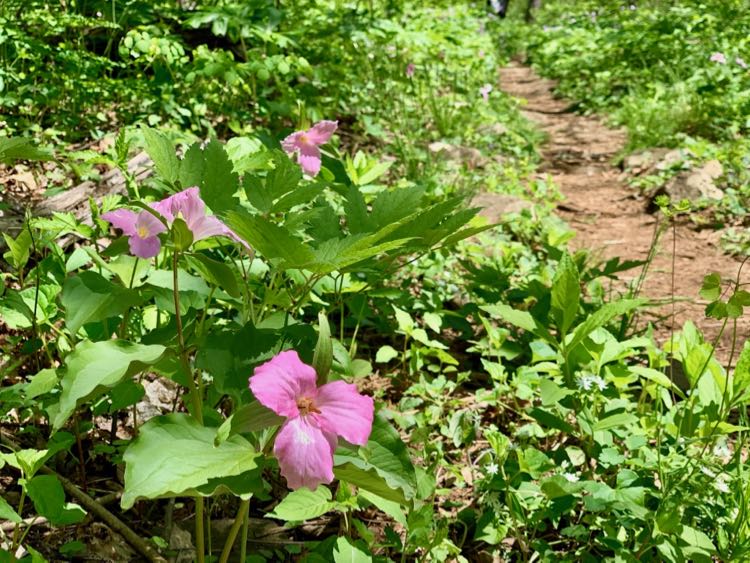 The Trillium Trail is not wheelchair accessible or stroller-friendly. While the grade is generally easy, the trail is narrow and rocky in places and there are some steep sections on the AT. Fortunately, you can see a lot of trillium from the parking area and the beginning of the trail so you don't have to walk far to enjoy the blooms.
Find more information on the G. Richard Thompson Wildlife Management Area website including tips on what to look for when you visit.
Things to Do Near the Trillium Trail
The Trillium Trail is located in the northwest corner of Fauquier County, on the side of the Blue Ridge Mountains. Create a beautiful day trip in the countryside by combining your hike with a visit to nearby parks, wineries, orchards, and small towns.
Or book a nearby vacattion rental for a perfect weekend getaway. Here are some of favorite places to visit and things to do near the Trillium Trail in Virginia.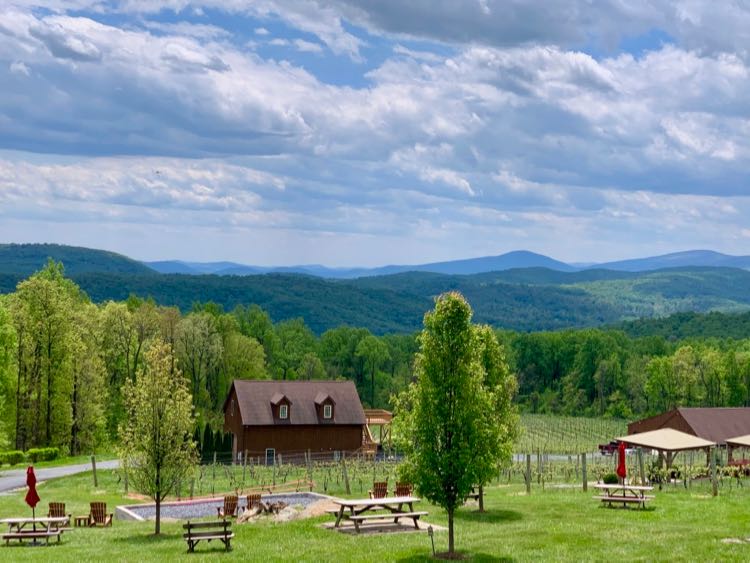 Fox Meadow Winery
Less than 2 miles from the trail, Fox Meadow Winery is a wonderful reward after your hike. The Fox Meadow tasting room enjoys one of our favorite winery views in Northern VA. A long deck, plus picnic tables by the vineyard, give you plenty of room to spread out and enjoy a tasty glass of Virginia wine.
If you're heading back east on Route 66, Barrel Oak Winery and Taphouse is a nice stop for local wine and beer. If you're going north, visit Naked Mountain Winery or one of many wineries heading east on Route 50.
Sky Meadows State Park
If you hike north on the AT, Sky Meadows State Park is only about 7 miles away. It's a bit farther to reach the park by car—about 17 miles—but the drive is scenic and worth the time. At Sky Meadows, you can enjoy more excellent hiking, explore local history, and picnic by a quiet pond.
Hunt Country Scenic Drive
It is easy to reach the Trillium Trail on a scenic drive through Virginia Hunt Country, stopping at quaint small towns along the way. Stop to eat, drink, and shop local at pretty towns like Marshall and The Plains near Route 66, or Upperville and Middleburg on Route 50.
Shenandoah National Park
The northern entrance to Shenandoah National Park is just 13 miles from the Trillium Trail. If you're coming from Washington DC or Northern Virginia, you could create a loop drive to include Shenandoah Park's Northern District. From the Thompson WMA, enter Shenandoah Park at Front Royal and exit the park at Thornton Gap for your return drive. Stop for a short hike or two along the way and catch the views from a few overlooks. If you have time, drive further south into Shenandoah's Central District for a meal (or an overnight) at Skyland Lodge.
Strawberry Picking and Apple Picking
If the weather cooperates, the trillium bloom may overlap with the strawberry season. Several u-pick farms offer strawberry picking nearby or you can order a pre-picked bucket of berries to take home. In Autumn, the trilliums are gone and fall foliage takes over. In fall, combine your Trillium Trail hike with apple-picking at local orchards.
Where to Stay Near the Trillium Trail
Disclosure: We may earn a small commission, at no additional cost to you, for stays booked through the links on our site.
There are some wonderful vacation rentals close to the Trillium Trail that are ideal for a weekend getaway or a longer stay. Here are a few that we would love to stay in:
Find more unique, highly rated places to stay in our guide 17 Fantastic Northern VA Wine Country Vacation Rentals and Airbnbs.
Whether you spend an hour or plan a longer stay, we wish you happy hiking and wildflower watching on Virginia trails.
Follow us on Facebook, Twitter, Pinterest, and Instagram for more fun travel in and from Northern Virginia.