A new Fairfax County LOVE sign offers a fun photo opp on its "Summer of Love" tour or its future home at the Workhouse Arts Center in Lorton. There are more than 140 LOVEworks in Virginia, but until now there have not been any LOVE signs in our county. Now, local residents and visitors finally have an opportunity to find the LOVE right here in Fairfax County.
Loudoun County is also celebrating the Summer of Love, with a fun series of events and one groovy bus. The vintage VW LOVE bus will visit 19 stops county-wide, including concerts, food and wine events, a Lilly Pulitzer themed evening of polo, a camp out, farm festivals and more.  Visit the bus for special giveaways and fun photo opps with the LOVE bus. The Love Bus tour kicks off June 1st. Follow the link for the full Loudoun County Summer of Love schedule.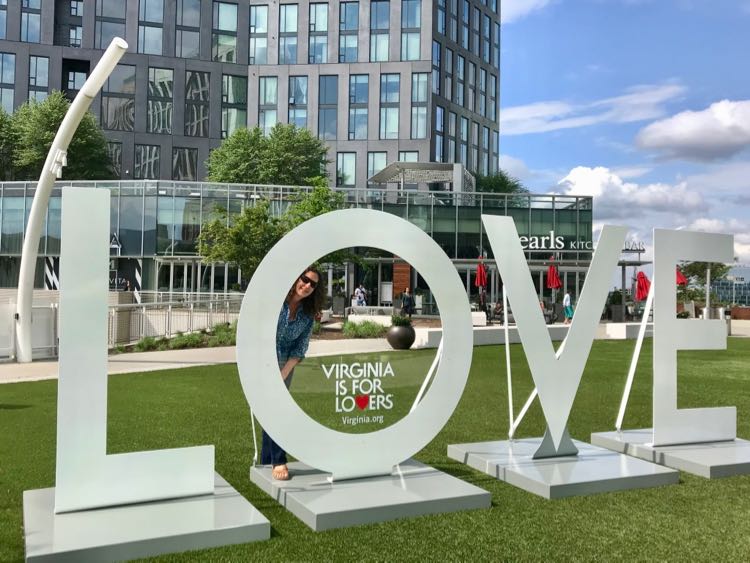 LOVE in Fairfax County VA
You may have seen the iconic and creative LOVE signs on your travels throughout Virginia. The signs celebrate the award-winning Virginia is for Lovers marketing campaign, which is celebrating it's 50th anniversary in 2019. The big Virginia LOVE letters are a perfect backdrop for families, couples, and friends to create fun and romantic photos.
Disclosure: This article may contain affiliate links. We will make a small commission from these links if you order something, at no additional cost to you.
Before it reaches a permanent home, the new Fairfax County LOVE sign is taking a Summer of LOVE tour to some of the county's fun destinations. The tour kicked off at the Tysons Corner Center Plaza on May 9th with a ribbon cutting ceremony. The kick-off during National Travel and Tourism Week also celebrated the huge positive impact tourism has on our county:
"In Fairfax County alone, the tourism industry contributes over $3 billion to the economy. In 2017, visitors to Virginia spent $25 billion, which supported 232,000 jobs and contributed $1.73 billion in state and local taxes."
Once the Fairfax County LOVE sign reaches its home, the talented artists at the Workhouse Arts Center will bedazzle and decorate the sign to make it unique. We're excited to have a unique permanent LOVE sign right here in Fairfax County.
Fairfax County LOVE Sign Schedule
The Fairfax County LOVE sign is on a 10 week tour, stopping at local destinations throughout the region. Here is the full schedule of Fairfax LOVE sign locations:
May 9 – 19  Tysons Corner Center Plaza, Tysons
May 21 – 27  Roer's Zoofari, Reston
May 29 – Jun 4  Reston Town Center, Reston
Jun 6 – 9  Celebrate Fairfax Festival, Fairfax Government Center
Jun 11 – 16  Gunston Hall, Lorton
Jun 18 – 24 The Winery at Bull Run, Centreville
Jun 26 – Jul 1  Caboose Commons at Mosaic District, Fairfax
Jul 3 – 10 George Washington's Distillery and Gristmill, Mount Vernon
Jul 12 – 24, Wolf Trap, Vienna
Jul 26 – Aug 4  Frying Pan Farm Park, Herndon
Aug 6 –   Workhouse Arts Center, Lorton
Find the LOVE location closest to you or, better yet, use this as an opportunity to visit all of the locations on the tour. You'll discover interesting history, local craft beer and wine, family fun, shopping, music, and more if you visit every place on the tour.
Share your LOVE photos on social media for a chance to be featured on the Visit Fairfax and Virginia Tourism websites. Be sure to include the hashtags #LOVEVA #ShareWhatYouLove and #FXVA.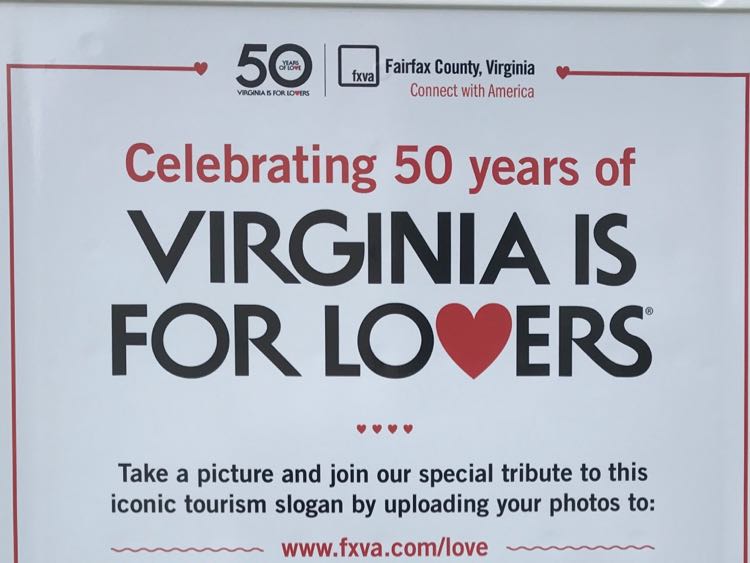 Virginia Tourism maintains a map of all the LOVEworks in the state. We like to include a LOVE photo whenever we explore a new area. Whichever Fairfax County stop you visit, we wish you a very happy Summer of LOVE.
Follow Fun in Fairfax VA on Facebook, Twitter, Pinterest, and Instagram for more places to visit and things to do in Northern Virginia and surrounding areas.