Please see our latest Chinese lantern event review, new in 2022: DC Winter Lantern Festival Lights Up Northern Virginia
The 2021 LuminoCity Festival in Northern Virginia is a walk-through experience of colorful holiday lights and beautifully hand-crafted light sculptures. Visitors stroll past a vibrant collection of realistic and fantastic light sculptures, many featuring animals. Life-sized polar bears, huge mastodons, flamboyant peacocks, and other animals share the grounds with seasonal displays and imagined creatures.
Visitors follow walkways between the sculptures, close enough for photos and smiles. In one section, towering dinosaurs, some that move and roar, mix with lighted dino sculptures. Another area features three tunnels of colored lights.
Disclosure: This article may contain affiliate links. We will make a small commission from these links if you order something, at no additional cost to you.
The LuminoCity Festival in Northern Virginia is a fun addition to local 2021 holiday light shows geared to families with young children. Also in Vienna Virginia, we highly recommend the annual Meadowlark Gardens Winter Walk of Lights. And the Bull Run Festival of Lights Holiday Drive-Through has been a family favorite for many years.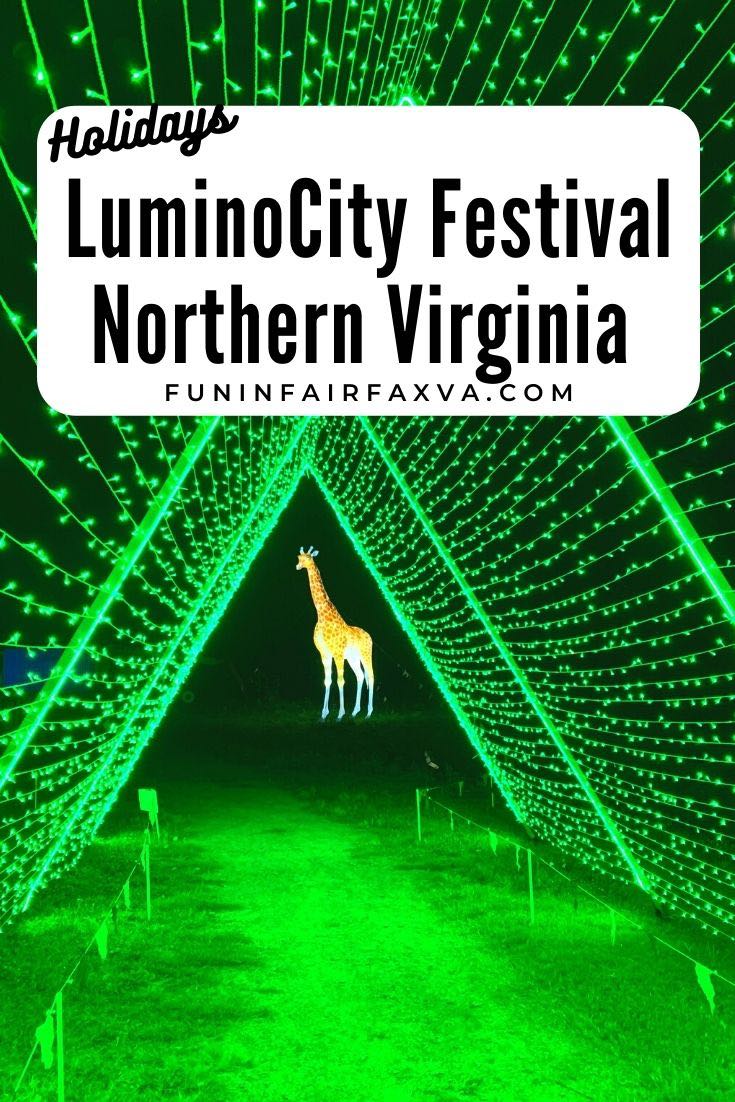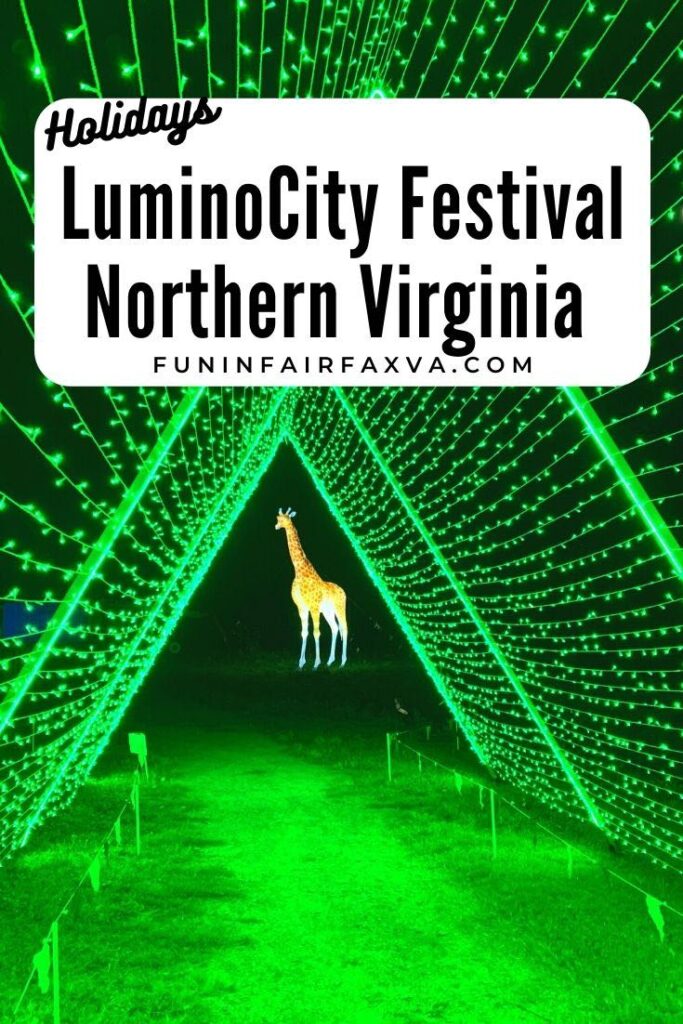 What to Expect at the LuminoCity Festival in Northern Virginia
This is the third time a light sculpture festival has opened in Northern Virginia in recent years. The LightUp Fest Lantern Festival was held at One Loudoun in 2018, and the Roers Zoofari Chinese Lantern Festival appeared in 2016. This year's festival is a mix of holiday and animal sculptures.
Bright sculptures and trees dripping with lights set the stage outside the zoo entry. On arrival, drivers stop at a booth and show their parking reservation to an attendant. Your admission tickets are checked when you walk into the zoo entry. (Scroll down for details on tickets, parking, and other essentials.)
Until October 31st, the first sculptures you encounter feature several spooky Halloween vignettes. Holiday scenes will welcome guests from November 15 until the festival's last day on January 2, 2022.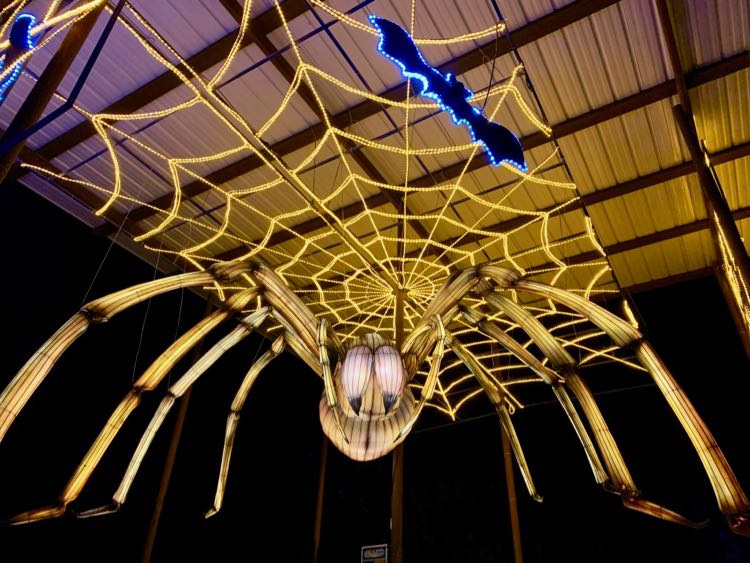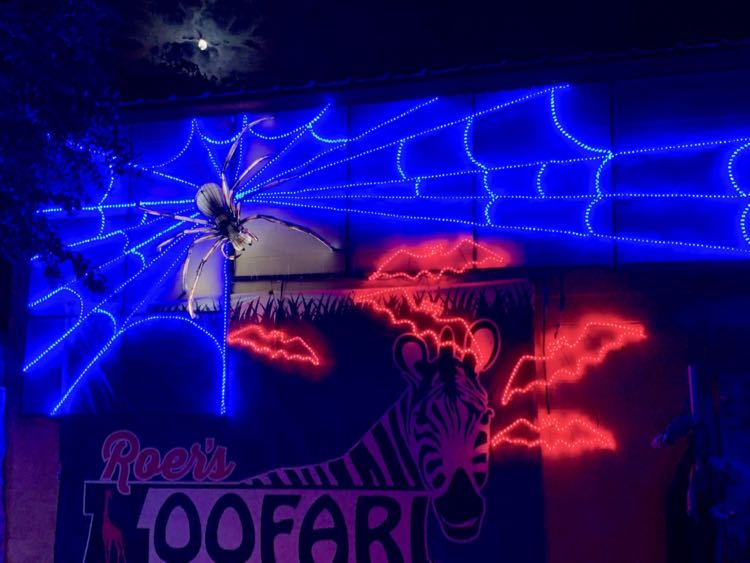 Read more: Halloween in Northern Virginia: Haunted Trails and Trick-or-treating
If your goal is holiday photos of the family consider booking an early time slot so there is still daylight. The holiday scenes make fun photos for people, but you'll need to leave your furry friend at home.
As you walk further into the zoo grounds, animal sculptures dominate the scene. Animals are grouped by themes and regions and placed in light-filled settings from a cactus-filled desert to a sea of ice. The zoo makes a great setting for the animal-centric LuminoCity Festival sculptures.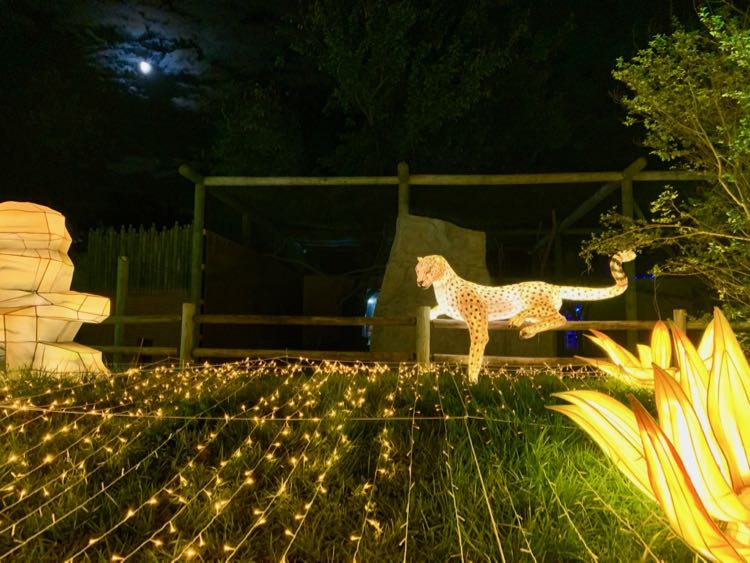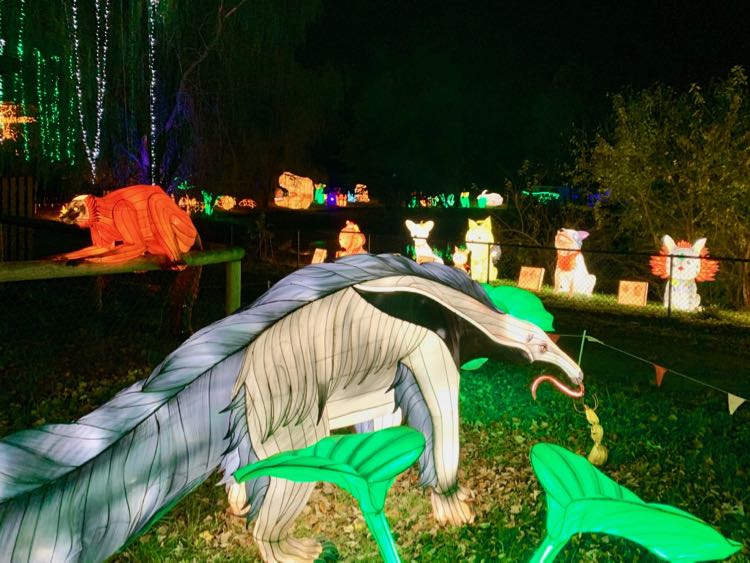 As you walk the paths, keep an eye out for live animals too. Some of the zoo's animals are active at night, and you'll have a good view of them moving around in their enclosures.
Have You Seen a Lumi?
A little lightbulb-shaped character called Lumi is the festival mascot, and you'll see him throughout the show. Near the pond, you'll find Lumi's furry friends, a row of fanciful cats and dogs that represent the zodiac signs. Signs show the real animal that inspired each Lumi, and you can follow them all on social media. Smoothiethecat, for example, has 2.2 million Instagram followers and her own YouTube channel.
In another display, Lumi's Utopia shows children's art transformed into light sculptures. You can learn more about Lumi's on the LuminoCity Festival website.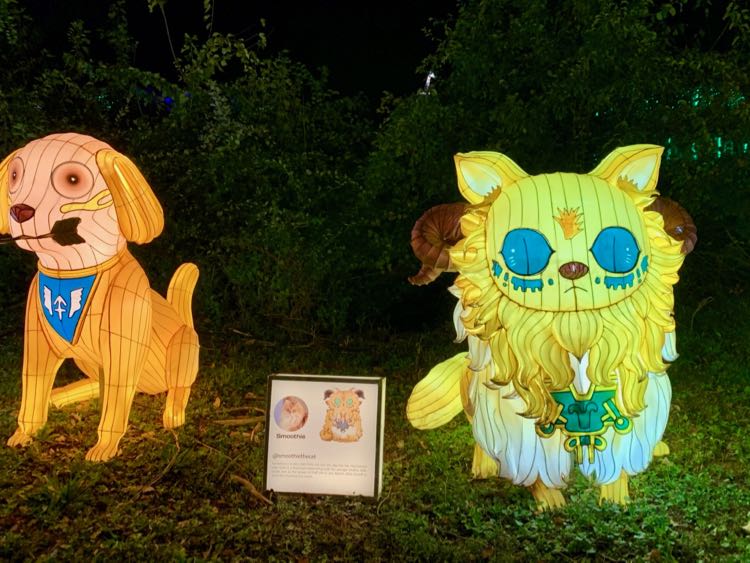 LuminoCity Festival Tips
Here are a few festival tips based on our personal experience. Scroll down for details on festival essentials, including location, hours, tickets, and rules.
Light sculptures at the LuminoCity Festival in Northern Virginia are spread out around the Roer's Zoofari grounds. This makes it easy to maintain distance between groups, and the entire exhibit is outdoors. Dress warmly and be prepared for uneven ground in some areas.
The exhibit requires a fair amount of walking which is great for wearing out excited kids but might be challenging for some folks. To see most of the sculptures and cut down on walking, skip the path around the pond.
There are plenty of photo opps at the LuminoCity Festival, but the only activity is walking through the displays.
Outside food and beverages are not allowed at LuminoCity. There is a food stand outside the zoo selling hamburgers, hot dogs, funnel cakes, deep fried oreos and other treats.
LuminoCity Festival tickets are not cheap, but you can get a small discount by joining the Lumi's Fan Club.
Don't expect the Northern Virginia LuminoCity Festival to match pictures and videos on the festival website. Those images are from the New York festival, which looks to be larger than our local version.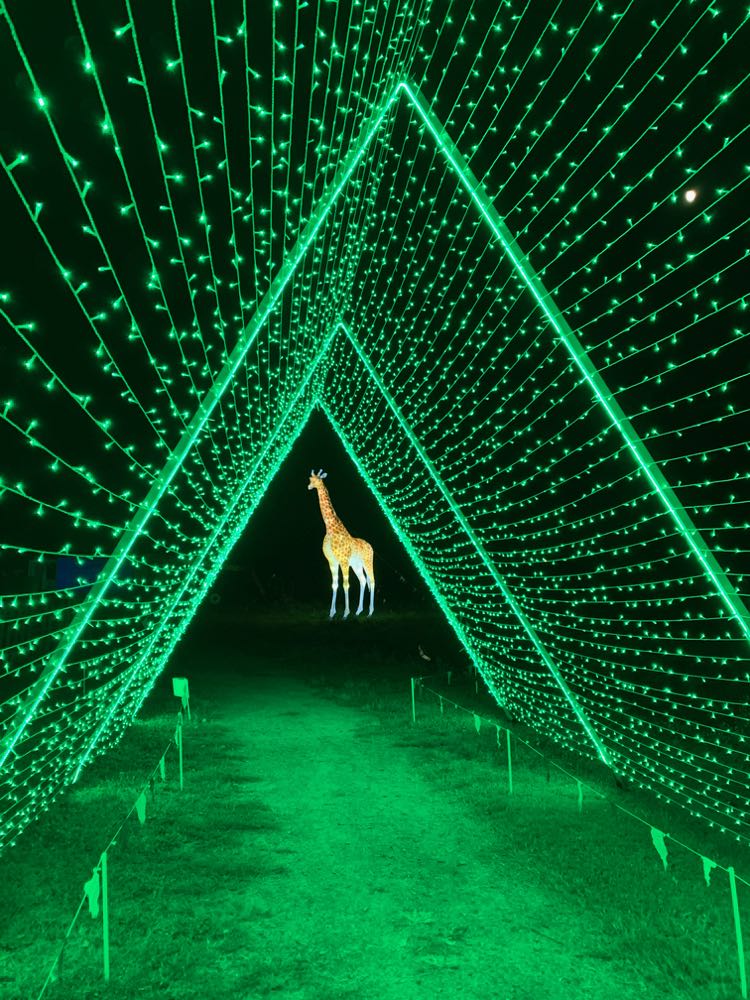 LuminoCity Festival Essentials
Here are the essentials you need to plan a visit to the 2021 LuminoCity Festival in Northern Virginia.
What is the LuminoCity Festival?
The LuminoCity Festival is a walk-through display of colorful light sculptures from the realistic to the fantastical. Light displays are grouped by theme and some are animated. LuminoCity is a new light show in Northern Virginia, hosted at Roer's Zoofari in Vienna Virginia. The many animal sculptures in the light show are right at home at the zoo.
When is the 2021 LuminoCity Festival in Northern Virginia?
The LuminoCity Festival in Virginia is open from October 16 2021 to January 2 2022 on select days. The festival is open Thursday through Sunday on most weekends and every day during Christmas week. Since the festival is open on Christmas Eve, Christmas, New Year's Eve, and New Year's Day it can be part of your 2021 holiday celebrations.
Festival hours are 6:00 – 9:00 until October 31, 4:30 – 9:00 from November 7 to January 2.
Find more DC Area Places to Visit on Christmas Day.
Where is the Virginia LuminoCity Festival?
The 2021 LuminoCity Festival is at Roer's Zoofari in Vienna Virginia. The festival address is 1228 Hunter Mill Road, Vienna Virginia, at the intersection of Hunter Mill Road and Baron Cameron Ave.
Directions to Roer's Zoofari:
From the Dulles Toll Road, take the Hunter Mill exit and drive 2.7 miles north on Hunter Mill Road. Roer's Zoofari will be on your left. Use caution crossing the one-lane bridge shortly before you reach the zoo.
From Route 7, turn onto Baron Cameron Ave and take the first left on Hunter Mill Drive. The festival is the first driveway on your right.
The LuminoCity Festival at Roer's Zoofari is about 20 miles from Washington DC.
How Much are Tickets to the LuminoCity Festival?
LuminoCity Festival tickets are $32 for adults, $22 for children 3 – 12, and free for children under 3, plus processing fees ($3.08/$2.83). There are also VIP tickets which include a VIP entry, gift shop discount, and goodie bag.
Tickets must be purchased in advance online. There are no walk-up tickets. Visit the festival website to purchase tickets and for reservation policies.
Timed entry tickets are available in 45-minute blocks during festival hours. Arrive any time during your timeslot.
Parking at Roer's Zoofari for the LuminoCity Festival
Parking is limited at Roer's Zoofari and you must purchase a $5 parking ticket in advance (plus $2.40 fee) if you plan to park at the zoo. Reserve your parking spot when you purchase your tickets or they may run out.
There is also a designated spot for Uber or Lyft dropoff and pickup.
Is the LuminoCity Festival Good for Kids?
Yes, the LuminoCity Festival is a good light show for kids. In fact, the entire festival is designed to dazzle and delight children. Since walking through and around the light sculptures is the only activity, kids will get plenty of exercise.
The festival is stroller-friendly, though the ground is a little rough around the pond. Since light sculptures are spread out, it's a good idea to bring a stroller or carrier for young children.
Most sculptures are surrounded by flagged ropes to protect them from accidental damage. But kids can still get close to the sculptures. There are two fun photo spots in the dinosaur area. Kids can pose inside two dino eggs and everyone can pose inside a giant TRex head.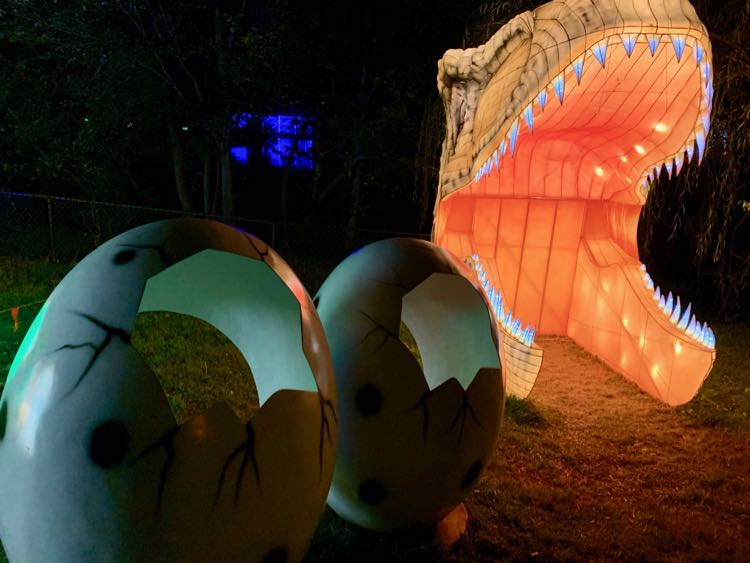 Is the Northern Virginia LuminoCity Festival Accessible?
Yes, the LuminoCity Festival is ADA compliant, however, some surfaces are uneven gravel and dirt. The lighted sculptures are spread over a fairly large area, so a fair amount of walking is involved. Sturdy wheelchairs should be fine but some festival areas may be challenging for folks with limited mobility.
LuminoCity hosted our visit to the festival. All text, photos, and opinions are our own.
Follow us on Facebook, Twitter, Pinterest, and Instagram for more fun travel in and from Northern Virginia.