Updated on October 16, 2023 by Julie McCool
Virginia's Blue Ridge Cheers Trail offers tasty craft beer throughout the dynamic Roanoke Valley metro-mountain region. Venues range from fun downtown Roanoke tasting rooms to breweries in nearby towns.
The Blue Ridge Cheers Trail offers a fun and delicious way to sample craft beer and explore the region. Pick up a passport for special offers and deals from participating breweries.
Disclosure: This article may contain affiliate links. We will make a small commission from these links if you order something, at no additional cost to you.
Our guide to Virginia's Blue Ridge Cheers Trail combines highlights of sites we've visited, along with a listing of every brewery on the trail. We've also got tips on where to stay and transportation options for your visit to Roanoke Valley.
We were guests of Visit Virginia's Blue Ridge, who kindly chauffeured us around so we could safely sample the beer at multiple breweries. As always, all photos, text, and opinions are our own.
Sampling Craft Breweries in Roanoke Virginia
There are several excellent craft breweries in downtown Roanoke, so it's a great place to start exploring Virginia's Blue Ridge Cheers Trail. Find more local fun in our guide to the best things to do in and near Roanoke VA.
Big Lick Brewing Company
What started as a nano-brewery in 2013, Big Lick Brewing Company is now an expansive, downtown space with lots of indoor and outdoor seating. On a sunny day the patio, bar, and tables are all usually hopping with happy beer lovers.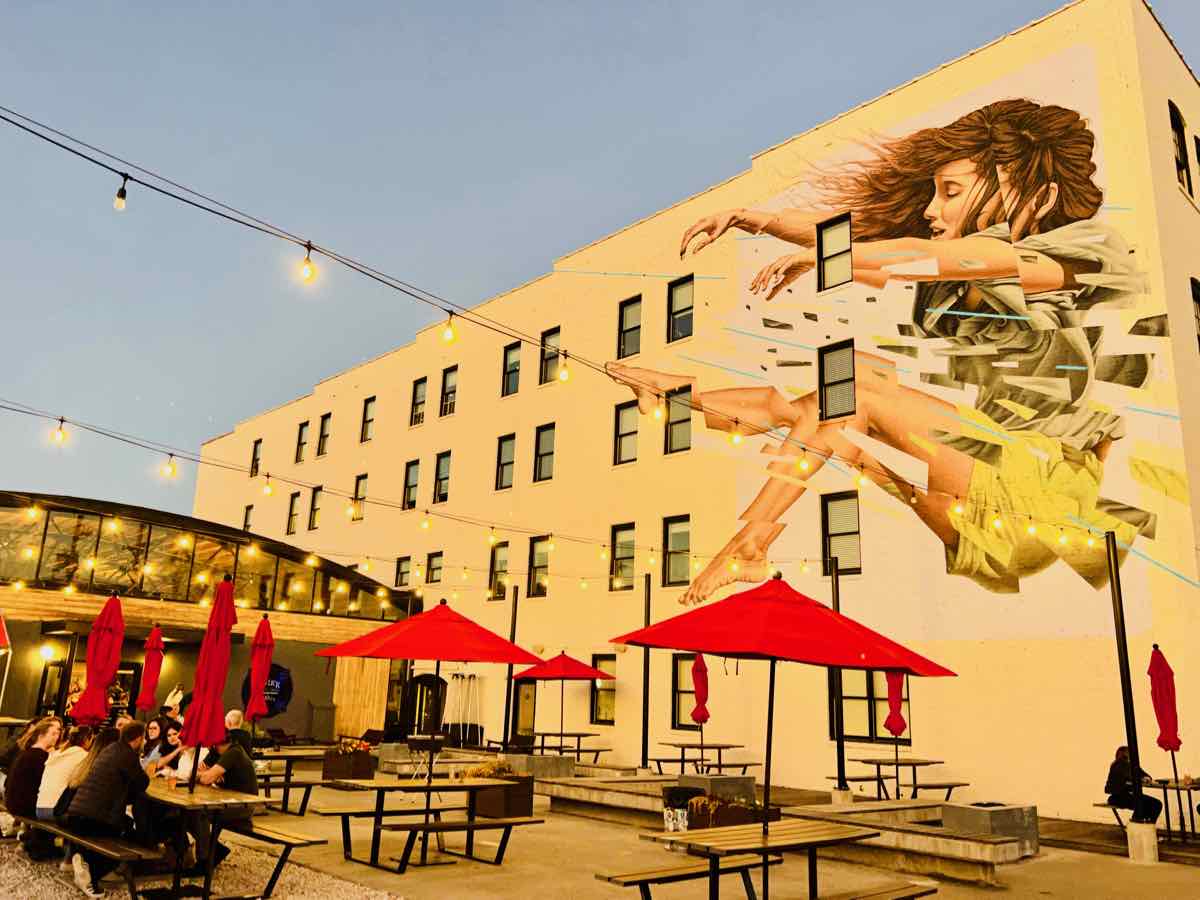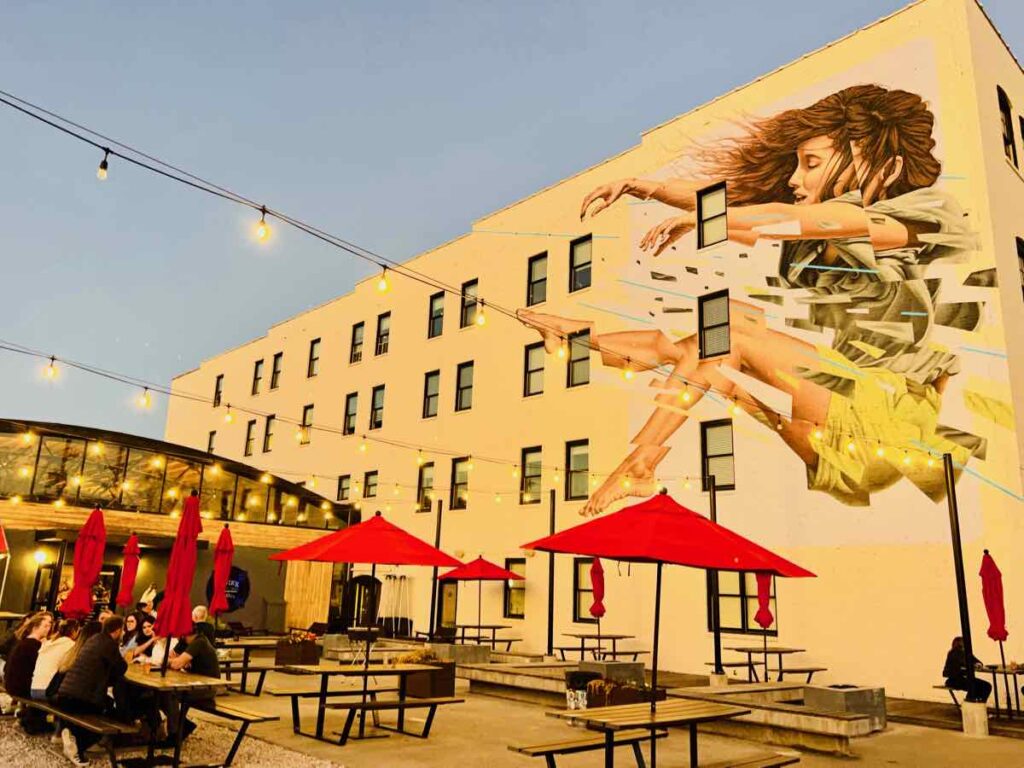 The beer menu includes a nice range of options from the expanded brew system, along with a few small-batch brews. We really liked the Logperch Brown Ale and the small batch, amusingly named Paddy O'Furniture, an Irish Stout on tap for St. Patrick's Day.
Two neighboring restaurants, Tuco's Taqueria and Beamer's 25, will deliver food to you at the taproom.
Golden Cactus Brewing
Located across the street from Big Lick, Golden Cactus Brewing has a really nice indoor-outdoor space. A bright, colorful indoor space opens to the sunshine with large doors. Grab a stool or post up in comfy chairs in front of a retro TV.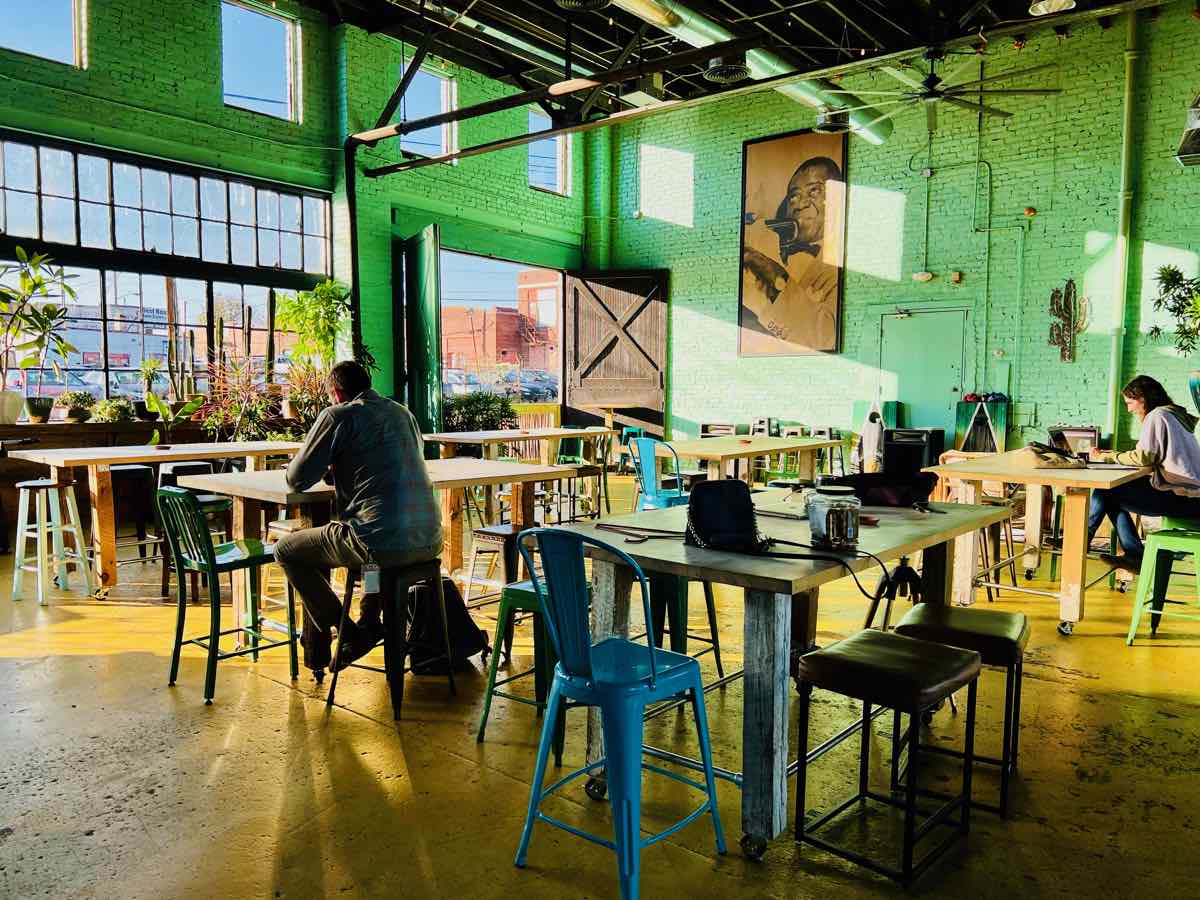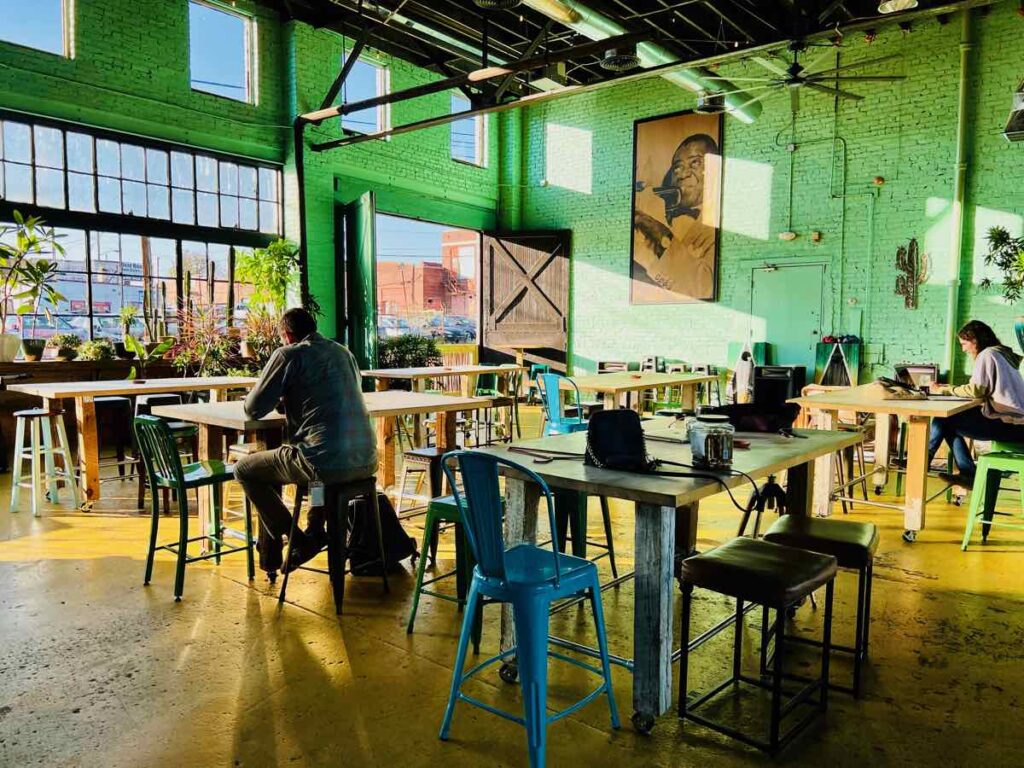 Out back, a large patio features more bright murals and a kid's play space. A perfect spot to relax with the family and a pint of the Moira salted caramel English brown ale. Find more local fun in our guide to family-friendly things to do in Roanoke.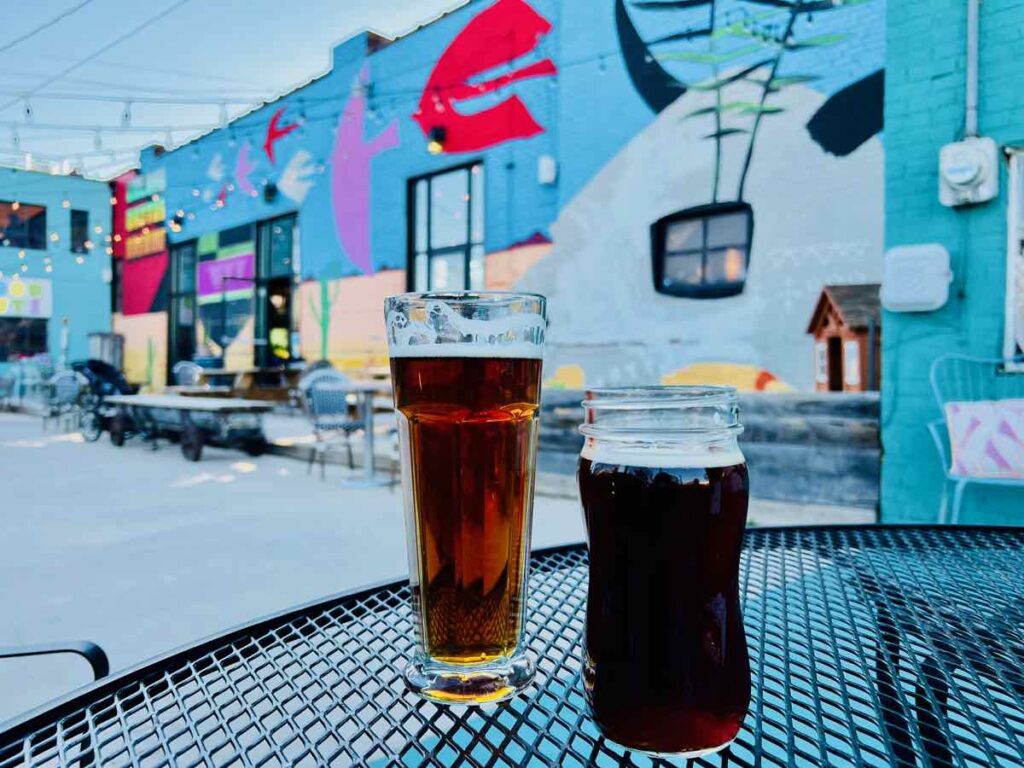 Olde Salem Brewing Company
Fans of Olde Salem Brewing Company can now enjoy their lineup in a downtown location that was previously a Deschutes Tasting Room. (Deschute's east coast brewery never panned out.) The smallish space is home to a robust lineup of IPAs, Sours, Barrel-aged Barleywines, and more.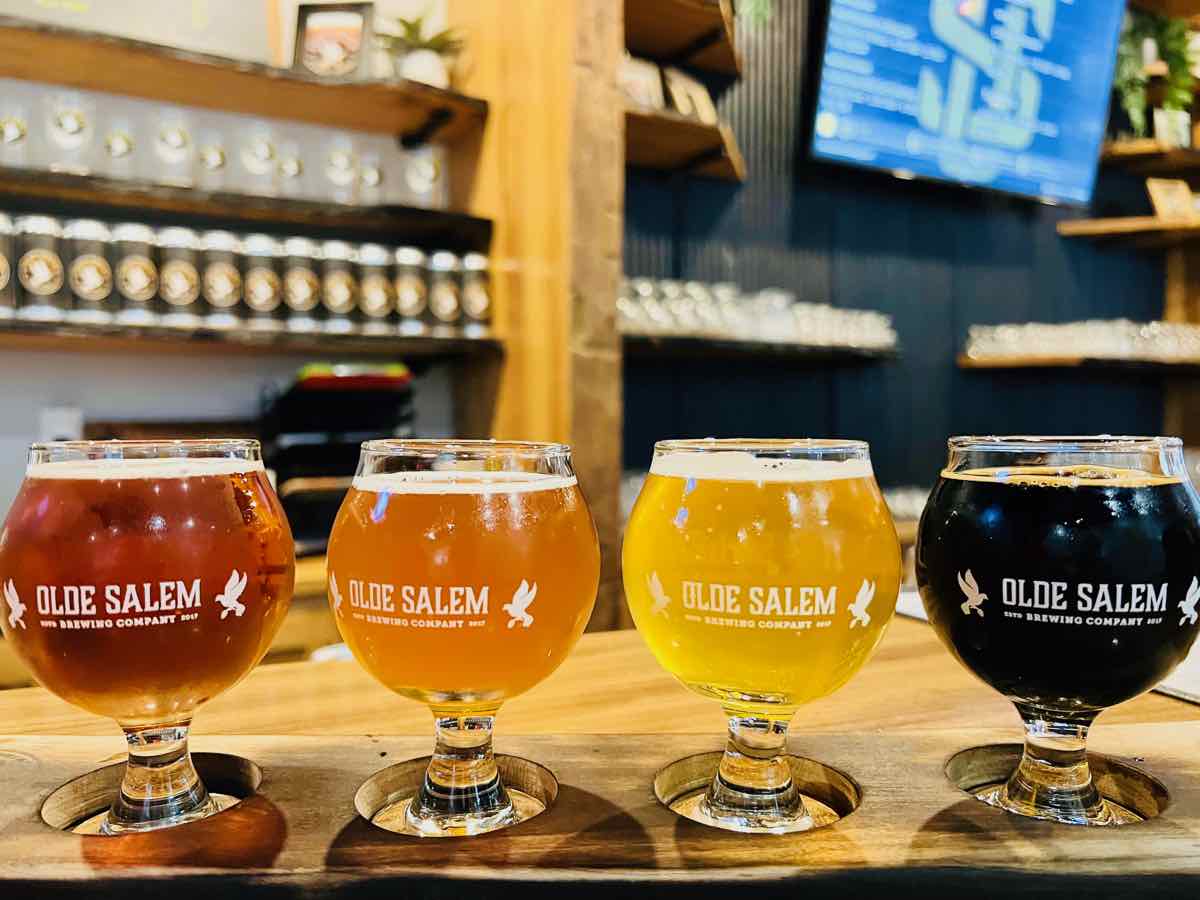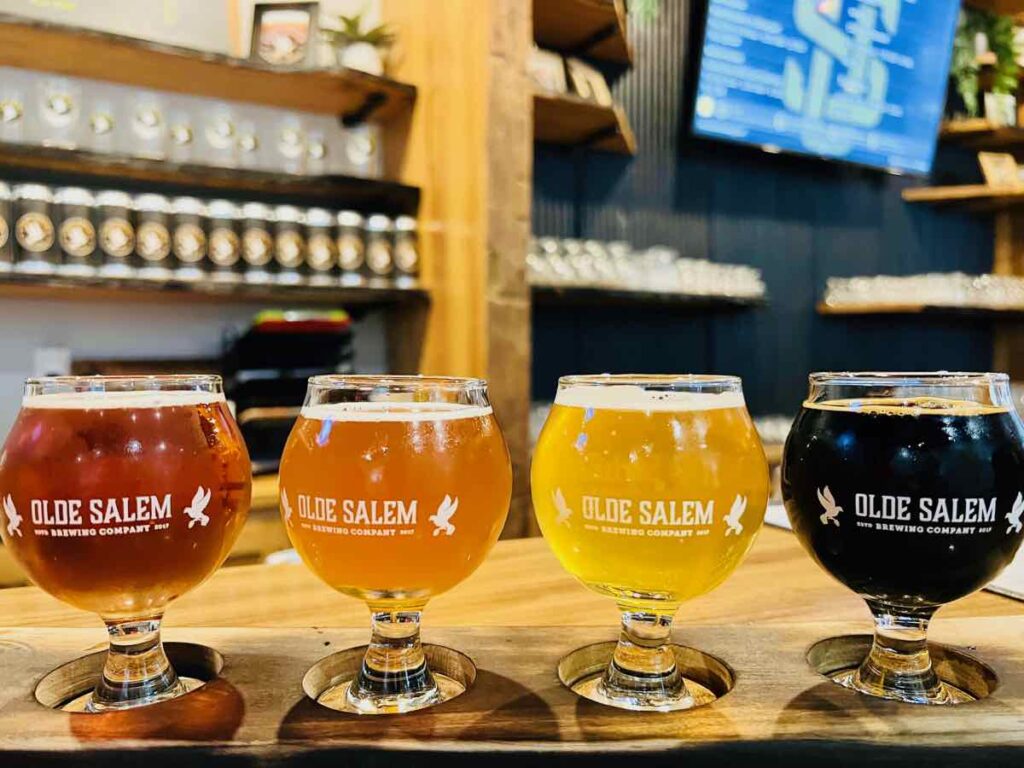 Starr Hill Pilot Brewery & Side Stage
Fans of Virginia craft beer probably know Starr Hill Brewery from their flagship location in Crozet, just outside Charlottesville Virginia. Starr Hill opened their Roanoke location in September 2017 as a combination tasting room and music venue. There are some nice design touches, like USB ports built into the bar and a 1918 railroad tie used as a footrest.
Starr Hill Pilot Brewery has 23 rotating beers on tap, so you'll have plenty of choices. We compared two of the Chocolate Stouts—a peppermint and chipotle—and both get a thumbs up. The Weiss Ass Blueberry, on the other hand, was just not for us. Most nights feature live local music or events like Tuesday's Geeks Who Drink Trivia. Order your favorite brew to go and you can watch the Crowler machine in action.
Three Notch'd Craft Kitchen and Brewery
With 5 Virginia locations (and more to come), Three Notch'd is well-known to many craft beer fans. The downtown Roanoke location combines an interesting menu of beer-infused dishes and a changing line-up of brews. They also offer a full cocktail menu and host local bands.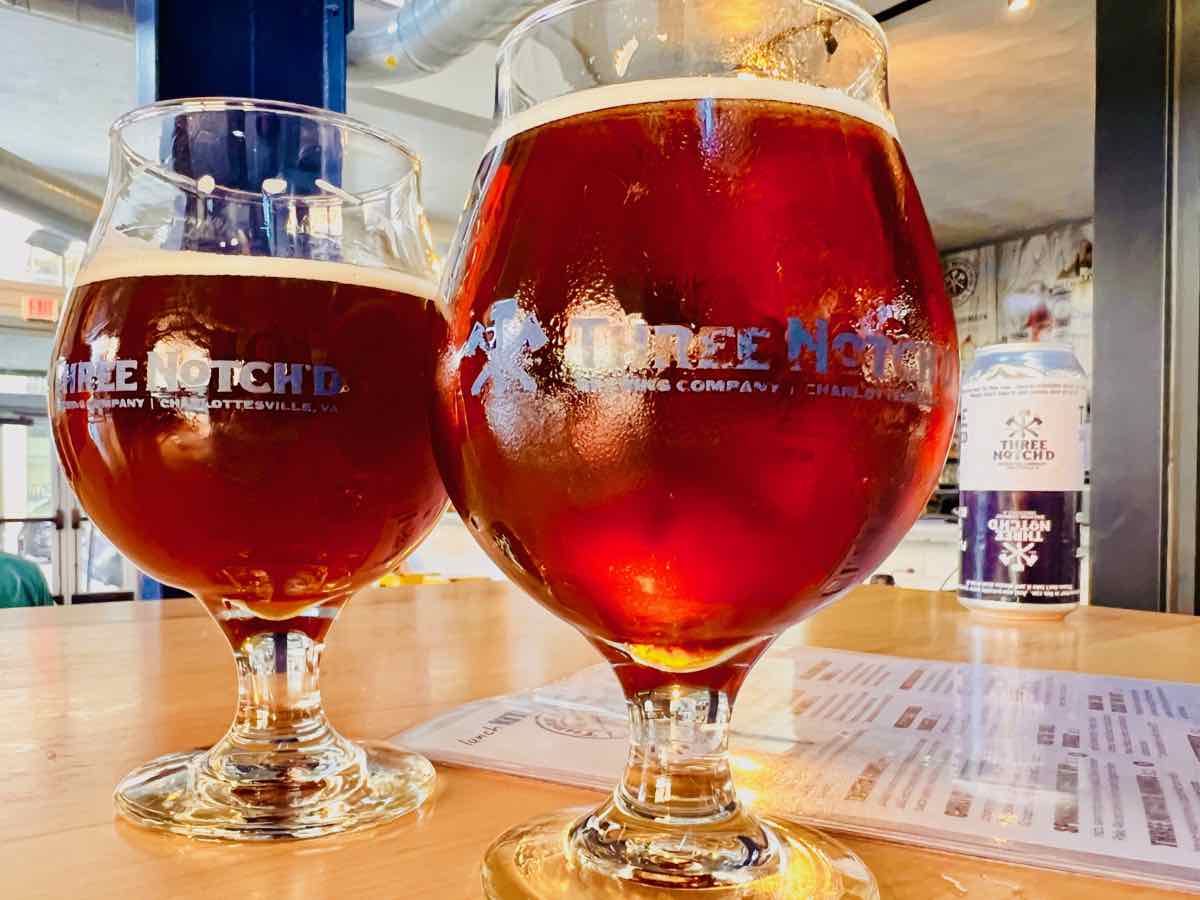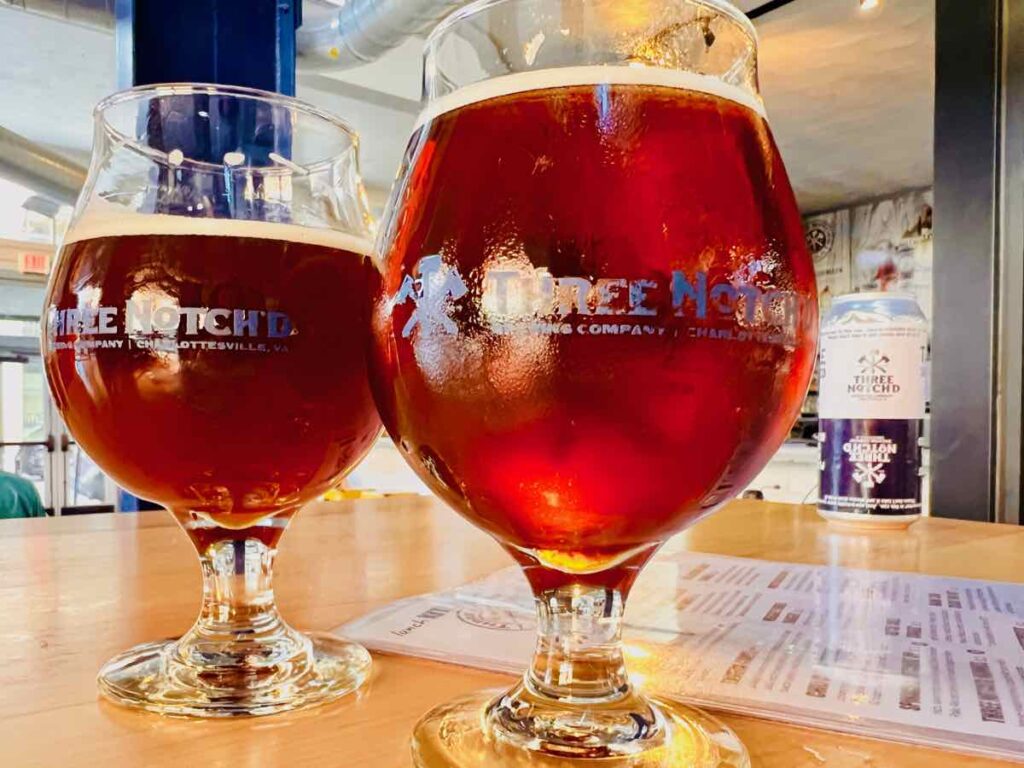 Twisted Track Brewpub
Twisted Track Brewpub opened in 2020, taking over the downtown Roanoke location from Soaring Ridge (Roanoke's first craft brewery). The industrial space features big garage doors that open to merge indoor and outdoor spaces when the weather is nice.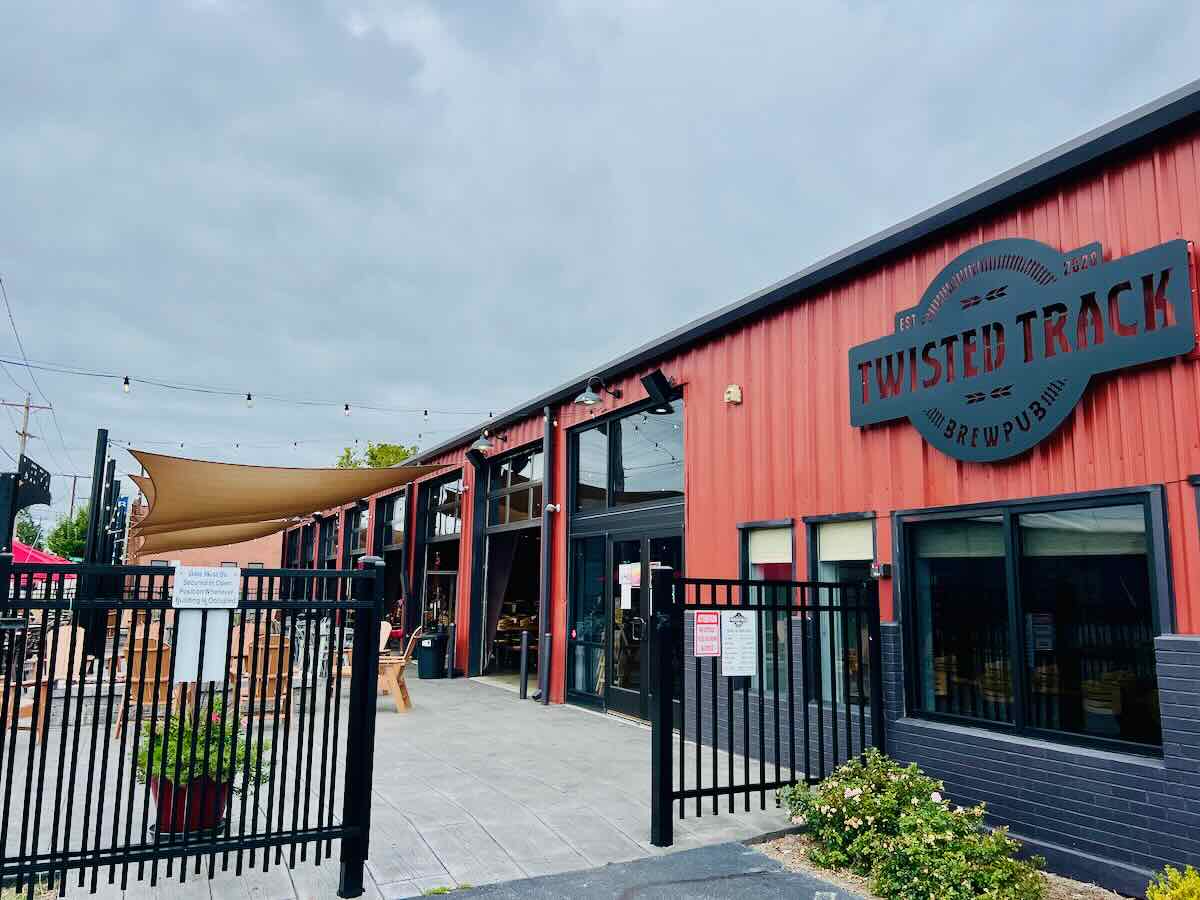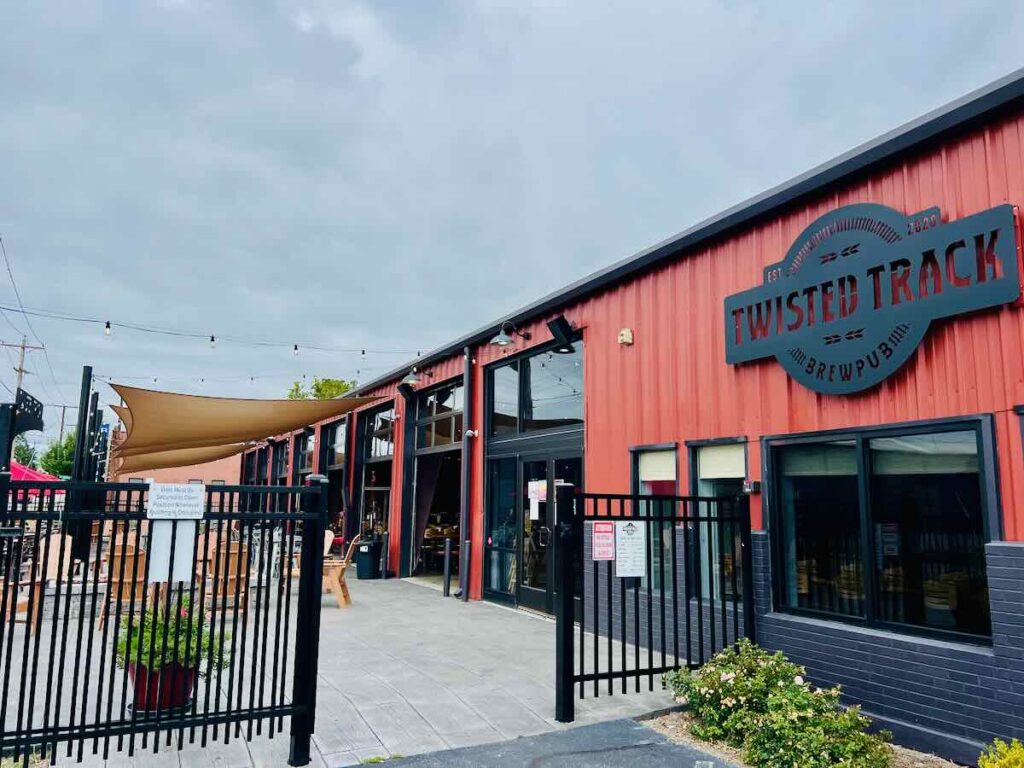 There is a nice selection of beer on tap year-round including a malty Billy Goats Gruff Doppelbock and a tasty Underground Brown Ale. This brewery is a great stop when you're hungry because they have a full kitchen offering burgers and other pub food.
Beyond Roanoke on Virginia's Blue Ridge Cheers Trail
Many of the breweries on Virginia's Blue Ridge Cheers Trail are outside the city of Roanoke, offering a chance to explore the region while you sample craft beer. There is a lot of ground to cover between stops, so pick your route carefully to account for drive time.
Olde Salem Brewing Company, Salem
Olde Salem Brewing opened on Thanksgiving weekend 2017, in a historic building in Salem's Main Street District. The small city of Salem, about 20 minutes west of downtown Roanoke, is also home to the Salem Red Sox minor league baseball team.
The brewery offers a nice selection of beers in a bright and friendly space. There is usually a food truck on hand, and on weekends you can catch local bands.
Parkway Brewing Company, Salem
Colorful murals, punny names, and a laid-back vibe welcome beer drinkers to Parkway Brewing, also in Salem. Plenty of dark options make us happy, and we especially enjoyed the Coal Miner's Dodder Irish Stout and the Raven's Roost Porter.
If you're also a fan of the stout, check the Parkway website for a Dodder Beef Stew recipe. The space extends outdoors to a beer garden, perfect for warmer days, and the brewery also hosts food trucks and live bands.
Where to Stay in Roanoke and Tips for Getting Around
Several of the best hotels in downtown Roanoke offer unique rooms in historic buildings. In addition, there are popular chain hotels in the downtown area and close to the Roanoke Airport and Route 81.
Hotel Roanoke: A Home Base for Virginia's Blue Ridge Cheers Trail
The historic Hotel Roanoke and Conference Center occupies a hill above the downtown core. Its location next to the train station (now the Visitor Center) reflects the history of a city that grew up because of the rail line. The location offers easy access to downtown Roanoke breweries via a pedestrian bridge over the tracks.
Rooms and common spaces at Hotel Roanoke capture the luxury of a historic hotel, but keep the vibe relaxed and friendly. Ask for a room facing downtown and you can watch the Roanoke Star light up at night.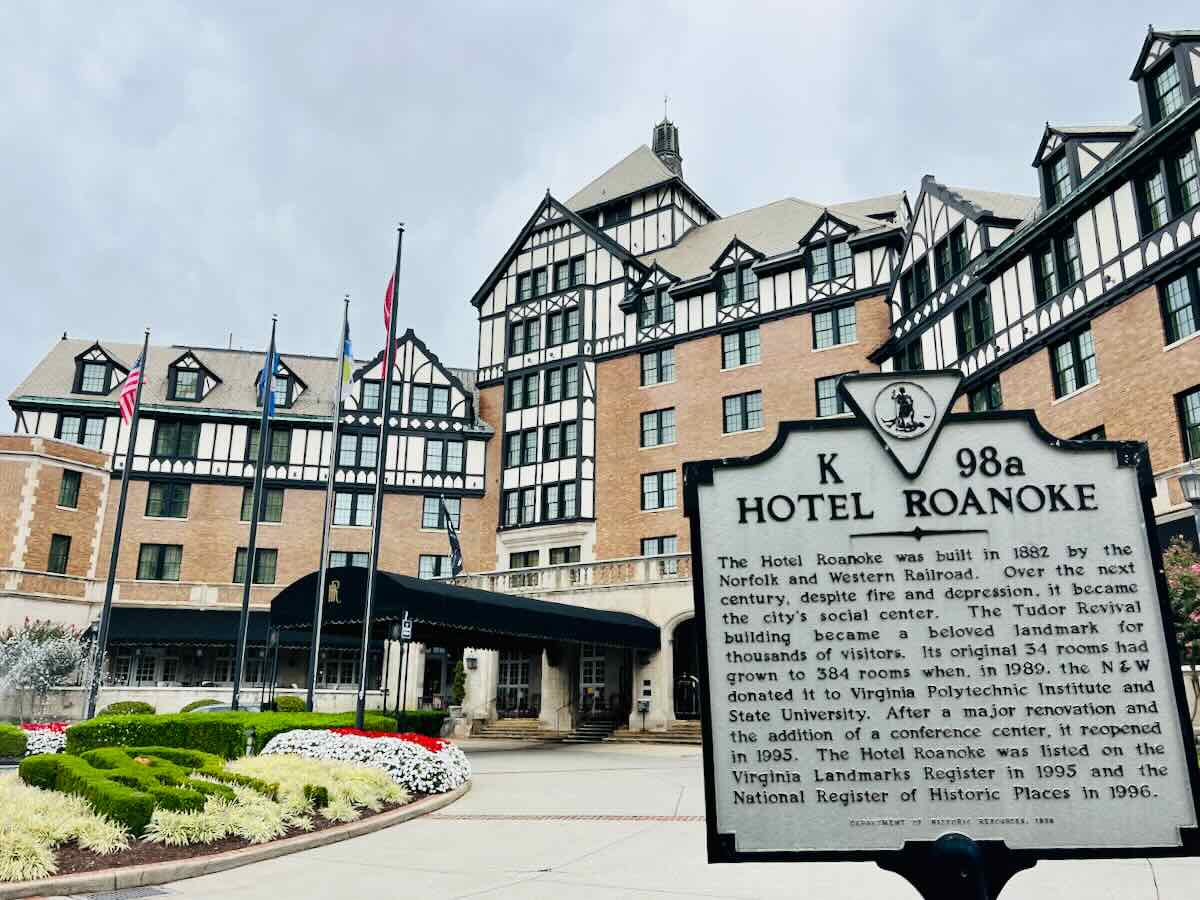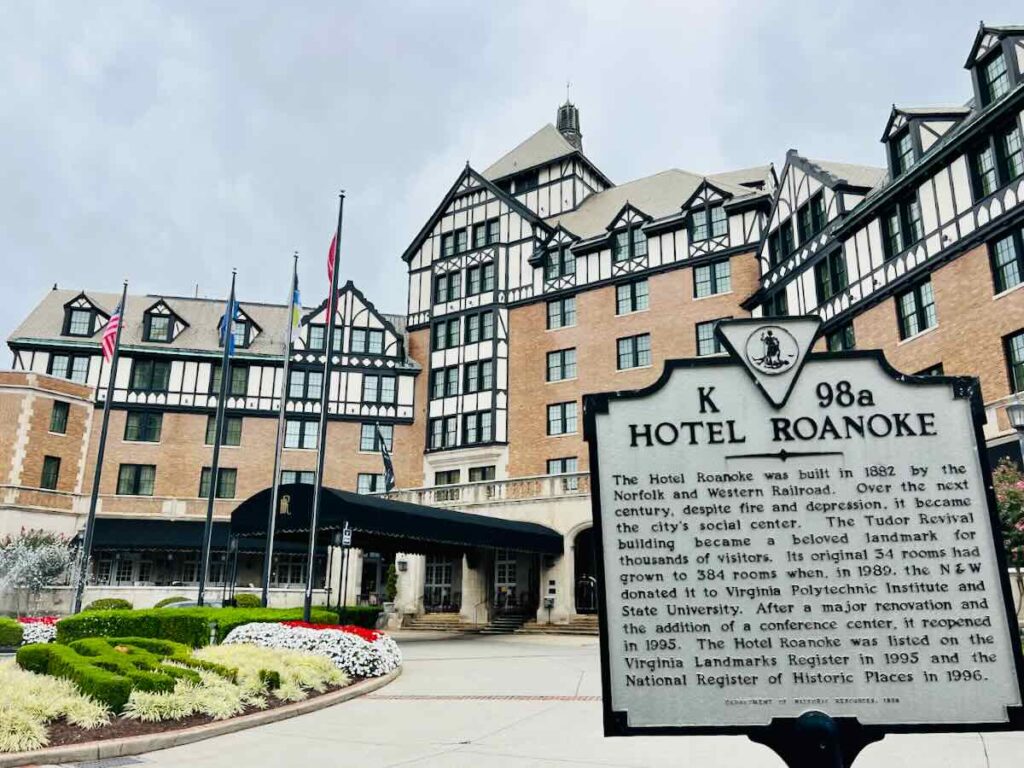 Nearby, Liberty Trust offers beautiful rooms in another historic downtown hotel. Even if you stay somewhere else, stop in for dinner at The Vault.
Also in the downtown, Fire Station One opened in 2023 in a historic fire station. The boutique hotel has 7 luxe guest rooms, each with its own unique decor.
Find more lodging photos and tips in our guide to the best downtown Roanoke hotels.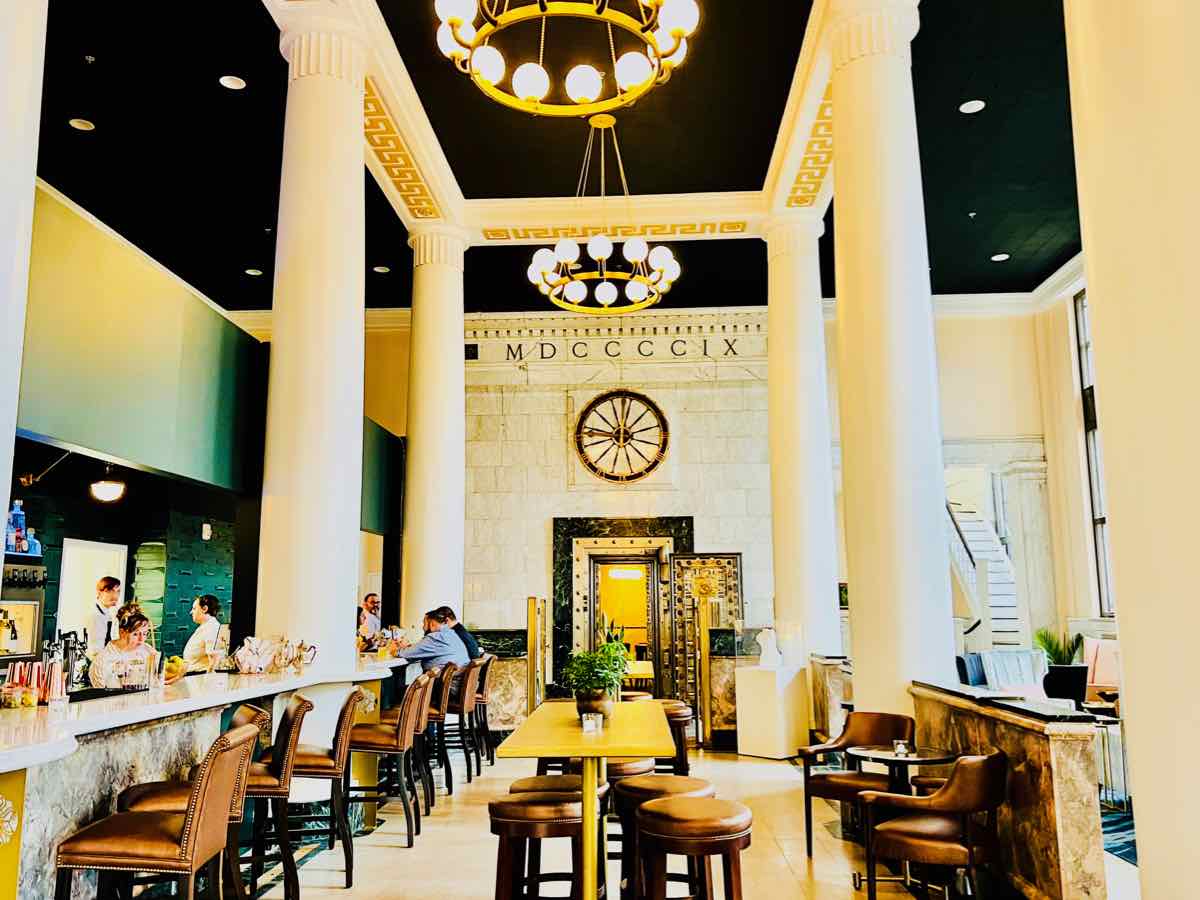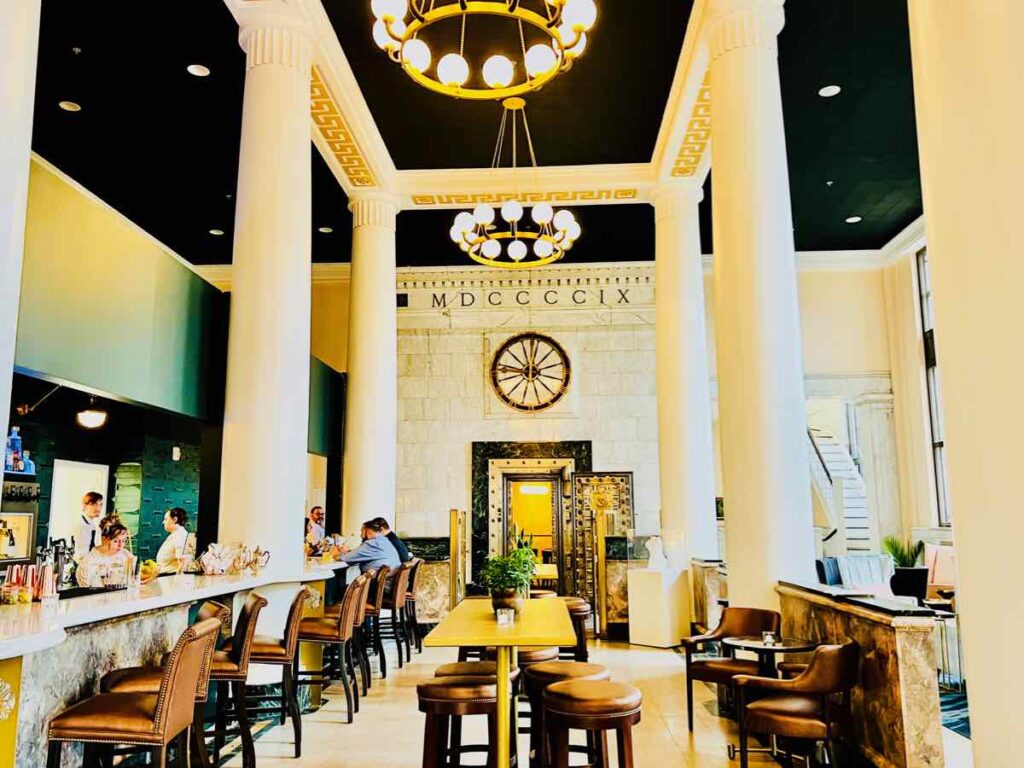 Getting Around Virginia's Blue Ridge Cheers Trail
Roanoke is an easy city to navigate, and you could easily cover the downtown stops on foot. Starr Hill is a bit outside the downtown core, but it's right on the Roanoke River Greenway, so it's easy to reach by bike.
The downtown Roanoke hotel locations are ideal for a car-free visit and Amtrak offers twice-daily service to Roanoke from Washington DC. Arrive by train, and your room and downtown breweries are just steps away.
The Blue Ridge region is filled with scenic drives, fantastic hiking and biking trails, and beautiful rivers perfect for paddling. Plan a day of outdoor adventure in the Blue Ridge and end with a craft beer stop. Or if you've got a designated driver, plot a route that combines multiple breweries linked by scenic roads.
No designated driver in your crew? Roanoke Mountain Adventures offers a unique Views and Brews e-bike tour. The tour includes fantastic views of the Blue Ridge Mountains and 3 brewery stops.
Virginia's Blue Ridge Cheers Trail Locations
These breweries in and near Roanoke are part of Virginia's Blue Ridge Cheers Trail. Follow the links for the latest hours, beer menus, and special events.
We love the diversity and quality of craft beer in the Roanoke region, and we look forward to visiting more spots on Virginia's Blue Ridge Cheers Trail. Have you sampled craft beer on the Blue Ridge Cheers Trail?
Find more information at Visit Virginia's Blue Ridge: web | Facebook | Twitter | Instagram | Pinterest
Follow Fun in Fairfax VA on Facebook, Twitter, Pinterest, and Instagram for more places to visit and things to do in and Northern Virginia and the Washington DC area.