These fantastic local breweries and restaurants in Winchester Virginia offer everything from a casual morning bagel to an elegant date night dinner. Plus, visit tasty cideries, wineries, and farm markets where you can enjoy locally produced food and drink. Stop in for a meal or make a day of it and explore some of the other fantastic things to do in Winchester and the surrounding area.
We have made many trips to Winchester during our 25 years living in Northern Virginia. The historic town is easy to reach but the country setting feels far from busy DC. Fortunately, there is an excellent range of restaurants in Winchester, and the drive is short enough for a meal-focused day trip.
Of course, Winchester also makes a great weekend getaway from DC, and that means time to visit more tasty local spots. You'll find suggestions on where to stay in town at the end of the article.
Disclosure: This article may contain affiliate links. We will make a small commission from these links if you order something, at no additional cost to you.
Some of our meals in Winchester were hosted by the Winchester Frederick County Convention and Visitor Bureau. All opinions, text, and photos are our own.
Favorite Local Restaurants in Winchester Virginia
Our list of favorite local restaurants in Winchester is based on our firsthand experience, so it's not a list of every dine and drink spot in town. We have personally sampled all of the restaurants and breweries on our list, and look forward to trying more.
Craft drink spots and restaurants in Winchester are listed below in three groups:
Old Town Winchester dine and drink spots on or within a block of the pedestrian mall.
Places to eat in downtown Winchester but further from the mall.
Cideries, wineries, and farm markets to visit in and near downtown Winchester
Opening days and hours are correct at time of publication but may change seasonally. Follow the links for the latest information and to see the latest menus and specials.
Tasty Old Town Winchester Restaurants and Breweries
The Old Town Pedestrian Mall is one of the best places to drink and dine in Winchester. The mall is lined with local restaurants, breweries, and shops intermingled with historic buildings and fun places for kids.
These are our favorite restaurants in Old Town Winchester, on the pedestrian mall and nearby. We have several more Old Town restaurants on our list to try, and we'll add them here when we do.
Violino
Violino Ristorante Italiano was top of the list when we asked for special occasion restaurants in Winchester. The intimate dining room and patio are the perfect settings for fresh-made pastas and authentic Northern Italian dishes. The Taglialini Riccardo (shrimp and roaster peppers over black angel hair pasta) and the Tagliatelli with wild mushroom sauce were delicious!
Enjoy lunch and dinner at Violino Tuesday through Saturday on the mall at 181 North Loudoun Street.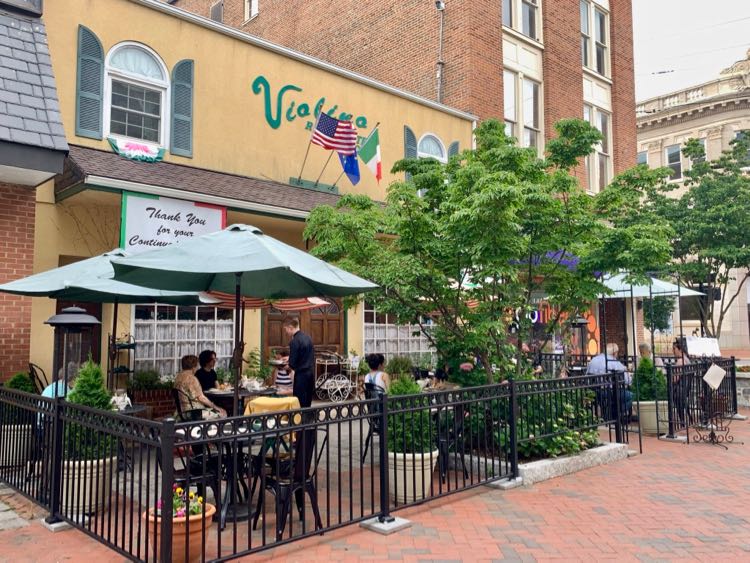 Village Square Restaurant
The Village Square Restaurant serves contemporary American fare with an upscale vibe. The large dining room is perfect for groups and the outdoor tables are great for people-watching. On Sundays, they offer a popular Champagne and Bloody Mary Brunch.
Village Square opens daily at 11:30 and is located at 103 North Loudoun Street.
The Wine Room at Taylor Pavilion
With a cozy, elegant interior and extensive wine list, The Wine Room at Taylor Pavilion is an excellent choice for date night in Winchester. Order one of the sharable boards, splurge on caviar, or sample a few small plates. Several outdoor tables share a view of the brick pedestrian alleyway.
The Wine Room is open daily and is a block off the mall at 120 Indian Alley North.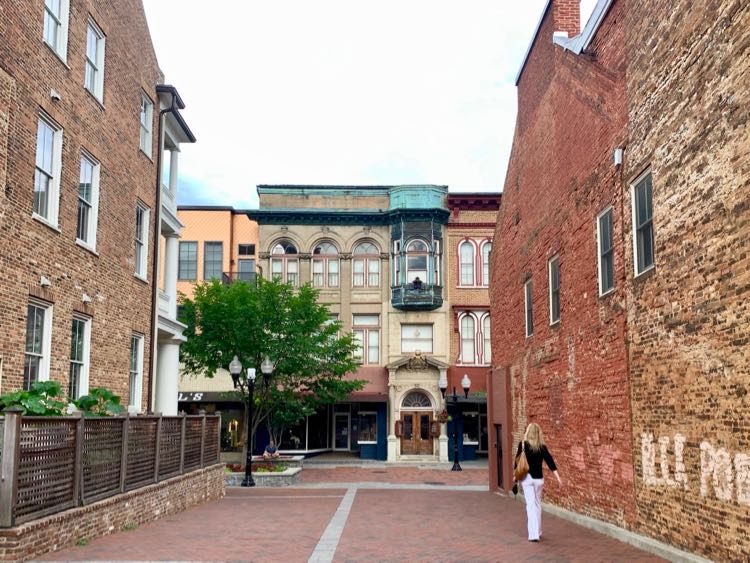 Union Jack Pub
The cast iron Union Bank Building, restored to its 1878 glory, is home to Union Jack Pub. Enjoy tasty fish and chips and other classic pub fare at this casual eatery on the pedestrian mall. The outdoor tables are perfect for people watching.
The Union Jack opens at 11:00 Tuesday through Sunday, on the mall at 101 North Loudoun Street.
Benny Meleto's
If you have never tried Benny's pizza, now is your chance. Benny Meleto's continues the tradition of Benny's shops throughout the state with a name inspired by its location (Meleto's means apple orchard in Italian. Like all Benny's restaurants, they offer the biggest pizza slices and pies (28″!) you have ever seen in basic cheese, pepperoni, or sausage. The full pie is literally too big to fit in some cars.
Benny's is open Monday to Saturday for lunch and dinner, on the mall at 21 East Boscawen Street.
Big L's Bagels
Start your day in Winchester with a freshly made breakfast from Big L's Bagels. Go with the classic Dr. P, an everything bagel with lox, cream cheese, and toppings, or create a custom bagel and spread order. Order online and your food and tasty coffee are ready when you arrive.
Big L's Bagels is open daily until noon at 38 East Piccadilly Street, just north of the pedestrian mall.
Half Note Lounge and George's at The George Washington
After a day of exploring, head to the Half Note Lounge at The George Washington for a cocktail and dinner in a casual bar setting. The menu offers light bites, generous burgers, and special entrees like Chilean Sea Bass with asparagus and lobster sauce. Downstairs, George's serves tasty breakfast omelets and brunch on select days.
The Half Note Lounge opens Wednesday through Sunday at 4:00. George's serves breakfast Wednesday through Saturday plus Sunday brunch. The George Washington Hotel is at 103 East Picadilly Street.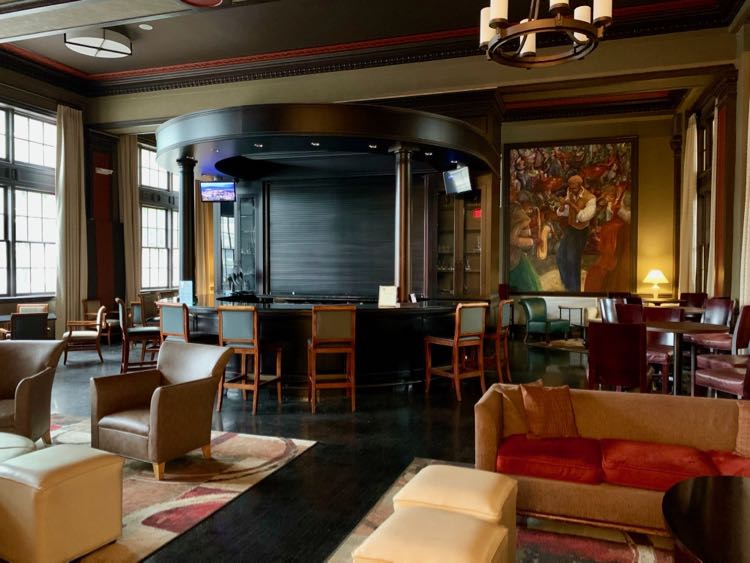 Red Fox Creamery
Everyone deserves a treat, and on the Old Town Mall in Winchester Red Fox Creamery fits the bill. Choose indulgent homemade ice cream cones, shakes, malts, and sundaes, or order from the light fare menu of soups and sandwiches.
Ref Fox opens at 11:00 Monday through Saturday on the mall at 146 North Loudoun Street.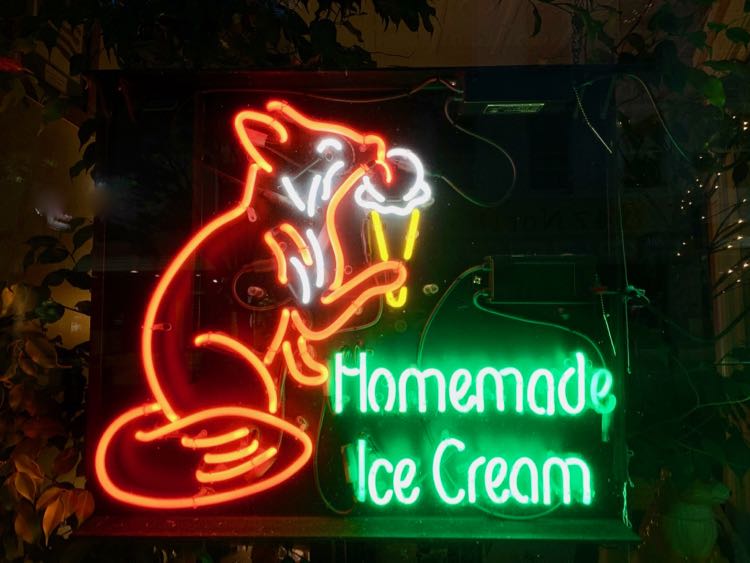 Alesatian Brewing Company
Enjoy a brew with a view at Alesatian Brewing Company. Grab a table by the window and you can watch the mall from this small second-floor nano brewery. If you're hungry, order a pie from the pizza shop downstairs.
Alesation Brewing opens at 4:00 Monday through Thursday, at noon on the weekend, upstairs on the mall at 21 & 23 North Loudoun Street.
Broken Window Brewing Company
Turn the corner at Boscawen Street to sample the craft beer lineup at Broken Window Brewing Company. The beer list changes often, but the Ranger Stout on Nitro is excellent. The brewery doesn't serve food but you can order from nearby restaurants and have it delivered to you.
The brewery is open daily, steps from the mall at 14 West Boscawen Street.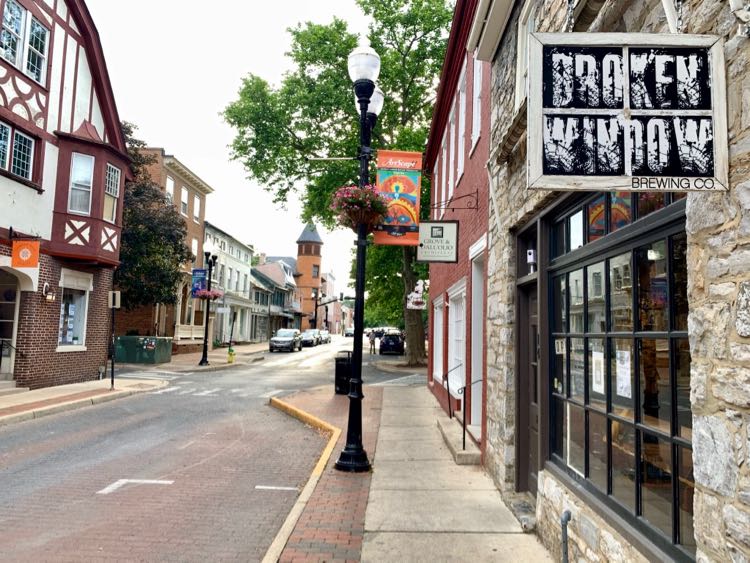 Winchester Brew Works
Just a block from the pedestrian mall is Winchester Brew Works, a nano brewery with excellent beer and a friendly vibe. The spacious tasting room features a gorgeous mural of the Shenandoah Valley, a testament to the brewery motto "Love the Valley. Love the Beer." There are 10 taps serving up pints and flights of house-made brews like the hike-inspired Old Rag Rye and Little Devil's Stout.
Winchester Brew Works does not serve food but you can bring your own or order nearby takeout. They are open daily at 4:00 on weekdays, 2:00 on weekends. Grab a spot indoors or on the patio daily at 320 North Cameron Street.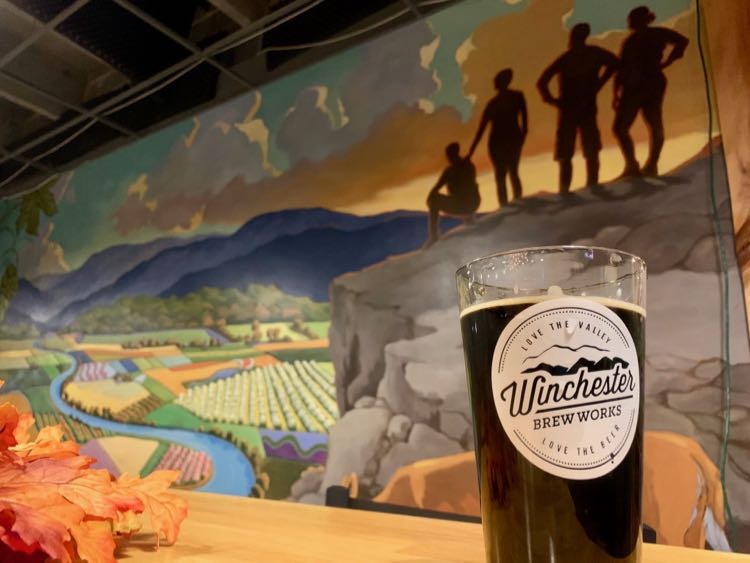 More Places to Eat in Winchester Downtown
Oak Stone Pizza
If you're in the mood for an Italian pie, Oak Stone Pizza is an excellent choice. Their 750-degree wood-fired oven creates the perfect crispy crust, and they have a wide selection of toppings to choose from. We loved the Green Giant pizza and the Kung Pao Cauliflower appetizer. The menu also features salads and entrees, local craft beer and ciders, and a full bar.
Dine on the patio or inside the spacious restaurant and bar. Oak Stone Pizza is open Tuesday through Sunday at 1000 Valley Ave, about .5 miles south of Old Town. The Patsy Cline Historic House is just half a mile away, so this is a good stop for lunch before or after you visit.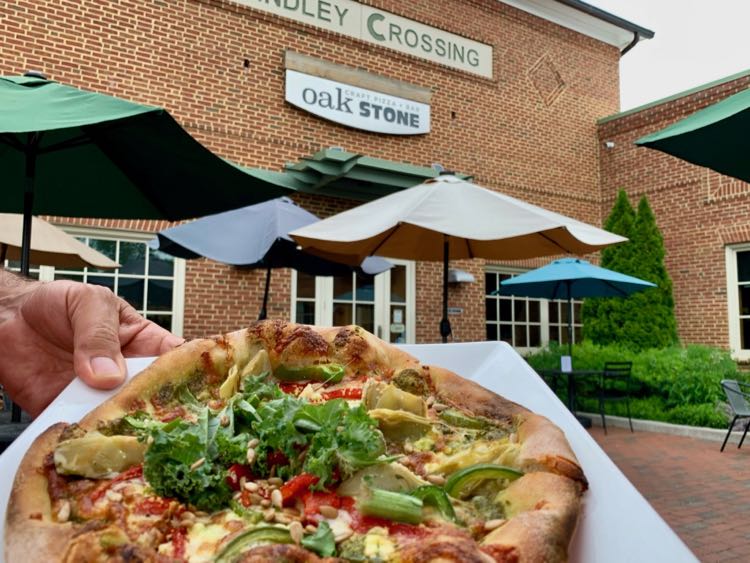 Bonnie Blue Southern Market and Bakery
Barbecue lovers will find plenty to love at Bonnie Blue Southern Market and Bakery. Housed in a former gas station, the adorable blue building is a combination restaurant, bakery, produce market, and deli. The smoker churns out the meaty classics and the menu also includes tasty fried oysters and crab cakes. Stop by for breakfast and kick off the day with an omelet or a rich bowl of Low Country Shrimp and Grits.
Choose a table on the shady patio, a picnic table out front, or a booth inside. Bonnie Blue is open daily, 8:00 to 4:00 at 334 West Boscawen Street, a half-mile west of Old Town.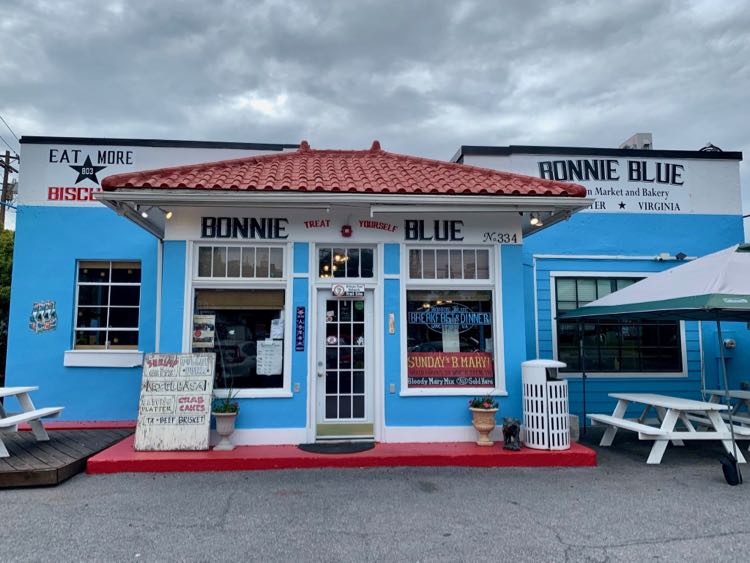 Tasty Winchester Cideries, Wineries, and Farm Markets
As noted above, you'll find an excellent line-up of craft breweries and restaurants in Winchester Virginia. Happily, there are also wonderful wineries, cideries, and fruit markets where you can enjoy locally sourced and tasty treats. Here are some fantastic wineries, fruit markets, cideries, and wineries in Winchester and nearby.
Winchester Ciderworks
Northwest of downtown, Winchester Ciderworks produces delicious drinks from local apples grown in a 4th-generation family orchard. The flagship Malice is crisp and refreshing, and they also create wonderful fruit-based and barrel-aged ciders.
Visit the tasting room, in a 1900s barn, Wednesday through Sunday at 2504 N. Frederick Pike, Winchester.
Valerie Hill Vineyard and Winery
Enjoy the beautiful view at Valerie Hill Vineyard and Winery while you sample their tasty line-up of Virginia wines. The 1807 brick Manor House turned tasting room along with a spacious yard offer lots of places to spread out and relax. Classic Virginia red and white wines honor the local terroir.
The Valerie Hill Winery opens daily at 11:00 at 1687 Marlboro Road in Stephens City.
James Charles Winery
The Bogaty family opened James Charles Winery in 2015, continuing a family tradition that began in the Italian Alps. Their Legacy Club is a favorite with local wine aficionados and the Tasting Room offers a pretty setting for weddings and other special events. Stop by to sample a flight featuring 4 of the wines or purchase a bottle to enjoy inside or on the patio.
The winery opens daily at noon and is located at 4063 Middle Road in Winchester.
Marker-Miller Farm Market
Families flock to Marker-Miller Orchards and Farm Market, one of the best places to go apple picking in Virginia, for the giant play area and tasty treats. The on-site bakery makes yummy apple cider donuts, and the big playground is visible from comfy rockers that line the porch. Look for the big apple near the parking lot for a fun photo spot.
In summer, the market opens Monday through Saturday at 9:00 at 3035 Cedar Creek Grade in Winchester.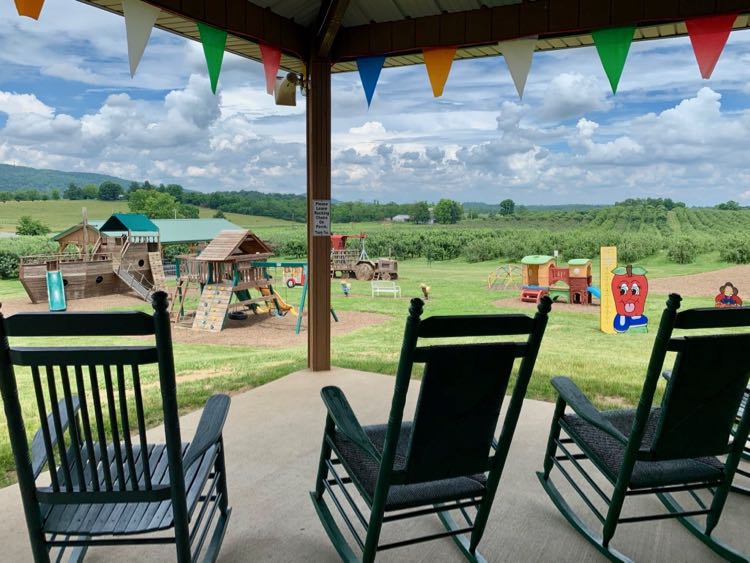 Richard's Fruit Market
Stop at Richard's Fruit Market, a fifth-generation family farm, for produce, meats, pies, and fruit from a classic open-air farm stand. If you're timing is good the apple grader will be at work, buffing and sorting the apples. They also have a pick-your-own flower garden and animals to visit.
Richard's Fruit Market is open daily (seasonally) at 6410 Middle Road in Middletown.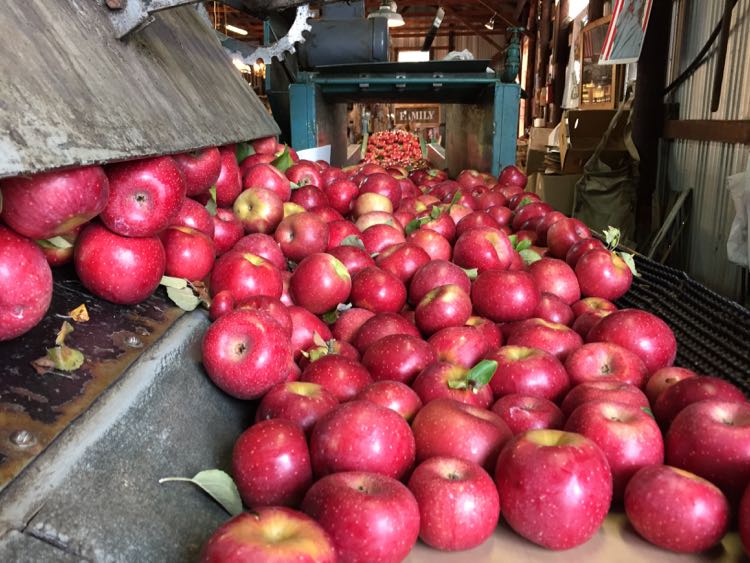 Plan a Winchester Weekend Getaway or Day Trip
Winchester is just an hour and a half from Washington DC and is an excellent destination for a day trip or longer getaway. Plan your visit with our guide to Fantastic Things to Do in Winchester which includes fun activities for families, couples, friends, and solos.
Where to Stay in Downtown Winchester VA
Spending the night in Winchester? The George Washington Hotel is perfectly located next to the mall so you can easily walk to all of the downtown restaurants on our list. This location is also a great base for exploring the Northern Shenandoah Valley.
Read more traveler reviews and check rates at The George Washington Hotel or other Winchester Virginia hotels.
Whether you stop in for a meal, spend the day, or stay for a longer vacation, the excellent local drink spots and restaurants in Winchester will leave you full and happy.