Virginia First Day Hikes are a great way to kick off the new year with healthy, family-friendly fun at state and county parks around the state. You'll join people all over the country as America's State Parks host special events and guided hikes on January 1st. If fitness and health are part of your New Year's Resolutions, this is a perfect way to start the new year.
Virginia State Parks celebrate the new year with free park entry, special programs, and a photo competition with some nice prizes. Fairfax County Parks also join the fun with their own First Hike Fairfax photo contest. Regional parks and battlefields are other options for First Day Hikes, and you can always plan your own outing. Read on for information and tips to plan your own Virginia First Day Hikes.
Find more great Virginia trails: Northern Virginia Hikes and Favorite Bike Trails Near DC.
Northern Virginia State Park First Day Hikes
Usually, our favorite Northern Virginia State Parks offer guided First Day Hikes that are ideal for families, infrequent hikers, and anyone who'd like to explore a park with a group. Everyone is also welcome to skip the guided events and create their own First Day Hikes at Virginia State Parks.
In 2021 the focus is on self-guided hikes to avoid crowds. Enjoy your own hike and snap some photos to enter in the contests. Virginia State Parks have two First Day contests, but you must register to win prizes. Here's how they work:
Complete the First Day Hike New Year Challenge form before midnight on New Year's Eve.
Take a hike, join special activities, or create your own First Day fun at any of the 39 Virginia State Parks on January 1st.
Return to the same sign-up page by midnight on January 1st to register that you completed the challenge.
A random drawing from everyone who entered will award 4 prizes, including a $500 State Park gift certificate as the Grand Prize.
To enter the Photo Contest, submit up to 3 photos taken on January 1st at any state park. Photos must be uploaded to the contest site by 11:59 on January 1st.
Prizes for both contests include Virginia State Park gift certificates and loyalty points which can be used for overnight stays, picnic shelters, and annual park passes.
Here are four beautiful Virginia State Parks in Northern VA where you can enjoy a variety of First Day Hikes.
First Day Hikes at Leesylvania State Park
This year Leesylvania's First Day Hike is a self-guided Sensory Scavenger Hunt. Download the list of items to find and experience nature by focusing on a variety of senses. We love the route on this Leesylvania State Park Hike Through History, which includes a scenic view and historic sites.
First Day Hikes at Mason Neck State Park
Mason Neck State Park has a fun collection of trails from easy to moderate in difficulty. Plan your hike with our guide to Mason Neck State Park: Nature and Outdoor Fun in Northern Virginia. Mason Neck is a dog-friendly park, but your four-legged friend must be on a leash at all times. Park entry and parking are free on January 1st.
Shenandoah River State Park First Day Self-Guided Hike
There are no guided hikes at Shenandoah River State Park this year but you can still explore 24 miles of trails. Stick to an easy riverside walk or tackle a steeper, longer trail. Leashed dogs are welcome at the park.
First Day Hiking Trails at Sky Meadows State Park
Start the new year with a stunning sunrise when you hike to one of the overlooks at Sky Meadows State Park. The gates open at 5:30 AM on New Year's Day and admission to the park is free all day. Later, enjoy one of two self-guided hikes beginning at 11:00. Or strike out on your own on this beautiful Sky Meadows Loop Hike to Virginia Piedmont Views.
First Hike Fairfax at County Parks
The Fairfax County Park Authority joins in the New Year fun with First Hike Fairfax 2021 to get you outside and on the trail. This year, they celebrate 70 years of Fairfax County parks with an expanded three-day event and special prizes.
Here's how the contest works:
Take a hike at any of the Fairfax County parks from January 1 to 3 and take some photos.
Upload your favorite photo from your hike to enter the First Hike Photo Contest.
Prizes include $70 Park Authority Gift Cards and Rec Center fast passes in several photo categories.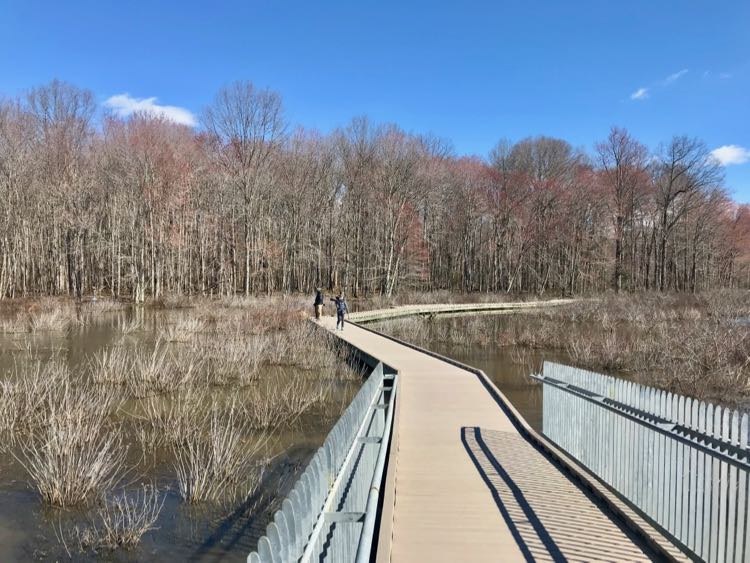 Here are a few of our favorite Fairfax County park trails:
First Day Hikes in Prince William County
Start the nea year with Virginia First Day Hikes on these Prince William County trails:
Will you be kicking off the new year with Virginia First Day Hikes? Happy hiking!
Follow us on Facebook, Twitter, Pinterest, and Instagram for more fun travel in and from Northern Virginia.