Tour, dine, and stay at  Polymath Park and immerse yourself in a unique Frank Lloyd Wright experience in Laurel Highlands, Pennsylvania. The architectural park, a short drive from Fallingwater, is an ideal overnight and dining stop on a Frank Lloyd Wright road trip. Stay in a Wright house overnight and you can fully connect with the architecture and nature that inspired your journey.
There are a small number of Wright-designed homes available for overnight stays around the U.S. Happily, two of those Wright houses are located in Pennsylvania, along with two houses designed by Wright's apprentice. You can rent all four houses for one or more nights, and visit three of the homes on a tour.
Laurel Highlands Visitor Bureau hosted our Polymath Park tour, dinner at Treetops, and overnight stay at Mäntylä House. As always, all opinions, text, and photos are our own.
Disclosure: This article may contain affiliate links. We will make a small commission from these links if you order something, at no additional cost to you.
What is Polymath Park?
Polymath Park is a unique Frank Lloyd Wright-inspired architectural park in southwest Pennsylvania. The park began as a retreat for two Pittsburgh families, who hired Wright's apprentice, Peter Berndtson, to design their summer homes. When development threatened in 2003, Tom and Heather Papinchak bought the 130-acre wooded property to preserve the homes and land.
Three years later, Mr. Papinchak acquired Duncan House and painstakingly rebuilt the Wright-designed home at Polymath. In 2018, expansion continued with the addition of Wright's Mäntylä house. Today Polymath Park opens all four homes to overnight guests, offering a unique way to experience Frank Lloyd Wright's vision of life in harmony with nature.
Stay Overnight at Frank Lloyd Wright Houses in Polymath Park
I have wanted to relax on one of those iconic, built-in couches since touring my first Frank Lloyd Wright house. Understandably, the furniture is off-limits on most tours, for sitting or photos. So it was a dream come true when my husband and I were offered the chance to spend the night at Polymath Park. We would be among the first fortunate visitors to stay in Mäntylä House, newly opened in April 2019.
Here is a look at each of the houses available for a stay at Polymath Park, along with tips and information for your visit.
Frank Lloyd Wright's Mäntylä House at Polymath Park
Mäntylä House is the newest addition to Polymath Park. Tom Papinchak and team meticulously disassembled the house, shipped it from its original location in Cloquet Minnesota, and carefully rebuilt it at Polymath. The beautiful home is now open for tours and overnight stays, a gem in the collection.
The home is a Usonian beauty on a grander scale. The prairie-style design features cypress and cinderblock, a cantilevered roof with dramatic prows, and of course, a wall of windows open to the back. Excitement builds as you approach the house and continues as you enter the foyer. Wright's compression and release technique is evident as the narrow entry hall opens to the expansive living area.
Happily, the family who owned Mäntylä agree to donate all of the original furnishings to Polymath, so the house looks just as Wright intended. Wright fans will recognize the classic built-in couches, low-slung chairs, and built-in desks and storage common to his designs.
There are three bedrooms available to guests at Mäntylä House (with king, queen, and double beds), but stays are limited to four guests. Rates for an overnight stay are high, $475 per night excluding holidays, but the experience is one-of-a-kind.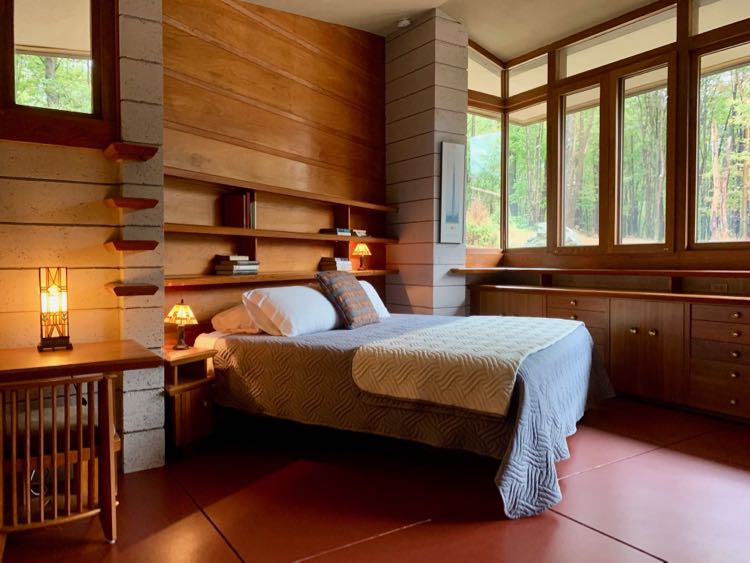 We stayed at Mäntylä on a rainy night but were still able to enjoy a glass of wine on the patio under a generous overhang. Then the rain encouraged us to relax indoors, allowing time to explore every nook in this lovely home.
Frank Lloyd Wright's Duncan House
Wright designed Duncan House as a family residence, with the goal of creating a marketable version of his Usonian home. In 2007, the house was moved from its original location in Lisle Illinois, and reconstructed at Polymath Park. The house features strong horizontal lines, a beautiful sandstone core, Cherokee Red floors, and rooms open to nature.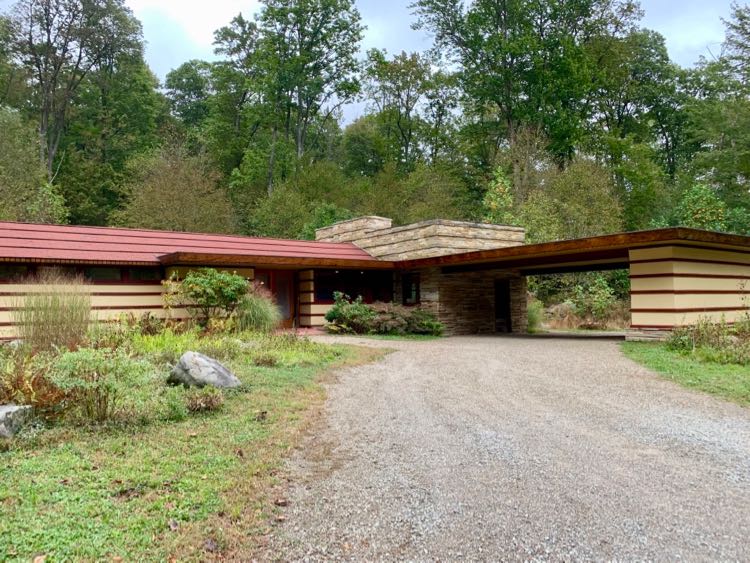 Duncan House offers three bedrooms (with a king, queen and 2 twin beds) and features Mid-Century Modern furniture. The house opens to the surrounding woods, providing a peaceful setting for star-gazing on the patio or relaxing indoors.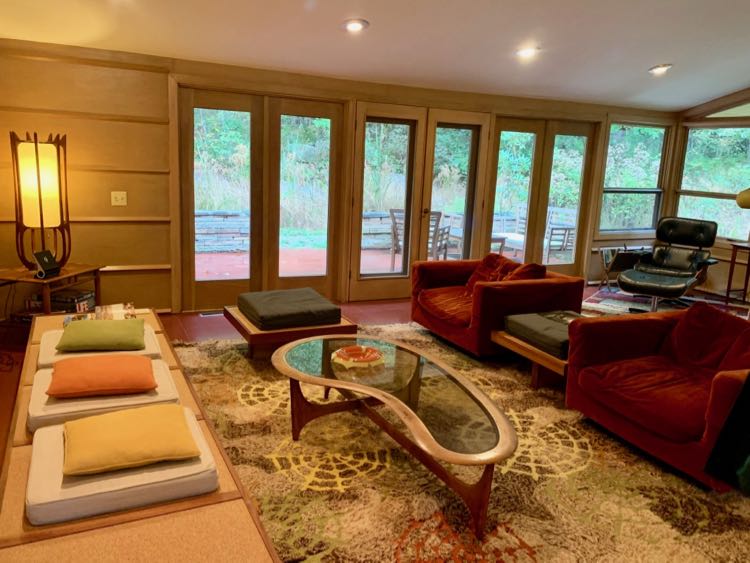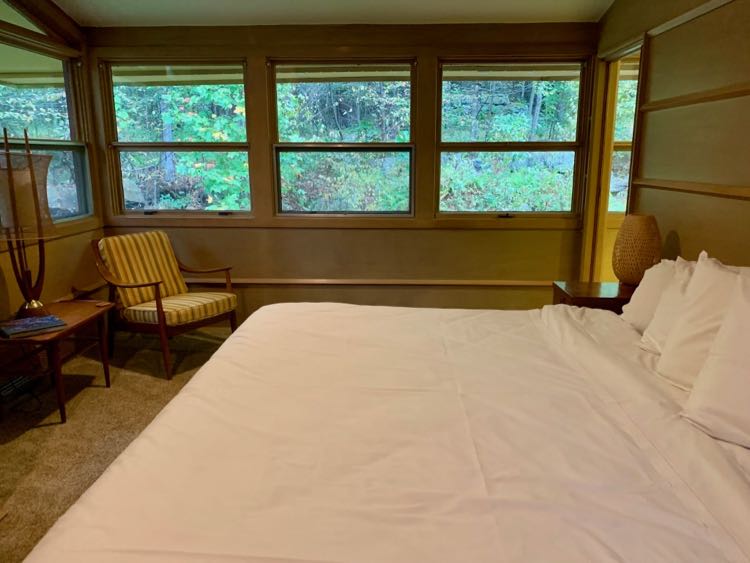 Rates for Duncan House are $399 per night Monday to Thursday, $425 weekends, excluding holidays, for up to four adults. The house can accommodate up to six guests for a small additional charge.
Balter House
Peter Berndtson beautifully integrated Balter House with its natural surroundings and used stonework from the property for the large fireplace at its core. The living room and porch appear to float in the leaves, creating the impression that you are in a treehouse.
From inside, windows and skylights bring in light and highlight nature. Four bedrooms (with queen, queen, twin, and twin beds) offer a perfect layout for an adult retreat.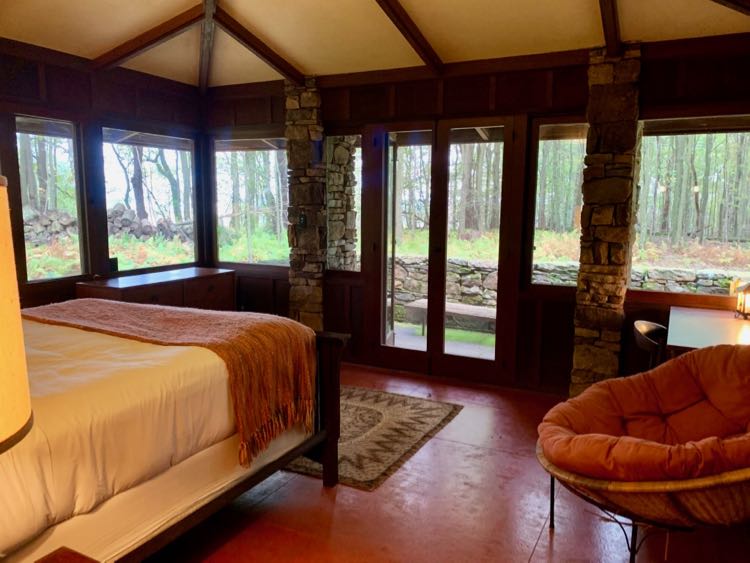 Rates for Balter House are $299 per night Monday to Thursday, $349 weekends, excluding holidays, for up to four adults. The house sleeps up to four guests.
Blum House
Blum House is not included on the Polymath Park tour and we did not see the house during our visit. Because it is not on the tour, Blum House offers extra privacy for multi-night stays. There are three bedrooms (with a queen bed in each) and a working fireplace, with wood provided in spring and fall.
Rates for Blum House are $299 per night Monday to Thursday, $349 weekends, excluding holidays. The house accommodates up to four guests.
Tips and Essentials for a Stay at Polymath Park
Get the full Polymath Park experience with a late afternoon tour followed by dinner at Treetops, then check in to your house for the night. We ordered dessert to go so we could enjoy it with a glass of wine at Mäntylä.
After check-in, one of the Polymath Park docents will accompany you to your home to show you around. They will go over details like how to operate lights and windows and point out anything that is off-limits. Once the docent leaves, the house is yours for the night. Here are a few specifics to plan your Polymath Park overnight.
Polymath Park overnight information
Multi-night stays are available, but renters have to be prepared for tours (except in Blum House). Expect a group of tour "guests" every half hour between 11:00 and 5:00.
Check-in at Treetops at 4:00 pm and check-out by 11:00 AM. Mäntylä check-in is at 5:00 and check-out is at 10:30 to accommodate tours.
Children must be 10 or older. Pets are not allowed.
What to pack for your stay
Bring your own food and drink, or ask Treetops for food and wine to go. You'll have plenty of time for cocktails, dinner, and breakfast in the house,
But be prepared for limited cooking facilities. Your kitchen includes a refrigerator, microwave, Keurig coffee maker, and plenty of dishes, glassware, and cutlery.
Guests may not use stoves, cooktops, or fireplaces (except in Blum, which has a working fireplace).
Bedding, towels, soap, and shampoos are provided.
Check availability and make reservations for your stay at Polymath Park on the FrankLloyrdWrightOvernight website.
Dine at Treetops Restaurant in Polymath Park
Make lunch or dinner at the highly-rated Treetops Restaurant part of your visit to Polymath Park. The restaurant was once the home of Heather and Tom Papinchak, the inspired owners who created and operate Polymath. Now, Heather is Head Chef, and the restaurant serves delicious meals indoors or on a deck, surrounded by nature.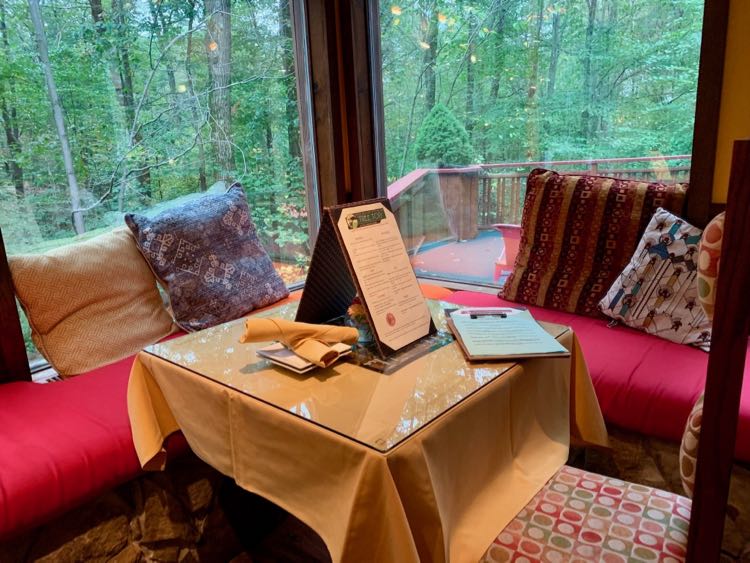 We indulged with a dinner of flaming Kasseri, Seafood Ardor—a medley of scallops, crab, and shrimp—and the Seafood and Medallions. Our waitress suggested we take dessert to go, along with the rest of our wine, to enjoy at Mäntylä House. Our meal at Treetops was the perfect start to our evening at Polymath.
Even if you are not spending the night, you can still enjoy a meal at Treetops. The restaurant is open for lunch daily from 11:00 to 2:00 except Wednesday, when the park is closed. Dinner is offered from 5:00 to 8:00, Thursday through Saturday, and the restaurant is open from 11:00 to 6:00 on Sunday. You can also combine a tour and a meal when you choose a Lunch, Dinner, or Wine Tour.
Polymath Park Tour Information
Daily Guided House Tours at Polymath Park include the exterior and interior of 3 houses—Duncan, Balter, and Mäntylä. Photos are allowed both inside and out, as long as they are only for personal use. Special tours add wine tastings, lunch or dinner at Treetops, and other extras to the standard tour.
Polymath Park tours are available daily except Wednesdays, March through December. Reserve tickets on the Fallingwater website. Daily tours of 3 Polymath Park houses are $26 for adults; $17 for youth 9 to 12. Other tour options add meals, wine, and additional commentary to the house tours.
Plan Your Visit to Frank Lloyd Wright Houses in Pennsylvania
Polymath Park is located in Acme Pennsylvania, about an hour from Pittsburgh. Treetops Restaurant, where you check-in for tours and overnight stays, is on a gravel road at 187 Evergreen Lane. The park is about 35 minutes from Fallingwater and 45 minutes from Kentuck Knob.
Architecture buffs can now tour four Frank Lloyd Wright houses near Pittsburgh—Fallingwater, Kentuck Knob, Duncan House, and Mantyla House—along with two by his apprentice. Since Pittsburgh is just an hour north of Fallingwater and Laurel Highlands, it makes an excellent base for a Wright-inspired road trip.
Plan your trip with our guides:
If you're staying in Pittsburgh and don't have a car, you can book a Fallingwater group tour with Viator that includes transportation. If you'd rather stay close to Fallingwater and Polymath Park, we highly recommend Nemacolin Woodlands Resort and Seven Springs Mountain Resort. See our complete review of Nemacolin for more details.
Virginia and DC residents can take a Frank Lloyd Wright road trip closer to home with a visit to the Pope-Leighey House in Alexandria. A more modest Usonian design, the home is a lovely example of Wright's vision for a middle-class life.
Follow Fun in Fairfax VA on Facebook, Twitter, Pinterest, and Instagram for more great getaways, places to visit, and things to do in Northern Virginia and surrounding areas.