Please see our latest Chinese lantern event review, new in 2022: DC Winter Lantern Festival Lights Up Northern Virginia
Find photos, information, and tips about the 2021 Luminocity light festival at Roer's Zoofari here.
The Roer's Zoofari Chinese Lantern Festival described below was held in 2016 and the event has ended.
Disclosure: This article may contain affiliate links. We will make a small commission from these links if you order something, at no additional cost to you.
Roer's Zoofari Chinese Lantern Festival lights the night in Vienna Virginia with a gorgeous display of animals from around the globe. The walkthrough exhibit transforms the zoo grounds with intricately constructed, life-size fabric animal lanterns representing every continent.
We loved the walkway lined with dolphins, which allows visitors to peek in at the barn animals tucked in their pens for the night.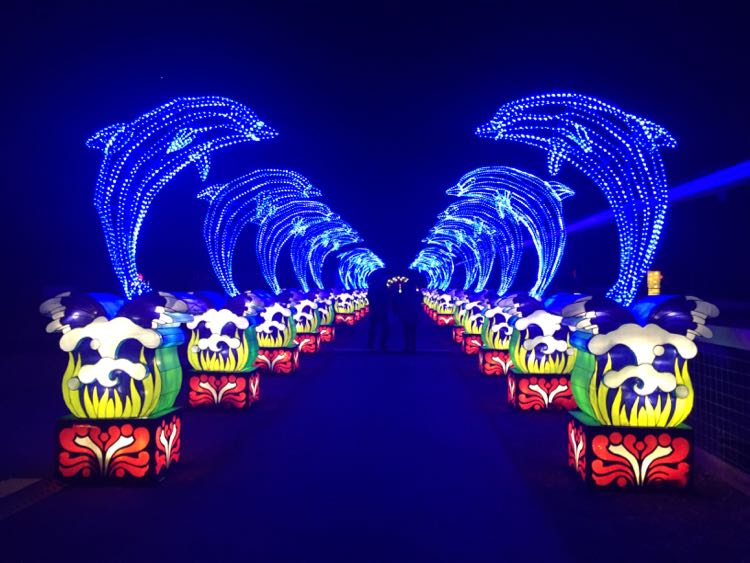 Many of the animal vignettes surround or float on a small pond. As you stroll around the pond, you'll pass crocodiles, lions, zebras, polar bears, penguins, and other wild animals. A large display of colorful jellyfish float on the pond, beautifully reflected in the water.
Past the pond, Chinese artisans perform their crafts in a row of booths, with many artworks available for purchase. There is also a booth where you can purchase hot drinks, and a stage where martial art performances will be held (the martial artists are expected in early December).
Further on, dinosaur-loving kids will be thrilled with lantern dinosaur scenes, and the chance to ride one of several moving, roaring dinos ($3 additional fee).
While most of the lanterns stick to the wild animal theme, there are two Christmasy displays perfect for seasonal pictures.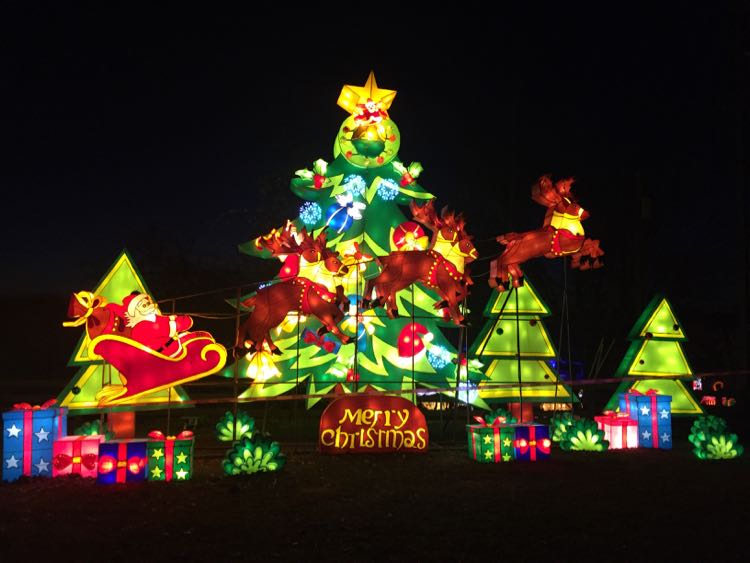 Roer's Zoofari Chinese Lantern Festival is open nightly November 30 to January 15th, 5:00 to 9:00 pm, including Christmas and New Year's. Tickets are $25 adult, $15 ages 4 to 12, free for 3 and under, and can be purchased online or at the door.
We were very impressed with the entire Zoofari Chinese Lantern Festival. It's a unique and absolutely beautiful addition to the holiday season in Northern Virginia!
You'll find more holiday fun in these articles:
Follow us on Facebook, Twitter, Pinterest, and Instagram for more fun travel in and from Northern Virginia.