Cirque du Soleil VOLTA brings high energy acrobatics, set to a lush musical score, to a 2019 run under the big top in Northern Virginia. VOLTA weaves elements of action sports and tech into the performances, giving the show an urban vibe. The set begins as a bare circle, but giant steel grids, curved jumps, and video screens set the stage for trampolinists, cyclists, aerialists, and more.  Bright, colorful costumes and lights add another jolt of energy.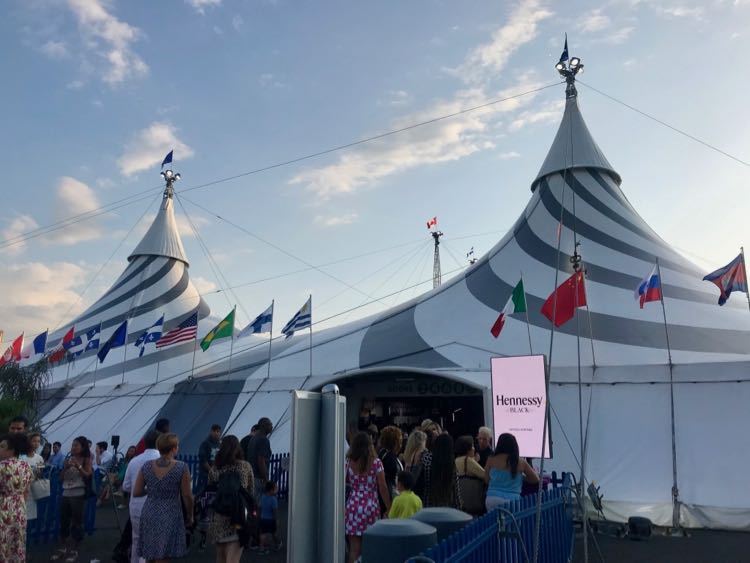 Cirque du Soleil VOLTA, Washington DC
The name VOLTA plays on two ideas—a change of emotion, and the energy delivered through the acts. The show tells the story of a popular game show host, Waz, getting back in touch with his true self and potential. "Free spirits" and childhood memories guide his transformation.
Early in the show, Waz is surrounded by The Greys, a monotone collection of city dwellers glued to the bright screens of their cell phones. But the bright colors of the free spirits prevail, and even The Greys switch from screens to newspapers during the journey.
Disclosure: This article may contain affiliate links. We will make a small commission from these links if you order something, at no additional cost to you.
VOLTA is a family-friendly show that will delight every age. Our favorite act had acrobats bouncing between a huge metal grid and trampolines far below. We were mesmerized, and a little terrified, by the acrobatics of the perfectly timed performance.
In other acts, rings, ropes, and ladders highlight the incredible strength and control of the performers. Shape jumpers catapult themselves through an ever higher series of rings. Acrobats perform on a giant ladder and a moving unicycle. Aerialists swing over the crowd from high in the tent.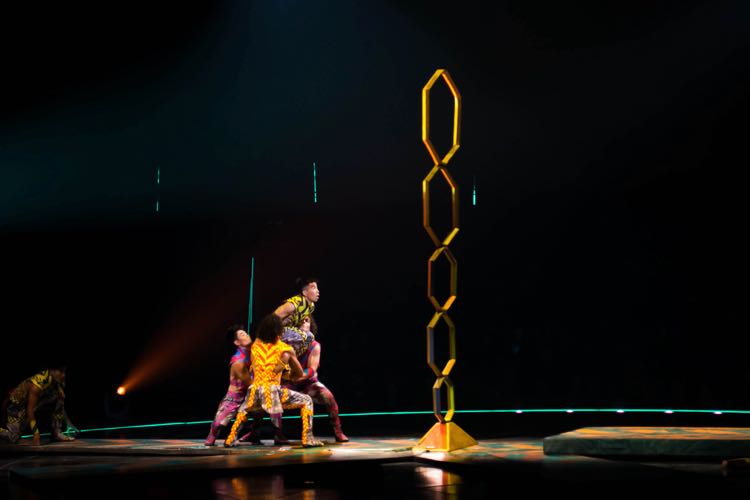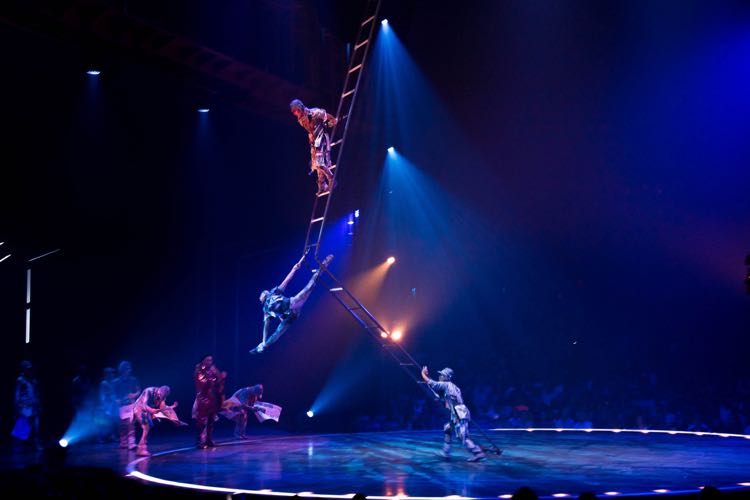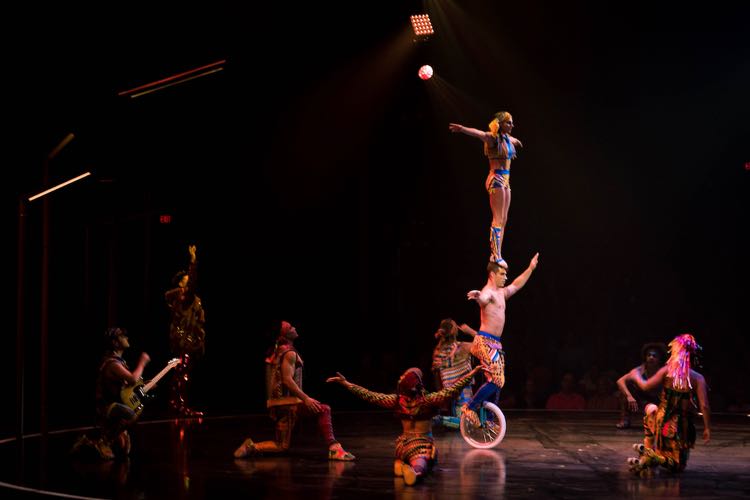 BMX fans will love a thrilling act featuring curved jumps spread across the stage.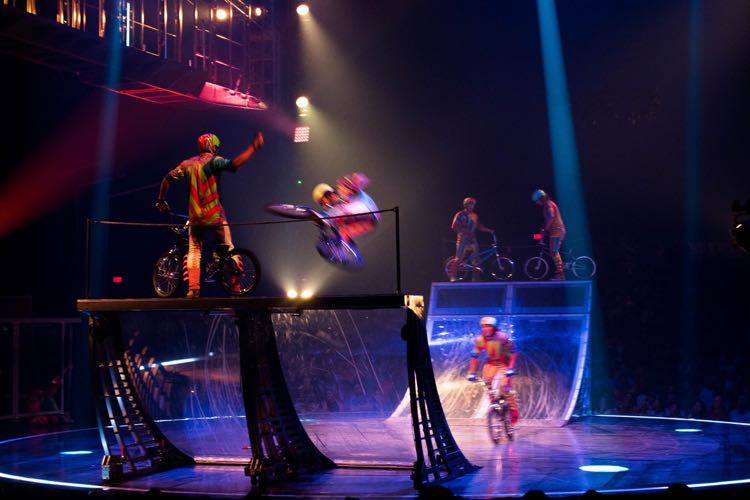 Cirque du Soleil VOLTA Tickets and Tips
Watch VOLTA in Tysons Lerner Square from July 25 through September 29, 2019. Tickets are available online, with prices beginning at $49. Evening shows are available most days, with matinee performances added on weekends. The small, round tent ensures great views from all seats, but VIP Experience ticket holders claim premier, front and center, seats. Some obstructed view tickets are available at a 30% discount.
The show is advertised as a Washington DC venue, but DMV locals knows that DC really means Northern VA. The VOLTA big top is very easy to reach on the Silver Line metro. Just hop out at the Tyson's Plaza stop and exit across the street from the mall. It's also a very short walk from the Tysons Corner and Tysons Galleria malls.
Parking for VOLTA DC (in Tysons Virginia)
There is official (expensive at $25) event parking at the Galleria, and many signs warning folks not to use the free parking spots. But why not make a night of it? Start with dinner at the Tysons Corner mall, then take the short walk to see the show. Better yet, extend your fun with an overnight stay at the Hyatt Regency Tysons Corner or The Ritz-Carlton Tysons.
Read our full reviews of the Hyatt Regency Tysons and Ritz-Carlton Tysons now.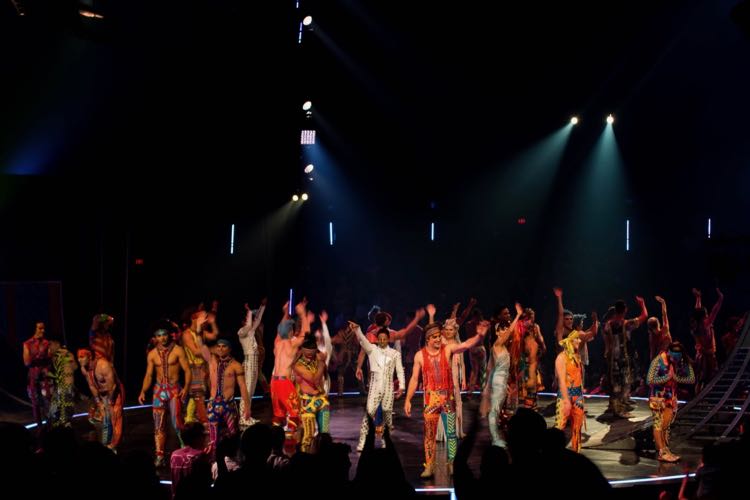 VOLTA is the third Cirque du Soleil show in Tysons, following Kurios in 2017, and LUZIA in 2018. Hopefully, the annual Cirque shows will return to Tysons every summer.
Will you be enjoying the high-energy acrobatics of Cirque du Soleil VOLTA in Northern Virginia?
Photographs are by Katherine McCool, used with permission. View and purchase Katherine's photography on Society6 and Redbubble, and follow her on Instagram at kmccoolio. 
Fun in Fairfax VA was invited to a media preview of Cirque du Soleil VOLTA. All opinions and text are our own. Follow Fun in Fairfax VA on Facebook, Twitter, Pinterest, and Instagram for more places to visit and things to do in Northern Virginia and surrounding areas.