Updated on October 6, 2023 by Julie McCool
See the newest Cirque du Soleil Tysons show, Echo, making its US Premier in September and October 2023.
Fantasy will be easier to find during the warm days of summer 2022 as Cirque de Soleil's mesmerizing show KURIOS returns to Tysons, Virginia. In KURIOS Cabinet of Curiosities, contortionists, actors, and acrobats inhabit a curious Steampunk fantasy world where anything is possible.
Disclosure: This article may contain affiliate links. We will make a small commission from these links if you order something, at no additional cost to you.
We were lucky enough to see KURIOS in Quebec City, and we were very excited about its appearance in our own Northern Virginia in 2016. The 2016 show was incredible, and now Kurios has returned to Tysons in 2022.
Step into the curio cabinet of an ambitious inventor who defies the laws of time, space and dimension in order to reinvent everything around him. Suddenly, the visible becomes invisible, perspectives are transformed, and the world is literally turned upside down.

Cirque du Soleil Kurios
Read on for our review of Kurios Tysons including photos and tips for enjoying the show.
Pre-Show Experience at Kurios Tysons
The fun begins at Cirque du Soleil shows even before the doors open. There are usually several performers outside the tents who are happy to join in photos. At the 2022 Tysons Kurios show a small group played songs while a pair of performers on stilts posed for pics and selfies.
The main tent opens at 7:00 PM but you will not be able to access your seats until 7:30 and the show begins around 8:00. Arrive early and you'll have plenty of time to check out the Cirque Shop, take some fun photos, and get something from the snackbar.
There are some great shirts for adults and kids available at the Cirque Shop plus hats, toys, books, and other gear.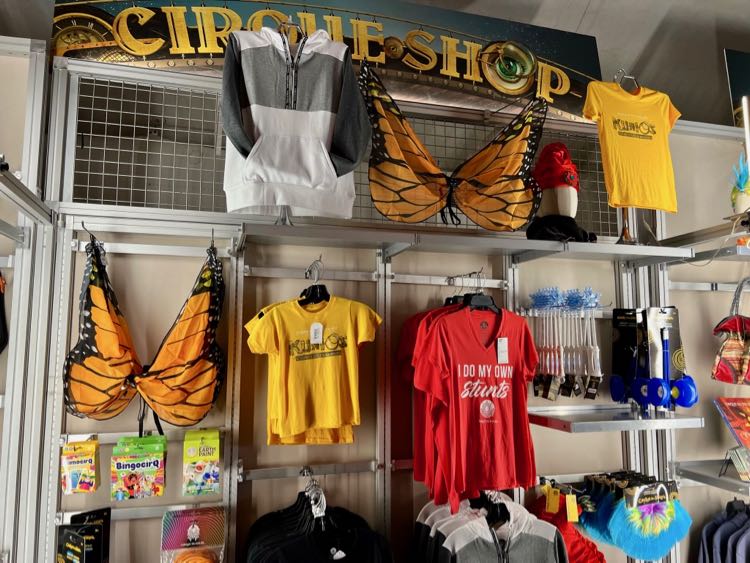 Snackbar food and drink choices include basic fare like pretzels, popcorn, hotdogs, sodas, beer, wine, and liquor. The prices are steep, but they're your only option as no outside food or drink is allowed.
In addition to the wandering performers, you will likely see costumed performers from the show in a large photo area outside the tent. The line for pics may be long but it generally moves quickly.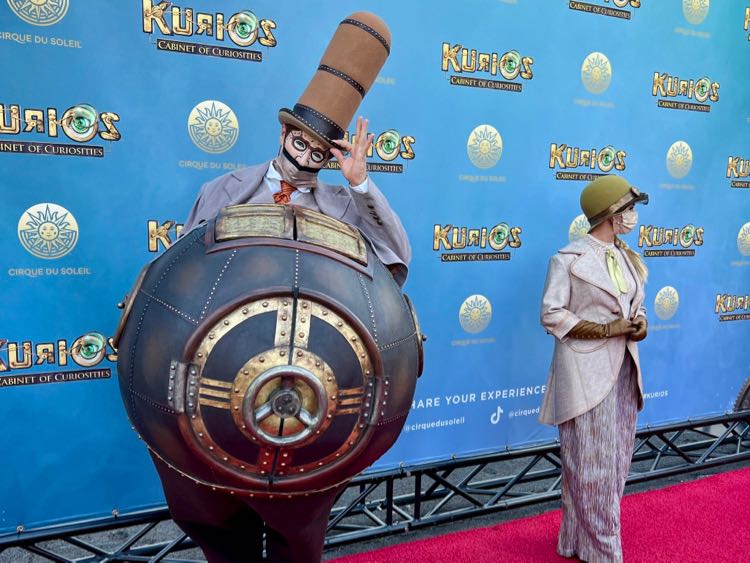 If you have VIP tickets your luxury experience, including food and drink, starts one hour before showtime.
Cirque du Soleil Kurios Brings Fantasty to Tysons Virginia
If you've never been to a Cirque du Soleil show, this is a wonderful introduction to the magic. The company combines weird characters, fantastical storylines, and elaborately quirky costumes and sets to create a mesmerizing show unlike any other.
Once you are allowed to head to your seats you'll start to experience the cool sets and strange designs that are the hallmark of Cirque shows. In 2016, guests selected randomly from the audience were invited to walk across the bridge on stage. In 2022, there is no guest participation but its still smart to arrive early to check out the stage and see characters as they enter.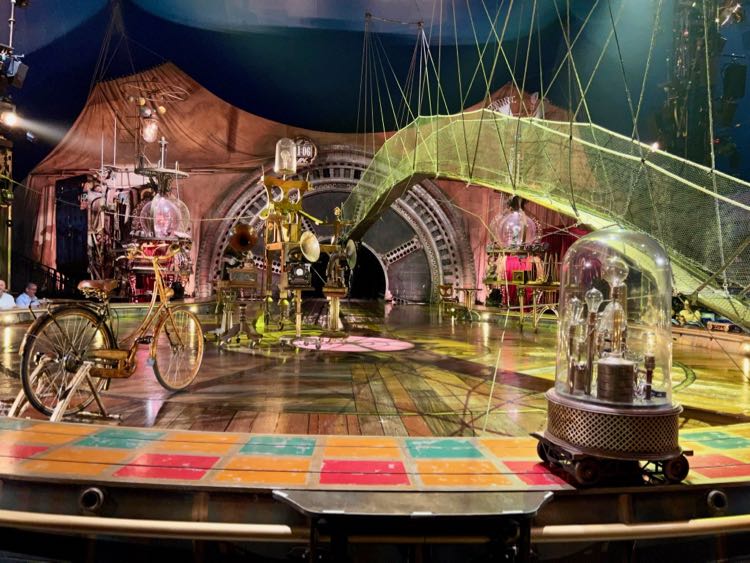 Be sure to look up too. There are often performers and musicians above the stage.
Soon enough the show begins as strange robots, a trio of scientists, and fantastical characters like the Accordian Man enter the stage. The activity moves around continually guaranteeing good views from all sections.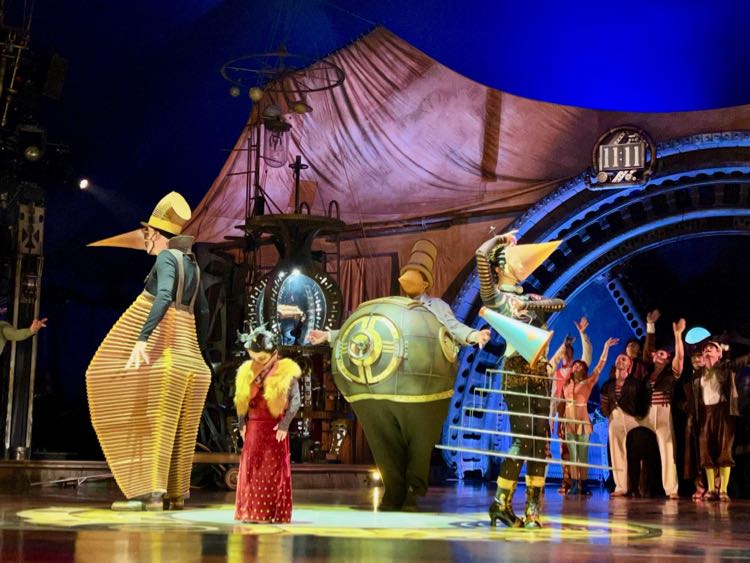 Like all Cirque du Soleil shows, Kurios combines the atmosphere of theater and circus. Music and odd noises provide a backdrop but there is no dialog or obvious plotline. That makes it easy to focus on the fun and mesmerizing acts.
Favorite Highlights of Cirque du Soleil Kurios
Every bit of the Kurios show is amazing, but some of the acts are truly mesmerizing.
In Contortion, a giant metal hand enters the stage topped by brightly clad figures. These human "electric eels" twist and bend into seemingly impossible shapes. Beautiful costumes and makeup combine with incredible athleticism in this stunning act.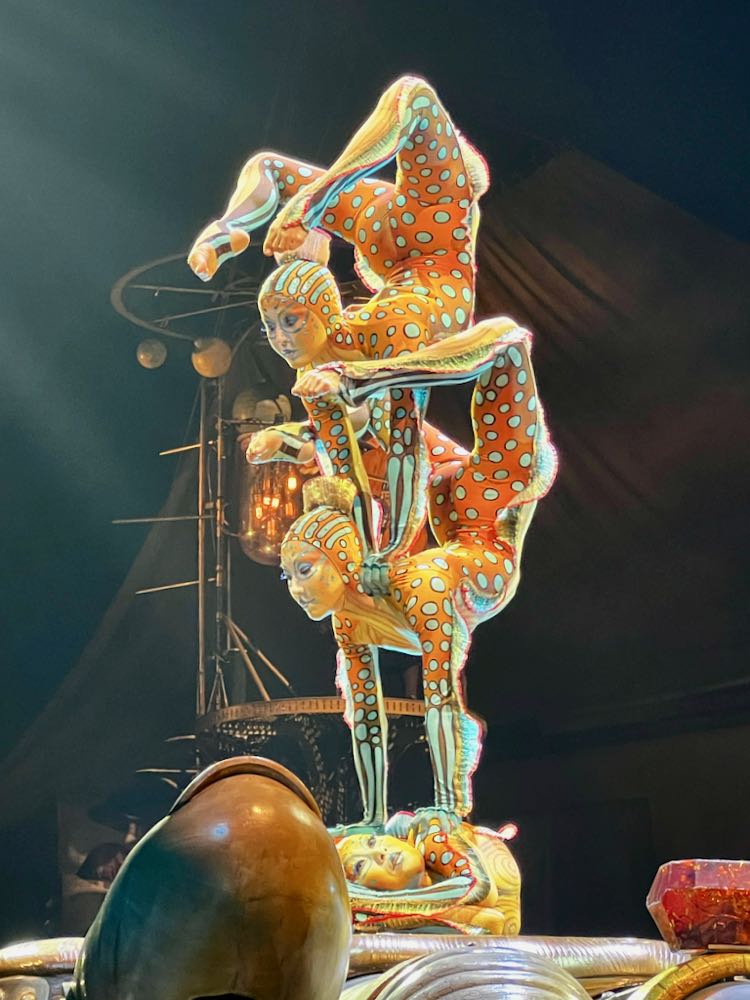 In the "Upside Down World" a dinner among friends is transformed into something much more. One character begins to build and climb an intricately balanced tower of chairs. As the tower grows, the audience realizes that same construction is being built simultaneously from above. Soon the mirror images meet high above the stage.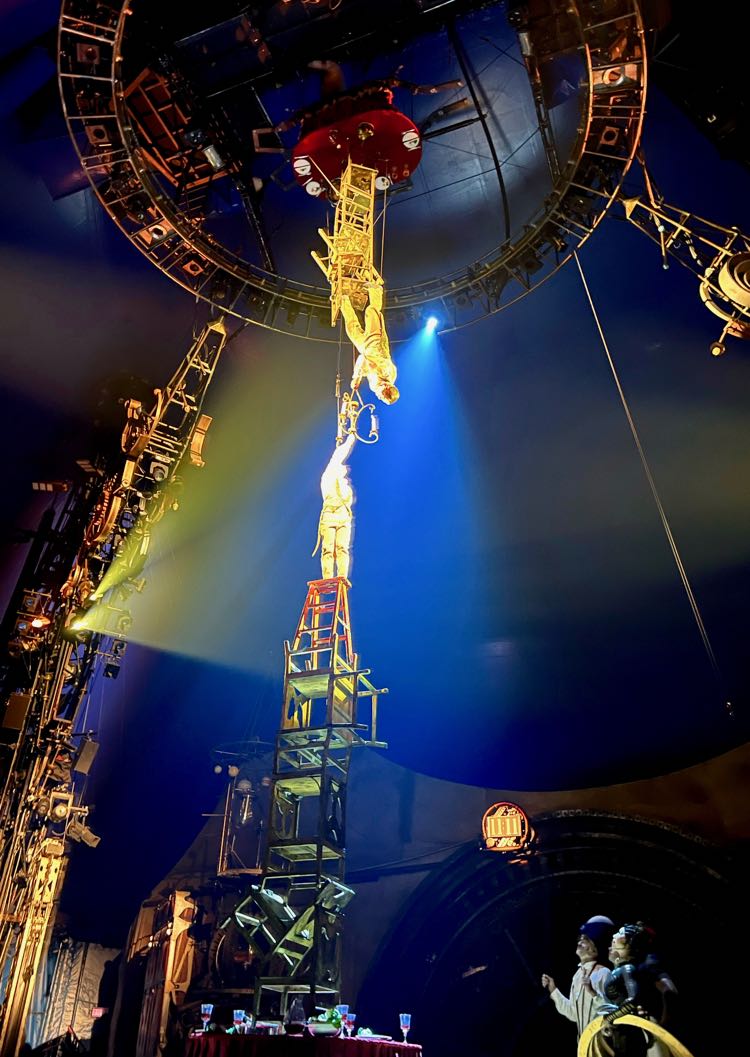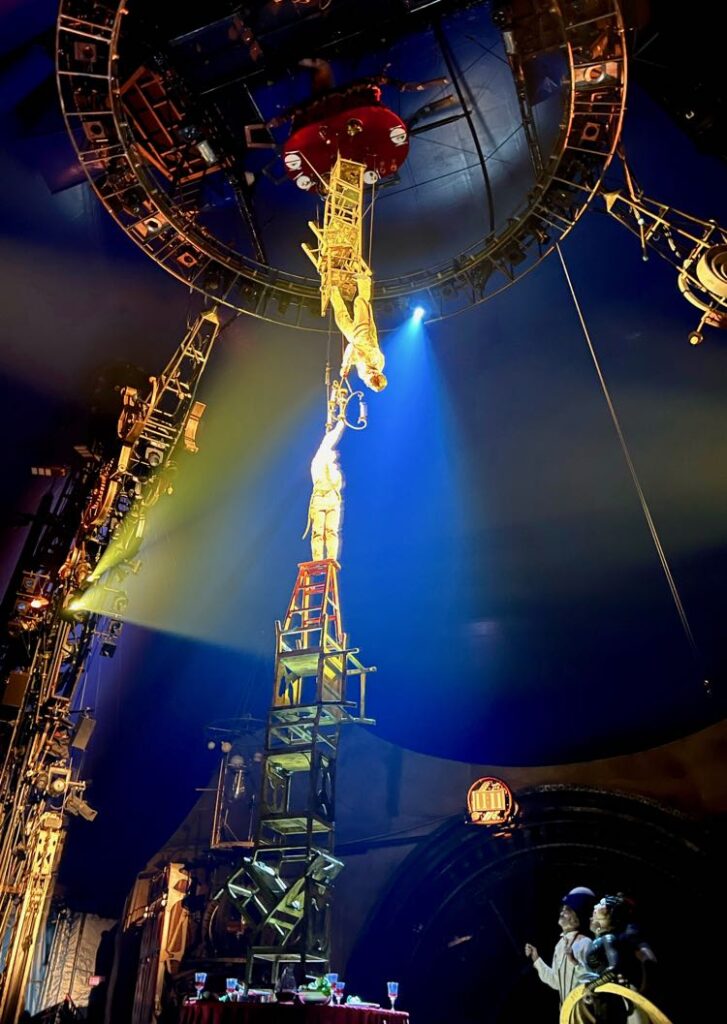 Atheltics and balance are taken to the next level when a "fearless Aviator" takes the stage to practice the art of rola bola. He must maintain his balance on a small platform with stacks of tubes and planks below.
During the second half of the show, trampolinists in the Arco Net act amaze and amuse in more of those fantastical costumes. Performers dressed as underwater creatures bounce and leap, sometimes reaching all the way to the top of the tent.
Another group of acrobats create human pyramids with synchronized leaps and jumps, summersaulting across the stage and stacking three or four people high.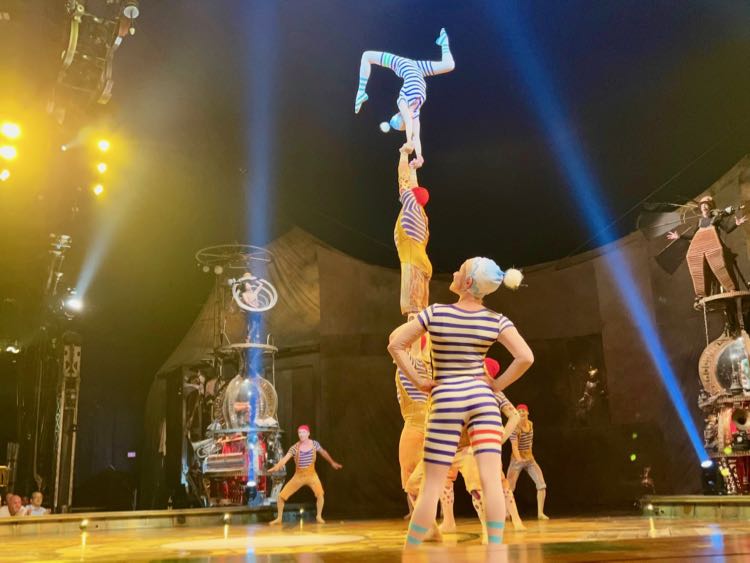 Comedic sets, a yo-yo artist, a pair of "twins" flying above the stage suspended from straps, and more unique acts fill out the two-hour long show. There is always something happening on stage with a cornucopia of characters, costumes, and activity to hold the audience's attention.
KURIOS is a family-friendly show, and both young children and teenagers will be equally spellbound; not an easy task. Trust us, you will not be disappointed.
Kurios Essential Info
KURIOS returns to Tysons Lerner Square on July 29, 2022 for an extended run until September 25th. Tickets are on sale now, with prices beginning at $39, with Producer, VIP, and Backstage options available.
While the relatively small, round tent means there are no bad seats, we recommend being as close to the stage as possible. You will want to enjoy clear views of the extravagantly detailed costumes and makeup. We were treated to front row seats on the show's 2022 premier night, and being so close to the action was truly amazing.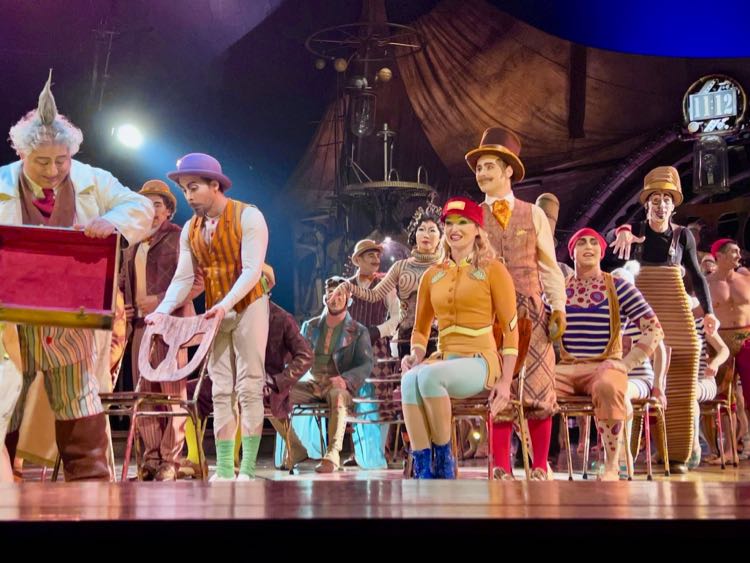 It's wonderful to see new events and spaces opening in Tysons, and Cirque de Soleil is a great addition to our summer fun. Easy to reach on the Silver Line, the venue is right next to the Tyson's Plaza stop.
Official event parking is a punishing $25, but we suggest beginning your night with a meal at the mall where parking is free and restaurants are plentiful.
Where to Stay Near Kurios in Tysons
Make it an extra-special night out when you book a night or two in Tysons. There are several hotels nearby, and we highly recommend:
In addition to the malls, there are several great urban plazas nearby where you can dine, shop, and play before the show. The Boro Tysons, Tysons Plaza, and The Perch at Capital One Center are all a short walk from the Cirque tent.
Will you experience the fantasy when KURIOS returns to Tysons in 2022?
Follow us on Facebook, Twitter, Pinterest, and Instagram for more fun travel in and from Northern Virginia.