Updated on February 9, 2022 by Julie McCool
Virginia photographers bring the beauty, adventure, and diversity of our home state to life, inspiring our travels and prompting us to explore new destinations. Happily, social media makes it easy to follow these artists with a camera, as they share their captures of Virginia and the mid-Atlantic region.
Almost nothing inspires like a sunrise or sunset, but we are rarely able to capture these perfect moments on our own. Wildlife encounters are magical, but we lack the camera gear and the patience to stake out the perfect bear or bird photo session. Luckily, there are expert Virginia photographers in our midst, willing to brave freezing temperatures, dark paths, long waits, and early mornings, to capture the magic for us.
Disclosure: This article may contain affiliate links. We will make a small commission from these links if you order something, at no additional cost to you.
Virginia Photographers to Follow
Here are some of the fantastic Virginia photographers we follow on social media to bring happiness and beauty into our day. To speed load times, we resized and compressed the images shared here. Please follow the links to the photographer web sites to see original photos in all their gorgeous detail.
Chris is an Alexandria, Virginia photographer specializing in fine art photography of landscapes and nature. His color-filled work has been featured on Visit Virginia and USA Today.
Follow Chris on Instagram, Twitter, and Facebook.
Northern Virginia photographer John Ernst specializes in Landscape and Nature photography. A native of Virginia, John enjoys how photography pushes his spirit of exploration and allows him to share the beauty of Virginia and his travels with others.
Follow John on Twitter, Instagram and 500px.
Larry is an avid outdoorsman and nature/wildlife photographer. His photographic playground is Shenandoah National Park where he captures landscapes, wildlife, waterfalls and the night sky.
Follow Larry on Twitter and Flickr
Jen Johnson, Jen Johnson Photography
Jen is a travel Photographer from the DC metro area who is passionate about landscape photography and nature. She is always chasing sunrise & sunset, whether hiking in the mountains or relaxing on a sandy beach.
Follow Jen on Instagram, Twitter and 500px.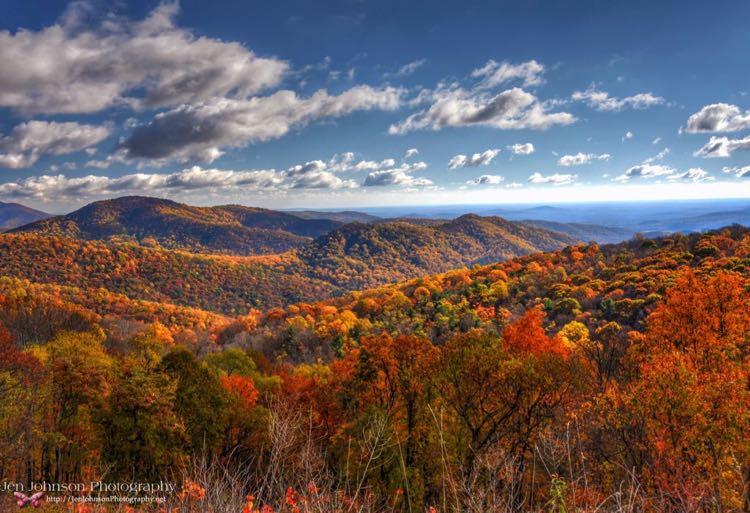 Blaine Blasdell is a nature and wildlife photographer living in the Northern Virginia area. He has a passion for landscapes, sunsets, butterflies, and other wildlife, especially in our great National and Virginia State Parks.
Follow Blaine on Instagram and Twitter.
Tom has been a photographer since the early 1960's. His favorite subjects are family, sports, nature, landscapes, and candid photography, and he is the Resident Photographer in Nature & Landscapes at Meadowlark Botanical Gardens in Vienna, Virginia. Tom lives in Northern Virginia "where we are in easy access of many of the most beautiful and diverse photographic areas available in the country."
Follow Tom on Twitter and Vimeo.
Charlotte specializes in a joyful and documentary style of lifestyle photography; she loves vibrant colors, cheerful energy, and candid moments. She is a commercial and portrait photographer based in Reston, Virginia.
Follow Charlotte on Instagram, Facebook
We encourage you to follow these inspiring Virginia photographers and support their work so they can continue to share the beauty of Virginia with all of us. If you'd like to visit the destinations featured here, check out these related articles:
Who are your favorite Virginia photographers to follow? We'd love to hear your suggestions in the comments below.
Follow Fun in Fairfax VA on Facebook, Twitter, Pinterest, and Instagram for more fun things to do, places to visit, dining and drink, and special events in the Northern Virginia, Washington DC region.