2017 Outdoor Movies in Northern Virginia
2017 outdoor movies in Northern Virginia offer the chance to relax and enjoy a fun flick under the stars. Free summer screenings begin in May and ramp up with additional venues over the summer. Wolf Trap also offers a selection of paid movie and music performances during the summer (details below). 2017 Summer Concert Series are also underway, offering lots of free, family-friendly fun all week long.
Follow the links for line-ups and additional 2017 movie series info, and be sure to double-check for closures during inclement weather.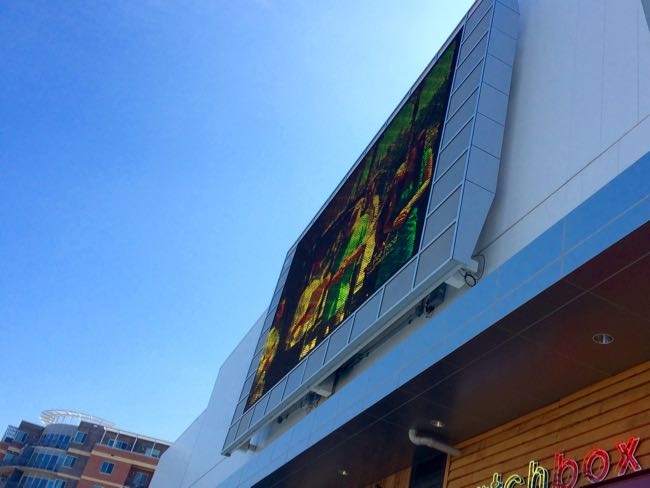 Tuesdays: Jun 20 – Aug 22, Sunset
Watch a kid-friendly movie outside on the big screen in one of two locations in South Riding. Movies will start at sunset or as soon as it is dark enough. Bring a blanket or chairs for an evening of fun under the stars. Free.
Thursdays: Aug 22 – Aug 24, 8:00
Family-friendly movies screened under the stars. Limited seating is provided on a first-come, first-serve basis and you are encouraged to bring your own chair. Free.
Fridays, June 3 – August 26, 8:30 pm
The 2017 theme is "Celebrating the Great Movies of 1987(ish)" featuring a line-up of G to R-rated classics, Friday nights throughout the summer in Rosslyn's Gateway Park. Check the Facebook page for inclement weather cancellations. Free.
Fridays, June 9 – August 18, 7:00 – 9:00 PM
Gather in Mosaic District's Strawberry Park on Friday nights for special screenings of concerts, documentaries and other performances. Free.
Fridays: Jun 3 – Aug 26, Dusk
The Town of Lovettsville present the 9th annual Movies on the Green Series on the 1st and 3rd Fridays of the month on the Town Green.  Bring a blanket or lawn chairs and a picnic to enjoy before the movie. Cancelled in the event of high wind or rain. Free.
Fridays: May 26, Jun 2 + 9, Sep 16 + 23
Bring blankets and lawn chairs to enjoy family-friendly outdoor movies. Movies begin at dusk. Free.
Cinema del Ray, Mount Vernon Rec Center, Alexandria
Saturdays: Jun 17, Jul 15, Aug 19, Sep 16 Dusk
The fun begins at 7:00 and the family-friendly screenings start at dusk, every third Saturday of the summer on the fields of the Mount Vernon Rec Center. Free.
Saturdays: Jun 3 – Sep 2, 8:30
A full line-up of adult and kid-friendly movies screened under the stars. Limited seating is provided on a first-come, first-serve basis and you are encouraged to bring your own chair. Free.
July 14 and 15, 6:30 – 10:45 PM
The 15th Annual Comcast Outdoor Film Festival offers two nights of outdoor movies on a four story high movie screen in full HD. Bring your low beach chair, blanket, family and friends.Free
Starlight Cinema, Trinity Centre Parking, Centreville
Saturdays Aug 5, 12, 19, 26, 6:00 PM
Starlight Cinema returns in 2017 with an August full of family movies that you can enjoy from your car or under the stars in the outdoor seating area. If you've never been to a drive-in, or you want to bring back happy memories of the drive-in experience, the Trinity Centre parking area is the place to be on Saturday nights. Gates open at 6:00, so head over early for pre-movie entertainment and activities. Bring a blanket, chairs, and a picnic, or purchase food on site. Cancelled if rain. Free.
Saturdays: Jun 10, Jul 8, Aug 12, 5:00, Movie at dusk
Enjoy dinner from a line-up of Gourmet Food Trucks on Main Street in downtown Leesburg, with live music beginning at 6:00 pm. The trucks and movie fans gather every 2nd Saturday during summer months. At dusk, grab your blanket and chairs and watch a blockbuster movie on a 24 foot outdoor screen. Free.
Saturdays, May 20 – Sep 9, 7:00
Stonebridge offers a family-friendly movie on the Jumbrotron every Saturday through September. Bring your own chairs and blankets, and arrive early for shopping and a meal at one of the many shops and restaurants. Free.
Sundays, June 4 – August 27 (except June 24), 6:00 – 8:00 PM
Boasting a slew of great restaurants, hip stores, and the Angelika Theater, Fairfax's Mosaic District is always jumping. Stop by any Sunday night, June through August, to explore the stores, grab a bite, then watch a family-friendly outdoor movie on the giant screen over the main plaza. Free.
Jun 7 + 8, Jul 22, Aug 4 + 5, 8:30
Mixed in to the line-up of live summer entertainment, WolfTrap is offering several nights of classic movies on the big screen accompanied by live music. Movies begin at 8:30 with pre-performance options. Follow link for tickets and other details.
When the weather warms, 2017 outdoor movies return. We love the chance to watch some stars under the stars, and these mostly free events are a fun way to enjoy a night out with family and friends. Please let us know if we missed any 2017 outdoor movie series to add to the list.
Follow Fun in Fairfax VA on Facebook, Twitter, Pinterest, and Instagram for more fun things to do, places to visit, and special events in Northern Virginia and surrounding areas.