Updated on November 7, 2023 by Julie McCool
Update: Paladar Tysons has closed permanently.
We recently discovered an excellent happy hour destination to satisfy our summer mojito cravings. Paladar Latin Kitchen and Rum Bar offers delicious mojitos, margaritas, and sangria along with a nice selection of Latin street food, all for $5.00 a piece during happy hour.
Disclosure: This article may contain affiliate links. We will make a small commission from these links if you order something, at no additional cost to you.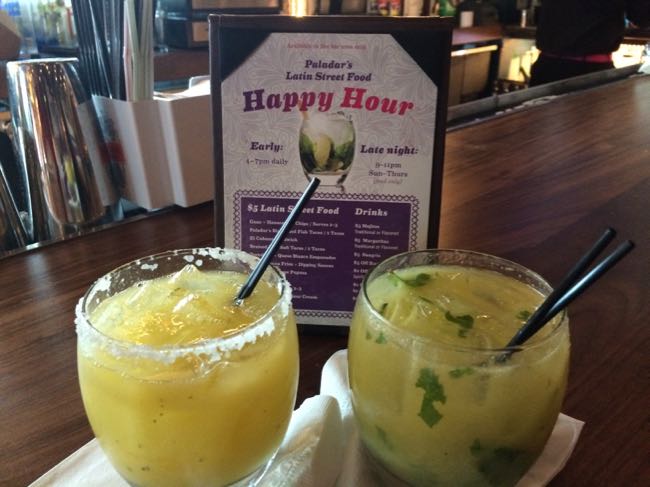 Mojitos just taste like summer to us, with all those muddled fresh herbs and tasty rum, and we were hoping to hit the happy hour trifecta—delicious drink, relaxing patio, and rewarding price. Paladar Tyson's happy hour specials are only available at the bar, though, so we headed inside and were rewarded just the same.
Paladar is a small chain that started in Cleveland, looks like Miami, and has most of it's locations in Maryland. The Paladar Tysons restaurant opened in May at a location near Gallows and Route 7 formerly occupied by Bertucci's.
The bar at Paladar Tysons attains a nice balance of relaxed and sophisticated. We grabbed stools at the bar, but there are also tables that qualify for happy hour pricing. We tried a few of the flavored mojitos and were particularly fond of the Mango Cilantro and the Peach Basil. You could also order a flight of rum from the fairly broad range of choices at a $5.00 discount.
We were really impressed with the quality and portions of the $5.00 Latin street food offered during happy hour. We ordered fish tacos, beef tacos, guac with house-made chips, and the Cubano sandwich and everything was delicious. The guacamole and beef tacos were particular stand-outs that we'll order on our next visit.
There are two happy hour options at Paladar: every day from 4:00 to 7:00 and a late-night, food only option from 9:00 to 11:00 Sunday to Thursday. Like many NoVa bars, Paladar can be overrun with the after work crowd on Thursday and Friday. We'll return a little earlier in the week and the evening to enjoy a more relaxed atmosphere. We'll also be back for a full meal on the patio before the weather turns cold.
1934 Old Gallows Road
Vienna, VA 22182
703-854-1728
Map
What's your favorite Fairfax County destination for a happy hour mojito?