A Hampshire County getaway offers unique outings, beautiful nature, and a chance to disconnect and relax as you explore West Virginia's Potomac Highlands region. Hampshire County is just a two-hour drive from the Northern Virginia and Washington DC area, but it feels a world away. Slow down, step back in time, and enjoy simpler pleasures as you reconnect with family, friends, and nature.
We've rounded up five fun things to do on a Hampshire County getaway, along with places to eat and stay. The area is close enough for a day trip, but we recommend a longer visit to fully shift into relaxation mode.
Take a Ride on the Potomac Eagle Scenic Train
The Potomac Eagle Scenic Train is our top pick for Hampshire County getaway fun. The three-hour ride travels out and back through a beautiful gorge along the South Branch of the Potomac River. An on-board expert narrates your journey with stories about the nature and history along the route.
Disclosure: This article may contain affiliate links. We will make a small commission from these links if you order something, at no additional cost to you.
A fun option is to enjoy a catered lunch during the journey in an historic dining car.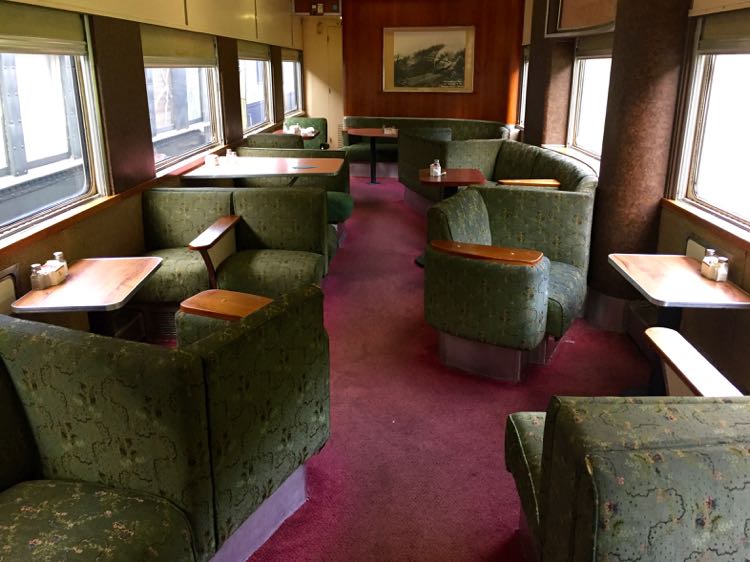 When the train stops, about 45 minutes into the ride, move to the open-air car for great views of "The Trough." You'll have great views of steep wooded hillsides and the river, so have your camera ready.
Bring your jacket and water bottle because you have to stay in the open car until the train stops again.
Enjoy Shopping and History in Romney West Virginia
Take a stroll through the small town of Romney, exploring the historic sites and shops throughout the compact downtown. The oldest town in the oldest county in West Virginia was settled on lots surveyed by Lord Fairfax. On weekends, the newly opened Hampshire County Co-Op & Heritage Marketplace is the place to find local, hand-crafted art and goods. Jose Montero's beautifully carved wooden spoons and cutting boards drew our attention. Music lovers should check out the unique hand-crafted instruments on offer. The canjo—a banjo made from a can—produces a fun sound and a very cool look.
Nearby, visit the David History House. The oldest log cabin in town houses an excellent collection of period furnishings and Civil War memorabilia.
A short but steep drive from the downtown leads to Fort Mill Ridge and a well-preserved Civil War entrenchment. Interpretive signs describe how the site looked when it was occupied by Union infantry in 1863.
In season (mid-June to mid-October weekends), visit Fort Edwards to learn about the role of Colonel George Washington's troops stationed here during the French and Indian War.
Take a Guided Hike at Ice Mountain Preserve
The Nature Conversancy's Ice Mountain Preserve protects and studies rare arctic plants in a unique environment. Join a docent led hike to learn about the rare plants that grow at the base of the talus slope. Cooling vents keep temperatures along the trail low enough for plants that normally grow only in Arctic areas.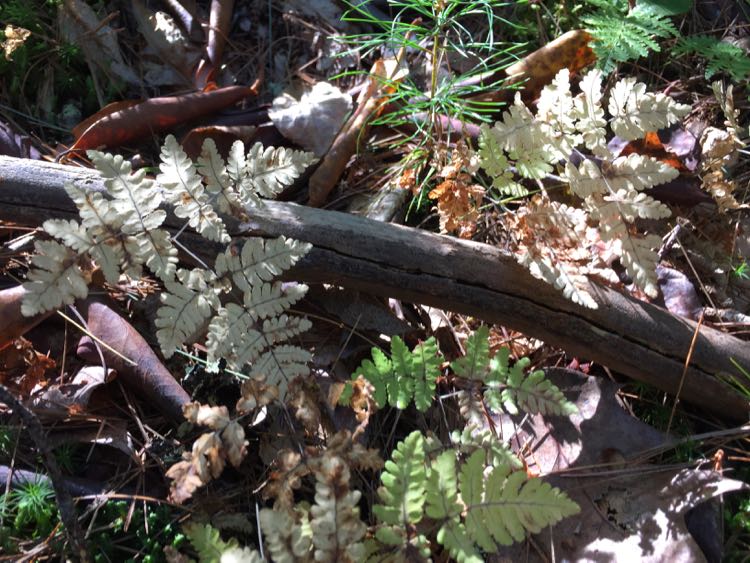 Another trail follows a short but steep climb to Raven Rocks Overlook and a stunning view of Hampshire County and the distant mountains.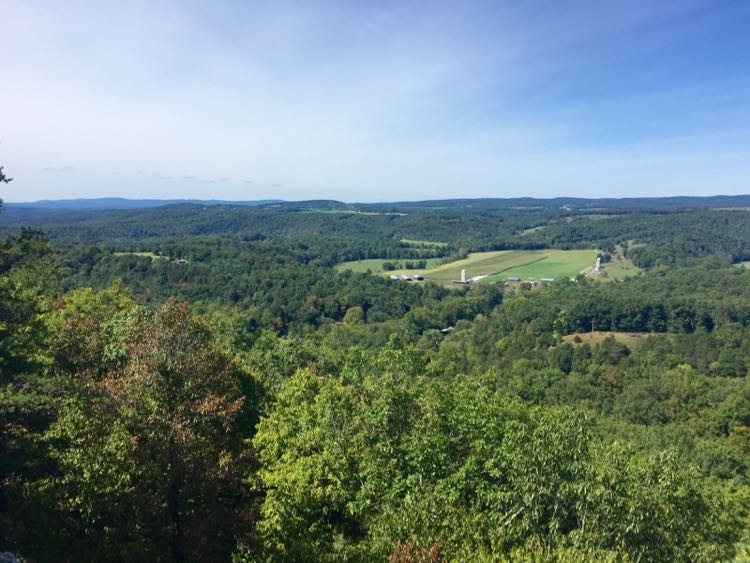 Soaking up the view on a guided hike to Raven Rocks, Hampshire County WV#travel #AlmostHeaven #gotowv https://t.co/TmbxfrE3d1 pic.twitter.com/slYhVTVepY

— Julie McCool | FuninFairfax (@FunInFairfax) September 18, 2017
Enjoy Sports Both Old and New at Capon Springs Resort
Capon Springs Resort and Farms is a throwback in the best way. The historic resort welcomes generations of guest who return year after year to relax and reconnect. Capon is a fun place to try sports both old and new. Test your skill in one of two Ping Pong Houses; play shuffleboard, badminton, and horseshoes, or take a hike on one of several trails.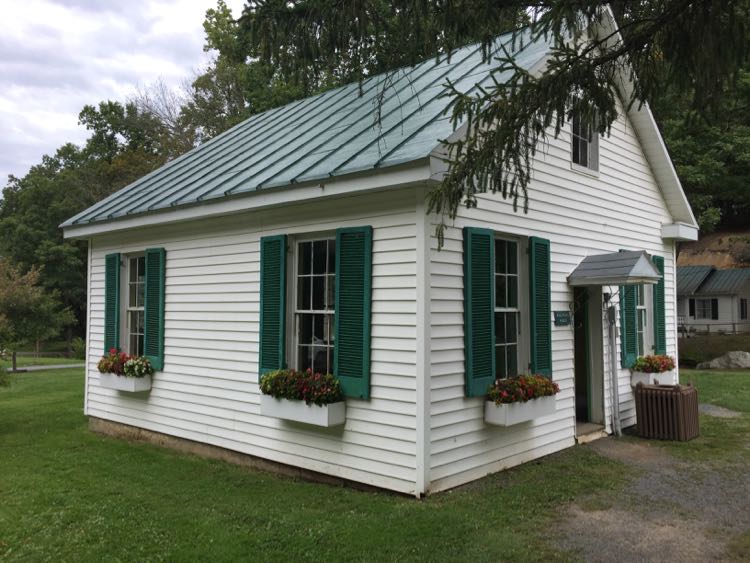 Golfers enjoy beautiful scenery and unlimited play on the nine-hole course for a modest $25 daily greens fee. Bags, balls, and clubs are all available to guests free of charge, and carts can be rented. Capon Resort offers two alternative forms of golf that are worth a try during your Hampshire County getaway. Hickory Golf uses clubs and balls from the early days, while Fling Golf is one of the newest forms of the sport. The on-site pro can teach newcomers the basics, and shorter distances on the prep course are perfect for families.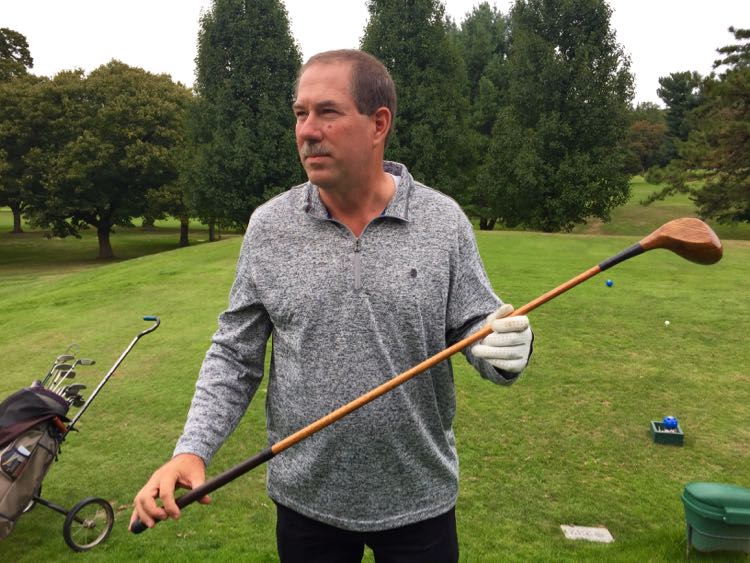 Take the Healing Waters at Capon Springs
Natural mineral springs give the resort it's name, and you can enjoy the waters several ways during your Hampshire County getaway. Take a refreshing dip in the spring-fed, sun-heated pool, or start your day with a bracing "polar bear" dip. Capon spring waters are used throughout the property for drinking, bathing, and swimming. Fill a water bottle or two and sip away—the alkaline water is healing and delicious.
A soak in the healing spring water at the resort's Hygeia Bath House & Spa is sure to relax your muscles and quiet your mind. Three tiled baths are filled with heated Capon water, which can be customized with a variety of aromatherapy bath salts. We were soothed by a combination of essential oils in the Cacopon Cleanse. The spa also offers massages, facials, and reflexology treatments.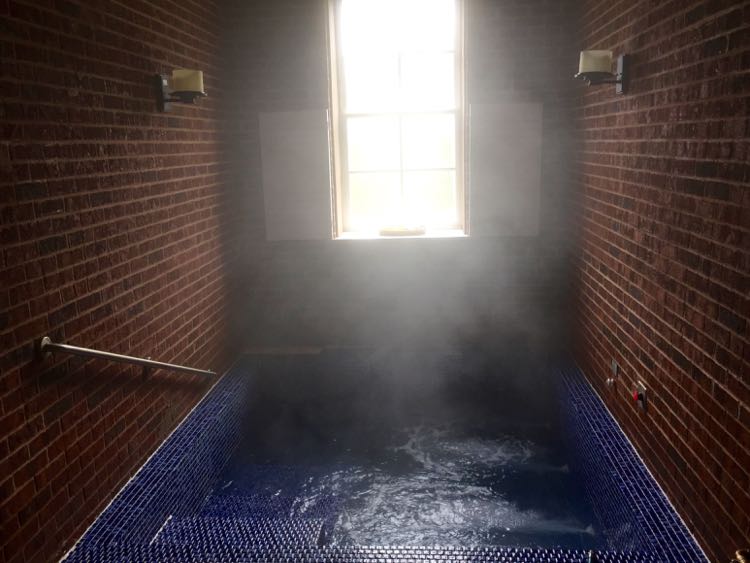 Where to Eat on a Hampshire County Getaway
If you're staying at Capon Springs & Farms, your meals are all included and served on site in the dining room or the open air Sunset Lodge. The meals are hyper-local—featuring the farms own eggs and pork—filling, and tasty.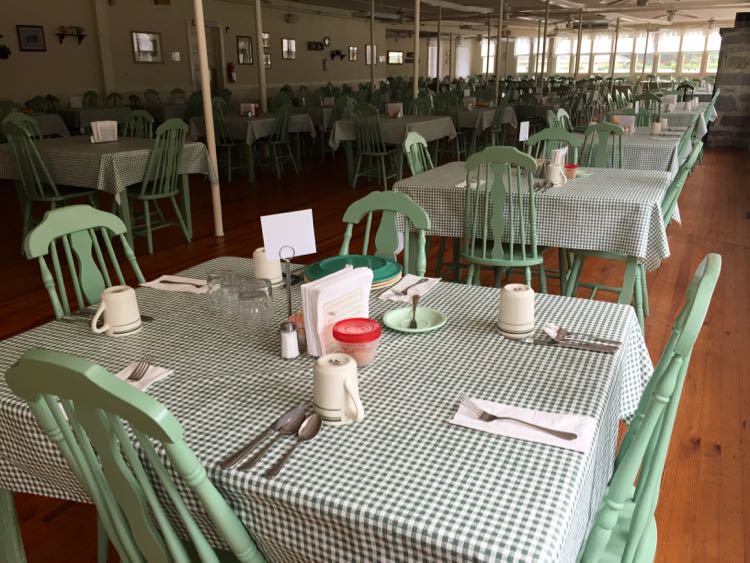 We loved our lunch at The River House, a combination restaurant, arts center, and community gathering place in Capon Bridge. The menu features locally sourced, farm to table food including a fantastic jambalaya and many vegan and vegetarian specials. Time your visit right and you can join in an art class, trivia night, or other community event.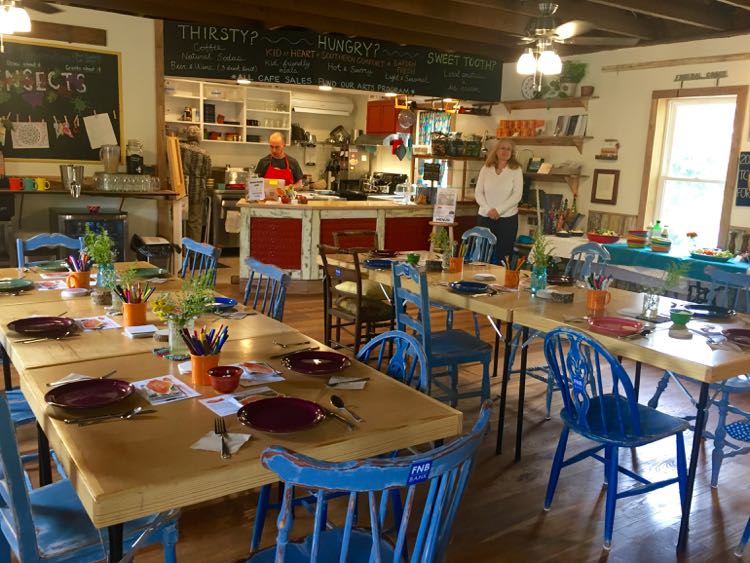 The Mountain Top Truck Stop in Romney is a good bet for classic, filling diner food. If you stop for breakfast, try one of the massive cinnamon rolls.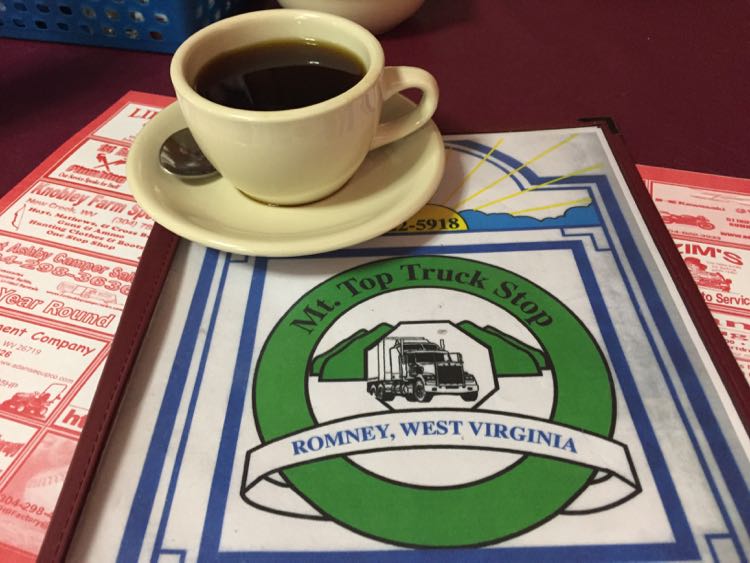 Where to Stay on a Hampshire County Getaway
Capon Springs & Farms
The pace is slow and easy at the 19th century resort Capon Springs & Farms. There are no TVs in the rooms and wifi is only available in one building, so it's very easy to disconnect from the modern rush. Relax on the large porches, take a hike on the trails, take a dip in the pool, or a soak in the spa. At night, we feasted at the all-you-can-eat chicken cookout while listening to live, local blue grass music.
Capon Springs is full of traditions, from the morning flag-raising, to the music and bells that signal meal times, to the nightly gatherings on cottage porches. Many families have been coming to Capon for generations. We met one guest who first stayed as a 4-year-old and now returns every year with her children and grandchildren.
Rooms vary widely in size and configuration, but are all basic but comfortable. Pricing is per person, all inclusive, and the same no matter which room you are assigned. When we return, we'll request the Honeymoon Cottage, a private cabin with a separate living room with fireplace, bedroom, and porch.
Koolwink Motel
Fans of retro motels should spend a night at the1950s Koolwink Motel in Romney. The decor is as funky as the logo, and the family-run property is conveniently located for a Hampshire County getaway.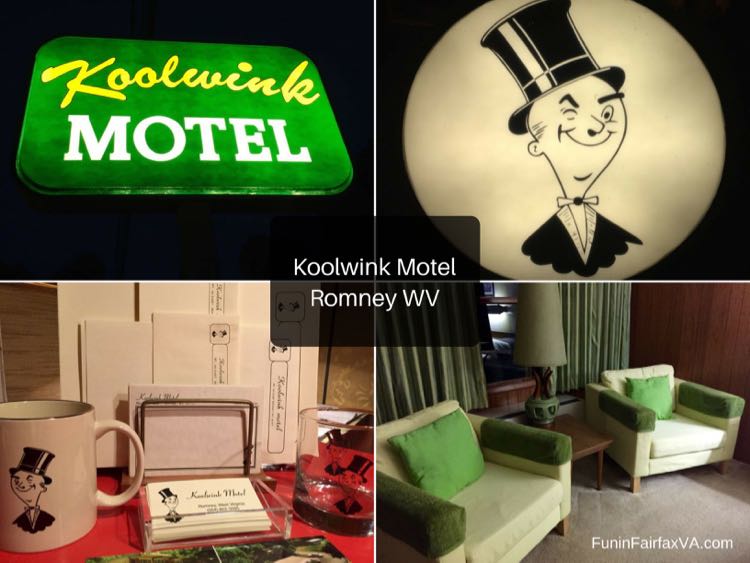 Whether you spend a week at Capon Springs or a night at the Koolwink, you'll find plenty of ways to have fun and relax on a Hampshire County getaway to West Virginia. Capon Spring & Farms is open from May through early November, and closes during the colder months. Be sure to check ahead for availability and hours at the resort, train, and other attractions.
Check out these related articles for nearby fun:
Our getaway, including meals, lodging, and activities, was hosted by the Hampshire County Visitor's Bureau. As always, all opinions are our own. 
Follow Fun in Fairfax VA on Facebook, Twitter, Pinterest, and Instagram for more fun getaways, things to do, places to visit, dining and drink, and special events in the Northern Virginia area and the mid-Atlantic USA.