Plan a Dogfish Inn escape to the quaint town of Lewes for a Southern Delaware Beaches stay that combines outdoor fun and a hip, retro vibe. Beer lovers are drawn to the inn for it's namesake owner, Dogfish Head Brewery. But it's a cool spot for couples, family, and friend-cation fun even if beer is not on your menu.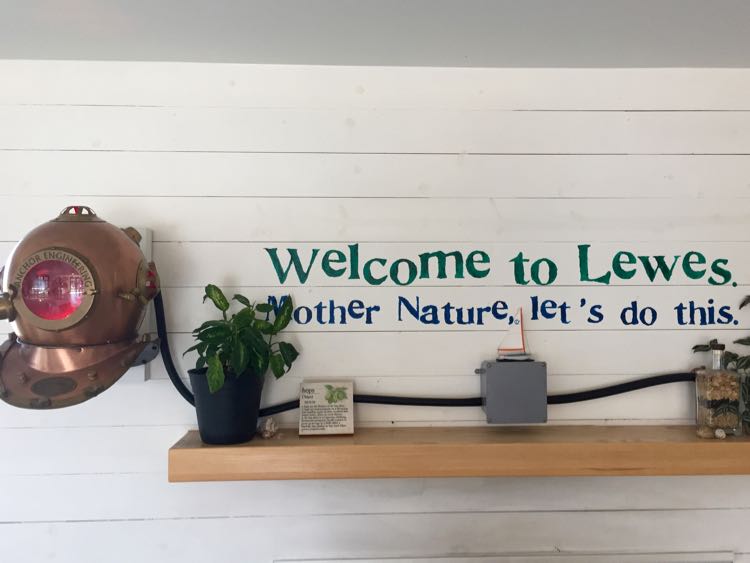 A Hip Base For Your Dogfish Inn Escape
Dogfish Inn is a 16-room property that looks and feels like a very cool motel. Most of the rooms are stretched across two floors with an open, shared porch, fronting the parking area. There are King bed rooms for two, and double queen rooms for four. But if you're Dogfish Inn escape includes a party of four, or you just want to splurge, you can book a very Sweet suite. The suite occupies most of the upper floor in a separate building, above the main lobby.
Disclosure: This article may contain affiliate links. We will make a small commission from these links if you order something, at no additional cost to you.
We enjoyed a three-night stay in the Sweet and our rooms were fantastic. The Sweet includes two large bedrooms with queen beds, a bathroom with ginormous walk-in shower, and a large living room with kitchenette.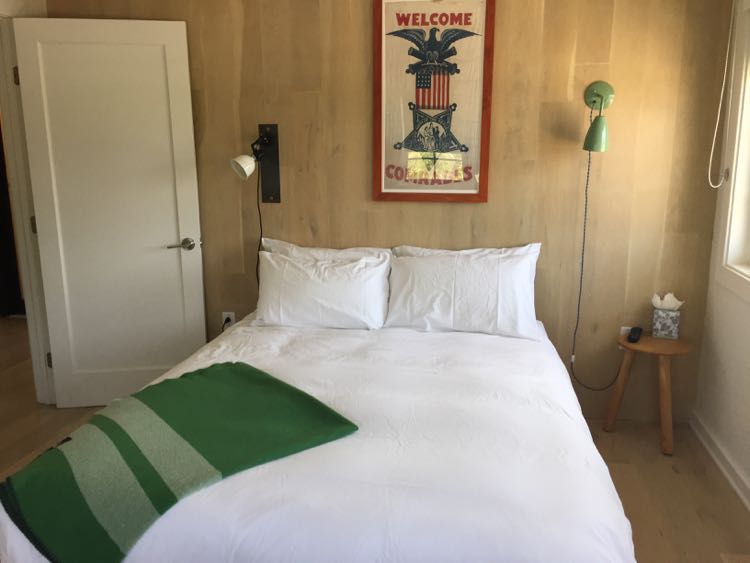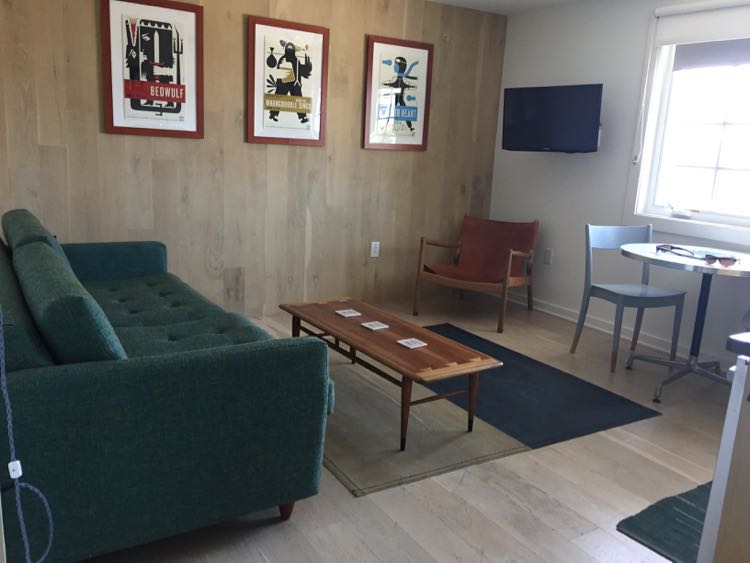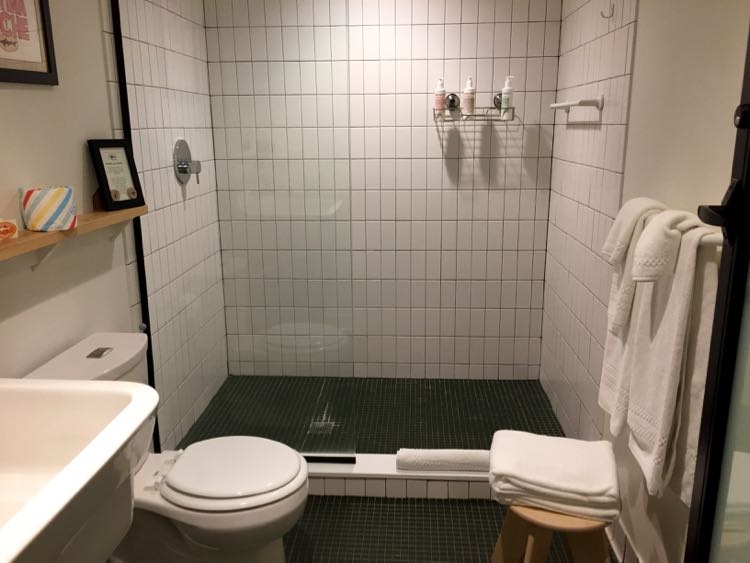 The decor and in-room extras set a funky tone for a Dogfish Inn escape. The custom-made furniture is sleek with a retro touch. Luxe linens, plump pillows, and a quality bed guarantee a very comfy sleep warmed by down comforter and green Woolrich blankets.
Every room comes with a cool beach bag and beach chairs to borrow, a Tivoli radio to set the mood, a stocked mini-bar and snacks for purchase, and Malin + Goetz products to clean up after a day of outdoor fun. The toilet paper wrapper and rich beer soap gave us a smile (see pic).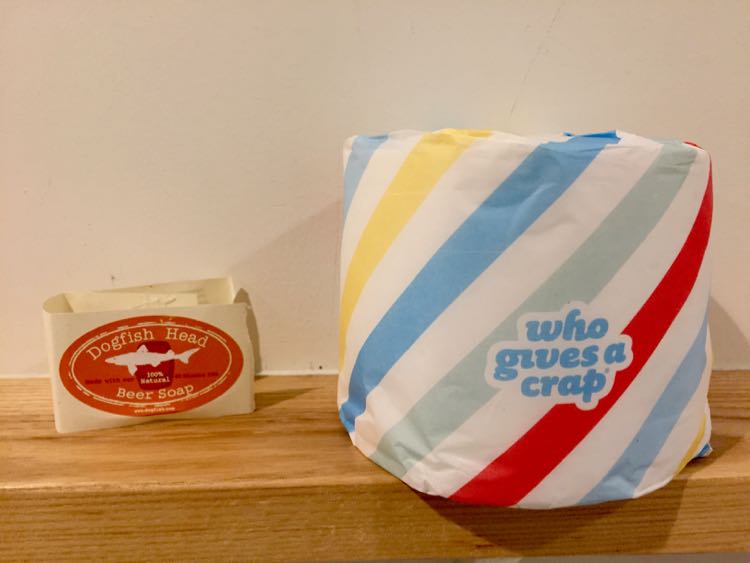 If you're in the Sweet, you'll also have a 2-burner stove, a small dishwasher, sink, coffee maker and coffee, and a set of dishes to enjoy it all. There's even a cocktail shaker, recipe, and Moscow Mule glasses to inspire your evening.
Special Extras at the Dogfish Inn
The in-room amenities are a nice touch at the Dogfish Inn. The inn goes one better with free wifi (we had excellent speed and connectivity), free parking, and free evening fun.
After dark, guests gather at the fire pit to trade tips, chat beer, and make s'mores. The fire pit is surrounded by chairs and life-preserver clad benches, perfect for hanging out. Head into the lobby and you'll find a selection of free s'mores fixings. Quality dark chocolate in a variety of flavors (that salted caramel is yummy!), plump marshmallows, and crispy graham crackers are all there, along with a bunch of metal toasting sticks. Sweet!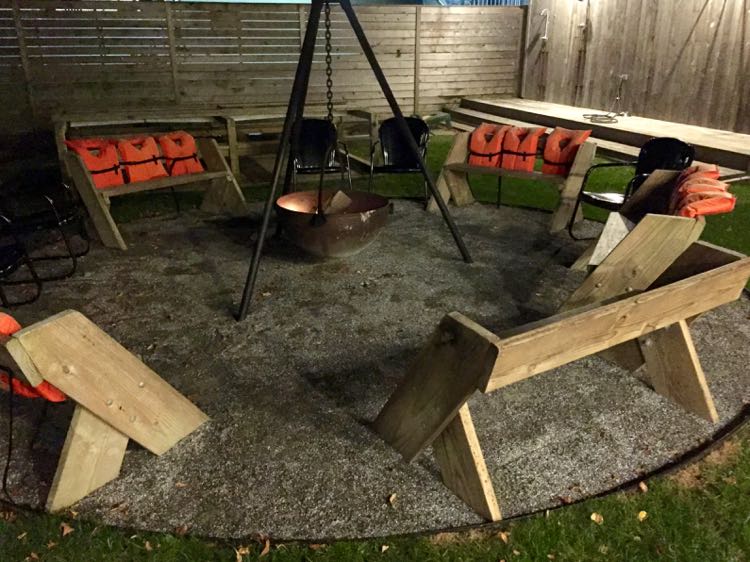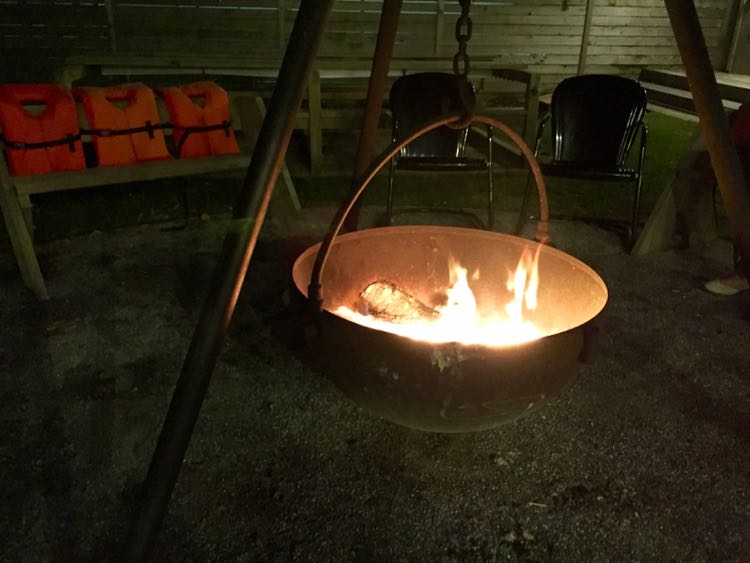 Game-lovers can choose a favorite from the Innactivity drawer. The lobby also has free hot and cold coffee, teas, and water.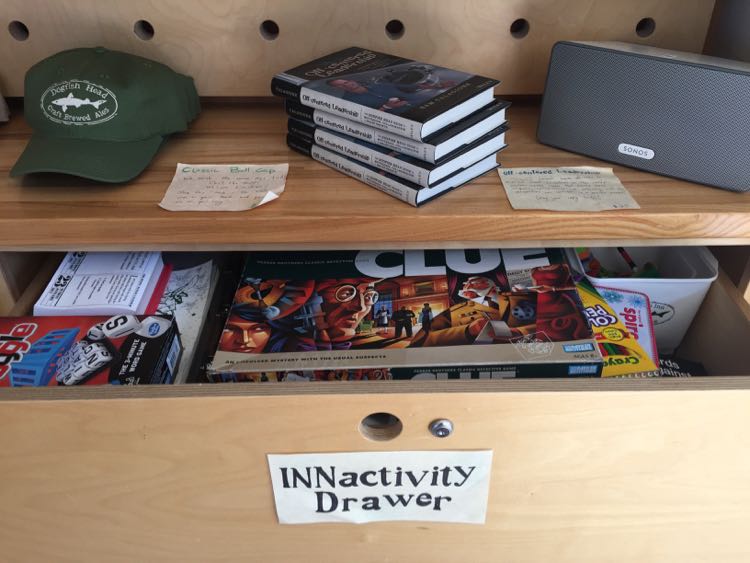 Back outside, guests can select a ride from the rack of free bicycles. The bike-friendly Breakwater Trail is just down the road, and it's a fun way to reach Rehoboth without the Route 1 traffic. An even shorter ride across the canal leads to Lewes Beach and Cape Henlopen State Park.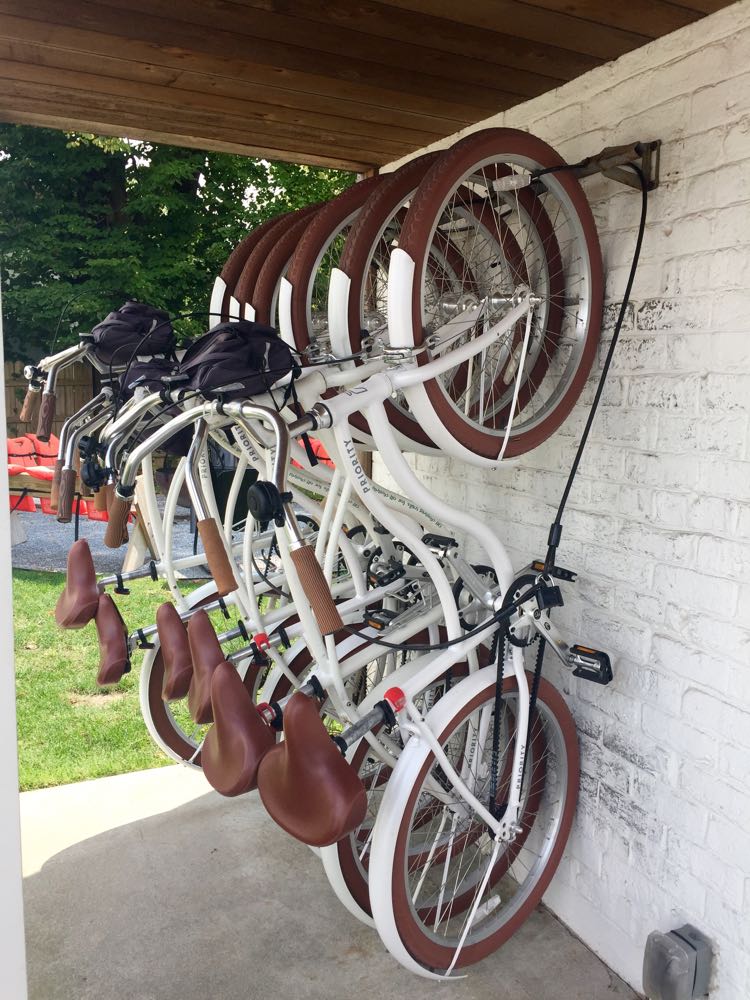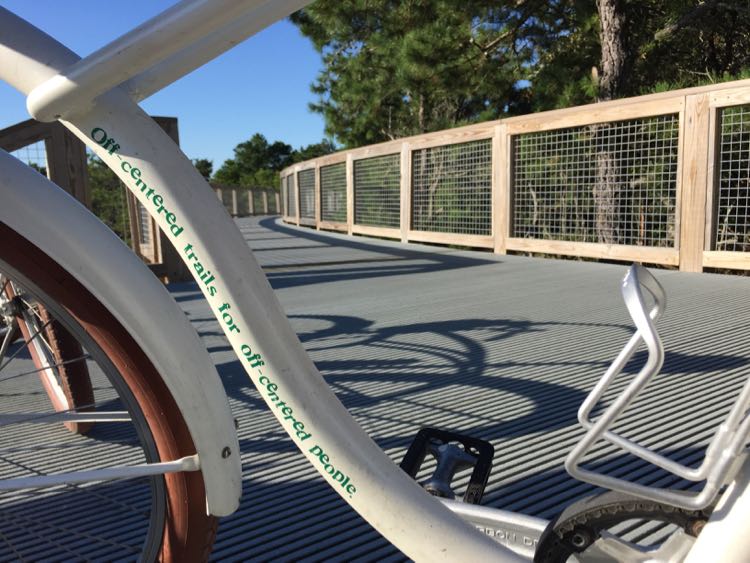 Tips for the Perfect Dogfish Inn Escape
The Dogfish Inn sits at an intersection next to a canal and the historic center of Lewes. It's a convenient location for strolling to one of the many excellent restaurants in town.
The in-town location comes with a bit of noise from traffic and an occasional fog horn. Our suite was very quiet, but you could request a room away from the road if noise is a concern.
Some downstairs rooms are designated pet-friendly so make your furry needs clear when you make your reservation.
Upstairs rooms have views of the canal and you won't hear any footsteps above.
Downstairs rooms offer easier access. There is no elevator and the stairs are fairly steep and narrow, so request a downstairs room if mobility is an issue. The Sweet is also up a flight of stairs.
Delaware law prohibits alcohol sales at the inn, but you are welcome to BYO to your Dogfish Inn escape. There's also a well-stocked liquor store a couple of blocks away in Lewes.
Craft beer lovers will find it easy to add a brewery outing to your Dogfish Inn escape. $45 per person gets you a ride to the Dogfish Head Brewery in the company van for a behind-the-scenes tour and tasting. Then, your driver will whisk you to the Dogfish Pub in Rehoboth for lunch (meal is not included) and back to the inn.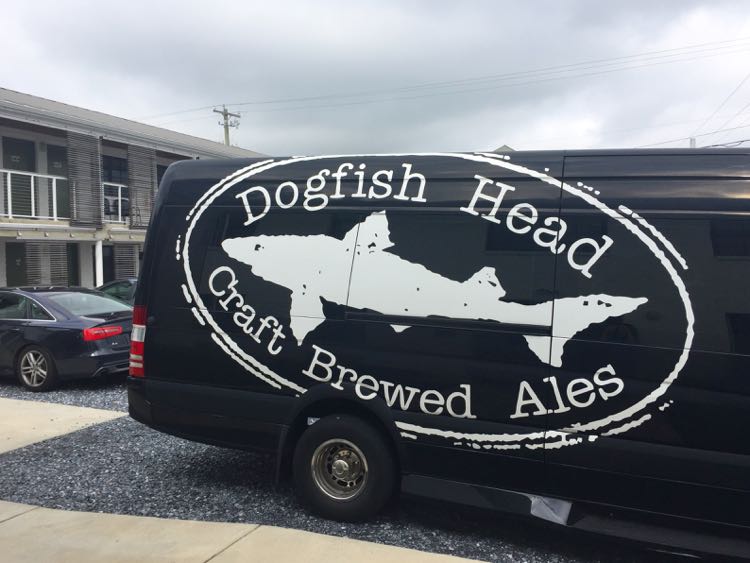 Whether you're a beer drinker or not, you'll find a lot to love about a Dogfish Inn escape. The price is a little higher than a standard motel, but Dogfish is not a standard experience. Go for a bike ride. Borrow the beach chairs and relax in the sand. Make a few s'mores by the fire pit. Snuggle into that comfy bed. If you take advantage of the free extras, you'll surely get your money's worth, especially if you can take advantage of off-season rates.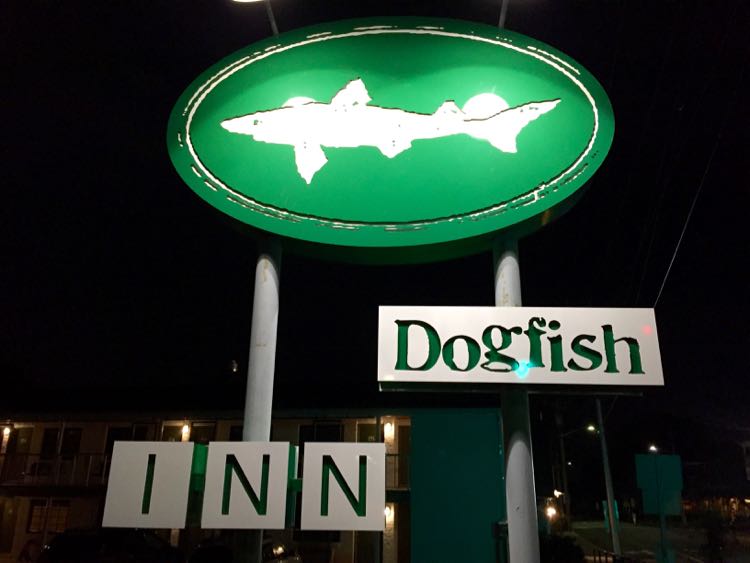 Read more about things to do on a Delaware getaway. Just 90 minutes north is the riverfront city of Wilmington, an excellent stop for nature and urban fun. If you've been to the Southern Delaware beaches, please leave your tips and recommendations in the comments below. Thanks and happy travels!
Our stay in the Sweet was hosted by Dogfish Inn and Southern Delaware Tourism. All opinions, text, and photos are our own.
Follow Fun in Fairfax VA on Facebook, Twitter, Pinterest, and Instagram for more fun getaways, things to do, places to visit, dining and drink, and special events in the Northern Virginia area and the mid-Atlantic USA.