Bike riding the W&OD is one of the great pleasures of Fairfax and Loudoun counties, and all that exercise certainly works up an appetite. Here are three BBQ joints west of Hunter Mill Road that are easily accessed from Northern Virginia's narrowest regional park, the W&OD bike trail.
UPDATE: Sadly, two of the barbeque restaurants on our list have closed permanently. We will add new W&OD bbq options as we discover them.
Article and pictures by Charles McCool of McCool Travel.
Disclosure: This article may contain affiliate links. We will make a small commission from these links if you order something, at no additional cost to you.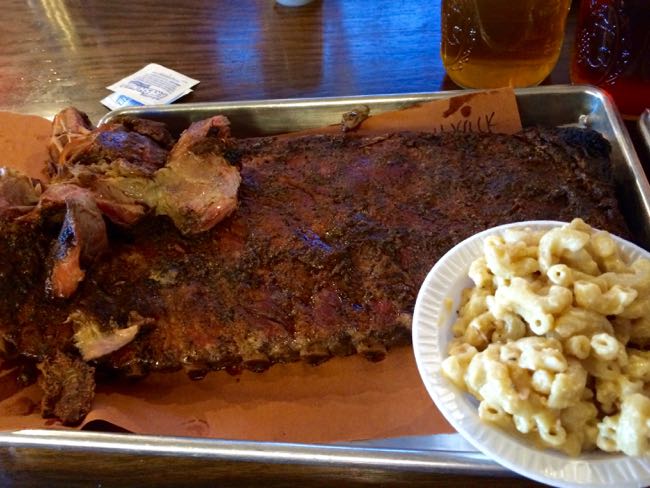 Places are listed in order of appearance along the W&OD traveling east from the trail's end in Purcellville. We also provide approximate trail distance from the BBQ restaurant to where the trail crosses Hunter Mill Road (near mileage marker 15) in case you're starting from Fairfax County and riding west.
Monk's BBQ, Purcellville
Just 1/10 mile from the western end of the W&OD in Purcellville is Monk's BBQ, one of our new favorites for delicious pork. I love exploring Loudoun County, and several people shared Facebook comments about Monk's having amazing BBQ, so I had to try it myself.
Find more local fun: 8 Great Things to do in Purcellville Virginia.
.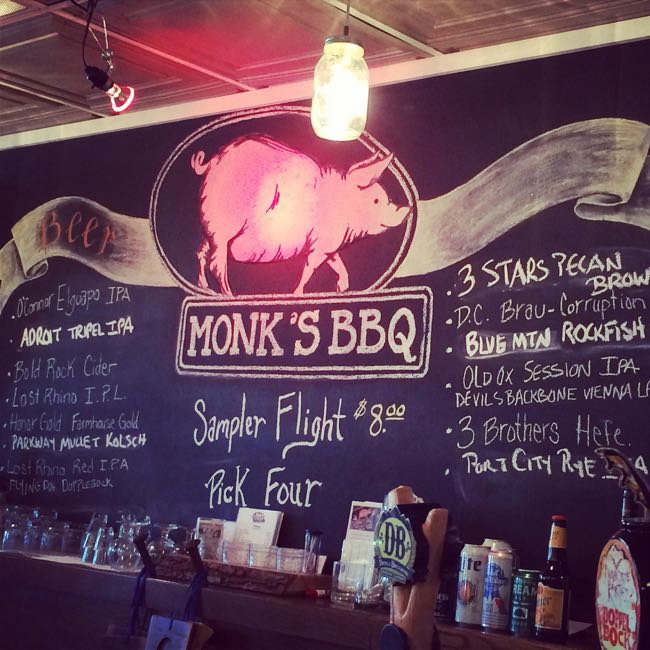 A few years ago I tried another BBQ place at the same location and was disappointed, so I was skeptical when we arrived, but my attitude quickly changed. For starters, Monk's has a great selection of beers on tap. Second, Monk's has spare ribs. The previous business had neither.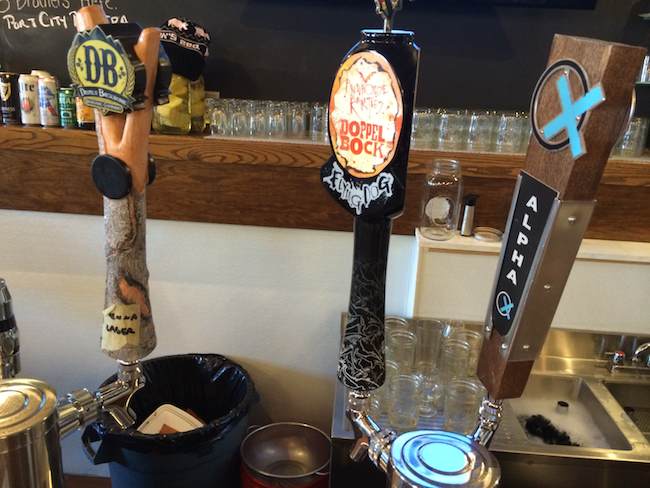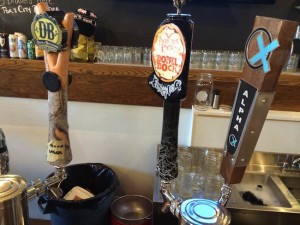 The ribs were outstanding. My wife had the pulled pork sandwich, which was also amazing, and the mac & cheese was delicious too. I heard people raving about the brisket, but doggonit, I was just too full to even try it. Leaves me something to look forward to for my next visit.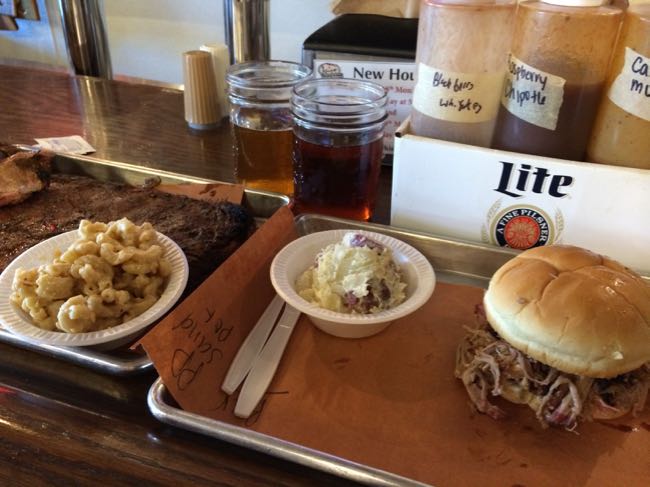 It's about 30 miles from Hunter Mill Road to Monk's, so the ride east is for the dedicated cycler.
Carolina Brothers Pit Barbecue, Ashburn
Perhaps biking a moderate distance is more your speed. Heading further east we find Carolina Brothers Pit Barbecue in Ashburn, right next to the W&OD at the intersection with Ashburn Road. It's about 17 miles east from Purcellville to Carolina Brother's, and about 13 miles west from the Hunter Mill parking area.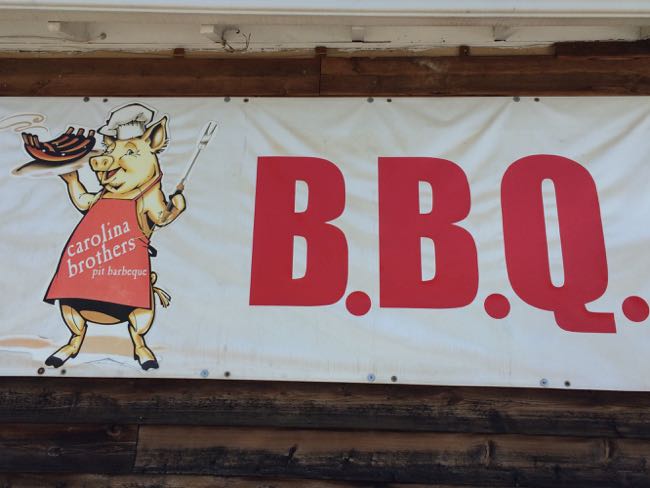 Carolina Brothers has scrumptious BBQ sandwiches for $5; add 2 sides for an extra $3. I have only had the pork BBQ sandwich but they also have beef BBQ, pulled chicken, and hot dogs. The blueberry pie and other desserts are a great deal too.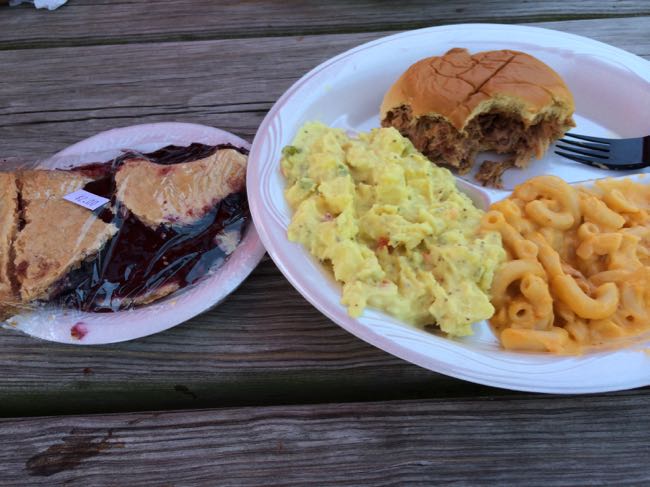 The store also sells gift items, baked goods, and farm products, and I love their humor.
JJ Deli, Herndon
UPDATE: JJ Deli has closed permanently.
Years ago I read (probably in Washingtonian magazine) that the best pulled pork BBQ sandwich in metro DC can be found in a deli at a golf course in Herndon. That has remained in my mind, and I finally rode my bike to JJ Deli in early May.
JJ Deli is about 24 miles east from Purcellville, or a 6 mile bike ride from Hunter Mill. Turn onto the path along Ferndale Avenue and cross the street (be careful) into the Herndon Centennial Golf Course entrance. After ordering and receiving my sandwich, I carried it outside, behind the deli, to enjoy the excellent view toward the mountains (it was a clear day).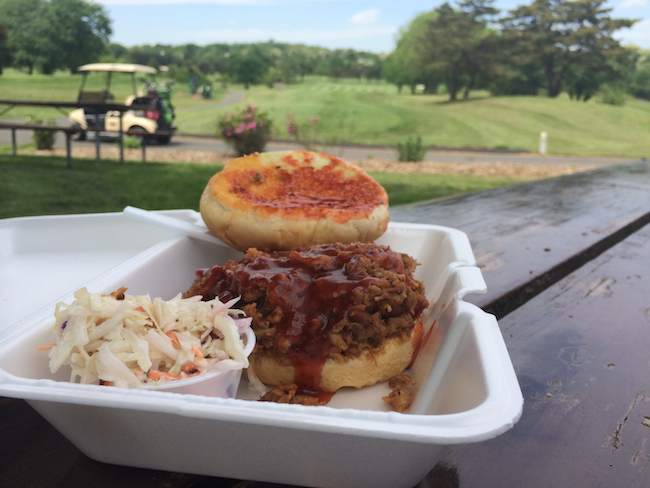 Jackie Johnson is a great ambassador for the business. She offered me samples of the brisket, chicken, and a wing and she loves talking about the business. She said they put up signs on the weekend welcoming bike riders, and they do large take out orders and catering.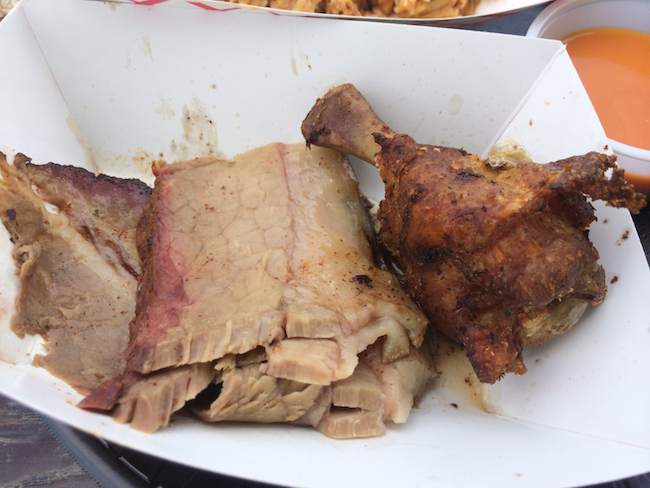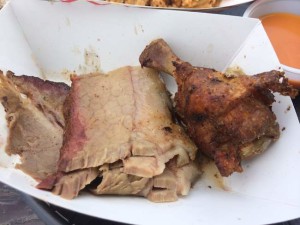 As for the sandwich, it was very good. It had a generous amount of pulled pork for the price. I slathered it with sauce and had to wipe my hands after every bite. I would have preferred a tastier, firmer roll but the pulled pork was fantastic, and it came with a side of good cole slaw.
Jeff Johnson, Jackie's husband, cooks everything on site. Jackie told me they even split and deliver their own wood for the smoker.
Sweet Heat, Reston
UPDATE: Sweet Heat has permanently closed.
Our last stop heading east is one of the newest BBQ restaurants in the area. Sweet Heat BBQ opened in early March, just east of the Wiehle and Sunset Hills intersection. To visit Sweet Heat from the W&OD, cross Sunset Hills at Wiehle Avenue or Michael Faraday Court (suggested). Sweet Heat is only 2.75 miles from the Hunter Station parking area, a long 27-mile ride from Purcellville.
When I visited Sweet Heat on a Saturday afternoon in early May, I saw disorganization: the place was messy, with boxes and signs piled up in the dining area. The "celebrity chef" was not there and I saw no sign that he ever was; I only learned of the "celebrity" after later looking at Yelp and the Sweet Heat website. Reading the Yelp reviews, many entries say that Sweet Heat has potential, and I hope it improves because the location is convenient to the trail and the metro.
Have you eaten at any of these BBQ places? Do you know of other BBQ places close to the W&OD that we should try? In a future post, we'll cover biking to BBQ east of Hunter Mill, so let us know if you have a favorite.
For BBQ fun from near and far, check out these articles.
You'll find more on road trips, delicious bbq, and fantastic travel tips at McCool Travel. Thanks and happy biking!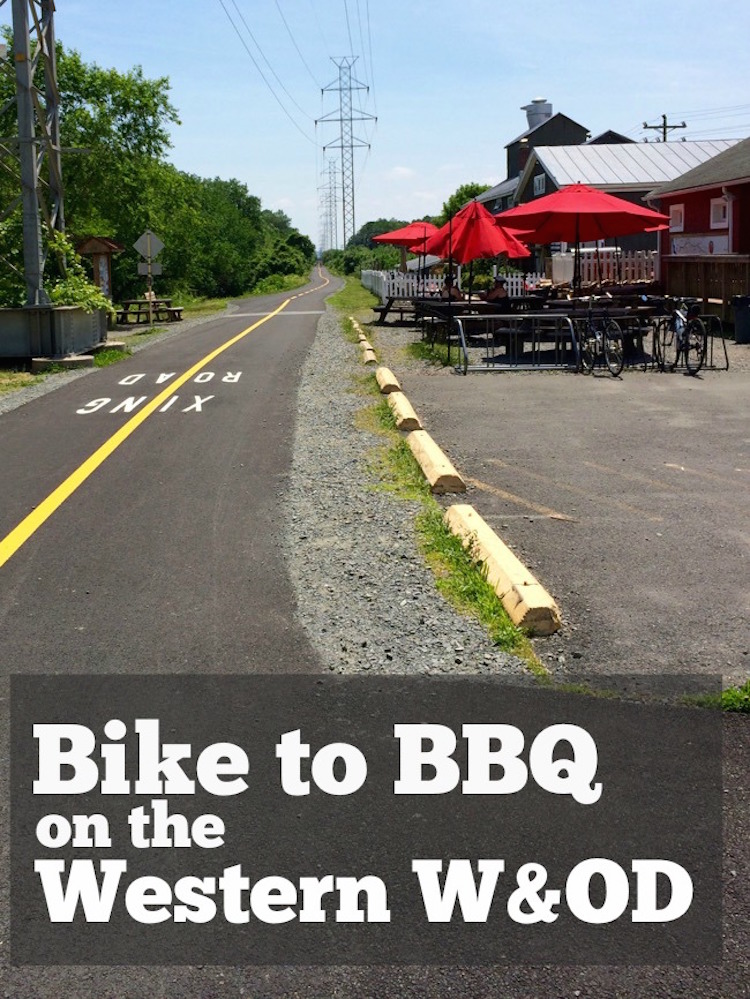 [hr]
Follow Fun in Fairfax VA on Facebook, Twitter, Pinterest, and Instagram.