Board and Brush Gettysburg combines creativity and fun with guided, do-it-yourself sign making  workshops that are perfect for an outing with friends or a unique date night experience. You choose a design, stain, colors, and effects so your creation is uniquely yours. Board and Brush Gettysburg provides all of the materials and assistance you need in a bright and comfortable downtown location.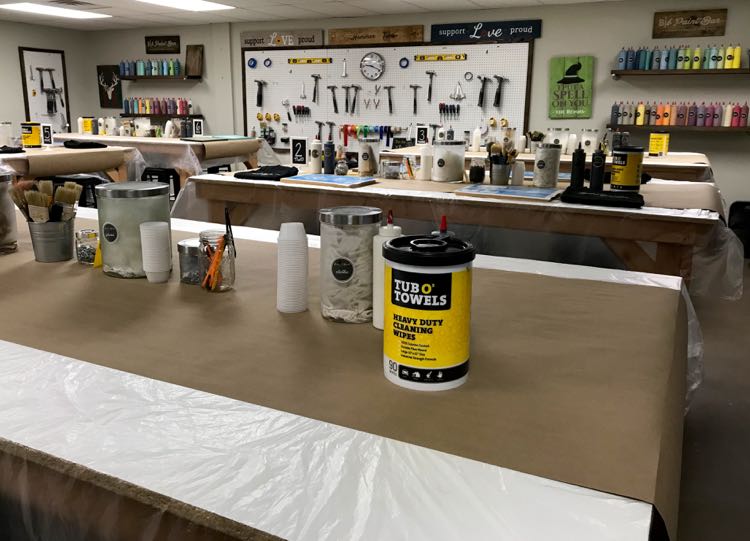 We joined other travel writers in a private workshop hosted by Destination Gettysburg so we could share our thoughts with the Fun in Fairfax VA network. Our December trip was focused on Gettysburg Christmas fun and we chose from a selection of holiday and wintery stencils.
If you don't think of yourself as the creative type, fear not (and welcome to my world). Even us non-artists can create a sign that is beautiful and unique. The best part is that all of the tools and materials are organized and ready to go, and expert help is there if you need it.
Disclosure: This article may contain affiliate links. We will make a small commission from these links if you order something, at no additional cost to you.
Board and Brush Gettysburg is owned and run by Zachary and Erica Lease. This friendly, helpful couple ensure you have all the help you need to create your sign. They gave us the confidence to work on our own, and the support to handle any tricky steps.
>>>  Read our full Gettysburg Holiday Guide now!
Step by Step Wood Sign Making with Board and Brush Gettysburg
Step one in the Board and Brush Gettysburg process is to reserve your visit and select your stencil. The Gettysburg location generally offers two or three open classes a week where you can create any project for $65.
There are many designs to choose from, so allow time to browse the collection when you book. You can add your family name to many of the designs, or even choose a design where your name is the centerpiece. You have to select a design when you book your spot so that your stencil is ready to go when you arrive.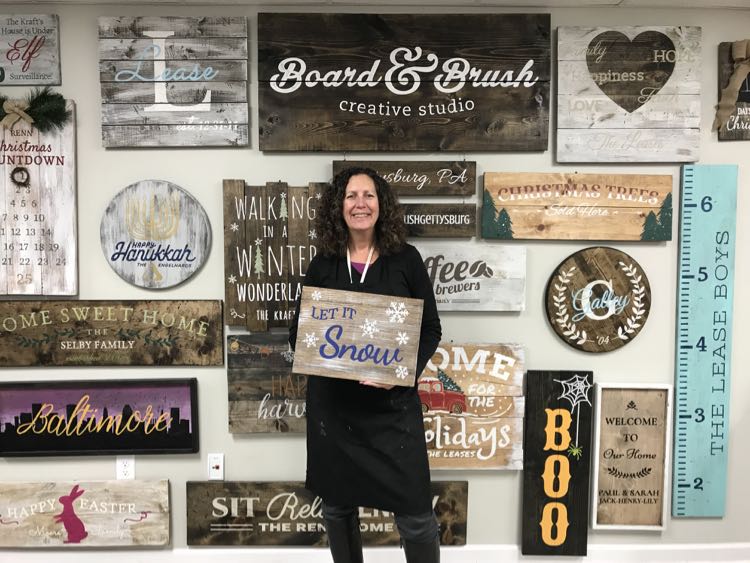 When you arrive for your sign making session, materials are set up at tables for four The workroom is spacious and bright, with tools, paints, and sample signs lining the walls. It's helpful to see examples of the different effects and techniques that you can try with your sign.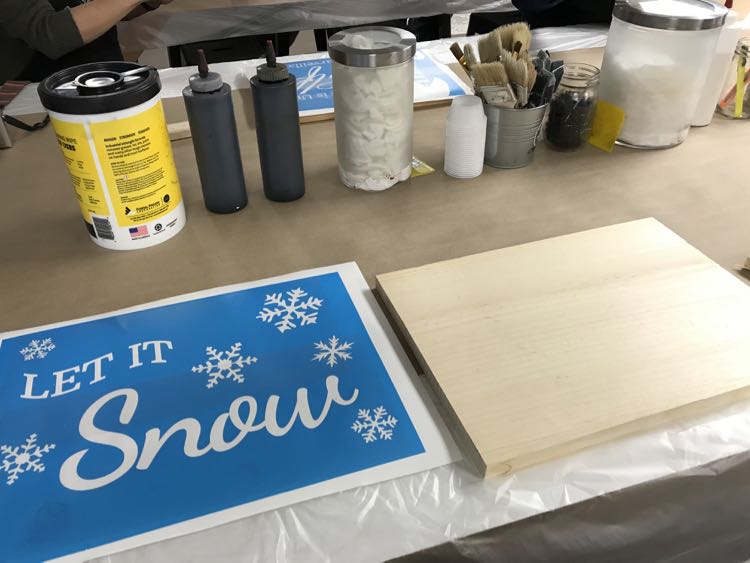 The first hands-on step is to sand the edges of your board. While you're sanding, owners Zachary and Erica talk about the stains and effects you can apply. Everyone starts with the same pine board, but that's where the sameness ends. There are 8 different stains that you can top with a wash or dry-brush treatment if you like. I chose a dark walnut stain and a dry-brush effect for my board.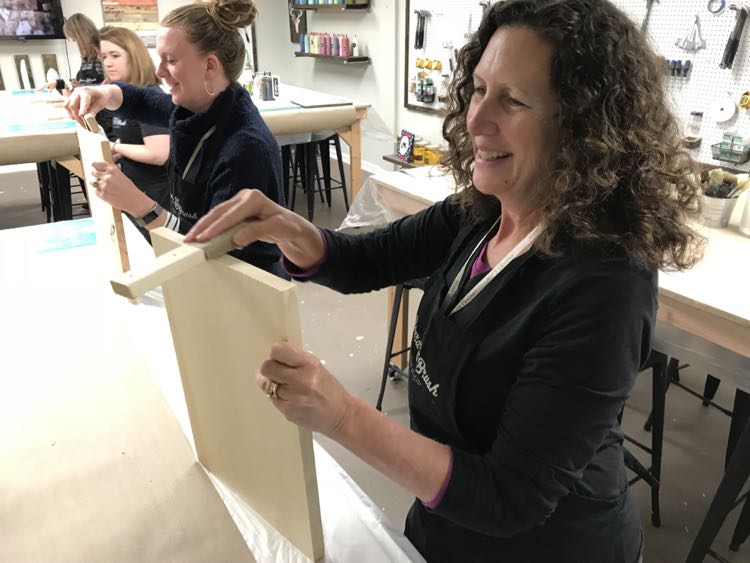 Once the board looks the way you want it's time to apply a stencil. This was the trickiest part of the process, as the thin stencils rip easily. Fortunately, we learned how to move slowly and ensure the stencil is applied perfectly.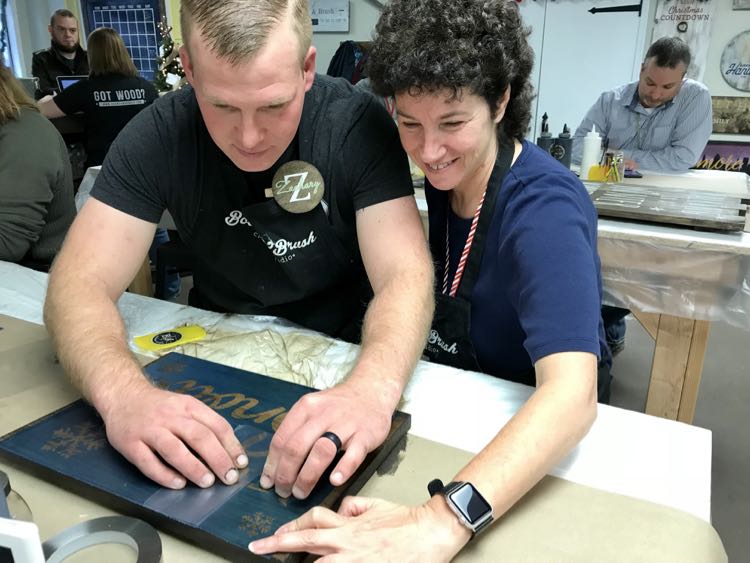 With the stencil in place, it's time to paint. There are plenty of colors to choose from. In fact, I checked out five different blues before I found my perfect color.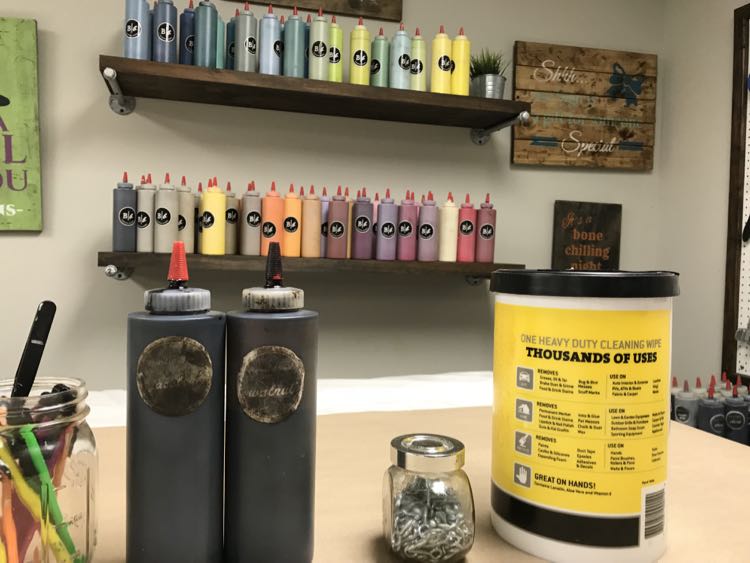 If you like a little sparkle, there is glitter available in a range of colors. You can also spatter your finished sign to create a snow effect. When your sign is complete, it gets a spray of varnish and you're ready to go.
A holiday visit to Board and Brush Gettysburg is the perfect opportunity to create a one-of-a-kind Christmas gift. Better yet, visit with a friend and make the DIY wood sign experience your gift. You'll walk away with a special creation and fun memories too.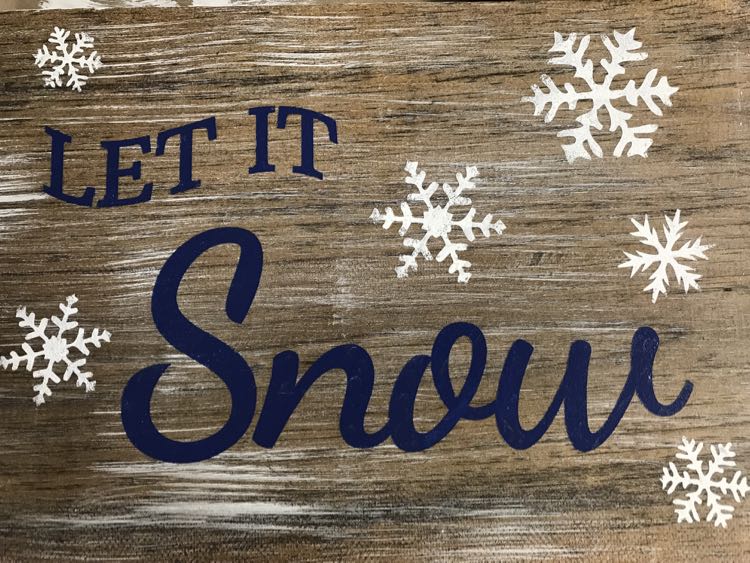 In fact, I had so much fun (and gained some confidence) making a wood sign that I might try it at home with this DIY Art in a Box wood sign kit.

Tips for Your Visit to Board and Brush Gettysburg
Request a spot together during booking if you're attending with friends. Seating isn't guaranteed, but they can usually accommodate your request.
Workshops last about three hours.
Wine was not part of our daytime visit, but the Gettysburg studio has a BYOB policy, so bring your own wine along if you like.
Guests must be 16 or older to attend a workshop, so this is not a good family outing if you have young kids in your group. Special kids and teens workshops are available to book as private events.
There are two Board and Brush locations in Northern Virginia, one in Fairfax and another in Springfield.
Board and Brush Gettysburg is at 100 Buford Avenue, Suite E, Gettysburg, PA 17325
More about Board and Brush Gettysburg: web | Facebook | Instagram | Twitter
More about Destination Gettysburg: web | Facebook | Twitter | Instagram
Follow Fun in Fairfax VA on Facebook, Twitter, Pinterest, and Instagram for more places to visit and things to do in Northern Virginia and surrounding areas.