September 2017 Events in Northern Virginia
September 2017 events in Northern Virginia are packed into every weekend so it's going to be tough deciding where to enjoy your fun. Labor Day brings a close to summer break, then many annual festivals return with great gatherings and the start of fall fun.
Celebrate the last long weekend of summer with annual festivals and the end of waterpark fun. We've rounded up all the Labor Day events in a separate article. Follow the link for the full line-up and Labor Day weekend details for these and other events:
Virginia Scottish Games and Festival, Sep 2 – 3
Apples Gala and Cider Fest, Sep 2 – 3
Lake Anne Jazz & Blues Fest, Sep 2
Labor Day Car Show, Sep 4
Herndon Labor Day Festival, Sep 4
Sample over 120 wines from 10 local wineries while you enjoy live music, festival food, arts and crafts items for sale, and a fun kids area. Great Grapes! is a popular and casual wine festival for sampling the rich heritage of Virginia vines. $25 in advance, $30 on site, kids 12 and under free. 11:00 – 7:00.
When the season ends, and the parks close to humans, it's time for the annual Dog Day at the Waterpark. All five NOVA Parks-managed waterparks and Signal Bay will welcome furry friends to the pool on September 9th. The Lovettsville Community Pool will also hold a season ending Dog Day swim on the 9th.
The 7th Annual Bands, Brews, and Barbecue Festival returns to Historic Downtown Manassas in September. This ticketed event features award winning craft beers for sampling from breweries like Tin Cannon and BadWolf along with some Northern Virginia's best barbecue and live music. Bring your own partner for the free cornhole tournament. $35 for taster ($40 at gate), $10 designated driver. Noon – 6:00.
Save the date for the Rosslyn Jazz Festival, which celebrates its 27th anniversary this year. Enjoy free, high-energy performances by some of the best, most innovative jazz musicians today. Plus, sample a variety of delicious cuisine served by your favorite local food trucks. Free; 1:00 – 7:00.
The annual Virginia Indian Festival celebrates the culture and history of the First Families of Virginia. Meet members of eight tribes, who will educate visitors with dance, music, crafts, food and demonstrations. Hands-on activities include archery and the chance to throw spears using an atlatl. A small fishing and hunting village will teach visitors what life was like for Virginia natives who lived at Riverbend 600 years ago. Crafts and food will be available for sale. $8.00; 10:00 – 4:00.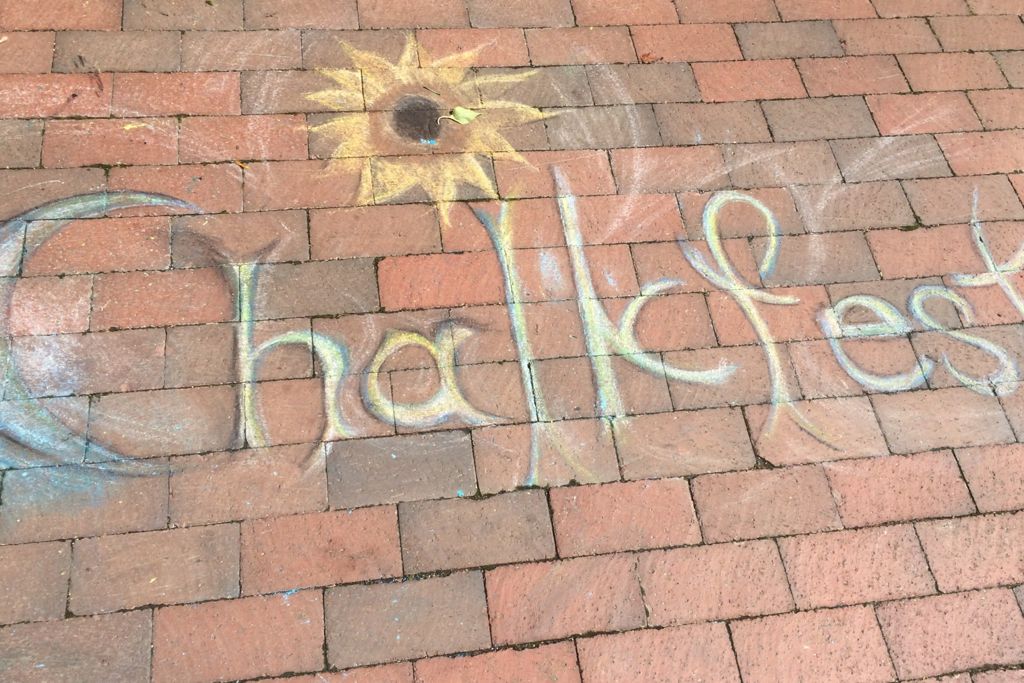 The two-day ChalkFest at Reston Town Center gives professional artists and creative individuals and families a chance to create a work of art in chalk along Market Street. The event begins Friday at noon, when professional artists begin their creations. On Saturday, the competition opens to amateurs and families. There will be a variety of prizes in each category in addition to "Audience Choice Awards". Even if you don't want to create your own chalk art, stop by to see the artists in action and enjoy the finished works. Previous year's artworks were really impressive. Free to attend; spaces are $15 families/amateurs; $20 professionals. Friday noon – 11:00 (businesses and professional artists only), Saturday 8:00 – 4:30.
The annual King Street Art Festival transforms the city's historic main street into an outdoor art gallery. Festival booths will line over six blocks of King Street, presenting artwork by more than 200 artists from across the country. All artwork is juried, ensuring a high level of quality, diversity and creativity on display, exemplifying the gifted artists in regions from all over the country. 

Admission is free; booths open Saturday 10:00 – 7:00, Sunday 10:00 – 5:00.
Join the family fun at the 47th annual Bluemont Country Fair featuring blues & country music, traditional crafts, a free Children's Fair, farm animals, homemade food, antiques & collectables, local wine-tasting, breweries & gourmet treats, model railroad display & antique caboose, pre-Civil War Country Store, and more. Set in a beautiful and historic village in the foothills of the Blue Ridge Mountains, special events include craft & farming demonstrations, 10k race, Farmer's Market, and a pie-baking/pickle-making contest. No pets. $7 admission, 9 and under free; 10:00 – 5:00 daily.
Cox Farms Fall Festival, Cox Farms, Centreville, Sep 16 – 17, 22 – Nov 7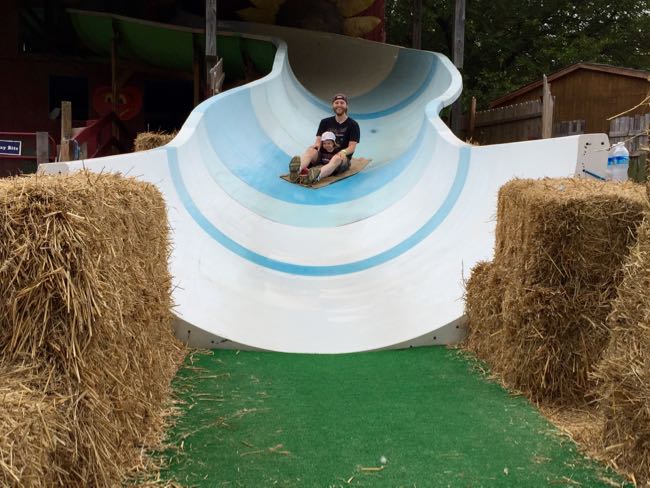 If you're a parent in Northern Virginia you have probably been to Cox Farms Fall Festival. This extravaganza of slides, rope swings, pumpkins, animals, music, food and one of the best and longest hayrides east of the Mississippi is a must-do on every family's fall list. Yes, it's mayhem, but it's happy mayhem. Cox Farms Preview Weekend is your chance to revisit old favorites and try new attractions on its sprawling festival grounds. Tickets are available in advance online, and you can also plan your visit with the online map at the festival website. Get there early! Tickets are $6 to $20 depending on day. 10:00 – 6:00 daily.
Join colonial-attired artisans as they demonstrate 18th-century crafts and sell wares such as baskets, woodcarvings, tin and ironwork, leather-workings, weavings, furniture, and more in a traditional market setting.  "General Washington" will oversee the Revolutionary War military drills and 18th-century entertainment including music, fire-eating, sword-swallowing, puppet and magic shows. Specialty food we be available for purchase; including chocolate made using an authentic 18th-century colonial recipe. FreePotomac River sightseeing cruises while supplies last. Fair is included with regular admission; 9:00 – 5:00 daily.
The Prince William Forest Park Heritage Festival celebrates the park's history as colonial-era farmland, a Civilian Conservation Corps work camp, and a World War II era spy training camp. The festival will take place in historic Cabin Camp 4, which is one of 5 historic cabin camps in the park. These historic camps led to the park being nominated to the National Register of Historic Places. There will be a food vendor on site with refreshments for sale, live music for all to enjoy and fun for all ages. 11:00 – 5:00.
Enjoy an afternoon of wine tastings, culinary treats, and pop up art exhibits while supporting a worthy cause at the 2nd annual Food Wine & Arts Festival. Highlights of the festival include food offerings from local restaurants, wine sampling from regional wineries, an outdoor art gallery, paint and sip, and free activities for the kids. Wine sampling is $10 per person and includes a souvenir glass with 100% of the proceeds benefiting Shelter House. Noon – 4:00.
SlugFest, Hidden Pond Nature Center, Springfield, Sep 16
Join the 24th annual year of fun with slime-tastic activities like slug races, slug-on-a-spoon, slime toss, slime art, and even slug fortune telling! This event will feature face painting, refreshments, slug-loving critters, and be on the lookout for our high Slug King and his Queen in the Slug Royalty court!  Must register in advance, as spots fill quickly. $8; 2:00 – 3:30.
Sample a great selection of IPAs and hoppy brews from top regional breweries. Enjoy delicious items from the grill, live music, and kids activities. Admission is free and various ticket/tasting glass packages are offered. Follow the link for details; noon – 6:00.
The older set get their turn for fun when Cox Farms opens their nighttime Fields of Fear. The haunted cornfield and Dark Side Hayride deliver the fear, while the "Firegrounds" offer music, dancing, food and a place to hang out. Tickets start at $15, follow the link for details.
The Occoquan Arts and Crafts Show, hosted semi-annually by The Town of Occoquan, is the premiere festival on the east coast for craft enthusiasts of all ages.  Stroll along the riverfront walkway, take in the fall foliage, and peruse the numerous craft vendors and artisans that line the main streets of Historic Occoquan. Free admission; Saturday 10:00 – 6:00, Sunday 10:00 – 5:00.
Lovettsville hosts its annual Oktoberfest with street vendors, Kinderfest, Wiener Dog Races, strolling musicians, three stages of live music, dancing, an expanded Stein Hoisting competition, and and plenty of food and beer. Admission, parking, Kinderfest, dancing, music, and beer-related contests are all free. Saturday 10:00 – 11:30; check website for schedule info.
Whether you're pulling the plane or cheering from the sidelines, the Dulles Day Festival & Plane Pull offers lots of family fun. Enjoy the annual car show, live music, concessions, exhibits, and military and civilian aircraft displays. Cheer on teams of 25 who compete to see who can pull a 164,000+ pound Airbus 12 feet the fastest. The Kids Truck Pull pits teams of children against a big red dump truck. Runners can register for the morning 10K/5K. All proceeds help Special Olympics Virginia provide year-round training and athletic competition to more than 11,000 athletes of all ages. 11:00 – 4:00; gates open at 10:30.
The 19th annual Clarendon Day Street Festival is a day of music, food, drink, and 8 city blocks of fun. Enjoy several stages of musical performances, food from a wide range of Clarendon restaurants, Virginia wine and beer, an Arts and Crafts promenade, and a Kid's Zone with rides, music, story-telling, face-painting, and more. Free admission, 11:00 – 6:00
The first Brentsville Day celebrates this 200 year old community. Enjoy historic farm demonstrations, living history, bluegrass music, games, food, tours of the historic buildings and more. 11:00 – 4:00
Lake Anne Plaza will be full of color, music, and culture when the annual Reston Multicultural Festival returns. The festival celebrates the diversity and vibrancy of Reston's community with performances, arts and crafts, food, and activities. Festival goers are encouraged to dress in attire that represents their culture. Free; 11:00 – 6:00.
The 22nd annual Irish Folk Festival features a day of music on four stages, plus dancing, vendors, workshops, and Gaelic sports. Admission is $10 ($20  max per family). Noon – 7:30.
Enjoy live music, food vendors, a beer garden, kids activities, a pet costume contest, crafters, and more in a day of fun at Mosaic District. Free admission, 11:00 – 6:00.
NatureFest, Runnymeade Park, Herndon, Sep 24
Explore various nature stations throughout the park including butterflies, bees, life in the meadow, web of life, and more. Live animal shows and arts and crafts will be included throughout the day. Free; 1:00 – 5:00.
The 24th annual National Public Lands Day (NPLD) is the nation's largest, single-day volunteer effort for public lands. NPLD works to connect people to public lands in their community, inspire environmental stewardship, and encourage use of public lands for education, recreation, and general health. Families, friends, students, and coworkers will spend the day outdoors giving back to their community by pulling invasive species, maintaining trails, picking up trash, and more. Follow the link to find a volunteer opportunity near you.
Sample your choice in beverage while listening to live music at the Harris Pavilion in Historic Downtown Manassas. Taste beer from local craft breweries; wine from local wineries; and local distilled spirits. Great food from some of the best food vendors in northern VA will be available. $30/$35 advance/gate tickets.
No matter which September 2017 events your choose to attend, we wish you great weather and lots of fun in Northern Virginia!
Follow Fun in Fairfax VA on Facebook, Twitter, Pinterest, and Instagram for more fun things to do, places to visit, dining and drink, and special events in the Northern Virginia, Washington DC region.