ICE! 2017 and Christmas on the Potomac at Gaylord National Harbor
ICE! 2017 and Christmas on the Potomac bring an extravaganza of live shows, kids activities, and a beloved holiday tale to Gaylord National Resort at National Harbor. Every year, we look forward to walking through a new themed ice show in Gaylord's chilly tent. The story of Rudolph the Red-Nosed Reindeer, expertly sculpted in colorful ice, is the star in 2017.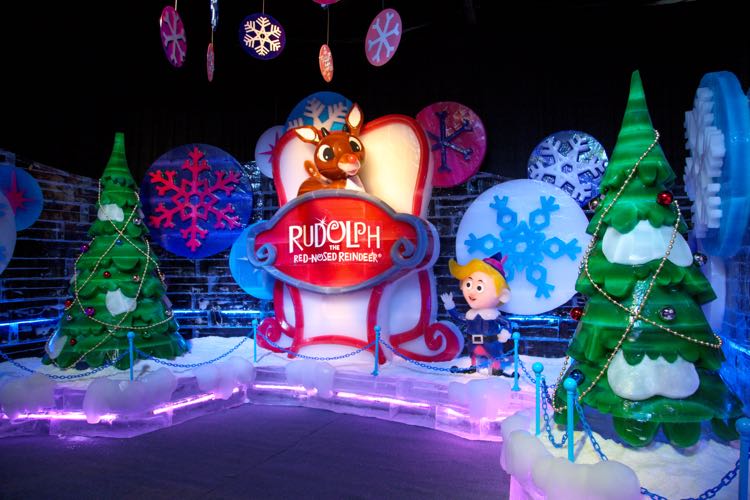 ICE! 2017 Featuring Rudolph the Red-Nosed Reindeer
If you look forward to Rudolph, Hermey, Cornelius, and the Abominable Snowman every year, you will love ICE! 2017. The walk-through display features all of your favorite characters, sculpted from huge, brightly colored ice blocks.
Visitors don big blue parkas before entering the ICE! tent, which is kept at a continuous 9°. That chilly temp keeps the beautiful ice sculptures crisp and bright throughout the holiday season.
In addition to the story vignettes, kids big and small have fun on 4 slides, also sculpted from ice. Fortunately, that long parka adds warmth and a nice slippery surface for comfy sliding.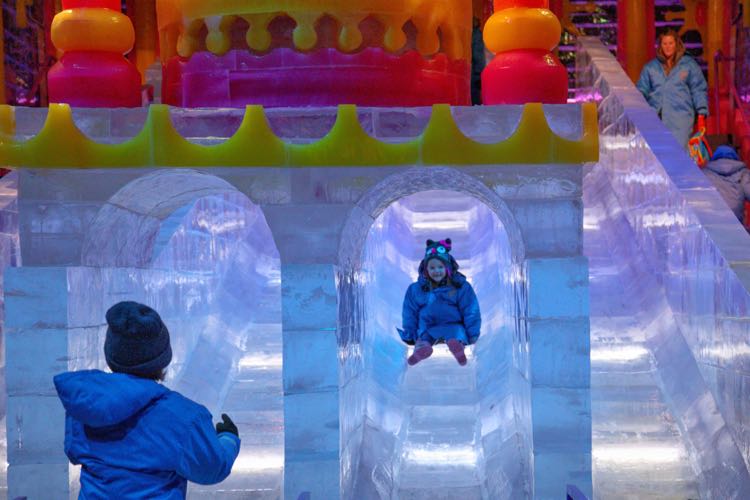 There are some interactive touches in the ice displays, and many opportunities to capture the perfect holiday photo.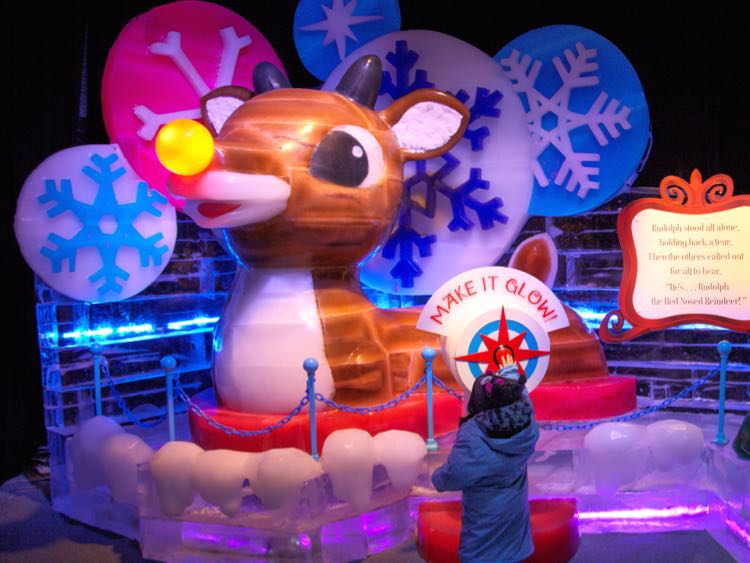 The final sculpture in the tent features a dramatic, life-size creche carved from clear ice.
More Holiday Fun at Christmas on the Potomac
The fun continues when you leave the tent and enter the Christmas Village. Kids can take a ride on the carousel and miniature train, try the new Glacier Glide Ice Skating, and decorate a gingerbread house to take home. Santa is on hand for pictures, and you can browse in the Christmas Shoppe, or create a special friend in the Build-a-Bear Workshop.
Upstairs, in the giant Gaylord atrium, enjoy a spectacular light show and a brand-new live performance by the Gaylord National Singers. JOY mixes classic and new holiday tunes in a holiday performance under a giant, suspended tree.
Every night, the atrium comes alive with a colorful, laser-enhanced light show featuring the Christmas tree and synchronized with a fountain that shoots 60 feet high. Nightly indoor snowfall adds to the holiday magic.
Tips for Your Visit to ICE! 2017 and Christmas on the Potomac
Tickets for each activity and event can be purchased separately, or in a variety of discounted packages. Click for event info, tickets, and hours. Hours for JOY vary by day, so check the calendar to reserve your spot.
A big blue parka comes with your ICE! 2017 ticket, but bring your own mittens or gloves. You will definitely want to cover the hands of little ones using the ice slide.
Turn your ICE 2017! visit into a National Harbor weekend getaway for some extra holiday fun.
ICE! 2017 is open daily from November 18 to January 1.
Rudolph the Red-Nosed Reindeer is one of our holiday favorites. Who doesn't love the story of the kindly misfit dentist named Hermey? It's a perfect theme for ice sculptures.
Gaylord Palms Resort hosted Charles and my recent stay in Kissimmee, Florida, and gave us a sneak preview of their ICE! display, Christmas Around the World. This look at international holiday celebrations was the 2016 theme at National Harbor.
Gaylord National Resort is at 201 Waterfront Street, National Harbor, Maryland, near Washington DC. We think it's a wonderful place to celebrate the holiday season. Do you plan to visit ICE! 2017?
You'll find more holiday fun in these related articles:
Follow Fun in Fairfax VA on Facebook, Twitter, Pinterest, and Instagram for more fun things to do, place to visit, and special events in the Northern Virginia area.
Fun in Fairfax VA was hosted to a media preview of ICE! 2017 at Gaylord National Resort. All opinions and text are our own. All photographs are by Chris Militzer, used with permission. Chris is an Alexandria, Virginia photographer specializing in fine art photography of landscapes and nature, featured on Visit Virginia, and USA Today. Browse and purchase Chris's photographs on SmugMug, and follow him on Instagram and Twitter.