ICE! 2016 and Christmas on the Potomac at Gaylord National Harbor
Christmas on the Potomac with ICE! 2016 brings holiday fun on an impressive scale, back to Gaylord National Resort for the season. With a a walkthrough, carved ice display; massive indoor Christmas light show; and an extensive, special buffet; Gaylord National Resort gives area locals and visitors a memorable holiday experience.
ICE! 2016 brings their holiday extravaganza back to Gaylord National Resort and Convention Center with the theme Christmas Around the World.
All About ICE! 2016
ICE! 2016 returns with a new theme, Christmas Around the World, reflecting the holiday traditions of countries across the globe.
The ICE! 2016 experience is held in a tent outside the Gaylord atrium, kept at a constant 9 degrees. Visitors walk through 2 million pounds of life-size ice sculptures dressed in long blue parkas that are provided as you enter.
You'll learn about Christmas Around the World through the walk-through displays featuring Christmas scenes, children, animals, and toys, all carved in richly colored ice.
There are several spots for family pictures and fun selfies, including a giant ice Santa and a peak at his naughty and nice list.
That chilly temperature protects the ice and the blue parka helps, but you should also dress warmly for your visit. Leave the heels and fancy clothes at home, and bring gloves and hats for the kids. Not only do the long blue parkas keep you warm, they give you a nice slippery surface for the ice slides.
Ice slides? Yes, indeed, one large room holds ice slides, where you and the kids can take multiple trips down the slide. Tip: lean back and keep your feet up for maximum speed.
The last area before you exit the tent depicts a life-size creche.
Once you emerge from the frozen tent, you enter the "Village of the North Pole," with a carousel, a Cookie Decorating Corner, story time with Mrs. Claus, and other fun activities. You can shop for holiday gifts (additional fees apply).
ICE! 2016 is truly impressive and a lot of fun. It isn't cheap—tickets are $35, ages 12 and up; $28 kids 3 to 11; with off-peak and military discounts—but it's a memorable experience if you're willing to splurge.
Your ticket goes even further when you take time to enjoy the holiday light show inside the huge Gaylord Resort atrium.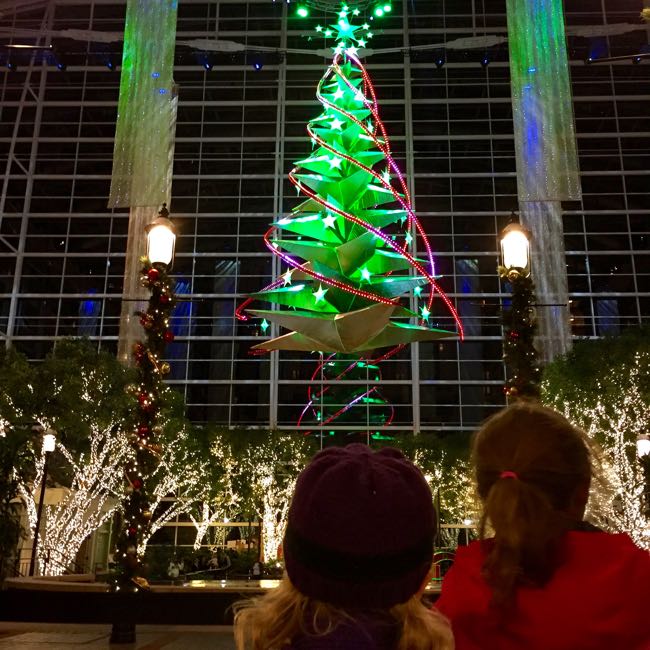 Every hour on the hour, the atrium comes alive with a colorful, laser-enhanced light show featuring a suspended Christmas tree and synchronized with the large fountain.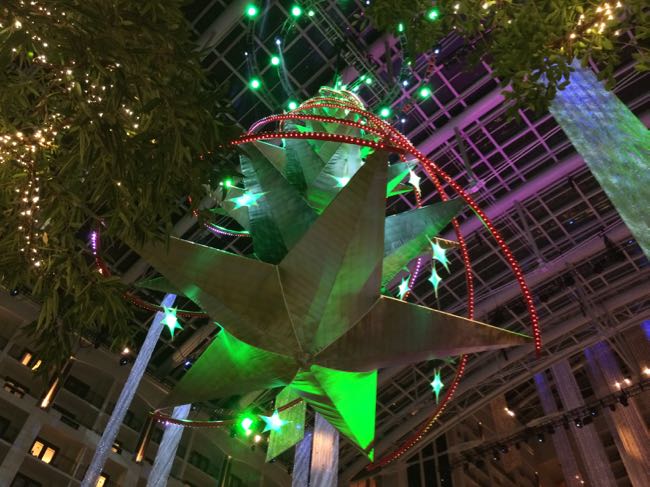 The show even includes indoor snowfall, sparkling in more than 2 million twinkling lights.
If you're hungry and want to make a night of it, treat your group to a holiday feast at Pienza. You'll feast on dishes from around the world including king crab legs and other shellfish, freshly carved meats, salads, soups, sides, and lots of adorable desserts. The Holiday Feast is also open for breakfast if you want to make a daytime visit.
Follow the links for detailed ticket prices and hours, and consider turning your visit into a National Harbor weekend getaway. ICE! is open from November 19 to January 1. Will you be visiting ICE! this year?
You'll find more holiday fun in these articles:
Follow Fun in Fairfax VA on Facebook, Twitter, Pinterest, and Instagram for more fun things to do, place to visit, and special events in the Northern Virginia area.