Halloween 2017: Northern Virginia Scares Fun and Trick-or-treating
Halloween 2017 in Northern Virginia is a fun mix of spooky and not-so-spooky events plus trick-or-treating hosted by local businesses and towns. Events are listed below in three groups: scary fun throughout October, not-so-scary family fun throughout the month, and trick-or-treating options for the weekend leading up to Halloween 2017.
Halloween 2017 Scary October Fun
Older kids and teens flock to Cox Farms at night for the Fields of Fear, featuring scares in the corn maze, forest trail, and wagon rides, plus music, games, food, and hanging out by the bonfire. This year, the scares start on September 22nd and continue every Friday and Saturday night through November 4.
Madhaunter's Madhouse, Workhouse Arts Center, Lorton, Weekends Oct 6 – 7, 13 – 14, 20 – 22, 27 – 31
Northern Virginia's scariest haunted attraction returns to the Workhouse. Madhaunter's Madhouse is an indoor and outdoor maze of terror that will have you jumping out of your skin at every turn, complete with heart pounding scares and custom made special effects. The madhouse will be open every weekend in October. $20, 7:00 – 11:00.
Pack your candy corn and blankets and watch a pair of cult classic horror films in Strawberry Park. Kicking the night off with a scream is a showing of Creature From the Black Lagoon, followed by the original and terrifying zombie apocalypse Night of the Living Dead.
Guests will be led by a guide through historic homes and businesses in historic downtown Leesburg, where costumed storytellers will relate the history and the ghostly tales of each site. Best for adults and ages 10 and older. $25; multiple tours from 6:00 – 9:00.
This quaint town along the Occoquan River boasts numerous ghosts and features walking ghost tours throughout the year. Get a glimpse of the Indian who allegedly appears in a bathroom mirror at a local restaurant, talk to store owners who have had their merchandise strewn around and look for the young man who haunts a busy street corner. $14/7 adults/children.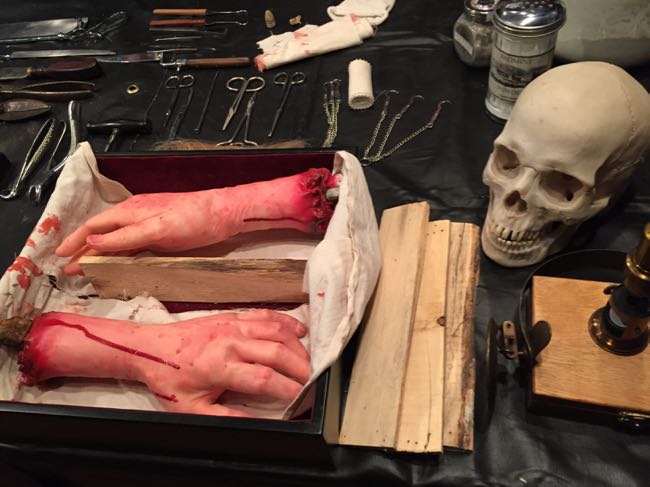 The scene of two bloody battles during the Civil War; and a century and a half of local history since, Manassas has seen it all. From the encroachment of war on the community, a devastating fire, local tragedy, or villainous crimes, creepy stories and eerie happenings will be part of the evening fun. $15/7.50 adult/12 and under; 7:00-8:00.
A trail of terror awaits in Clifton's Buckley Park, so watch out for monsters and stick to the trail. The PG-13 rated trail includes two dozen scary skits with live actors, including local legend The Bunnyman. Tickets are $15/$10 for adults/12 and under (though the trail is likely too intense for younger kids). 7:00 – 10:00 pm.
Not So Scary Halloween 2017 October Fun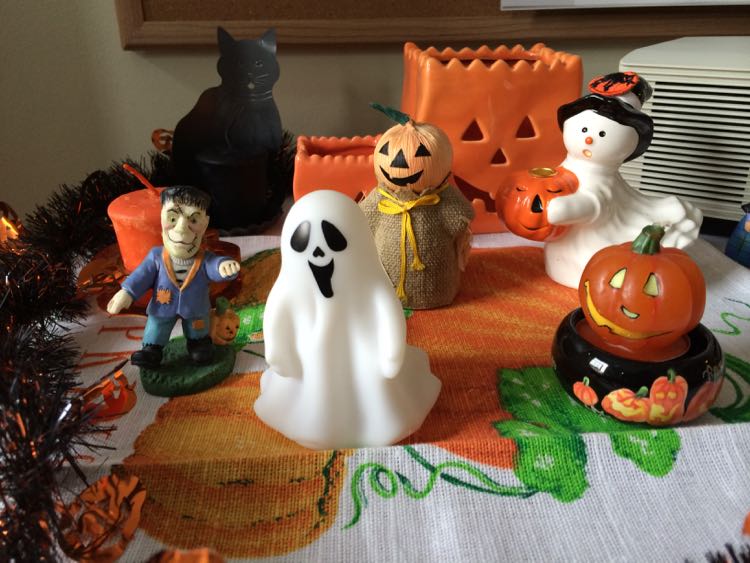 Bring your little goblins to the Town Green for spook-tacular fun at Halloween on the Green to enjoy spooky crafts, games and prizes, storytelling, moon bounces, petting zoo, entertainment, treats to eat, a visit from Vienna Singing Princesses, and a chance to carve or paint their own pumpkin, while supplies last. Costumes are encouraged. 10:30 – 12:30.
Occoquan dresses up in its spooky finery and the Ghosts of Occoquan are ready for you to tour the historic and haunted town; at least 20 of it's buildings are thought to be haunted. Haunted Occoquan Tours are family-friendly walking tours that take in the haunted buildings and sites. Follow the link for tour times and to reserve a spot. $14/$7 adults/children; tours begin at 8:00 pm
Ghost Train, Burke Lake Park, Oct 21 – 22, 28 – 29
The annual Burke Lake Ghost Train returns with a ride on the miniature train through Halloween decorated woods, with costumed characters performing scenes from popular children's stories. The Ghost Train is geared to young children so the event is more fun than fear. The carousel will also be open, and you can follow your ride with a picnic and a stroll around the lake. $4 per passenger. 10:00 – 5:00.
Treat yourself to Halloween fun and facts at Sully Historic Site's annual celebration, designed to shed light on centuries-old customs that evolved into the Halloween traditions of today. Find your way through a maze, make a decorative pumpkin to take home, visit the outbuildings to see and smell stew cooked in a pumpkin shell and learn about "soul cakes."  Children can come in costume and bring a bag to collect sweets as they trick or treat at different locations around the site. $10; 4:00 – 7:00 pm.
Enjoy Halloween-themed mini-golf and haunted carousel rides at the Lake Accotink marina. Play as many rounds as you want and ride as many times as you want. Registered participants receive a trick or treat goodie bag. Bring flashlights in case you stay after the sun goes down. $8; 4:00 – 8:00.
Halloween Safari, Bull Run Mountains, Broad Run, Oct 27 – 28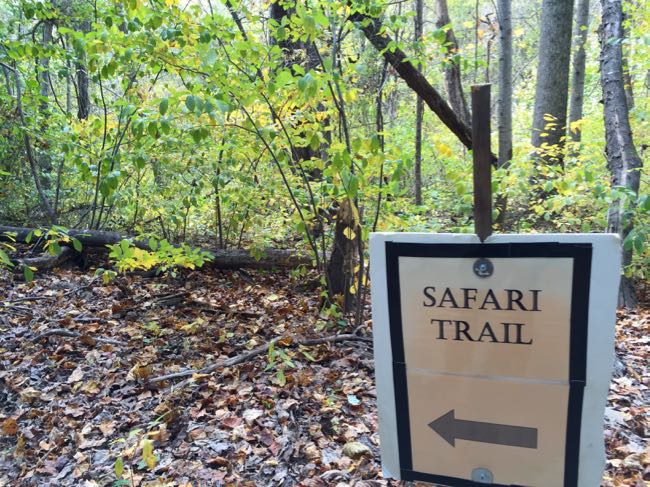 Join a fun, night-time hike through the Bull Run Mountains, as a guide leads you along the trail where you will meet native "wildlife" that perform natural history skits. There is a new cast of animals each year, and you can also enjoy face painting, Halloween snacks, hot cider, a bonfire, and live music. Bring a flashlight and wear good hiking shoes for this great family outing. $7/10 advance/at the door. 7:00 – 9:00.
Test your courage and challenge your fears and phobias at the All Hallows Eve House of Reptiles (and other crawling creatures) at Ellanor C. Lawrence Park. Roast s'mores at the campfire and then sit back for a wagon ride through a moon-lit meadow. $10; 7:00 to 8:30.
Take a fun wagon ride on the not-so-scary side at Riverbend Park. Find out about the animals whooo are out at night, listen for bats and meet one of the park's not so scary animals. Bring a flashlight. $8; 11:30 and 1:30.
Halloween 2017 Trick-or-Treating and Parades
See the spooky side of air and space at the Air and Space Museum Udvar-Hazy Center's popular annual Halloween event. Arrive in costume for safe indoor trick-or-treating, creepy crafts, spooky science experiments, and other Halloween-themed activities. (Full face masks prohibited on 16 and older.) The tiniest visitors can check out the Tot Zone to play dress-up and hear a story. $15 parking; noon – 5:30.
Bootique, Mosaic District, Oct 26
The annual trick-or-treat night returns to Mosaic District Swing by Strawberry Park to pick up your bags from Mosaic reps, and then hit the streets for some candy. Free; 5:00 – 7:00
Reserve a spot for the little ones (9 and younger) at the BOO-stravaganza. Come to the Indoor Arena Barn dressed in your favorite costume anytime between 6 and 8 pm for fun, games,and a wagon ride plus treats and a small pumpkin. $10, reservation required.
Trick-or-treaters return to historic Mount Vernon for an afternoon of fun and history. Activities include a special scavenger hunt, a wagon ride on the 12-acre field, and a boo-tiful Halloween craft. A children's costume parade around the mansion begins at 5:00. The event is $10/$5 for adult/children; 3:30 – 6:30.
Costumed children can visit participating retailers and the Information Center for treats and goodies on Halloween afternoon (look for a pumpkin flyer in the window). Free; 12:00 – 4:00.
Grab the family and your dog for a wickedly good time in Historic Downtown Manassas. The activities will be held in all of Historic Downtown Manassas. Historic Downtown merchants will be providing candy for trick-or-treating, and there will be lots of goulish games and a kids costume contest. Free; 10:00 – noon.
Dress up in your Halloween costume, and get ready for some not-so-spooky fun. Create Halloween crafts, enjoy hands-on activities, see a grain grinding demonstration, and trick-or-treat around the site. This is an on-going event; drop by any time between noon and 3:00. Pre-register online and save on admission; $5 at the gate. noon – 3:00.
Start trick-or-treating early and stop by the dozens of shops of the Old Town Boutique District dishing out treats to goblins and ghouls of all ages. Free; 2:00 – 6:00.
Don your best Halloween costume and join thousands of participants in one of Del Ray's favorite traditions, the 21st Annual Del Ray Halloween Parade Children, pets and strollers in costumes are invited to march and show off their finest and scariest Halloween garb with prizes in different categories. Free; 2:00 – 4:00.
Children up to age 12 are encouraged to wear their favorite Halloween costume, experience the Haunted House, and enjoy trick or treating with local merchants in a safe environment right in the heart of town. Free; 5:00 – 7:00.
Mall-o-ween, Fair Oaks Mall, Oct 31
Bring your costumed little ones to Fair Oaks Mall on Halloween for the 30th annual trick-or-treat at the mall event where kids go store to store collecting candy in a safe, indoor environment. This is one of the largest indoor Halloween events of its kind in the Washington D.C. area and it gets extremely busy. Free; 5:30 – 7:30.
Dress up with your doggy, kitty, or other furry critter and head to Lake Anne Plaza for a Howl-o-ween costume contest, with games, treats, prizes and a Yappy Hour for the big people. A DJ and pet parade will add to the fun. Free; 12:30 – night.
Bonus Fun
Here's an easy, fun appetizer to serve on Halloween: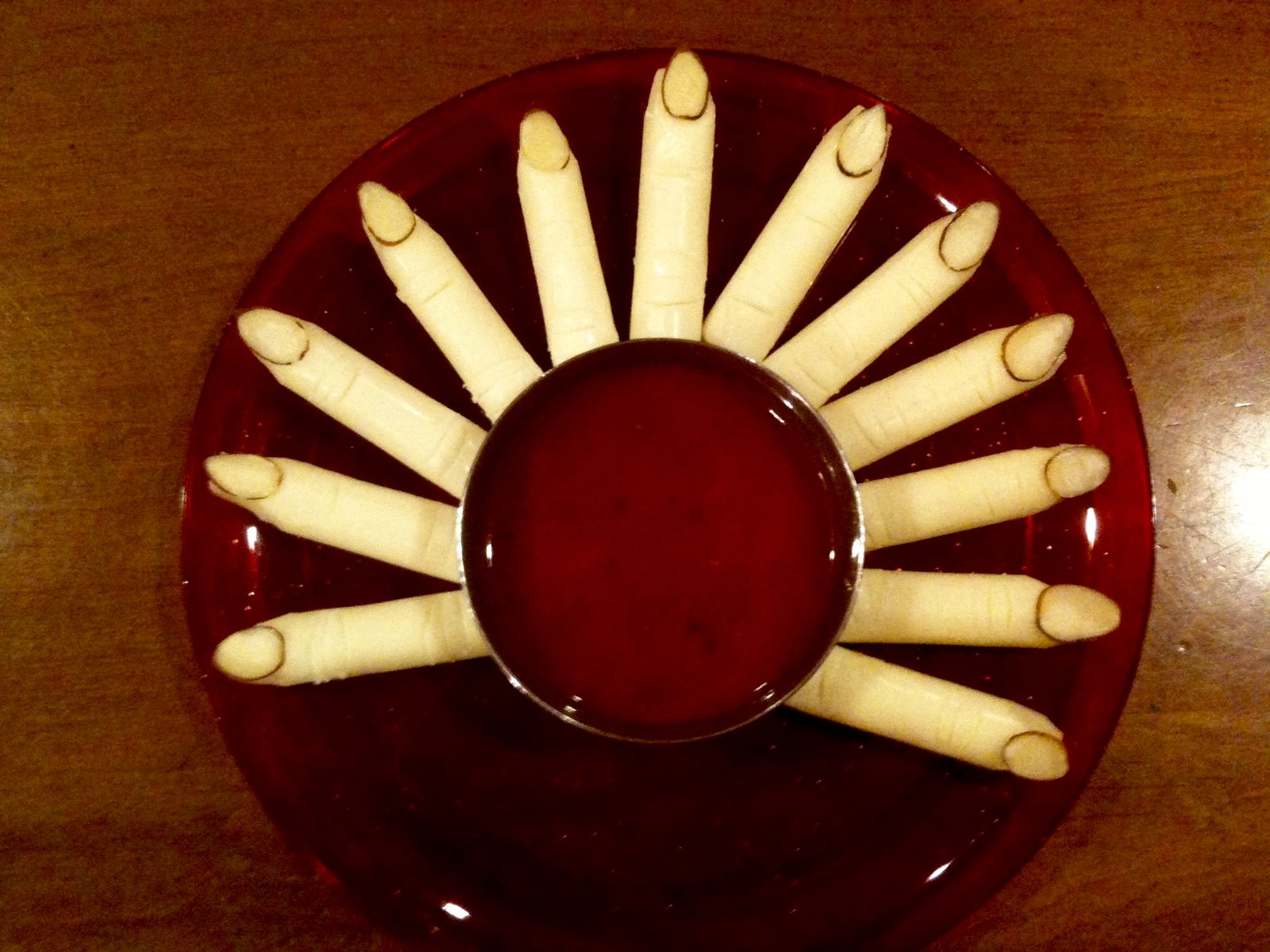 Ingredients: cheese sticks, slivered almonds, marinara sauce
To make: Trim tops of cheese sticks and add "knuckle" lines with a butter knife. Stick on almond sliver "fingernails" with a little honey. Sprinkle the underside with a little salt and pepper and serve with marinara sauce. Ooooh, spooky!
Whichever event you choose, we wish you a safe and Happy Halloween 2017!
Find more autumn fun:
Follow Fun in Fairfax VA on Facebook, Twitter, Pinterest, and Instagram for more fun things to do, places to visit, dining and drink, and special events in the Northern Virginia, Washington DC region.