April 2019 events are full of spring festivals, Easter egg hunts, National Park volunteer opportunities, art fests, car shows, and fun for every age and interest. We love to celebrate the return of spring to Northern Virginia, and we've even created a Spring Bucket List of 30 Fun Outings with gardens, hikes, scenic drives, and fun throughout the greater Washington DC region.
Whether you're volunteering at your favorite park, communing with nature, or enjoying cakes, flowers, art, antique cars, horses, music, art, and more you'll find an April 2019 event below. There are even special events for your four-legged friend.
Events are listed in order of start date. Always follow the link for registration details, inclement weather cancellations, and other updates. Have a fun and happy April 2019!
Head to DC for the annual Cherry Blossom Festival, with special events and fun all month long. Peak bloom is forecast for the first week of April, and the popular parade is April 13. from 10:00 – noon. New in 2019, The Wharf is hosting Petalpalooza, a day of fun and fireworks, on April 6.
[box type="note"]Read our complete guide Where to See Cherry Blossoms in DC, Maryland, and Virginia for DC tips and other great places to see cherry trees in bloom.[/box]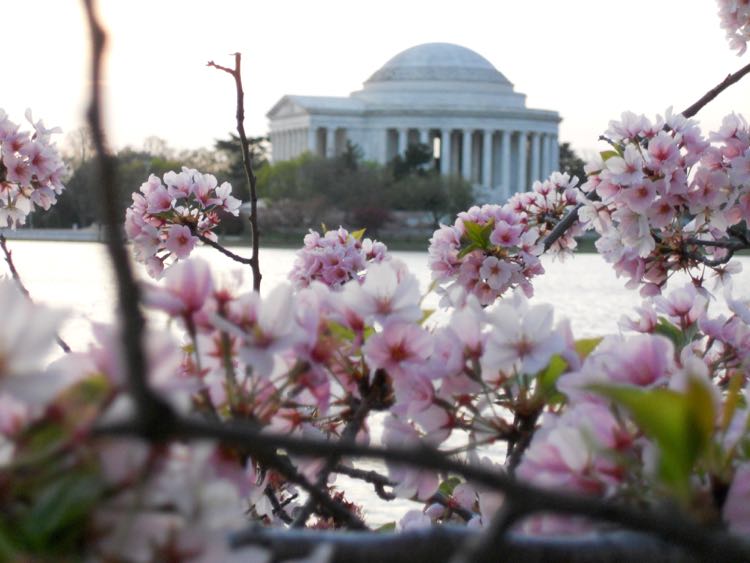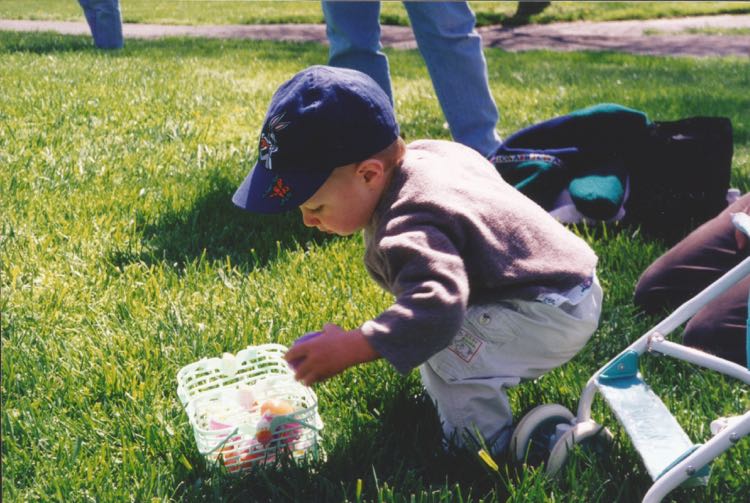 A few Easter egg hunts occurred in March, but most of the fun is in April. Follow the link for egg hunting details and be sure to make reservations early. Many of these popular events have limited capacity and they sell out every year.
The Fairfax County Park Authority is partnering with The Nature Conservancy to clean up our watershed. Join fellow volunteers and help remove tires, plastic bottles, cans and other debris from local waterways and help prevent trash from reaching the nation's largest estuary, the Chesapeake Bay.
Many other clean-ups are held throughout the watershed region in April, including a  NOVA Parks Trails Cleanup on the W&OD on April 13 (11:00 – 2:00). Check this map to find additional clean-up events near you.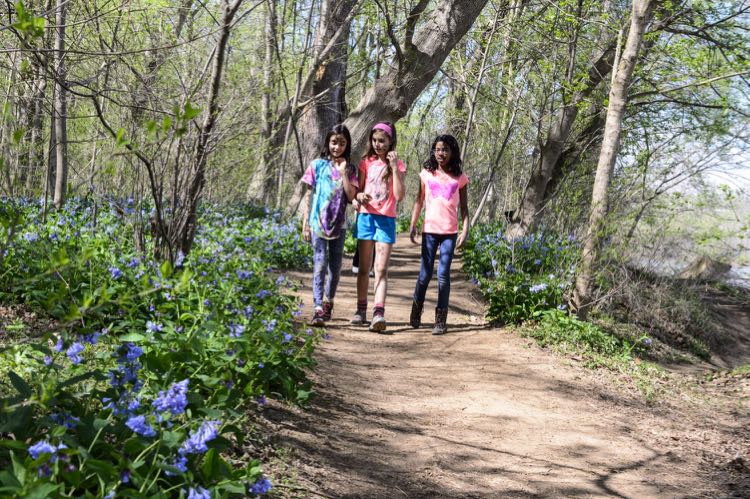 Welcome spring's arrival in Virginia and witness one of the most beautiful naturally occurring events in the area. The Bluebells at the Bend festival at Riverbend Park celebrates the blooming of the abundant native Virginia bluebells which blanket the forest floor with a gorgeous layer of light blue. The event features wagon rides, wildflower walks, musical entertainment, and more, and is a perfect outdoor excursion for families.
Explore the trails at Riverbend on a hike by the river or through the woods. Arrive early as parking spaces close to the visitor center fill up quickly, especially if it's a beautiful day. $7 in advance, $9 at the park; 10:00 – 3:00.
Founder's Day, Lake Anne Plaza, Reston, Apr 6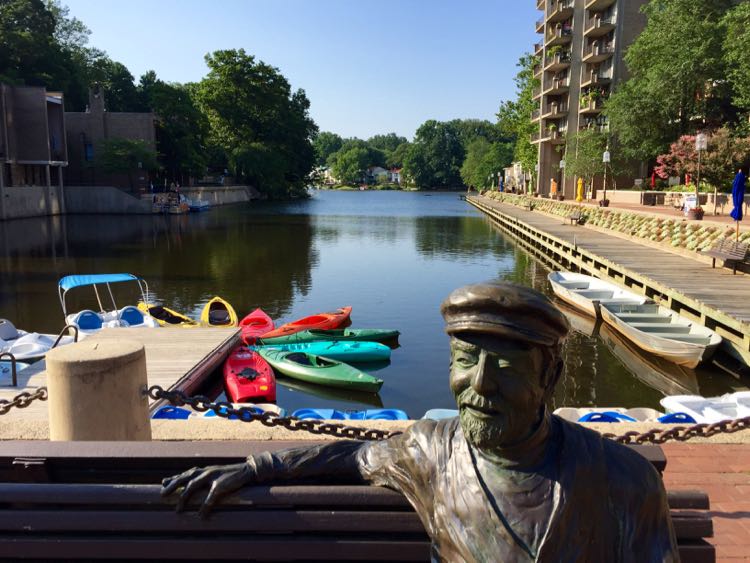 Celebrate the 55th anniversary of Reston's founding with a fun day honoring Reston and the town's founder, Robert E. Simon. The Founder's Day festival features a day of fun with children's activities, music, and more. Free; noon to 4:00.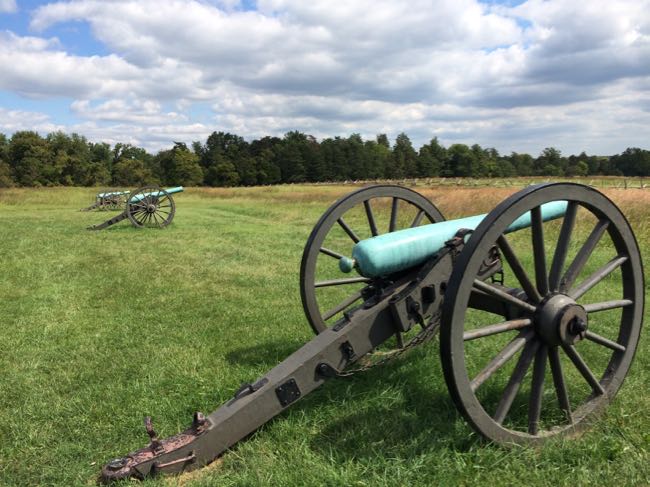 Park Day is an annual hands-on preservation event to help Civil and Revolutionary War battlefields and historic sites with maintenance projects large and small. Assist with trail maintenance, invasive plant control, fence construction, and trash pick-up at Manassas National Battlefield; clear trash and maintain trails at Balls Bluff; repair fences and maintain trails at Bristoe Station, and more. Follow the link and click Volunteer to find Virginia and DC region events.
Enjoy a morning of fishing at Ashby Pond Conservatory, which will be stocked with hundreds of trout. Bring a fishing rod, bucket, plastic bag and ice. A limited number of fishing rods will be available and bait will be supplied. Volunteers will provide instruction, pond education and fish cleaning demonstrations. $5 registration required.
Enjoy family fun along the colorful midway with circus shows, fair food, carnival games and rides for all ages. Admission, carnival parking, and Victoria Circus acts, including The Globe of Death motorcycle thrill show inside a 15-foot steel cage, are free. Follow the link for ride ticket prices. 5:00 – 11:00 Mon – Friday; 1:00 – 11:00 weekends.
National and local artists will exhibit outdoors on the streets of Arlington at the 7th annual Festival of the Arts. 
Enjoy a weekend of true visual inspiration, as over 100 artists will showcase their works including glass, mixed media, paintings, jewelry, and pottery; providing all sorts of opportunities to appreciate and purchase art. Free; 10:00 – 5:00 daily.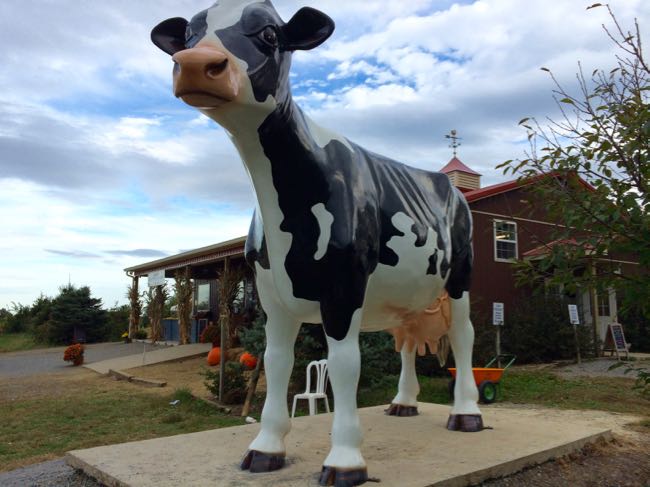 Great Country Farms welcomes families and their canine companions for a day of outdoor fun. Kids can enjoy the play area and a wagon ride to see the orchards and farm in bloom. Dogs can try an impressive dog agility course, Doggie Olympic Games, demonstrations, and a dip in the pond. Enjoy a Frisbee Competition with the Appalachian Air Canines, and an introduction to Canine Nose Work with a Certified Nose Work Instructor. $8/$10 child/adult admission, doggies free, 10:00 – 4:00.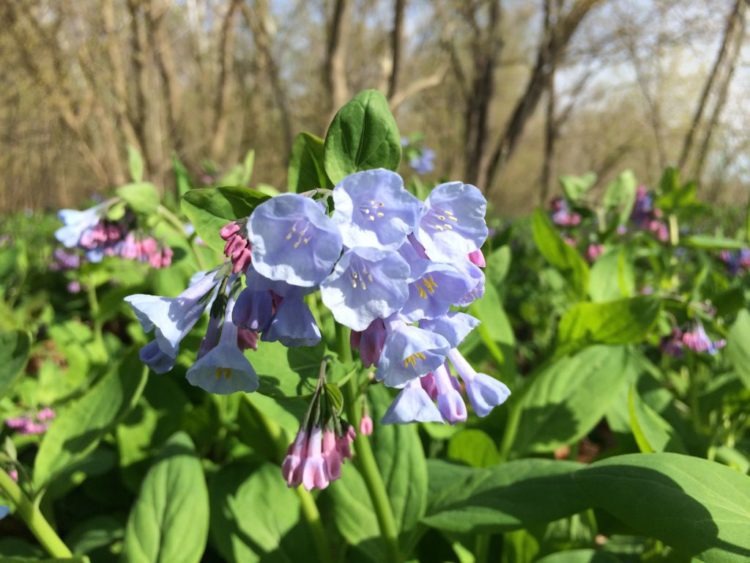 Welcome spring and see the spectacular display of Virginia Bluebells at the Stone House Visitor Center at Merrimac Farm in Nokesville, Virginia. The Bluebell Festival includes naturalist led tours and easy walks through the floodplain. Local environmental organizations host displays and activities for children of all ages. Bring binoculars, cameras, and the kids for a day of fun. Free; 10:00 am – 4:00.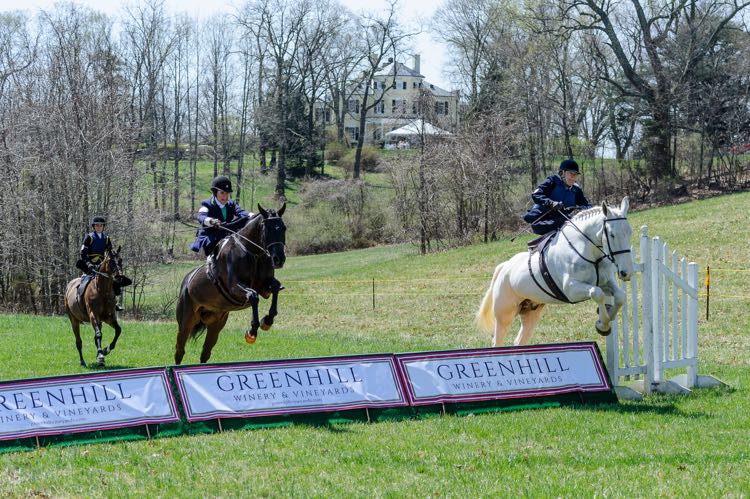 Take a trip to Loudoun's famed horse country to experience the thrill of racing during the Loudoun Hunt Point to Point Races at Oatlands Historic House and Gardens. Enjoy a series of races including the unique side saddle event. Featured in the hit PBS series Downton Abbey. The Loudoun Hunt Point to Point Races feature some of the most challenging timber and hurdle courses in Virginia and are thrilling to watch as participants race to the finish. Doors open at 10:30, first race at noon. Follow the link for tickets and event schedule.
Festivall of Spring, Burnside Farms, Nokesville, Apr 15 – May 5
Holland comes to Virginia – Northern Virginia farm hosts one of the largest Pick-Your-Own Spring Flower events in North America. Guests may stroll through the nearly eight acres of spring flowers and pick their own blossoms. The festival arrives around mid-April when nearly one million spring flowers begin to bloom and usually lasts about 25-30 days depending on spring weather. *Festival timing is dependent on mother nature. Visit burnsidefarms.com for field reports as spring approaches.
[box type="note"]Plan a whole year of fun with our guide 70 Favorite Festivals in Northern Virginia.[/box]
Enjoy breathtaking views of the full "Pink Moon" rising over the Potomac River. Relax on the beach near the large bonfire while you enjoy dinner and live music at Tim's Rivershore. The party starts at around 6:30.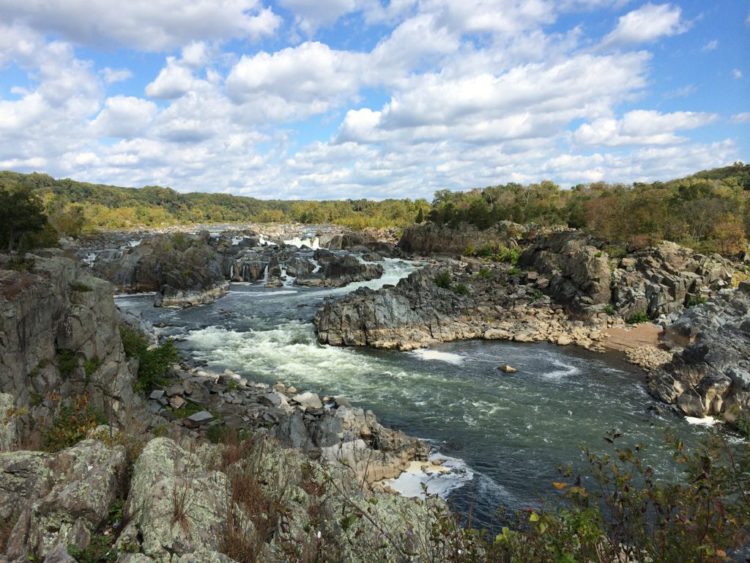 The National Park Services once again partners with the National Park Foundation, the official charity of America's national parks, to present National Park Week, a celebration of our national heritage. National Park Week welcomes visitors with a day of fee-free entrance at all parks, plus special programs on April 20, the first day of National Park Week. On Earth Day, April 22, pitch in with a project and help out at a park. Check out Places to Celebrate National Park Week in Northern Virginia for tips on where to find a national park in the Northern Virginia area.
Visit Gunston Hall for a Kite Festival and old -time fun. Fly a kite in the pastures, write with a quill pen, play 18th-century games, climb on a modern fire truck, and purchase colorful kites. $10/8 adults/under 18, 10:00 – 4:00.
A neighborhood event for more than 20 years, the ValeArts Spring Show will exhibit more than 150 original works of fine art in various media, styles, and sizes. Kid's can create their own works at the creativity table. Artists reception Friday 7:00 – 9:00 PM. Free, 10:00 – 6:00 daily plus Friday reception.
Historic Leesburg will be in full bloom as lush landscapes and gorgeous gardens fill the streets. Over 150 vendors will be on display featuring landscape designs, gardening supplies, outdoor living items, plants, flowers, herbs, and more. Food, music, children's entertainment and crafts will add to the fun during this two-day event. Be sure to visit the Beer Garden to sample Loudoun County's best brews. $3 suggestion donation. Saturday 10:00 – 6:00; Sunday 10:00 – 5:00.
Springfest Fairfax, Sully Historic Site, Centreville, Apr 27
SpringFest Fairfax is a county-wide party to celebrate Earth Day and Arbor Day, offering family-friendly activities at the Sully Historic Site. Attendees enjoy a petting zoo, touch-a-truck, and hands-on activities and games that highlight our local environment. Food trucks will be on hand. Admission is free; parking is $5. 10:00 – 4:00.
Art 'n the Car Festival, Bristow, Apr 27
Enjoy the scenic setting alongside great cars of yesteryear (cars, trucks & motorcycles) and the art of local artists and Prince William County students at Brentsville Courthouse Historic Centre. Try your hand at creating art, browse local art vendors, and tour the Historic Courthouse. Grab lunch from the food truck or pack a picnic. Free; 11:00 – 4:00.
Alexandria Historic Homes & Garden Tour, Alexandria, April 27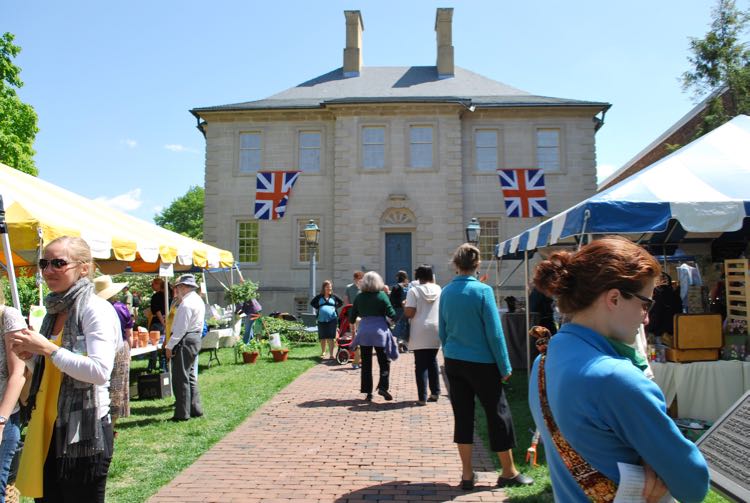 The 86th Annual Alexandria Historic Homes & Garden Tour features five privately owned Old Town homes and gardens plus admission to historic properties like the Lee-Fendall House Museum & Garden, Carlyle House Historic Park, and George Washington's Mount Vernon. Enjoy a close-up view of original hardwood floors and windows, spectacular landscaping, lovely backyards, and beautiful covered porches. The large, colorful front doors that line the historic cobblestone streets are another highlight. Tours run from 10:00 to 4:00, and tickets are $45 in advance, $55 day of, and $25 for single site admission. Purchase tickets at the Alexandria Visitors Center on King Street.
Historic Blenheim Estate hosts an action-packed day of living history spanning the 19th century. Period music, living history encampments and demonstrations, hayrides, tours of the Historic Blenheim House, and more.Admission of $5/$3 adult/youth benefit the restoration of Historic Blenheim; 10:00 – 5:00.
The 8th annual Taste of  Vienna returns to the Vienna Volunteer Fire Department, with samples of delicious dishes from Vienna area restaurants plus free entertainment. The free event (tastings and drinks available for purchase) benefits the VVFD, and includes kid-friendly activities. 11:00 – 8:00.
The annual Purcellville festival features multiple outdoor stages with local entertainment, food, wines, beers, and local farm products. Several artisan and food vendors will be onsite. In addition, local organizations will provide fun activities and demonstrations for all ages. Free; 10:00 – 7:00.
Plan your visit: 8 Great Things to Do in Purcellville Virginia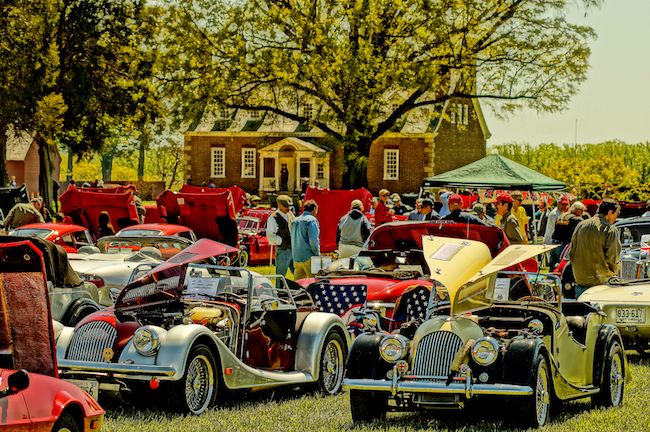 The 21st Annual Car Show, sponsored by the Capital Triumph Register, returns to Gunston Hall. Enjoy the 2019 driving season with a picnic, a day of British automobiles, and a complimentary tour of the historic house and grounds. British cars in 25 categories include Triumphs and MGs joined by Austin Healeys, Jaguars, Rolls and Bentleys, Minis, Lotuses, Land Rovers, and cars you've probably never seen before, such as Jensen, Riley, and Wolseley. Admission is $10/5 Adults/6-18, 9:30 – 3:00.
For the 45th year, residents of Vienna's Windover Heights Historic District will open their yards and gardens in a welcome to spring for the public to enjoy. The annual Walk on the Hill features an afternoon of flowers, gardens, music, art, and more. Free; 2:00 – 5:00.
April 2019 Events: Further Away and Worth the Drive
Shuckapalooza, Christchurch and Other Locations, Apr 12
Virginia's River Realm is an oyster lovers paradise. At Shuckapalooza, get your oyster on at the epicenter of the bivalve's resurgence. Whether it is ecology, history, or pairings with wine and craft beer; Shuckapalooza is your back stage pass. Join in on seven exclusive bucket-list-worthy experiences, rarely offered to the public.
Winchester is full of spring fun when the annual Apple Blossom Festival returns. Enjoy more than forty events including band competitions, dances, parades, carnival, dinners, luncheons, wine festival, a 10K Race, the Coronation of Queen Shenandoah, two large parades, and celebrities. April 2019 marks the 91st return of this family-friendly event. Extend your fun with an overnight getaway to Winchester VA,
Costuming the Crown at Winterthur, Wilmington DE, April – Jan 5
Do you have a garden lover in the family? April is a beautiful time to tour the beautiful gardens and mansion on a getaway to Wilmington Delaware. Beginning Mar 30, fans of the Netflix series "The Crown" can see 40 iconic costumes from the show at Winterthur Museum and Gardens.
[box type="note"]Explore more with our guide to Gorgeous Gardens In Virginia and Washington DC.[/box]
Find more spring fun in these related articles:
Whatever April 2019 events you choose to attend, we wish you a month of happiness and fun!
Follow Fun in Fairfax VA on Facebook, Twitter, Pinterest, and Instagram for more places to visit and things to do in Northern Virginia and surrounding areas.