2017 Pumpkin Patch Fun in Northern Virginia
2017 pumpkin patch fun returns to Northern Virginia with slides, tunnels, swings, corn mazes, and Autumn festivals guaranteeing happy times for all. From the multi-acre, happy mayhem of Cox Farms, to the laid-back pumpkin displays at local garden centers, there is a fun fall experience for every age.
Many garden centers offer a scaled down, more accessible version of festival fun, usually open daily, and free or low-cost. Others build out huge playgrounds and charge admission. Read on to find the perfect 2017 pumpkin patch and corn maze destination for your Northern Virginia fall travel.
2017 Pumpkin Patch Fun with Paid Admission
Burnside Farms offers one of the area's largest selections of pumpkins and gourds, beautiful mums and other fall plants as well as fresh cider, tree ripe apples, seasonal produce, straw bales, corn stalks and pick your own flowers. Stop by the Burnside barnyard to meet furry and feathered residents of the farm. Admission to the barnyard and activities including a jump pad, moonbounce, games, and more, is $4. The Fall Market opens in mid-September.
The 23rd annual Burke Nursery Pumpkin Playground includes a variety of slides, tunnels, swings and play areas, and a spooky wagon ride. On the weekend, enjoy additional activities, food, and live entertainment. Weekday/weekend entry is $10/$14 with additional fees for some activities, like pony rides and a moon bounce. Stop in the large garden center for fall plants, pumpkins, cider, and Halloween decorations. 9:00 – 8:00 daily, until 9:00 Friday and Saturday.
The main attraction is the 5 acre corn maze, but you'll also find plenty of family pumpkin fun. Roll yourself or your kids in the roll tubes, sling shot a pumpkin across the hillside, play a round of corn hole, race through the obstacle course, and take a hayride through the beautiful countryside with fall colors. When you're ready to tackle the maze, practice navigating in one of the mini mazes. Looking for added challenge? Come after 6:00 and tackle the maze at night. Open 11:00 – 5:00, weekends and Columbus Day, beginning September 24; $9 to $11 depending on age. Follow the link for discounts, season passes, and hours.
Cox Farms Fall Festival, Cox Farms, Centreville, Sep 16 – 17, 22 – Nov 7
Cox Farms is an excellent destination for 2017 pumpkin patch fun. The Cox extravaganza opens with a preview weekend in mid-September, then shifts to daily openings beginning September 22nd. The largest of the local pumpkin playgrounds, Cox expands and updates frequently and appeals to a wide age range. The entry fee—from $6 on discount weekdays to $20.00 on prime weekends—gives you access to all of the festival activities including a long and fun hay ride through the corn field, and many slides. We're especially fond of the big Dino Slide, and the Jack and the Beanstalk slide that starts in the barn.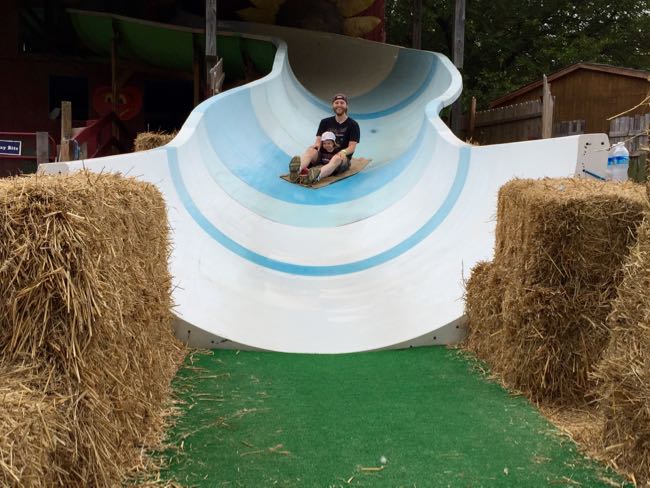 Cox packs a lot of fun into their ticket price, and there is plenty of space, even on busy weekends. We've enjoyed the shortest lines on weekday afternoons and Sunday mornings, when crowds are light.
Older kids and teens flock to Cox Farms at night for the Fields of Fear, featuring scares in the corn maze, forest trail, and wagon rides, plus music, games, food, and hanging out by the bonfire. This year, the scares start on September 22nd.
Fall Farm Days, Sky Meadows State Park, October 7 – 29
Fall Farm Days in the Sky Meadows Historic Area offer festive food, live music, pick-your-own pumpkins, a corn maze, historic tours, blacksmith demonstrations, a children's play area, and more. The October weekend events have weekly themes like "The Nature of Sky Meadows." Activities are included with the regular $5 park admission, and fall is a wonderful time for this loop hike to a view. Saturday and Sunday, 10:00 – 5:00.
Fall Harvest Festival, Great Country Farms, Bluemont, Oct 1 – 31
The annual Fall Harvest Festival offers a month of fun picking pumpkins, getting lost in the corn maze, exploring the 5 acre play area, and more. On weekends, cheer on the fastest piggie, do some pumpkin munchin' with P-Rex,  roast marshmallows, and enjoy live entertainment. Get lost in the 2017 1.5 acre Lady Liberty Corn Maze. The maze takes an average of 30 minutes so you can conquer the maze and still enjoy all the other farm fun. Open daily 9:00 – 5:00. Entry $10/$12 child/adult, $8/$10 weekdays.
Family-friendly activities include giant hill slides, kid's maze, rope swings, pedal carts, moon bounces, a petting zoo, and more festival fun. Take unlimited hayrides and visit the Leesburg Animal Park to pet and feed friendly, exotic and domestic animals. Enjoy free apples & fresh cider and a free pie pumpkin to take home. Visit on the weekend for camel rides, face painting, mini tractor rides, festival food, and live entertainment. Open daily 9:30 to 6:00 (5:00 on Nov 5 – 7); $9.95 to $14.95 depending on age and time of visit.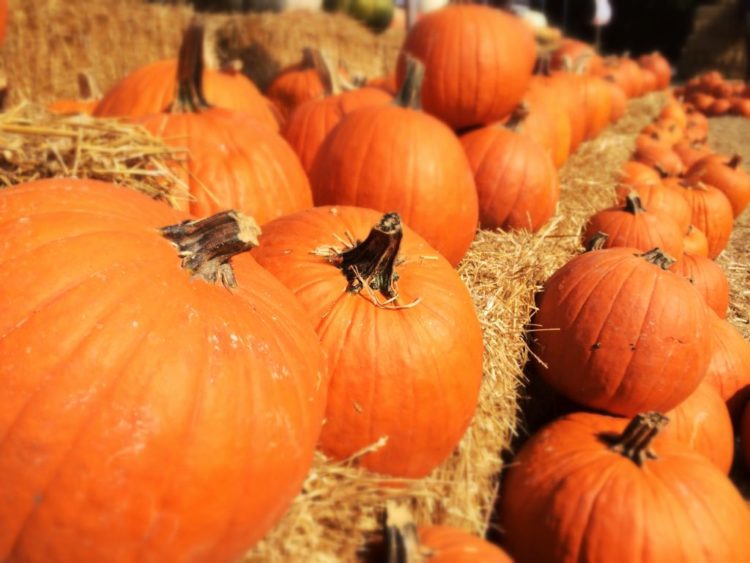 This weekends-only festival features the only 24-acre corn maize on the East Coast—each year with a new theme. You can launch a pumpkin 100 yards through the air with Pumpkin Blasters, cheer on your favorite at the pig races, play on the jumping pillows, take a hayride, enjoy festival food, and more. Tickets are $7 – $14 depending on age and time of visit. Open until 10:00 pm on Fridays and Saturdays for nighttime corn maze fun.
With a great selection of activities for younger kids, Ticonderoga is another fun spot to put on your pumpkin patch list, and it's a good alternate when lines are long at Cox Farms. There are slides, farm animals, themed play areas and a hayride, plus a swinging bridge and a bounce pillow. Open daily 10:00 to 6:00 (last entry at 5:00); weekday admission is $10.95, increasing to $16.95 on weekends and holidays.
The weekend only festival features a 3 acre corn maze in the charming town of Clifton. The pumpkin patch is a pick-your–own style, with sustainably grown, non-certified organic pumpkins. The 2017 pumpkin patch will include multiple pumpkin slingshots, so you can try your luck hitting the target. Visit the farm animals, play in the inflatable bounce houses, take a hay ride, get your face painted, eat at the food trucks, and more. Fall Fun Days are open from 10:00 to 6:00 on Saturday and Sunday; admission is $12.
Pick Up a Pumpkin with No Entry Fee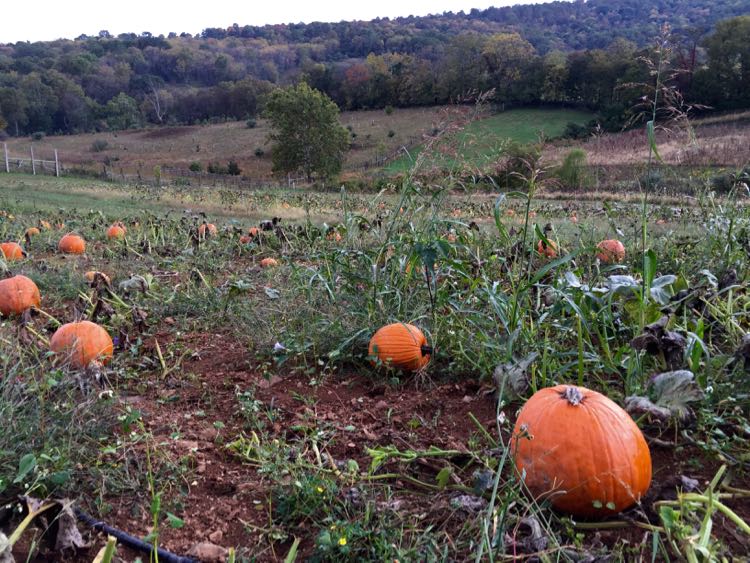 Pick your pumpkin from a real pumpkin field (no bins full of pumpkins here. At Evergreen Acres there is never an admission charge and the hayride to the pumpkin patch is free. Open weekends, September 30 through October, 10:00 – 5:00.
Heather Hill Gardens no longer offers a pumpkin patch play area for kids, but it's still a lovely nursery, and a good place to let the kids pick out a Halloween pumpkin.
Krop's Crops, Great Falls, October Weekends
Krop's Crops hosts fall fun on October weekends. Play in the corn crib, visit the animals, and take a hayride to the patch to find the perfect pumpkin. 11:00 to 4:00; $3 for hayride to the pumpkin patch.
Meadows Farms Garden Nursery, Great Falls
Meadows Farms has multiple locations in Northern Virginia, and our kids enjoyed visiting the Great Falls location when they were younger. The small kids area includes a "haunted" bus, moon bounce, and slide, plus plenty of pumpkins for the perfect jack-o-lantern.
The great pumpkin tunnel returns in October. During your visit to Nalls, kids can play in the tunnel, visit with the chickens, say hi to the teacup pig, and locate the perfect pumpkin. Adults will enjoy shopping for fresh produce, apple cider, and specialty products.
Pop-up Pumpkins, Various Locations
Several churches, shopping areas, and normally vacant lots open pop-up pumpkin shops during the season. Some of these short-term markets, like the old Reston Farm Market on Baron Cameron, also include moon bounces, hay tunnels, and other activities for kids.
An expanded and fun-filled Reston Farm Market is open for the season with pumpkins, flowers, Halloween decorations, jams and treats, and more. Best of all there are several new ways for kids to have fun at the market. Three moon bounces and a slide, a small petting area with goats and puppies, and a miniature train all offer fun for the little ones. Entry is free but there are fees for the kids activities (group rates available). 9:00 – 7:00 daily.
Check in at the old stone barn, built in the 1700s, then head to the u-pick pumpkin field. Open Wednesday through Sunday, 10:00 – 5:00. Wegmeyer Farms also operates a u-pick pumpkin field at Oatlands. Enjoy a hayride ($5 per adult, children free) out to the field and pick your pumpkin right from the vine. Weekends, 10:00 – 5:00; last hayride leaves at 3:30.
Stop by Yankey Farms on weekends to pick the perfect pumpkin, get lost in the corn maze scavenger hunt, ride around the farm on the cow train, and play in the fun farmyard activity area. Activities include corn boxes, hay piles, slides, and a pedal tractor track. Yankey is a working farm and you pick your pumpkin right where it grew. There is no admission fee to the farm and you only pay for the activities you want to try. Saturday 10:00 – 6:00, Sunday noon – 6:00.
2017 pumpkin patch and corn maze festivals make Northern Virginia a very happy fall destination, whether you have little ones ready for a day of activity, or you're just looking for a quiet spot to choose your autumn decorations. What's your favorite fall 2017 pumpkin patch destination?
Follow Fun in Fairfax VA on Facebook, Twitter, Pinterest, and Instagram for more fun things to do, places to visit, dining and drink, and special events in the Northern Virginia, Washington DC region.